Sauteed broccoli rabe with white beans is made with broccoli rabe that has been blanched and then sauteed with garlic, oil, and white beans. It's delicious as a side dish or a full vegetarian meal.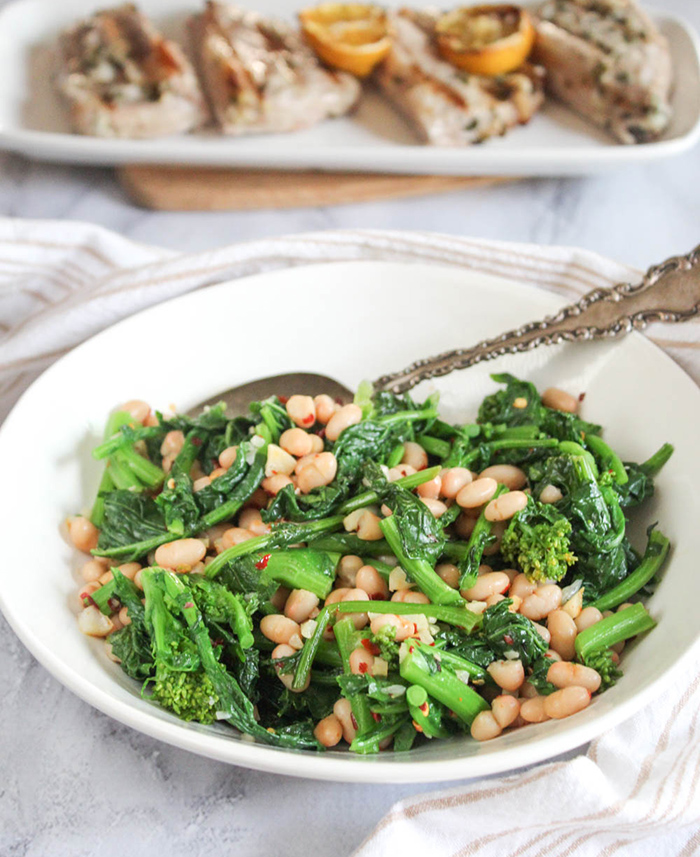 Recipe Highlights
It's healthy and delicious. Broccoli rabe is full of vitamins and minerals and the white beans add protein and fiber.
It cooks up quickly with just five simple ingredients.
Here is What You Will Need
broccoli rabe
garlic
olive oil
white (cannellini or navy beans)
hot pepper flakes (optional)
skillet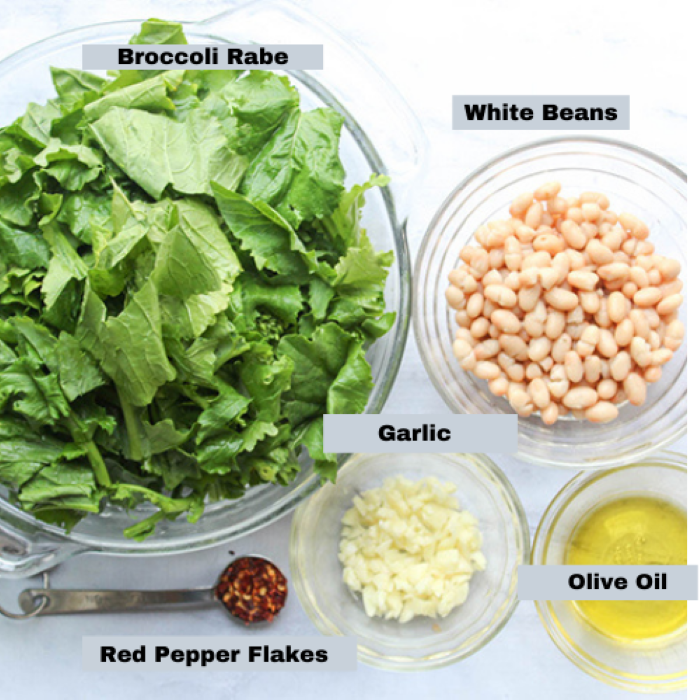 What is Broccoli Rabe?
Broccoli rabe is a cruciferous vegetable that looks similar to broccoli, but that is where the similarities end. Broccoli rabe is closely related to turnips and has a slightly bitter flavor, unlike broccoli. You can eat the stems, leaves, and little broccoli-like buds.
How to Cut and Cook Broccoli Rabe
Broccoli rabe is easy to prepare and cook. It can be roasted or sauteed. The broccoli rabe in this recipe is blanched and then sauteed to remove some of the bitter flavor and to speed up the cooking time.
Here is how to do it: Rinse the broccoli rabe and trim the tough-looking bottoms of the stems. Starting with the tender stems cut the broccoli rabe into 1 ½ to 2-inch pieces.
How to Make Sauteed Broccoli Rabe with White Beans
Blanch the broccoli rabe in boiling water (see above). Drain the broccoli rabe and rinse in cold water to stop the cooking process.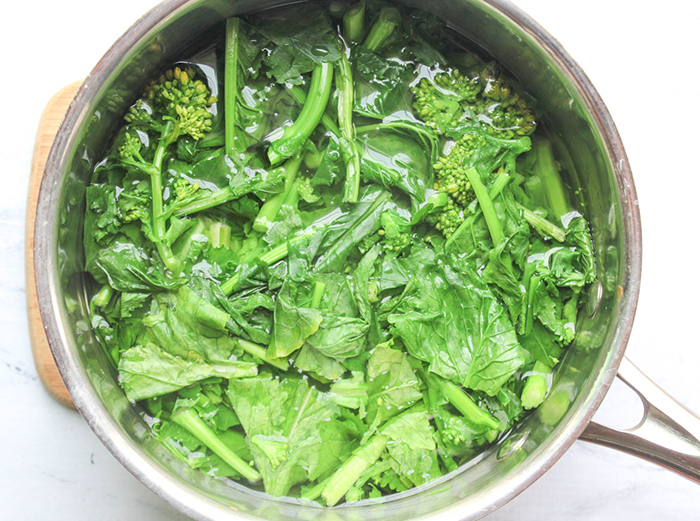 Heat a skillet over medium heat, add the garlic and broccoli rabe and saute for about 3 minutes.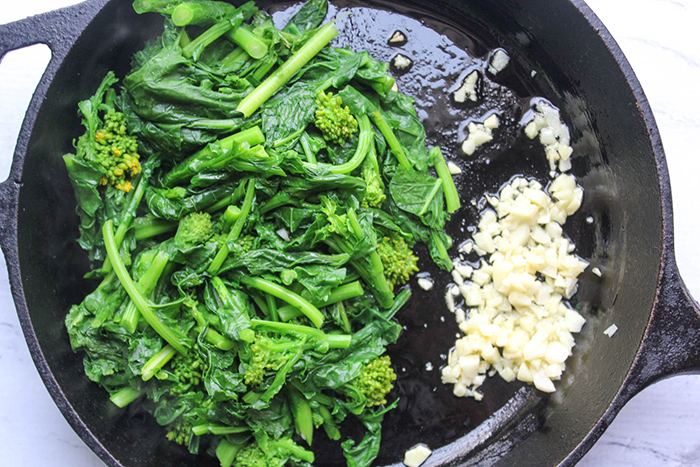 Stir in the beans.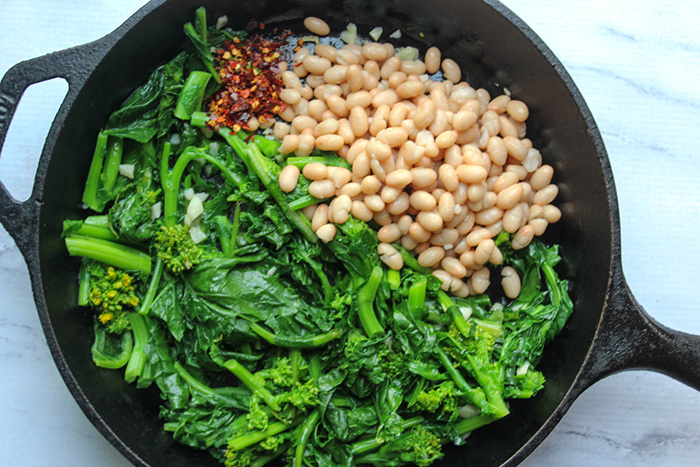 Cook until everything is heated through.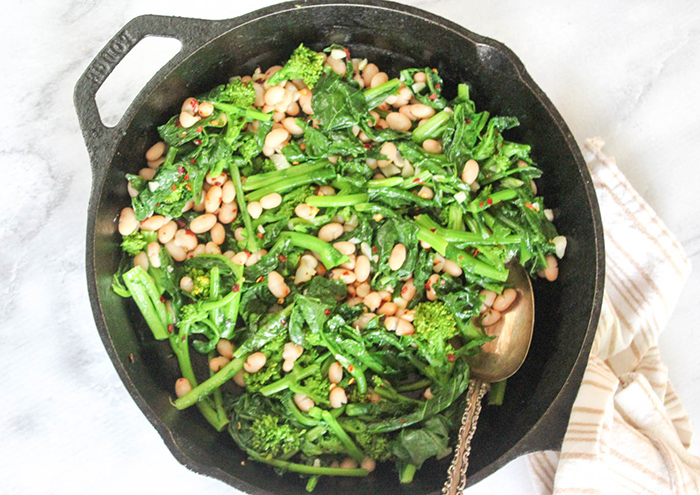 Total Estimated Time to Make This Recipe: 20 to 30 Minutes
Serving Suggestions
Sauteed broccoli rabe with white beans tastes great as a vegetarian meal all by itself, or you can add browned Italian sausage.
Serve it over pasta, polenta, brown rice or your favorite whole grain.
Top the sauteed broccoli rabe with grilled seafood, chicken, pasta, pork chops with vinegar peppers or Mediterranean pork chops.
Serve it on crusty roll or bread.
Sprinkle ¼ cup of freshly grated parmesan cheese just before serving.
If you don't like beans, simply leave them out.
Add a splash of lemon juice, vegetable broth, or white wine just before serving.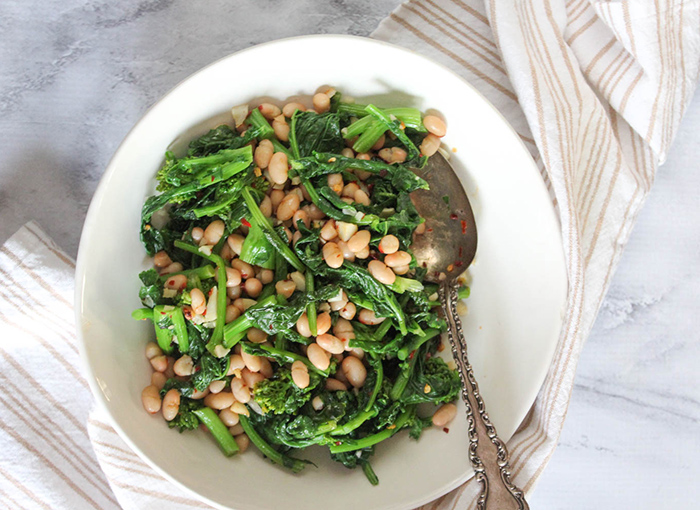 Storing and Leftovers
Store leftover sauteed broccoli rabe in an airtight container for up to 3 days in the refrigerator. Reheat it on top of the stove or in the microwave.
Freezing is not recommended.
You Might Also Enjoy These Recipes
📖 Recipe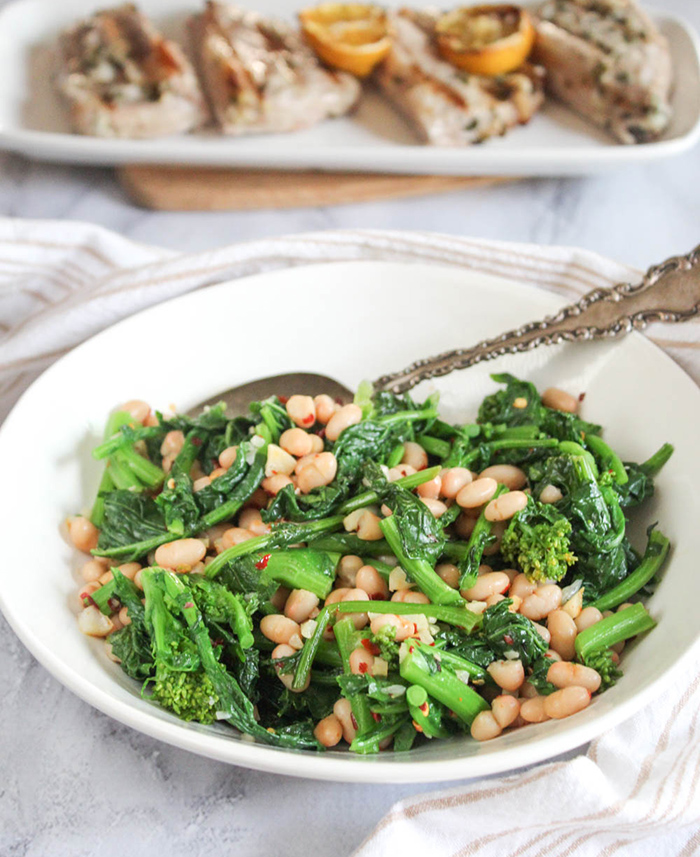 Click on serving size to scale this recipe
Ingredients
1

tablespoon

[olive oil]

½

cup

white beans

[canneleni] or navy

1

bunch broccoli rabe

3 to 4

cloves

of garlic

chopped

water

red pepper flakes

optional
Instructions
Bring a saucepan of water to boil.

While you are waiting for the water to boil, prepare the broccoli rabe: rinse it and chop it into 2 inch pieces and set it aside.

Once the water boils, add the broccoli rabe to the boiling water and turn the heat off. Let it sit in the hot water for about a minute. Drain it and rinse it in cold water.

Heat 1 tablespoon oil in a skillet and add the garlic and broccoli rabe. Cook the garlic and broccoli rabe until the garlic begins to soften which is about 5 minutes.

Stir in the beans and pepper flakes if you are using them; cook for a few minutes longer until everything is heated through
Nutrition information provided is an estimate and can vary based on cooking methods and ingredients used