Easy oven baked pork chops with vegetables is a one pan meal made that is made with less than 10 ingredients and can be on your table in less than an hour. It's perfect for a quick and nutritious dinner.
One pan-baked pork chops is a recipe that is super simple to make. It's made with fresh ingredients that are mixed, cooked, and served in one pan. This recipe is full of flavor and easy to clean up.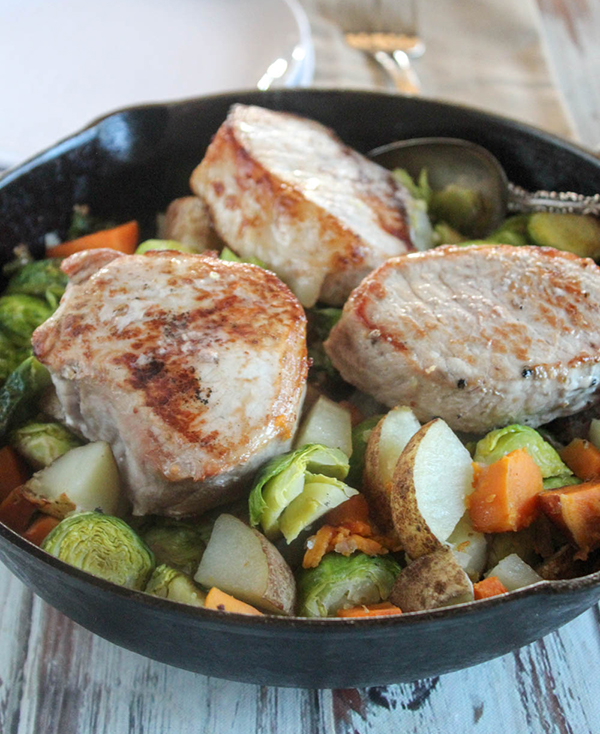 Recipe Highlights
It's a quick, easy and healthy dinner that can be made in one pan.
It's versatile, the ingredients can be easily interchanged and adapted.
It can be prepared ahead of time.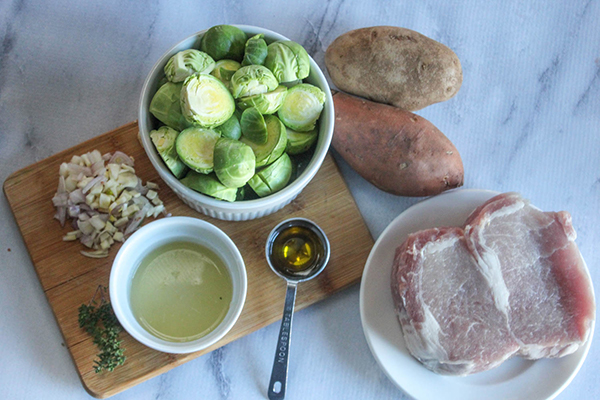 Here is What You Will Need
As an Amazon Associate, I earn from qualifying purchases
This is an overview of the ingredients and steps necessary to make this recipe, scroll down to see ingredient notes and substitutions as well as a printable recipe card with exact measurements and complete cooking instructions.
---
Ingredients
Boneless Pork Loin Chops about 1 inch thick (1 lb.)
Sweet Potatoes (2 medium)
Russet Potatoes (1 to 2 small to medium)
Brussels sprouts ( 1 pound)
Olive Oil (1 tablespoon)
Chopped Shallot (1 small)
Garlic (1 clove)
Fresh Lemon Juice (1 teaspoon)
---
Here is How To Make Easy Oven Baked Pork Chops with Vegetables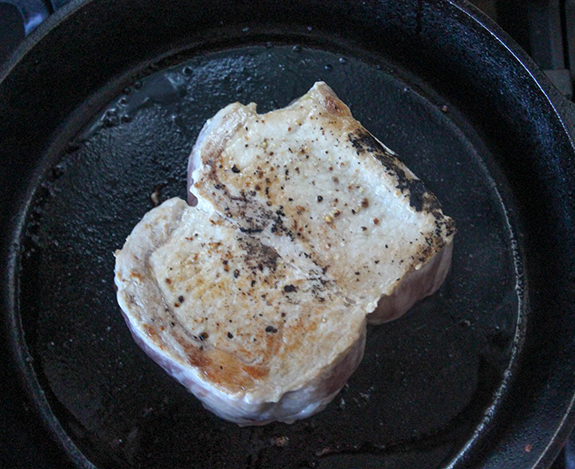 Prepare the ingredients: clean and cut the vegetables, and set them aside. Sprinkle the pork chops with salt and pepper, and brown them in a skillet for 4 to 5 minutes on each side.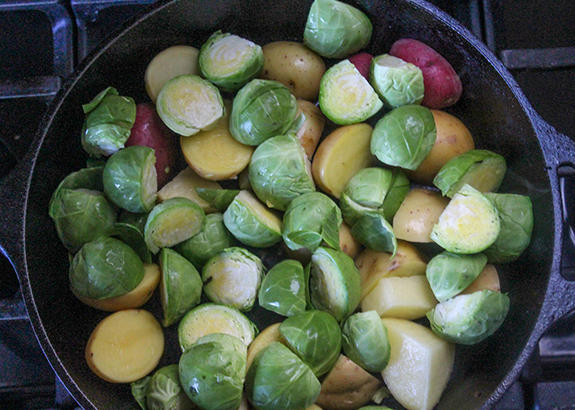 Remove the pork chops from the skillet and toss the oil, vegetables (potatoes, sweet potatoes, shallot, and garlic). Pour the lemon juice over the top of the vegetables and cover the skillet. Place the skillet in the oven and bake for 15 minutes, just until the vegetables begin to soften.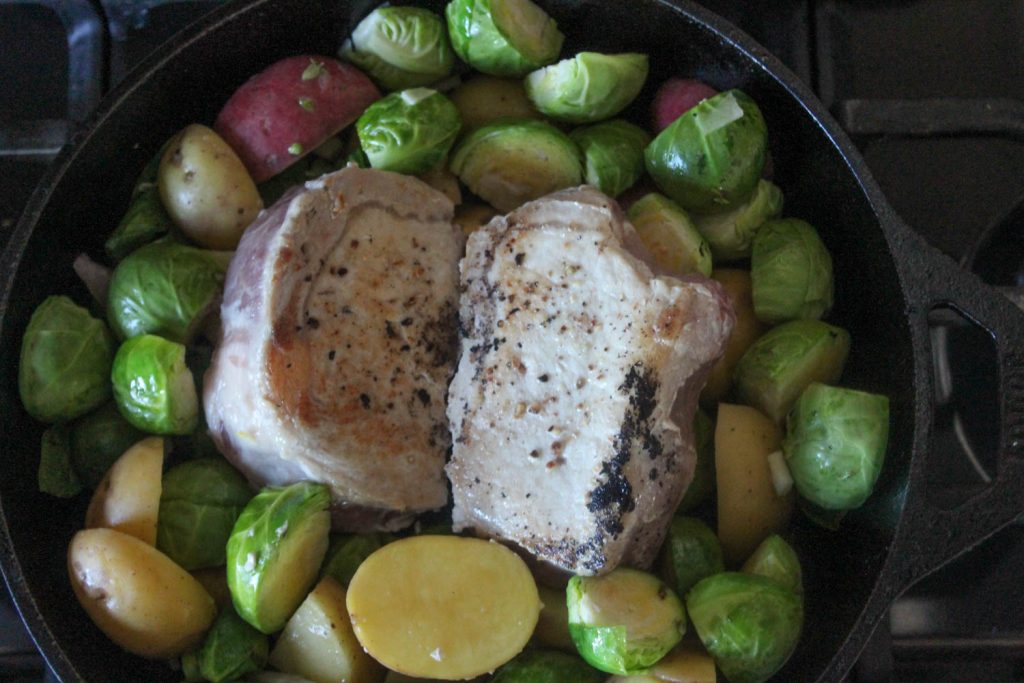 Remove the pan from the oven and add the pork chops to the top of the vegetables; bake uncovered for 20 minutes longer until the pork reaches an internal temperature of 145 degrees.
Total Estimated Time to Make this Recipe: 35 to 45 Minutes.
Make-Ahead Instructions
This is an easy meal-prep recipe. The vegetables can be cut up a few days ahead of time and stored in separate containers in the refrigerator. When it's time to prepare dinner, brown the pork chops and add the vegetables and cook.
Ingredient Notes & Substitutions
Pork chops - Bone-in pork chops or pork tenderloin (one pound) are a great substitute in this recipe.
Boneless chicken breasts or thighs also taste great, you will need to reduce the cooking time by approximately 10 minutes (the internal temperature of the chicken should be 165).
Thinner cuts of meat (chicken cutlets or thin pork chops) are not recommended, they will dry out unless they are cooked separately and added to the vegetables just before serving.
Sweet Potato & Potato - You can use only sweet potatoes or potatoes in this recipe, instead of half sweet potato and half potato, just double the amount.
Brussels sprouts - If you don't like Brussels sprouts, try wedges of cabbage, carrots, turnips, parsnips, broccoli, or cauliflower.
Shallots - If you don't have shallots available, you can use 1 tablespoon diced onion.
Garlic - You can use ½ teaspoon of garlic powder if you don't have fresh garlic.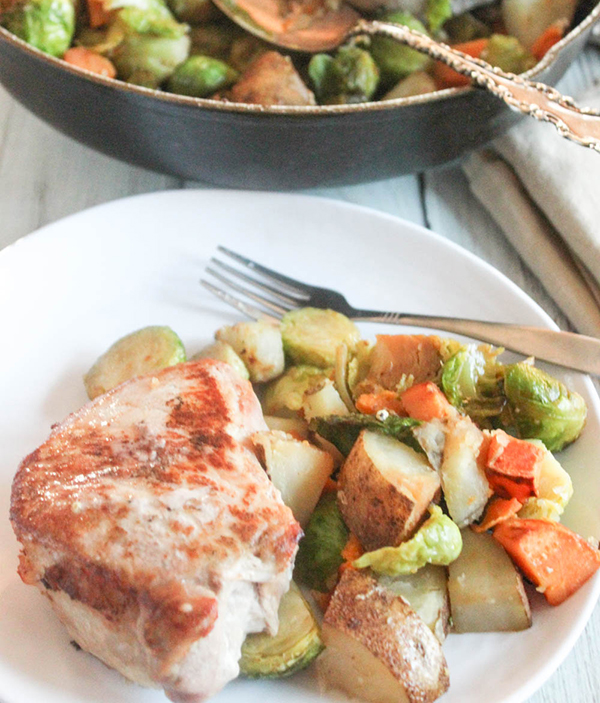 Serving Suggestions
Serve oven-baked pork chops with vegetables as a complete dinner,or if you would like an extra serving of vegetables you can serve it with a salad, steamed broccoli, or green beans.
Recipe Variations
Sheet Pan - This one-pan pork chop recipe can also be made in a sheet pan or covered casserole dish. You will still need to brown the meat in a skillet and place it on top of the vegetables on the sheet pan or casserole dish.
If you make this recipe on a sheet pan, the vegetables may need to cook a little longer in the oven since they aren't covered. Check them after 15 minutes of cooking time. If they are not beginning to turn soft, cook them for a few minutes longer before adding the meat.
For a Lower Carb Version - Use ½ the number of sweet potatoes and potatoes or leave them out completely.
Storing and Using Leftovers
Store Leftovers in an airtight container in the refrigerator for up to 4 days.
Reheat leftover one-pan pork chops and vegetables in the oven in a covered dish at 350 until it is heated through or you can reheat it in the microwave.
Serve leftovers as they are, or slice the pork and stuff the pork and vegetables into a pita or roll.
Freezing is not recommended for this recipe.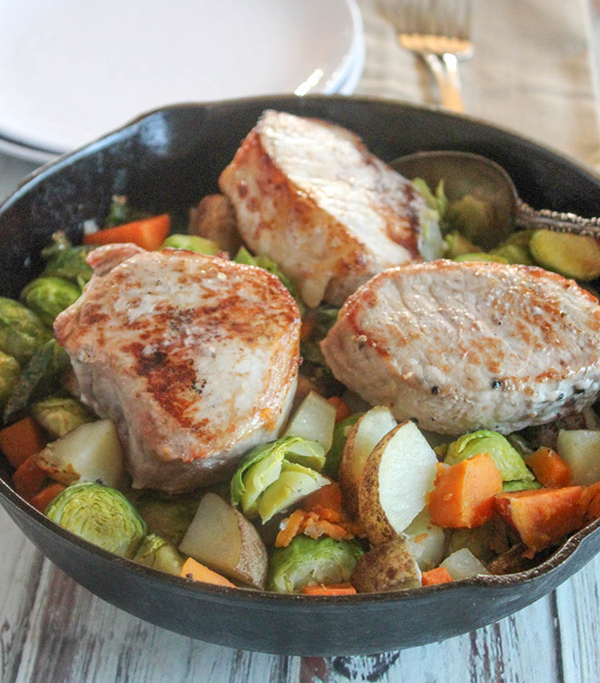 You Might also Like these Recipes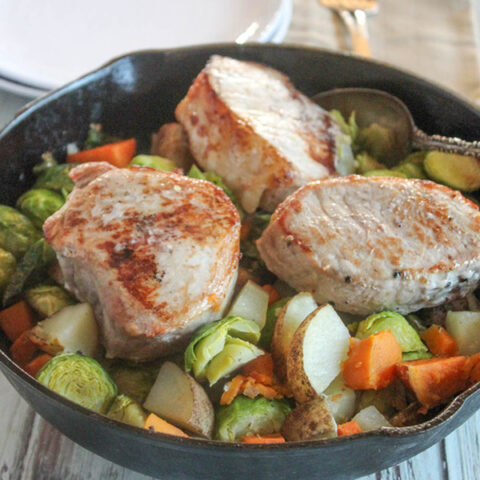 Easy Oven Baked Pork Chops
Easy oven baked pork chops with vegetables is a one pan meal made with less than 10 ingredients is perfect for a quick and nutritious dinner idea.
Ingredients
2 Tablespoons Olive Oil - divided
1 Pound boneless pork chops
1 pound (2 medium sweet potatoes)
1 pound russet potatoes (2 to 3 medium potatoes)
1 pound brusels sprouts
1 tablespoon olive oil
1 tablespoon chopped shallots
1 clove of garlic
1 teaspoon fresh squeezed lemon juice
salt and pepper to taste
Instructions
Preheat the oven to 375
Prepare the ingredients: rinse, trim and cut the brussels sprouts in half. Cut the sweet potatoes and potatoes into chunks about an inch in size (similar to the size of the Brussels sprouts halves). Chop the garlic and shallots and squeeze the lemon juice.
Heat 1 tablespoon olive oil in a skillet over medium to high heat, once the skillet is heated, add the pork chops. Cook for about 3 minutes until they start to brown. Flip them over and brown the other side and remove them from the heat.
Add the Brussels sprouts, sweet potatoes, onions and garlic to the pan with the remaining olive oil and cook them for about 5 minutes over medium heat.
Remove the pan from the heat, stir in the lemon juice and cover the pan
Bake at 375 covered for 15 minutes until the vegetables start to become soft
Remove the cover add the pork chops and bake for 15 to 20 minutes more until the pork reaches 145 and the vegetables are cooked to a texture that you like.
Notes
If you prefer your vegetables on the softer side, you may have to cook them for 20 minutes covered.
Nutrition Information:
Yield:

4
Serving Size:

¼ pound pork chop
Amount Per Serving:
Calories:

490
Total Fat:

27g
Saturated Fat:

7g
Trans Fat:

0g
Unsaturated Fat:

18g
Cholesterol:

85mg
Sodium:

196mg
Carbohydrates:

28g
Fiber:

5g
Sugar:

2g
Protein:

38g
Nutrition information is provided by an online calculator and is meant to be used for informational purposes only. Even though I try to provide accurate information, these figures should still be considered as estimates.