This mushroom veggie burger recipe is packed with wholesome ingredients. Meaty portabella mushrooms, walnuts and veggies give these veggie burger patties great texture and flavor. Make up a double batch today, and freeze what's left to use later.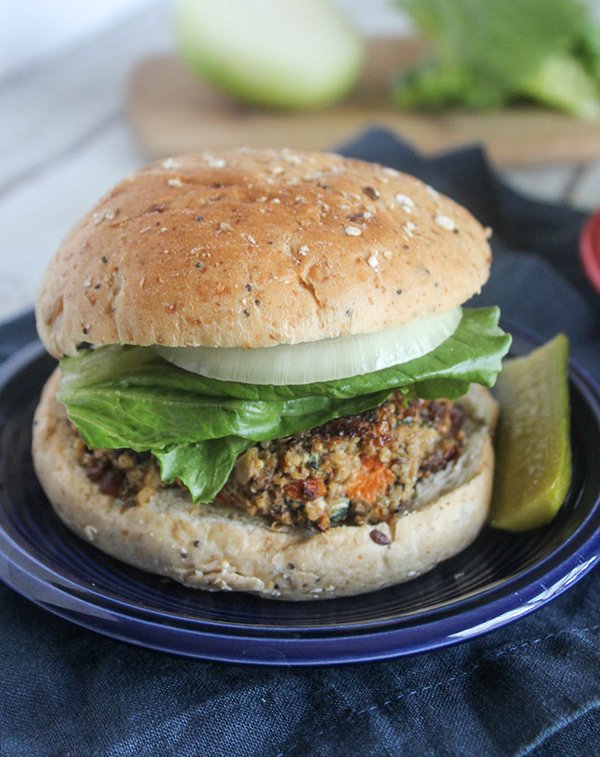 Who doesn't love a delicious, healthy veggie burger? These homemade veggie burgers are filled with plant-based freshness just like these eggplant meatballs.
Why this Recipe Works
Simple and flavorful veggie burger filled with easy to find healthy ingredients.
It's a versatile recipe and very customizable.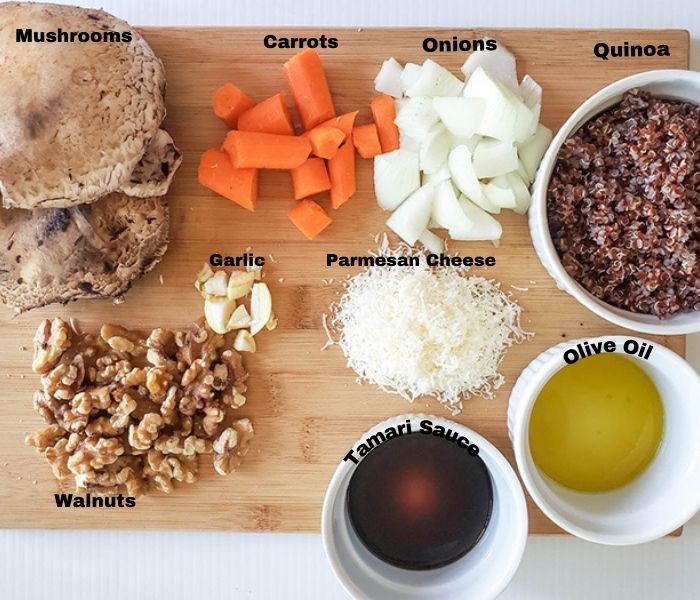 Here is What You Will Need
As an Amazon Associate, I earn from qualifying purchases
This is an overview of the ingredients and steps to make this recipe, scroll down for a printable recipe card with exact measurements and instructions.
Ingredients
Portabella mushrooms
Cooked quinoa
Carrots
Onions
Garlic
Egg
Parmesan Cheese
Olive oil
Equipment
How To Make Mushroom Veggie Burgers
Prepare the ingredients: cook the quinoa, clean and roughly chop the onions, carrots, mushrooms and garlic.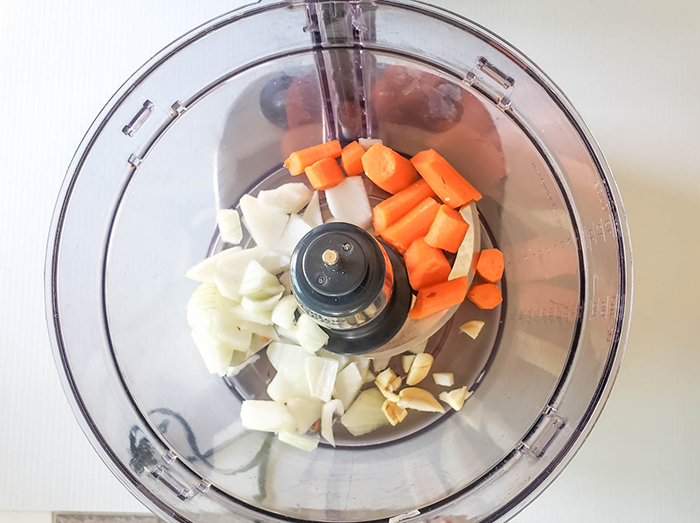 Step 1. Chop the carrots and onions
Place the carrots, onions, and garlic into a food processor and pulse the food processor until they're in the shape of crumbles. Remove them from the food processor and set them aside.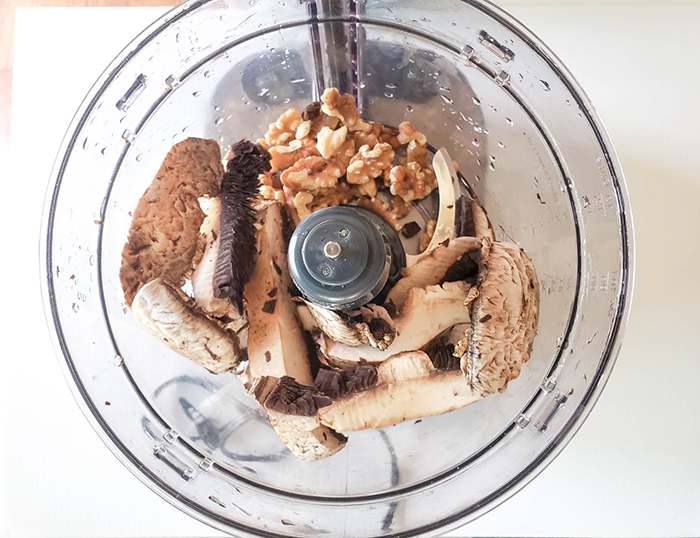 Step 2. Chop the mushrooms
Add the mushroom pieces and walnuts; process into crumbles.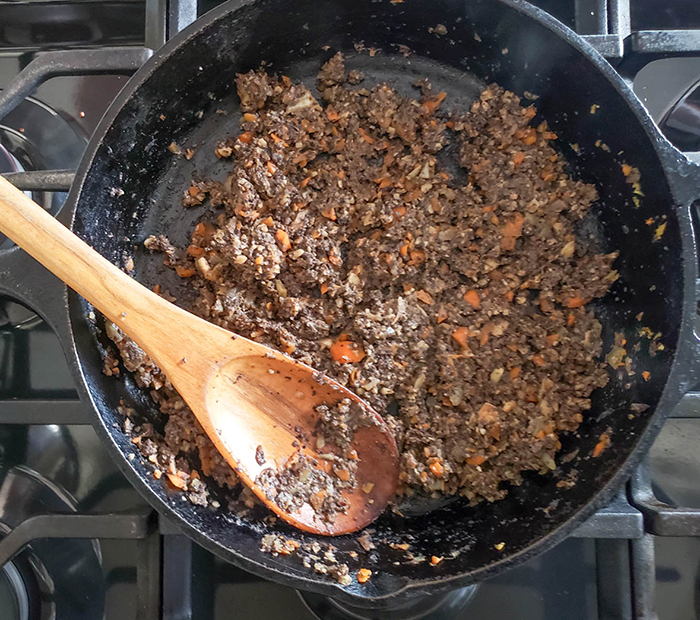 Step 3. Cook the veggies
Heat the oil in a skillet over medium heat and add the crumbled vegetables. Cook them until they become soft - about 5 to 8 minutes.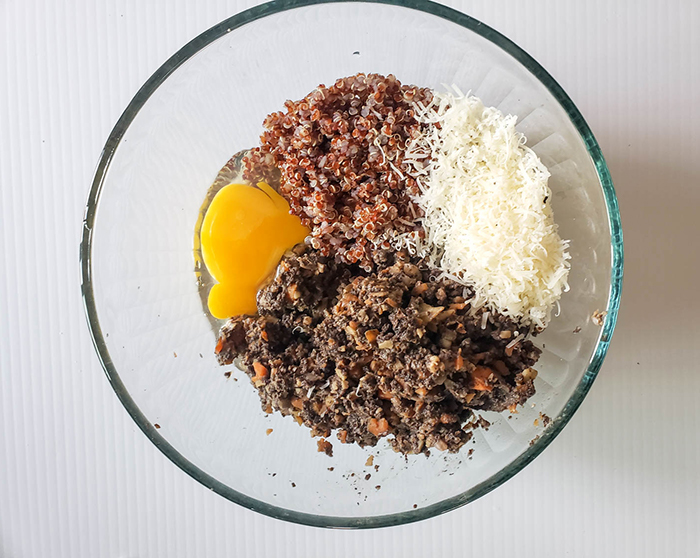 Step 4. Add Egg and cheese
Place the cooked vegetables into a strainer and squeeze out as much liquid as you can. Place the strained vegetables into a large bowl and add tamari sauce, cooked quinoa, egg, and cheese.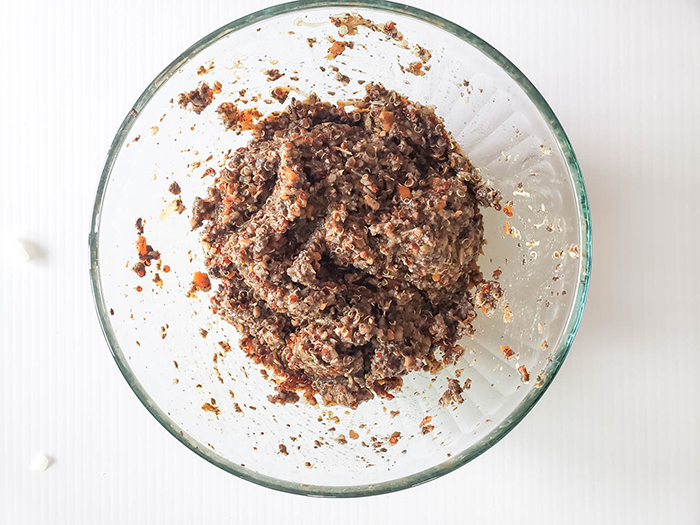 Step 5. Chill the burger mix
Mix everything together and place the bowl in the refrigerator for 45 minutes which will make it easier to form the mixture into patties.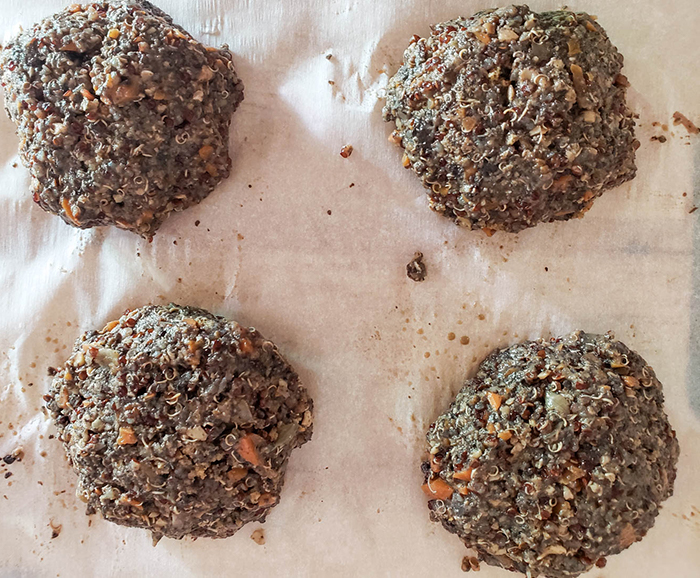 Step 6. Make the patties
Use your hands or a burger press to form the mixture into 6 patties.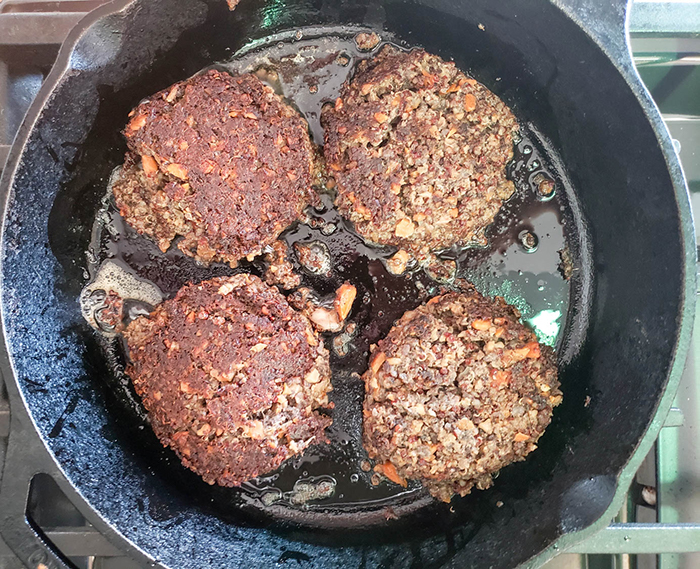 Step 7. Cook the veggie burgers
Heat the remaining oil in a large skillet over medium-high heat and cook the veggie patties for 5 minutes on each side.
Note: If your food processor is large enough, you can process all of the vegetables together in one step.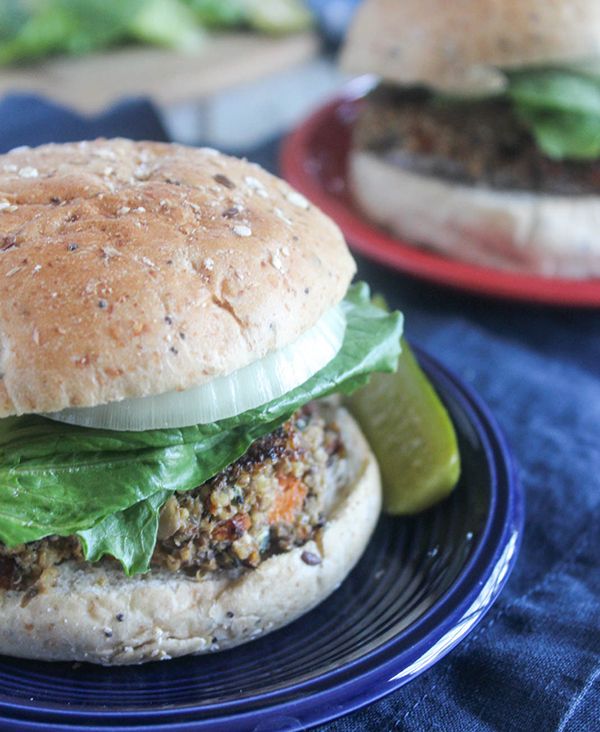 Ingredient Notes & Substitutions
Portabella Mushrooms give these burgers an earthy flavor, and they are the best choice of mushroom to use in this recipe for their meaty texture.
Substitute portobello mushrooms with 8 ounces of baby bellas, shiitake mushrooms, or white button mushrooms.
Onion. The best type of onion to use in these mushroom veggie burgers is an all-purpose onion such as a yellow, or Vidalia onion.
Garlic. Fresh garlic is always the best choice when cooking, but it can be substituted with ⅛ teaspoon of garlic powder.
Quinoa. Quinoa grows in a variety of colors, most commonly white, red, black or mixed. You can use any color of quinoa that you like in this recipe.
Quinoa can be substituted with an equal amount of cooked brown rice in this recipe.
Walnuts add a little more meaty texture as well as protein. If you don't care for walnuts you can use another type of nut.
Substitute the walnuts with an equal amount of raw cashews, almonds, or pecans.
Tamari Sauce brings all of the flavors together with its umami flavor.
Substitute tamari sauce with an equal amount of soy sauce or coconut aminos.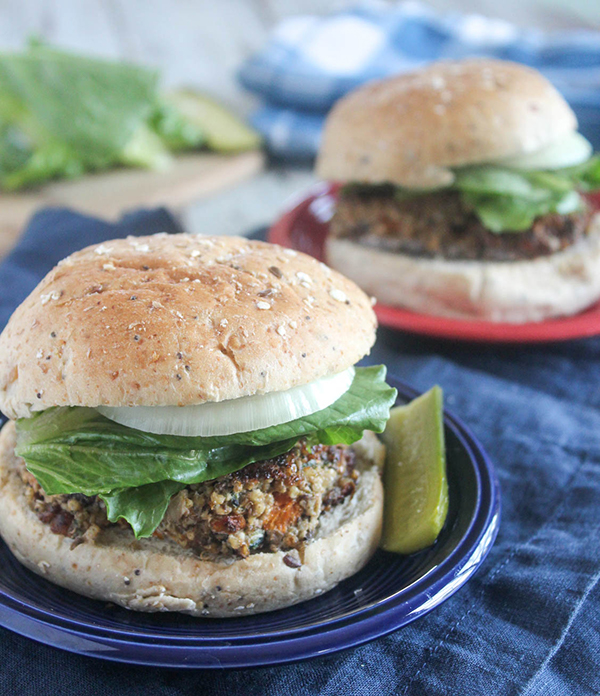 Make-Ahead Instructions
Mushroom veggie burgers can easily be made ahead of time. Simply follow the recipe instructions, and store the mixture in a bowl or shaped into burgers in the refrigerator for up to two days.
To cook the burgers, remove them from the refrigerator and bring them to room temperature. Cook them following the recipe instructions.
Storing and Using Leftovers
Store leftover cooked veggie burgers in an airtight container in the refrigerator for three to four days.
Freeze unused cooked veggie burgers by placing them onto a parchment-lined baking sheet and placing it into the freezer.
Once the burgers are frozen, remove them from the cooking sheet and place them into an airtight container for up to three months.
Thaw frozen veggie burgers in the refrigerator overnight or reheat them straight from the freezer.
Reheat your veggie mushroom burger on top of the stove, in the oven or microwave.
Freezing uncooked burgers is not recommended.
Veggie Burger Variations
Change up the vegetables in your burgers and use any combination of shredded zucchini, butternut squash, sweet potatoes, or beets.
Vegan mushroom burgers. This recipe is vegetarian, and you can easily transform it into a vegan recipe by using a flax egg (1 tablespoon ground flaxseed mixed with 3 tablespoons water) in place of an egg and replacing the parmesan cheese with ⅛ cup nutritional yeast.
Serving Suggestions
Serve your mushroom veggie burgers on a bed of field greens or between a whole grain roll topped with a slice of red onion, lettuce leaves and a side of kale Caesar salad or a side of buffalo cauliflower bites.
Recipe Tips and Questions
Tips
If you are in a hurry, place the burger mixture into the freezer for 15 to 20 minutes.
If the burgers are still too moist. Add a quarter cup of unseasoned bread crumbs or rolled oats to bind them together.
Questions
Can I cook these veggie burgers on the grill?
Veggie burgers are more fragile than meat burgers. If you want the grilled flavor in your veggie burger, bake the burgers first for 15 to minutes in the oven at 375. Allow them to cool slightly and then toss them onto the grill for a few minutes.
Are mushroom veggie burgers healthy?
Yes, mushroom veggie burgers are healthy? They are lower in fat, and filled with vegetables and fiber and the quinoa and walnuts add protein.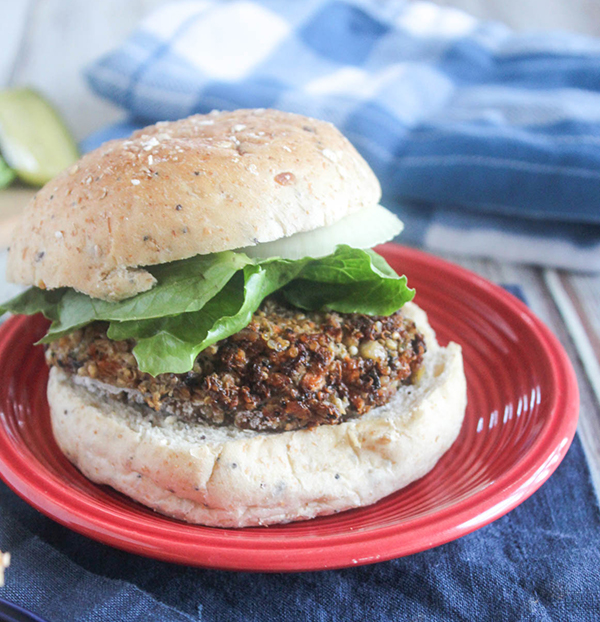 For more simple and delicious recipes like this, subscribe to our newsletter and receive a free e-book and meal suggestions straight in your inbox!
You Might Also Like these Burger Recipes
If you like this recipe, please comment and rate it below!
Check out more of our plant-based recipes for more vegetarian recipes