Onion soup chicken is a savory chicken recipe that is made with flavorful sauteed onions, cooked in a broth then topped with melted cheese for the best combination of French onion soup and chicken ever.
This easy delicious chicken dinner uses only 7 ingredients, and can be on your table in an hour.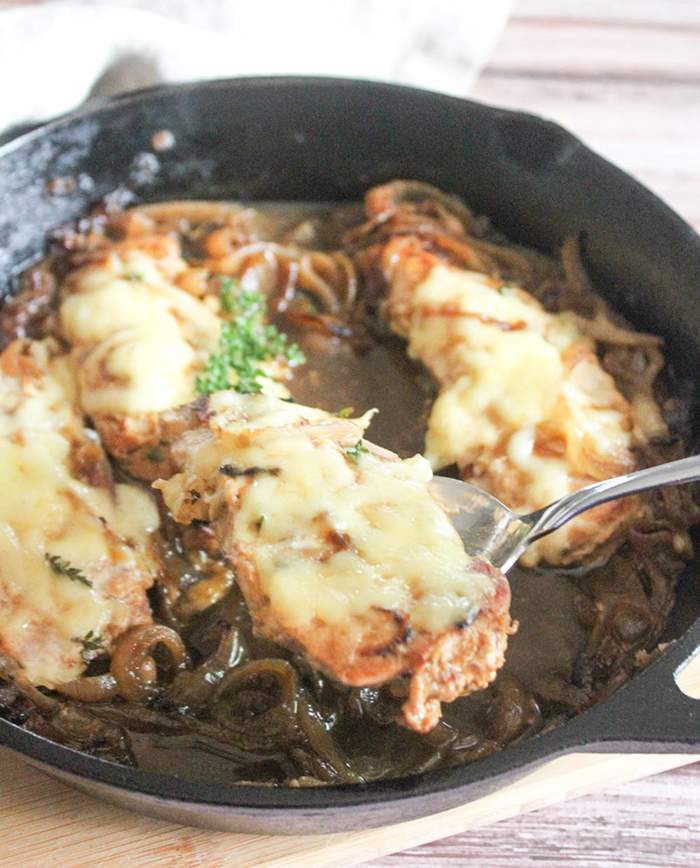 This onion soup chicken recipe gets its inspiration from French onion soup. For more chicken recipes, check out these recipes for Chicken Murphy or Chicken Giambotta.
Why This Recipe Works
It's full of flavor and made with only 7 ingredients.
It can be made ahead of time, perfect for meal prep.
You can make this dinner in one pan.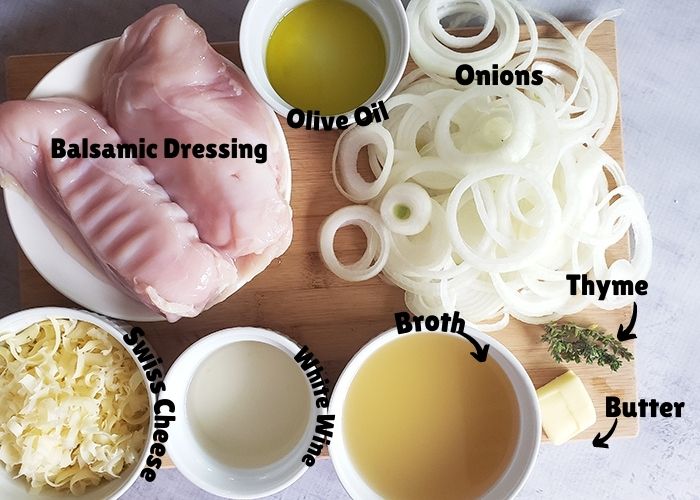 Here is What You Will Need
This is an overview of the ingredients and steps to make this recipe, scroll down to see ingredient notes and substitutions as well as a printable recipe card with exact measurements and complete cooking instructions.
As an Amazon Associate, I earn from qualifying purchases
---
Ingredients
Olive oil & Butter
Onions
White wine
Fresh thyme
Gruyere or Swiss cheese
---
Here Is How to Make Onion Soup Chicken
Before you start cooking it's a good idea to have your ingredients ready to go. Here's how to start with this recipe: Slice the onions, and measure the oil, broth, wine, and shred the cheese.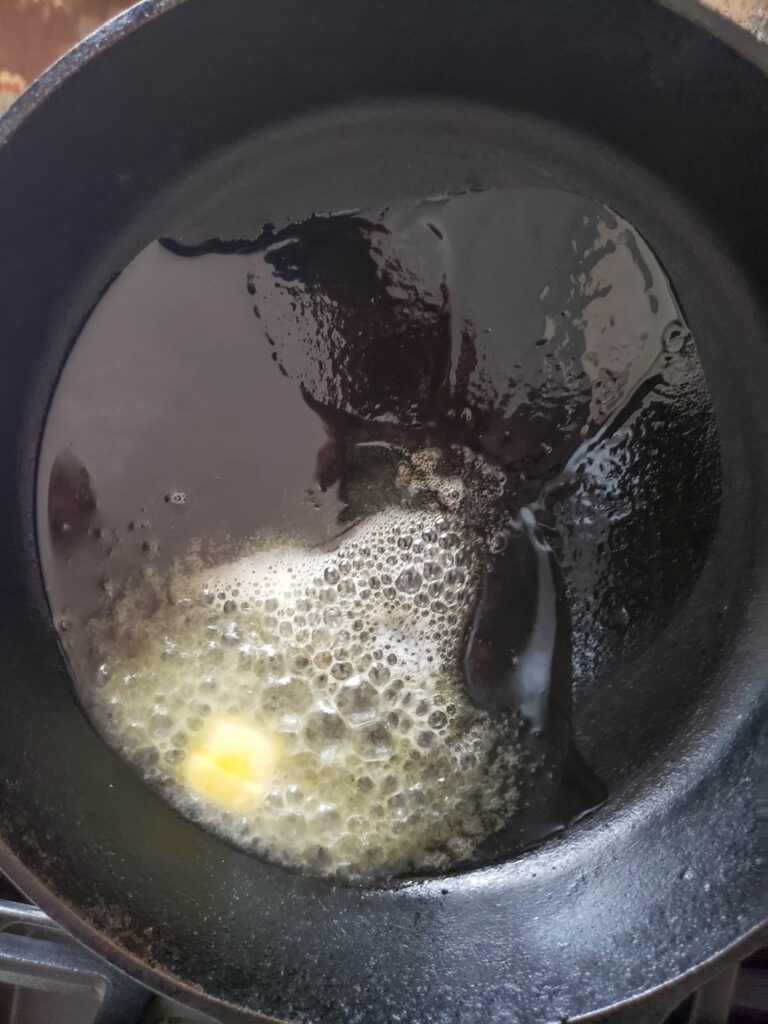 Step 1. Heat the oil and butter in a skillet over medium to high heat. Once the oil& butter is hot, add the sliced onions and reduce the heat to medium.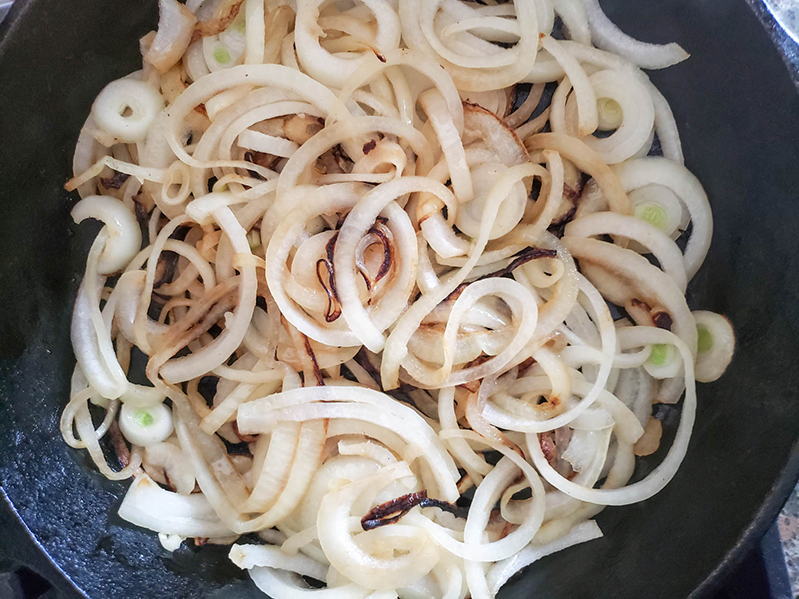 Step 2. Cook the onions in the pan without disturbing them for about 5 minutes, and keep an eye on them to ensure they aren't burning.
TIP! If the onions start to burn; reduce the heat and add a little bit of water or oil.
Once the onions begin to turn golden brown you can flip them around in the pan and let them cook for 5 to 10 minutes longer while occasionally checking them.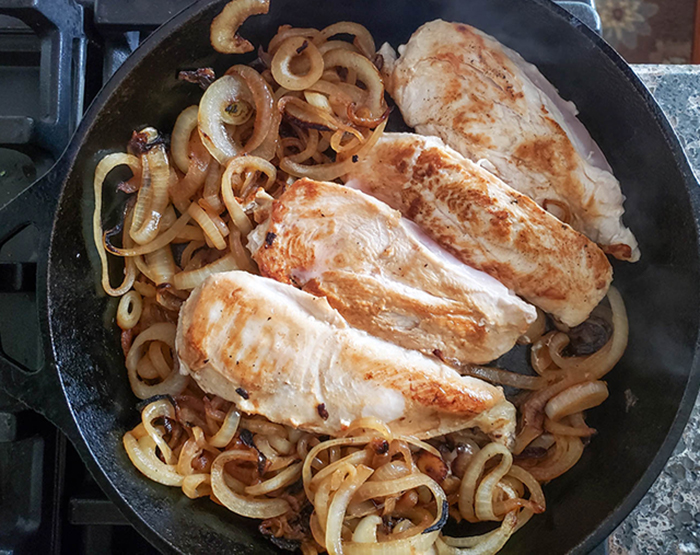 Step 3. Once the onions are nice and golden brown all around, move them to the edge of the pan and add the chicken breasts. Cook the chicken until it is brown on each side (about 2 to 3 minutes per side).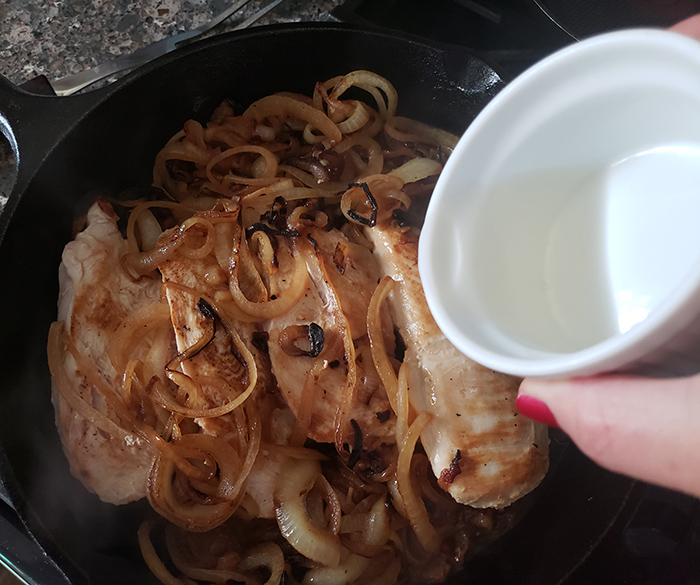 Step 4. Reduce the heat to low and add the white wine and cook for about 5 to 8 minutes longer until the wine reduces by half.
TIP! If you are not using wine, add half of the chicken broth and simmer it for about 5 to 8 minutes. The broth will reduce a little bit, but most likely not by half.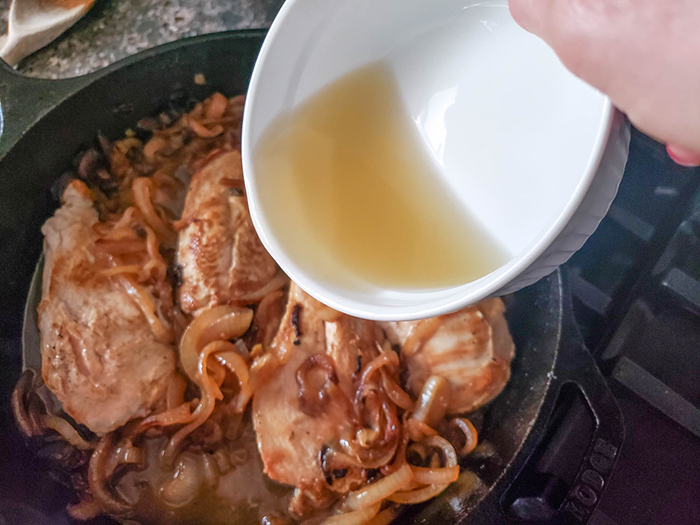 Step 5. Stir in the broth and fresh thyme; simmer on low for 10 minutes.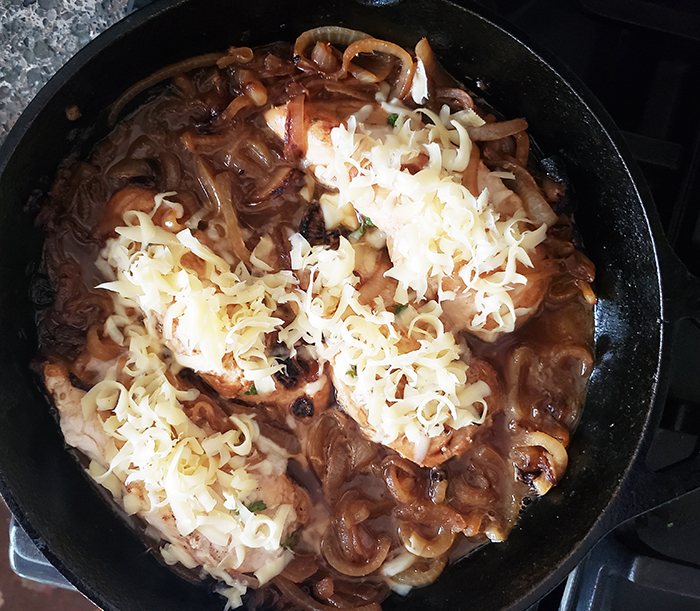 Step 6. Cover the chicken breasts with cheese and place the skillet under the broiler for a few minutes to melt the cheese or cover the skillet for a few minutes until the cheese has melted.
Total Estimated Time to Make this Recipe: 50 to 60 Minutes
Ingredient Notes & Substitutions
Olive Oil & Butter. Olive oil does not burn as quickly as butter when cooking the onions, but I like the flavor of the butter so I use both. If you prefer, you can use all butter or all olive oil. If you use all butter, keep a close eye on the skillet to prevent the onions from burning.
Fresh Thyme. Substitue fresh thyme with ½ teaspoon dried thyme.
Boneless Chicken Breasts. Can be substituted with boneless chicken thighs or boneless pork chops. Bone-in chicken is not recommended because I have not tried it.
Swiss Cheese. We like the flavor of Swiss cheese in this recipe. You can use any kind of cheese that you like. Mozzarella and provoline are good options too.
White Wine. The best wine to use in cooking is a white wine that is crisp and not sweet such as sauvignon blanc or pinot grigio. The wine can also be omitted and substituted with ½ cup more broth.
Serving Suggestions
This meal tastes great with a side of roasted potatoes, green beans, roasted vegetables or a salad.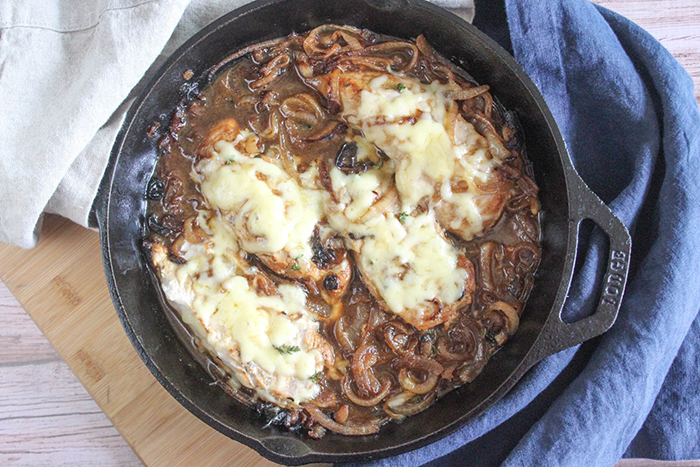 Make-Ahead Instructions
Onion soup chicken is the perfect candidate to make ahead for meal prepping. Here are a few suggestions:
Prepare and measure out all of the ingredients and store them in the refrigerator in separate containers for 3 to 4 days.
When it's time to eat, follow the recipe instructions in the recipe card below.
You can go a few steps further and caramelize the onions and store them in the refrigerator for up to three days ahead of time.
When it's time to serve the chicken, follow the recipe instructions starting with adding the caramelized onions to the pan and brown the chicken with them.
This recipe can also be prepared almost completely, up to adding the cheese. Once the cooked dish cools off, store it in the refrigerator for up to 3 days ahead.
To serve heat, the chicken in a loosely covered skillet over low heat on top of the stove. Once the chicken is heated through, add the cheese and pop the skillet under the broiler to melt the cheese.
Storing and Using Leftovers
Store leftover onion soup chicken in the refrigerator for 3 days.
Reheat it on top of the stove over low heat in a covered skillet, in the oven at 350 degrees or in the microwave.
Leftover suggestions: Chop the leftover chicken up and toss it with brown rice and peas, serve it on a crusty hard roll for a sandwich, add more broth and turn it into onion chicken soup, or serve it warmed over a bed of arugula or spinach.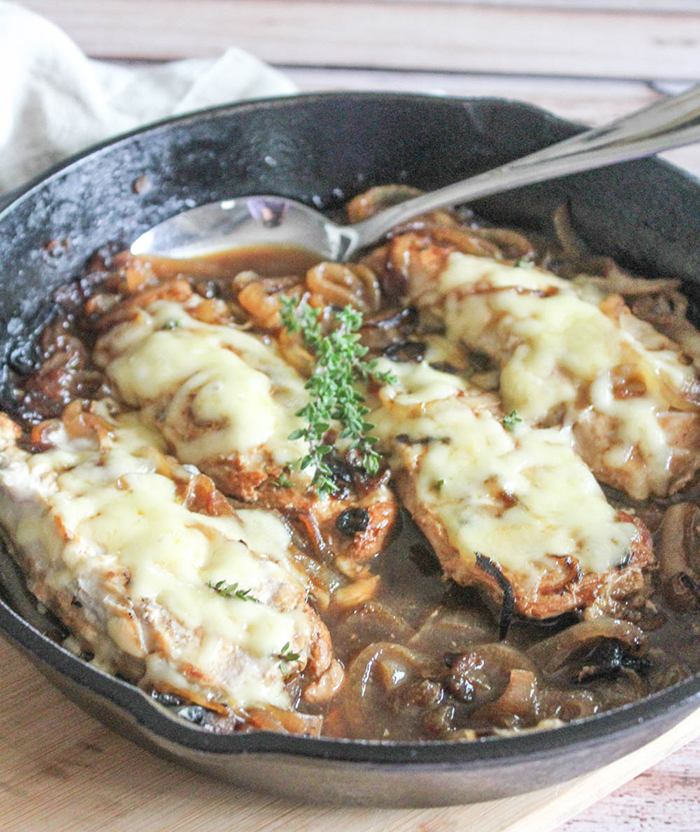 Recipe Variations
Change up the meat in this recipe with an equal amount (one pound) of boneless pork chops or pork tenderloin.
Add sliced mushrooms while the chicken and onions are simmering.
You Might Like these Recipes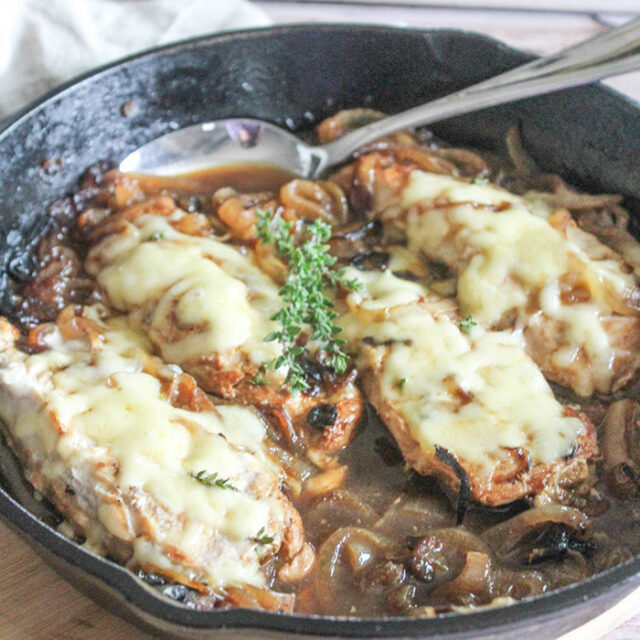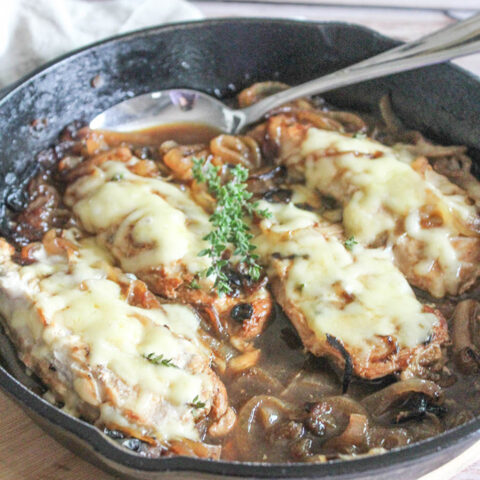 Onion Soup Chicken
Total Time:
1 hour
5 minutes
You will love this easy delicious chicken dinner made with only 7 ingredients and on your table in an hour.
Ingredients
2 teaspoons unsalted butter
2 medium onions
½ cup white wine
2 teaspoons fresh thyme
4 ounces of Swiss cheese
Instructions
Heat the oil and butter in a skillet over medium to high heat.
Once the oil is hot, reduce the heat to medium and add the onions.
Cook them without disturbing for 5 to 8 minutes until they begin to turn golden brown on the bottom.
Flip the onions over and cook them for a few minutes longer until they turn golden brown in color.
Add the chicken breasts and cook them for 3 minutes on each side.
Stir in the white wine, reduce the heat to low and cook until the wine reduces by half.
Add the remaining broth and simmer for at least 15 minutes longer.
Top the chicken pieces with shredded cheese and pop the pan under the broiler to cover the skillet to melt the cheese.
Notes
Substitutes:
use ½ teaspoon of dried thyme in place of fresh thyme
one pound of boneless chicken thighs can be used in place of chicken breasts,
Nutrition Information:
Yield:

4
Serving Size:

1 piece of chicken
Amount Per Serving:
Calories:

388
Total Fat:

17g
Saturated Fat:

8g
Trans Fat:

0g
Unsaturated Fat:

8g
Cholesterol:

128mg
Sodium:

154mg
Carbohydrates:

7g
Fiber:

1g
Sugar:

3g
Protein:

44g
Nutrition information is provided by an online calculator and is meant to be used for informational purposes only. Even though I try to provide accurate information, these figures should still be considered as estimates.