Baked buffalo chicken egg rolls are a healthier alternative to fried egg rolls. They are filled with ground chicken and vegetables combined with hot sauce then baked to golden brown and crispy perfection.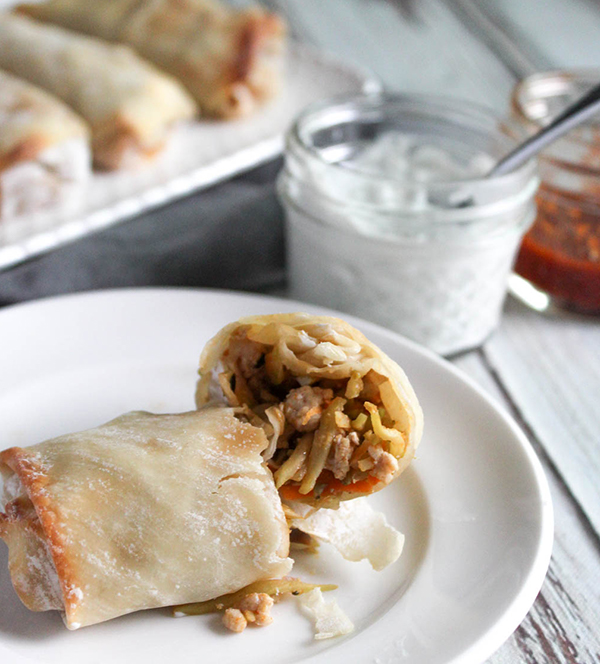 Not only are egg rolls a tasty appetizer, and they also taste great for lunch or dinner served with a zesty baby arugula salad on the side.
Why This Recipe Works
Homemade egg rolls are so good, and easy to make with simple ingredients.
Unlike most buffalo chicken egg rolls made with cream cheese, these are dairy-free.
Baking instead of frying egg rolls is a healthier way to enjoy them!
Here is What You Will Need to Make Buffalo Chicken Egg Rolls
As an Amazon Associate, I earn from qualifying purchases.
This is an overview of the ingredients and steps to make this recipe. Scroll down to see a printable recipe card with exact measurements and complete cooking instructions.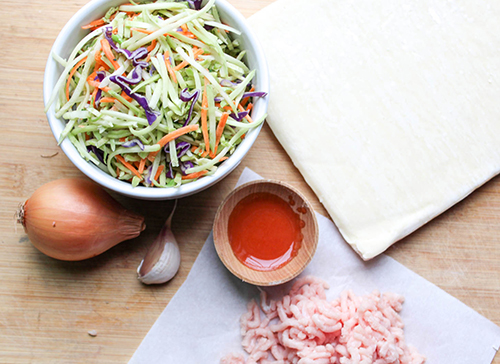 Ingredient List
olive oil
ground chicken breast
broccoli slaw mix
onion
garlic
unsalted butter
egg roll wrappers
cooking spray (optional)
Equipment
Here is How to Make Buffalo Chicken Egg Rolls
Prepare: Chop the garlic and onions. Melt the butter, measure the hot sauce and mix it with the melted butter. Line a cookie sheet with parchment paper and preheat the oven to 400 degrees f.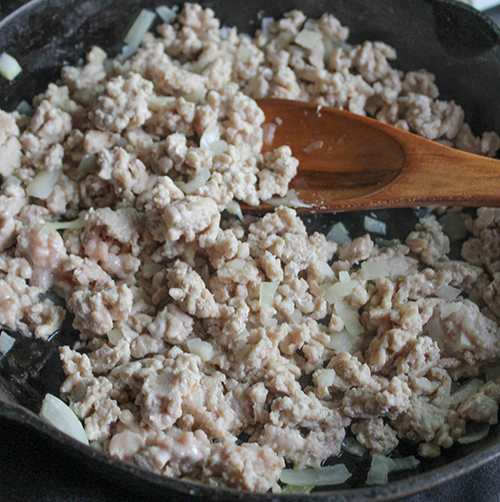 Step 1. Cook the Chicken
Heat olive oil in a skillet over medium high heat, once it's hot add the chicken and cook until it begins to turn brown and stir in the onions and garlic.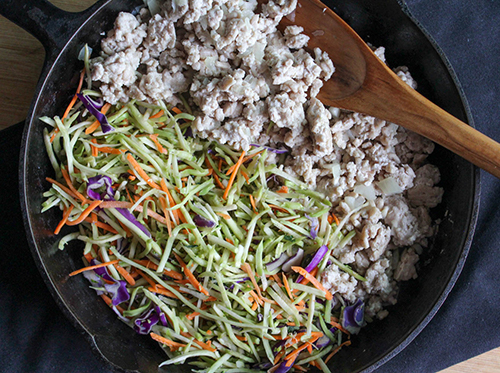 Step 2. Add the veggies
Once the chicken is almost cooked through, reduce the heat to medium heat and add the vegetables; cook for a few minutes until the vegetables begin to soften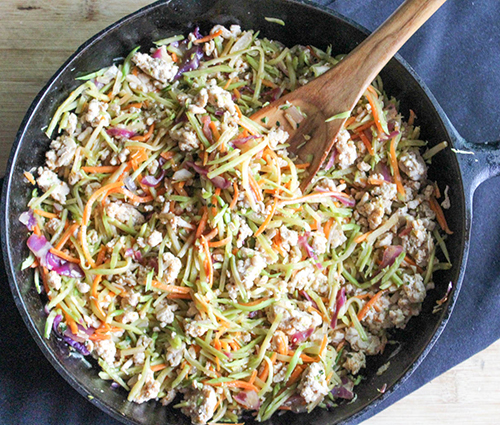 Step 3. Add the Sauce
Stir the butter/hot sauce mixture and add it to the skillet with the chicken and vegetables. Turn the heat off.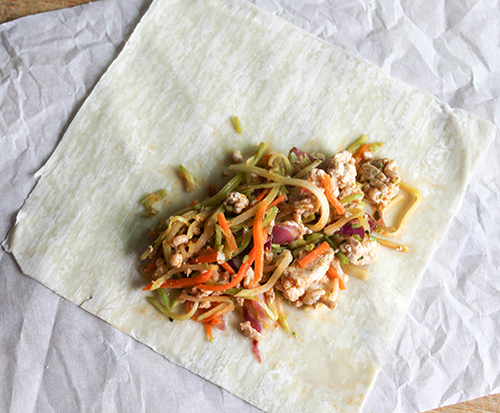 Step 4. Add the Filling
Lay the egg roll wrapper out in a diamond shape and place about 2 tablespoons of the chicken mixture in the center of the wrapper.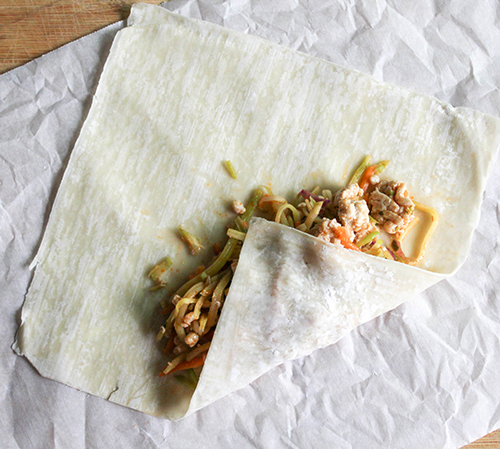 Step 5. Fold Over the Filling
Pull the top corner of the egg roll wrap over the filling.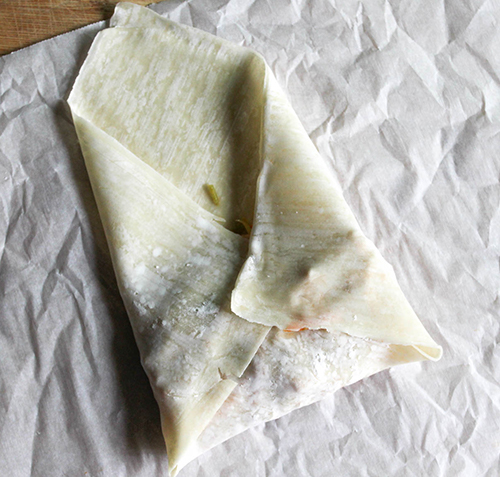 Step 6. Fold in the Sides
Fold in the side edges of the egg roll wrapper while tightening the egg roll and rolling toward the bottom corner.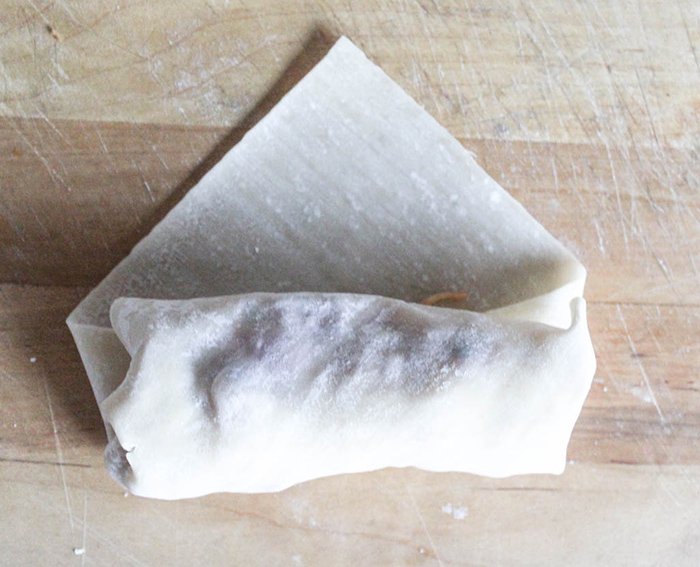 Step 7. Roll It Up
Continue rolling until you get to the end. Press the edges together to seal them.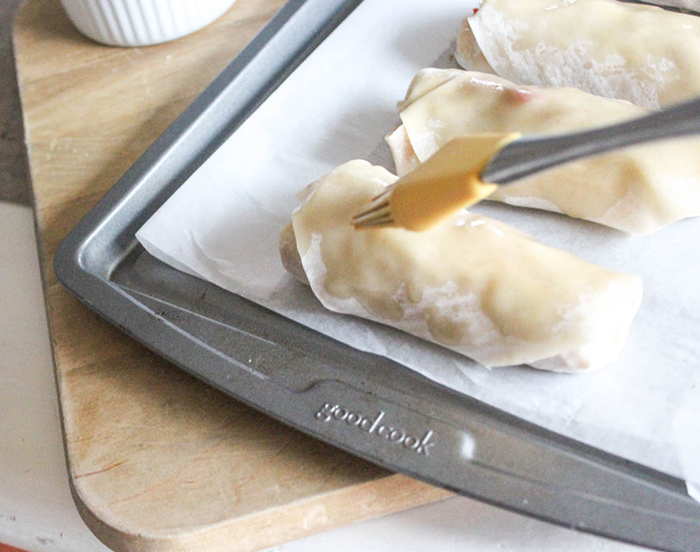 Step 8. Bake
Arrange the egg rolls on a parchment-lined baking sheet brush them with olive oil, and bake.
Note: To make rolling easier, let the filling cool off to room temperature before stuffing and rolling the egg rolls.
Ingredient Notes & Substitutions
Ground chicken cooks quickly and is perfect in these egg rolls. It can be substituted with leftover chicken, rotisserie chicken or shredded chicken.
Broccoli slaw adds a nice crunchy texture to this buffalo chicken egg roll recipe. It can be replaced with a cabbage slaw mix or shredded cabbage.
Hot sauce. Frank's is our hot sauce of choice when we make buffalo chicken. It can be replaced with your favorite hot sauce.
Unsalted butter mixes with the hot sauce and can be replaced with an equal amount of olive or avocado oil.
Fresh garlic can be replaced with ½ teaspoon of garlic powder.
Onions. All-purpose, sweet or green onions are the best onions to use in this recipe. Fresh onions can be replaced with ½ teaspoon of onion powder.
Egg Roll Wrappers can be substituted with wonton wrappers for mini egg rolls, and you can also use spring roll wrappers which are a little bit thinner.
If you like egg rolls, try these chicken cheesesteak egg rolls.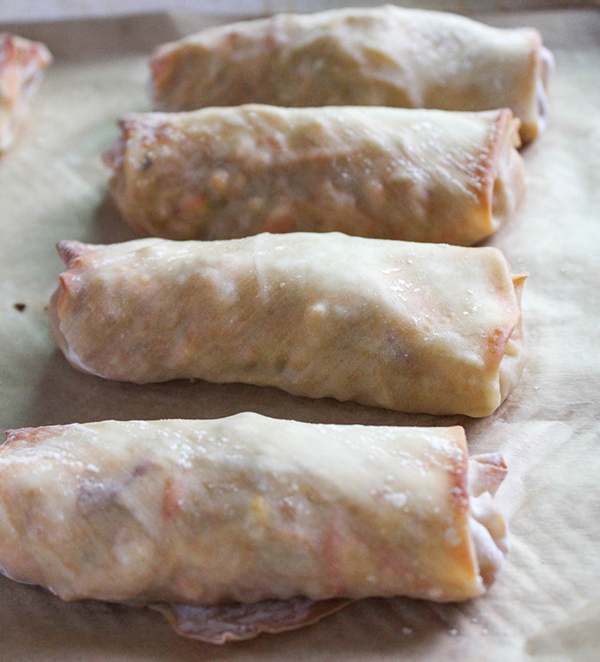 Make Ahead Instructions
Save some time, and make buffalo chicken egg rolls ahead of time. Cook the filling up to two days ahead of time and store it in the refrigerator until it's time to roll the egg rolls.
Serving Suggestions
Serve these baked egg rolls with a side of raw veggies such as carrot sticks, celery sticks, and broccoli with extra buffalo sauce, homemade blue cheese dressing or ranch dressing as a dipping sauce.
Make it a full meal and serve buffalo chicken egg rolls with a chopped salad.
Tips
Cover the rolled egg rolls with a damp towel until it's time to bake them to keep them from drying out.
Make extra and keep them in the freezer for a quick appetizer or meal.
Storing Leftovers
Refrigerate leftover egg rolls for 3 to 4 days.
Freeze leftover egg rolls once they have cooled off by placing them into a single layer in a bag or freezer-safe container for up to three months.
Defrost them in the refrigerator overnight.
Reheat leftover egg rolls in a preheated 375-degree f oven until heated through (15 to 20 minutes).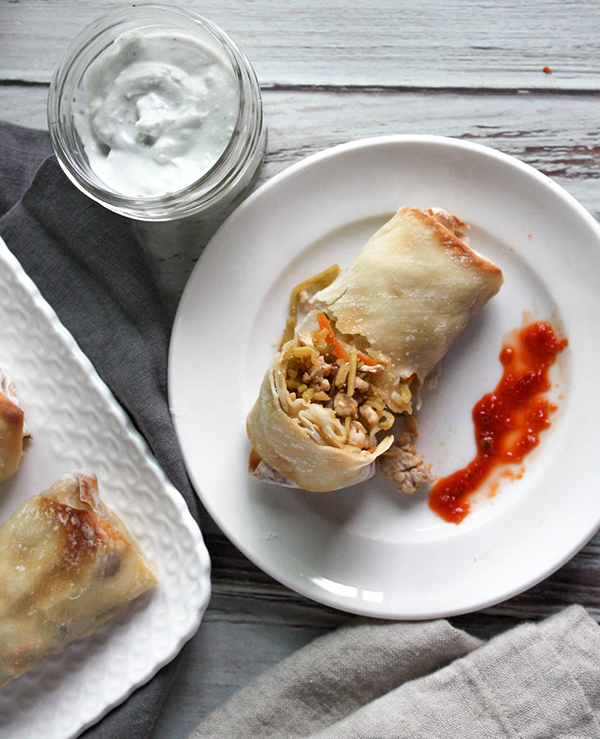 Baked Buffalo Chicken Egg Rolls Recipe Variations
Vegetarian Egg Rolls. Replace the meat with a block of crumbled extra firm drained tofu. Saute tofu crumbles in a skillet with the vegetables, add the sauce and roll them up.
Add Cheese. Top the stuffing with blue cheese crumbles, mozzarella cheese, or cheddar cheese before rolling the egg rolls up.
Celery and Carrot Filling. Instead of using broccoli slaw, 1 ½ cups each of shredded carrots and chopped celery.
Tortilla Egg Rolls. Replace the egg roll wrappers with taco-sized tortillas.
Gluten-Free Buffalo Chicken Egg Rolls. Replace the egg roll wrappers with gluten-free spring roll wraps or gluten-free tortillas.
Egg Roll Bowls. Instead of rolling the egg rolls, serve them in a bowl without the egg roll skins.
For more simple and delicious recipes like this, subscribe to our newsletter and receive a free e-book and meal suggestions straight in your inbox!
Can I make Baked Buffalo Chicken Egg Rolls in an Air Fryer?
Yes, you can. Follow the instructions in the recipe card. Preheat the air fryer to 400 degrees. Air fry egg rolls until golden (8 to 10 minutes) turning them halfway through.
Try These Buffalo Chicken Recipes
If you like this recipe, please comment and rate it below!