Buffalo Chicken Flatbread pizza perfect for an appetizer or dinner, and it couldn't be any easier to make. A flatbread (or pizza) crust is topped with pieces of chicken that have been tossed in buffalo sauce and sprinkled with cheese. It's the perfect combination of pizza and buffalo chicken.
If you love putting Buffalo sauce on everything, you are going to love this! It has all of the deliciousness of wings and pizza in one bite.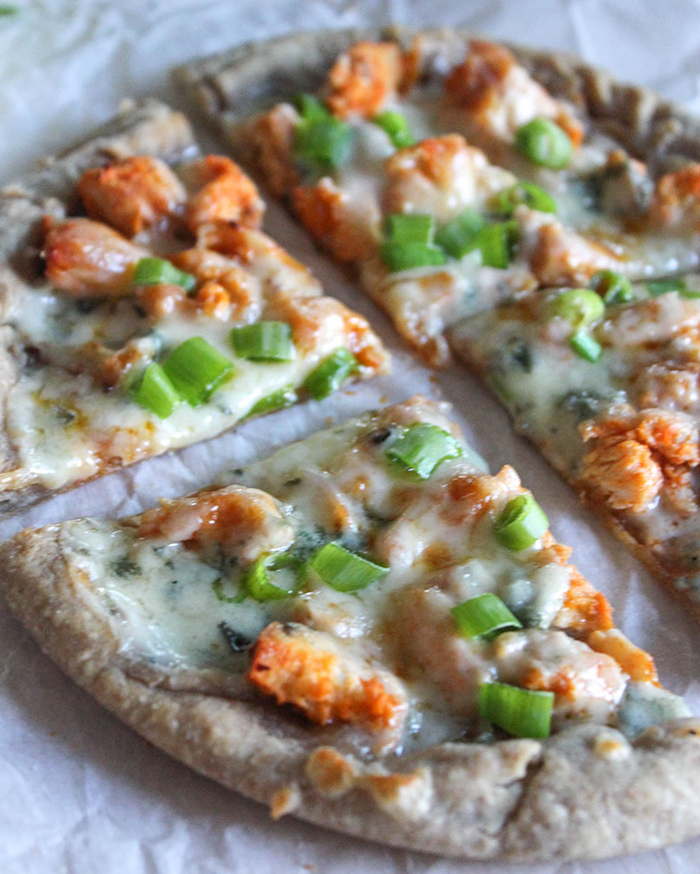 Recipe Highlights
It can be made quickly, especially when all the ingredients are prepared ahead of time.
It's versatile! Use cooked or leftover chicken and any type of cheese that you like. You can even make a vegetarian version.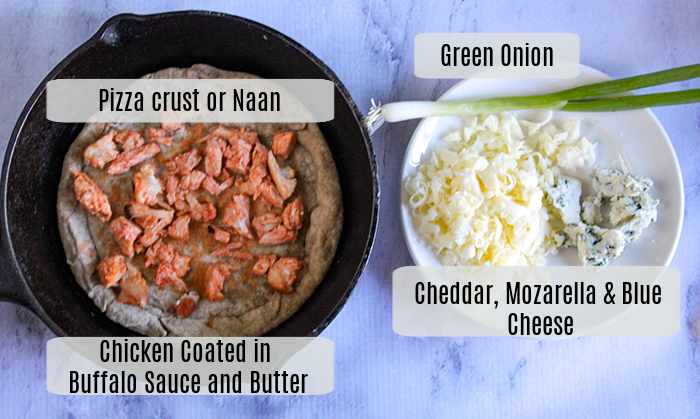 Here Is What You Will Need
As an Amazon Associate, I earn from qualifying purchases
This is an overview of the ingredients and steps to make this recipe, scroll down for a printable recipe card with exact measurements and instructions.
Cooked pizza crust or 2 naan crusts - I usually make my own, here is my recipe for sourdough pizza dough.
Cooked chicken - the chicken can be grilled, baked, boiled or you can use leftover chicken.
Hot sauce - I use Frank's for this recipe.
Butter - just a little bit is mixed into the hot sauce.
Cheese - any of these or a combination: cheddar, blue, mozzarella. We like using all three.
Green onions - for garnish and completely optional.
A pizza stone, cast iron pan for a super crispy crust.
Here is How to Make Buffalo Chicken Flatbread
Add the chicken to the hot sauce mixture making sure that all of the chicken is coated in sauce and spread it on top of the crust and add the shredded cheese.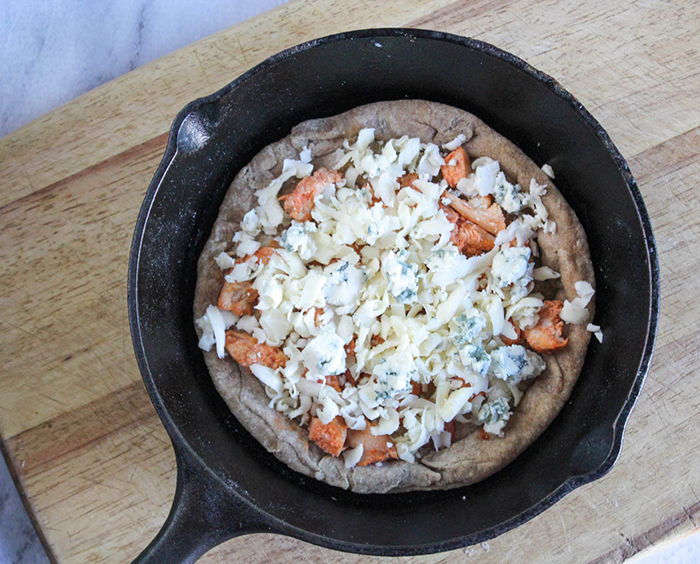 Bake until the cheese melts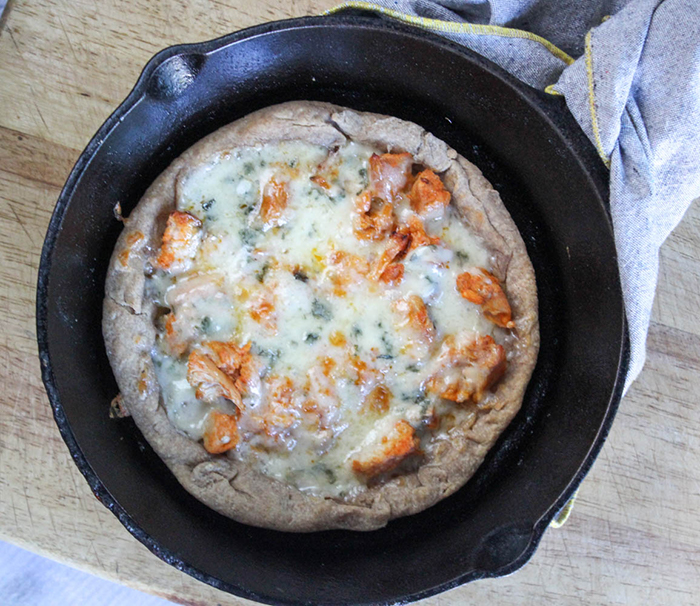 Top with green onions if you are using them.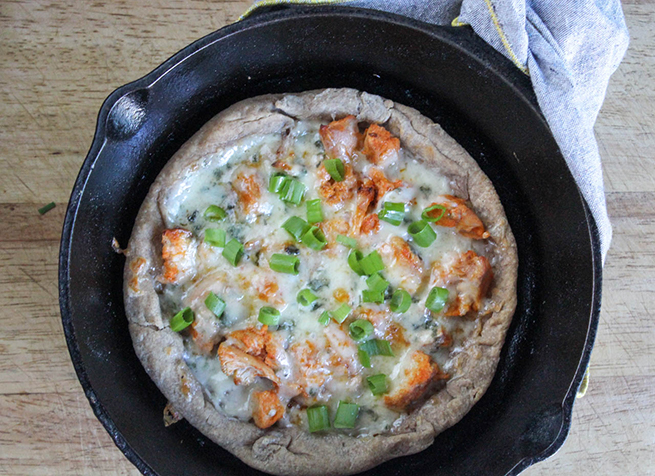 Total Estimated Time to Make This Recipe: 5 to 10 Minutes
Buffalo Chicken Flatbread Pizza Storage and Freezing Tips
Prepare the ingredients ahead of time - store the prepared ingredients in the refrigerator for up to three days. Assemble and bake the flatbread when it's time to eat.
Freeze your buffalo chicken flatbread - Assemble the flatbread and place it on a cookie sheet in the freezer. Once it has frozen through, remove it and wrap it in freezer wrap or store it in a freezer-safe container for up to three months.
Cook the frozen flatbread, place the frozen flatbread on a baking sheet or pizza stone and bake at 375 until it is heated through and the cheese has melted - about 15 to 20 minutes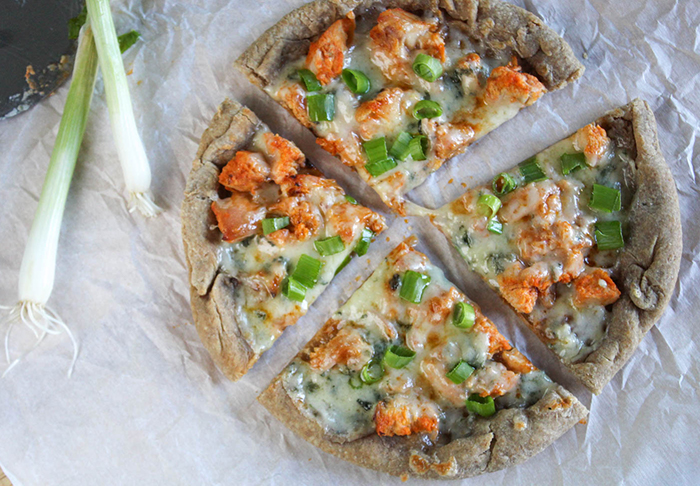 Buffalo Chicken Flatbread Pizza Variations
Vegetarian Version – toss roasted cauliflower florets (enough to cover the dough) in the hot sauce and sprinkle on top of the crust in place of the chicken.
Lower Carb Version/Gluten-Free – use a cauliflower crust in place of wheat-based crust or flatbread.
Additional Topping Suggestions - sprinkle diced celery and bacon on top of your flatbread pizza for extra flavor.
You Might Also Like These Recipes