Whip up a delicious vegetarian eggroll in a bowl at home! Skip the hassle of making traditional egg rolls and instead put these amazing ingredients together in a bowl - tofu crumbles, stir-fried cabbage tossed in a soy-based sauce with a crispy baked egg roll wrapper on top.
This is a healthier alternative to fried egg rolls that the whole family will love!
This recipe was originally posted in 2019, it's been updated for content and photos.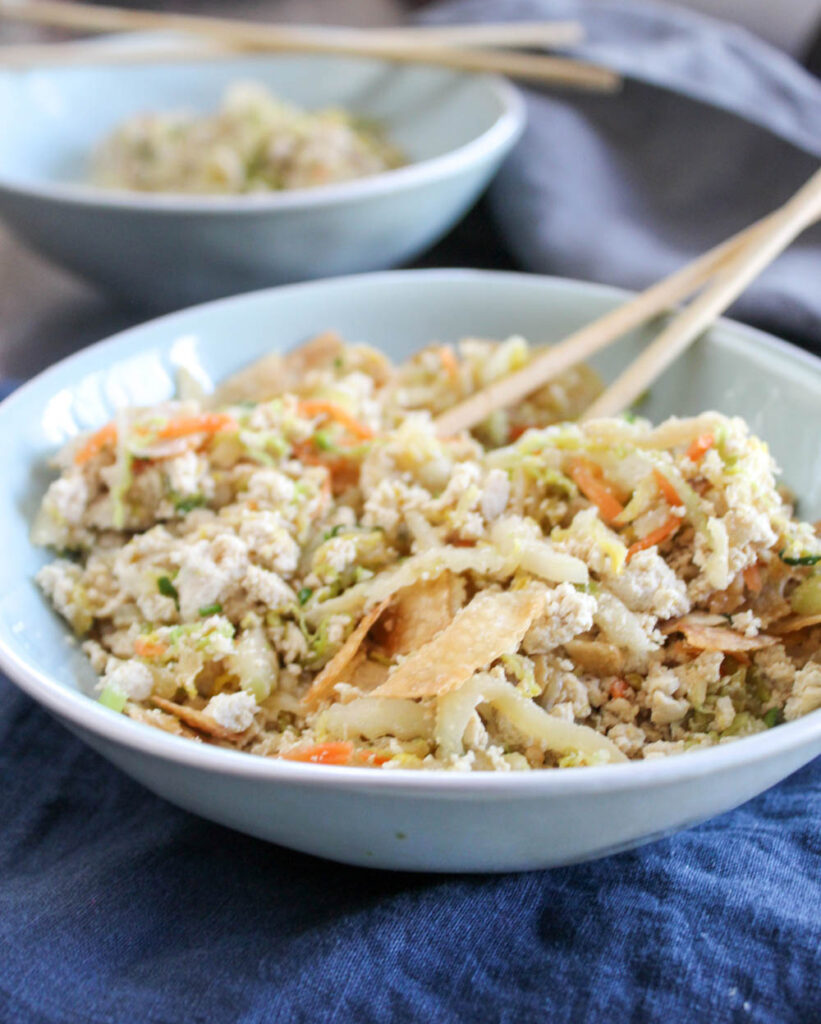 If you like bowl recipes as much as we do, check out this cauliflower rice bowl recipe!
Why This Recipe Works
It's an easy recipe! It tastes just like an egg roll without the fuss.
Even though this is a vegetarian recipe, you can easily add your favorite ground meat.
Make it in one pan and serve it in one bowl = easy clean up!
Here is What You Will Need
As an Amazon Associate, I earn from qualifying purchases.
This is an overview of the ingredients and steps to make this recipe, scroll down to see ingredient notes and substitutions as well as a printable recipe card with exact measurements and complete cooking instructions.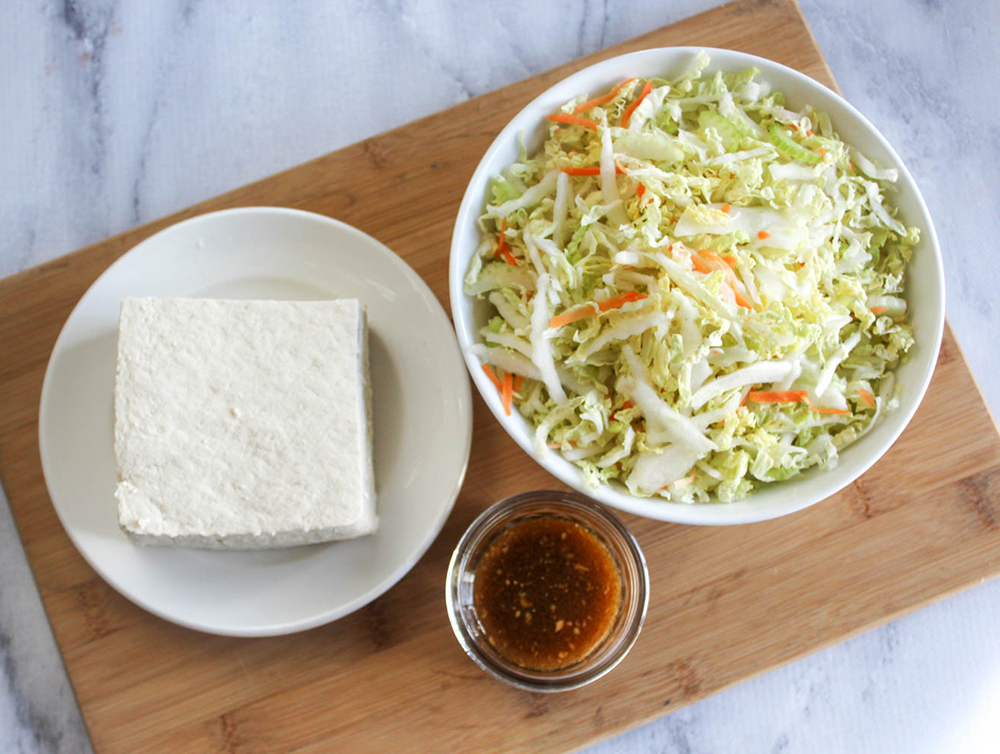 ---
Ingredients
Extra-firm tofu
Cabbage, coleslaw mix or broccoli slaw mix
Carrot
Ginger
Garlic
Tamari or Soy Sauce
Wonton or Egg roll wrappers
Olive Oil
Equipment
---
Here is How To Make Vegetarian Egg Rolls in a Bowl
Prepare the ingredients: Press a block of tofu to release as much liquid as possible, here's how: drain the liquid from the tofu container, and wrap it in a towel or paper towel place it on a plate and top the tofu with something heavy such as a bowl or a small cast-iron skillet.
Slice the cabbage with a sharp knife, mandoline slicer or food processor. Mix up the sauce, and preheat the oven to 400 degrees F.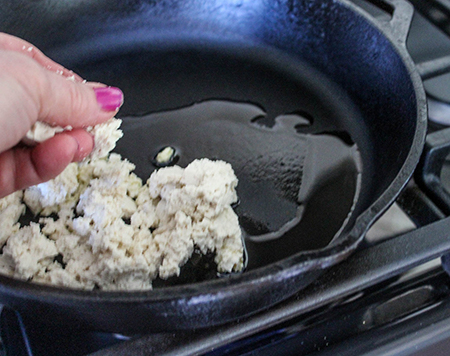 Step 1. Heat oil in a large skillet over medium heat; crumble the tofu and add it to the pan.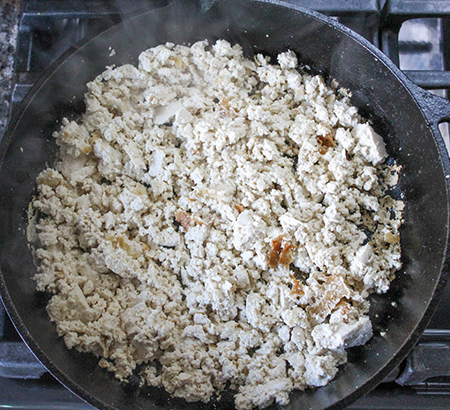 Step 2. Cook the tofu for 5 to 8 minutes until it is cooked through and is firm.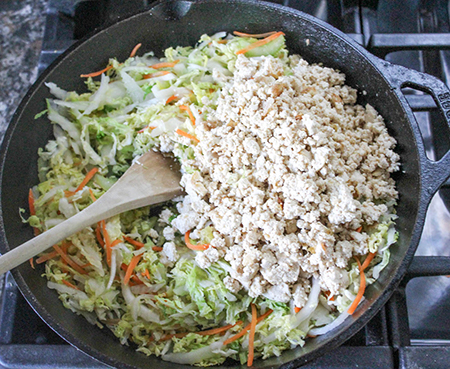 Step 3. Add the vegetables to the skillet with the cooked tofu and cook until cabbage wilts.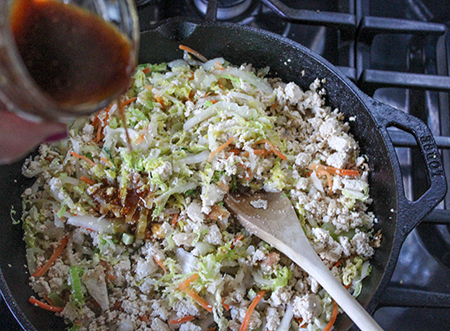 Step 4. Stir in the sauce and reduce the heat to low.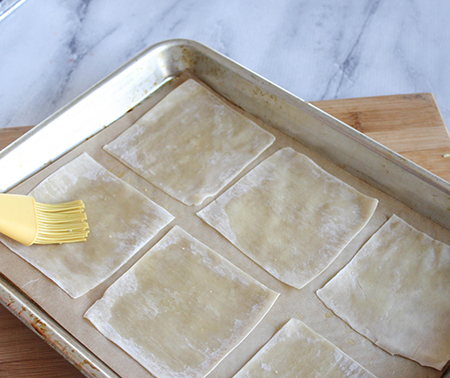 Step 5. Arrange the egg roll wrappers on a baking sheet lined with parchment paper and brush them with the remaining oil. Bake them for 5 to 8 minutes or until they start to turn golden brown and crispy.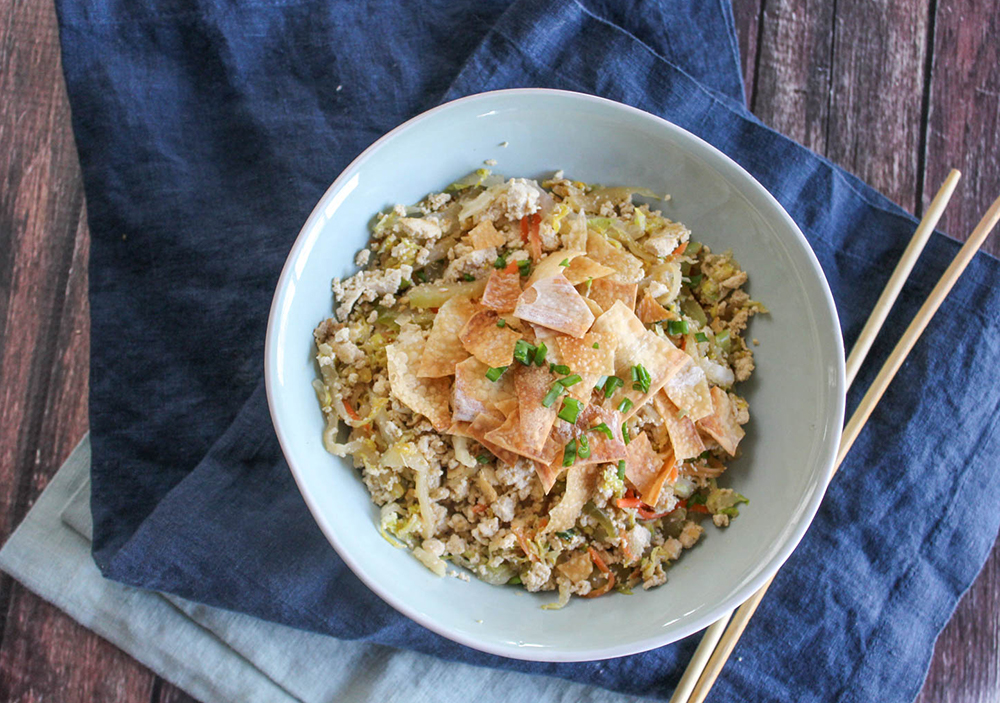 Step 6. Assemble your egg roll bowl by adding the filling to a bowl and topping it with pieces of crispy egg roll wrappers.
Ingredient Notes & Substitutions
Tofu. When selecting your tofu, choose extra firm or firm because you want the texture to be similar in texture to meat.
Pro-Tip! Use a tofu press like tofu bud to easily press and drain the liquid from the tofu.
Cabbage. You can use any type of cabbage that you like. I use napa cabbage with a few carrot shreds in this recipe. You can also use green or red cabbage or a combination of both to make your egg roll bowl.
Pro-Tip! Save some time and skip the chopping of cabbage and use a bag packaged coleslaw mix.
Fresh Ginger and Garlic can be substituted with ¼ teaspoon of dried ginger and garlic.
Tamari Sauce which is a fermented and usually gluten-free soy sauce can be replaced with soy sauce or coconut aminos.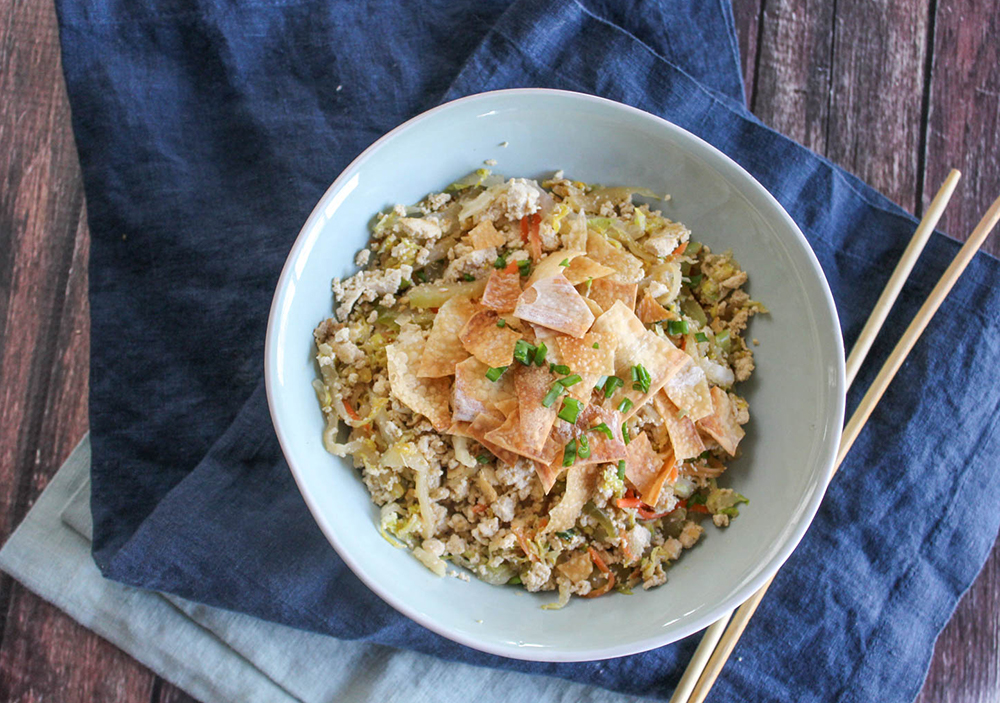 Make Ahead Instructions
Vegetarian egg roll bowls cook quickly and taste best when they are freshly cooked. You can, however, meal prep all of the ingredients a few days ahead of time and store them in the refrigerator.
Storing and Using Leftovers
Store your leftover egg roll bowl in the refrigerator for three to four days in an airtight container in the refrigerator without the crispy egg roll wrapper topping.
If you have leftover egg roll wrappers, store them at room temperature wrapped in parchment paper or foil.
Reheat your egg roll bowl ingredients over low heat on top of the stove.
If you like tofu, try this vegetarian enchilada casserole!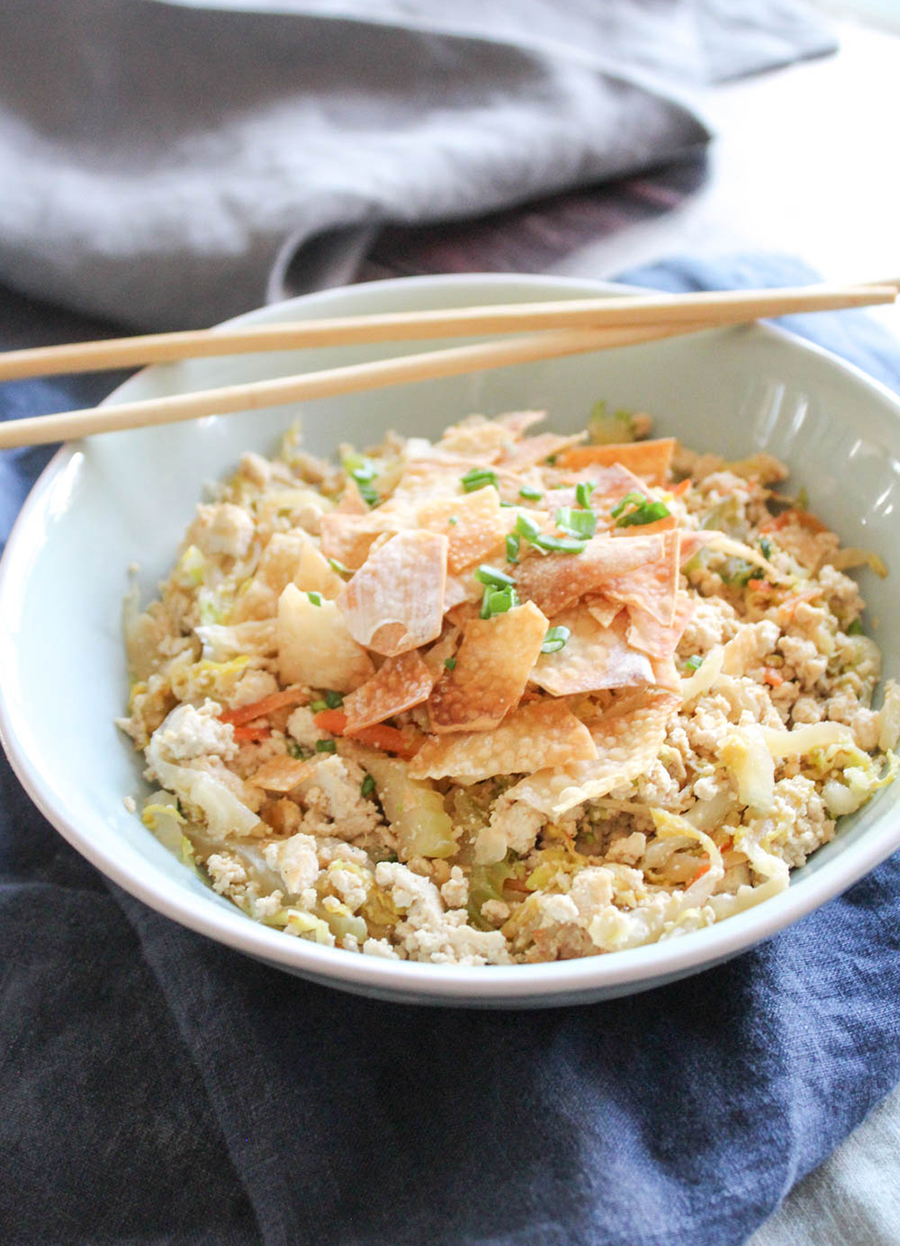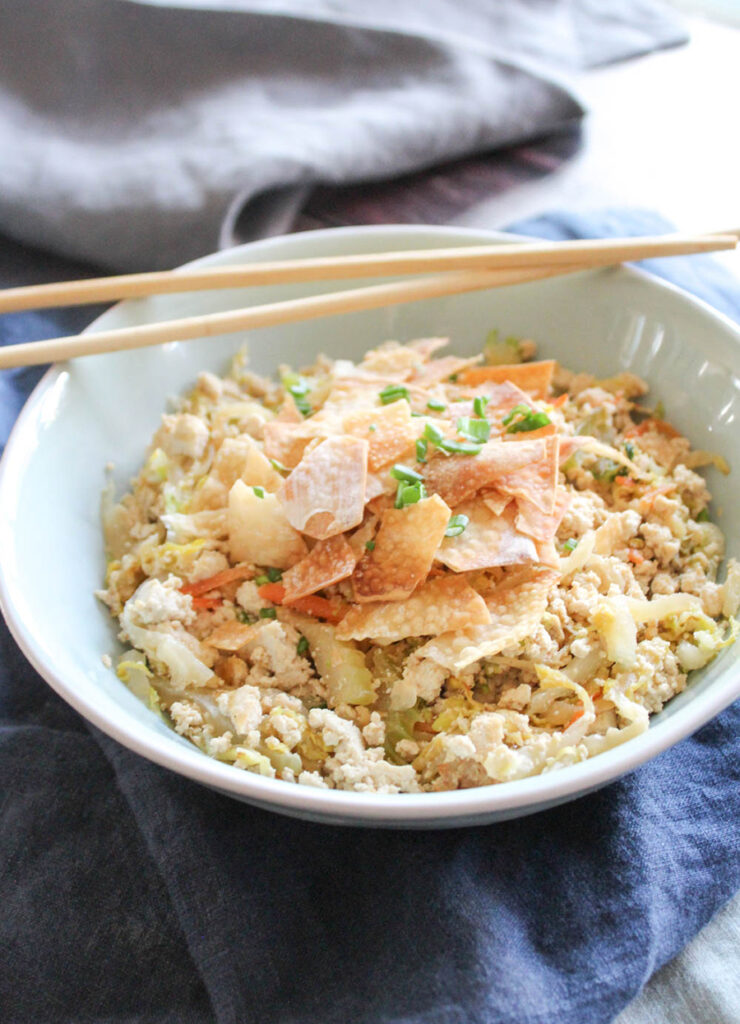 Recipe Variations
Add more vegetables. Here are some suggestions for more veggies in the filling: thin-sliced red bell pepper, chopped mushrooms, shredded Brussels sprouts, chopped broccoli, or cauliflower.
Add meat. Instead of tofu, brown ¾ pound of ground pork, chicken, or turkey.
Add rice. Serve egg roll bowl ingredients on top of steamed rice or cauliflower rice for a low-carb meal.
Spicy egg roll in a bowl. Add a splash of hot sauce such as sriracha sauce or chili sauce when mixing up the sauce for the bowls.
Garnish Ideas. Top your bowl with sliced green onions, and sesame seeds.
For more simple and delicious recipes like this, subscribe to our newsletter and receive a free e-book and meal suggestions straight in your inbox!
This recipe was originally published in 2019, it's been updated for content and photos.
Serving Suggestions
Even though these bowls are a full meal, they also taste great with pickled cucumbers, zucchini ribbons or stir-fried vegetables.
You Might Also Like These Homemade Egg Roll Recipes
If you like this recipe, please comment and rate it below!