Put a creative spin on everyone's favorite party food with a vegetarian charcuterie board that is vegetable-focused and full of bright, fresh ingredients!
Unlike a traditional charcuterie board — no meat is required. It's a fun and easy appetizer to serve at dinner parties or for a light main course.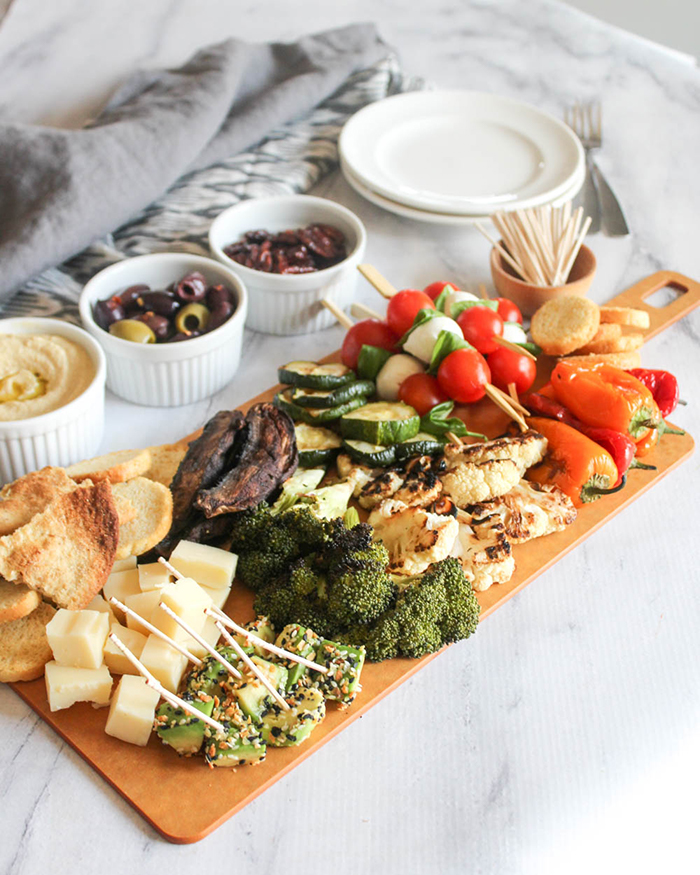 My charcuterie board is always popular when I have people over for dinner, so I decided to give it a vegetarian twist.
Why This Recipe Works
It's quick, easy and healthy!
Charcuterie boards are versatile, you can add any ingredients that you have to them.
Perfect for entertaining or a light dinner.
What to Serve Charcuterie On
While you can serve charcuterie on a plate, slate, stone or any other flat surface you happen to have around, most people like to serve charcuterie atop a wooden cutting board.
Not only does a wooden board offer a rustic charm, but it also doubles as a cutting board making it easy to slice the charcuterie ingredients.
When choosing a serving piece for your grazing board, you can use any size board, but be sure to choose one that will fit all of your ingredients! If you only have a smaller board, fill two of them up!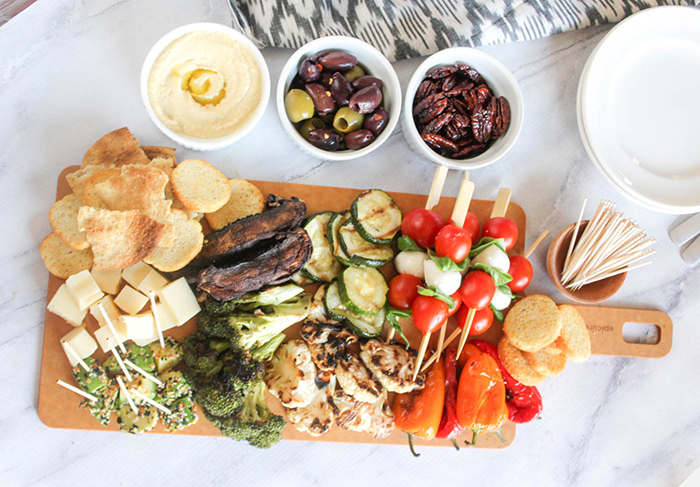 Vegetarian Charcuterie Board Ingredients
As an Amazon Associate, I earn from qualifying purchases.
The best vegetarian charcuterie board is made with a variety of fresh veggies, cheeses, nuts, and dips that you can find at any farmer's market or grocery store.
When selecting ingredients for your board, a good rule of thumb is to choose a variety of flavors and textures. Below are some suggestions.
Vegetables. Since this is a vegetarian charcuterie board, I like to go heavy on vegetables. Choose any combination of vegetables that you like.
Vegetable suggestions: grilled vegetables, red bell pepper slices, chunks of avocado covered in everything bagel seasoning, cheese, celery sticks, cucumber slices, cherry tomatoes, and carrot sticks.
Fruit. An assortment of fresh fruits such as pear or apple slices, red or green grapes is also a great way to add some variety to the flavor profile of your vegetarian cheese board. Some other great options are dried fruits such as figs, raisins, or apricots.
Vegan Meat. The word charcuterie is a French word that references meat, and if you feel like you must keep in the spirit of a traditional charcuterie board, try adding a little bit of vegan meat to your board. Some good options are Fig salami which comes in a variety of flavors or chunks of roasted tofu.
Cheese. Look for high-quality cheeses with different textures and flavors. I like to mix soft cheese such as brie, burrata, mozzarella with stronger tasting hard cheese such as blue cheese, cheddar, parmesan, and provolone. You can also add some dairy-free cheese.
TIP! To make a true vegetarian board, make sure the cheese is free from animal rennet, and for a vegan board leave the cheese out completely.
Spreads and Dips. Spreads and dips such as hummus or a yogurt-based dip are great choices for dipping those veggies in. I like to serve one or two small bowls of different dips such as hummus and homemade onion dip made with Greek yogurt.
Olives, Pickles, Hot Peppers. These add a bit of salty and hot flavors to your board and are optional.
Nuts & Seeds. Add a crunchy aspect and an extra punch of protein to the grazing board with any nut that you like or add a variety of nuts.
Bread and Crackers. You can use anything from plain soda crackers, rice crackers, slices of pita bread, pita chips to seasoned breadsticks or little rounds of French bread.
Foods Used On This Board: grilled vegetables (portobello mushrooms, cauliflower, broccoli, bell peppers), cherry tomatoes with mozzarella kabobs, kalamata olives, castelvetrano olives, avocado chunks dipped in everything but the bagel seasoning, hummus, and sweet and spicy pecans. (Note: If you don't have time to grill your veggies you can serve them raw.)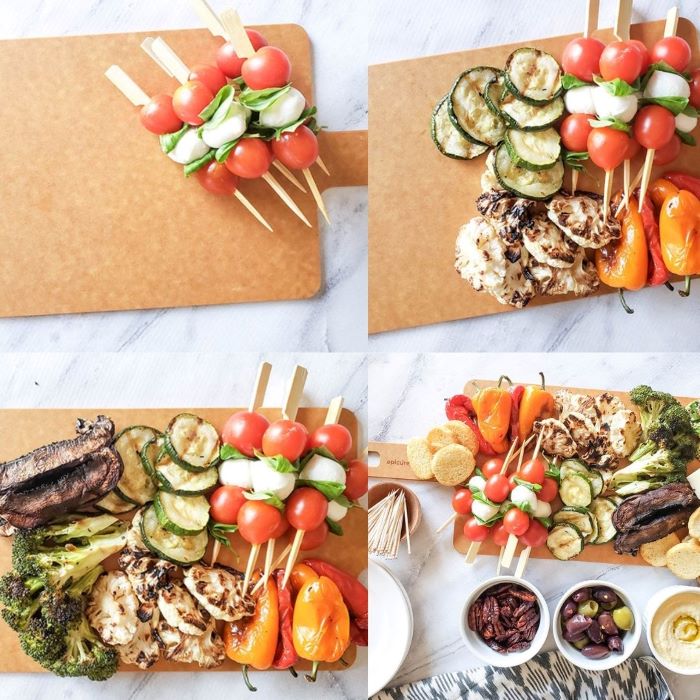 How To Assemble Your Board
Once you have your favorite ingredients picked out for your veggie charcuterie board, it's time to start arranging them on the board.
Start in one corner and pile up cheese or veggies, and continue to fill up the board with an assortment of vegetables.
Place the cheese and crackers in a corner which will make them easy to grab. I like to use cubes of hard cheese because they don't take up as much space as a big block of cheese, but you can also use a block of cheese with a knife.
Add a few small bowls with hummus or your favorite spread, olive, pickles, and nuts. Arrange them near the board. If you have a larger board these items might fit onto the board.
Next, put out some small plates, napkins, toothpicks, and serving utensils to avoid hands grabbing the food.
Some people like to use up all of the space on the entire board. For sanitary reasons, I like to leave a little room in between food items to make it easier to grab the food off of the board without having to touch other foods.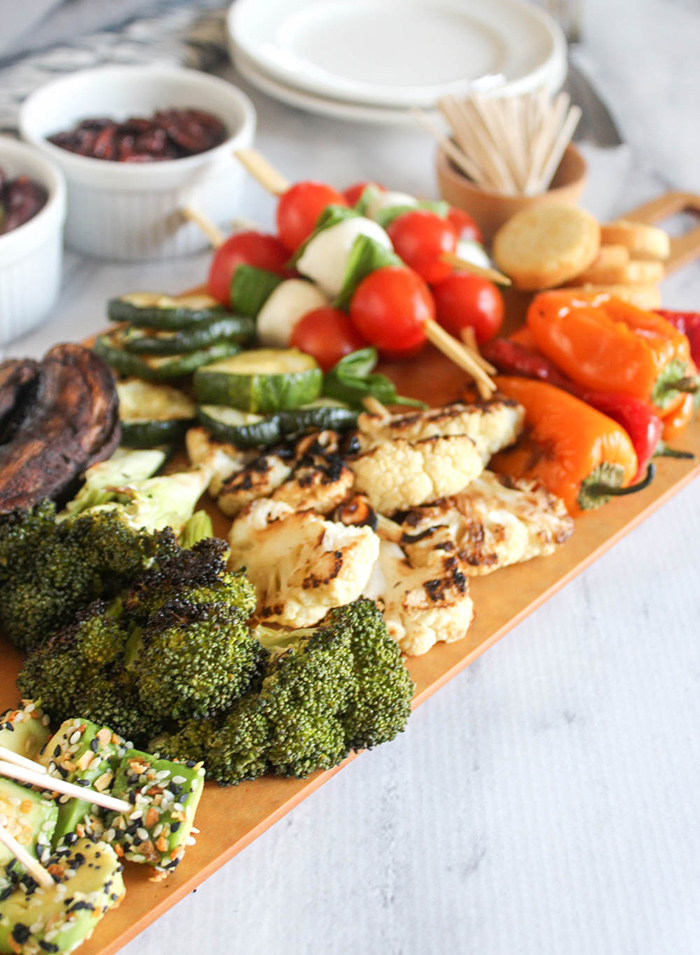 What to Serve it With
Some charcuterie boards, even though they have healthy ingredients can be filled with more calories than you realize from the cheese and nuts.
If you are serving your board as part of your main meal, a leafy green salad like this arugula salad with pistachios or spinach salad with basil is a great way to round it out for a meal.
As an appetizer vegetarian charcuterie board, mushroom pate, baked falafel, jalapeno poppers, or zucchini rolls with guacamole are good options to pair with your appetizer board.
And don't forget your favorite white wine, rose or red wine or sparkling water too!
How to Store Leftovers
Store leftover charcuterie ingredients in an airtight container for up to three days.
Vegetarian Charcuterie Questions Answered
I don't have a board or plate large enough to make a charcuterie board, what else can I use?
You can use two to three smaller boards or platters and make a few boards. If you have enough table or counter space, you can also put out a large piece of parchment or butcher paper and arrange your ingredients on top of it.
You Might Also Like These Recipes
Join Our Mailing List to Receive Weekly Menu Ideas and More!
📖 Recipe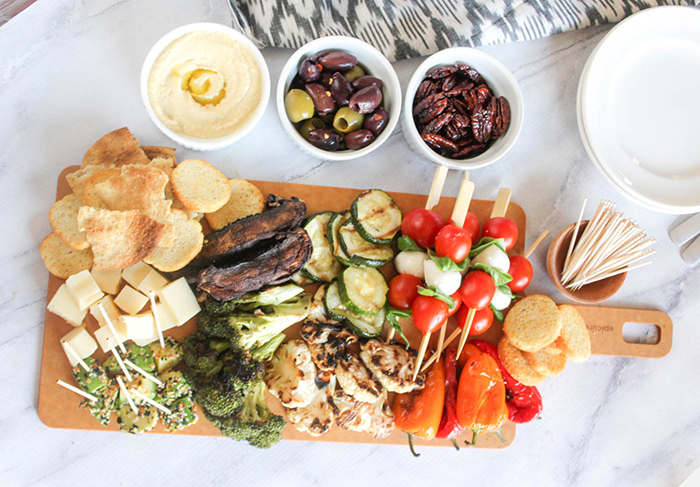 Click on serving size to scale this recipe
Ingredients
Fresh Vegetables

raw, grilled or roasted

An assortment of cheeses

Olives and Pickles

Nuts

Spreads or Dips

Crackers

breas
Instructions
Use any combination of the ingredients above and arrange them on a board or platter.
Notes
Avocados with everything but the bagel seasoning: cut a ripe avocado into chunks, and sprinkle them with everything but the bagel seasoning.
Nutrition information provided is an estimate and can vary based on cooking methods and ingredients used