Sweet and spicy pecans are a copycat version of Trader Joe's sweet and spicy pecans recipe. It's an easy recipe to make with only six simple ingredients!
These pecans are an addicting spicy mix of flavors and are the perfect snack for when you want to eat something sweet with a hint of spice at the same time.
You are going to want to make a second batch because they are absolutely delicious!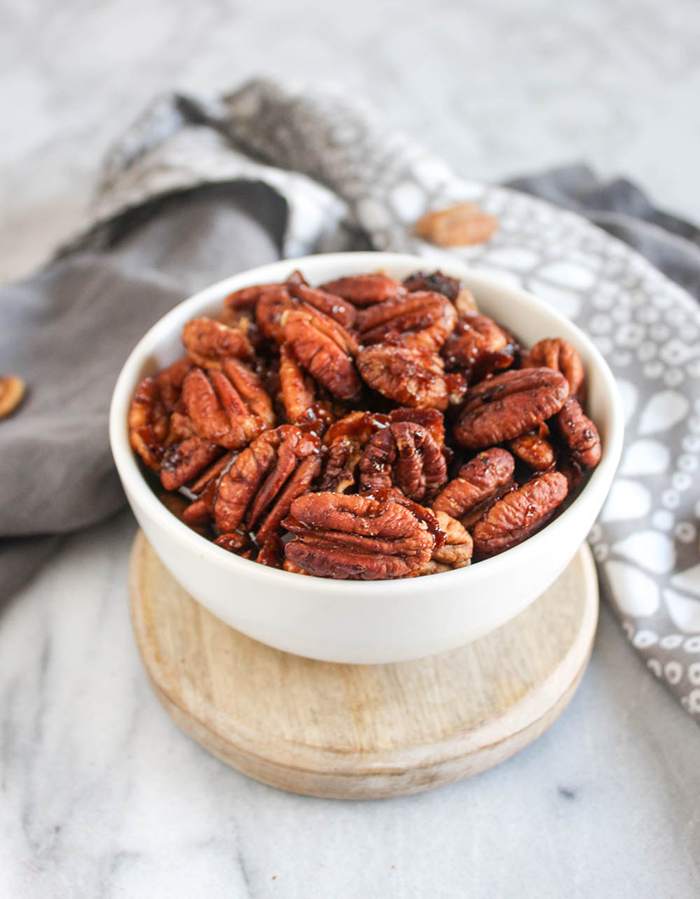 You are going to want to make a second batch because they are absolutely delicious! Nuts are our favorite snacks, we also like them in dark chocolate, like these almond cashew clusters.
Why This Recipe Works
It's a simple recipe to make that's filled with healthy fats and perfect for a snack.
The flavor combination will satify your craving for spicy and will even tame your sweet tooth!
Here is What You Will Need
As an Amazon Associate, I earn from qualifying purchases.
This is an overview of the ingredients and steps to make this recipe, scroll down to see ingredient notes and substitutions as well as a printable recipe card with exact measurements and complete cooking instructions.
---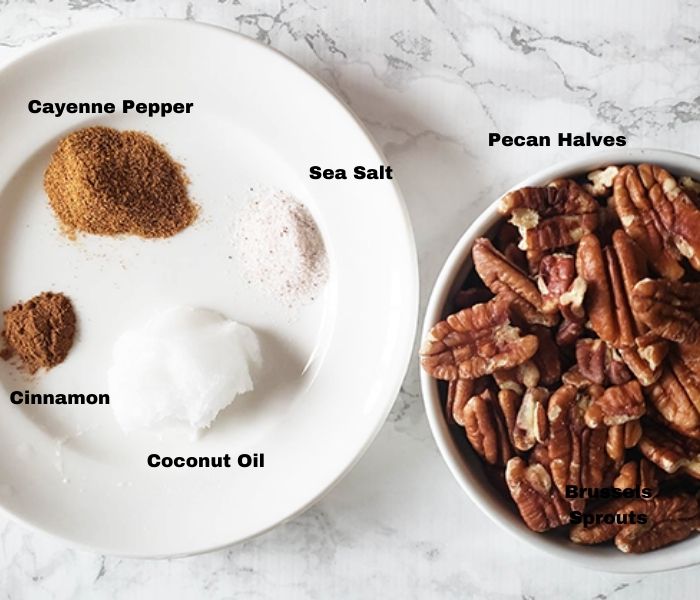 Ingredient List
Raw pecan halves
Coconut oil
Maple syrup
Cayenne pepper
Sea salt
Cinnamon
Tools Needed to Make This Recipe
Baking Sheet
Parchment Paper
Heavy 2-Quart Saucepan
Here's How to Make Sweet and Spicy Pecans
Prepare: Line a baking sheet with parchment paper and preheat the oven to 400 degrees F.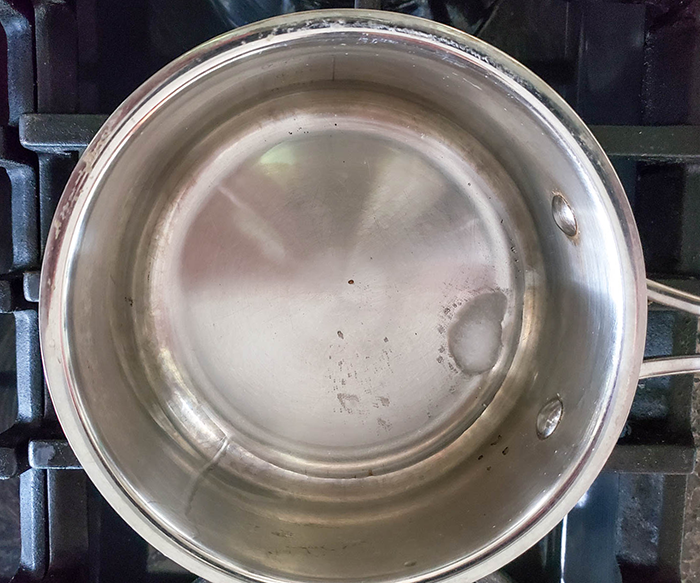 Step 1. Melt the coconut oil in a small saucepan over medium heat.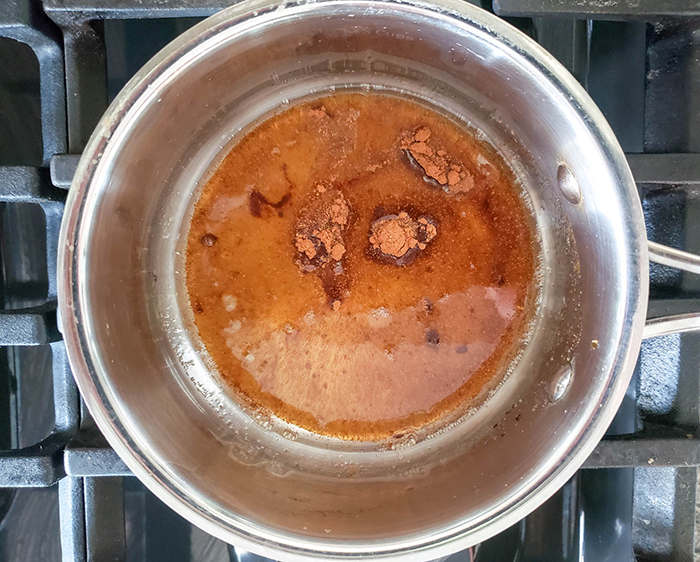 Step 2. Reduce the heat to low and stir in the maple syrup, cayenne pepper, sea salt, and cinnamon. Stir for 2 to 3 minutes and turn the heat off and stir in the pecan halves.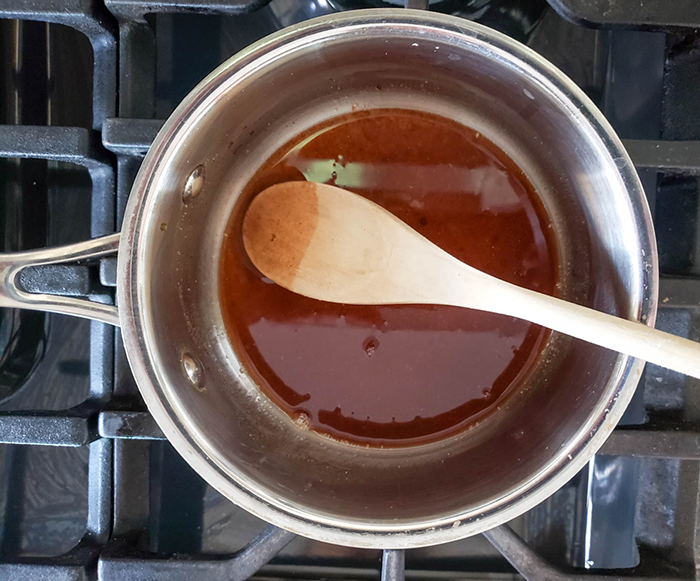 Step 3. Stir the mixture until the salt dissolves and the syrup is mixed in, and the mixture is smooth.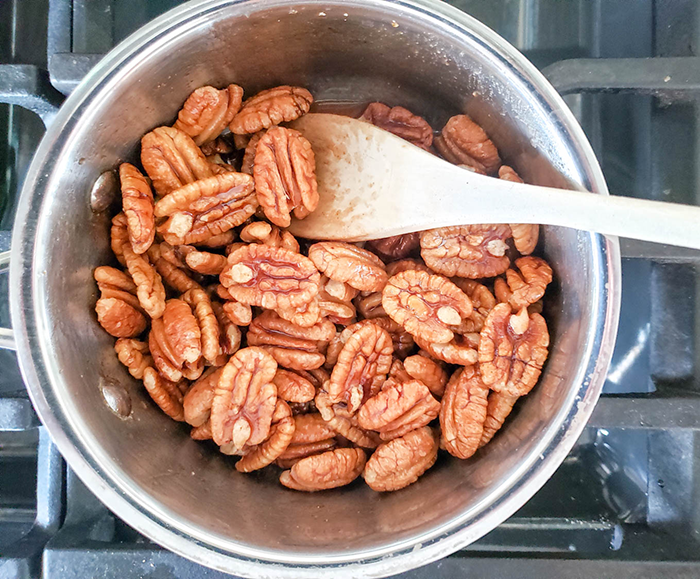 Step 4. Stir in the pecans making sure they are evenly coated with the syrup mixture.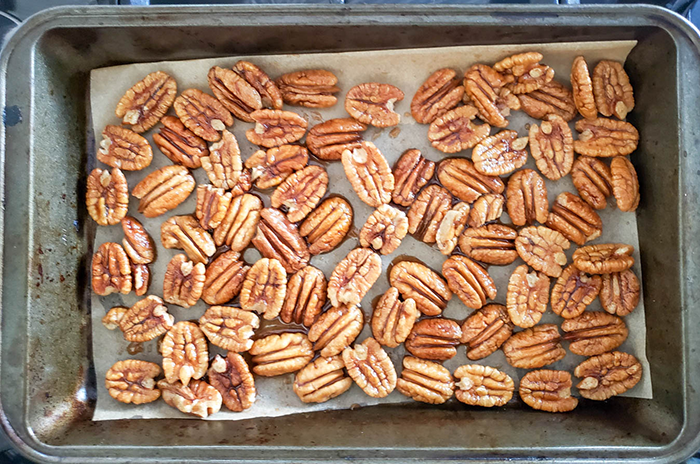 Step 3. Arrange the coated pecans on the prepared baking sheet in a single layer, and place them in the oven to bake for 10 to 15 minutes. They will turn from light brown to a rich brown color.
Tip! The roasted nuts might be a little syrupy when they are first out of the oven, they will dry out as they cool off and become crisp.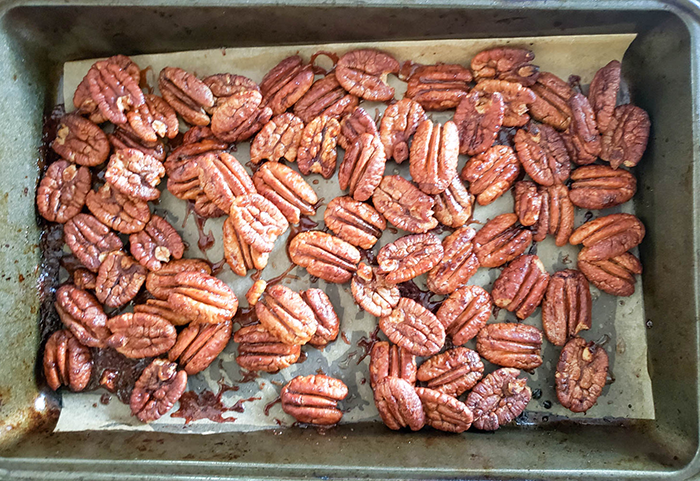 Step 4. Remove the pecans from the oven and let them sit for about 20 minutes which will allow them to crisp up.
Total Estimated Time to Make this Recipe: 30 Minutes
Ingredient Notes and Substitutions
Pecan Halves. Even though we like pecans the best in this recipe, they can be substituted with walnut halves, cashews, or almonds.
Maple Syrup. Liquid sweeteners melt better than granulated or brown sugar, so any natural liquid sweetener such as brown rice syrup, tapioca syrup, honey, agave nectar can be equally swapped with maple syrup.
Cayenne Pepper. This is what adds spice to this recipe. If you don't like heat it can be left out or cut back on the amount of pepper.
Sea Salt. If you don't have sea salt, it can be swapped one for one with kosher salt.
Coconut oil. You can substitute coconut oil one for one with melted butter. or even olive oil.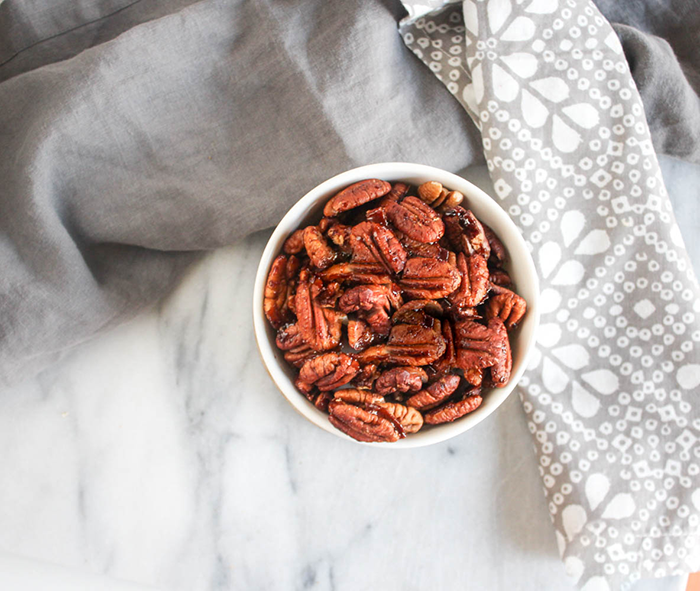 How to Store Them
Store your sweet and spicy pecans at room temperature in a glass container, Mason Jars are perfect for this!
Note: Storing sweet and spicy pecans in a plastic container or bag is not recommended, as they might become soggy.
Recipe Variations
Sweet Chili Pecans Instead of cayenne pepper add 1 to 1 ½ teaspoons of chili powder.
Sweet Bourbon Pecans Add 1 ½ tablespoons of bourbon and leave out the cayenne pepper.
Sweet & Spicy Chocolate Pecans Add 1 ½ tablespoons of cocoa powder.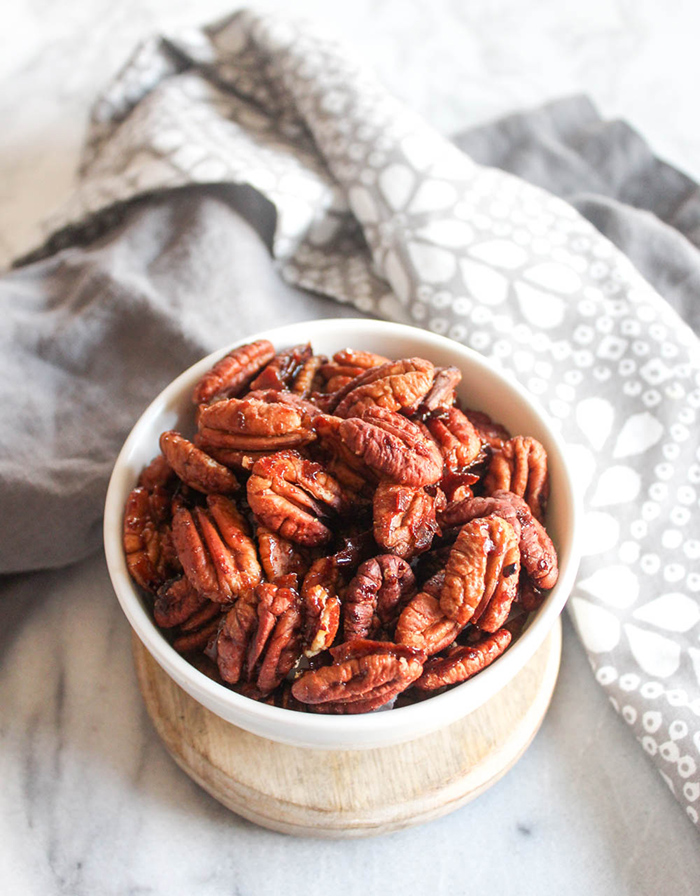 Serving Suggestions
Trader Joe's Sweet and Spicy Pecans taste great as a snack all by themselves, on top of a salad, on homemade ice cream, or yogurt. And they make a great addition to a cheese board.
These spicy pecans are also a great recipe for the holiday season, you can serve them to guests or give them out as Christmas gifts in mason jars wrapped in a pretty ribbon.
You Might Like These Recipes Too!
For more simple and delicious recipes like this, subscribe to our newsletter and receive a free e-book and meal suggestions straight in your inbox!
If you've tried this recipe or any other recipe on simpleandsavory.com, don't forget to rate the recipe on the recipe card and leave a comment below. I would love to hear if you liked it, or you can tag me on Instagram with photos of your creation too!
More #FallFlavors Recipes Below:
Appetizers and Snacks
Breakfast and Baked Goods
Soups and Salads
Side Dishes
Main Dishes
Desserts