Spicy chicken tenders are a twist on traditional chicken tenders. They are coated in a cayenne spiced bread crumb mix then cooked in an air fryer to crispy perfection. Serve them with a side of bbq yogurt sauce for the perfect blend of spicy, sweet and tart.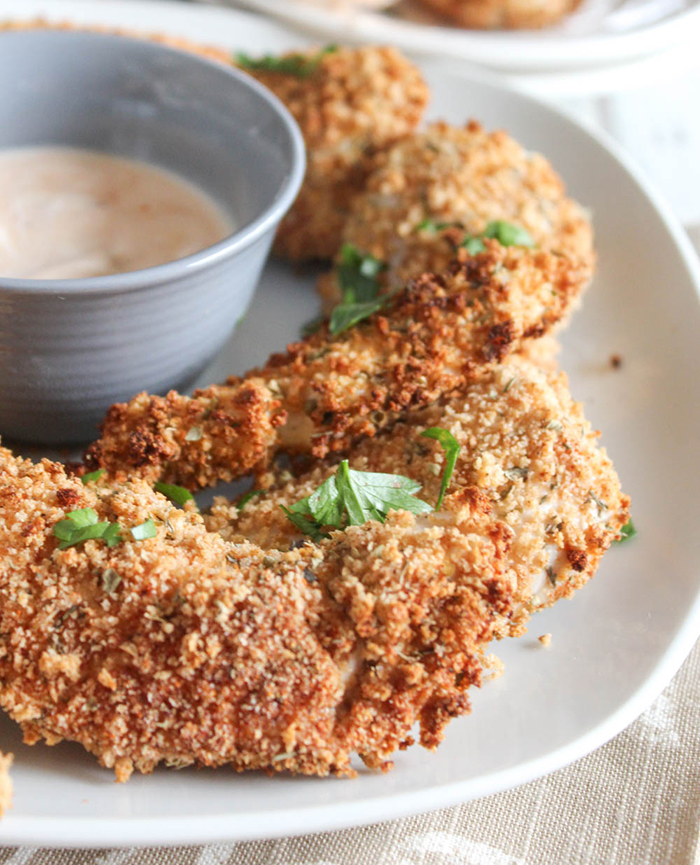 Why this recipe works
It's a healthier way to enjoy chicken tenders, perfect for an easy dinner or appetizer.
It's easy to make and less mess, no oil and air fried jump to the recipe to see how to make it.
The dipping sauce adds a cooling element to the spicy chicken.
What You will need
As an Amazon Associate, I earn from qualifying purchases
This is an overview of the ingredients and steps to make this recipe, scroll down for a printable recipe card with exact measurements and instructions.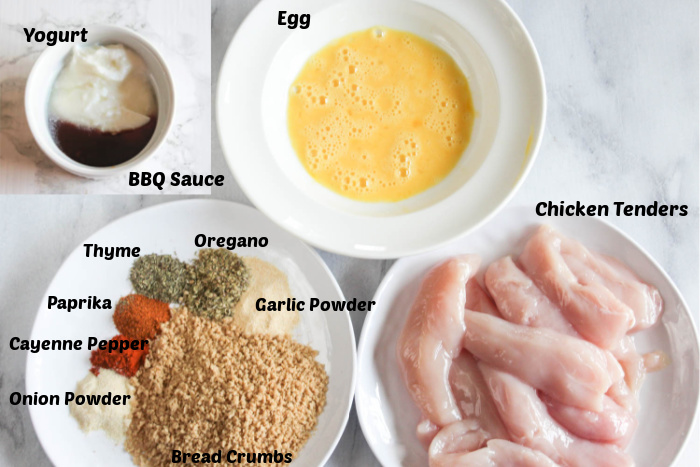 Whole wheat panko bread crumbs are larger in size than traditional bread crumbs and are perfect for air frying. They add just the right amount of crunch. You can also use regular bread crumbs which will be less crispy.
Egg - helps to hold the crumbs to the chicken tenders. If you don't have an egg, you can brush the tenders with oil.
Chicken tenders are already the perfect size for this recipe. You can also slice boneless chicken breasts into strips.
Dried oregano, thyme, paprika, cayenne pepper, onion & garlic powder - even though I usually recommend fresh herbs, dried herbs work best to season bread crumbs.
Yogurt - Any type of plain unsweetened yogurt can be used here. We prefer Greek for its creamy texture.
Barbecue Sauce - Any type of bbq sauce will work in this recipe, you can even make your own! Here is my recipe for sweet and spicy beer bbq sauce.
How to Make It
Mix the spices into the bread crumbs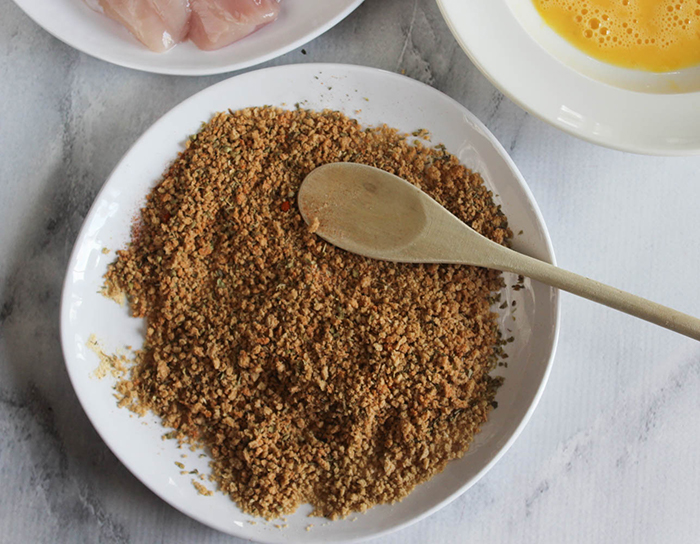 Pat the chicken tenders with a paper towel to dry them and dip them into the egg mixture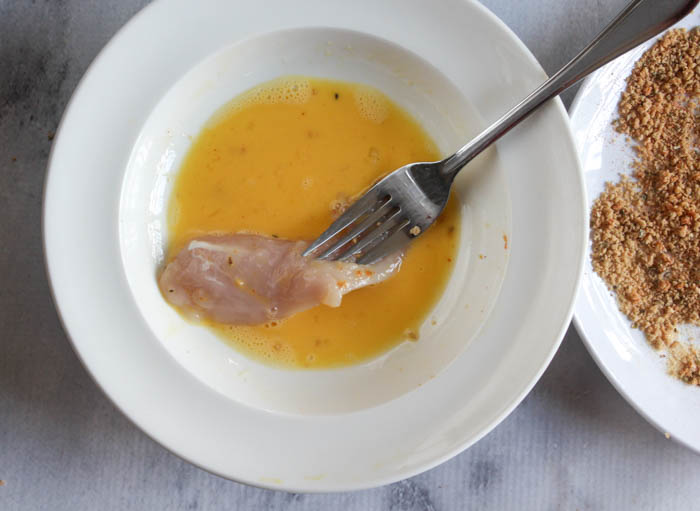 Next dip them into the bread crumb mixture making sure that they are completely coated with crumbs.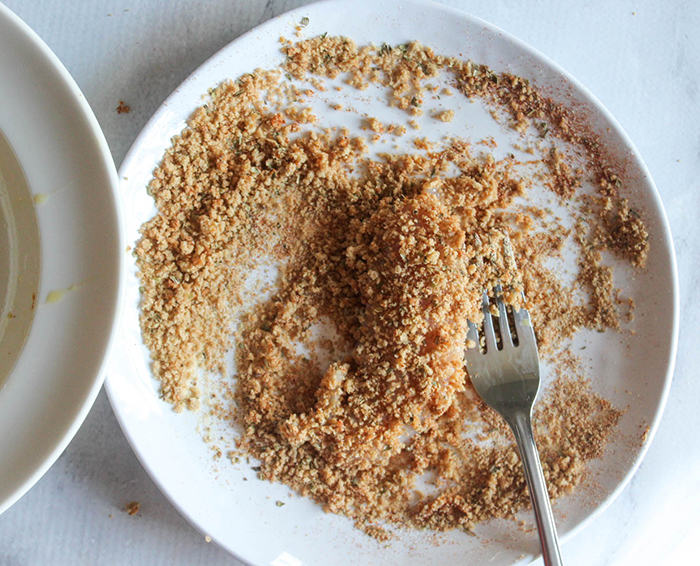 Place the chicken tenders on a tray in the air fryer and bake.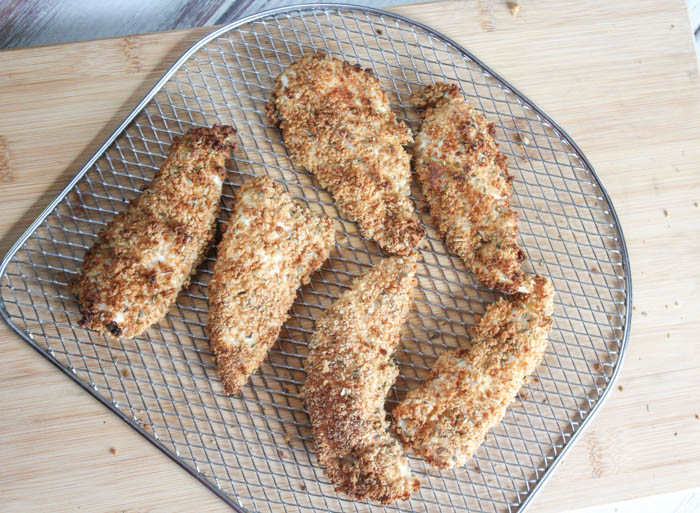 Mix up the bbq yogurt sauce while the chicken is cooking and serve.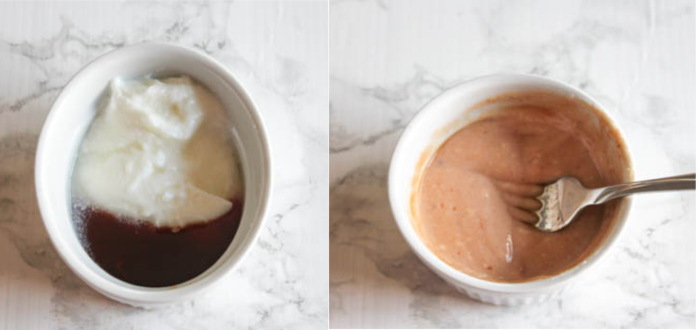 Oven Method
Don't have an air fryer? No problem, these can be made in the oven by placing them on a parchment-lined baking sheet in the oven and bake until they become crispy.
TIP! Add a baking rack to the baking pan and cook the chicken tenders on top of it. This will allow the air to circulate around the chicken tenders for crispness.
Serving suggestions
Spicy chicken tenders with bbq yogurt sauce are a great idea to serve for an appetizer or dinner. We like to serve them for dinner with a salad or buffalo cauliflower bites.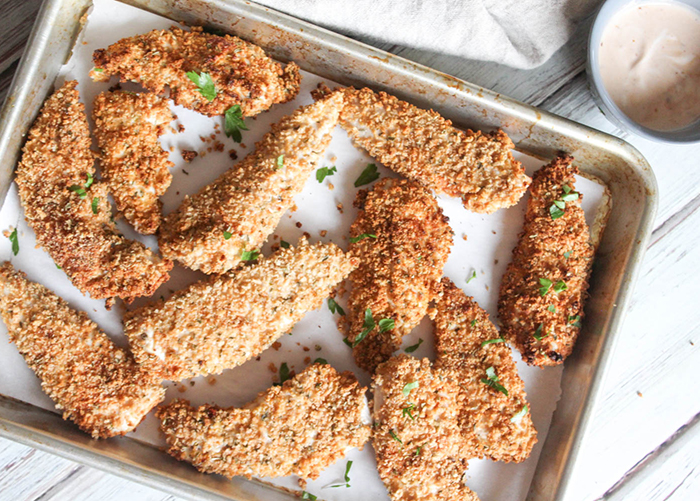 Make Ahead and Storage Instructions
Spicy chicken tenders can easily be made ahead of time and stored in the refrigerator for up to 2 days. To serve; remove them from the refrigerator and place them on a baking sheet and bake at 350 for about 10 to 15 minutes until they are heated through.
Freeze the chicken tenders after they have been cooked, place them in a freezer container and freeze them for up to 2 months. To serve; remove them from the freezer, place them on a baking sheet and heat them in the oven at 350 until they are heated through - approximately 30 minutes.
NOTE: Re-heated chicken tenders may not be as crispy as when they are freshly made.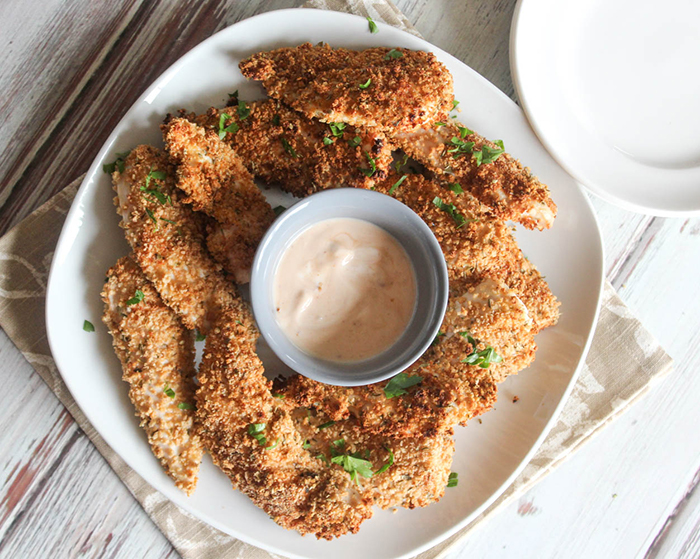 Variations
For a less spicy version use less cayenne pepper or leave it out completely.
Make them Gluten Free; use one cup of finely chopped almonds or walnuts in place of the panko bread crumbs.
You might like these air fryer recipes
Check out these BBQ Recipes