This homemade beer BBQ sauce recipe has a delicious flavor that is rich, spicy, and slightly sweet. It's made with wholesome ingredients that are easy to find.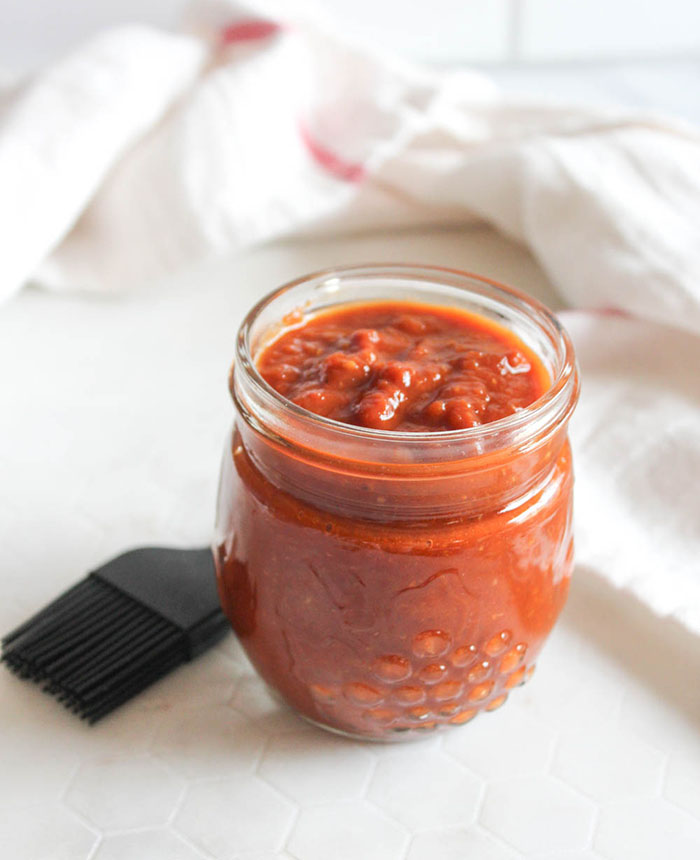 Homemade beer bbq sauce is perfect for either grilling during bbq season, or you can serve it in your favorite bbq recipe. We like to put a spicy twist on our pulled pork recipe with this delicious sauce!
Why This Recipe Works
It's healthier than most bottled sauces; made with less sugar and naturally sweet.
Homemade barbecue sauce is customizable, see the suggestions below.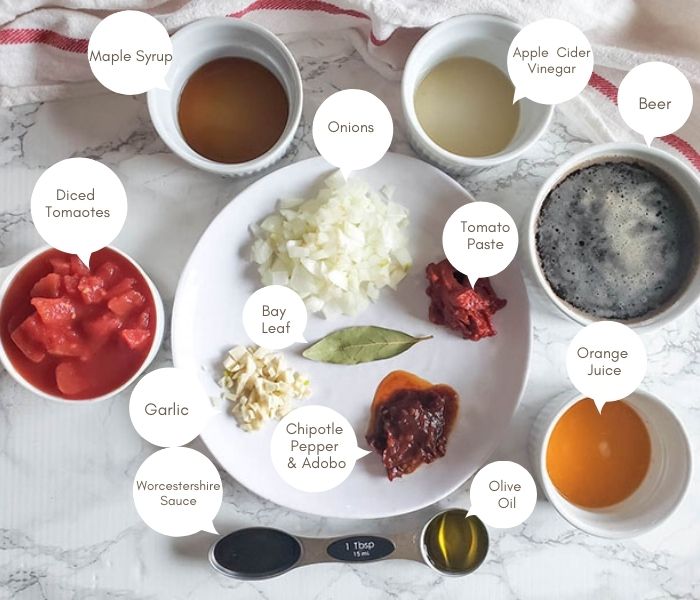 Here is What You Will Need
As an Amazon Associate, I earn from qualifying purchases.
This is an overview of the ingredients and steps to make this recipe; scroll down for a printable recipe card with exact measurements and instructions.
Ingredient List
Tomato paste
Apple cider vinegar
Fresh Orange Juice
Maple syrup
Beer (see recommendations below)
Onions
Garlic
Bay leaf
Olive oil
Worcestershire sauce
Equipment
Here is how to make homemade spicy beer bbq sauce
It's so easy to make this homemade bbq sauce recipe, all that you will need are some simple wholesome ingredients and a little bit of hands-off time to simmer the bbq sauce.
Prepare the ingredients: Dice the garlic and onion, and chipotle pepper, squeeze the orange juice and measure the remaining ingredients.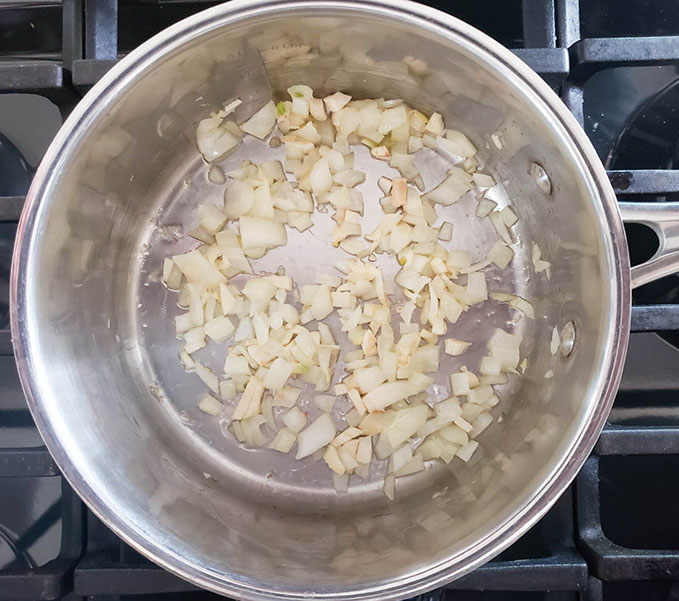 Step 1. Cook the aromatics
Heat olive oil in a saucepan over medium heat. Once the pan is hot, add the garlic and onion and cook until they are soft.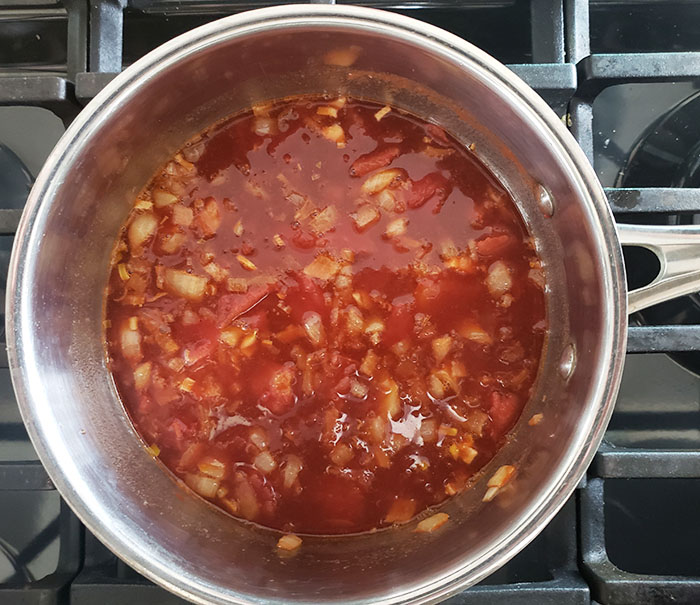 Step 3. Add the remaining ingredients
Stir in the tomato paste, chipotle pepper, orange juice, syrup, beer, and tomatoes. Continue to cook over medium heat until the mixture begins to boil.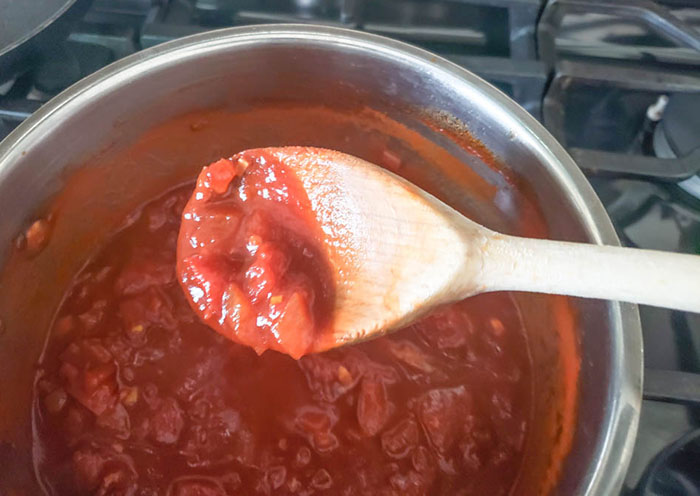 Step 4. Simmer the sauce
Reduce the heat to low heat, and simmer the sauce for 10 minutes until it starts to thicken.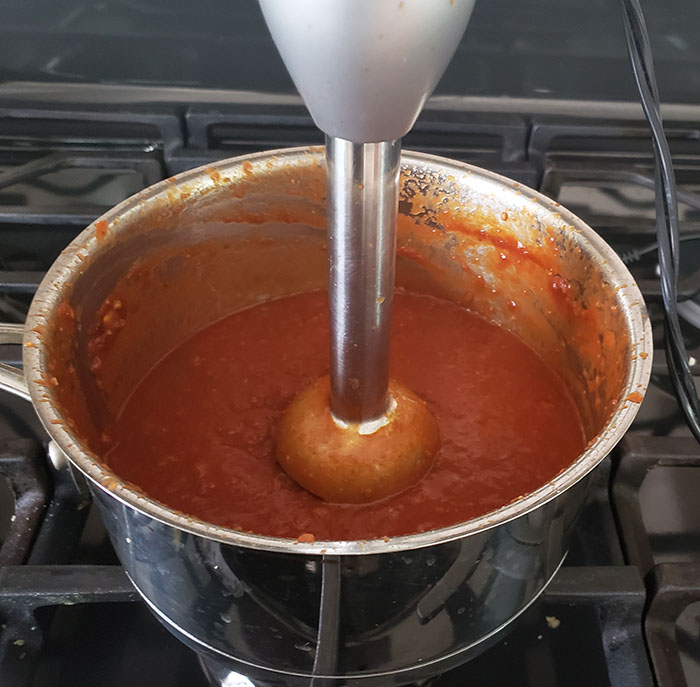 Step 5. Blend the sauce
Use an immersion blender to puree the bbq sauce into a texture that you like.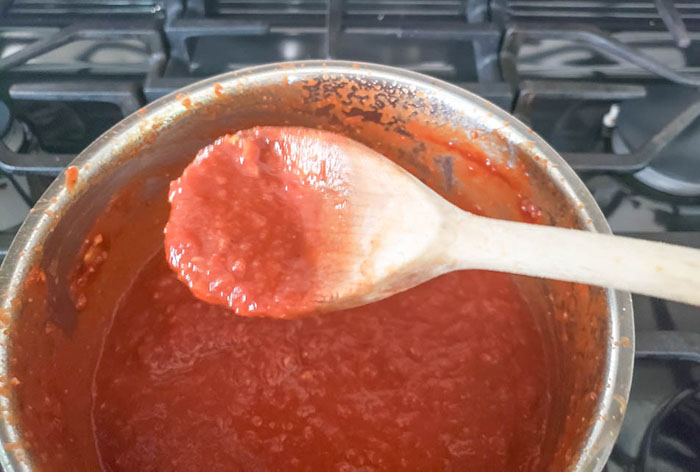 Step 6. Simmer the sauce
Add the bay leaf and simmer the bbq sauce for at least 20 minutes longer.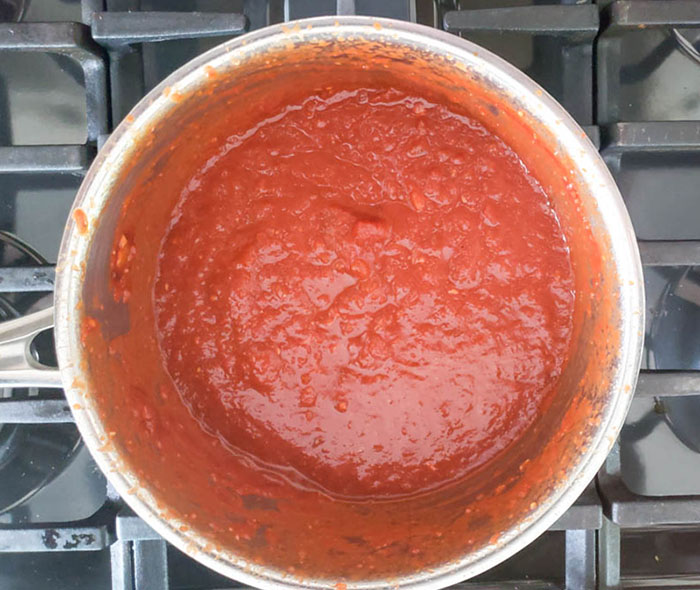 Step 7. Season & enjoy!
The sauce will have reduced in the pan by about a half and should be thick. Season with salt and enjoy!
Note: If you don't have an immersion blender, you can pour the sauce into a food processor or blender to puree it.
Ingredient Notes and Substitutions
The full list of ingredients to make this bbq sauce recipe is above. Below are notes about some of the ingredients along with ideas for substitutes.
Beer - for an alcohol-free version of beer bbq sauce, you can replace the beer with ¾ cup of fresh orange juice or nonalcoholic beer.
Maple syrup - use honey, agave nectar, or brown rice syrup in place of maple syrup.
Apple cider vinegar - adds a tangy flavor to bbq sauce, it can be substituted with white wine vinegar or rice vinegar.
Worcestershire sauce - adds a nice umami flavor to the sauce and can easily be substituted with soy sauce or tamari sauce.
Garlic & onions - I like to use freshly chopped, but you can substitute fresh with onion powder (1 teaspoon) and garlic powder (½ teaspoon).
Chipotle chili pepper - If you can't find the chipotle peppers in a can, you can use chipotle sauce such as Cholula chipotle sauce. If you don't like spicy food, the chipotle pepper can be left out.
What to serve with beer bbq sauce
Bbq sauce has so many uses, especially during the summer grilling months. Brush it on grilled chicken, pork, beef or tofu.
We also like to use this sauce to spice up our bbq chicken egg rolls, or stir it into the dip and serve with air-fried chicken tenders or air-fried cauliflower.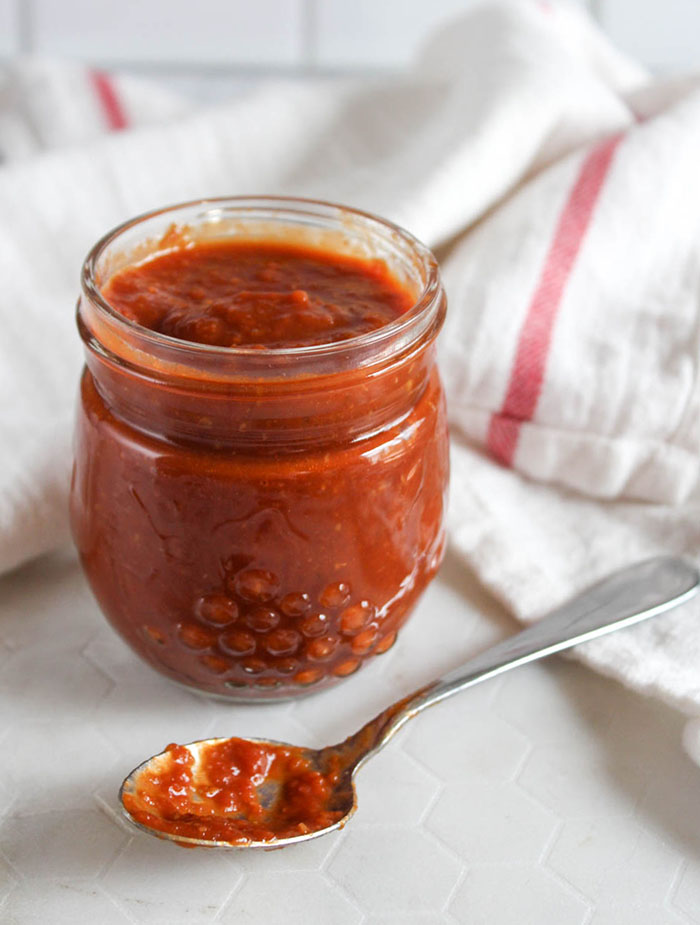 Variations
Homemade bbq sauce is so customizable, experiment with different ingredients and see what kind of sauce you come up with. Here are a few suggestions to get you started:
Mexican beer bbq sauce. Replace the crushed tomatoes with an equal amount of salsa, chopped jalapeno pepper, and a dash of chili powder, and use Mexican beer.
Sweet beer bbq sauce. Add ¼ to /12 cup of raisins or your favorite dried fruit, with a fruit-infused beer.
Whiskey bbq sauce. Replace the beer with ½ to ¾ cup of bourbon, add a teaspoon of dried mustard.
Add a smokey flavor. Stir in ¼ to ½ teaspoon smoked paprika or a dash of liquid smoke once the sauce has been cooked.
If you love homemade bbq sauce, be sure to try out our homemade blueberry bbq sauce too!
How to store homemade bbq sauce
As with most sauces, homemade bbq sauce tastes much better after it has had time for the flavors to blend together. I like to make the sauce a day or two before using it.
Store bbq sauce in the refrigerator for up to weeks in an airtight glass container. I like to use a pint-sized mason jar. But any type of jar or glass container will work.
You can also freeze the homemade sauce for up to three months. Defrost the bbq sauce in the refrigerator overnight.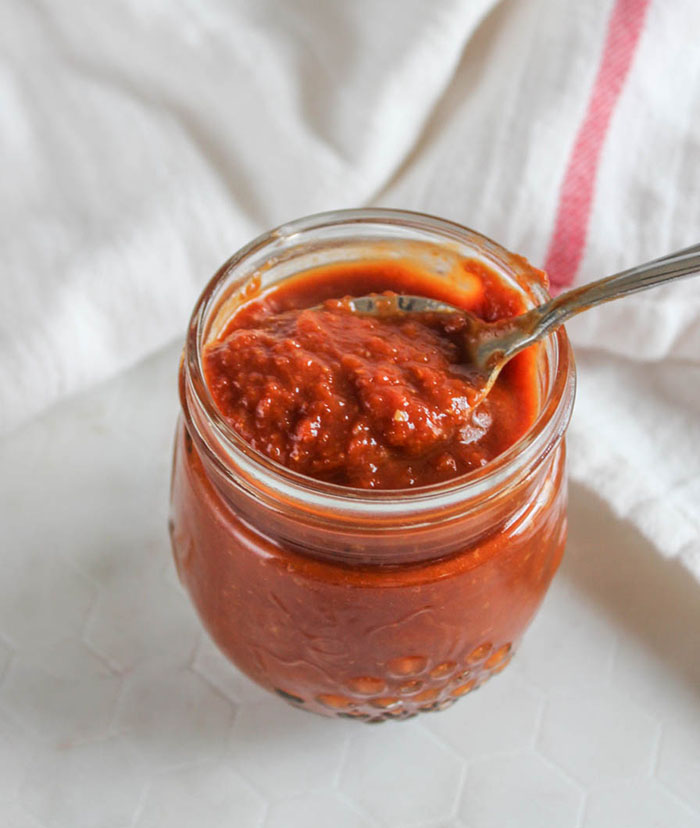 Tips for making the best homemade bbq sauce
If you prefer a thicker sauce, let it cook 10 minutes longer, If you prefer it thin, cook it for approximately 5 minutes less time. Remove the bbq sauce from the stove once it reaches a consistency that you like.
This sauce is a little bit chunky. If you prefer a smooth texture, place it in a high-speed blender until it's smooth, or you can run the sauce through a fine strainer after using the immersion blender.
Adjust the flavors of the sauce with a little bit of salt, pepper, syrup or vinegar before serving.
If you like this recipe, please comment and rate it below!
Beer bbq sauce FAQs
Below are questions frequently asked about making this recipe. If you have a question and don't see it below. Leave a comment at the end of this post and I will get back to you as soon as I can.
What type of beer is the best to use to make beer bbq sauce?
You can use just about beer style as long as you like the flavor of the beer. Dark beer (porter or stout) is a good choice if you like a more robust beer flavor in your bbq sauce. Lagers will be lighter in flavor. Fruit-infused wheat beer, especially citrus or berry is also a good option. The flavors blend well with the orange in the bbq sauce.
How can I adjust the heat in the bbq sauce if it's too spicy?
If the amount of heat in your spicy bbq sauce is too much, you can adjust the heat by adding something acidic such as vinegar, tomatoes, or citrus juice. Start with a little bit of vinegar and tomatoes, and if it's still too hot try adding a little more orange or lemon juice.
For more simple and delicious recipes like this, subscribe to our newsletter and receive a free e-book and meal suggestions straight in your inbox!
Check out more of our sauce recipes right here!
More beer recipes!
If you like cooking with beer, check out these recipes too!