It's so easy to make your own stir fry sauce at home and it tastes much better too! All that you need to make this spicy stir fry sauce recipe is to blend the ingredients together and add it to your favorite stir fry ingredients for a quick dinner that the whole family will love.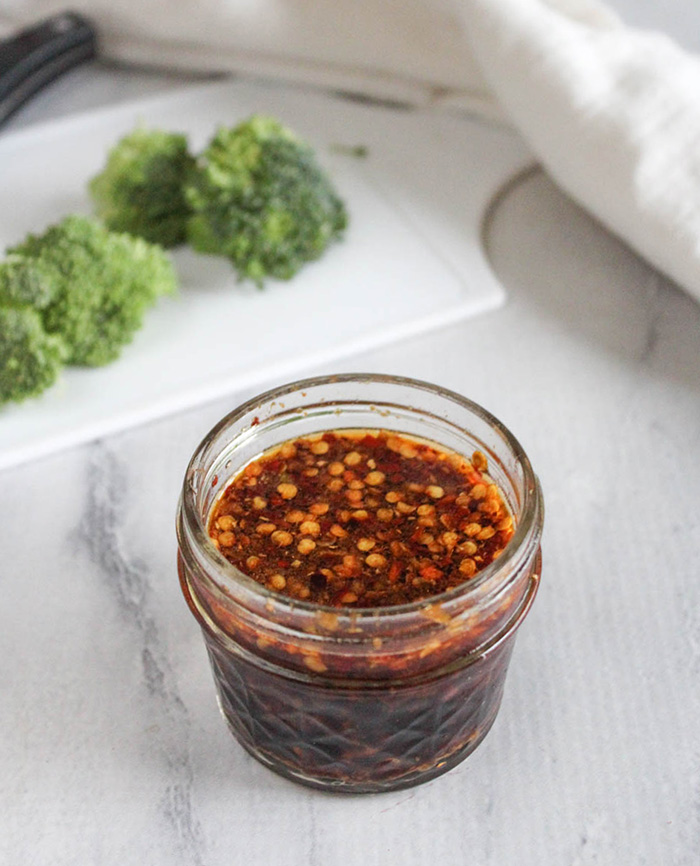 Stir-fries are easy, versatile and barely need a recipe! Just cook your veggies and protein of choice, add some homemade stir fry sauce and you have a healthy meal. You can also follow a stir fry recipe like this ground pork and green bean stir fry.
Here is what You Will Need
This is an overview of the ingredients and steps to make this recipe; scroll down for a printable recipe card with exact measurements and instructions.
As an Amazon Associate, I earn from qualifying purchases.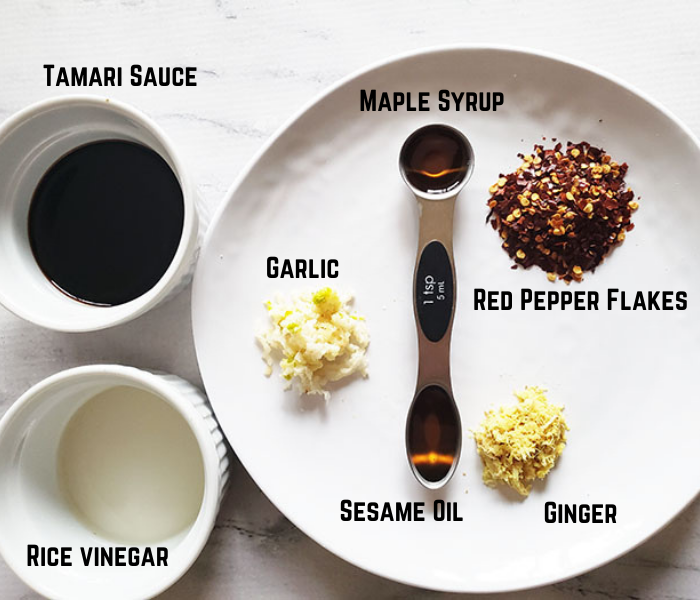 Ingredient List
Fresh Ginger
Fresh Garlic
Maple Syrup
Sesame Oil
Red Pepper Flakes
Water
Flour or Arrowroot
Equipment
A small bowl or mason jar to mix up the ingredients.
How to make this easy stir fry sauce recipe
This sauce is so easy to make in just a few steps.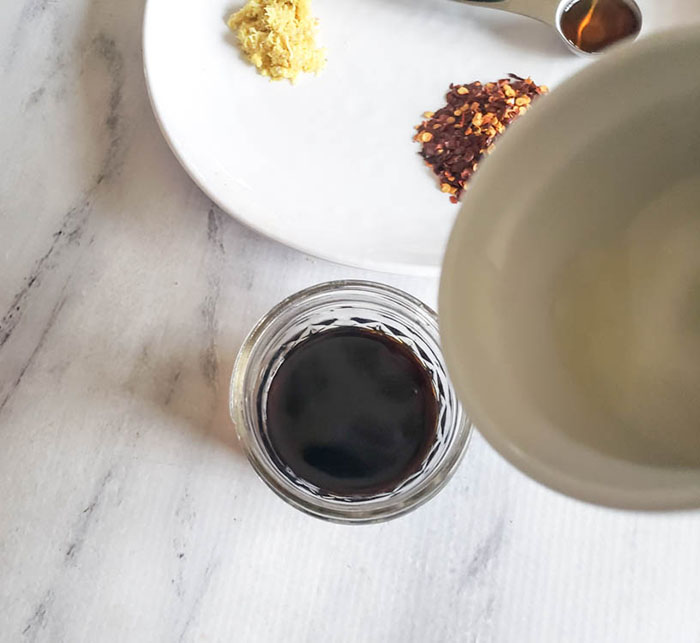 Step 1. Measure the ingredients
Measure the ingredients and add them to a small glass jar or bowl.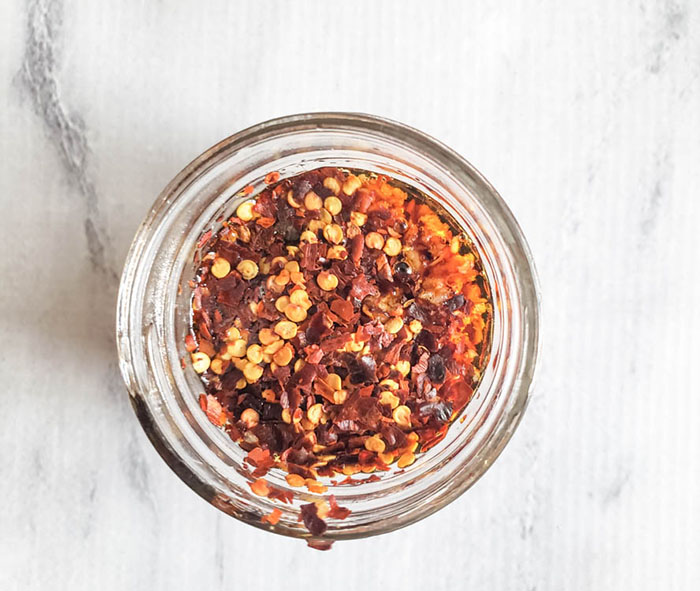 Step 2. Combine the ingredients
Whisk the ingredients together if you are using a bowl, or shake up the jar. Add a slurry of 2 tablespoons flour and ¼ cup water to the sauce once it's in the stir fry.
Meal-Prep Tip! Mix up a double batch of this delicious sauce and freeze what's left to use for another quick stir fry dinner.
Ingredient Notes and Substitutions
Tamari sauce - is a Japanese soy sauce that's a bit thicker than soy sauce and is richer in flavor. It's made with just a few ingredients, it's vegan and gluten-free.
I like to use tamari sauce in recipes that call for soy sauce because of its deep flavor. If tamari sauce isn't available, you can substitute it with an equal amount of soy sauce or coconut aminos.
Rice vinegar - is a mild-tasting vinegar that is made from fermented rice. If you don't have rice vinegar, you can substitute it with an equal amount of white vinegar or apple cider vinegar.
Fresh ginger and fresh garlic can be replaced with ground ginger (¼ teaspoon) and garlic powder (½ teaspoon).
Water- most stir fry sauce recipes use broth, I prefer to use water. Water doesn't have much of an impact on the taste and it helps to control the sodium, it can easily be replaced with an equal amount of vegetable broth or chicken broth.
Red pepper flakes add a nice amount of heat to this recipe. If you prefer a milder sauce, you can leave the red pepper flakes out.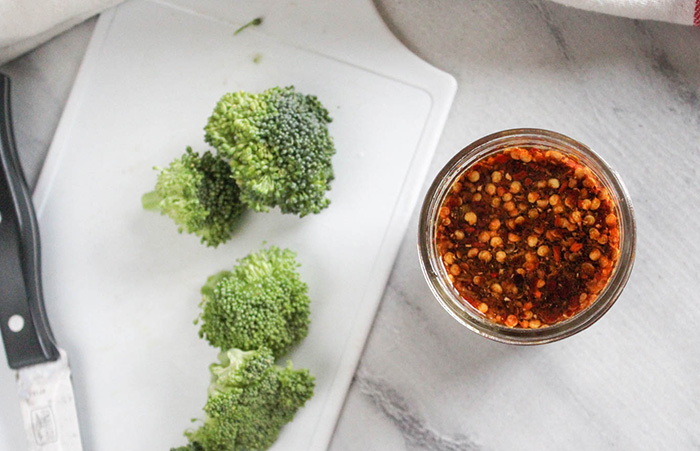 How to Store Spicy Stir Fry Sauce
This recipe makes a little over a half cup of sauce which is enough to make a stir fry recipe for four people. You can also double the recipe and store leftover stir fry sauce in the refrigerator for up to one week in an airtight container.
This sauce also freezes well. Store in a freezer container in the freezer for up to three months. Defrost the sauce in the refrigerator overnight or place the sauce in the jar into a bowl of warm water.
How to Serve Spicy Stir Fry Sauce
Serve this flavorful sauce in your favorite stir fry recipes such as beef and broccoli stir fry, green beans with ground pork or you can simply stir fry veggies, and add the sauce and serve over white rice or brown rice for a really fast vegetable stir fry dinner.
Variations
Sriracha stir fry sauce, replace the red pepper flakes with a teaspoon or more to taste of sriracha sauce.
Spicy lemon sesame stir fry sauce, replace the vinegar with an equal amount of fresh-squeezed lemon juice and 2 teaspoons of sesame seeds.
Herb stir fry sauce, try adding fresh chopped basil or cilantro to your stir fry sauce.
Try this sauce without the addition of flour in our Asian chicken pasta salad recipe!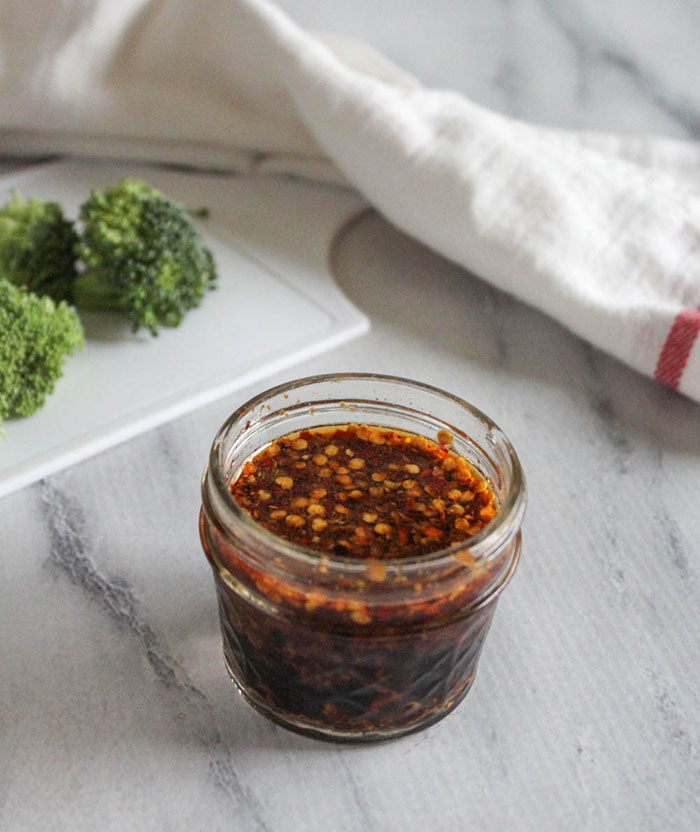 For more simple and delicious recipes like this, subscribe to our newsletter and receive a free e-book and meal suggestions straight in your inbox!
Recipe tips and questions
For best results, add the flour (or arrowroot) slurry to the stir fry just before removing it from the heat.
Add the thickener (slurry) just before serving your stir fry. Most stir fry sauce recipes have thickeners mixed into them. I like to add a thickener separately when I am adding the sauce to the stir fry. It makes it easier to store and freeze the stir fry sauce.
Is this a recipe for vegan stir fry sauce?
Yes, it is! As long as you use maple syrup and not honey to sweeten the sauce, it is vegan.
Is this spicy stir fry sauce gluten-free?
Yes, all of the ingredients in this recipe including tamari sauce are gluten-free, but check the labels of your products to be sure.
What can I use to make a stir fry?
You can use all kinds of ingredients to make a stir fry such as lean animal protein or vegetarian protein with your favorite chopped vegetables such as zucchini, bell peppers, bean sprouts, snap peas, asparagus, and green beans. You can also add some chickpeas, peanuts, almonds or cashew for texture.
If you like this recipe, please comment and rate it below!
Check out more of our Sauce Recipes Here!