This potato skins air fryer recipe is so easy to make. Potato skins are loaded with healthy ingredients for healthy and extra crispy and delicious potato skins every time!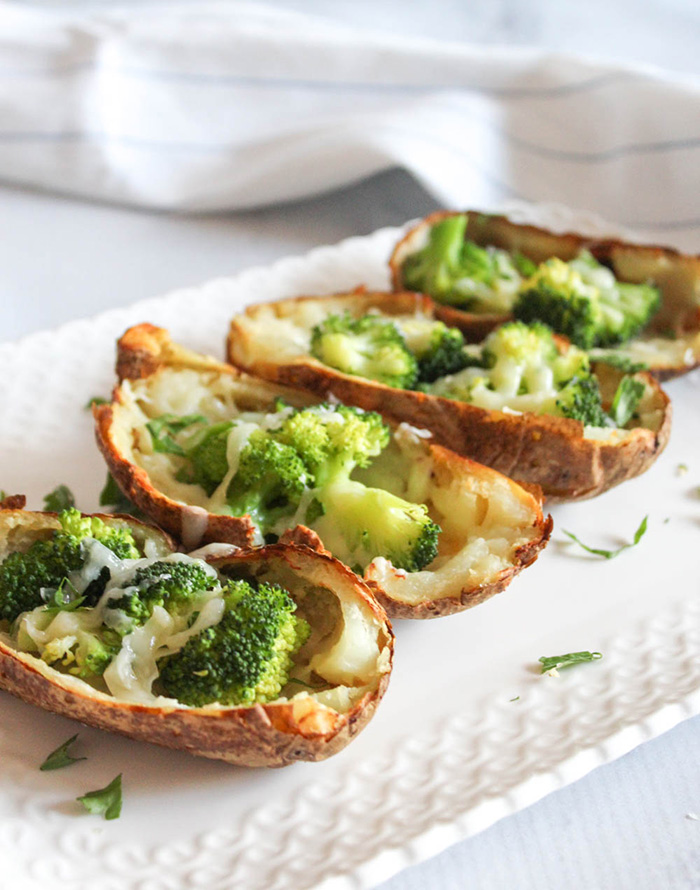 Air fryers are a great way to cook potatoes, these air fryer baby potatoes are another one of our favorites.
Why this recipe works
Using an air fryer is a quick and easy way to make homemade potato skins.
This is a healthy air fryer recipe for potato skins, the crispy skins are topped with steamed broccoli and cheddar cheese.
Here is what you will need
As an Amazon Associate, I earn from qualifying purchases
This is an overview of the ingredients and steps to make this recipe; scroll down for a printable recipe card with exact measurements and instructions.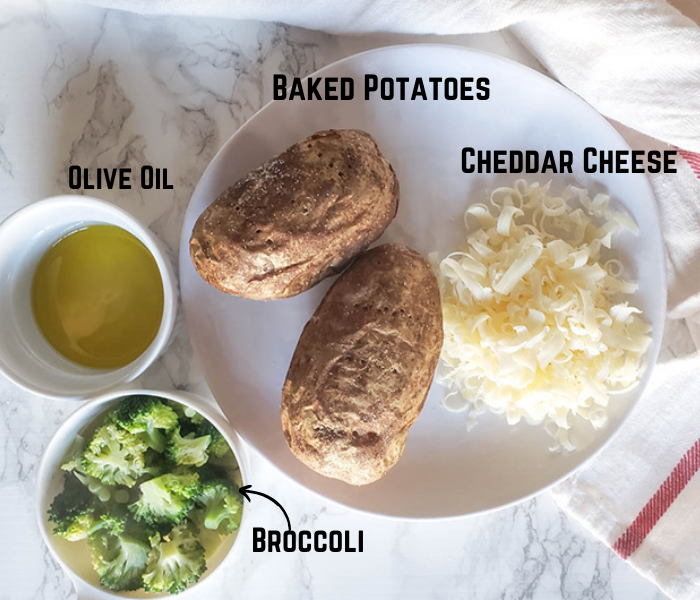 Ingredient List
Baked potato
Shredded cheddar cheese
Broccoli
Equipment
Here is how to make this air fryer potato skin recipe
Prepare the ingredients: bake the potato and allow it to cool to room temperature. Steam the broccoli and shred the cheese.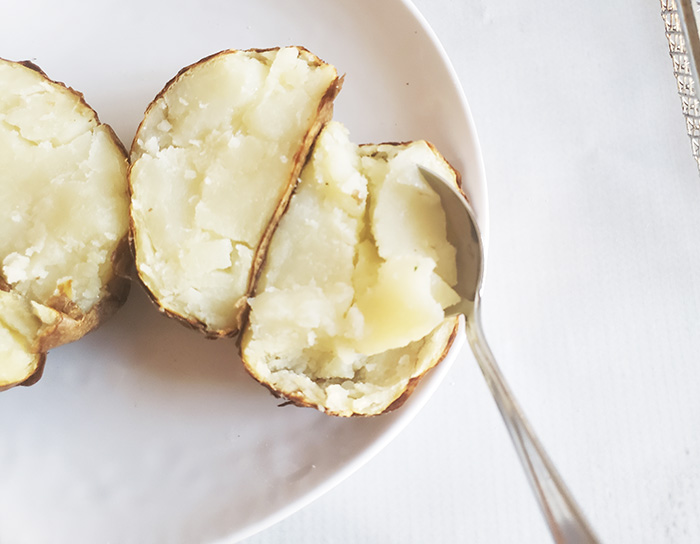 Step 1. Scoop the potato out the skins
Slice the potatoes in half and use a spoon to scoop the potato out of each of the potato halves.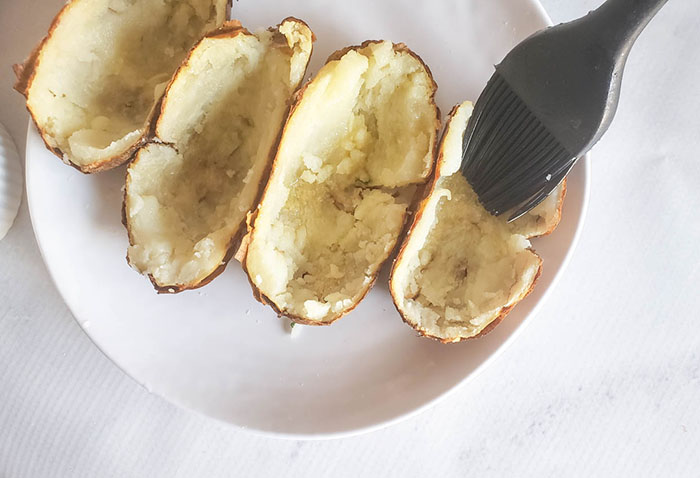 Step 2. Brush on the oil
Use a pastry brush and brush oil all around the potato until it's fully coated with olive oil.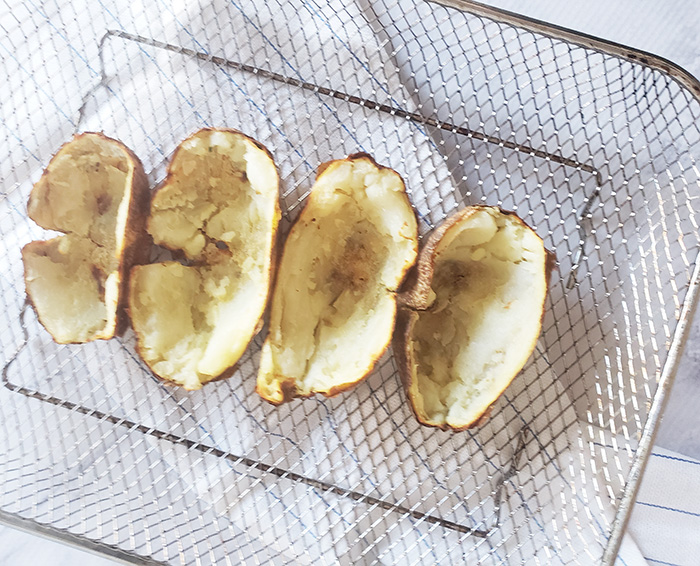 Step 3. Air fry the potato skins
Place the potato skins in a single layer in an air fryer basket or tray and air fry until they begin to turn golden, about 5 minutes.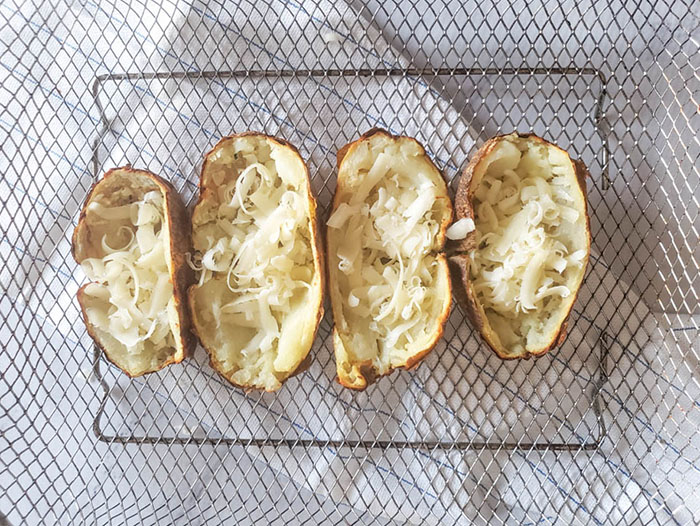 Step 4. Add the cheese
Sprinkle the shredded cheese in the potato skins, reserving some for the top of the broccoli. Air fry the skins again until the cheese melts - about 2 minutes.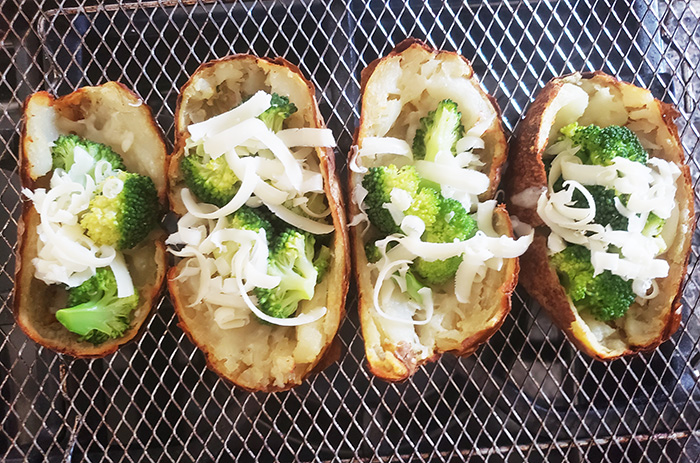 Step 5. Add the Broccoli
Top the melted cheese with cooked broccoli and add the remaining cheese. Cook for a few minutes longer and serve.
Note: cooking time can vary depending on the type of air fryer that you have.
Ingredient notes and substitutions
The full list of ingredients to make this crispy potato skins recipe is above. Below are notes about some of the ingredients along with ideas for substitutes.
Potato - the best potatoes to use when making air fryer potato skins are russet potatoes. They have thick skins which results in the crispiest skins.
If russets are not available, yukon gold potatoes can be substituted, but keep in mind the skins may be more flimsy.
Broccoli - fresh steamed broccoli is what I use when I make these potato skins. You can also use frozen broccoli or it's a great way to use up leftover broccoli.
Try this recipe for air fryer baked potatoes!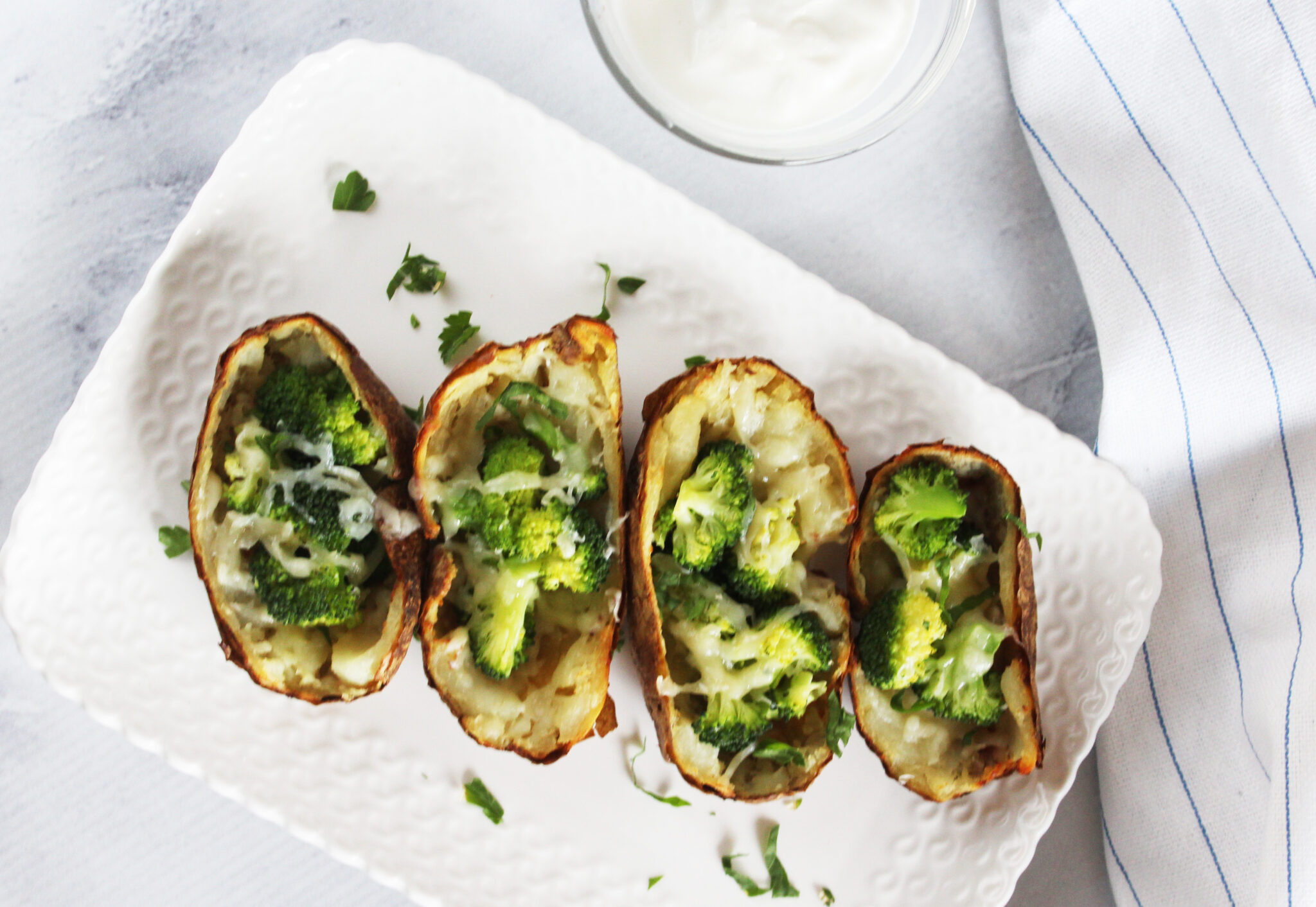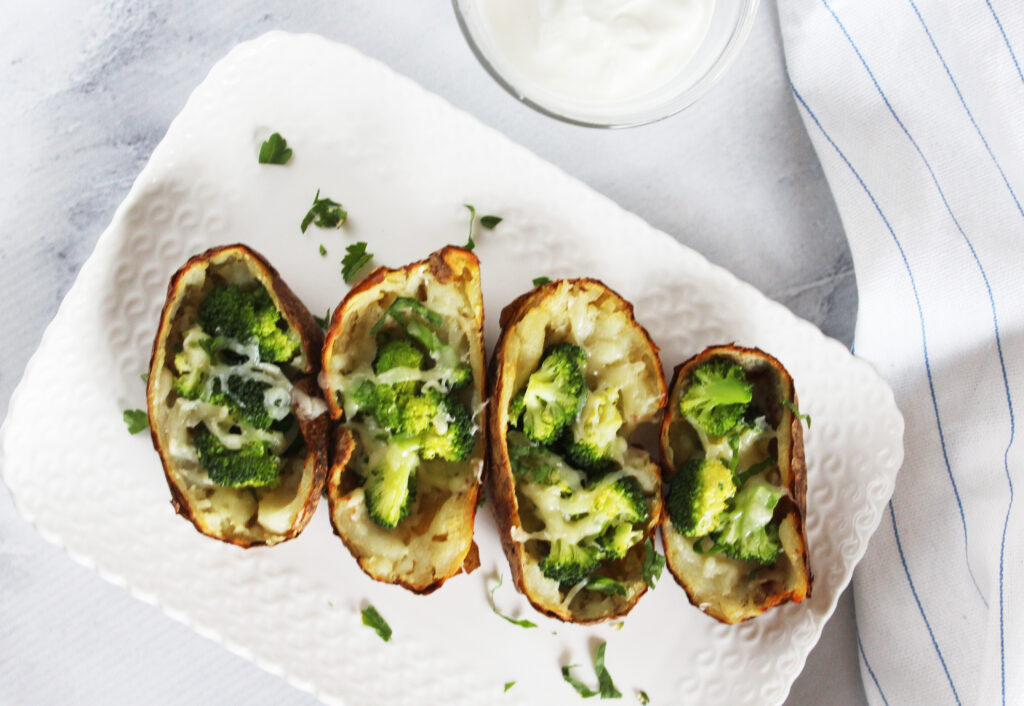 What to serve with air fryer potato skins
Air fryer potato skins taste great topped with green onions sprinkled on top and a side of sour cream or Greek yogurt. They also taste great dipped into homemade onion dip or ranch dressing.
Serve air fryer potato skins as a delicious appetizer or a side dish with your main course. We like them as a simple side with grilled jerk chicken and a salad.
Broccoli and cheddar potato skin variations
Bacon and broccoli potato skins. Add cooked crumbled bacon bits to the broccoli cheddar potato skins.
Tex Mex air fryer potato skins. Instead of broccoli, top the potatoes with pepper jack or cheddar cheese, cooked black beans and a drizzle of salsa.
Sweet potato air fryer potato skins. Instead of russet potatoes, use baked sweet potatoes and your favorite vegetable toppings.
Veggie-loaded potato skins. In addition to broccoli, load up the skins with all of your favorite veggies. You can use any combination of steamed or sauteed vegetables such as zucchini, mushrooms, or bell peppers.
Change up the cheese and replace the shredded cheddar cheese with blue cheese, parmesan cheese, or gorgonzola cheese.
Storage
Store leftover potato skins in an airtight container in the refrigerator for up to three days.
Freeze potato skins by allowing the potato shells to reach room temperature after they have been cooked. Place the cooled skins onto a baking sheet and pop them into the freezer. Once they are frozen place them into a food storage bag for up to three months.
Defrost the frozen skins in the refrigerator overnight or cook them immediately in your air fryer oven at 375 or your oven at 400 degrees f.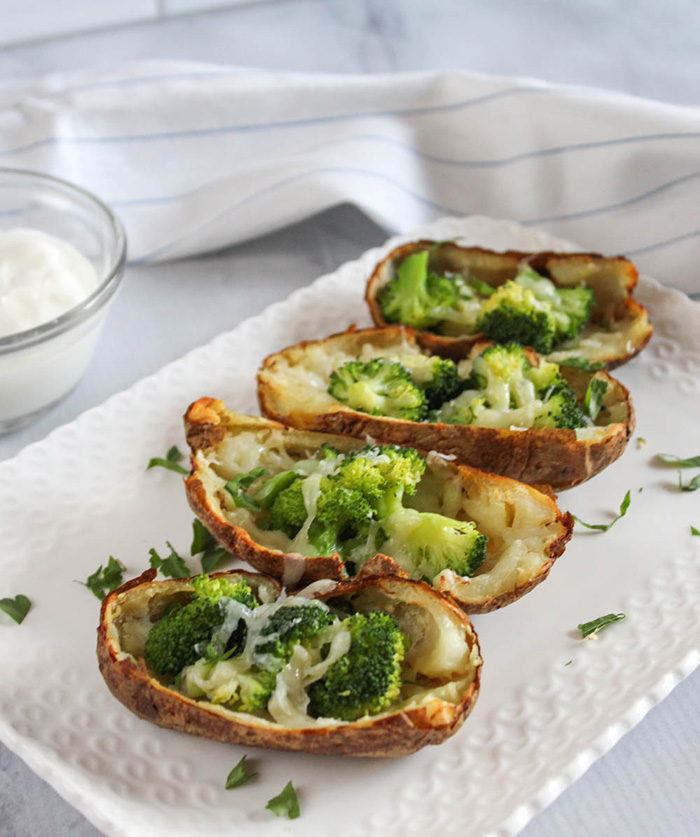 Make-ahead instructions
This is an easy recipe to make ahead of time or a great wat way to use up leftover baked potatoes and broccoli.
Both the baked potatoes and broccoli can be cooked up to three days ahead of time and stored in separate containers in the refrigerator.
For more simple and delicious recipes like this, subscribe to our newsletter and receive a free e-book and meal suggestions straight in your inbox!
Tips and questions
Can I make air fryer potato skins in the oven?
Yes, you can. Here's how to coat the skins with olive oil on all sides and place them on a baking sheet skin side down in the oven and bake until they start to crisp up and turn golden (about 15 minutes). Sprinkle with cheese and broccoli, melt the cheese and enjoy!
What to do with the inside of the potatoes when you make potato skins
You can make fried potatoes with the leftover potatoes. Cook them in a skillet with a little bit of olive oil, peppers, and onions.
More potato recipes
If you like this recipe, please comment and rate it below!
Check out more of our easy air fryer recipes here!