With just three natural ingredients, you can make delicious homemade air fryer potato chips in no time. They are easier than you might think to make, and by far healthier for you than chips that you can buy in the grocery store!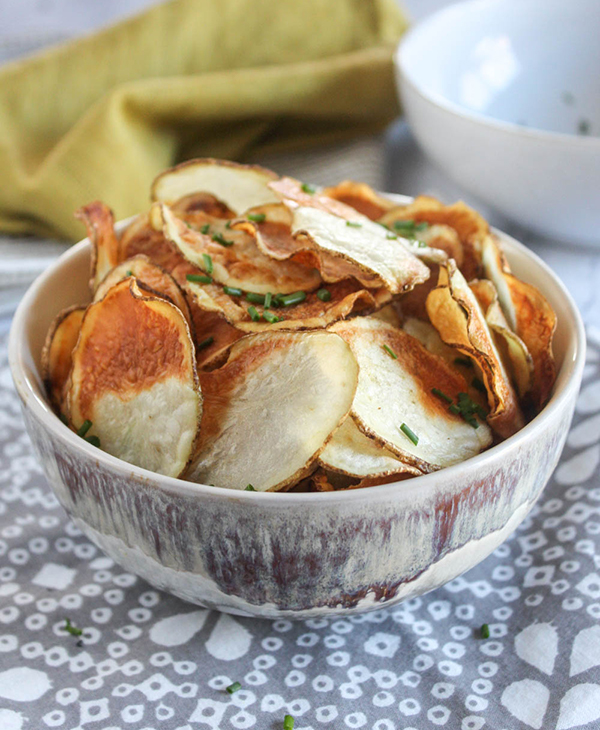 If you have a hard time saying no to potato chips, you will love these homemade chips. They are so crispy and delicious even though they are made with very little oil. Serve them with your favorite dip; we like to dip them in caramelized onion dip.
Why This Recipe Works
Homemade air fryer potato chips are healthier than fried potato chips, and they are so good!
Air fried potato chips are a blank slate for seasoning combinations, see the suggestions below.
Here is what you will need to make this recipe
As an Amazon Associate, I earn from qualifying purchases
This is an overview of the ingredients and steps to make this recipe, scroll down for a printable recipe card with exact measurements and instructions.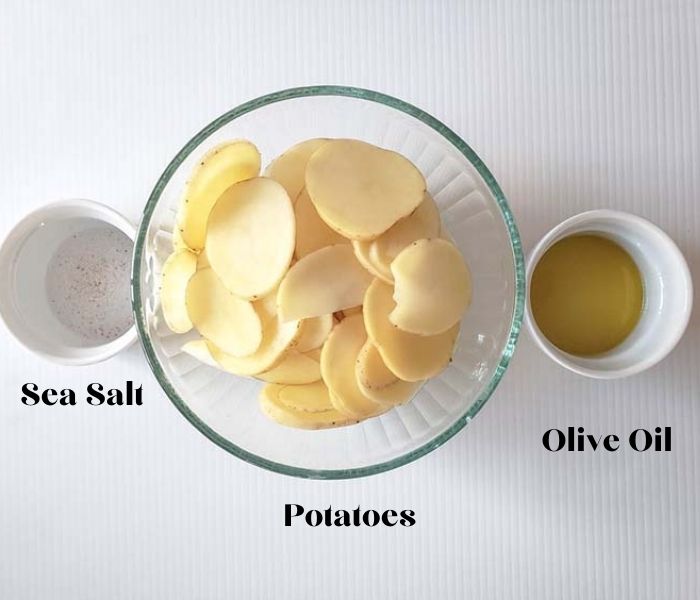 Here's How to Make Homemade Potato Chips in the Air Fryer
Clean and dry the potatoes. Slice them into thin slices using a sharp knife, mandolin slicer or a food processor slicing blade.
Tip! Make sure the slices are similar in size and evenly cut, uneven slices will cause the potato chips to cook unevenly.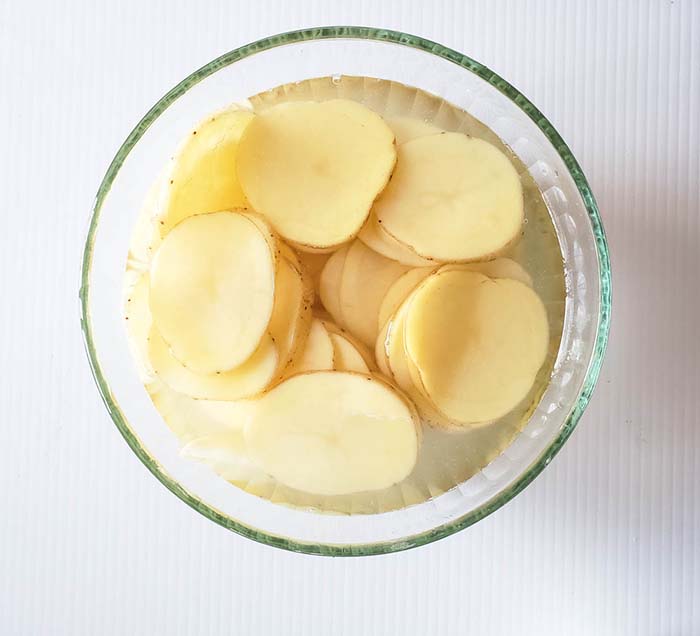 Place the potato slices into a large bowl of cold water and let them soak for about 30 minutes. Drain the potato slices and dry them well with a towel or paper towel.
Tip! Soaking the potato slices in water will help to remove the excess starch from the potatoes.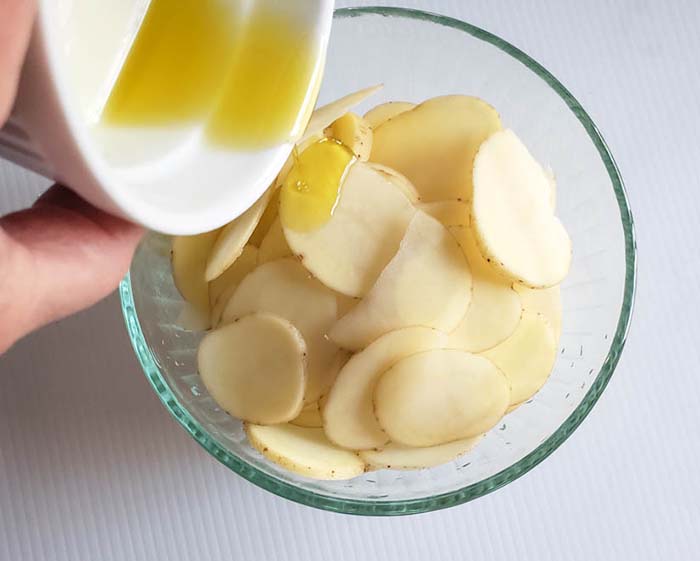 Once the potatoes are dried off, place the potato slices into a large bowl and add the olive oil; toss to coat all of the slices with the oil.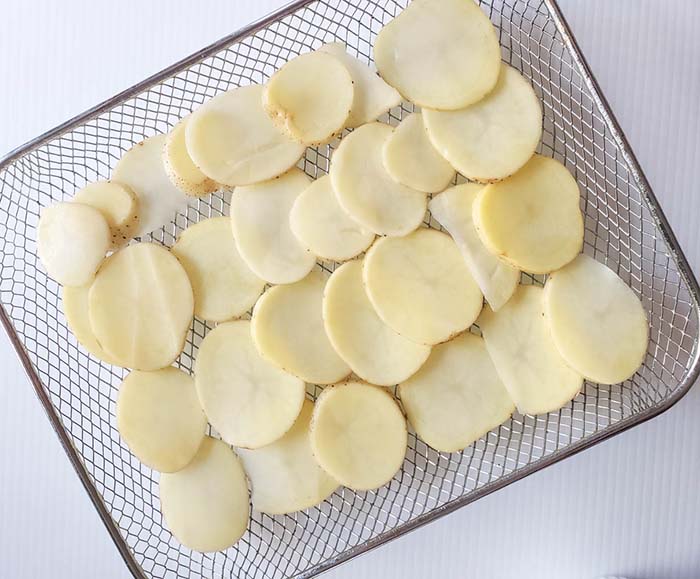 Place potato slices in the air fryer basket or tray in a single layer and sprinkle with sea salt.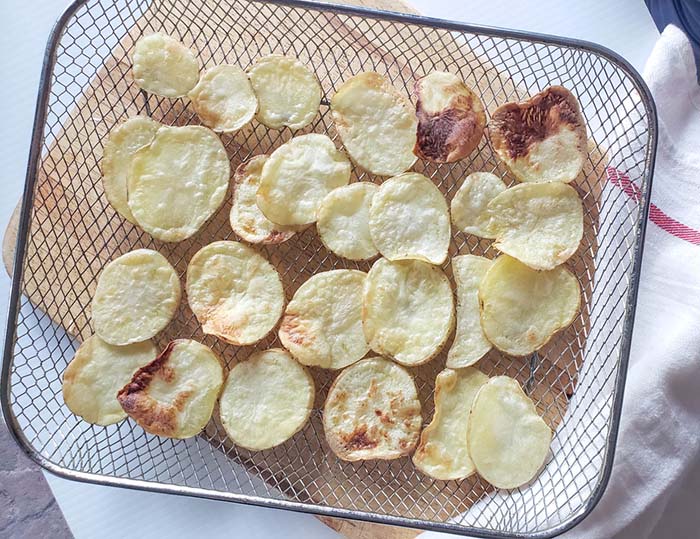 Set the temperature on your air fryer to 400 degrees f, and follow the instructions on your air fryer to cook the potatoes. They should start to turn brown after about 15 minutes. Cooking time can vary depending on your air fryer.
Tip! Some chips will begin to turn brown and crispy before others, remove them from the air fryer as soon as they are golden brown and crispy.
Ingredient Notes and Substitutions
Potatoes. The best potatoes for making air-fried potatoes is Yukon gold potatoes or russet potatoes. Red potatoes contain a higher amount of starch and more waxy in texture. They won't get as crisp in the air fryer.
Substitute russet potatoes or Yukon gold potatoes with sweet potatoes for sweet potato chips. Sweet potatoes cook faster, so you may have to adjust the cook time a bit. Start checking them after 10 minutes.
To peel or not to peel your potatoes. Most of the nutrients are in the potato skins, so I always leave them on. Plus leaving the skin on reduces the amount of prep time, so it's a win-win. If you don't like potato skins on your potatoes, you can use a vegetable peeler to remove the skin before slicing the potatoes.
Oil. Olive oil the oil that I always use when I make air-fried potato chips, it can be replaced with an equal amount of avocado oil.
Sea salt. Adds a touch of flavor, you can leave it out and it can be replaced with table salt or kosher salt.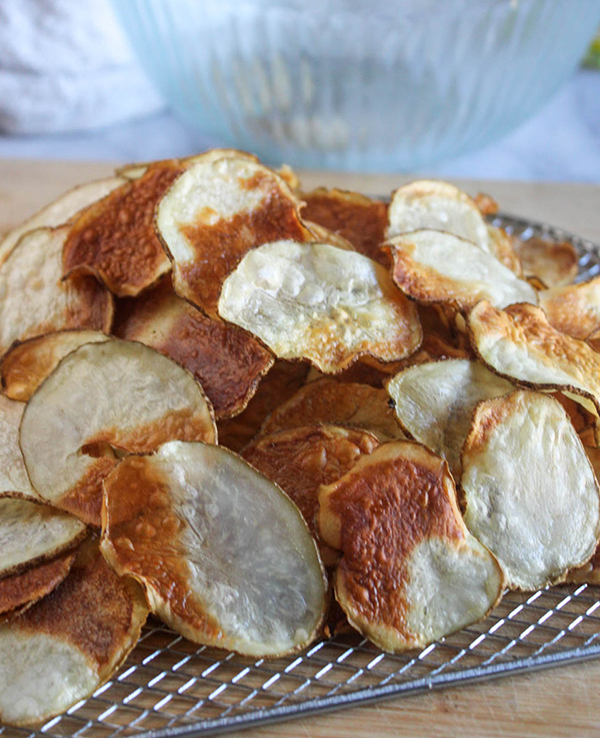 How to Make Air Fryer Chips in the Oven
If you don't have an air fryer, you can still make these crispy chips in the oven. Here's how:
Preheat the oven to 400 degrees f.
Place a baking rack (you can use a cookie cooling rack) on top of a baking sheet
Arrange the potato slices on the baking rack and bake them in the preheated oven for 15 minutes.
Remove the chips as the start to brown, it could take up to 20 minutes or a little more for all of the chips to be ready.
Note: If you don't have a baking rack, you can place the potato slices onto a parchment-lined baking sheet and turn them halfway through the cooking cycle.
How to Store Your Chips
For best results, store your crispy potato chips in an airtight container at room temperature for two to three days.
Note: These taste best when they are freshly made, and might be a little soggy after a day or two.
Serving Suggestions
These crispy crunchy potato chips taste great all by themselves, with homemade caramelized onion dip, blue cheese dip or you can turn them into potato nachos.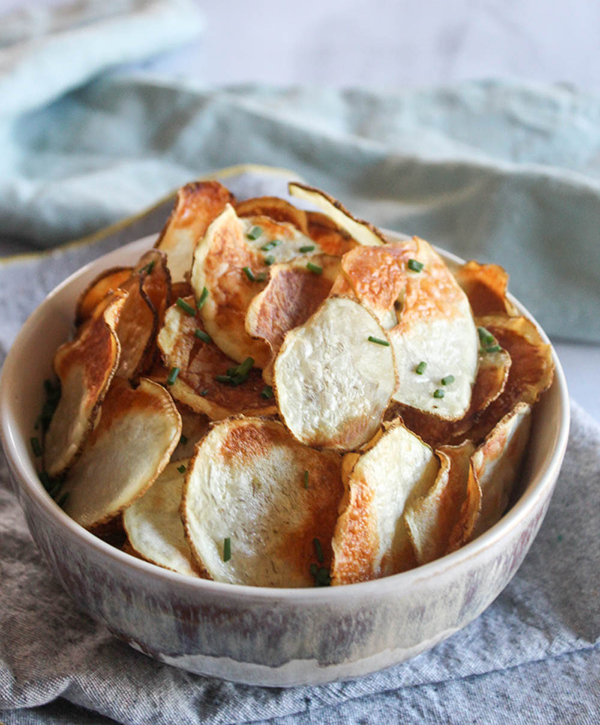 Flavor Your Chips
We usually go simple with our chips and season them with a little bit of sea salt, but you can use all kinds of flavors to season your chips. Here are a few ideas to sprinkle onto your chips before baking them.
Your favorite bbq rub
Jerk seasoning
Chili powder & cumin combined
Parmesan cheese
Nutritional yeast
Fresh or dried herbs
Garlic Powder
Onion Powder
Sea salt and pepper
You Might Like These Air Fryer Recipes
SIGN UP FOR OUR MAILING LIST TO RECEIVE WEEKLY MENU IDEAS AND MORE!