Fresh vegetables, olives, creamy hummus, and feta cheese make up this Mediterranean Veggie Sandwich. It's a simple sandwich that has so much flavor and is perfect the perfect vegetarian sandwich for lunch or a light dinner.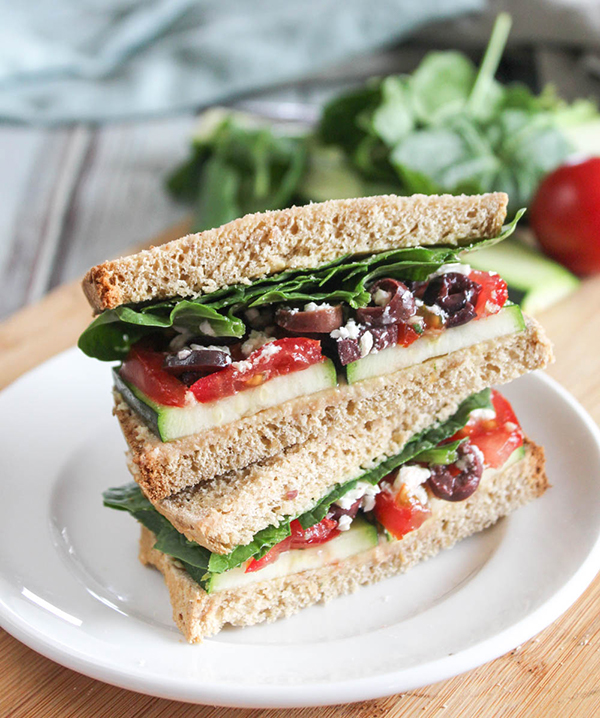 This healthy sandwich is a riff on Panera's version of their Mediterranean veggie sandwich. It's become a favorite sandwich of ours during the summer when all of the fresh veggies are in season.
We also like making vegan BLT sandwiches when tomatoes are in season and fresh!
Why this recipe works
It's easy to make with simple ingredients.
It's versatile, you can use just about any combination of your favorite vegetables.
Here is what you will need
As an Amazon Associate, I earn from qualifying purchases
This is an overview of the ingredients and steps to make this recipe, scroll down for a printable recipe card with exact measurements and instructions.
Veggie Mediterranean sandwich ingredients
fresh whole grain bread
hummus - here's my recipe for homemade hummus
lettuce or spinach
zucchini slices or cucumber slices
tomatoes
feta cheese crumbles or goat cheese
Equipment
How to make this homemade mediterranean veggie sandwich recipe
Prepare the ingredients: Rinse and slice the vegetables.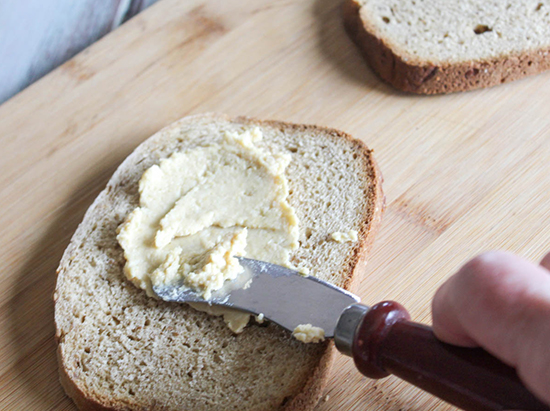 Step 1. Spread on the hummus
Use a sandwich spreader or a butter knife to spread hummus onto both slices of bread.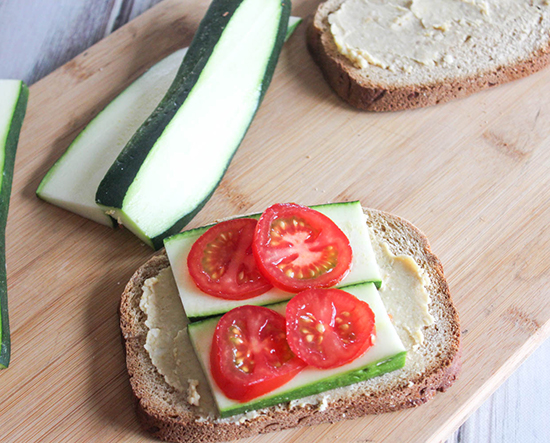 Step 2. Add the veggies
Place slices of zucchini and tomatoes on top of the hummus.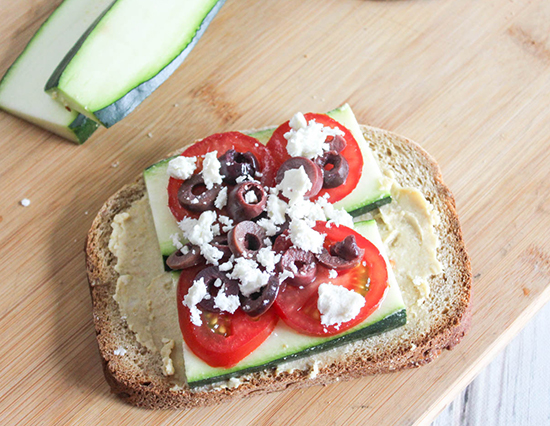 Step 3. Add olives & cheese
Top the tomato slices with olives and olives.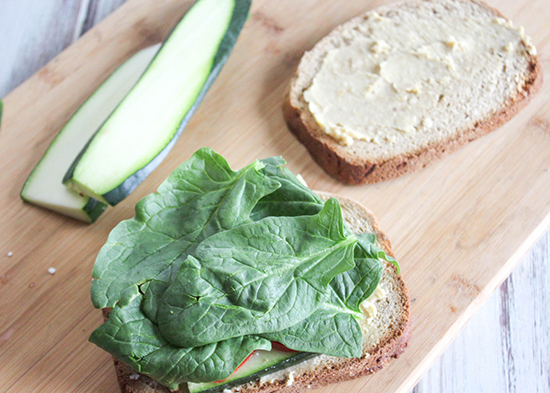 Step 4. Top it with spinach
Add a few spinach leaves to top off the layers of vegetables and cheese and place the second bread slice on top.
Ingredient notes and substitutions
The full list of ingredients to make this flavorful sandwich is above. Below are notes about some of the ingredients along with ideas for substitutes.
Whole grain bread - You can use any bread to make this sandwich. Our preference is whole grain or rye bread.
Hummus - Classic hummus is our first choice when making this sandwich. You can make your own classic hummus with my recipe or you can use your favorite flavor of hummus that's homemade or from the grocery store.
Vegetables - Just about any vegetable will work in this recipe. Try your favorite veggies to make this sandwich such as cucumber slices, red bell peppers, sweet cherry peppers, peppadew peppers, radishes, lettuce, shredded carrots, bean sprouts, and alfalfa sprouts, micro greens, roasted peppers, sun-dried tomatoes, alfalfa sprouts, and red onion.
Olives and Cheese - These add a salty flavor to the sandwich, try using different types of olives and cheese such as goat cheese or provolone cheese.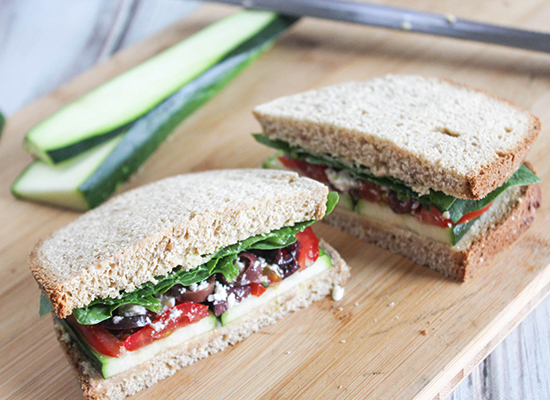 Serving Suggestions
Serve this Mediterranean vegetable sandwich for a healthy lunch or light dinner with a cup of soup, a side of homemade potato chips, homemade coleslaw, potato salad, and pickles.
Variations
Sandwiches are so versatile, you can make them any way you like. Here are a few suggestions to stay with the Mediterranean theme.
Mediterranean sandwich on a roll or pita - Instead of bread, make your sandwich on a crusty whole grain baguette or pita bread.
Sun-dried tomato veggie sandwich - Use sun-dried tomato hummus and add a few chopped sundried tomatoes to the sandwich.
Pesto Mediterranean - Spread a tablespoon of hummus on both sides of the bread before adding the hummus.
Mediterranean veggie wrap - replace the bread with a wrap and spread the hummus onto the wrap add the layers of veggies and cheese and roll it up.
Mediterranean sandwich with beet hummus - try using beet hummus to add a touch of sweetness to the sandwich.
Make ahead and storage instructions
Most sandwiches don't hold up well when they are made too far in advance, and that's how it is with this sandwich.
After a few hours, the bread may become soggy. Once the sandwich is assembled wrap it tightly and place it in the refrigerator for up to 4 hours.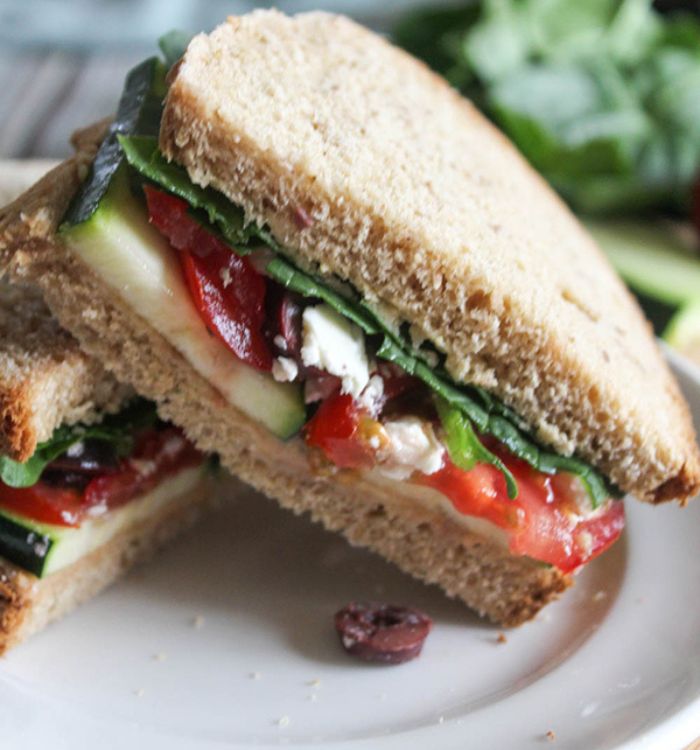 Recipe tips and questions
Tips
Don't skimp on the hummus! Use a generous amount of hummus and spread it onto both slices of bread for a super moist and delicious sandwich.
Avoid a soggy sandwich - If you aren't going to be eating this sandwich immediately, keep the sliced tomatoes off and add them just before serving.
Cut the sandwich into small pieces and serve them as an appetizer.
Questions
Is this Mediterranean vegetable sandwich vegan?
No, it is not a vegan sandwich, but it can easily be made vegan by leaving the cheese off or using vegan cheese.
If you like this recipe, please comment and rate it below!
You Might Like These Light Recipes
For more simple and delicious recipes like this, subscribe to our newsletter and receive a free e-book and meal suggestions straight in your inbox!
Check out more of our Plant-Based Recipes Here!