Crispy puffed rice and nut clusters are a slightly sweet and savory snack made with healthy puffed rice, nuts and seeds. They are a good source of protein and the perfect grab and go snack.
As with just about anything that's homemade, crispy puffed rice cereal snacks are a much healthier option than packaged snacks and they are so easy to make with only 10 ingredients.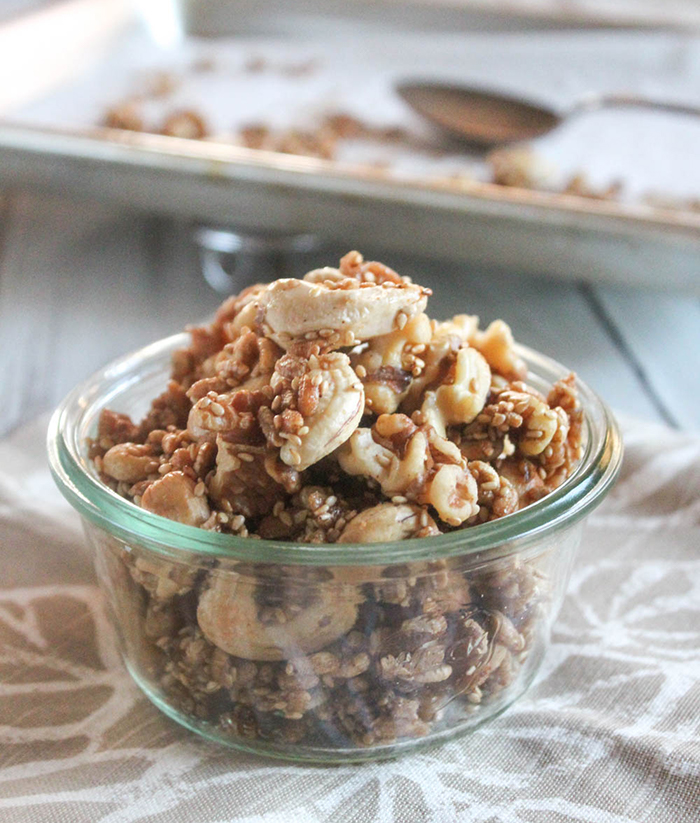 This recipe was originally posted in 2018, it's been updated for content and photos.
Recipe Highlights
It's a versatile and customizable recipe with many options
It's a healthy and filling high protein snack that everyone will love.
Here is What You Will Need
As an Amazon Associate, I earn from qualifying purchases
This is an overview of the ingredients and steps to make this recipe, scroll down for a printable recipe card with exact measurements and instructions.
Puffed Rice Cereal
Maple Syrup
Sea Salt
Apple Cider Vinegar
Garlic Powder
Arrowroot Powder
Raw Cashews
Sesame Seeds
Walnut Halves
Water
Mixing Bowl
Sheet Pan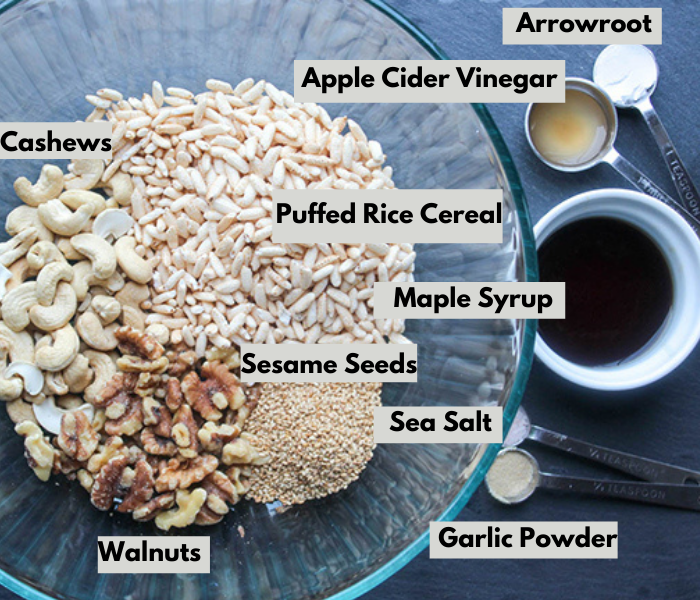 How to Make Crispy Puffed Rice & Nut Snacks
Place the ingredients in a bowl and mix everything together and spread the mixture onto a baking sheet and press it down with a spatula or large spoon and bake.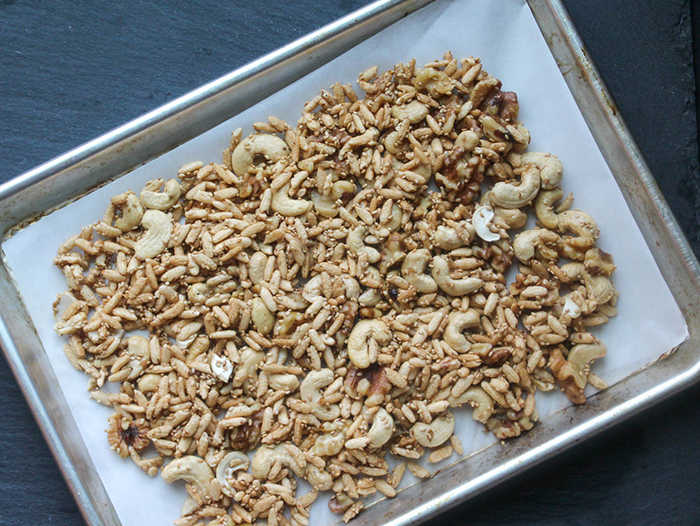 Once the puffed rice clusters have been removed from the oven, let them cool for at least 30 minutes, which will help crisp the clusters up. Break them into pieces and enjoy!
Total Estimated Time to Make This Recipe: 5 to 10 Minutes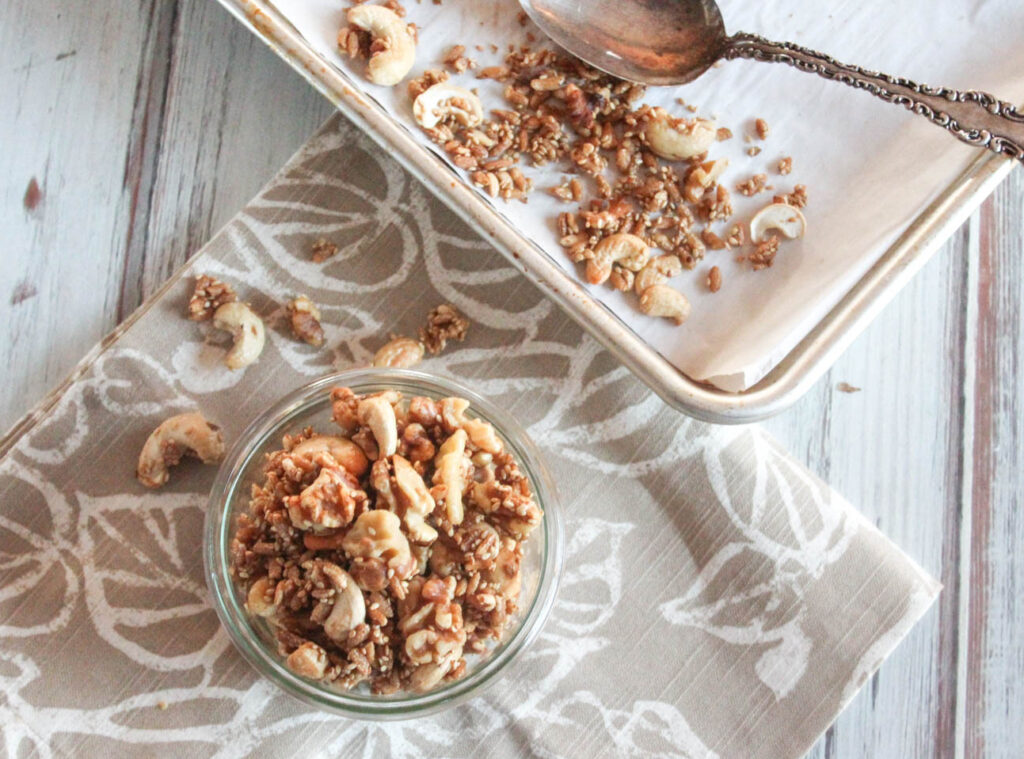 Serving Suggestions
With the hectic lifestyles that most of us have these days, ready-made grab and go snacks are the snack of choice, and puffed rice clusters are just perfect for that. They can be eaten as is or pair them with fresh fruit or carrot and celery sticks.
They also taste great on top of a salad, plain Greek Yogurt or ice cream.
How to Store them
Store the puffed rice clusters at room temperature in a glass jar or container for up to a week.
Freezing is not recommended.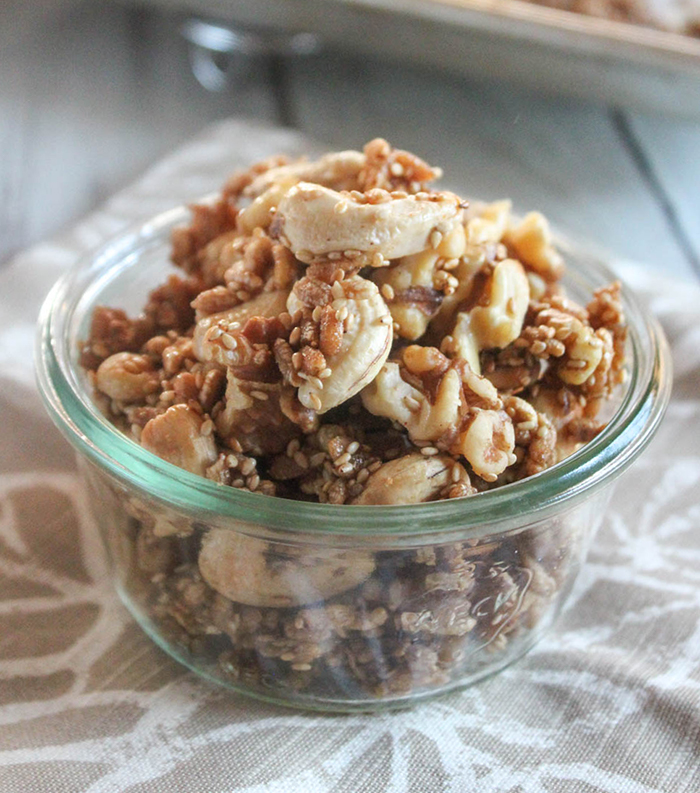 Recipe Variations
Try swapping out the nuts and seeds in this recipe for: pecans, almonds, pepitas, chia seeds or quinoa.
Add ½ cup of coconut flakes or dried fruit such as raisins or craisins to the mixture.
Replace the maple syrup with an equal amount of honey.
Add ½ to 1 teaspoon cayenne pepper to spice them up.
You Might Like These Healthy Snacks