Change up your granola game with a helping of savory granola. It's slightly sweet, spicy, nutty, and delicious. Serve it as a snack or sprinkle it on top of yogurt or your favorite salad.
Savory granola has the same basic ingredients as regular granola but it is less sweet. It's great for those times that you are looking for a quick grab and snack that's not sweet, is good for you and is easy to make.
This recipe was originally posted in 2018, it's been updated for content and photos.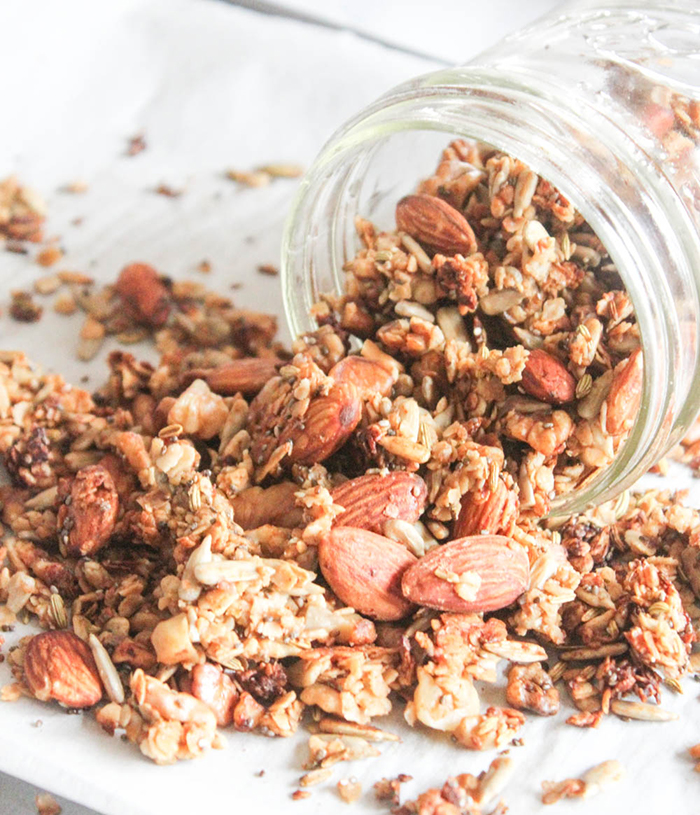 Recipe Highlights
It's healthy! Made with natural ingredients and a good source or protein.
It's easy to make and the perfect grab and go healthy snack.
Very customizable. It can be made grain-free, gluten-free or nut-free, see the options below.
Here is what you will need
As an Amazon Associate, I earn from qualifying purchases
This is an overview of the ingredients and steps to make this recipe, scroll down for a printable recipe card with exact measurements and instructions.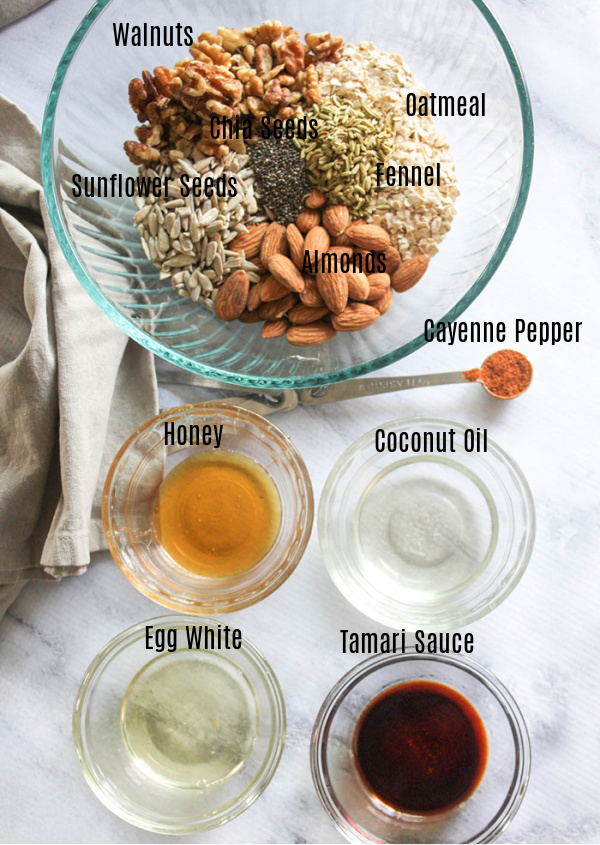 Chia seeds
Sunflower seeds
Honey
Egg white
Cayenne pepper
Fennel seeds
Estimated Time To Make This Recipe: 20 to 30 minutes
How to Make it
Please note that is a summary of steps, refer to the recipe card below for details and ingredient amounts
Place the dry Ingredients into a bowl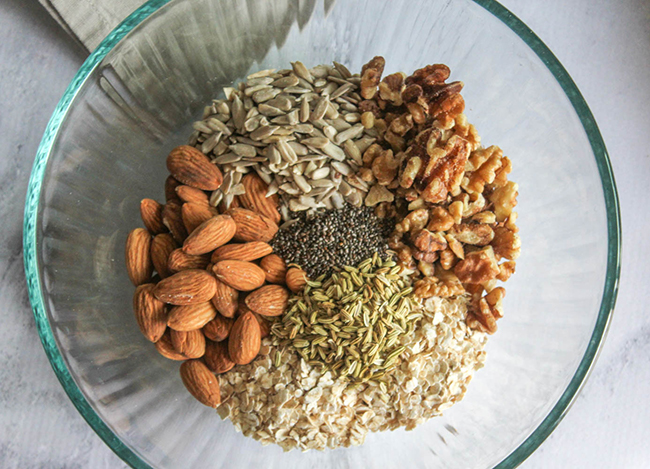 Whisk the wet ingredients together in a separate bowl and pour it on top of the dry ingredients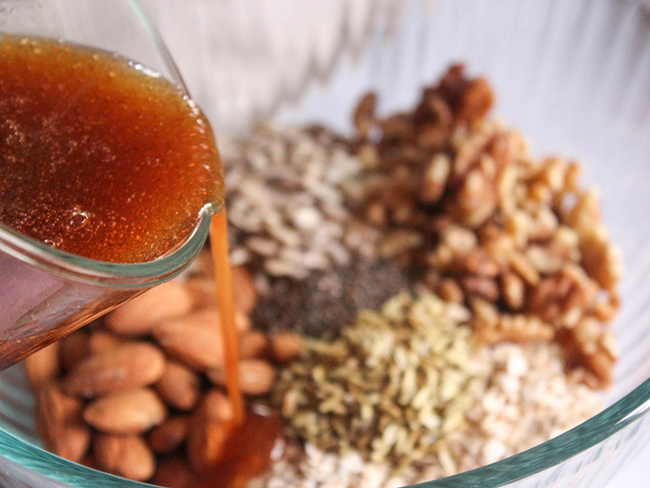 Stir all of the ingredients together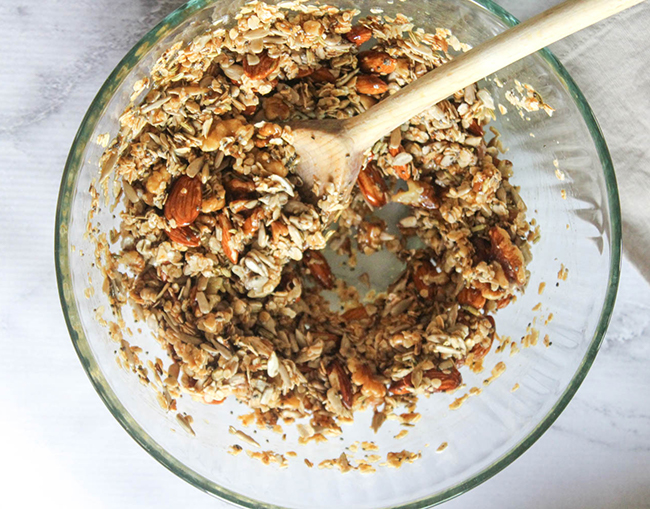 Pile the granola mixture onto a parchment lined baking sheet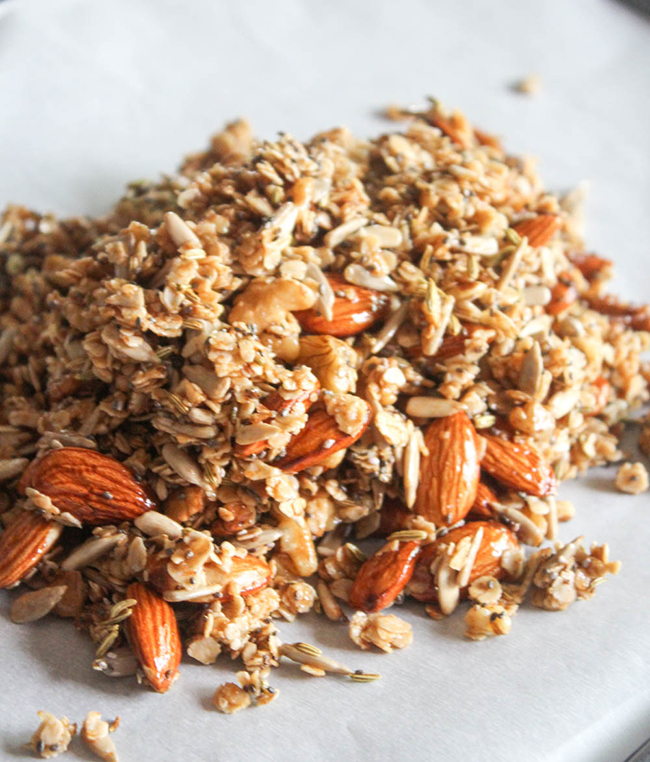 Spread it out and press it down onto the baking sheet with the back of a wooden spoon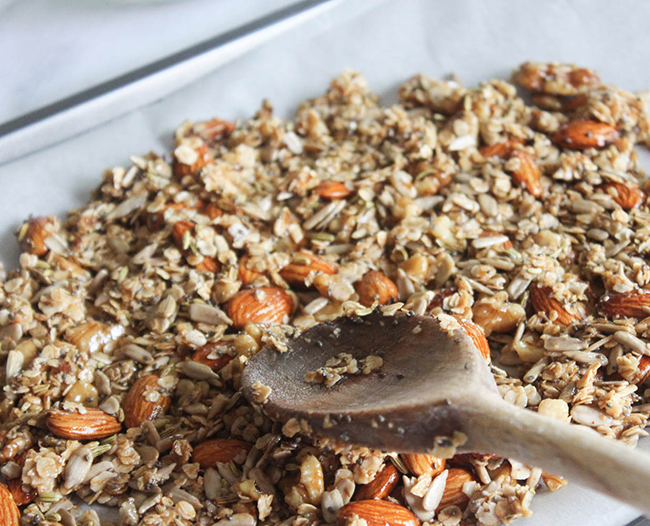 Bake for 25 minutes and allow the granola to cool off which will also help to crisp up the granola.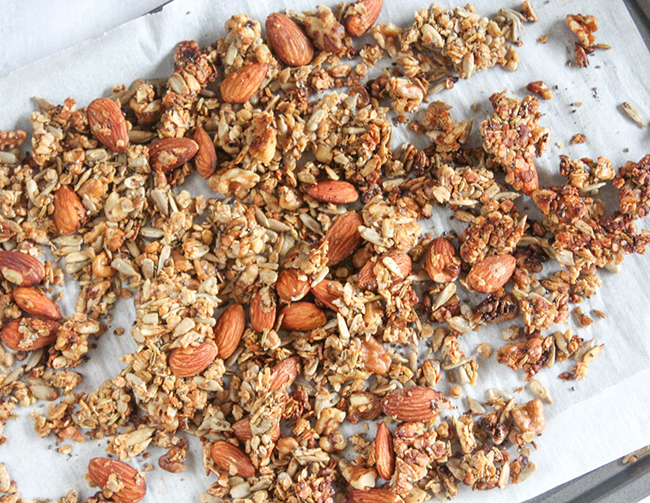 Ingredient Tips
The best type of oats to use
Rolled oats or quick cooking oats can be used to make granola. My preference is to used rolled oats. They are thicker and tend to hold up better in granola.
The Best natural sweetner for granola
Honey or real maple syrup (not pancake syrup) are the best natural sweeteners for granola. If those are not available you can use an equal amount of agave nectar or brown rice syrup.
Raw nuts vs. toasted nuts
Be sure that the nuts you use to make granola are raw and have not been toasted for best results. Nuts that have already been toasted will lose some of their flavor once they are toasted again in the granola.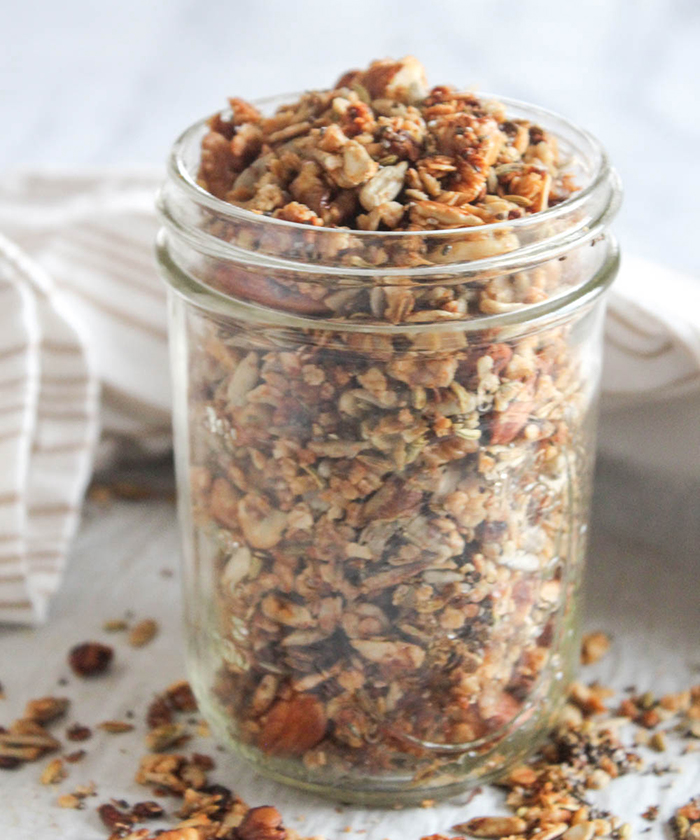 Storage
You can store granola at room temperature in a covered glass container for up to a month for optimum freshness. I like to use a mason jar for this, but any glass food storage container will work.
You can also freeze granola for up to three months. Place it in an airtight container such as a mason jar or a stasher bag. Allow it to thaw at room temperature before using it.
Change it up
Use any combination of nuts and seeds that you like. Here are some suggestions: macdamia nuts, cashews, pecans, hazlenuts, quinoa, pistachios, peanuts, coconut, sesame seeds, pumpkin seeds.
For a nut-free version use only seeds such as quinoa, chia seeds, pumpkins seeds, sesame seeds and sunflower seeds.
For a grain-free version, leave out the oats and add an extra cup of nuts and seeds.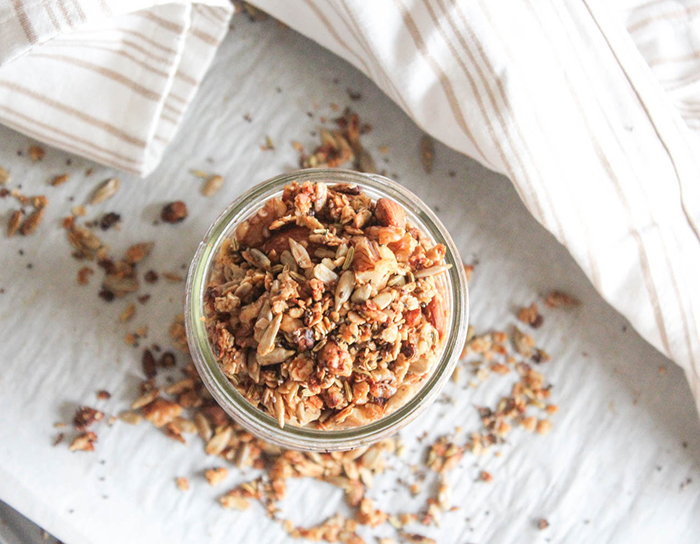 You might also like these healthy snack ideas