Air fryer crispy kale chips are the perfect mix of crunchy and healthy. The cashew cheese made with nutritional yeast adds a cheesy flavor that coats the kale for a perfect balance of taste and nutrition. Learn how you can make these delicious kale chips for yourself in minutes.
This recipe was originally posted in 2018, it has been updated for content and photos.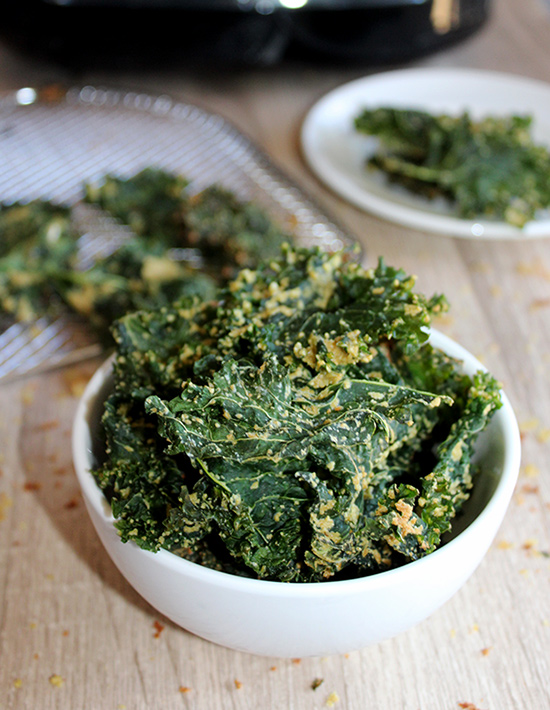 This air fryer kale chips recipe is a perfect healthy snack and it's low carb. If you like carbs, try these air fryer homemade potato chips and dip them in caramelized onion dip.
Why This Recipe Works
It's an easy recipe that's healthy and delicious made with simple ingredients.
Even though it's a healthy snack, these easy air fryer kale chips are delicious!
Here is What You Will Need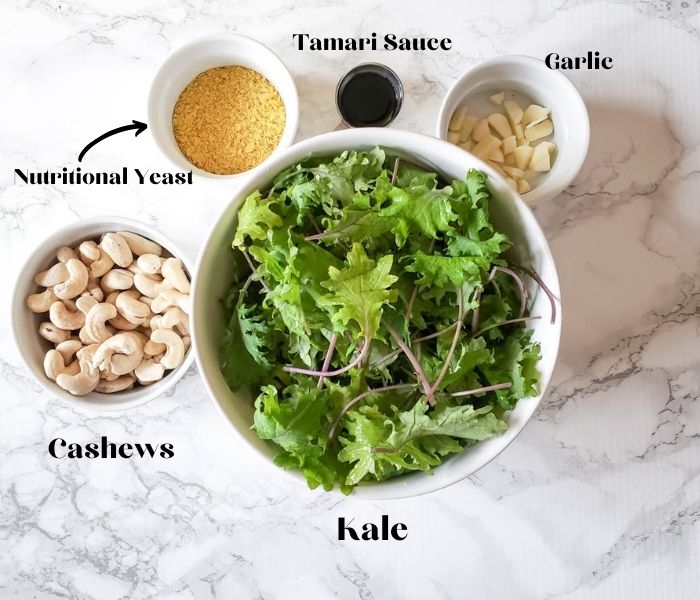 As an Amazon Associate, I earn from qualifying purchases.
This is an overview of the ingredients and steps to make this recipe, scroll down to see ingredients notes and substitutions as well as a printable recipe card with exact measurements and complete cooking instructions.
Fresh kale
Garlic
Tamari sauce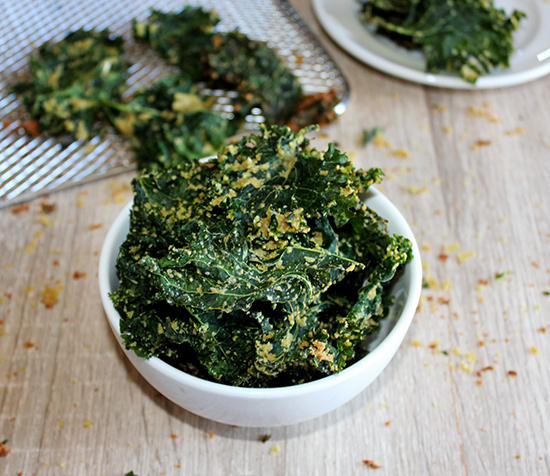 How to Make Healthy Kale Chips in an Air Fryer
Prepare the ingredients: soak the cashews in water for at least 2 hours up to overnight. Clean and dry the bunch of kale, remove the stems and it break into large pieces that are about 1 to 2 inches in size and place it into a bowl. If you are using baby kale, rinse the kale leaves and trim off the long stems.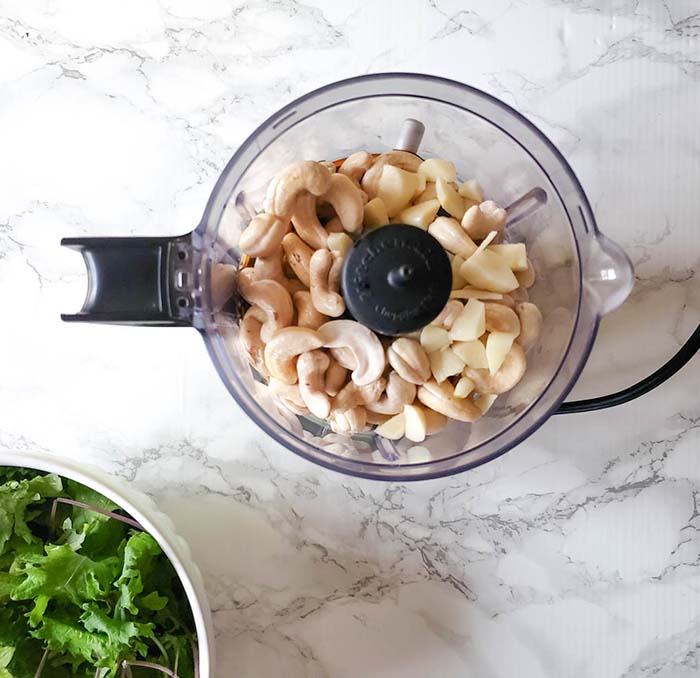 Step 1.
Drain the cashews and place them into a bowl of a food processor with garlic, tamari sauce, and nutritional yeast to make cashew cheese.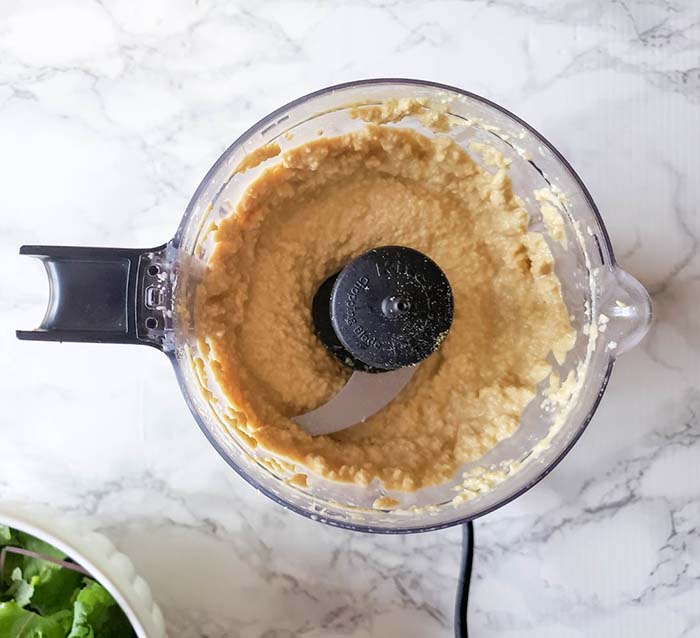 Step 2.
Process the cashew mixture into a thick paste and gradually add water until the cashew cheese becomes a creamy/ thick texture, similar to ricotta cheese.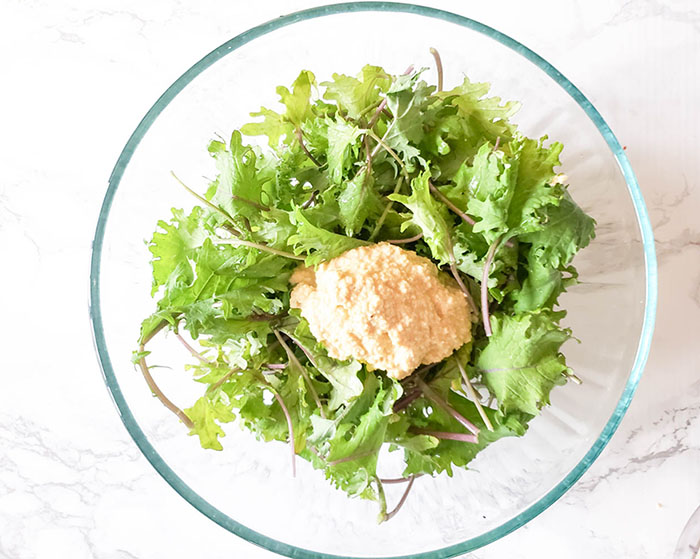 Step 3.
Pour the cashew cheese mixture over the kale pieces in a large bowl.
Tip! To prevent sticking, coat air-fryer basket with olive oil or avocado oil.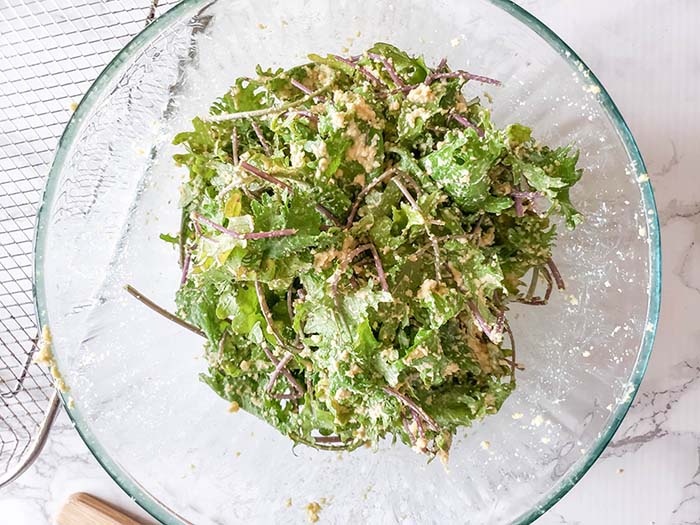 Step 4.
Use your hands to gently massage the cashew cheese into the kale chips.
Tip! Keep a close eye on the kale chips as they are cooking, they can go from slightly brown to burned chips in minutes.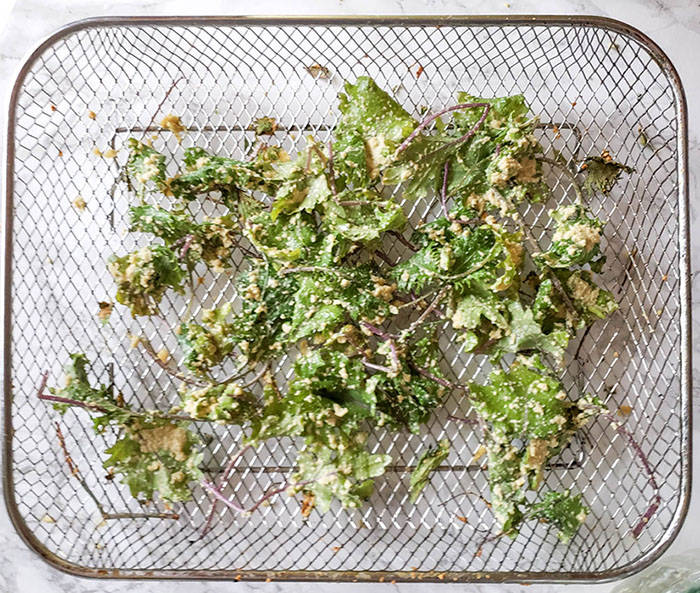 Step 5.
Arrange the kale pieces in a single layer in the air fryer basket or air fryer rack.
Set the temperature on the air fryer to 375.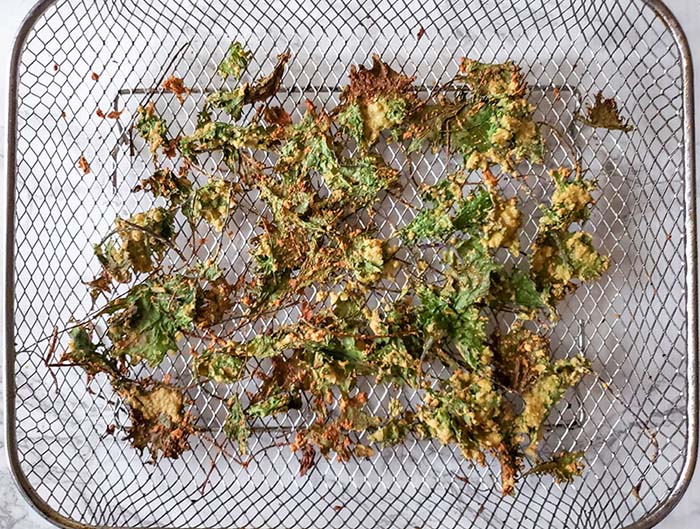 Step 6.
Air fry the kale chips for 10 to 15 minutes; until they turn golden and crispy. Some of the chips will cook quicker than others.
Total Estimated Time to Make this Recipe: 2 hours and 30 minutes (includes cashew soaking time.)
Ingredient Notes & Substitutions
Fresh Kale. You can use any type of kale to make air fryer kale chips. Baby kale works well too, but it is more fragile and will cook faster. Curly kale, Russian kale or lacinato kale are all good choices.
Cashews. Add a delicious creamy texture and when nutritional yeast is added it tastes very similar to the cheese sauce. I have not tried this recipe with any other type of nuts, and cannot recommend a substitution for cashews.
Tamari Sauce. Is very similar to soy sauce and can be replaced one for one with soy sauce or liquid aminos.
Garlic. Fresh garlic tastes best in this recipe, but you can substitute ¼ to ½ teaspoon garlic powder for the clove of garlic.
Nutritional Yeast. Tastes very similar to parmesan cheese. If you don't have nutritional yeast available, you can substitute it with parmesan cheese one for one.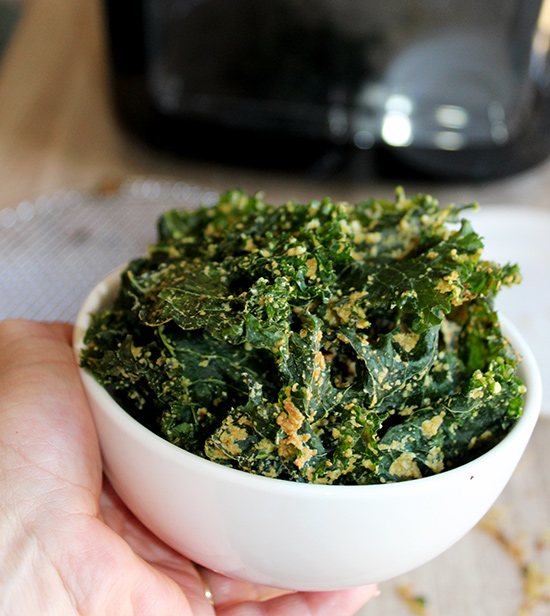 How To Make Oven Kale Chips
If you don't have an air fryer, no problem, you can easily make your own kale chips in the oven too! They may not be as crispy as the air fryer version, but they are still good. All it takes is a few simple steps, here is how to make kale chips in the oven:
Preheat the oven to 400 degrees F
Soak the cashews, make the cashew sauce and cut the kale and combine the cashew sauce tieht the kale as described in the recipe instructinons.
Line a baking sheet with parchment paper and arrange the coated pieces of kale with the sauce mixture in a single layer on the baking sheet.
Bake in the oven for 15 to 20 minutes until they begin to turn crisp and golden. Some chips made cook quicker than others, remove them from the baking sheet as they are done.
How to Easily Remove the Stems from Kale
If you are using larger-sized kale to make this recipe, here are two ways to easily separate the fresh kale leaves from the tough stems.
Option 1. Hold onto the bottom of the stem with one hand and run your other hand up the stem which will pull the leaves off of the stem
Option 2. Use a paring knife and slice around the "vein" in the center of the kale leaf.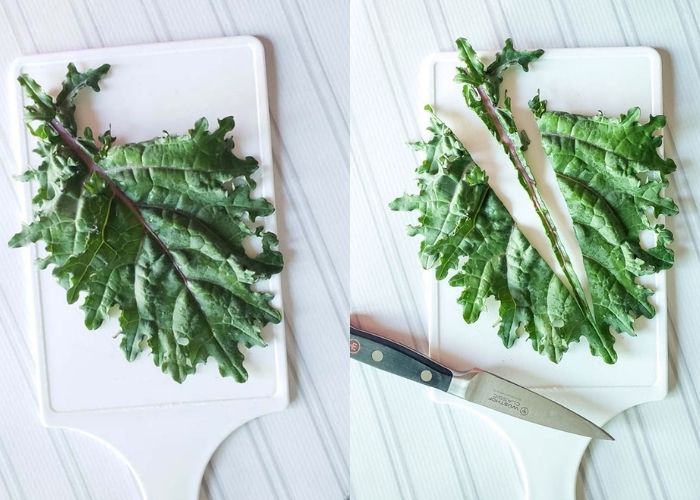 How to Store Leftover Kale Chips
Kale chips don't last long, but if you do have any leftover, you can store them at room temperature in an airtight container for no longer than three days. They will not be as crispy as when they are fresh but will have the same flavor.
Recipe Variations
Spice it up - Add a teaspoon or two of red pepper flakes or your favorite hot sauce.
Garlic Kale Chips - Add two extra cloves of garlic or to your taste for a garlicky version.
Sesame Kale Chips - Add 2 tablespoons of sesame seeds to the cashew cheese for more flavor.
Seasoned Chips - Add up to a teaspoon to taste of your favorite seasonings to the cashew cheese such as: onion powder, sea salt, black pepper, ranch seasoning or everything bagel.
Tools You Will Need for This Recipe
Air Fryer - There are many options to choose from when it comes to air fryers. I have an Omni Plus Toaster Oven - Air Fryer from Instant Brands. There are other air fryer options avialble from Instant Brands that are dedicated to air-frying.
Food processor - A mini food processor or full sized will work in this recipe. I have a small Kitchen Aid Food Processor that works well for this recipe.
You Might Also Like These Air Fryer Recipes
SIGN UP FOR OUR MAILING LIST TO RECEIVE WEEKLY MENU IDEAS AND MORE!