Bison chili is a healthy and comforting bowl of chili made with ground bison combined with a unique blend of flavors. It's spicy, smokey. and delicious.
Once you have a taste of this bison chili, I am sure you will agree that it is one big bowl of comfort. This recipe includes directions for stove-top, slow-cooker, and pressure cooker (Instant Pot). I like the convenience of a pressure cooker. In less than one hour you can have a piping hot bowl of chili ready that tastes like it was simmering all day long.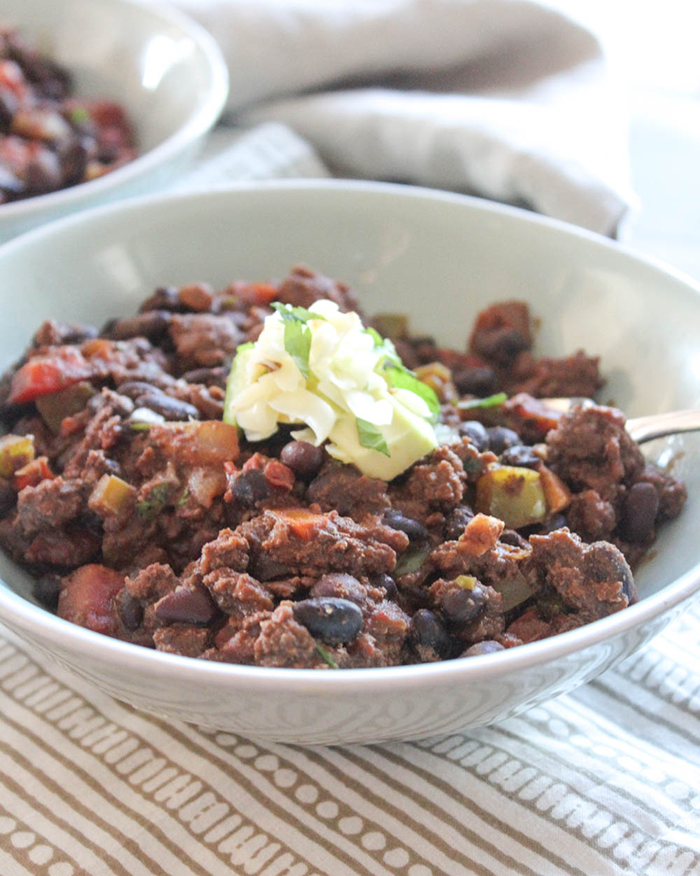 I was compensated for this post, however, all opinions are my own. This post also contains affiliate links and I will be compensated if you click on a link and make a purchase.
Recipe Highlights
It's healthy! Filled with lean bison, beans and vegetables.
Leftovers taste great and you can easily freeze it.
Here is what you will need to make this recipe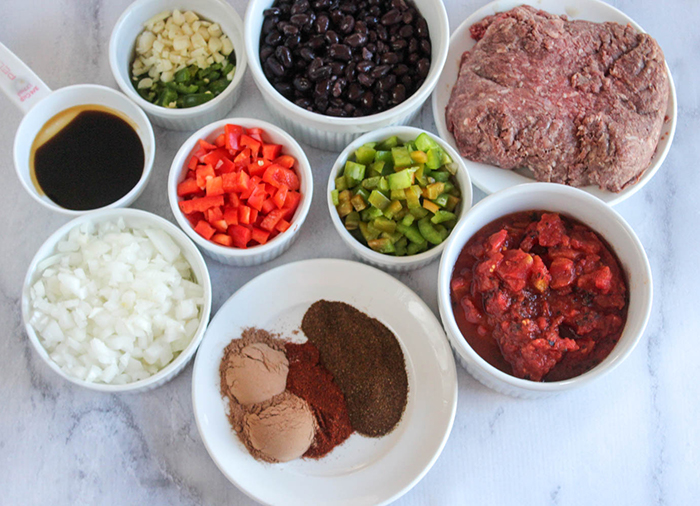 Olive or avocado oil To brown the meat and vegetables.
ground bison – Bison is a lean and light in flavor-alternative to ground beef. Its light flavor is perfect for this chili recipe.
black beans – You can use canned black beans or dried beans that have been soaked and cooked.
fresh garlic – gives this dish the best flavor, it can be substituted with dried garlic. Use ⅛ teaspoon for each clove.
onions – I like to use yellow onions when I make soups and chili, you can also use vidalia or Spanish onions.
bell peppers – Any type of bell pepper, I like to use a combination of green and red or yellow.
jalapeno pepper – adds heat to the chili, if you don't like heat, you can leave it out or use a poblano pepper.
chipotle chili powder – adds a smokey taste which goes well with the chocolate and coffee
chili powder – balances out the chili flavors
unsweetened coco powder – adds a unique taste to the chili
tomatoes – fresh chopped is my preference, or you can use no or low sodium canned and diced tomatoes.
brewed coffee – just a little bit to bring all of the flavor together.
fresh cilantro – is added at the end of the cooking process to brighten up the chili.
What is the Difference Between Beef and Bison?
Bison is healthier alternative to beef. It's leaner, yet deliciously tender. It has a more delicate flavor than beef and does not taste gamey at all.
Bison is rich in protein and is a good source of iron, Omega 3's, and vitamin B12. Even better, bison are raised on farms where they are grass-fed for at least most if not all of their lives, making them a sustainable choice.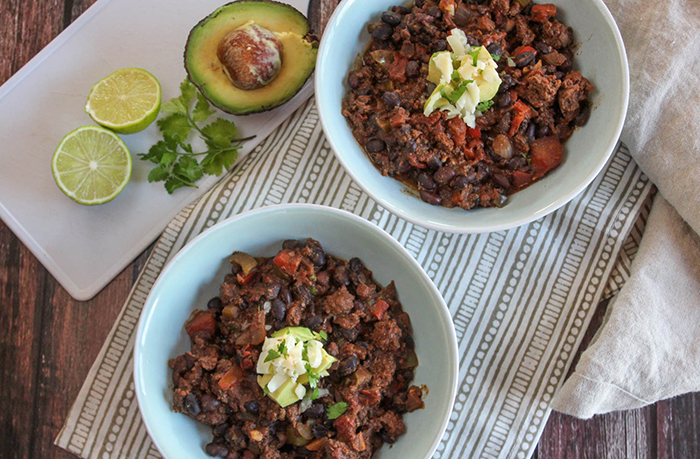 Where to buy bison
Bison meat is not readily available in most supermarkets but you can order it online from The Honest Bison. All of their meat is sustainably raised because they believe that everyone should know where their food comes from and have access to food they trust.
The Honest Bison are humanely raised and minimally processed. They roam pastures and are grass-fed and finished. As a result, the bison is super lean and the perfect meat choice for this chili recipe.
Here's How to Make it
The steps for each cooking method are very similar, and detailed instructions are in the recipe card. Step by step stove-top instructions are below.
Sautee the bison, garlic and onions with a little bit of olive oil until the meat is cooked through.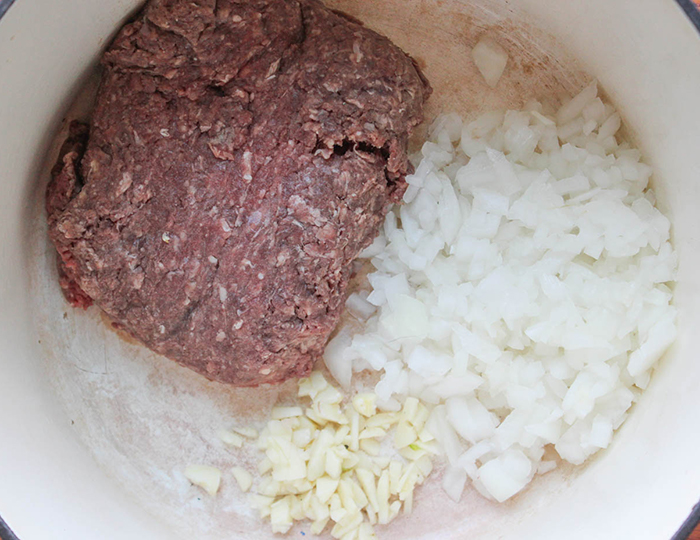 Stir in the peppers, chili powder, coffee and cocoa powder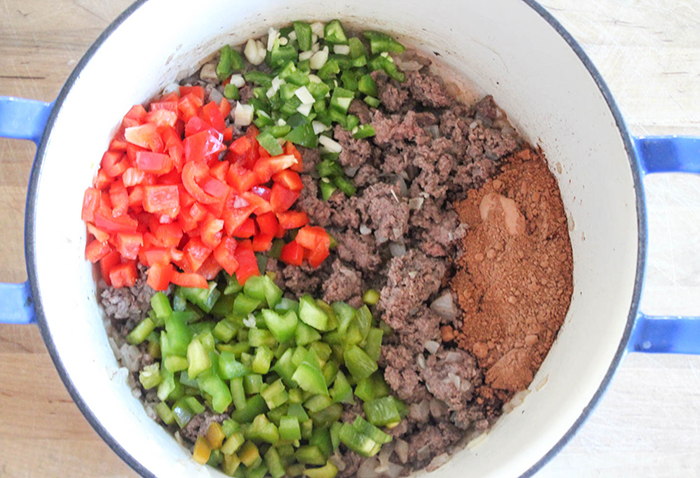 Add the tomatoes, cover and simmer for about 30 minutes on low heat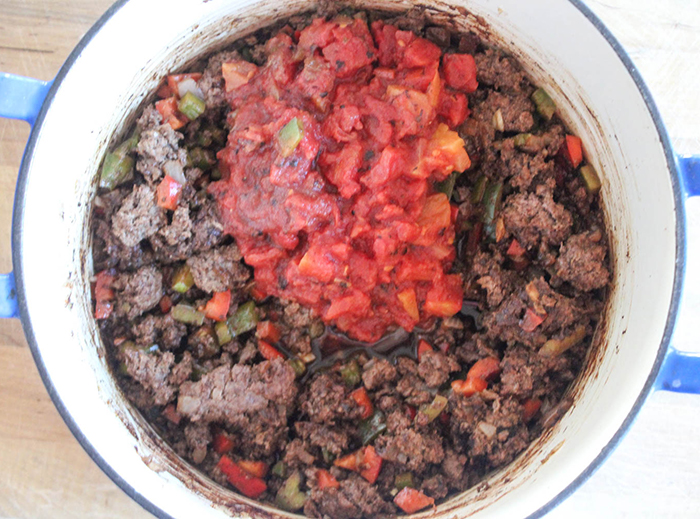 Stir in the beans, cover and cook on low for 15 to 20 minutes longer. Stir in chopped cilantro just before serving.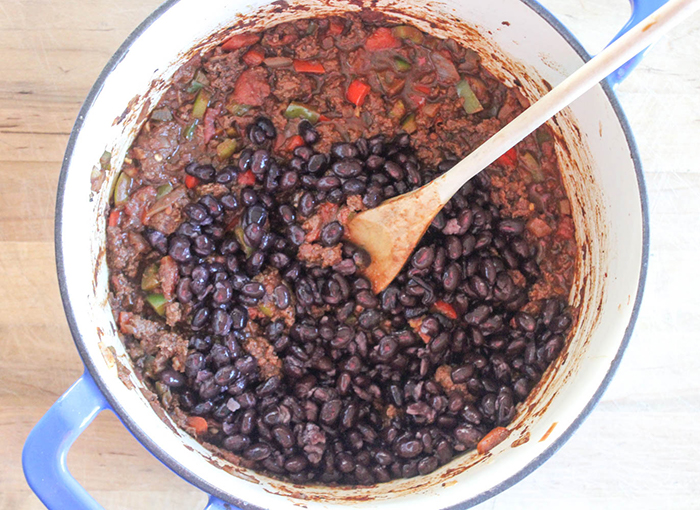 Total Estimated Time to Make This Recipe: 50 to 60 minutes (Stove-Top) 20 to 30 Minutes (Instant Pot), and 6 to 6 ½ hours (Slow Cooker).
Recipe Variations
Add more Veggies – for an extra punch of veggies, add diced zucchini, butternut squash or carrots to the chili with the peppers.
Mix up the Beans – use a combination of kidney and black beans or all kidney beans.
Coffee – if you don't like the flavor of coffee, you can cut back the amount to 1 tablespoon.
Change up the meat – substitute the bison with lean grass fed beef, or organic ground chicken, turkey or use a combination of two!
The Cilantro – If you don't like cilantro, leave it out.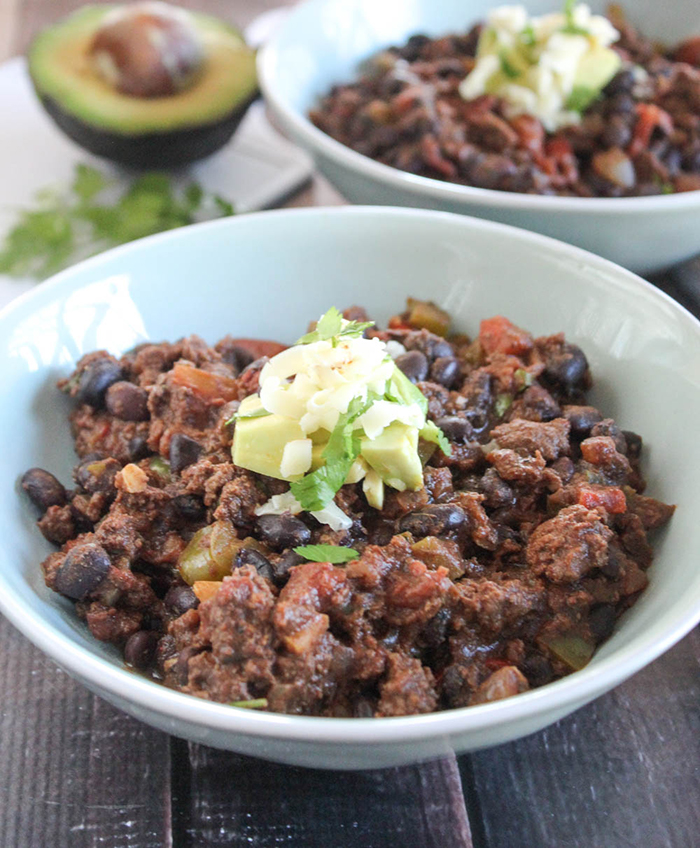 Serving Suggestions
Serve bison chili with a salad on the side, like this chopped salad or kale caesar salad. Or you can add shredded lettuce, tomatoes and onions to the chili.
Top your chili with any combination of: lime juice, a dollop of Greek yogurt, shredded cheese, diced onions, avocado, tomato or crushed tortilla chips.
Storage and Leftover Ideas
Store leftover bison chili in an air-tight container for up to 4 days.
Freeze it – chili is one of those foods that freezes well and usually tastes better! Store bison chili in an air-tight container in the freezer for up to 3 months. Be sure to cool the chili to room temerpature before placing it in the freezer.
Thaw it in the refrigerator overnight and re-heat it in the microwave or on top of the stove.
Leftover chili tastes great in salads, tacos, nachos on top of hot dogs.
Try these Chili Recipes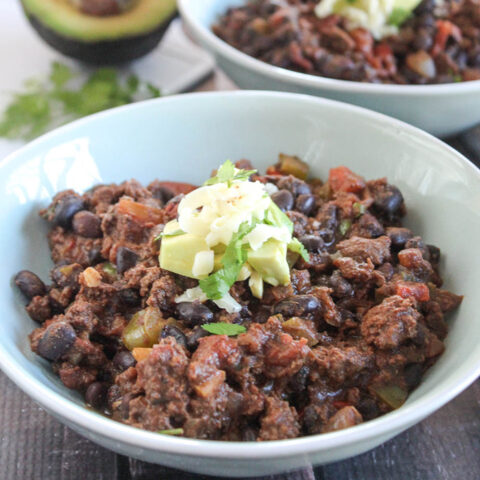 Bison & Black Bean Chili
Total Time:
1 hour
10 minutes
A unique twist on traditional chili, this bison chili is packed with vegetables, black beans and bison. It's spicy, smokey and full of flavor.
Ingredients
1 tablespoon olive oil
1 pound ground bison
1 large onion diced (about 1 cup)
4 cloves garlic, minced
1 red bell pepper diced (about 1 cup)
1 green bell pepper diced (about 1 cup)
1 jalapeno pepper diced
2 tablespoons chili powder
1 tablespoon chipotle chili powder
2 tablespoons unsweetened cocoa powder
⅛ cup brewed coffee
2 cups diced tomatoes fresh or canned
2 cups cooked or canned black beans that have been drained
⅛ cup of chopped cilantro
Instructions
Stove-top instructions:
heat the oil in a dutch oven over medium heat
add the ground bison, onion and garlic - cook until meat begins to brown and vegetables become translucent.
add the peppers, cocoa, and chili powder; cook until the peppers begin to soften - about three minutes.
stir in the coffee, and then the tomatoes; cover loosely and reduce to a simmer
cook the chili for 30 to 40 minutes stirring occasionally.
just before serving add the cilantro. Service with a splash of lime juice and your favorite chili toppings.
Slow Cooker Instructions:
heat the oil in a skillet over medium heat
add the ground bison, onion and garlic; cook until the meat begins to brown and vegetables become translucent.
place the mixture into a slow cooker
add remaining ingredients, except cilantro and mix well
cook on low for 6 hours
stir in fresh cilantro and serve with a splash of lime juice
Pressure Cooker Instructions:
set your pressure cooker to sautee and add the oil
add bison, onion and garlic - cook until meat begins to brown and vegetables become translucent
add the peppers and cook them until they soften - about three minutes
add the remaining ingredients except for the cilantro
cover the pressure cooker securely and set it to high for 15 minutes.
use quick release and stir in the fresh cilantro
cover and a keep the chili warm until it is ready to serve
Notes
Bison Chili Tips and Variations
For an extra punch of veggies, add diced zucchini or carrots
Mix up the beans, add a combination of kidney and black or all kidney or leave them out
Leave beans out and add 2 cups of vegetables such as zucchini, peppers and carrots
Substitute bison with lean ground grass-fed beef or organic ground chicken or turkey
Use leftover chili in salads, tacos or nachos
Garnish bison chili with any combination of a sprinkle of lime juice, a dollop of Greek yogurt, shredded cheese, chopped onions or avocado
Nutrition Information:
Yield:

4
Amount Per Serving:
Calories:

0
Total Fat:

0g
Saturated Fat:

0g
Trans Fat:

0g
Unsaturated Fat:

0g
Cholesterol:

0mg
Sodium:

0mg
Carbohydrates:

0g
Fiber:

0g
Sugar:

0g
Protein:

0g