A unique twist on traditional chili, bison chili is packed with smoky and spicy flavor!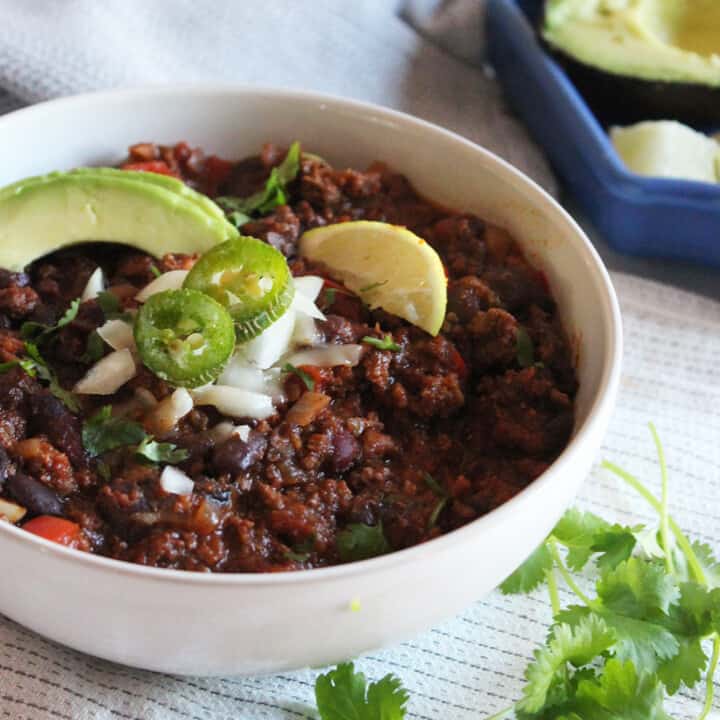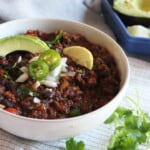 This bison chili recipe is a unique chili that will warm you up on a cold day. It is pure comfort food at its finest, made with protein-packed, lean ground bison and a savory blend of spices.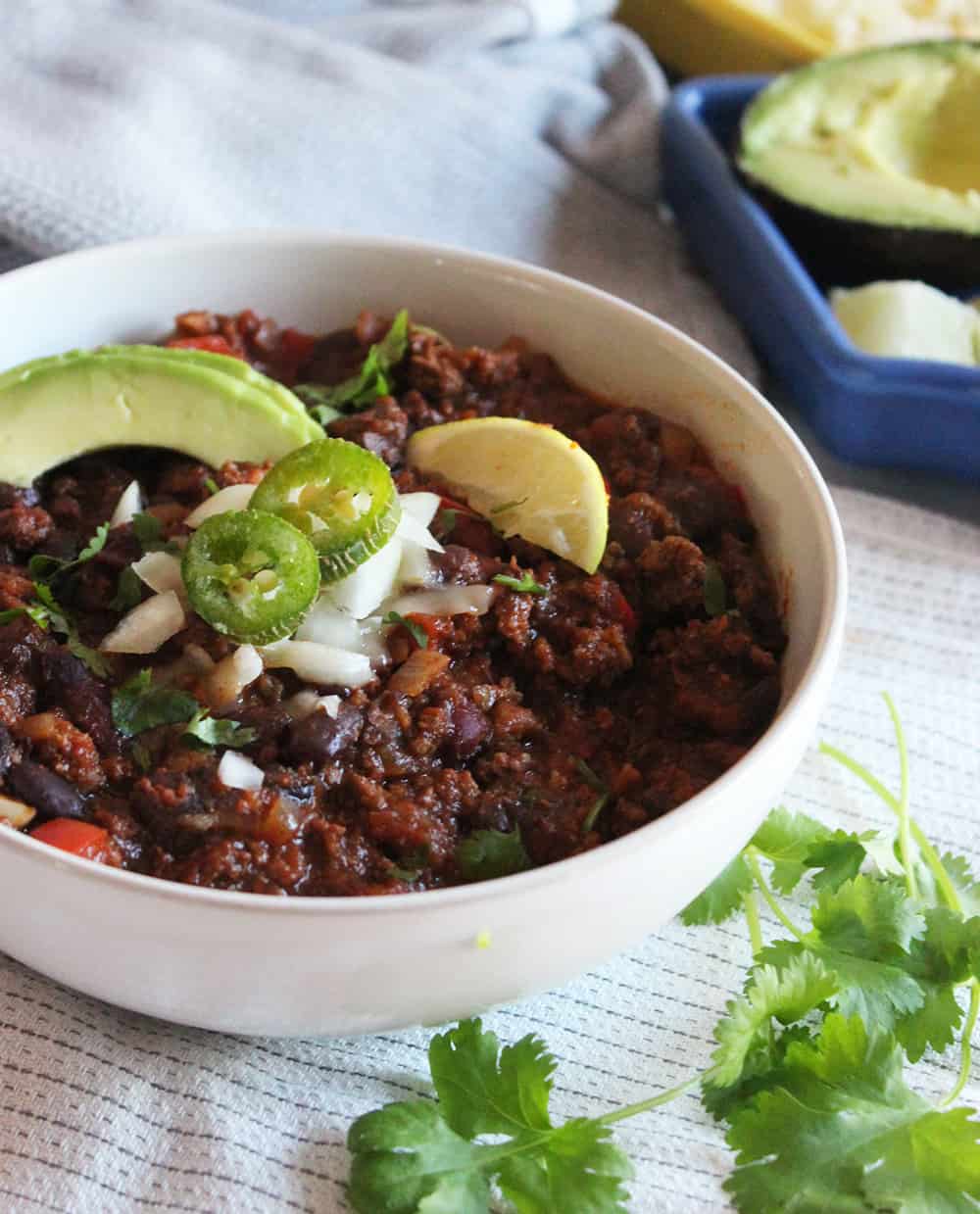 This is one of our favorite chili recipes; it's full of deep flavor and leaner than our beef chili.
This tasty recipe takes the classic chili recipe to the next level by incorporating two unlikely ingredients: coffee and cocoa powder. The result is a rich, complex and utterly delicious flavor that you won't find in other chili recipes.
Jump to:
🤍Why you will love this recipe
Bison meat is lower in fat and calories while rich in protein, making it a healthier choice than beef.
Flavor! It has a unique blend of ingredients that add a distinctive depth of flavor.
It's customizable; you can easily adjust the amount of spices and hot peppers to suit your taste.
Here is what you will need
As an Amazon Associate, I earn from qualifying purchases.
This is an overview of the ingredients and steps to make this hearty bison chili recipe; scroll down for the full recipe on a printable recipe card with exact measurements and instructions.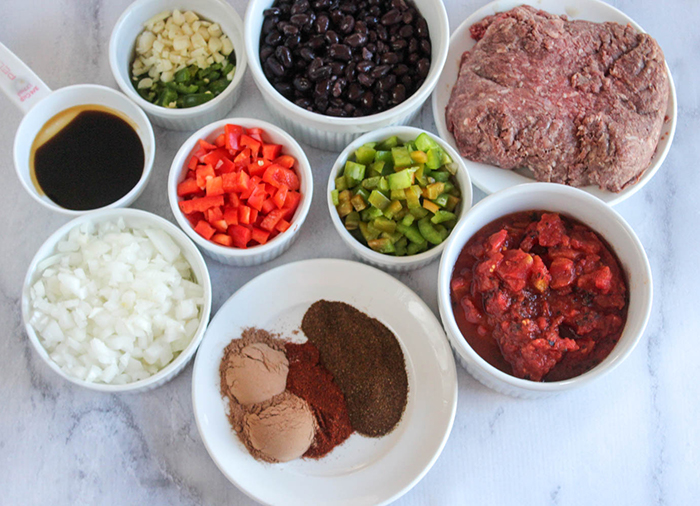 🛒Ingredients
Olive Oil
Ground Bison
Fresh Garlic
Onion
Bell Peppers
Jalapeno Pepper
Chipotle Chipotle Chili Powder
Chili Powder
Crushed or Diced Tomatoes
Brewed Coffee
Fresh Cilantro
🥄Equipment
Here is How To Make Bison Chili
Prepare the ingredients: Chop the onions, garlic, and peppers. Drain the beans if using canned, and measure the seasonings, tomatoes and oil.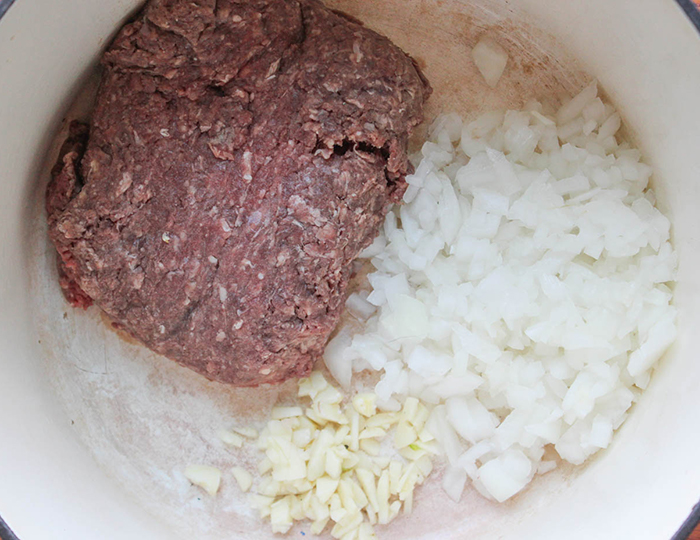 STEP 1: Add the oil to a Dutch oven or large soup pot and heat it over medium-high heat. Once the oil is hot, add the ground bison meat, chopped garlic, and onions - cook until the meat is almost cooked through.
STEP 2: Next, reduce to medium heat, add the bell pepper, jalapeno pepper, chili powder, and cocoa powder; gently stir to combine.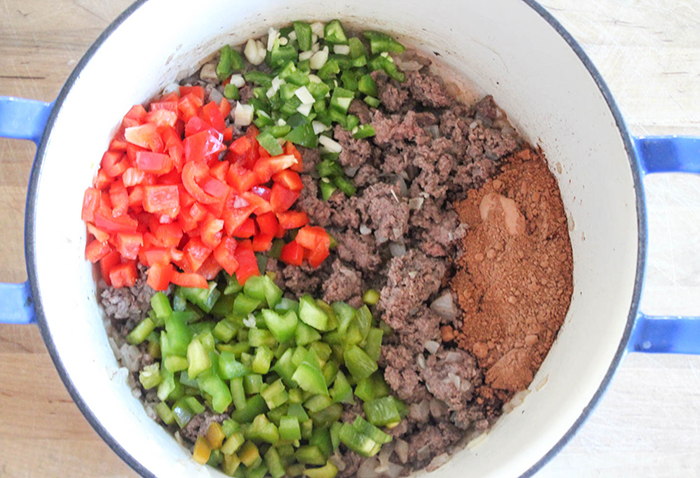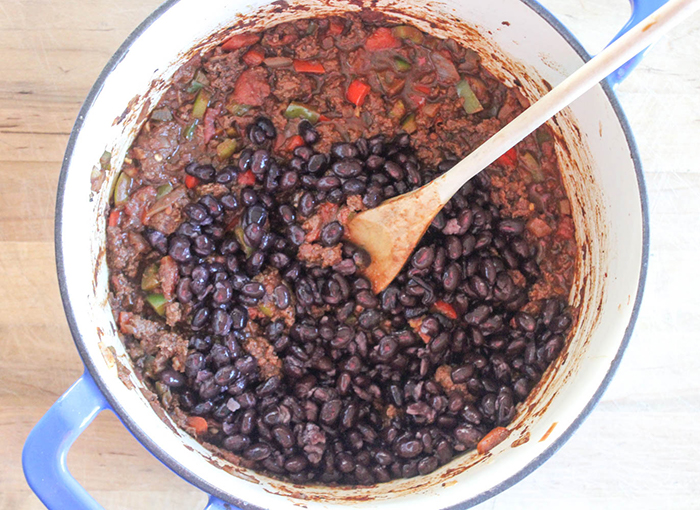 STEP 3: Stir in the coffee, tomatoes, and beans. Reduce the heat to low. Cover the pot loosely and cook over low heat for at least 30 to 45 minutes.
Ingredient Notes & Substitutions
Ground Bison Meat - This is a flavorful, lean meat and a great alternative to beef. You can replace bison with lean ground beef or any ground meat such as ground pork, ground turkey or ground chicken.
Black Beans - It is recommended to cook black beans prior to adding them to chili. Canned drained black beans or cooked dried black beans can be used.
Black beans can be replaced with kidney beans, pinto beans or a combination of both.
Garlic can be replaced with ½ teaspoon of garlic powder.
Bell Peppers - You can use any color of bell peppers. I prefer using a combination of green and red bell peppers.
Onions - You can use any onion in this recipe. I like to use yellow onion, sweet or red onion when I make chili.
Jalapeno Peppers - These add heat to chili. For milder flavor, use less or poblano pepper.
Chili Powder - I use two types of chili powder, which add an exciting dimension to the chili. If you don't have chipotle chili powder which is smokey or don't like a smokey flavor, you can use all plain chili powder.
Tomatoes - This recipe can be made using canned diced, crushed, or freshly chopped tomatoes. Unseasoned tomato sauce can also be substituted for the tomatoes.
"Success. To those who were wondering, the coffee and coco give it a smoky campfire bite. You don't taste either of them distinctly as coffee or coco within the mix. It really does work." -Andrea
Recipe Variations
Bison and Pumpkin Chili - Embrace fall flavors and add a can of pumpkin puree to your bison chili. The natural sweetness and earthy notes of pumpkin will complement the ingredients in the chili beautifully.
Add Grains - For added heartiness, consider serving the chili over cooked brown rice, quinoa or pasta.
Vegetarian Bison Chili - For a meatless version, replace the ground bison with crumbled tofu, and tempeh or you can add more vegetables such as zucchini, and mushrooms which will enhance the texture and flavor.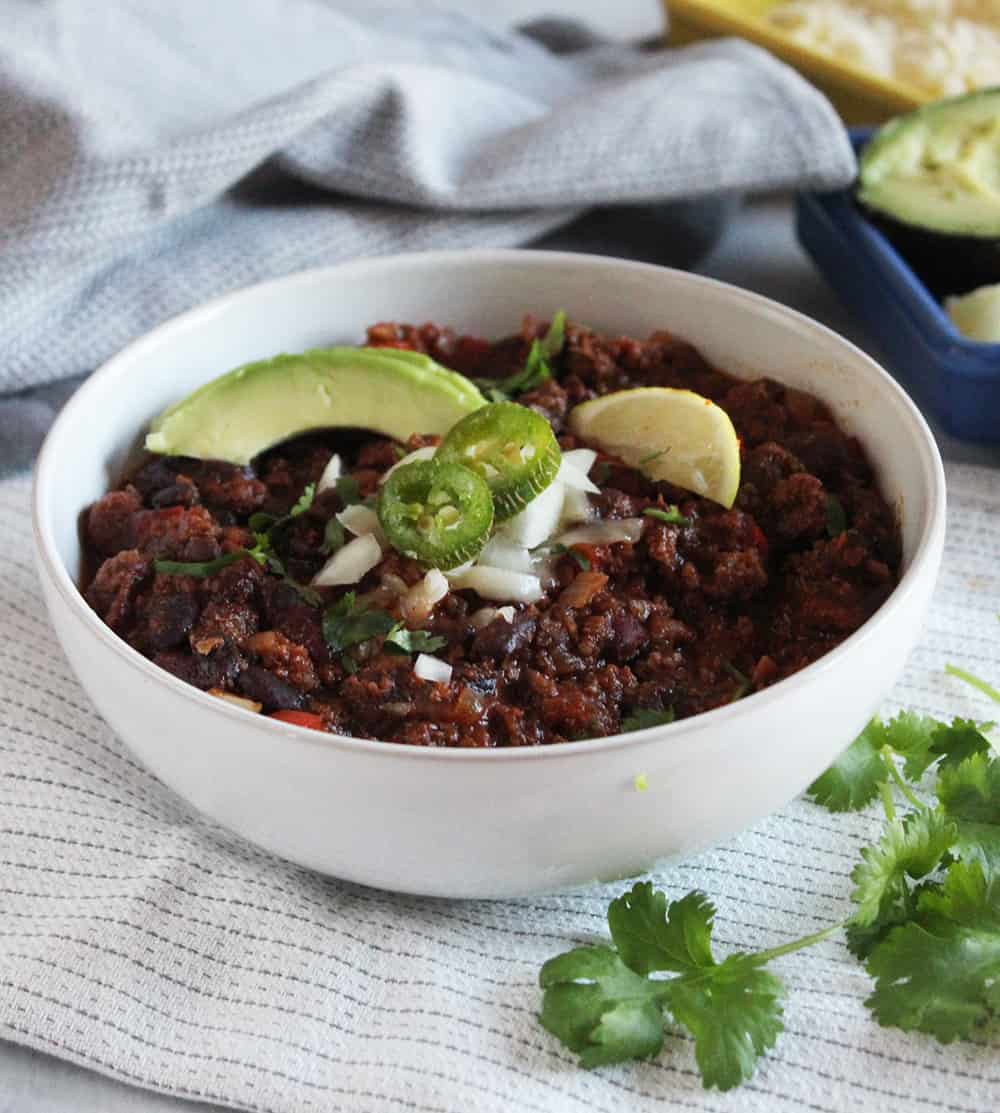 Serving Suggestions
Serve bison chili with a splash of fresh lime juice, a dash of red pepper flakes for extra heat and side of tortilla chips.
Don't forget to add your favorite chili toppings, such as shredded lettuce, chopped tomatoes, chopped onions, shredded cheddar cheese, sliced avocados, tortillas, a side of cornbread, olives, a dollop of sour cream, Greek yogurt, or guacamole.
A salad on the side, like this chopped salad, Mexican chopped salad, or kale caesar salad, will complete your meal.
GET YOUR FREE GUIDE!
Whip up quick and delicious meals with the ingredients you have in your kitchen!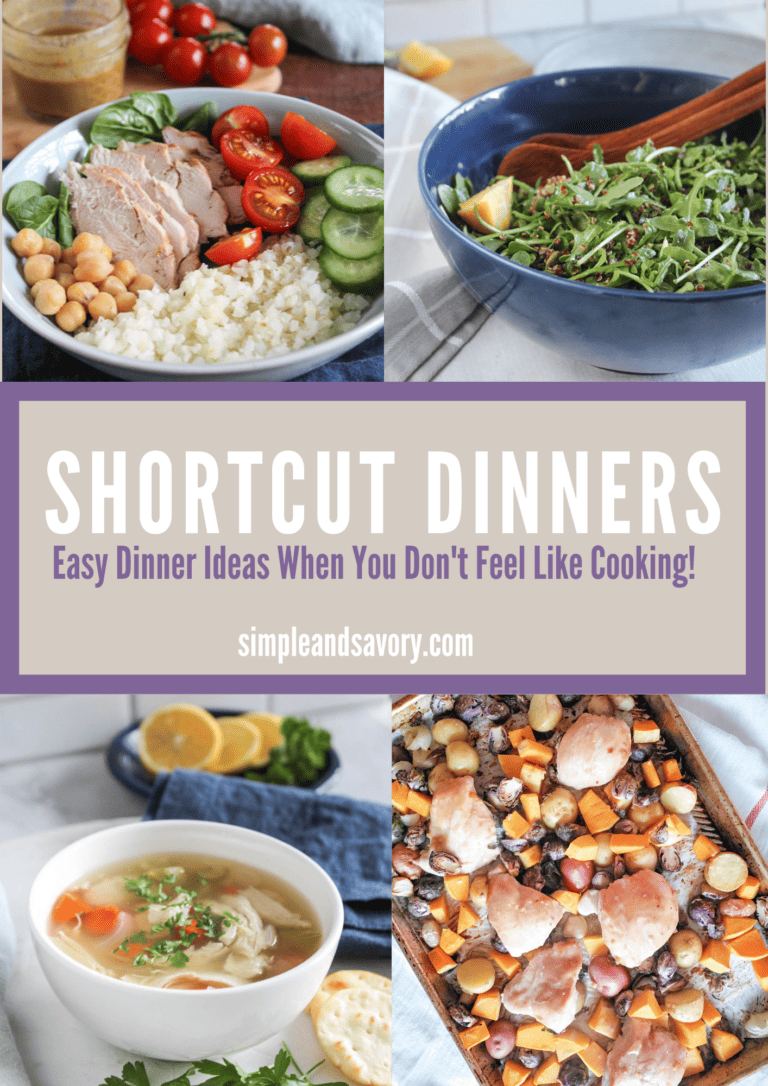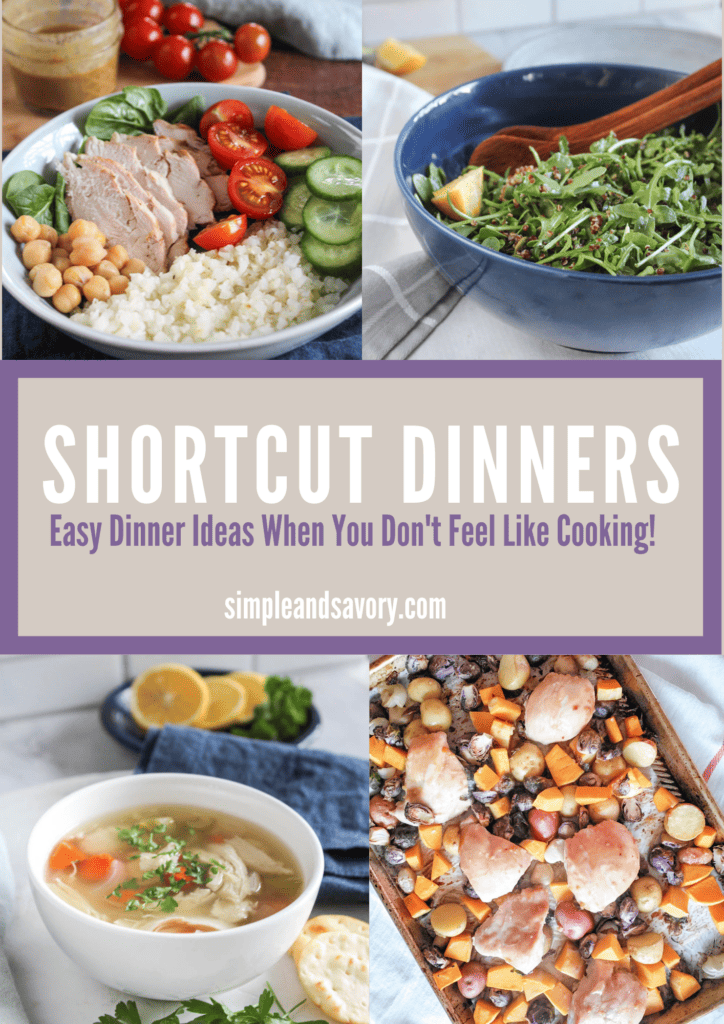 Storage and Leftover Ideas
Store leftover bison chili in an airtight container for up to 4 days in the refrigerator or you can freeze it. Place room-temperature chili in an airtight freezer-safe container for up to three months.
Thaw frozen bison chili in the refrigerator overnight and reheat it in the microwave or on top of the stove.
Leftover chili tastes great in salads, tacos, and nachos on top of hot dogs, baked potato, rice, or pasta.
💡Tips
Plan and make extra coffee in the morning to use in the chili.
If you have time, simmer the chili slowly over low to medium heat. This will allow for the flavors to blend together.
Where can I find bison meat?
Bison meat is becoming more available and can be found in well-stocked grocery stores . You can also purchase it online.
Can I make bison chili in a slow cooker?
Yes, you can easily make slow cooker bison chili. Brown the bison and saute the aromatics in a skillet and then transfer everything to a slow cooker and cook on low heat for 5 to 6 hours.
What is the difference between beef and bison?
Bison is a red meat that is a healthier alternative to beef. It's a high quality protein that is leaner yet deliciously tender. It has a more delicate flavor than beef and does not taste gamey at all. It is rich in protein and is a good source of iron, Omega 3's, and vitamin B12. American bison are raised on farms where they are grass-fed for at least most if not all of their lives, making them a sustainable choice.
Can I make bison chili in an Instant Pot?
Yes, you can adapt this recipe to an Instant Pot recipe. Use the saute function to brown the bison and saute the aromatics, then switch to the pressure cooking function and cook on high pressure for 15 to 20 minutes.
Have You Tried These Chili Recipes?
Do you like this recipe?
Please comment and give it a ⭐⭐⭐⭐⭐ rating below!
📖 Recipe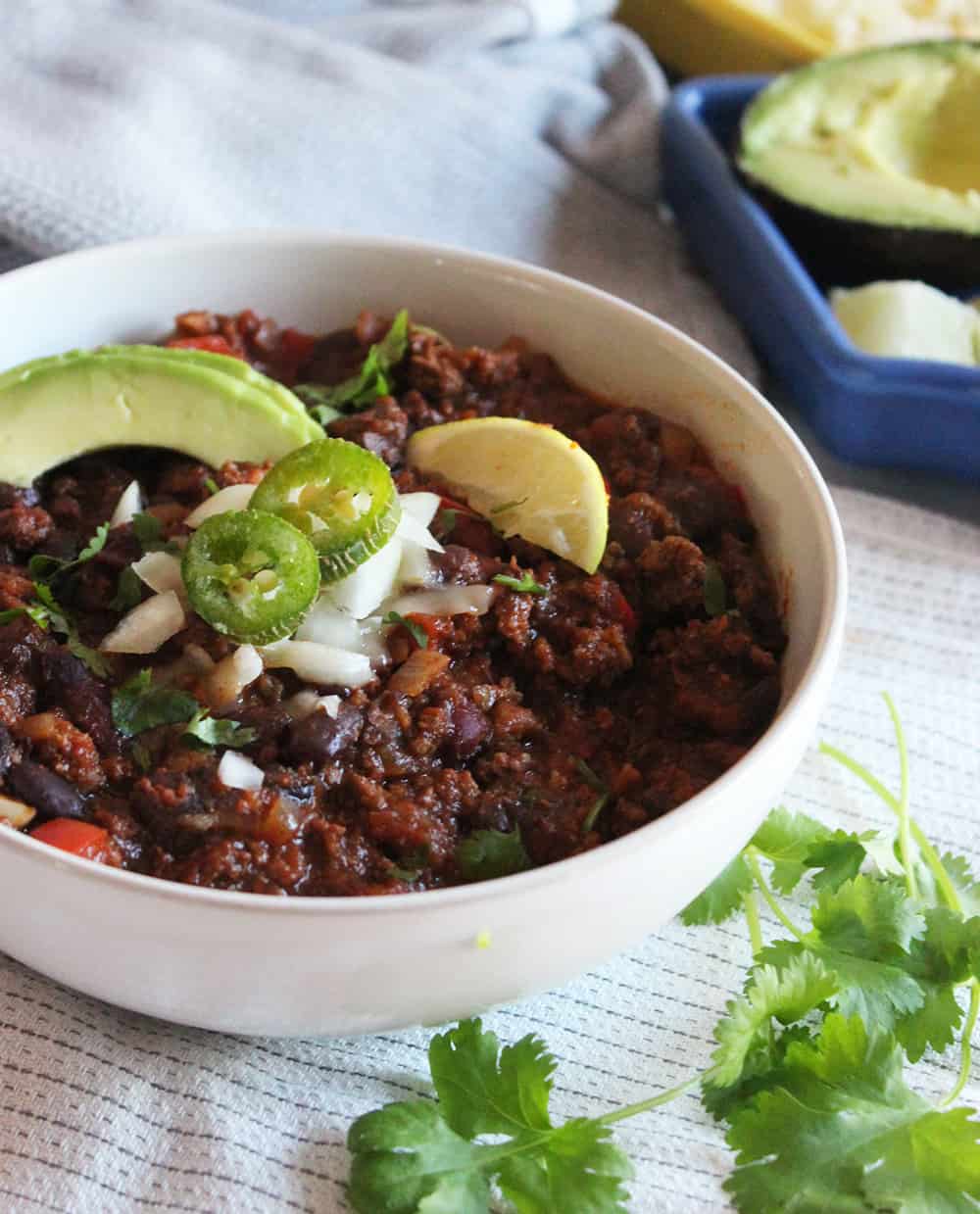 Click on serving size to scale this recipe
Ingredients
1

tablespoon

[olive oil]

1

pound

ground bison

1

large onion diced

about 1 cup

4

cloves

garlic

minced

2

bell peppers

diced, about 2 cups

1

jalapeno pepper

diced

2

tablespoons

chili powder

1

tablespoon

chipotle chili powder

2

tablespoons

unsweetened cocoa powder

⅛

cup

brewed coffee

2

cups

diced tomatoes

fresh or canned

2

cups

cooked black beans

⅛

cup

of chopped cilantro
Instructions
Heat 1 tablespoon [olive oil] in a ducth oven or heavy pot over medium to high heat.

Once the oil is hot, add

1 pound ground bison

,

1 large onion diced

,

4 cloves garlic

- cook until the meat begins to brown and vegetables become translucent.

Reduce the heat to medium heat, add

2 bell peppers

(chopped),

1 jalapeno pepper

(chopped),

2 tablespoons chili powder

,

1 tablespoon chipotle chili powder

and cook until the peppers begin to soften - about three minutes.

Stir in the

2 tablespoons unsweetened cocoa powder

,

⅛ cup brewed coffee

and

2 cups diced tomatoes

cover loosely and reduce to a simmer

cook the chili for 30 to 40 minutes stirring occasionally, stir in

2 cups cooked black beans

and served once the beans are heated through.

Add

⅛ cup of chopped cilantro

. Serve with a splash of lime juice and your favorite chili toppings.
Notes
Store leftover chili in the refrigerator for 4 days.
or an extra punch of veggies, add diced zucchini or carrots
Mix up the beans, add a combination of kidney and black or all kidney or leave them out
Leave beans out and add 2 cups of vegetables such as zucchini, peppers and carrots
Substitute bison with lean ground grass-fed beef or organic ground chicken or turkey
Use leftover chili in salads, tacos or nachos
Garnish bison chili with any combination of a sprinkle of lime juice, a dollop of Greek yogurt, shredded cheese, chopped onions or avocado
Nutrition
Serving:
1
|
Calories:
472
kcal
|
Carbohydrates:
37
g
|
Protein:
32
g
|
Fat:
24
g
|
Saturated Fat:
9
g
|
Polyunsaturated Fat:
2
g
|
Monounsaturated Fat:
10
g
|
Cholesterol:
79
mg
|
Sodium:
191
mg
|
Potassium:
1224
mg
|
Fiber:
14
g
|
Sugar:
7
g
|
Vitamin A:
3826
IU
|
Vitamin C:
94
mg
|
Calcium:
112
mg
|
Iron:
8
mg
Nutrition information provided is an estimate and can vary based on cooking methods and ingredients used
Sign Up for Easy Recipes Straight in Your In-Box!