Skip the canned pumpkin puree and make homemade pumpkin puree from scratch, it is literally the easiest thing to make. It's perfect to use in all of your favorite pumpkin recipes.
Once you give this recipe a try, you will wonder why you didn't make your own pumpkin puree sooner. It tastes fresher than the canned version and your kitchen will smell delightful while the pumpkin is roasting.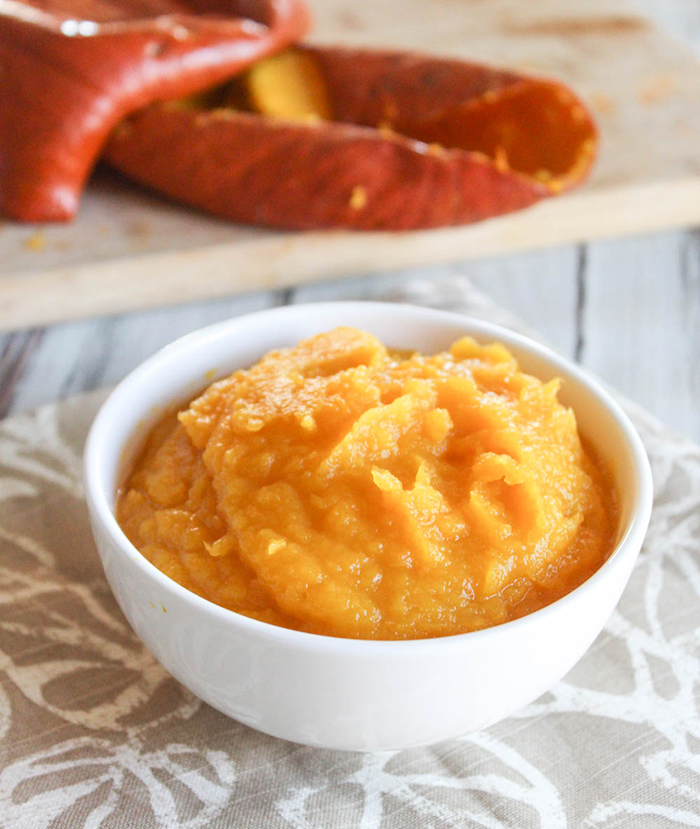 Recipe Highlights
There is only one ingredient required to make this recipe for homemade pumpkin puree – a pumpkin!
It's easy to make, has many uses and it can be frozen.
Here is What You Will Need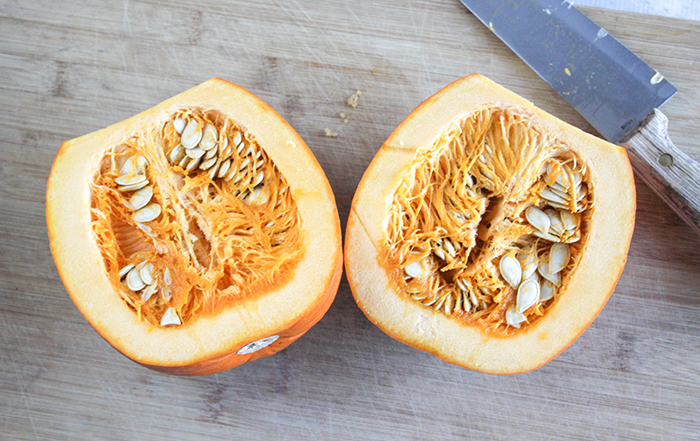 As an Amazon Associate, I earn from qualifying purchases
2 to 3-pound pumpkin
Sharp knife
Baking or roasting pan
Food processor or blender
Here is How to Make Pumpkin Puree
Use a sharp knife to cut the stem off of the top of the pumpkin and cut the pumpkin in half. Scoop out the pumpkin seeds (it's ok to leave the stringy pieces that are difficult to remove).
Place the pumpkin halves into a baking dish pulp side down and bake for about 45 minutes. The pumpkin should be soft when inserted with a fork. When it's done, remove the pumpkin from and let it cool off. Once it's cool, flip the halves over.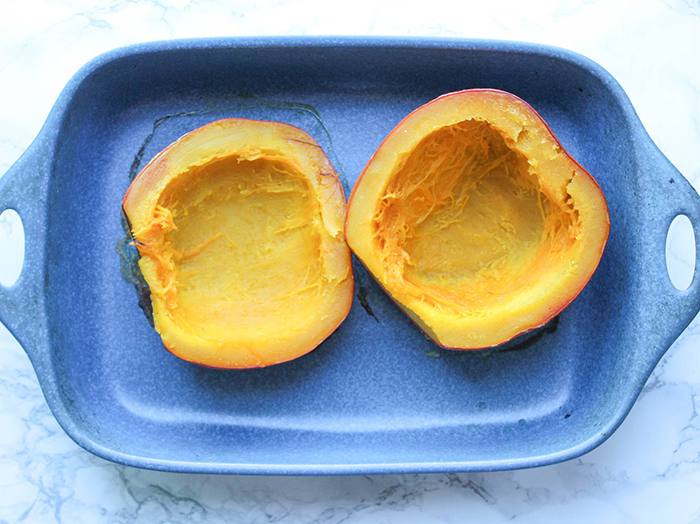 Use a spoon to scrape out the pulp.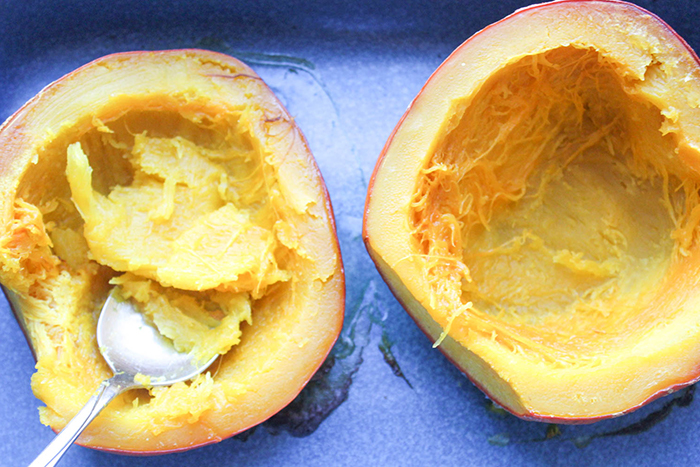 Place the pulp into a food processor.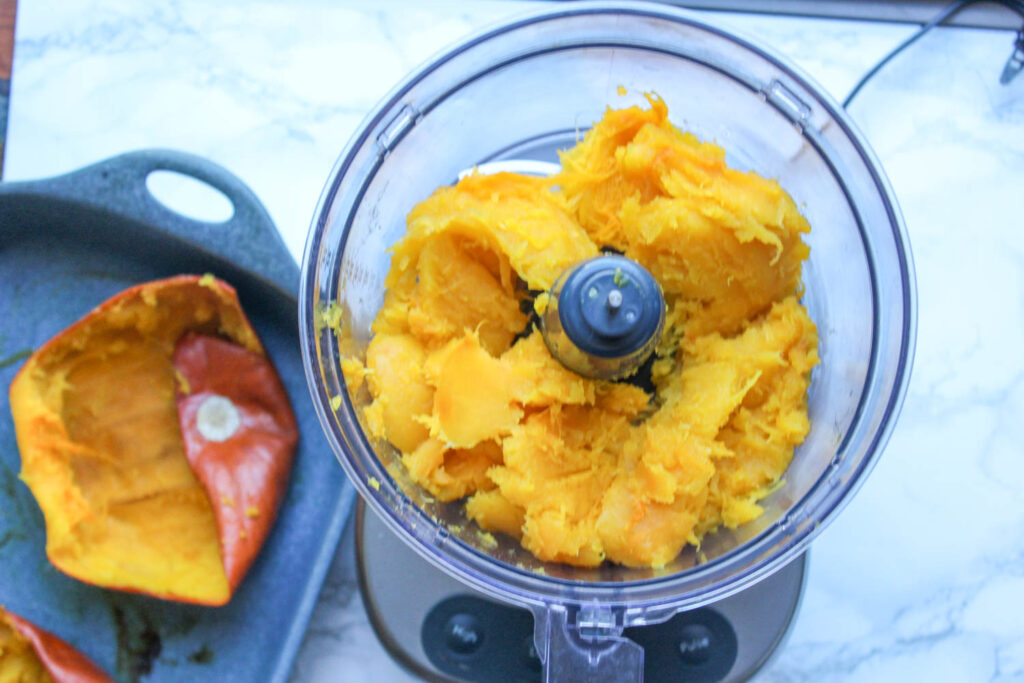 Run the food processor until the pumpkin is smooth and pureed.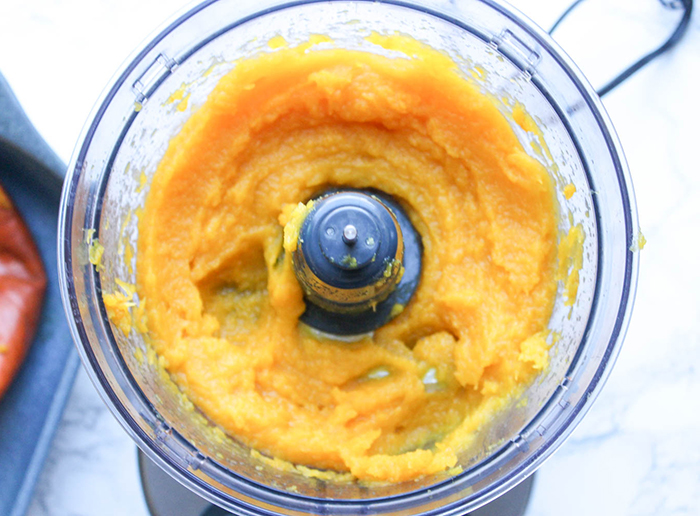 Total Estimated Time to Make This Recipe: 50 to 60 minutes
What is the best pumpkin to use to make homemade pumpkin puree?
I like to use pie or sugar pumpkins to make pumpkin puree. They are smaller in size and sweeter in taste. Look for a pumpkin that weighs 2 to 3 pounds which will make 2 to 3 cups of puree.
TIP! If pumpkin isn't available, you can roast winter squash such as acorn or butternut squash the same way you would roast the pumpkin.
Is Canned Pumpkin and Pumpkin Puree the Same Thing?
Not always. The canned pumpkin puree that you buy in the supermarket is sometimes made with winter squash too. That's not a bad thing, but if you want pure pumpkin puree, it's better to make your own.
Canned pumpkin puree should also not be confused with canned pumpkin pie filling which has added sugar and spices.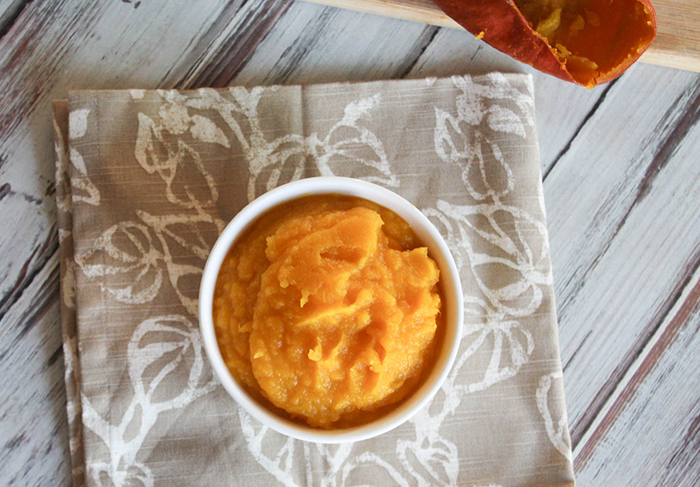 How Long Does pumpkin puree last?
Pumpkin puree will last for up to 5 days in the refrigerator in an airtight container.
You can also freeze pumpkin puree in one to two cup quantities. I like to use these reusable stasher bags for this. They save space in the freezer and it's easy to thaw the puree. You can place the sealed bag in a bowl of water.
Uses for Pumpkin Puree
Aside from sweet recipes like pumpkin pie, muffins, and pumpkin bread, there are many ways to use pumpkin puree in savory dishes. Here are a few recipes from my blogging friends:
You Might Also Like These Fall Recipes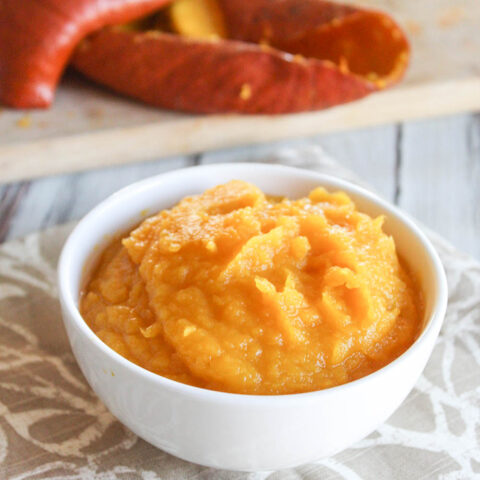 Homemade Pumpkin Puree
homemade pumpkin puree is easy to make and tastes super fresh and delicious.
Ingredients
1 pie or sugar pumpkin (2 to 3 lbs)
Instructions
Pre-heat the oven to 400
Cut the pumpkin in half, scoop out the seeds
Place the pumpkin halves into a baking sheet skin side up
Bake for approximately 45 minutes until the skin turns dark and a fork can easily be inserted
Remove the pumpkin halves from the oven and let them sit for 15 minutes to cool off
Use a spoon to scoop out the flesh and place it in a food processor or high-speed blender
Blend the pumpkin into a puree and store it in the refrigerator.
Notes
NOTE: You can substitute any combination of winter squash to make this recipe. Clean and roast the squash just as you would the pumpkin.
Nutrition Information:
Yield:

1
Serving Size:

2 cups
Amount Per Serving:
Calories:

0
Total Fat:

0g
Saturated Fat:

0g
Trans Fat:

0g
Unsaturated Fat:

0g
Cholesterol:

0mg
Sodium:

0mg
Carbohydrates:

0g
Fiber:

0g
Sugar:

0g
Protein:

0g
Follow Me