homemade pumpkin puree is easy to make and tastes super fresh and delicious and so easy to make/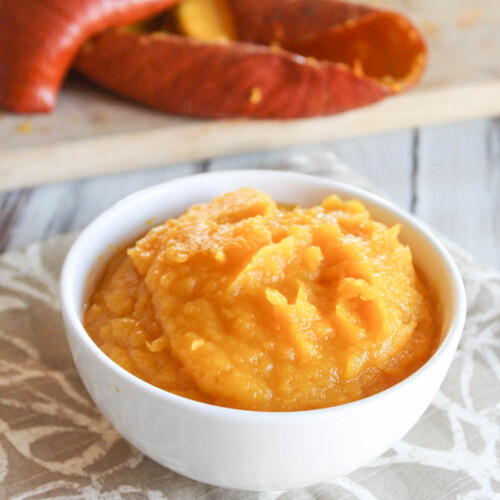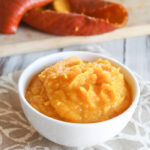 If you have ever wondered how to make pumpkin puree from a fresh pumpkin, I've got you covered. It's one of the easiest things to make, and it only has one ingredient - pumpkin!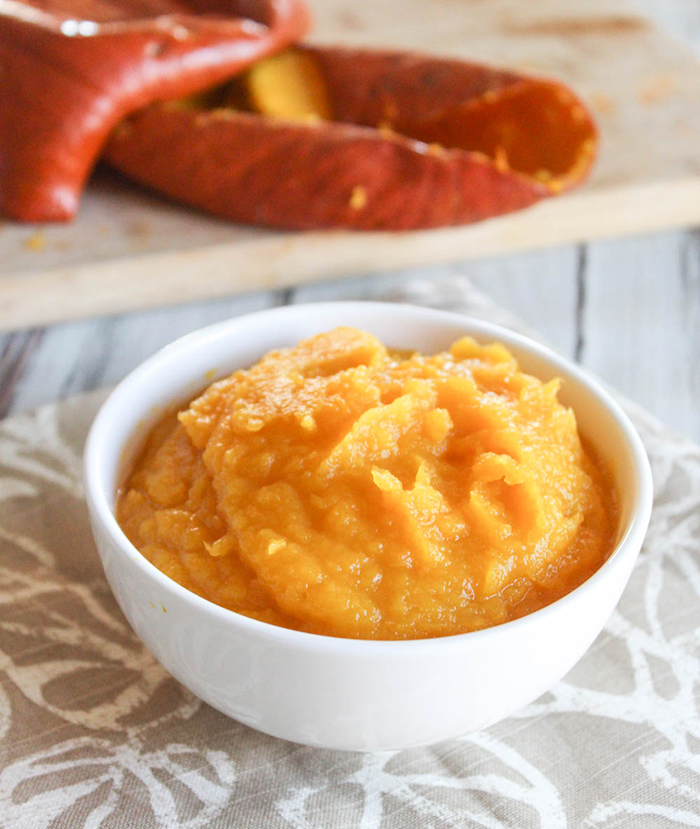 Once you make your own puree, you will want to skip the canned stuff and make your own pumpkin puree from scratch.
Easy homemade pumpkin puree tastes fresh, and has a great pumpkin flavor! You can use it in all of your favorite pumpkin recipes, or try something new like this pumpkin sage pasta sauce.
Why you will love this recipe
It's easy! There's only one ingredient and very little prep time is required.
It's healthy! Pumpkin is highly nutritious, it's rich in vitamins, minerals, and fiber.
Here is what you will need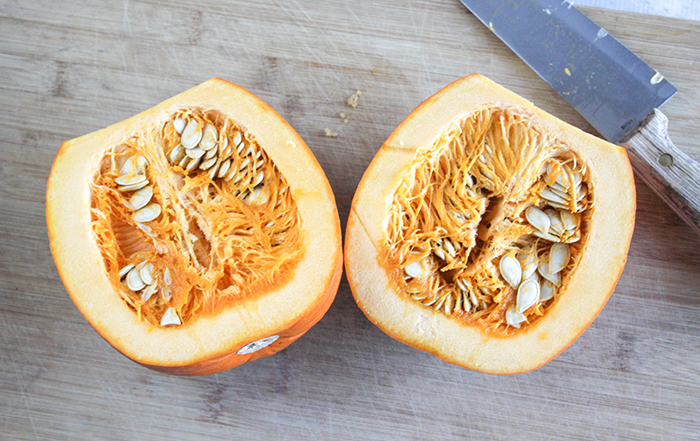 Ingredient
Equipment
How to make delicious pumpkin puree
Prepare the pumpkin: Use a sharp knife to cut the stem off of the top of the pumpkin and cut the pumpkin in half. Scoop out the pumpkin seeds (it's ok to leave the stringy bits that are difficult to remove).
Preheat the oven to 400 degrees f.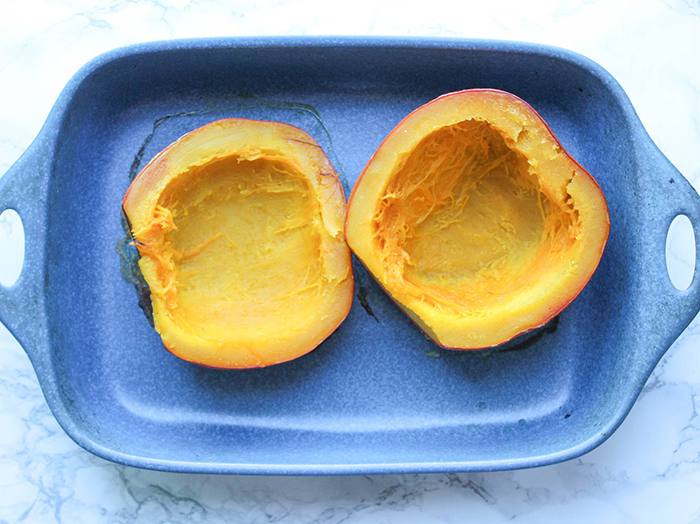 Step 1. Roast the pumpkin
Place the pumpkin halves into a baking dish with the pumpkin pulp side facing down. Bake for about 45 minutes. The pumpkin should be soft when inserted with a fork. When it's done, let the pumpkin cool, and flip the halves over.
Step 2. Scoop out flesh
Once the roasted pumpkin is cool enough to handle, use a spoon to scoop the pumpkin flesh away from the pumpkin skin.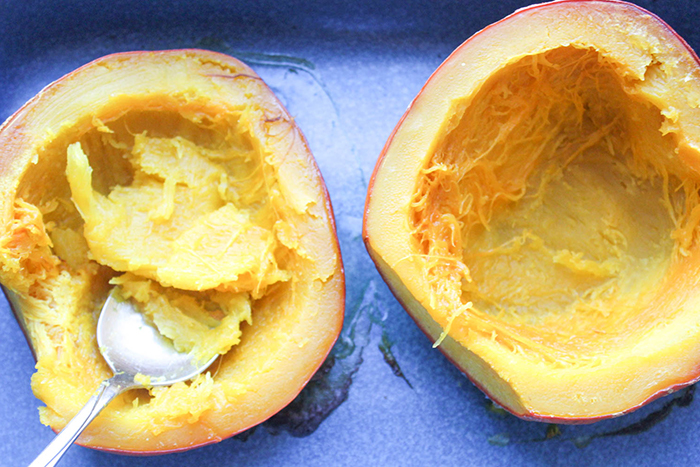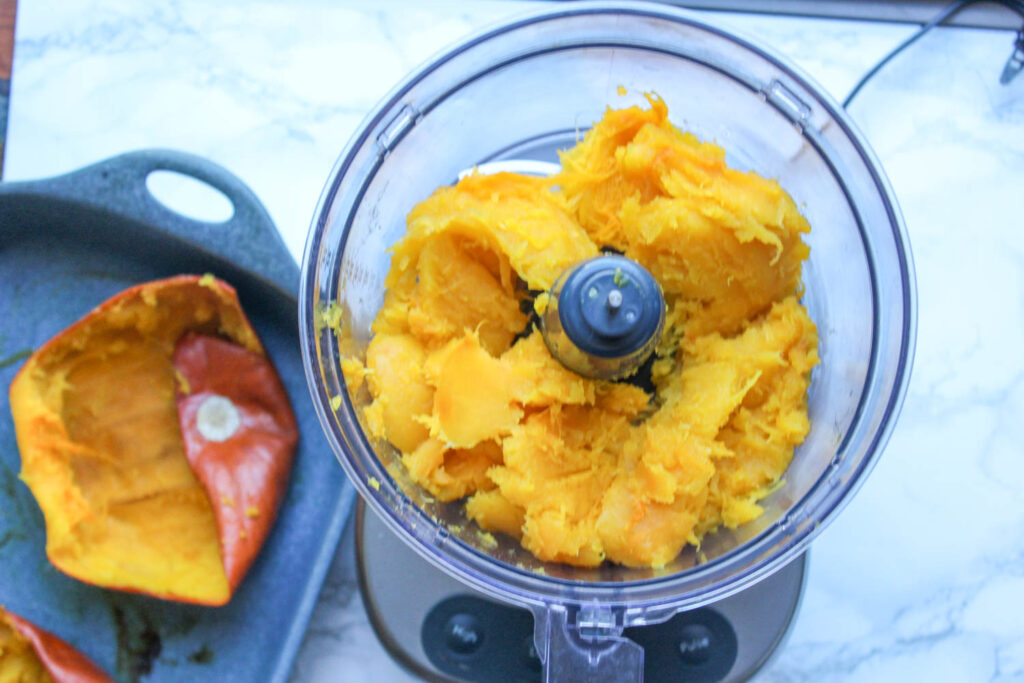 Step 3. Place in a food processor or blender
Place the pulp into a food processor or high-speed blender.
Step 4. Blend
Blend into a smooth pumpkin puree.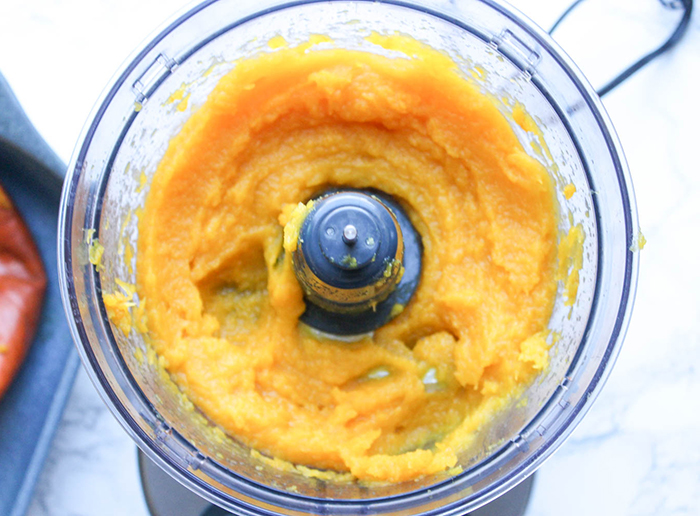 Note: If you don't have a blender or food processor, you can use an immersion blender or potato masher. Place the pulp into a deep bowl and mash or blend with the immersion blender.
The best type of pumpkin to use
Pie pumpkins, also known as sugar pumpkins are the best type of pumpkin to use to make pumpkin puree. They are small pumpkins that are denser and sweeter than jack o' lantern pumpkins (carving pumpkins).
When choosing a pie pumpkin for puree, look for one that weighs 2 to 3 pounds. They appear to be smaller pumpkins compared to a 2 to 3-pound carving pumpkin because of their density.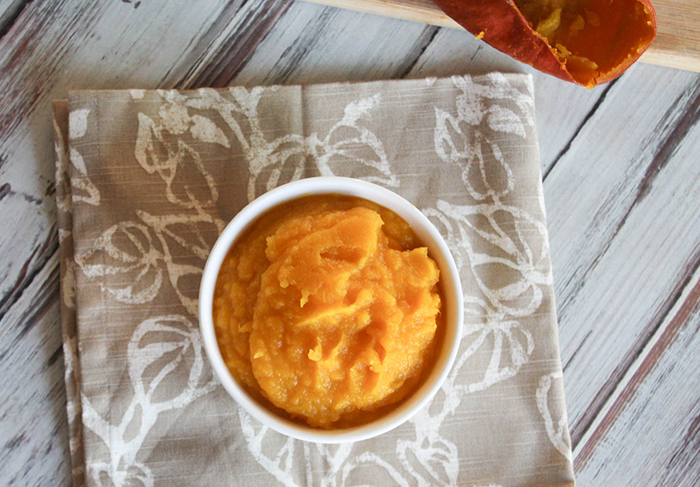 How to store pumpkin puree
Pumpkin puree will last for up to 5 days in the refrigerator in an airtight container.
Pumpkin puree can also be frozen. A great way to freeze pumpkin puree is to use souper cubes for one to two cup quantities or ice cube trays for individual portions.
Pumpkin puree will last in the freezer for up to 3 months.s
How to use pumpkin puree
There are so many different ways to use pumpkin puree from sweet to savory. Make 3 ingredient pumpkin bread; stir it into Greek yogurt, applesauce, or oatmeal. Spread it on your toast, mash it into your potatoes, and use equal parts of pumpkin puree and ricotta cheese for a delicious pasta sauce. You can even use it to make a fancy cocktail!
Here are more ways to enjoy pumpkin puree.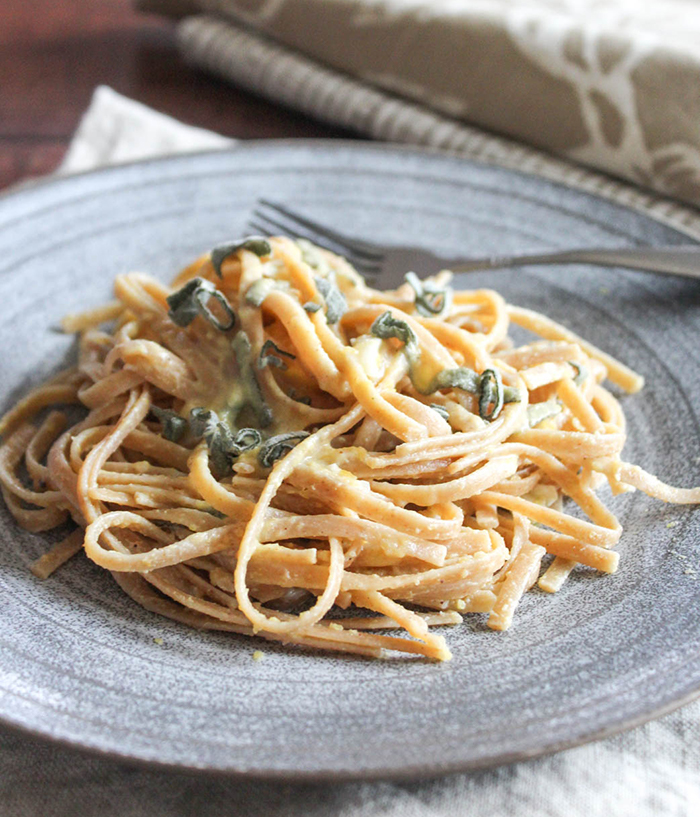 Savory pumpkin recipes
Aside from sweet recipes like homemade pumpkin pie, there are many ways to use pumpkin puree in savory recipes. Here are a few suggestions.
Pumpkin Sage Cream Sauce tastes great served over pasta for a quick and easy dinner.
Pumpkin and Cheddar Grits with Bacon and Apples are cheesy creamy and full of bacon.
Pumpkin Mac and Cheese creamy mac and cheese made with pumpkin puree and gouda cheese.
Goat Cheese and Sage Pizza made with goat cheese, caramelized shallots and crispy sage on a homemade pumpkin crust.
Pumpkin Parmesan Risotto with Bacon a smoky, salty version of risotto made with pumpkin puree that is packed with flavor.
Vegan Savory Stuffed Pumpkins tiny pumpkins stuffed with quinoa, mushrooms, vegan chorizo, and pumpkin puree.
Savory Pumpkin Cheddar Biscuits are savory biscuits made with pumpkin puree and cheddar cheese.
Slow Cooker Pumpkin Chili is healthy and delicious chili made in a slow cooker.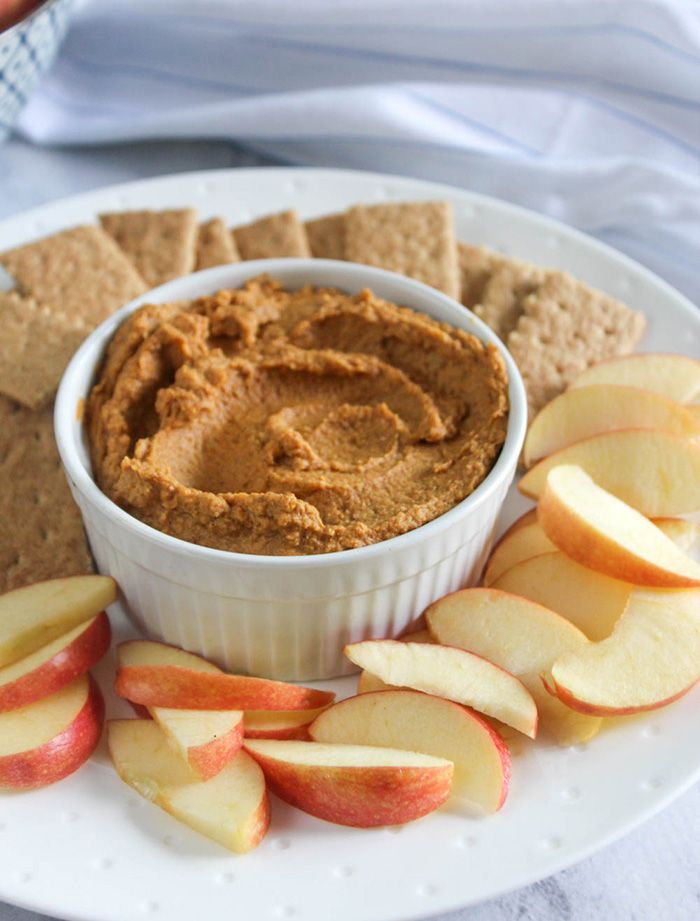 Sweet pumpkin recipes
We all can use a little sweetness every now and then, here are some sweet pumpkin recipe suggestions.
Pumpkin Pie Hummus tastes like pumpkin pie without the crust. Use apples, pears, and graham crackers for dippers.
Pumpkin Toffee Crunch Cake A moist gooey pumpkin cake with toffee bits and pecans.
Pumpkin Spice Honey Butter Serve it for brunch or spread it on toast for a fall treat.
Pumpkin Creme Brulee A delicious version of creme brulee made with pumpkin puree.
Mini Pumpkin Cheesecake A fun fall dessert with swirls of pumpkin on top of a graham cracker crust.
Easy Pumpkin Ice Cream An easy ice cream recipe filled with pumpkin flavor.
Chocolate Chip Banana Muffins The perfect blend of banana bread and pumpkin bread and loaded with chocolate chips.
Pumpkin Cookies and Ice Cream Creamy ice cream filled with pumpkin and crushed Oreos.
Keto Pumpkin Bars - A low-carb and gluten-free treat!
Pumpkin puree tips and questions
If pumpkin isn't available, try roasting winter squash such as acorn or butternut squash instead of pumpkin for a similar tasting smooth puree.
For easy clean-up, line the baking pan with parchment paper before adding the pumpkin.
Don't toss the seeds! Rinse them off and roast them.
Is canned pumpkin and pumpkin puree the same thing?
Yes, they are the same. However, canned pumpkin that you buy in your local grocery store is sometimes made with winter squash too. That's not a bad thing, but if you want pure pumpkin puree, it's better to stick with homemade puree.
Canned pumpkin puree should not be confused with canned pumpkin pie filling which has added sugar and spices.
You might enjoy these recipes
📖 Recipe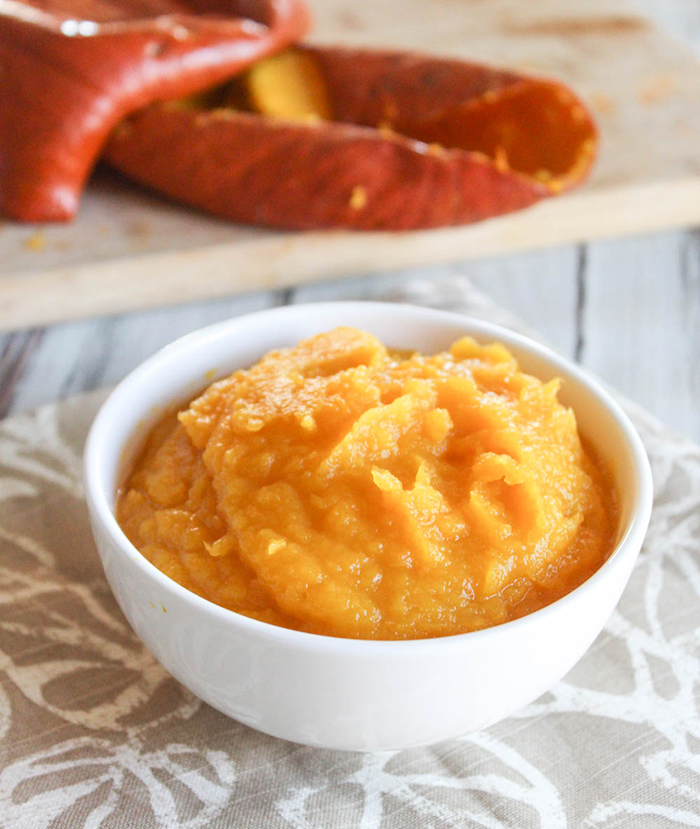 Click on serving size to scale this recipe
Instructions
Pre-heat the oven to 400

Cut the pumpkin in half, scoop out the seeds

Place the pumpkin halves into a baking sheet skin side up

Bake for approximately 45 minutes until the skin turns dark and a fork can easily be inserted

Remove the pumpkin halves from the oven and let them sit for 15 minutes to cool off

Use a spoon to scoop out the flesh and place it in a food processor or high-speed blender

Blend the pumpkin into a puree and store it in the refrigerator.
Notes
Store pumpkin puree in the refrigerator for up to 5 days. Freeze it for up to three months
NOTE: You can substitute any combination of winter squash to make this recipe. Clean and roast the squash just as you would the pumpkin.
See the blog post above for more tips, recipes and suggestions
Nutrition
Serving:
2
cups
|
Calories:
177
kcal
|
Carbohydrates:
44
g
|
Protein:
7
g
|
Fat:
1
g
|
Saturated Fat:
0.4
g
|
Polyunsaturated Fat:
0.04
g
|
Monounsaturated Fat:
0.1
g
|
Sodium:
7
mg
|
Potassium:
2312
mg
|
Fiber:
3
g
|
Sugar:
19
g
|
Vitamin A:
57888
IU
|
Vitamin C:
61
mg
|
Calcium:
143
mg
|
Iron:
5
mg
Nutrition information provided is an estimate and can vary based on cooking methods and ingredients used
Check out more of our Plant-Based Recipes here!