Pumpkin Sage Pasta Sauce is a creamy sage-infused pasta sauce that is made with fresh pumpkin puree for a rich and flavorful pasta sauce.
Even though they taste delicious, some cream sauces are heavy and have you feeling weighed down after you eat them, but not this sauce. It has a creamy texture without all of the heaviness. This sauce gets its creaminess from the pumpkin puree and a little bit of Greek yogurt which also adds a helping of protein.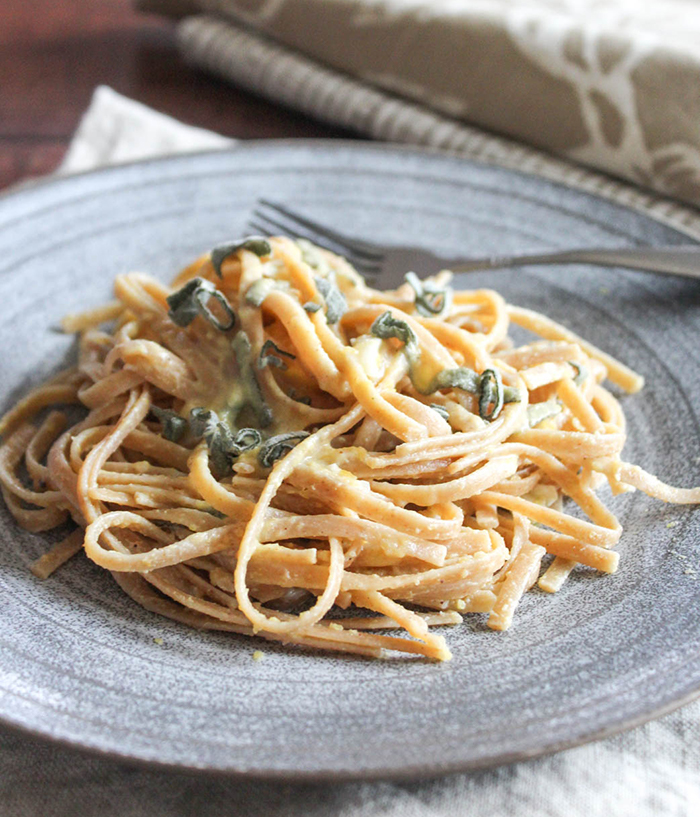 Recipe Highlights
It's light and creamy made with fresh ingredients.
It's a healthier choice for a cream sauce. It's made with pumpkin puree and healthy Greek yogurt.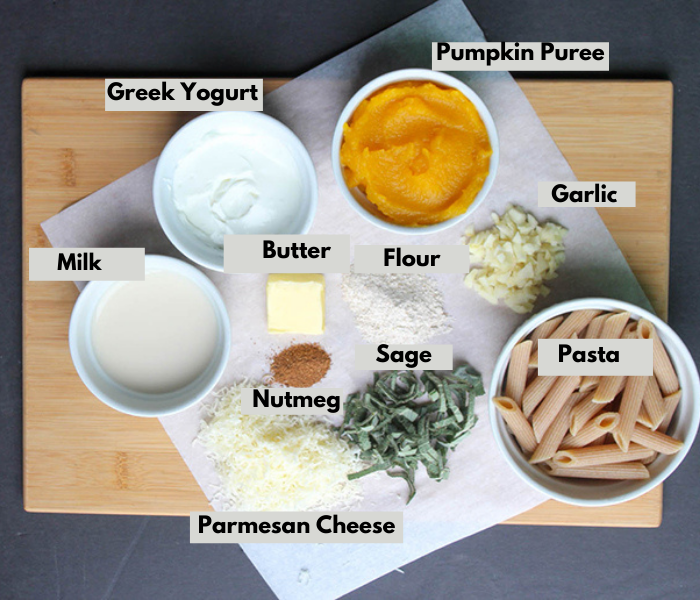 What You Will Need
As an Amazon Associate, I earn from qualifying purchases
This is an overview of the ingredients and steps to make this recipe, scroll down for a printable recipe card with exact measurements and instructions.
Pumpkin puree - canned or homemade will work. Here is my recipe for homemade pumpkin puree.
Unsalted butter or olive oil
Flour
Fresh garlic
Fresh sage
Greek yogurt
Milk or water - The sauce will not be as thick when using water but still tastes great.
Parmesan cheese
Nutmeg
Pasta
Medium saucepan
Here is How to Make Pumpkin Sage Pasta Sauce
Heat the butter and garlic in a pan.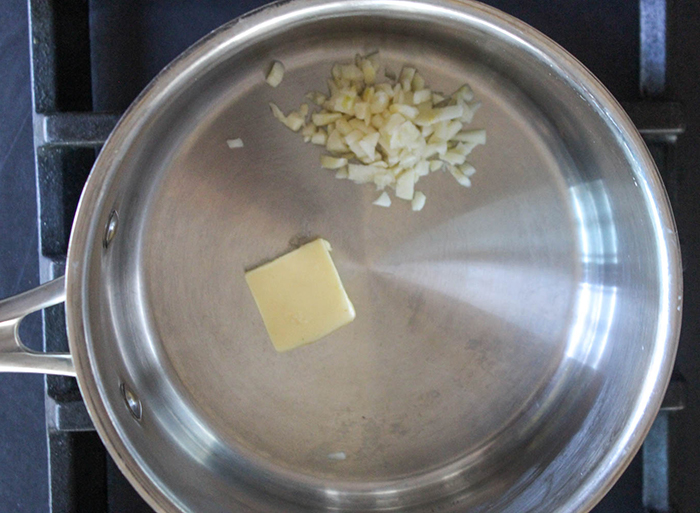 Once the butter has melted add the flour and stir until it forms a thin paste.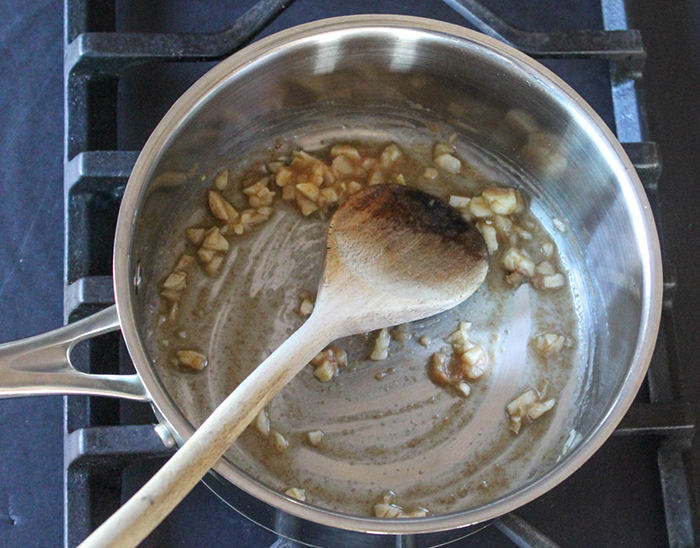 Reduce the heat, and gradually stir in the water or milk stirring constantly until it begins to thicken.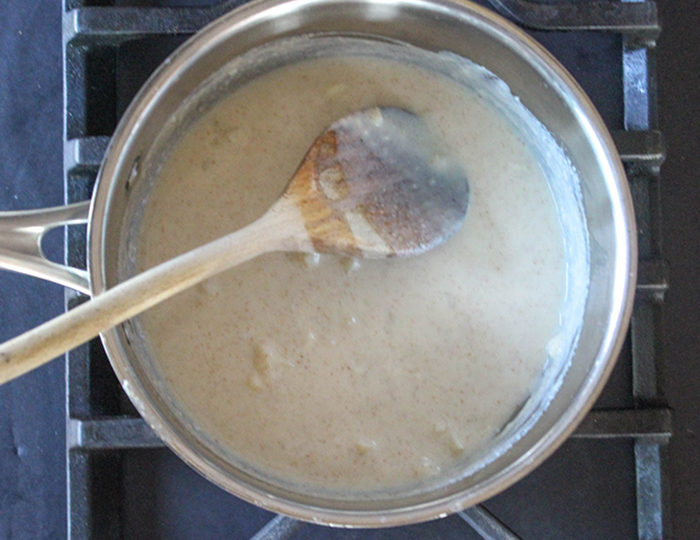 Stir in the yogurt and pumpkin puree and combine. Cook the sauce for a few minutes over low heat, then add the cheese, sage, spices and cheese.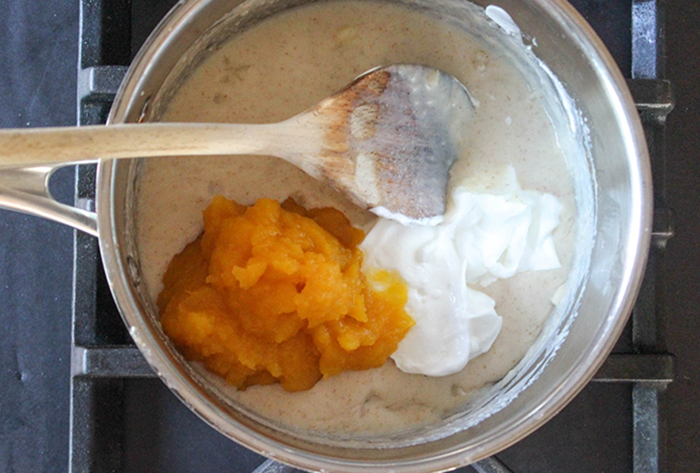 Mix everything together. Add the grated cheese, chopped sage and nutmeg.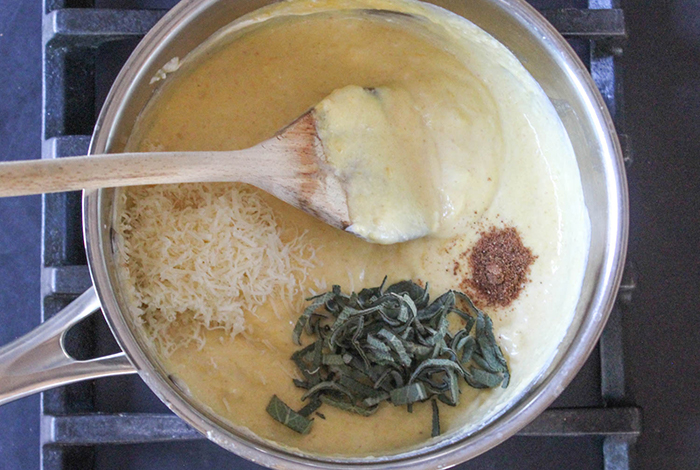 Stir to combine all of the ingredients and cook it on low heat for about 5 minutes and serve.
Total Estimated Time to Make This Recipe: 30 to 40 Minutes
Recipe Variations and Serving Suggestions
Pumpkin sauce tastes great on top of your favorite pasta all by itself as a vegetarian main course or with crumbled ground chicken, turkey, sausage, cooked shrimp, grilled or broiled chicken boneless breast.
Serve it with a side of steamed broccoli, green beans or a salad like this arugula salad.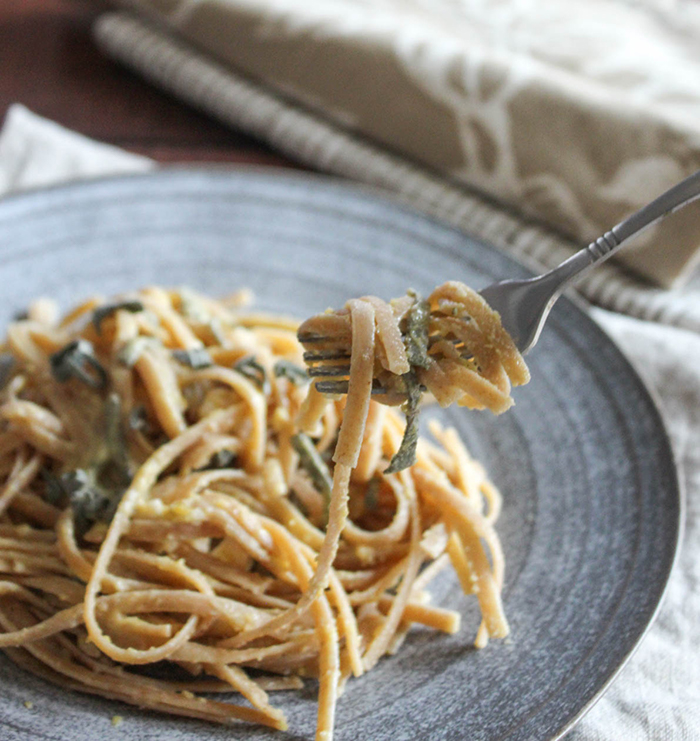 Make-Ahead Instructions
You can get a jump start on meal prep with this recipe, by chopping the garlic and sage and shredding the cheese ahead of time. Store each ingredient in a separate food storage container for two to three days so that they are all ready to mix together.
Pumpkin sage pasta sauce can easily be made ahead of time. By preparing the sauce completely and storing it in an airtight container in the fridge.
How to Store and Reheat the Pasta Sauce
Store the leftover pumpkin sage pasta sauce in an airtight storage oncainer in the refrigerator for up to 5 days.
Freeze your leftover pumpkin pasta sauce an airtight container in the freezer for up to three months.
Thaw it in the refrigerator overnight or place the container in a bowl of water on your countertop.
Reheat it on top of the stove over low heat in a saucepan with a splash of water or milk. It can also be reheated in the microwave.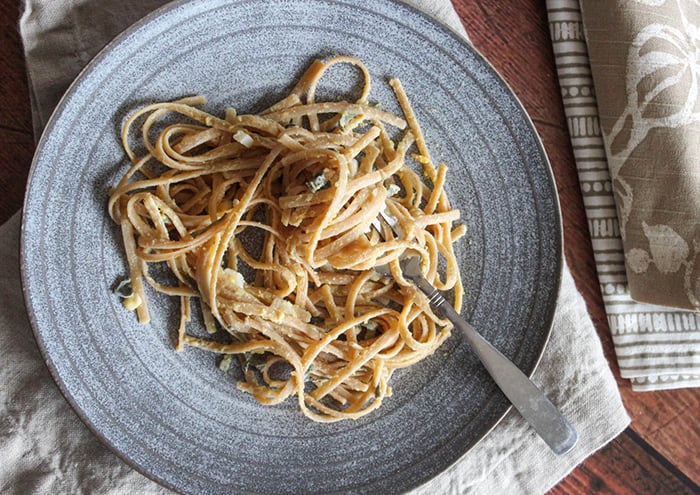 You Might Also Like These Pasta Recipes