This homemade enchilada sauce recipe is such an easy recipe. With very little effort, you can have this tasty homemade rich sauce ready in 20 minutes. And, the best part is that you can make it with simple pantry ingredients.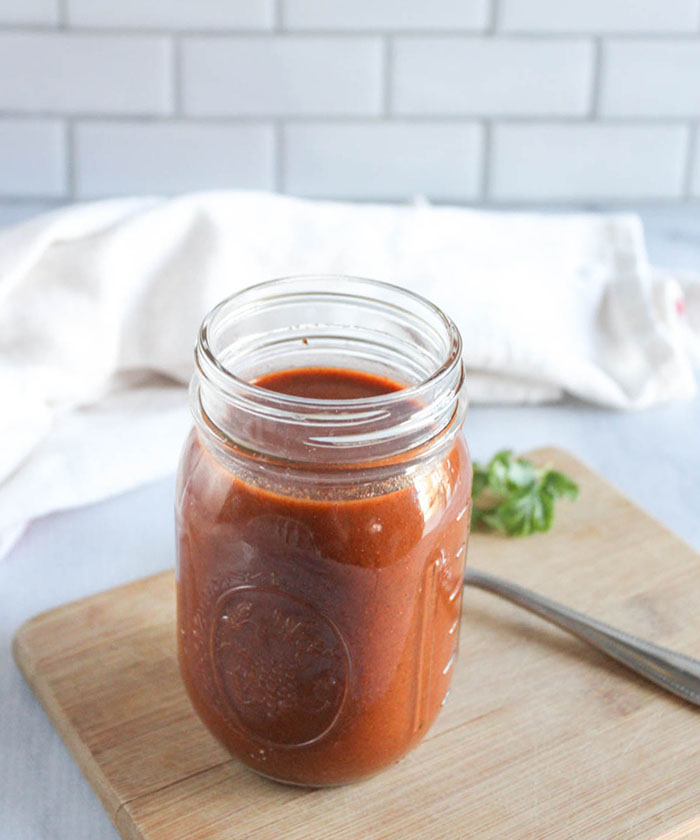 If you enjoy making your own sauces, try our homemade sriracha sauce or garden salsa.
Why This Recipe Works
Flavor! This enchilada sauce is filled with Mexican flavors - once you have a taste of this homemade version you will not want to use the canned stuff again.
It's quick and easy to prepare and made with simple ingredients.
It's healthier, made with wholesome ingreients unlike the store-bought canned sauce with added ingredients.
Here is What you Will Need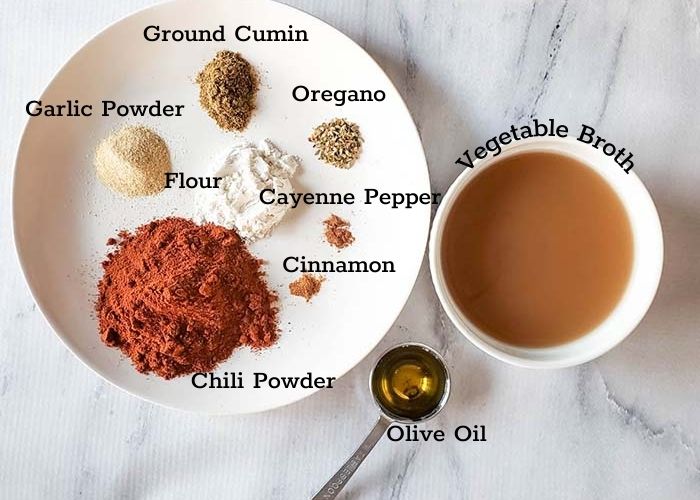 As an Amazon Associate, I earn from qualifying purchases.
This is an overview of the ingredients and steps to make this recipe, scroll down to see ingredient notes and substitutions as well as a printable recipe card with exact measurements and complete cooking instructions.
Ingredient List
Olive Oil
All Purpose Flour
Chili Powder
Garlic Powder
Onion Powder
Ground Cumin
Oregano
Cinnamon
Cayenne Pepper (optional)
Tomato Paste
Vegetable Broth
Equipment
Here's How to Make thie Easy Enchilada Sauce Recipe
Prepare. This recipe has quite a few ingredients, and it will be much easier to make the sauce if all of the ingredients are measured and ready to go.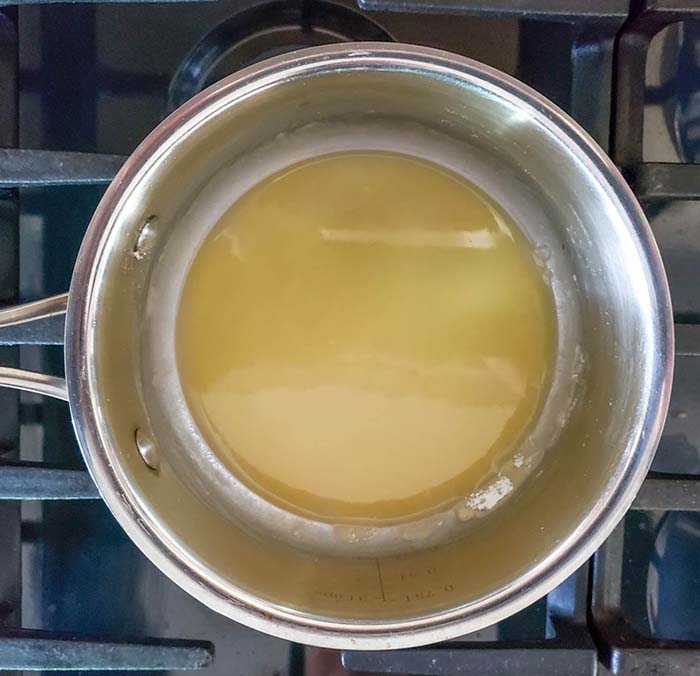 Step 1. Make the Roux
Heat the oil in a small saucepan over medium heat, add the flour, reduce the heat to low heat, and gradually stir into the flour and oil are combined.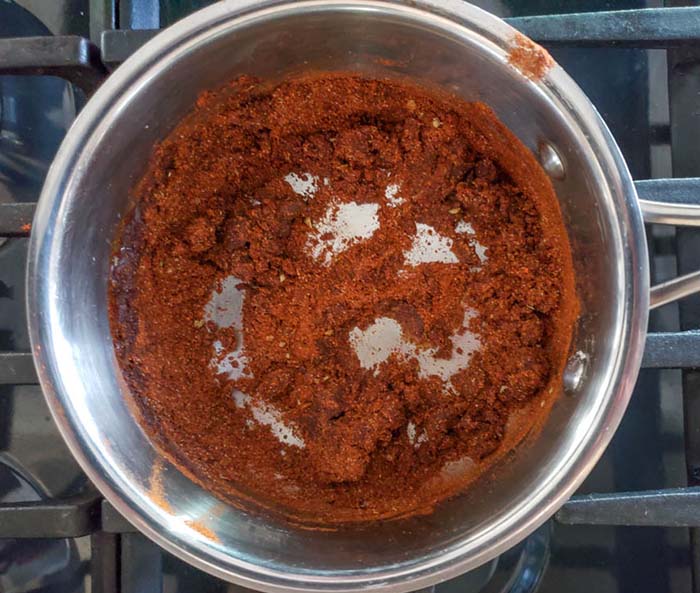 Step 2. Add the Spices & Tomato Paste
Stir in the spices and tomato paste and stir to combine into a thick crumbly paste.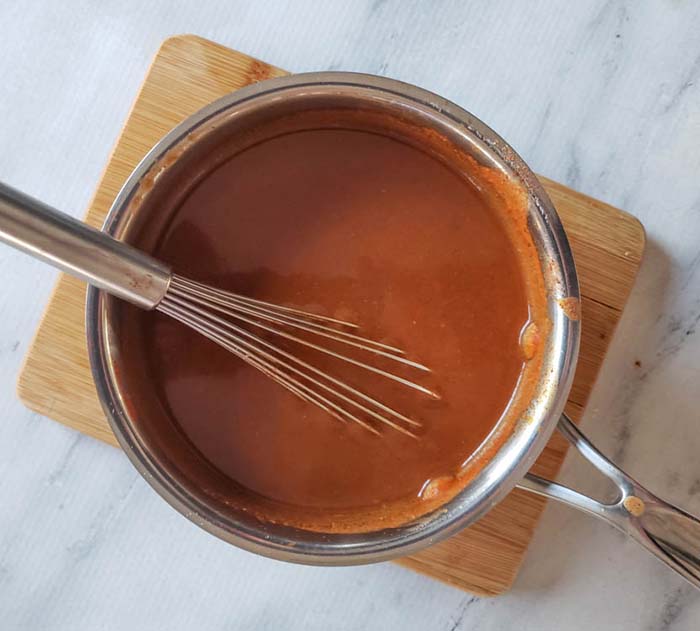 Step 3. Add the Broth
Gradually whisk the broth into the pan over low heat while continuously stirring until the broth is gone and the sauce becomes thick.
Hint: Keep the heat at a very low setting when adding the broth and stir constantly so that the solid ingredients mix together with the liquid for a smooth sauce.
Ingredient Notes & Substitutions
Chili Powder. This recipe is made with American-style chili powder or as we call it regular chili powder. American-style chili powder is a mild chili powder that is made with a blend of ground dried chile peppers and a blend of spices.
If you don't have American chili powder which is typically called chili powder or would prefer something with a little more spice, you can substitute it with ancho chili powder. You may need to use a little less since it is a little hotter.
Vegetable Broth. Look for low sodium vegetable broth or you can use homemade vegetable broth. Chicken broth can be substituted one for one in this recipe for the vegetable broth.
Recipe Variations
Make it Spicy - Add an extra pinch of cayenne pepper.
Sweet and Spicy - Add a tablespoon of honey or maple syrup with a pinch of cayenne pepper.
Creamy - Add a quarter to half cup of heavy cream to the sauce.
Mexican - Add 1 tablespoon cocoa powder, and ¼ teaspoon more cinnamon
Smoky - Replace 1 tablespoon of chili powder with chipolte chili powder (or more to taste)
If you love spicy food, check out this Spicy Ground Chicken and Black Bean Casserole!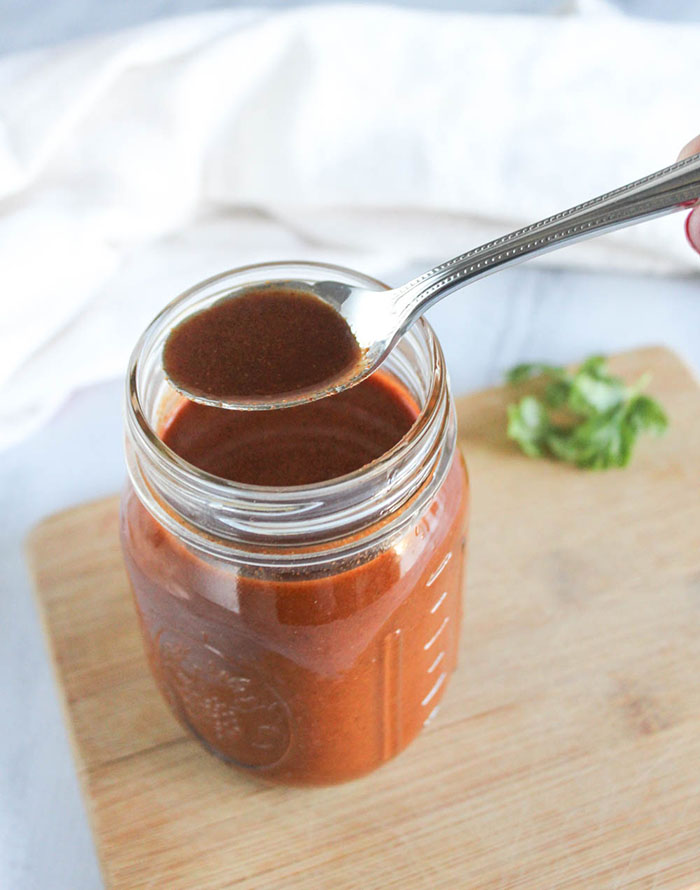 How to store Homemade Enchilada Sauce
Refrigerate homemade enchilada sauce for up to one week.
Freeze leftover enchilada sauce once it is at room temperature in an airtight freezer container that is freezer safe like these souper cubes which are conveniently divided into one cup portions. The sauce will last in the freezer for three to four months.
Defrost the frozen sauce in the refrigerator overnight.
Top Tips
Some brands of chili powder can be spicier than others. This recipe call for 2 ½ tablespoons of chili powder. If you are sensitive to hot and spicy foods, start with 1 to 1 ½ tablespoons and gradulally more to your taste.
Make a double batch and freeze the second batch in a freezer safe container for later use.
Serving Suggestions
Serve this easy homemade enchilada sauce in your favorite enchilada recipe, like these Vegetarian Enchiladas, Easy Cheesy Enchiladas, Beef Enchiladas, or Chicken Enchiladas.
This delicious homemade enchilada sauce also tastes great when it's added to soup, tacos, chili or stir ½ cup into ground beef or chicken with black beans, and serve over rice for a quick and easy dinner.
For more simple and delicious recipes like this, subscribe to our newsletter and receive a free e-book and meal suggestions straight in your inbox!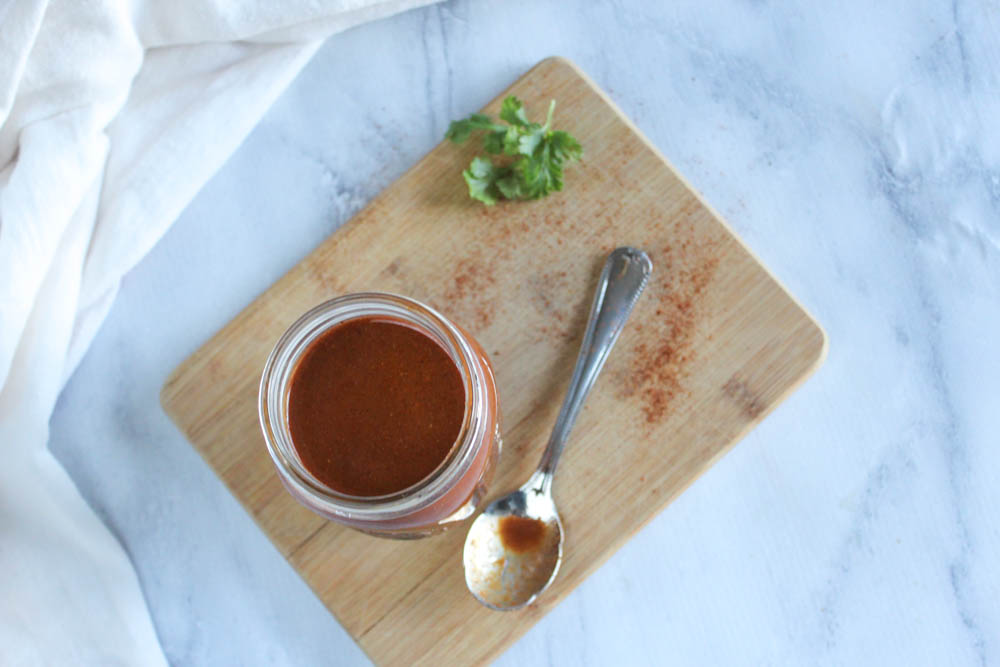 Can I use tomato sauce or crushed tomatoes in place of tomato paste to make enchilada sauce?
Yes! You can add 3 tablespoons of tomato sauce in place of one tablespoon of tomato paste. You may need to adjust the thickness of the sauce with a little bit of flour at the end of the cooking time.
Can I replace the all purpose flour with a gluten-free flour blend?
Yes. For a gluten-free option, you can replace wheat flour with gluten-free flour blend to make this enchilada sauce gluten-free.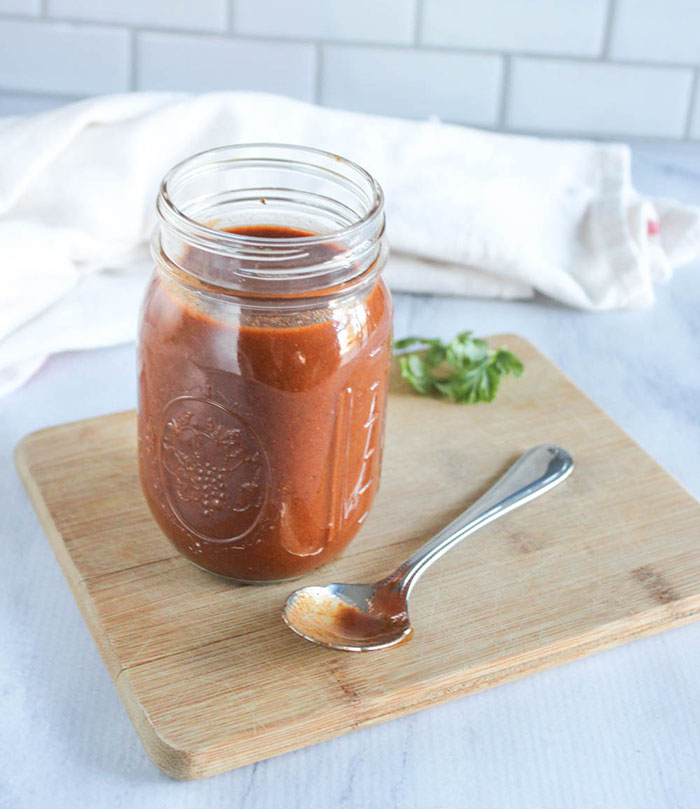 Have you Tried These Mexican Recipes?
If you like this recipe, please comment and rate it below!