Make your own veggie broth by saving your vegetable scraps in the freezer until you have enough to start a batch of vegetable broth.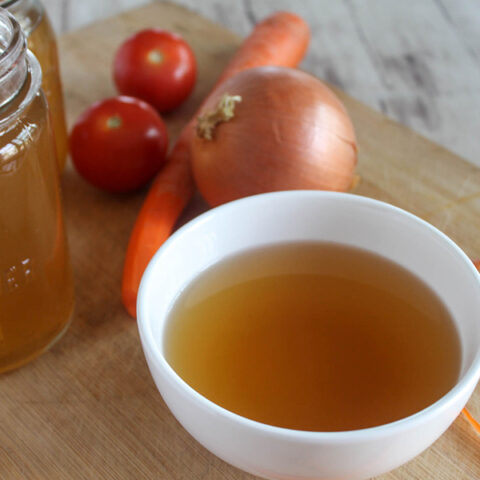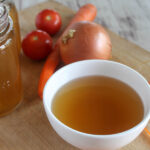 Have you ever wondered how to make homemade vegetable broth from leftover vegetable scraps? It starts by saving your leftover vegetable peels and scraps in the freezer until you have enough to start a batch of vegetable broth.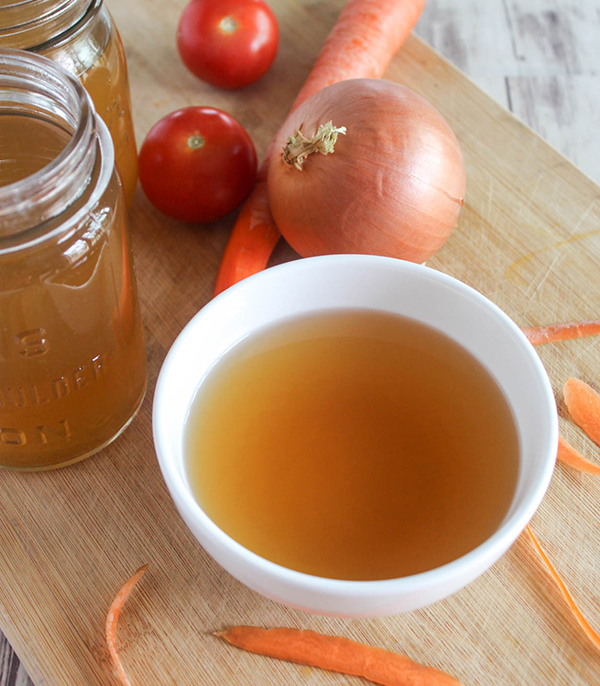 Vegetable broth is a common ingredient in a lot of recipes, and something that's always in my kitchen because you never know when you are going to want to make a quick batch of garden vegetable minestrone soup.
Recipe Highlights
It's an easy and economical recipe
Zero food waste! Homemade broth is a great way use vegetables twice.
Here is What You Will Need
As an Amazon Associate, I earn from qualifying purchases
This is an overview of the ingredients and steps to make this recipe, scroll down to see ingredient notes and substitutions as well as a printable recipe card with exact measurements and complete cooking instructions.
---
Ingredient List
Reserved vegetable scraps from your freezer such as mushrooms, sturdy greens or chopped vegetables.
Garlic
Celery
Onion
Water
Tomatoes
A few springs of fresh herbs
Dry herbs
Equipment
Here is how to make your own veggie broth
Before you get started making your own vegetable broth, you will need a gallon freezer bag of saved vegetable scraps. Once the bag of scraps is full, chop up the tomatoes and onions and get ready to make some broth.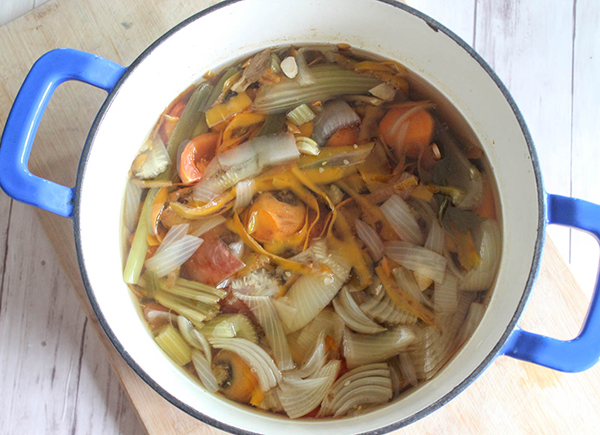 Step 1. Simmer the scraps
Add water to a large pot and place the frozen scraps into the pot with one small onion and two diced tomatoes. Cover and simmer over low heat for 2 hours.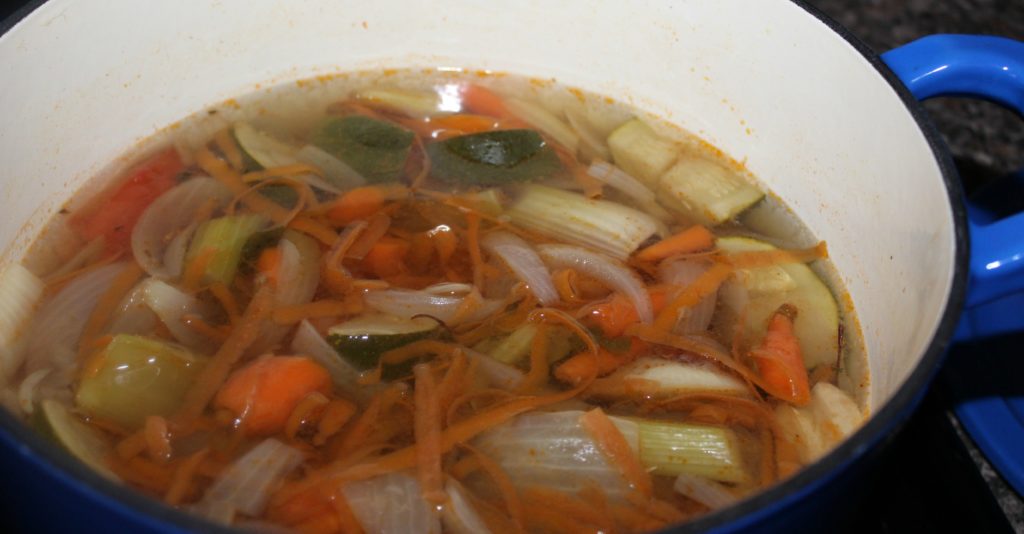 Step 2. Strain the vegetable scraps
Once the vegetable scraps have been cooked, remove them from the heat and let the broth cool off to room temperature. Pour the vegetables into a large strainer and strain the broth.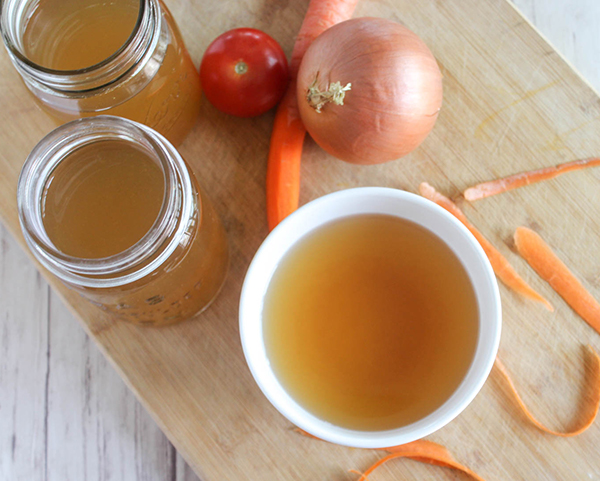 Step 3. Store the broth
Once the vegetables are drained, you may need to run the broth through the strainer with a layer of cheesecloth or you can use a fine mesh strainer for a nice clear broth.
What are the best vegetables to use to make your own broth?
You can use a wide variety of vegetable scraps to make this homemade vegetable broth recipe. So be sure to wash all of your vegetables before peeling and chopping them so that you can save the scraps and toss them into your freezer.
The only vegetables that should not be used are strong-tasting vegetables such as cruciferous vegetables such as broccoli, cauliflower, brussels sprouts. They have a strong and sometimes bitter flavor, and would be more suitable for cauliflower or broccoli soup broth.
Here is a list of vegetables that will add a nice flavor to your homemade vegetable broth. You can use any combination of these:
Onion peels, skins & garlic skins
Leeks ends and skins
Garlic
Carrot peels, and carrot tops
Celery leaves and stalks
Mushroom stems
Green beans
Tomatoes
Potato peels
Bell peppers
Parsnips
Summer squash ends and peels
Leafy greens
Herb stems and leaves such as thyme, parsley, bay leaves
Note: Onions, carrots, garlic, and celery are essential ingredients in homemade veggie broth. If these aren't in your collection of scraps add them to the stockpot.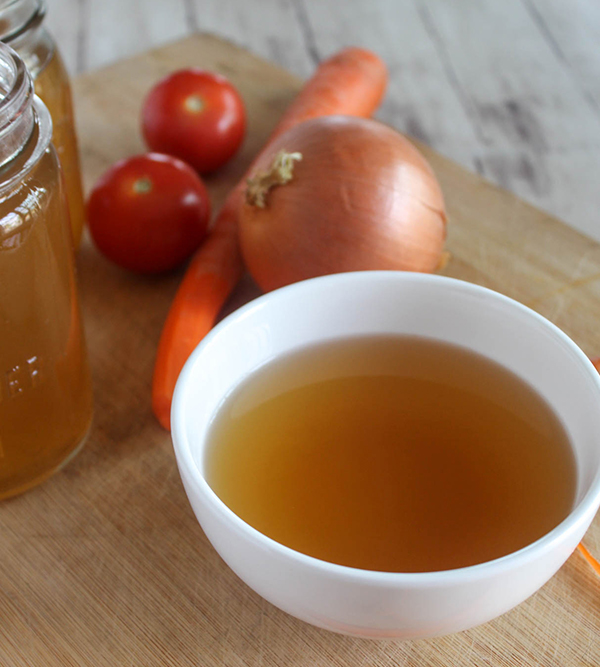 How to Store and Freeze Veggie Broth
Refrigerate your vegetable broth in the refrigerator in an airtight container for three to four days. I like to store the broth in a glass food storage container such as a mason jar, but you can use any type of glass refrigerator container.
Freeze homemade vegetable broth for future use in a freezer-safe container or pour it into an ice cube tray for single-serving portions. Once the broth has frozen into cubes, store them in a plastic bag in the freezer for up to 6 months
Thaw out your frozen vegetable broth overnight in the refrigerator, or place the container of broth into a container of warm water to quickly thaw it out.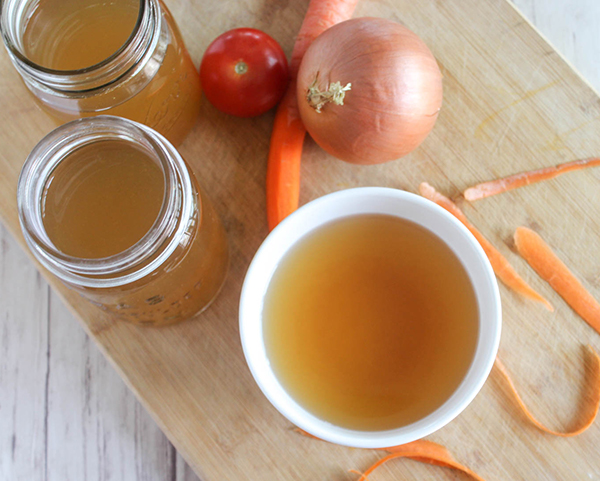 Uses for Homemade Vegetable Broth
Vegetable broth has so many uses! It can be used to flavor soup recipes, casserole, stew and chili recipes. Here are a few ways to use it; Vegetable Minestrone Soup, Sausage and Kale Soup with White Beans, Homemade Enchilada Sauce, Mushroom Barley Soup, White Bean Soup.
Answers to your homemade vegetable broth questions
Is vegetable stock the same as vegetable broth?
When it comes to vegetables, broth and stock are the same things. Stock is made with bones and since there are no bones in vegetables, vegetable broth and stock are one and the same.
What do you do with the vegetables after making homemade vegetable broth?
Once the broth has been made, the leftover vegetables will be soggy and for the most part un-useable. Some people will throw them away, I like to toss them in my compost bin.
Check out our soup recipes for more ways to use this flavorful vegetable broth.
You might like these recipes
Don't forget to save the veggie scraps in these recipes for broth!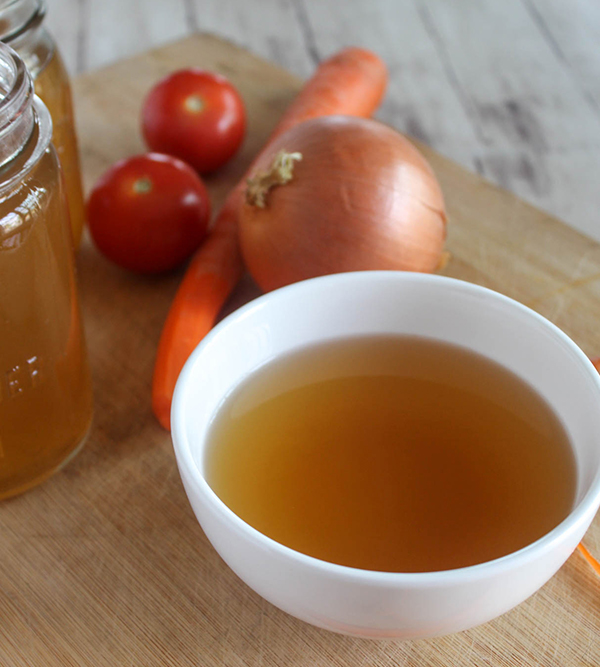 Click on serving size to scale this recipe
Ingredients
1

medium onion

sliced

3 to 4

cloves

of garlic

chopped

1 to

mato chopped

optional

A few springs fresh parsley

thyme and a bay leaf

8

cups

filtered water

sea salt and pepper to taste

3 to 4

cups

of vegetable scraps or

1 to 2

cups

of chopped carrots

1 to 2

cups

of chopped celery
Instructions
Add all of the ingredients into a stock pot and cover

Cook on low for 1 ½ to 2 hours

Drain the vegetables through a strainer pressing out as much liquid as possible

Season with salt and pepper to taste
Notes
Store homemade vegetable broth in the refrigerator for up to four days in a Mason jar or any airtight container.
Freeze homemade broth in a freezer-safe container or pour it into an ice cube tray for single-serving portions.
Nutrition
Serving:
1
cup
|
Calories:
100
kcal
|
Carbohydrates:
22
g
|
Protein:
5
g
|
Fat:
1
g
|
Polyunsaturated Fat:
1
g
|
Sodium:
173
mg
|
Fiber:
9
g
|
Sugar:
9
g
Nutrition information provided is an estimate and can vary based on cooking methods and ingredients used