Traditional pate gets a makeover in this vegan mushroom pate recipe. It's an earthy, rich and meaty spread that everyone will enjoy.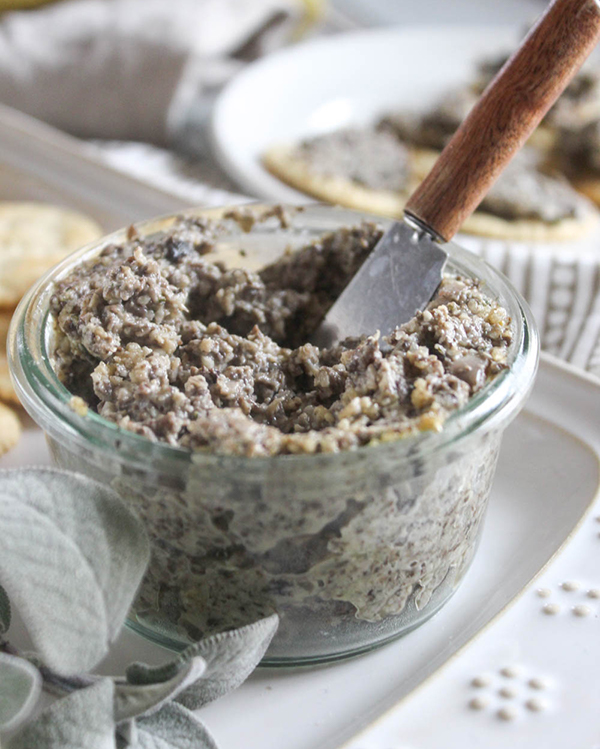 Easy Vegan Mushroom Pate
You don't have to be vegan to enjoy this vegan mushroom pate recipe! It tastes just like traditional pate. It's lighter in texture, yet it's packed with plenty of flavor. The hearty mushrooms combined with the herbs produces an incredible umami spread that is perfect to serve at your next party.
This super easy mushroom pate is made with only 10 ingredients, and can be made in less than one hour. It's a healthy way to enjoy pate and the numerous health benefits of mushrooms. Serve it with a charcuterie board, spread it on toast, crackers, add it to pasta or use it as a sandwich spread.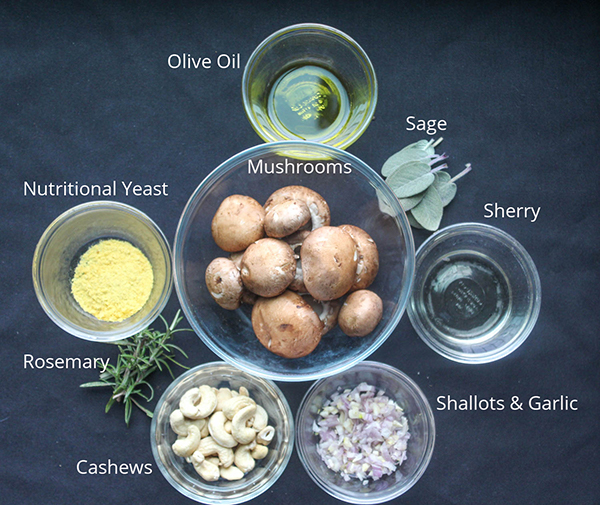 As an Amazon Associate, I earn from qualifying purchases
Here is what you will need to make this vegan pate recipe
shallots
garlic
meaty mushrooms such as cremini, portabello, shitake or a mixture of your favorite mushrooms
fresh rosemary
fresh sage
dry sherry
raw cashews to add a little bit of a creamy texture to the spread
nutritional yeast for a cheesy taste
How to make mushroom pate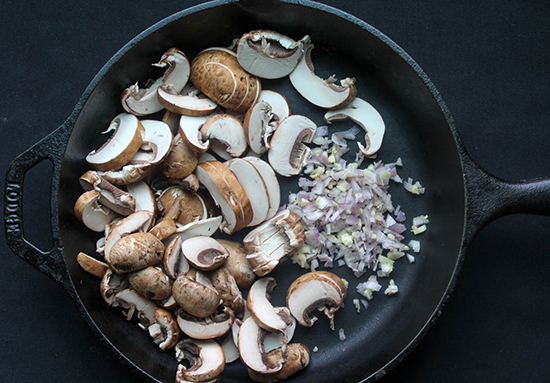 Add the sliced mushrooms, chopped garlic and shallots to a pan and cook them until they become soft. Add the sherry, herbs and continue to cook until the liquid evaporates.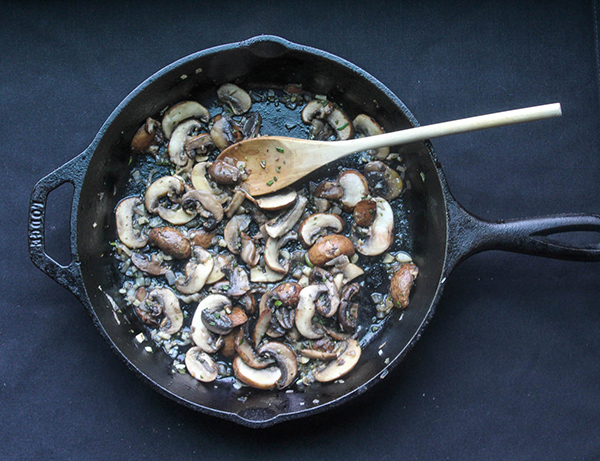 While the mushrooms are cooking, add the cashews and nutritional yeast to a food processor and process them into crumbles similar to the texture of Parmesan cheese.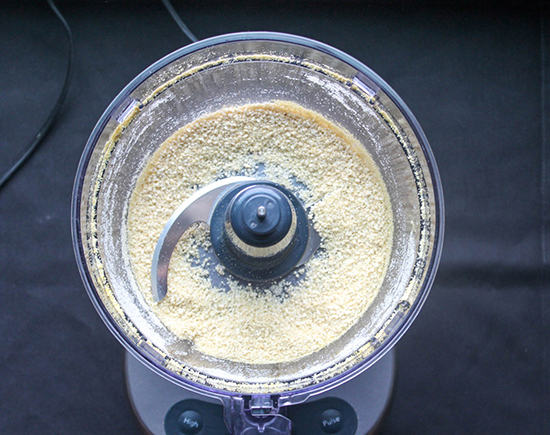 Add the cooked mushrooms, garlic and shallots to the ground cashews and yeast in the food processor along with the sherry and process the mixture into vegan mushroom pate.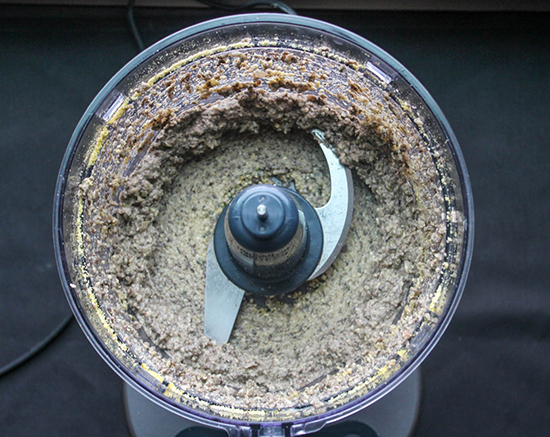 Recipe Tips and Suggestions
An equal amount of walnuts can be used in place of cashews in the pate.
White wine can be substituted for sherry.
For a vegetarian version, substitute Parmesan cheese for the nutritional yeast.
Store leftover pate in the refrigerator three to four days.
If you prefer a creamier, thinner spread add a little bit of water to the food processor and blend longer.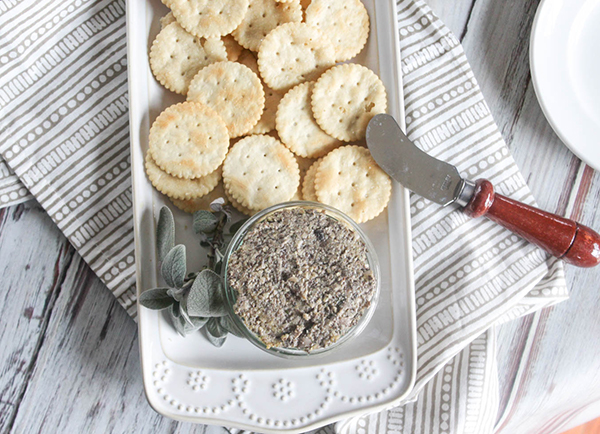 You Might Also Enjoy these Recipes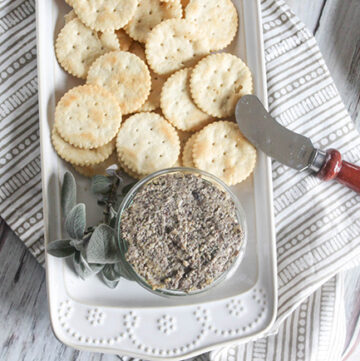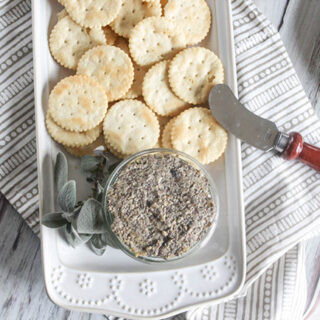 Vegan Mushroom Pate
Traditional pate gets a makeover. Vegan mushroom pate is earthy meaty and full of flavor.
Ingredients
1 tablespoon olive oil
¼ cup minced shallots
1 clove chopped garlic
1 pound mushrooms (cremini, white button or portabello)
2 tablespoons chopped fresh sage
½ tablespoon chopped fresh rosemary
3 tablespoons dry sherry or white wine
½ cup cashews
2 tablespoons nutritional yeast
Instructions
Prepare the ingredients: mince the shallots, chop the garlic and slice the mushrooms, chop the herbs
Heat ½ tablespoon of olive oil in a skillet over medium heat and add the mushrooms, garlic and shallots
cook the vegetables stirring frequently until they begin to turn brown
add the sage, rosemary, and sherry and cook until the liquid evaporates and remove from heat
place the cashews and nutritional yeast in a food processor and pulse them until they become crumbly
add the mushroom mixture to the food processor and process until finely chopped - about 30 seconds. For a smoother textured pate, add a little bit of water and blend to desired consistency
Adjust flavor by adding a pinch of salt and pepper