Traditional pate gets a makeover. Vegan mushroom pate is earthy meaty and full of flavor.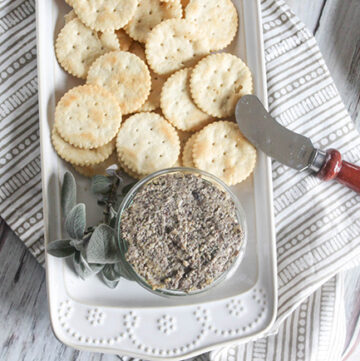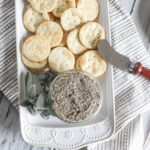 Mushroom pate is a healthy, lighter vegan option of a traditional pate that is typically made with liver.
Hearty mushrooms take the place of meat and are combined with herbs which give this mushroom pate recipe an incredible umami flavor. It's the perfect appetizer for your next cocktail party, book club or any celebration.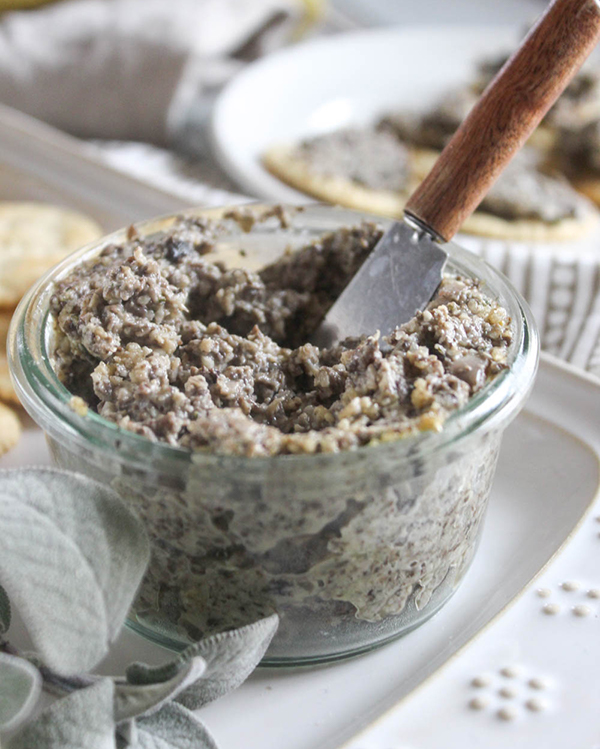 If you enjoy plant-based appetizers like this vegan mushroom pate, try these zucchini guacamole roll-ups, or veggie lovers pizza won ton cups.
Why This Recipe Works
It's an easy recipe made with simple ingredients which make the perfect combinatin of flavor!
It's healthy! Mushrooms have numerous heatlh benefits and they are tasty too.
Mushroom pate is the perfect party appetizer that takes less than one hour to make and can easily be made ahead of time.
Here is What You Will need to Make This Recipe
As an Amazon Associate, I earn from qualifying purchases
This is an overview of the ingredients and steps to make this recipe, scroll down for a printable recipe card with exact measurements and instructions.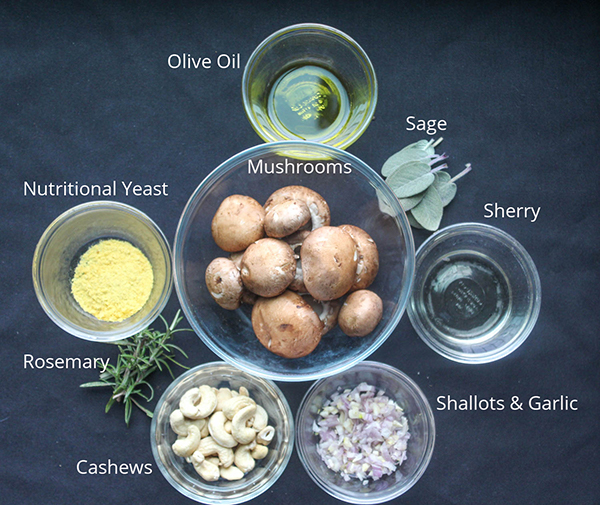 Ingredients List
Shallots
Garlic
Fresh mushrooms
Fresh rosemary & sage
Dry sherry
Tools Needed to Make Healthy Mushroom Pate
Here is How to Make This Vegan Mushroom Pate Recipe
Prepare: Wash and slice the mushrooms, chop the shallots, garlic and fresh herbs. Measure the sherry yeast and cashews. Heat a large skillet over medium-high heat with a tablespoon of olive oil.
Step 1. Cook the Mushrooms
Once the oil in the skillet is hot, add the mushrooms, garlic and shallots. Cook the mushroom mixture stirring occasionally until the vegetables become soft.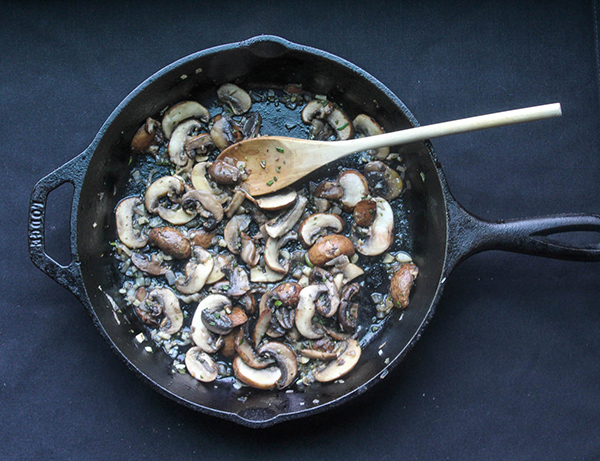 Step 2. Add the liquid & herbs
Reduce to medium heat, and stir in the sherry to deglaze the frying pan, then add the herbs and continue to cook stirring occasionally until the liquid evaporates. Turn the heat off and let the mushroom shallot mixture cool off.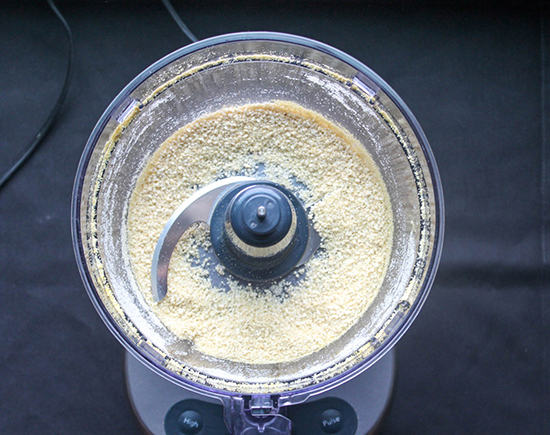 Step 3. Prepare the cashews
Place the cashews and nutritional yeast into a food processor bowl and pulse them until they become crumbly.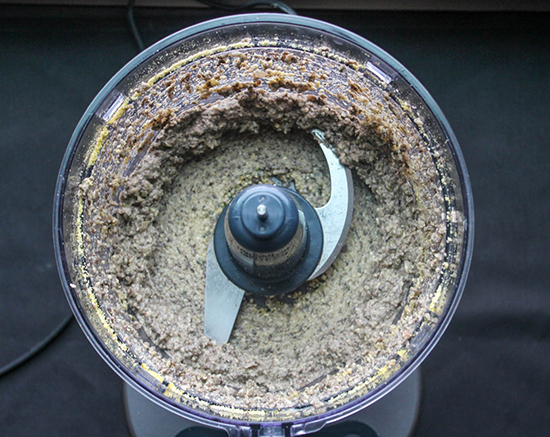 Step 4. Add the Musrooms
Once the cooked mushroom mixture has cooled off, add it to the food processor bowl with the crumbled cashews and nutritional yeast. Process the mixture until it becomes a thick pasty texture. Remove the pate from the food processor and place it in a serving bowl and serve at room temperature, chilled or warmed.
Ingredient Notes & Substititions
Shallots add a delicate sweet flavor to the pate. If shallots are not available, you can replace them with an equal amount of onions in this recipe.
Garlic also adds to the flavor profile of of those hearty mushroom pate. I prefer to use fresh garlic. If you don't have fresh garlic, it can be substituted with ½ teaspoon of garlic powder.
Mushrooms are the main ingredient in this recipe. I typically use white mushrooms and crimini mushrooms. But you can use any kind of mushrooms that you like. Choose one or any combination of: white mushrooms, baby bella mushrooms, oyster mushrooms, shiitake mushrooms, portobello mushrooms or dried porcini mushrooms.
Rosemary and sage can be substituted with 2 teaspoons dried sage and ⅛ teaspoon dried rosemary.
Sherry adds a subtle flavor to the pate and can be substituted with an equal amount of white wine.
Cashews are what makes this pate creamy. Cashews can be replaced with an equal amount of walnuts.
Nutritional yeast adds a cheesy flavor and can be replaced with an equal amount of grated fresh parmesan cheese forvegetarian mushroom pate.
Recipe Variations
Brandy Mushroom Pate - Add 3 tablespoons of brandy instead of sherry for a deep rich flavored pate.
Nut-Free Pate - Replace the nuts with an equal amout of pumpkin or sunflower seeds.
Spicy Mushroom Pate - Add a half teaspoon of hot sauce or a few shakes of hot pepper flakes to the pate.
Flavor Additions - Try adding any one of these to the pate: a ½ teaspoon of lemon zest, ½ teaspoon balsamic vinegar, or a splash of truffle oil.
How to Store Mushroom Pate
Mushroom pate is the perfect appetizer to make ahead of time or make extra and store leftovers.
Mushroom pate will last in an airtight container in the refrigerator for up to five days.
Freeze vegan mushroom pate in the freezer for up to three months in a freezer-proof container.
Defrost the pate in the refrigerator overnight. Please note that the texture will be slightly changed after freezing the pate.
📝Sign Up!
Drop your email below and receive a list a foods that you need in your kitchen to make a quick meal!
Top Tip!
If you prefer a creamy texture pate, add a little bit of water to the food processor and blend until the pate reaches a creamy texture.
Serving Suggestions
Serve mushroom pate as a dip with a side of crusty bread, on toasted bread, as a sandwich spread, or baked in puffed pastry.
Add it to pasta, stuff it into a boneless chicken breast and bake it or serve your pate as a companion to a vegetable or traditional charcuterie board.
I don't have a food processor, can I make this mushroom pate in a blender?
Yes! You can use a blender. Depending on the type of blender, you may end up with a chunkier textured pate.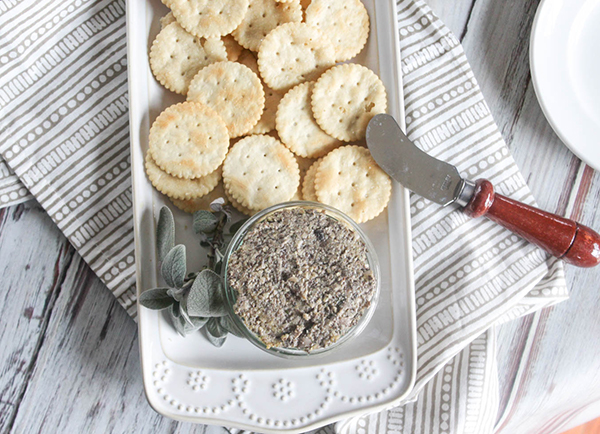 You Might Also Enjoy these Healthy Appetizer Recipes
Do you like this recipe?
Please comment and give it a ⭐⭐⭐⭐⭐ rating below!
📖 Recipe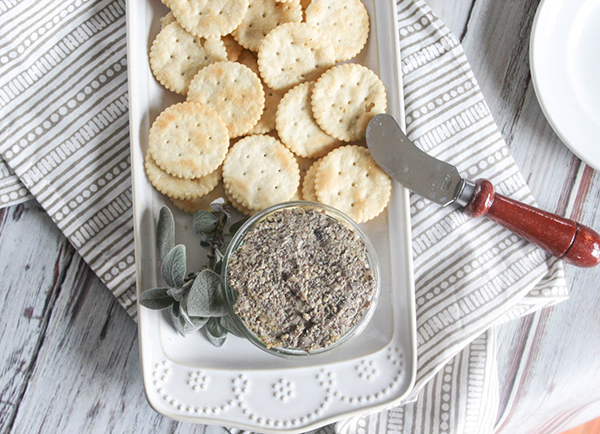 Click on serving size to scale this recipe
Ingredients
1

tablespoon

olive oil

¼

cup

minced shallots

1

clove

chopped garlic

1

pound

mushrooms

2

tablespoons

chopped fresh sage

½

tablespoon

chopped fresh rosemary

3

tablespoons

dry sherry or white wine

½

cup

cashews

2

tablespoons

nutritional yeast
Instructions
Prepare the ingredients: mince the shallots, chop the garlic and slice the mushrooms, chop the herbs

Heat ½ tablespoon of olive oil in a skillet over medium heat and add the mushrooms, garlic and shallots

cook the vegetables stirring frequently until they begin to turn brown

add the sage, rosemary, and sherry and cook until the liquid evaporates and remove from heat

place the cashews and nutritional yeast in a food processor and pulse them until they become crumbly

add the mushroom mixture to the food processor and process until finely chopped - about 30 seconds. For a smoother textured pate, add a little bit of water and blend to desired consistency

Adjust the flavor by adding a pinch of salt and pepper
Notes
Ingredients Substitutions
Substitute shallots with an equal amount of diced onions.
Substitute fresh garlic for ½ teaspoon garlic powder
Replace fresh Rosemary with ⅛ teaspoon dried rosemary.
Replace fresh sage with 2 teaspoons dried sage.
Substitute an equal amount of walnuts with cashews.
Replace sherry with an equal amount of white wine.
Recipe Variations
Brandy Mushroom Pate - Add 3 tablespoons of brandy instead of sherry and let it cook into the mushrooms before blending.
Nut-Free Pate - Replace the nuts with an equal amout of pumpkin or sunflower seeds.
Spicy Mushroom Pate - Add a half teaspoon of hot sauce or a few shakes of hot pepper flakes to the pa
Nutrition
Serving:
0.25
cup
|
Calories:
185
kcal
|
Carbohydrates:
14
g
|
Protein:
9
g
|
Fat:
11
g
|
Saturated Fat:
2
g
|
Polyunsaturated Fat:
2
g
|
Monounsaturated Fat:
6
g
|
Sodium:
10
mg
|
Potassium:
618
mg
|
Fiber:
3
g
|
Sugar:
4
g
|
Vitamin A:
8
IU
|
Vitamin C:
4
mg
|
Calcium:
40
mg
|
Iron:
3
mg
Nutrition information provided is an estimate and can vary based on cooking methods and ingredients used