Instant Pot Mushroom Barley Soup is a simple and hearty soup that is perfect for a cold day. It's made with fresh ingredients and the best part is that this soup can be on your table in less than an hour.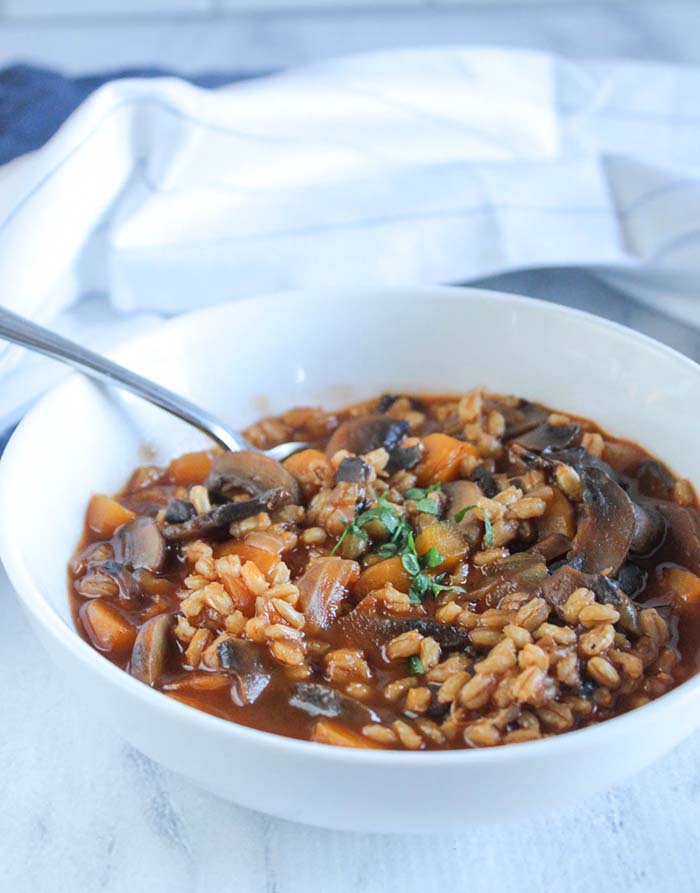 Homemade soup recipes are perfect in the winter, this sausage and kale soup is a comforting bowl of soup too.
What you Will Love About This Recipe
It's hearty and healthy flavorful soup that is filled with vegetables and meaty mushrooms
Instant pot mushroom barley soup is quick and easy to make, yet tastes like it's been cooking for hours.
Mushroom Barley Soup Ingredients List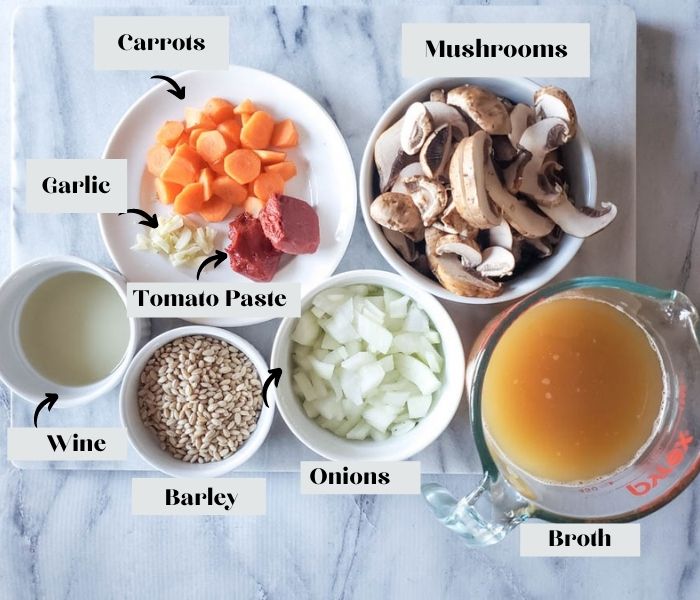 As an Amazon Associate, I earn from qualifying purchases.
This is an overview of the ingredients and steps to make this recipe, scroll down for a printable recipe card with exact measurements and instructions.
Equipment Needed to Make this Mushroom Barley Soup Recipe
How to Make Mushroom Barley Soup in the Instant Pot
Prepare the Ingredients: Clean and slice the mushrooms, chop the carrots, onions and garlic. Measure the broth, wine barley, and tomato paste.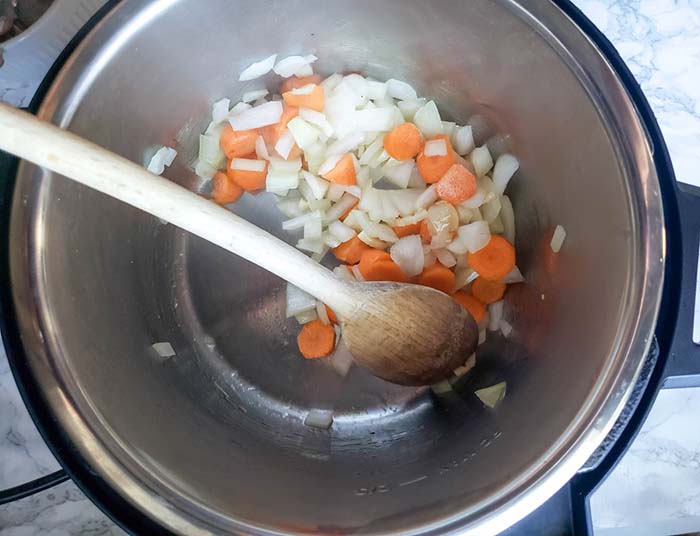 Step 1. Saute the Veggies
Preheat the Instant Pot by setting it to the saute function and add a tablespoon of olive oil. Once the oil is hot add the onions and garlic; cook until they begin to soften and add the carrots.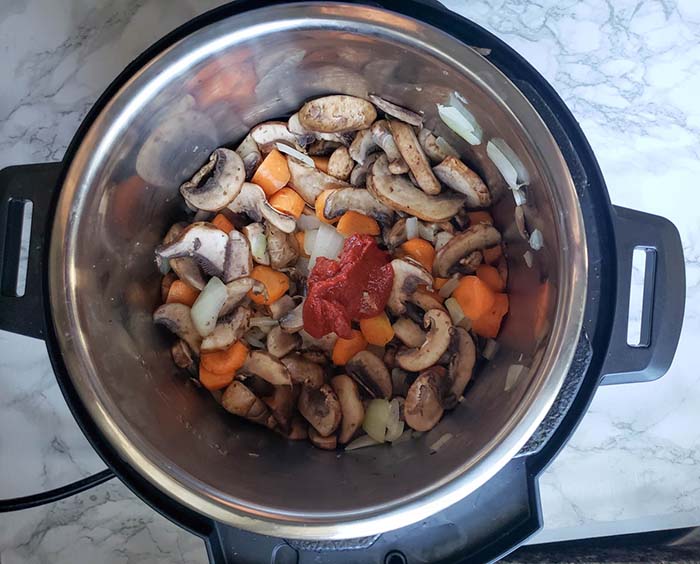 Step 3. Add The Mushrooms and Tomato Paste
Use a wooden spoon to mix the tomato paste into the vegetable mixture, and turn the saute function off.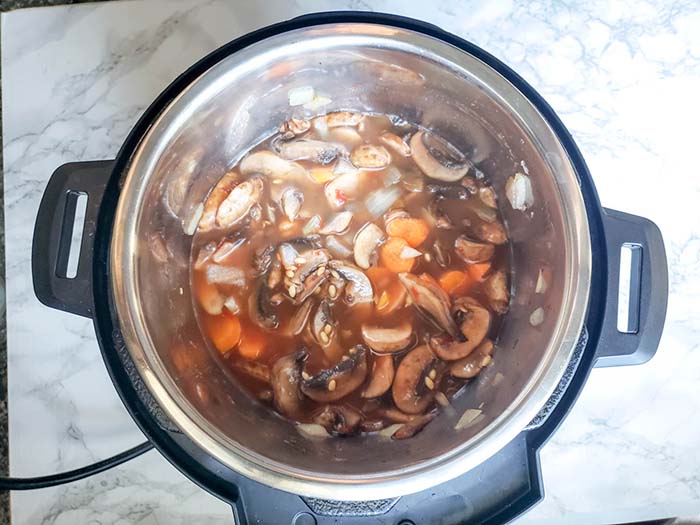 Step 4. Add the Remaining Ingredients
Add the rest of the soup ingredients to the instant pot and give the soup mixture a quick stir.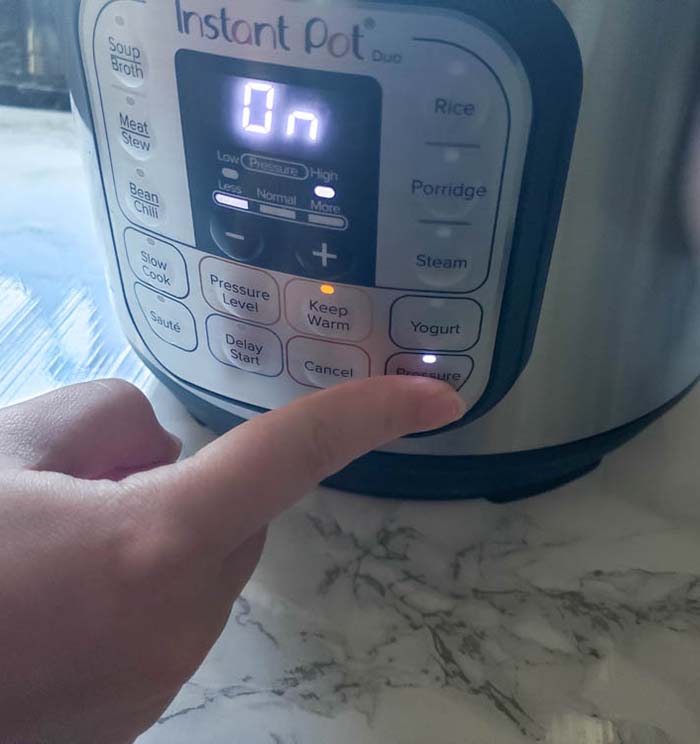 Step 5. Cook It
Secure the cover on the Instant Pot and set it to high pressure for 20 minutes. Once the cycle stops, let the soup sit for an additional 5 to 10 minutes longer for a natural pressure release. Carefully remove the cover and serve your delicious soup.
Ingredient Notes & Substitutions
Mushrooms. Any variety or combination of varieties of mushrooms will work in this recipe. Baby Bella and white mushrooms make a good combination and are the easiest mushrooms to find in the supermarket.
Vegetable Broth. Since this is a vegetarian soup, I use homemade vegetable broth, and it can easily be substituted with low sodium mushroom broth, beef broth or chicken broth.
Wine. Adds a nice flavor, to the soup but it is not a key ingredient. If you prefer an alcohol-free soup, you can leave it out.
Barley. Barley is a whole grain that is sold in two forms, hulled and pearled. Pearl barley is the most common barley that can be found in the grocery store. It is more processed, and during processing, the outer husk and bran layer is removed.
Pearl barley is not as nutritious as hulled barley which contains more fiber. Hulled barley is more chewy barley, and takes longer to cook. I chose pearl barley because it cooks quicker and it seems to make a thicker soup.
You can use an equal amount of hulled barley in this recipe and extend the cooking time 5 minutes longer.
Barley can be substituted with any whole grain such as brown rice, farro or wheat berries.
Olive Oil can be substituted with butter or your favorite cooking oil.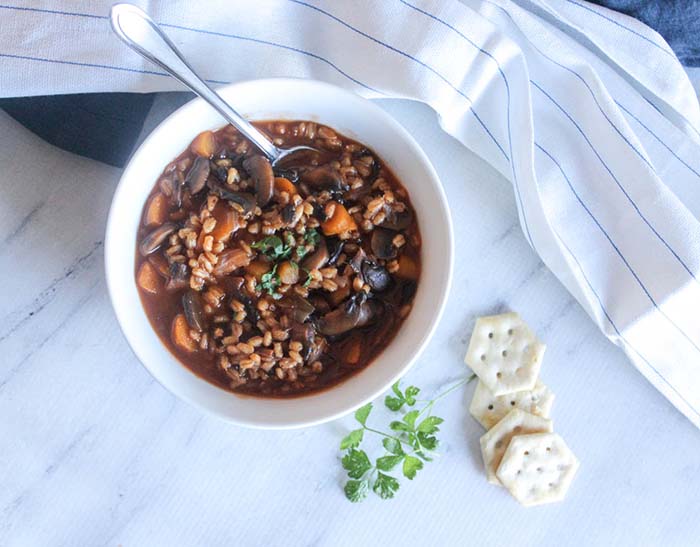 How to Store and Reheat Leftovers
Soup always tastes better the next day, and this barley mushroom soup recipe is no exception. While your instant pot is out, why not make a second batch and store it in the refrigerator for a few days freeze it?
Refrigerate Leftover Soup
Store leftover mushroom barley soup in an airtight container for up to three days in the refrigerator.
Reheat the soup on top of the stove over low heat until it is heated through. If the soup is too thick, add a little bit of broth or water until it reaches your preferred thickness.
Freeze Leftover Soup
Freeze leftover mushroom barley soup in the freezer for up to three months. These silicone freezing trays make it easy to freeze soups and stews.
Defrost the soup in the refrigerator overnight, or you can add the frozen soup directly to a saucepan and cook it over low heat until the soup is heated through. If the soup is too thick, add a little bit of water or broth until it reaches a consistency that you like.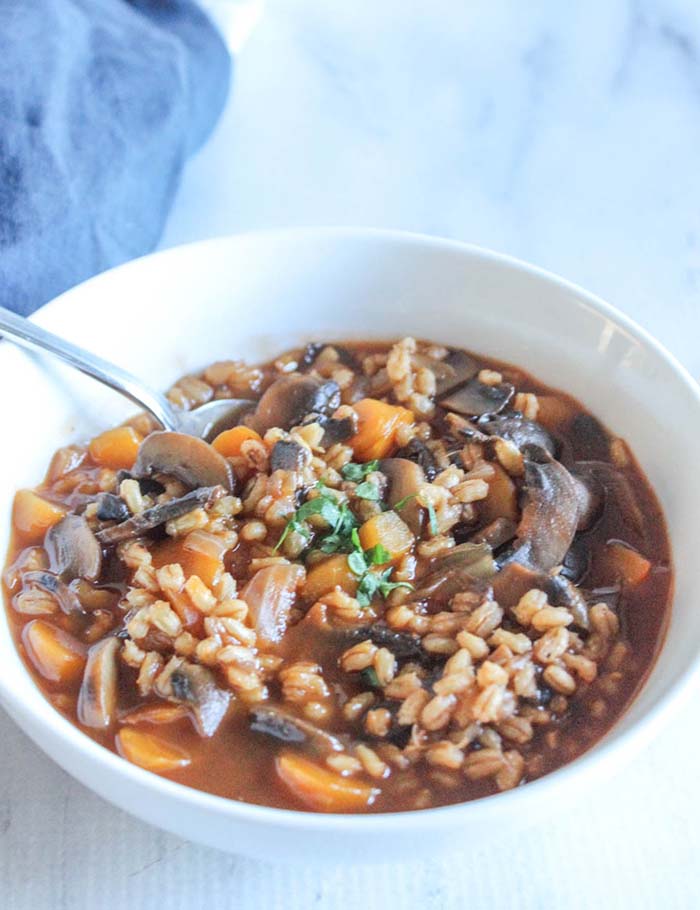 Serving Suggestions
Barley mushroom soup is a hearty comforting soup and a meal all by itself. We like it garnished with some thyme sprigs and a piece of crusty bread, or whole wheat Yorkshire pudding and a salad on the side.
Recipe Tips
Make sure that the pressure cooker is hot before sauteeing the vegetables.
Even though the cooking time is 20 minutes, allow enough time for the entire process. It will take the instant pot an additional 10 minutes to reach pressure before the soup starts cooking.
Don't over fill the instant pot past the fill line! If you do it will not be able to reach pressure to cook your soup.
If the soup is too watery, stir it and let it sit for about a half an hour on warm to allow the starch from the barley to release into the soup.
For a thinner soup, cook the barley separately and add it to the soup just before serving it.
Make soup preparation easier and faster; use pre-cut vegetables from the grocery store.
Mushroom Barley Soup Questions Answered
Can I add meat to this soup?
Yes! You can add meat to this soup. ½ pound of cooked ground beef, cooked stew meat, or cooked shredded chicken add a nice flavor to the soup.
Can I use dried mushrooms to make mushroom barley soup?
Yes! You can use dried mushrooms in this soup, but they need to be soaked before adding them to the soup.
Can I make this Instant Pot Soup on top of the stove?
Yes, you can make it on top of the stove. Saute the veggies in a large pot or Dutch oven over medium to high heat. Add the remaining ingredients to the soup pot, reduce the heat to low heat, cover the pot and cook for 45 to 50 minutes.
You Might Like These Delicious Soup Recipes
Sign up for our Mailing List to Receive Menu Ideas and More!
If you make this recipe, don't forget to come back and let me know how you liked it or you can tag me on Instagram @simpleandsavory, or Facebook simplensavory