Even though this is not your traditional Yorkshire Puddings recipe, these easy Yorkshire puddings with whole wheat flour are wonderful golden and crispy. They are a healthier version and taste great with a bowl of soup or a Sunday roast.
This recipe was originally posted in 2017, it has been updated with content and photos.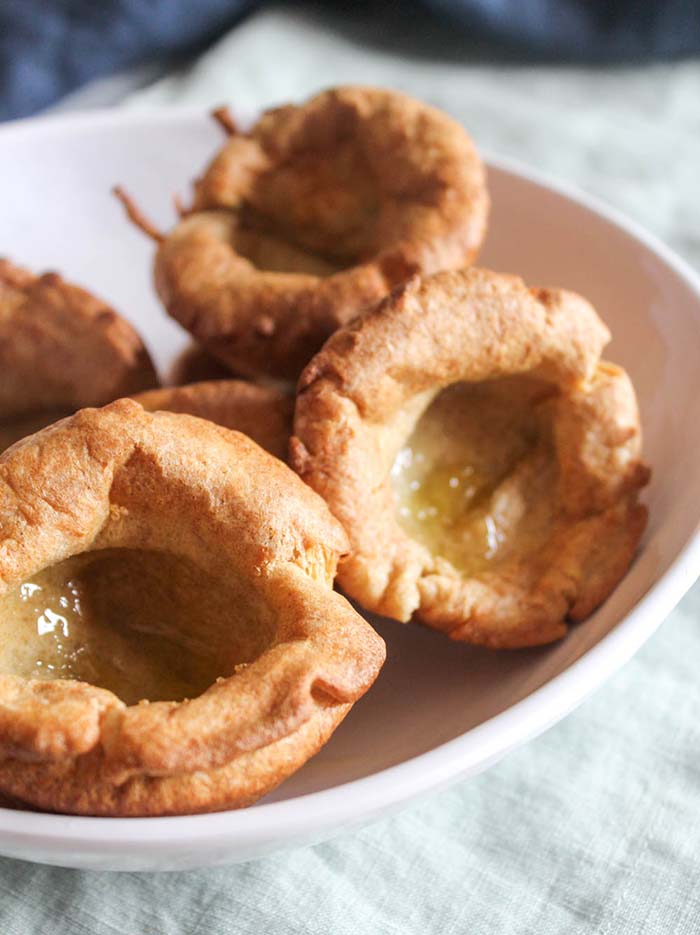 What Is Yorkshire Pudding?
Yorkshire Puddings are a savory cross between a pop-over and a souffle. They are made with a batter of eggs and flour and are crispy on the outside and soft in the middle. Homemade Yorkshire puddings are a great side dish and they taste delicious with a big bowl of soup, stew, roasted meat, or all by themselves. We love them with Beef Stew with Vegetables.
Why this Recipe Works
It's a healthier version of traditional yorkshire pudding made with a combination of plain flour and whole wheat flour.
It's an easy recipe to make with only four ingredients.
Here Is What You Will Need
As an Amazon Associate, I earn from qualifying purchases
This is an overview of the ingredients and steps to make this recipe; scroll down for a printable recipe card with exact measurements and instructions.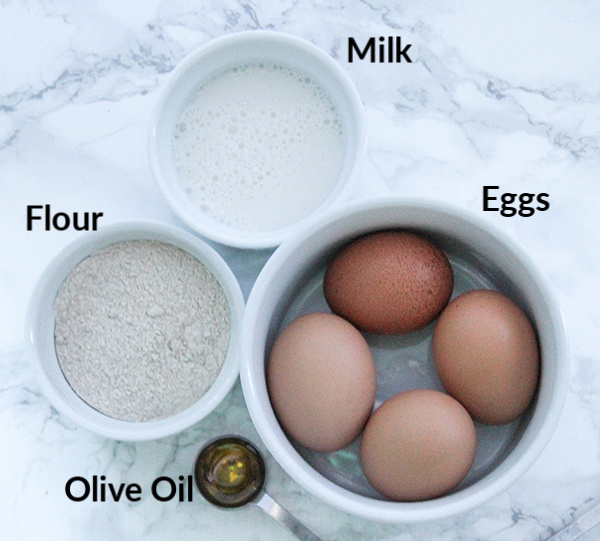 Ingredients
Eggs
All-purpose white flour & whole-wheat flour
Avocado oil or olive oil
Milk
Sea Salt
Here is How to Easy Yorkshire Pudding with Whole Wheat Flour
Prepare the ingredients: whisk the eggs together in a medium bowl, measure the flour, salt and milk.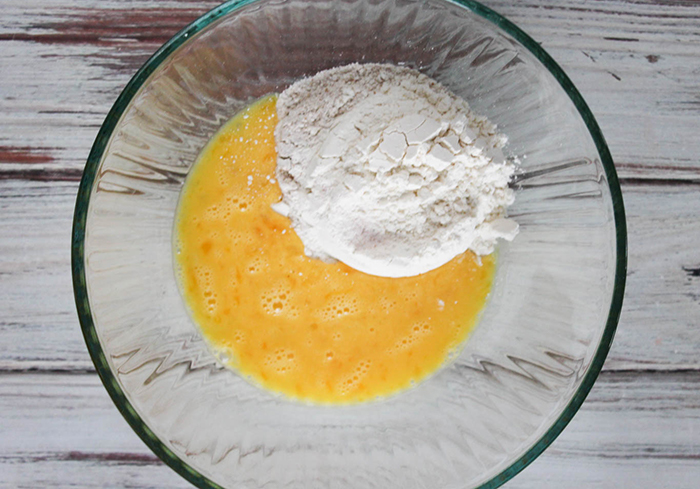 Add flour and salt to the bowl with the eggs and use the whisk to combine the ingredients - the batter will be lumpy.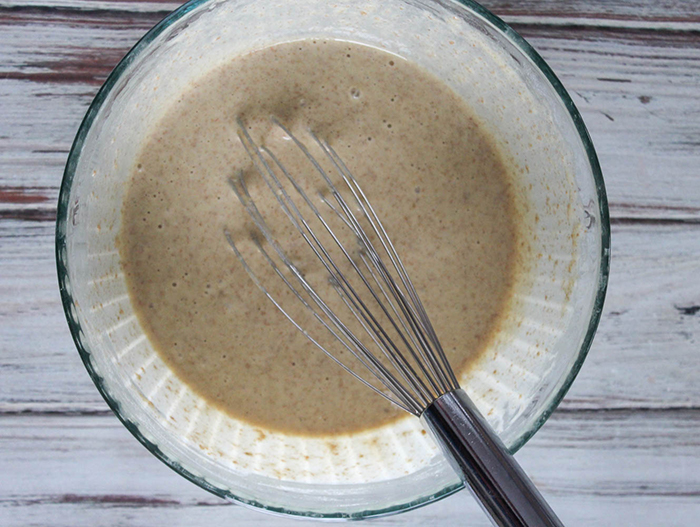 Add the milk and mix with a whisk or electric mixer until you have a smooth batter. Pour the batter into a measuring cup or pitcher with a spout, place it in the refrigerator to let the batter rest for at least three hours up to overnight.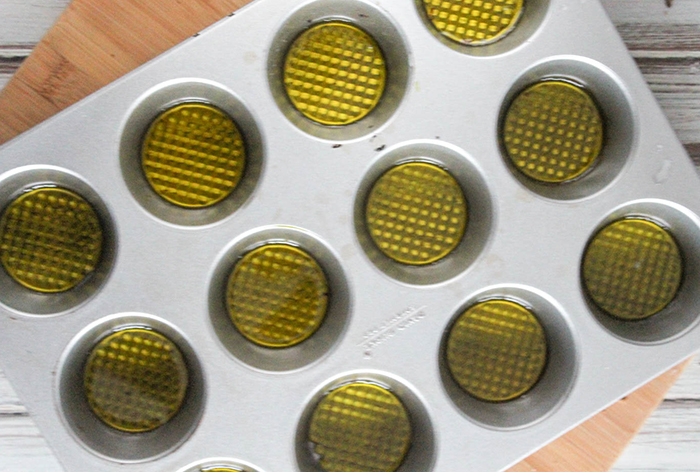 After the batter has rested, remove it from the fridge and let it sit at room temperature while you preheat the oven to 425 degrees f. Once the oven is hot, pour oil into each muffin cup and place it into the oven, cook for 10 to 15 minutes.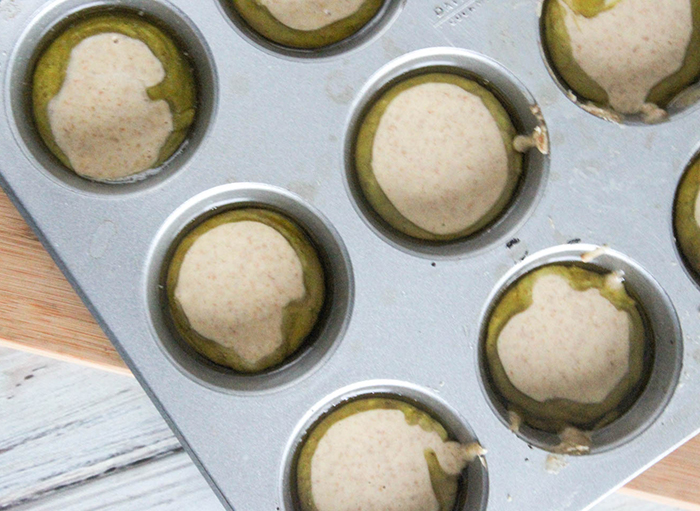 Carefully remove the hot tins with the oil from the oven and carefully pour batter into each cup until they are a little less than half full. Place the muffin pan back into the hot oven and bake for 20 to 25 minutes.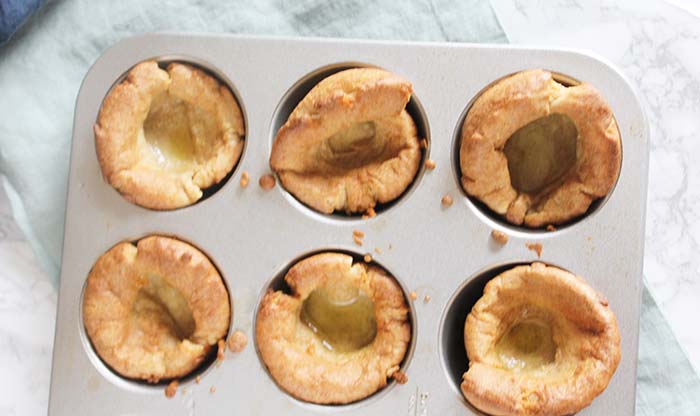 Remove the golden brown Yorkshire puddings from the oven and let them cool off for a few minutes before removing them from the baking tray.
Total Estimated Time to Make This Recipe: 45 minutes (does not include time to rest the batter).
Ingredient Notes and Substitutions
Olive Oil. Can be substituted with avocado oil, or hot beef drippings.
Milk. For a dairy-free version, the milk can easily be substituted one for one with almond or oat milk.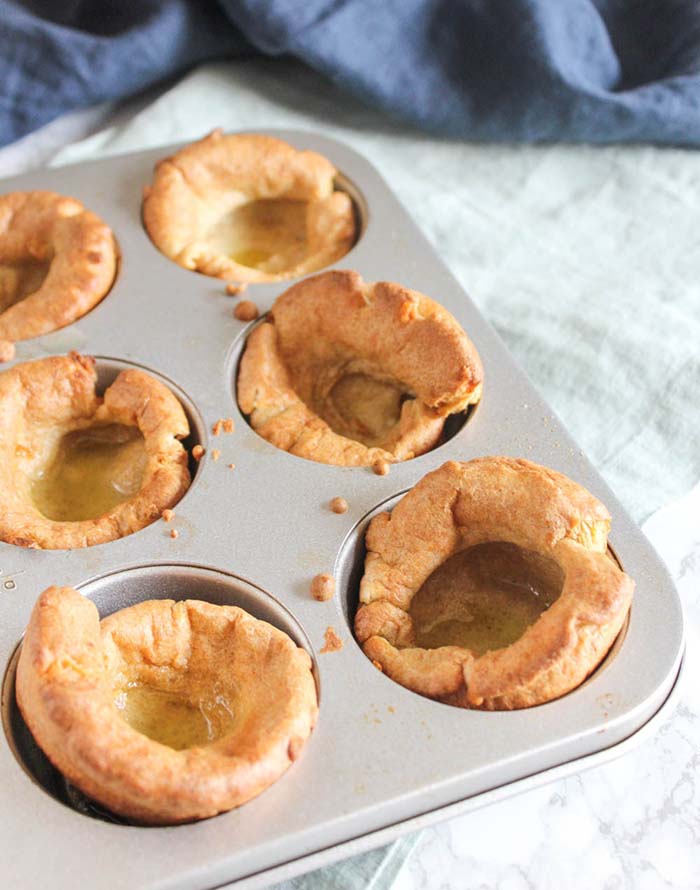 How to Make Yorkshire Puddings Rise
I've received a lot of feedback about using whole wheat flour in this recipe. If you are looking for authentic Yorkshire puddings, this may not the recipe for you, but you can check out this Yorkshire Pudding Recipe.
After the first time that I tried Yorkshire puddings and discovered their delicious taste and texture, I wanted to try to make them with whole wheat flour, because that's what I do.
On my first attempt, I used all whole wheat flour. They tasted okay but were on the heavy side. In the second attempt, I used equal portions of whole wheat flour and white flour. It was almost a success, they were lighter, but they didn't raise as traditional Yorkshire puddings should.
A few of my readers offered suggestions to help to get a good rise in the whole wheat Yorkshire puddings and their suggestions worked! Now this recipe should yield puddings that rise as they should.
The trick for a better rise in whole wheat Yorkshire puddings is high heat for the oil, and the batter resting for a few hours or overnight before baking it. The longer the batter rests and the hotter the oil, the better chance you will have for puffy Yorkshire puddings. I've tried letting the batter rest for three hours, six hours and overnight. The best results were when I left the batter in the refrigerator overnight.
Serving Suggestions
Whole wheat Yorkshire puddings make a perfect side dish for beef stew, beef roast, roast pork, prime rib, vegetable soup or as a side for breakfast.
Recipe Variations
Herb Yorkshire Puddings. Try adding a few tablespoons of your favorite chopped herbs to the batter.
Cheesy Yorkshire Puddings. Add ½ cup of freshly shredded cheese to the batter.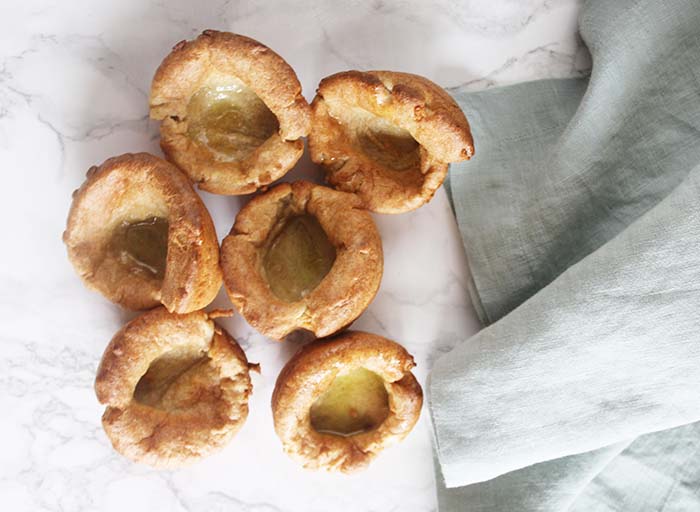 How to Store Leftovers
The best way to store leftover Yorkshire pudding is to wrap or cover them with parchment paper and store them at room temperature for 1 to 2 days.
You can place them in the refrigerator for 3 to 4 days, they might be soggy, but they will crisp up when they are reheated in the oven.
Freeze Yorkshire puddings for up to one month. To use them, heat them up in the oven.
Whole Wheat Yorkshire Pudding Questions Answered
Here are some of the most commonly asked questions about this recipe. If your question isn't answered below, leave a comment and I will respond as soon as I can.
What is the best flour to use in Yorkshire Pudding ?
I use a blend of organic unbleached white flour mixed with organic whole wheat flour. You can also use all unbleached white flour to make the puddings or all whole wheat flour. If you use all whole wheat flour, they will be denser than traditional puddings.
Can you use self-raising flour to make Yorkshire Pudding?
Self-rising flour is not recommended for making Yorkshire pudding. It has baking soda in it and the puddings will not turn out properly.
Can you use butter instead of oil to make Yorkshire puddings?
Butter is not recommended in this recipe because it burns at high temperatures.
You Might Also Like These
JOIN OUR MAILING LIST TO RECEIVE WEEKLY MENU IDEAS AND MORE!