Vegetable breakfast pie is perfect for your next breakfast, brunch, or potluck. It's a wholesome, hearty breakfast casserole that is vegetarian full of flavor. It's filled with eggs and fresh vegetables and cheese for a hearty savory breakfast casserole recipe.
This healthy breakfast pie is super versatile. Make it your own by changing up the vegetables or add some meat. The possibilities are endless!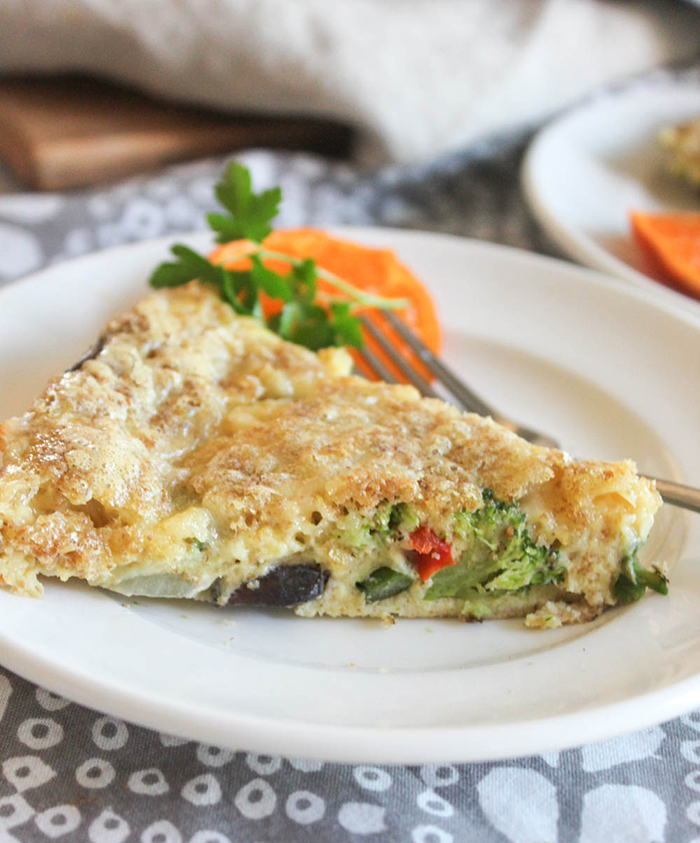 Breakfast casseroles are so simple to make and perfect for breakfast or dinner. This vegetable breakfast pie recipe is similar to an impossible pie. The flour is mixed with the eggs to make a delicious batter,
Recipe Highlights
It's healthy, full of vegetables and easy to make with only 9 ingredients.
Vegetable breakfast pie is perfect for meal prep, you can make it ahead of time.
It's a one-pan recipe, make it all in your cast iron skillet.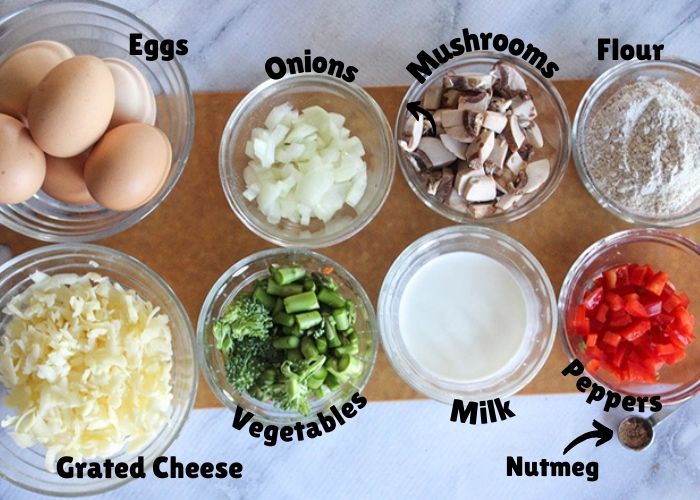 Here is What You Will Need
As an Amazon Associate, I earn from qualifying purchases
This is an overview of the ingredients and steps to make this recipe, scroll down to see ingredient notes and substitutions as well as a printable recipe card with exact measurements and complete cooking instructions.
Ingredients
Olive Oil
Eggs
Whole Wheat Flour
Milk
Mushrooms
Diced vegetables such as peppers, broccoli, zucchini, asparagus
Onion
Grated Cheese
Nutmeg
---
Here Is How to Make A Vegetable Breakfast Pie
Prepare: Preheat the oven to 400 degrees, dice the vegetables into bite-sized pieces and shred the cheese. Heat the olive oil over medium heat in a skillet.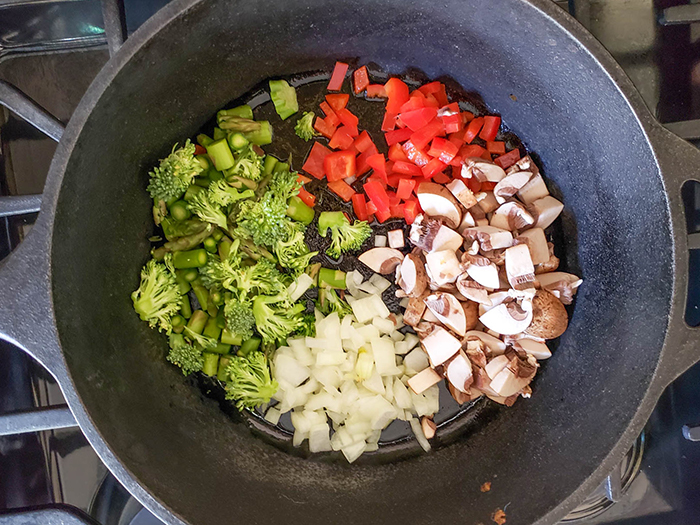 Step 1. Once the oil is hot, add the vegetables and cook them quickly for about 3 minutes - until they begin to soften.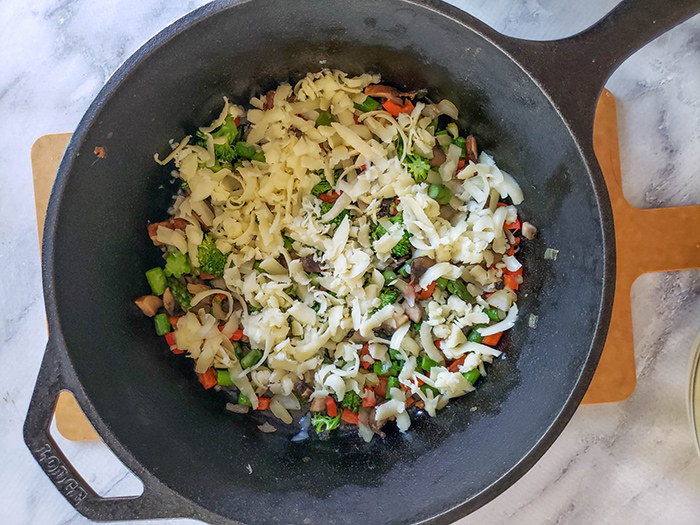 Step 2. Top the cooked vegetables with shredded cheese.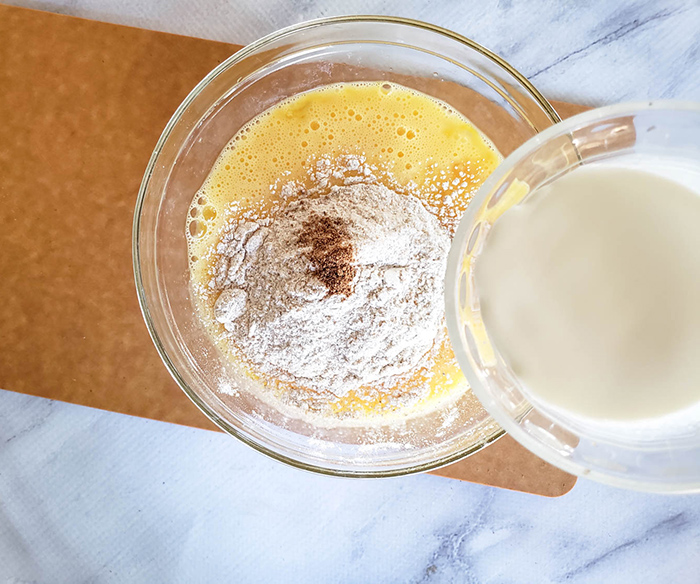 Step 3. Whisk the eggs together in a bowl and add the flour, nutmeg and milk.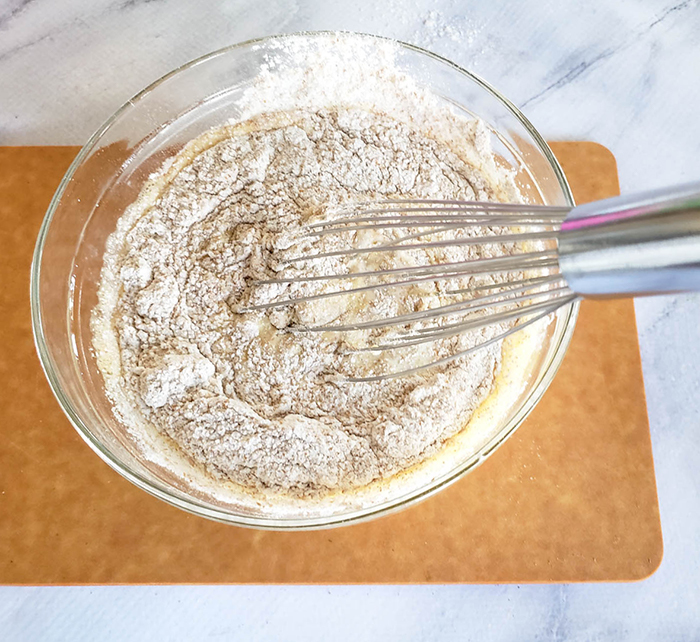 Step 4. Use a whisk or a wooden spoon to mix all of the ingredients together.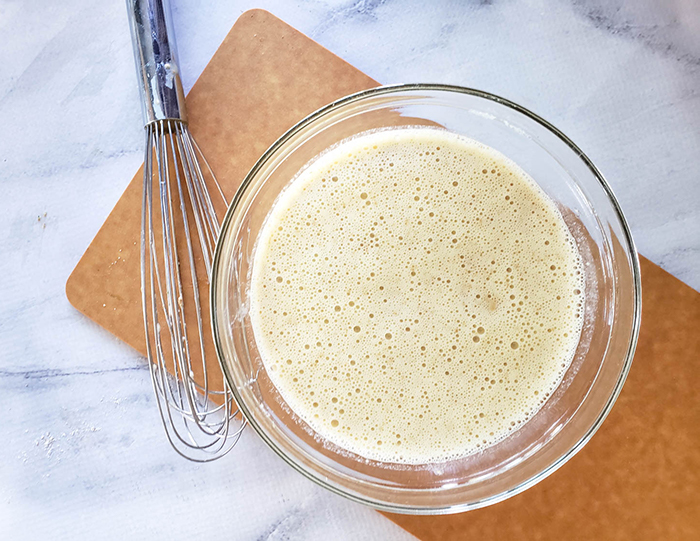 Step 4. Mix up the ingredients into a smooth and thin batter.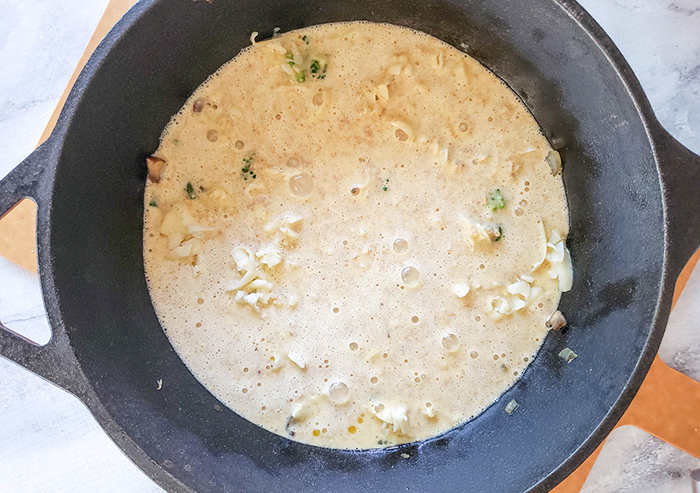 Step 5. Pour the batter over the vegetables and cheese in the skillet.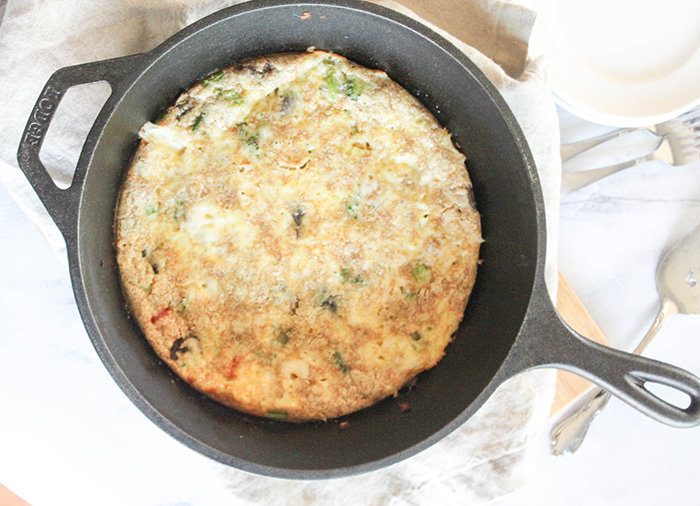 Step 6. Place the skillet into the oven and bake it for 25 minutes. Allow the pie to cool for 5 minutes before slicing and serve.
Total Estimated Time to Make this Recipe: 40 to 50 Minutes
Make-Ahead Instructions
This is an easy recipe to start to prepare ahead of time. You can chop the vegetables and shred the cheese. Store the vegetables and cheese in separate containers in the refrigerator for up to three days.
To assemble the breakfast pie just before serving, cook the vegetables in a skillet and top them with the shredded cheese. Mix up the eggs and flour as instructed in the recipe and bake.
Ingredient Notes & Substitutions
Whole Wheat Flour. The whole wheat flour in this recipe adds a little bit of texture to the breakfast pie and can be substituted or left out.
Substitutes for Whole Wheat Flour. Use a one to one replacement of white flour or almond flour (for gluten-free).
Milk. I like to use whole milk in the casserole or half and half.
Substitutes for Milk. A one-to-one replacement of dairy-free milk such as almond, coconut, or oat milk can be used in this recipe.
Vegetables. This is a very versatile recipe. You can use any kind of vegetables that have on hand, and it's great for cleaning out the fridge!
Here are some vegetable suggestions: broccoli, zucchini, mushrooms, spinach, kale, tomatoes, asparagus. You can use only one type of vegetable or a combination.
Cheese. Any type of cheese works in this recipe. We like cheddar, swiss, feta or goat cheese. You can also leave the cheese out.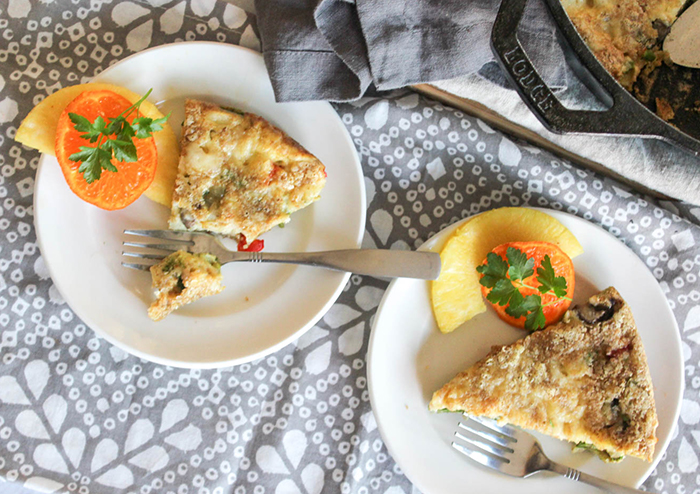 Serving Suggestions
Serve your veggie breakfast casserole with a side of Rosemary Garlic Smashed Potatoes, fresh fruit, a chopped salad or cucumber salad.
Storing and Using Leftovers
As with many casseroles, this one tastes better after a day or two, so be sure to make extra. Leftovers can be stored in the refrigerator or freezer.
Refrigerate leftovers in an airtight container for up to four days.
Freeze cooked leftover veggie egg casserole in a freezer-safe container for up to three months. Defrost the leftovers in the refrigerator overnight.
Reheat your veggie breakfast casserole in the oven at 350 or in the microwave.
TIP! Cut the leftover casserole into single servings before freezing and remove the single servings from the freezer as you need them.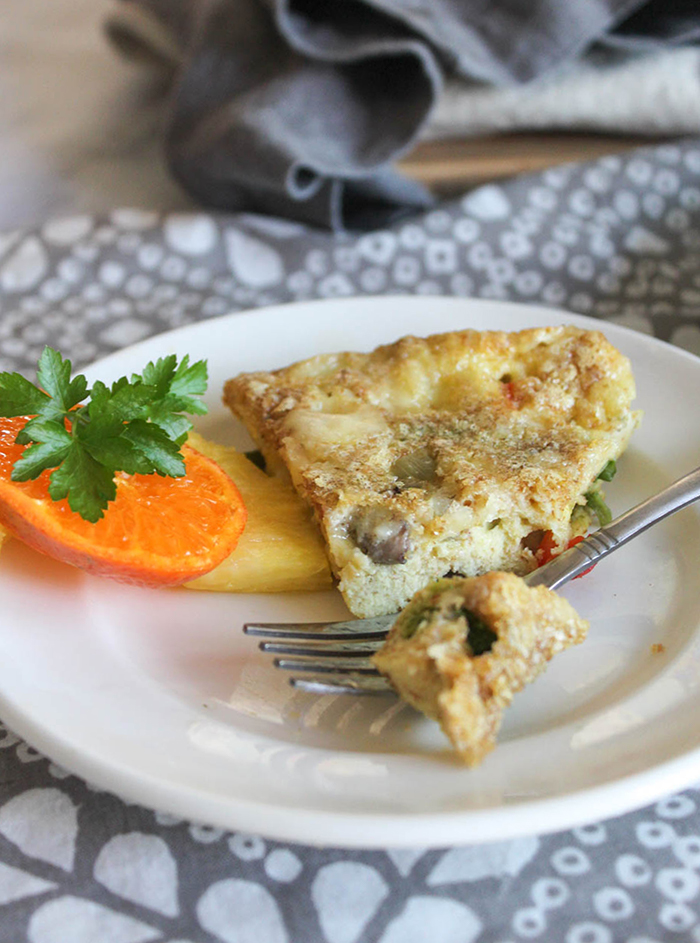 Your Questions Answered
Here are the most commonly asked questions about this healthy breakfast casserole If your question isn't answered below, leave me a comment below and I will get back to you as soon as I can.
Can I add meat to this Veggie Breakfast Casserole?
Yes, you can add about 4 ounces of cooked meat such as: breakfast sausage, chopped ham or bacon.
I don't have a cast iron skillet, what size pan should I use to bake this recipe?
If you don't have a 9 inch cast iron skillet, you can use a 9-inch pie plate to bake this recipe. You will still need a skillet to saute the vegetables.
You Might Like these Recipes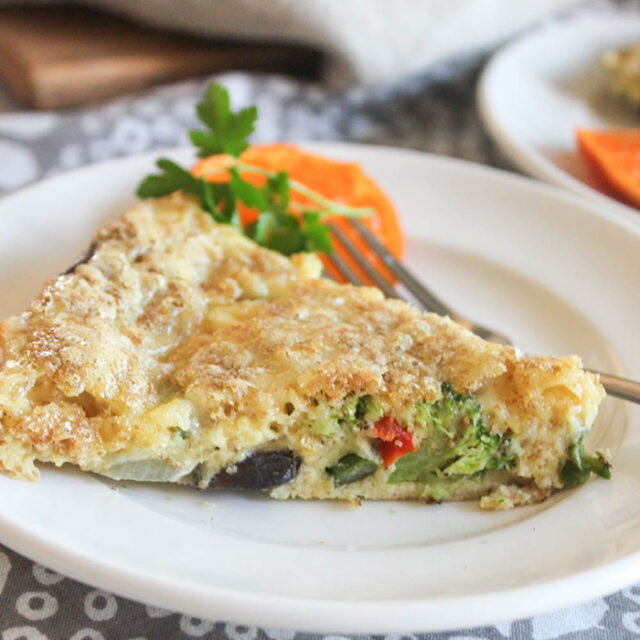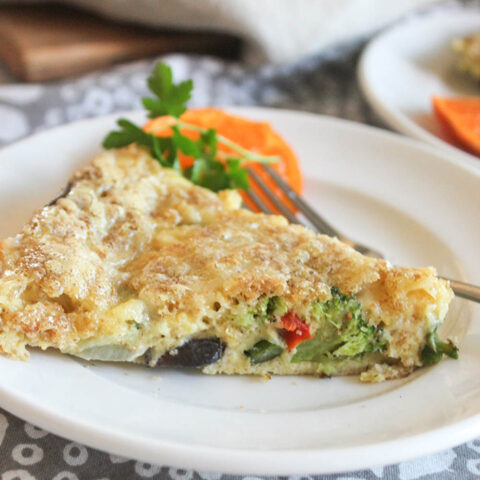 Breakfast Pie with Vegetables
Ingredients
6 eggs
½ cup whole wheat flour
½ cup milk
3 ounces chopped mushrooms (about 4 medium caps)
½ cup diced vegetables such as : broccoli, zucchini, spinach, asparagus, tomatoes, kale)
⅛ cup diced red bell pepper
¼ cup diced onion (approximately ½ small onion)
½ cup grated cheese such as cheddar, jack, parmesan, Swiss
⅛ teaspoon ground nutmeg
Instructions
Preheat the oven to 400 degrees.
Chop the vegetables.
Heat the olive oil in a skillet and cook the vegetables for 3 to 5 minutes.
Turn the heat off and spread the shredded cheese over the top.
Whisk the eggs, flour and nutmeg together in a mixing bowl.
Pour the mixture over the vegetables and cheese in the pan and bake for 20 to 25 minutes.
Remove the pie from the oven and allow it to cool off for at least five minutes before slicing.