Air fryer baby potatoes are sure to become your next family favorite! They are air-fried with a small amount of oil. They are crispy on the outside and soft on the inside just like a potato should be. These little potatoes are the perfect easy side dish for breakfast, lunch, or dinner.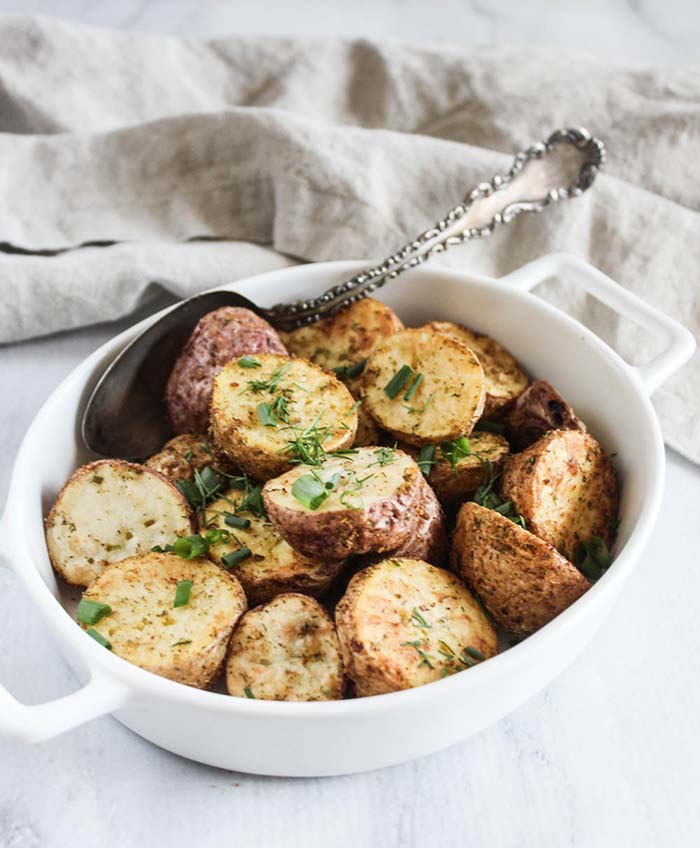 Small potatoes have tender, thin skin and a delicate, slightly sweet flavor. They are perfect for roasting or air frying. We also like crispy roasted smashed potatoes with garlic and Rosemary.
Why This Recipe Works
Cooking potatoes in an air fryer is one of the best ways to cook them, they always turn out perfect.
Very litttle prep time required! No need to peel the little potatoes, just wash them and cut them in half.
It's a quick and easy recipe made with a few simple ingredients.
It's a versatile side dish - see suggestions below.
Here Is What You Will Need
As an Amazon Associate, I earn from qualifying purchases.
This is an overview of the ingredients and steps to make this recipe, scroll down to see the ingredient notes and substitutions as well as a printable recipe card with exact measurements and instructions.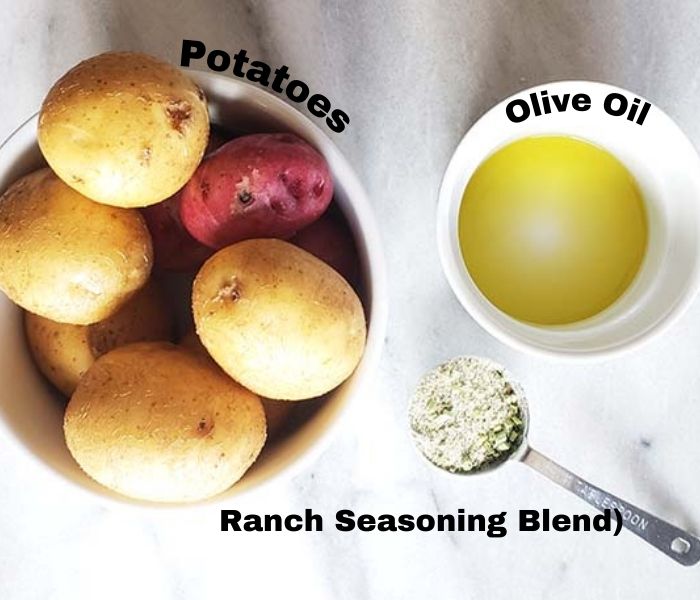 Here is How To Make Air Fryer Baby Potatoes
Prepare the ingredients: Rinse, dry the potatoes and cut them in half. Measure the oil and seasoning blend. Preheat the air fryer.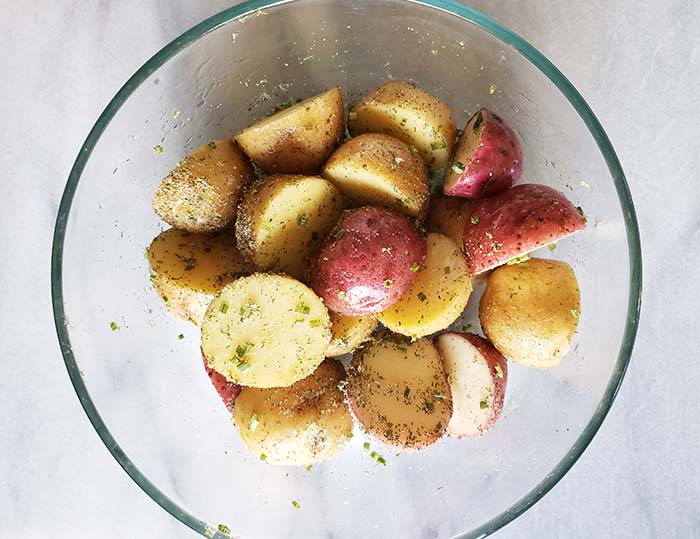 Place the prepared baby potatoes into a large mixing bowl, add the oil and seasoning and mix everything together.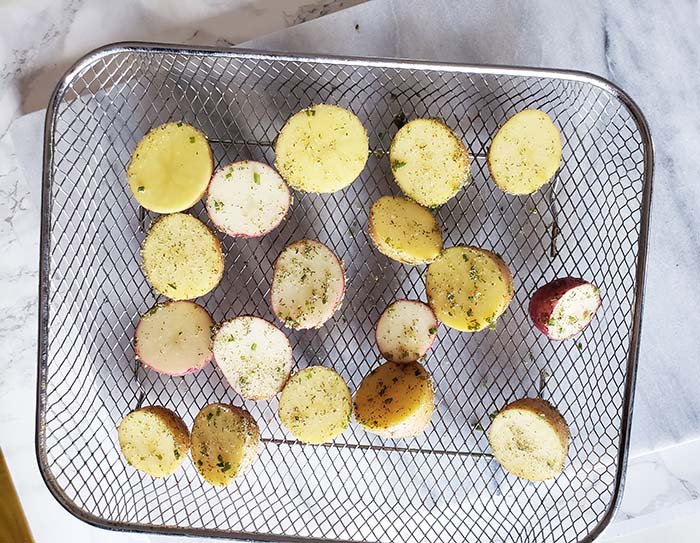 Arrange the potato halves in a single layer in the air fryer basket or tray.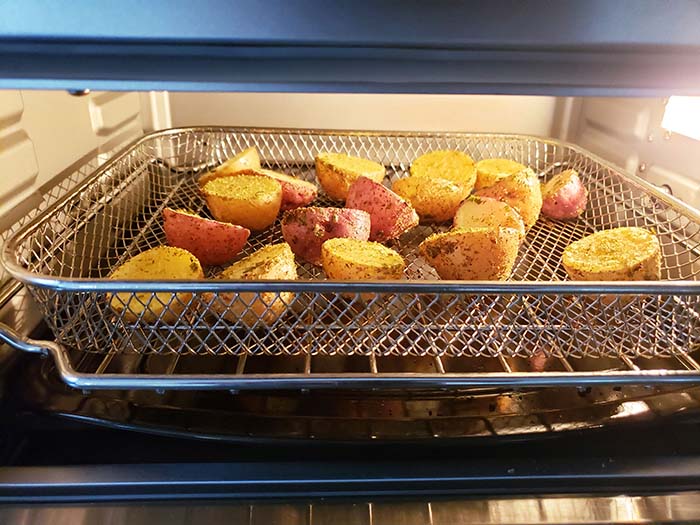 Once the air fryer reaches 400 degrees F place the potatoes in the air fryer set the timer and cook for 20 minutes.
The amount of cooking time can vary depending on the oven and the size of the potatoes.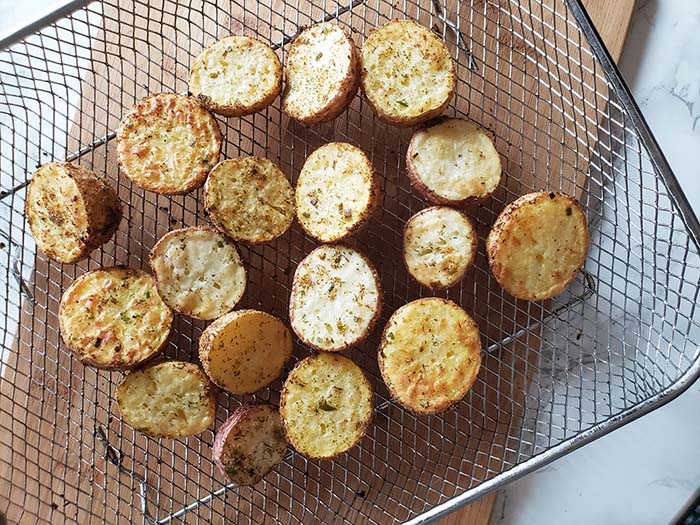 Check the potatoes after 12 minutes, flip them and continue to cook until they become golden brown which should take about 8 to 10 minutes longer.
Total estimated time to make this recipe - 30 to 40 minutes
Ingredient Notes and Substitutions
Baby potatoes. Any type of baby or new potatoes as they are also called be used in this recipe. I like to use a mix of red and yellow or baby gold potatoes.
If baby potatoes are not available, you can use fingerling potatoes, red, russet, or Yukon gold (yellow potatoes) cut into chunks that are 1 to 1 ½ inches in size.
Olive oil. I like to use extra virgin olive oil to make these potatoes, you can also use avocado oil.
Homemade ranch seasoning. If you don't have the ingredients for the ranch seasoning, it can be substituted with a mix of 1 teaspoon garlic powder and ½ teaspoon onion powder with a dash of sea salt.
How to Make Crispy Air Fryer Baby Potatoes in the Oven
Preheat the oven to 425 degrees f.
Arrange the oil coated and seasoned baby potatoes on a parchment lined baking sheet.
Bake the potatoes in the oven for 15 minutes, remove them from the oven and flip them over.
Place them back into the oven and cook for 10 to 15 minutes longer until they become golden on the outside.
Tip! If you have a baking rack, you can place it on top of a baking pan with the potatoes on top so that the air can circulate around the potatoes.
Storing and Using Leftovers
Store leftover baby potatoes in an airtight container in the refrigerator for three to four days.
Reheat leftover air fryer baby potatoes in the oven or on top of the stove with a little bit oil.
Leftover Suggestions. Brown leftover potatoes on top of the stove with olive oil, slices of onion and peppers, or in a skillet with leftover meat or sausage and onions to make a hash.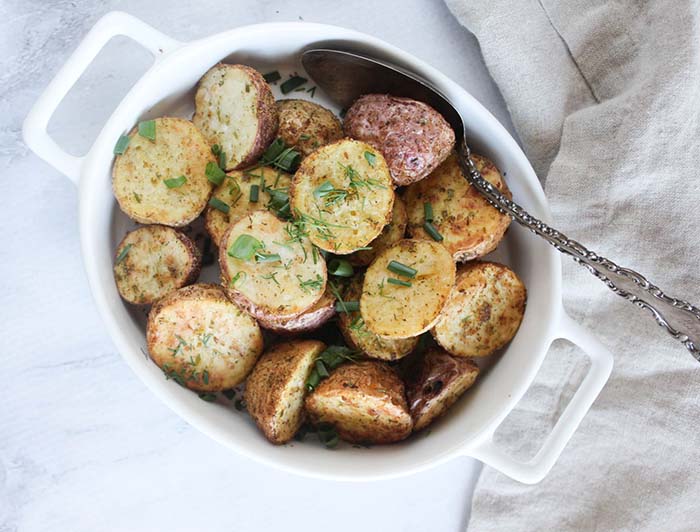 Serving Suggestions
These crispy potatoes make a perfect side dish for just about anything! You can serve them for brunch or breakfast with a quiche or breakfast pie.
For a delicious side dish for dinner, we like them with grilled meat, pork chops, burgers or shrimp cakes.
Recipe Variations
Change up the spice blend and use jerk seasoning blend, Italian seasoning, cajun seasoning or taco seasoning.
Cheesy air fryer baby potatoes. Spinkle the cooked potatoes just as they come out of the oven with ¼ cup of your favorite grated cheese such as cheddar, parmesan, swiss, or gruyere.
Loaded air fryer potatoes. Top the cooked potatoes with shredded cheddar cheese, bacon crumbles and chopped green onions. Serve with a side of sour cream or Greek yogurt.
Herb air fryer baby potatoes. Add one clove chopped fresh garlic to the oil, before air frying the potatoes and sprinkle them with chopped fresh herbs just before serving.
Butter & chive potatoes. Instead of olive oil, air fry the potatoes in 1 tablespoon of melted unsalted butter, 1 clove chopped garlic and sprinkle them after they are cooked with a handful of chopped chives and a dash of sea salt.
You Might Also like these Air Fryer Recipes
For more simple and delicious recipes like this, subscribe to our newsletter and receive a free e-book and meal suggestions straight in your inbox!