This spicy buffalo cauliflower bites recipe is made with lightly battered cauliflower that is cooked to perfection in the air fryer for a tasty vegetarian snack.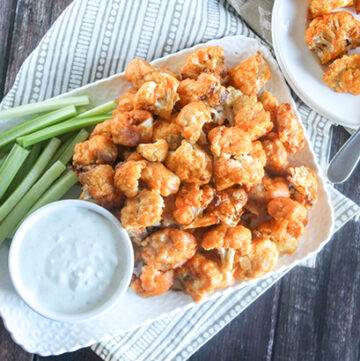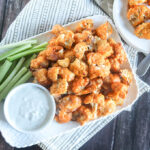 This buffalo cauliflower bites recipe is so easy to make. Cauliflower bites are air-fried in a batter and covered in a spicy sauce.
They are soft on the inside and crispy on the outside. These delicious bites can be served as a tasty appetizer or a side dish.
This recipe was originally published in 2019. It has been updated for content.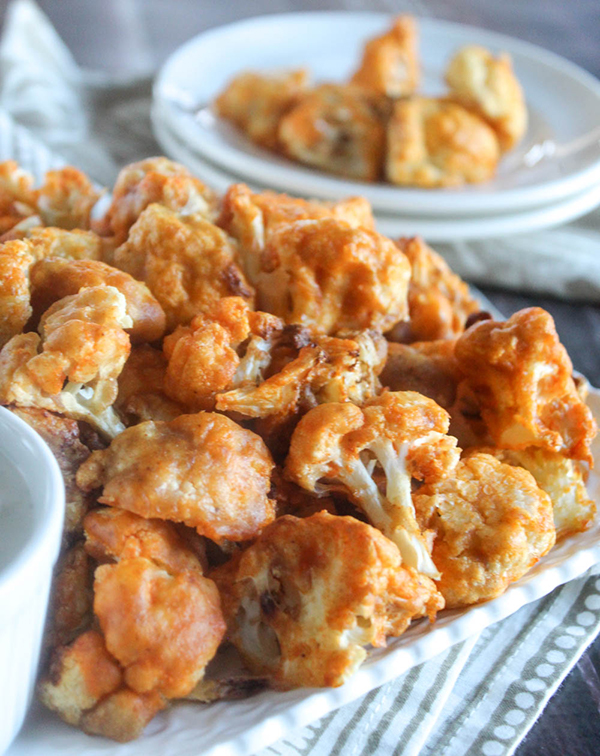 Cauliflower is one of our favorite veggies, it has so many health benefits and is so versatile! It can be eaten raw or cooked, even enjoyed as rice in a cauliflower rice bowl.
Why This Recipe Works
It's a simple recipe that can be ready in 30 minutes!
It's a healthy appetizer that tastes delicious!
Here is What You Will Need to Make Buffalo Cauliflower Bites
As an Amazon Associate, I earn from qualifying purchases
This is an overview of the ingredients and steps to make this recipe, scroll down for a printable recipe card with exact measurements and instructions.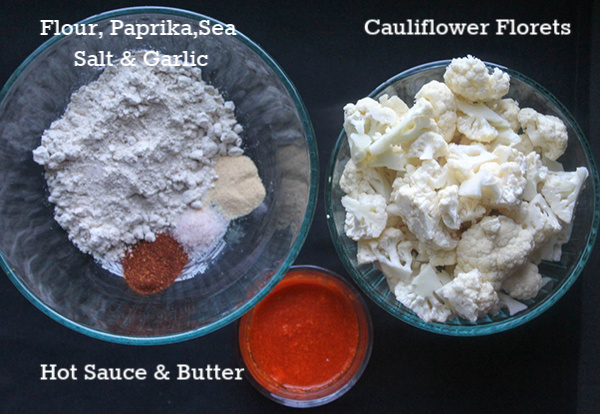 A head of cauliflower
water
unsalted butter
Here Is how to Make Buffalo Cauliflower Wings in the Air Fryer
Prepare the ingredients: Cut the cauliflower into pieces that are about 1 ½ inches to 2 inches in size. Measure the flour and seasonings and mix together the hot sauce and melted butter.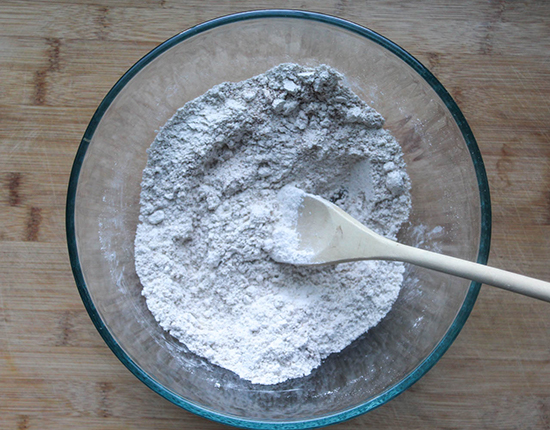 Step 1.
Prepare the batter by adding all of the ingredients to a large mixing bowl and add water, mix well.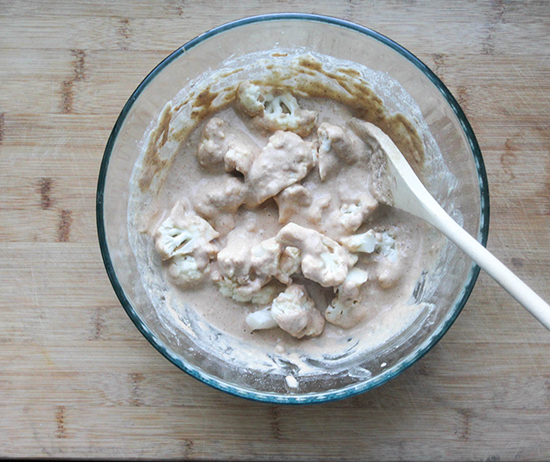 Step 2.
Add the cauliflower florets to the large bowl with the batter and stir until all of the florets are covered with the batter.
Step 3.
Use a slotted spoon to drain off excess batter from the florets, and arrange them on the rack or air fryer tray in a single layer.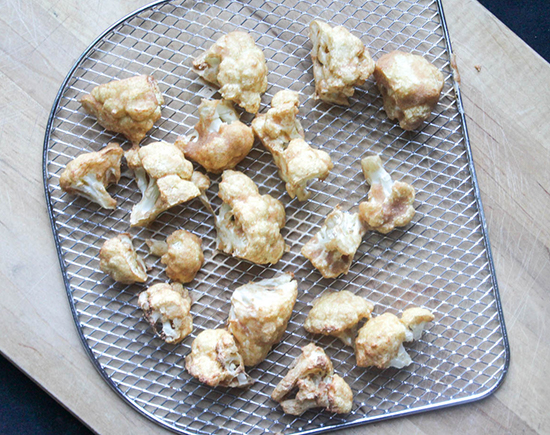 Step 4.
Set the temperature on your air fryer to 400 degrees F and cook for 15 minutes, and remove them from the air fryer.
Note: The cooking time can vary depending on your air fryer.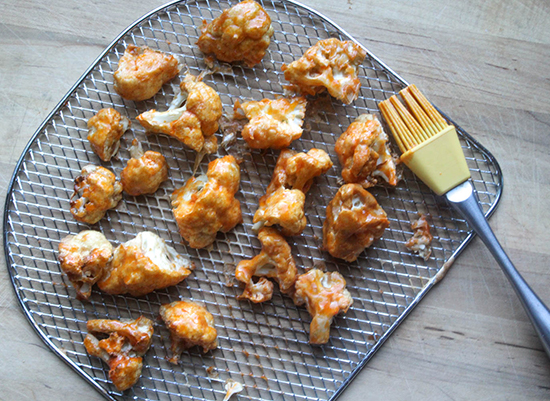 Step 5.
Use a pastry brush to brush the hot sauce mixture over the florets and place them back into the air fryer for 10 minutes longer.
Ingredient Notes & Substitutions
Cauliflower. Look for cauliflower that is firm with fresh leaves. Avoid cauliflower heads that show signs of softness or small brown spots which means they are aging.
Whole wheat flour can be substituted one for one with white all-purpose flour, brown rice flour or almond meal or almond flour for a gluten-free version.
Hot Sauce. Any type of Buffalo sauce will work in this recipe. Our preference is Frank's Redhot Sauce.
Unsalted Butter. I use unsalted butter in this recipe because there is a lot of salt in the hot sauce. You can use salted butter if you like, or you can substitute the butter with an equal amount of coconut oil or olive oil.
How to Make Cauliflower Buffalo Wings in the Oven
It's easy to make these in the oven, here's how:
Preheat your oven to 425 degrees F.
Arrange the batter coated cauliflower in a single layer on a sheet pan that has been lined with parchment paper.
Bake the cauliflower bites 15 minutes.
Remove the baked cauliflower florets from the oven and brush on the hot sauce; bake for 10 to 15 minutes longer.
Make Ahead Instructions
Even though these are pretty easy to make, you can also get a head start and make them ahead of time.
Cut the cauliflower into pieces and mix the buffalo cauliflower batter ingredients together. Store the cauliflower and batter in separate containers in the fridge for one to two days.
Mix the sauce and butter together while the cauliflower is cooking.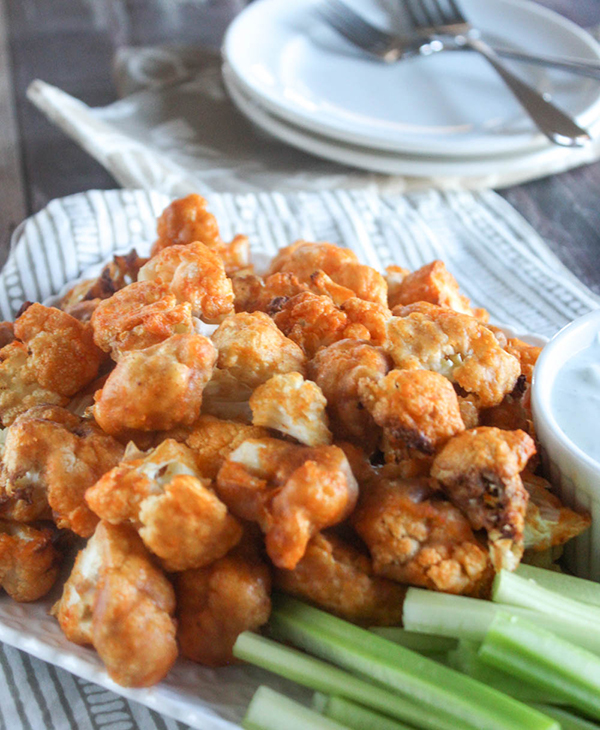 Recipe Tips
Save time and buy a bag of precut cauliflower florets.
Don't crowd the air fryer bakset, it will result in soggy cauliflower bites.
If you like a lower spice level for your cauliflower bites, use ½ the amount of hot sauce. If you like them spicier, add a little bit more!
Serve immediately for the best and crispiest results.
Be sure that the florets are evenly sized and at least 1 ½ inches in size. Smaller pieces of cauliflower don't work well in this recipe.
What to Serve with Spicy Cauliflower Bites
Serve with carrot and celery sticks with a side of blue cheese dressing or ranch dressing for a dipping sauce. They also taste great as a side dish with beef burgers, turkey burgers, or grilled chicken.
Buffalo cauliflower bites are also perfect for wrapping in a tortilla for buffalo cauliflower tacos or you can make them with buffalo chicken tenders too!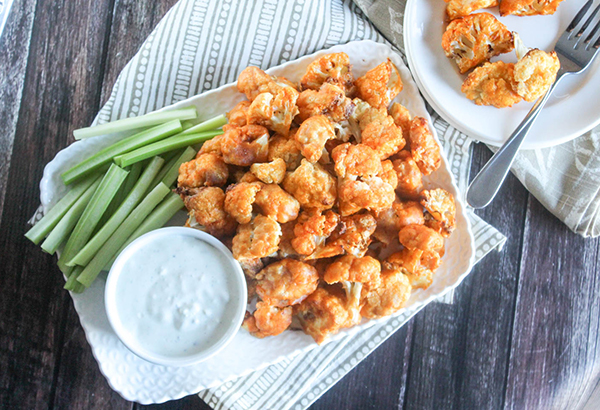 How to Store and Reheat Leftover Cauliflower Bites
How to Store
Even though they taste best when served immediately, leftover cauliflower bites can be stored in an airtight container for three to four days.
How to Reheat Leftovers
Leftovers can be heated in the air fryer or oven. Do not reheat leftover cauliflower bites in the microwave.
Buffalo Cauliflower Bites Questions Answered
Do cauliflower wings taste like buffalo chicken wings?
No. They do not taste like chicken wings. But they are a great alternative with buffalo flavor. But they are made with cauliflower so the texture and flavor is a little different. Cauliflower wings are a healthier choice than chicken wings with less fat, more fiber, vitamins and minerals.
Are buffalo cauliflower wings vegan?
No. They are not. This recipe uses butter mixed with hot sauce which can be substituted with vegan butter, olive oil or coconut oil for vegan buffalo cauliflower wings.
If You Like Buffalo Sauce, Try These Recipes
Sign up for our Mailing List to Recieve Menu Ideas and More!
📖 Recipe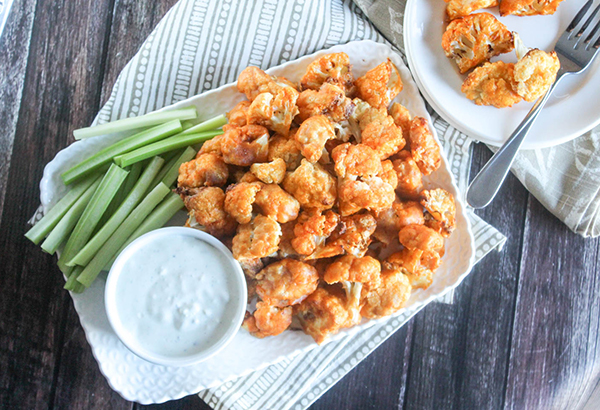 Click on serving size to scale this recipe
Ingredients
1

head of cauliflower

1

cup

whole wheat flour

1

cup

water

1

teaspoon

garlic powder

1

teaspoon

paprika

3

tablespoons

unsalted butter

½

cup

hot sauce such as Frank's
Instructions
Rinse and cut the cauliflower into bite sized pieces about 1 ½ to 2 inches in size.

In a large

mixing bowl,

mix the flour, garlic, paprika and water together until it forms a batter.

Add the cauliflower to the batter in the bowl and stir until the pieces are well coated with the batter (you may have to do this in batches for a larger head of cauliflower).

Remove the cauliflower florets from the batter with a slotted spoon, and arrange them onto the tray or basket of the air fryer.

Set the air fryer to 20 minutes at 400 degrees.

While the cauliflower is cooking, melt the butter and add the hot sauce to it, and set it aside

Use a

pastry brush

to brush the hot sauce mixture onto the cauliflower pieces making sure all sides are covered. You can adjust the amount of hot sauce to your taste.

Set the air fryer to 400 and cook for 10 minutes longer depending on how you like the texture.
Notes
Oven Method:
arrange the batter coated cauliflower in a single layer on a baking sheet. Bake the cauliflower bites at 400 for 15 minutes. Brush on the hot sauce and butter mixture and bake 10 to 15 minutes longer.
Nutrition
Serving:
1
|
Calories:
260
kcal
|
Carbohydrates:
30
g
|
Protein:
9
g
|
Fat:
14
g
|
Saturated Fat:
7
g
|
Polyunsaturated Fat:
5
g
|
Cholesterol:
30
mg
|
Sodium:
400
mg
|
Fiber:
7
g
|
Sugar:
4
g
Nutrition information provided is an estimate and can vary based on cooking methods and ingredients used