This air fryer frittata recipe is a healthy and delicious protein-filled dish that's perfect for breakfast, lunch or dinner. It's filled with fresh vegetables, eggs and cheese and cooks to perfection in just minutes.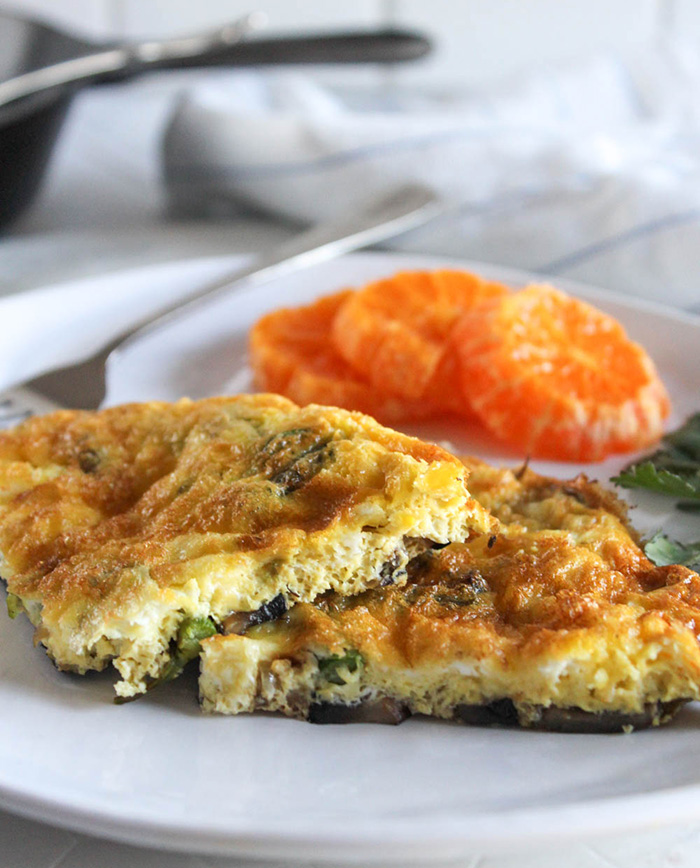 Breakfast is the most important meal of the day, so why not get off to a good start with a healthy breakfast like this delicious frittata or vegetable breakfast casserole that's filled with fresh flavor?
Why You Will Love this Frittata Recipe
It's a simple, delicious recipe that is healthy and easy to make, all in one skillet.
Make it ahead of time and reheat on busy mornings.
Here is what you will need
As an Amazon Associate, I earn from qualifying purchases
This is an overview of the ingredients and steps to make this recipe; scroll down for a printable recipe card with exact measurements and instructions.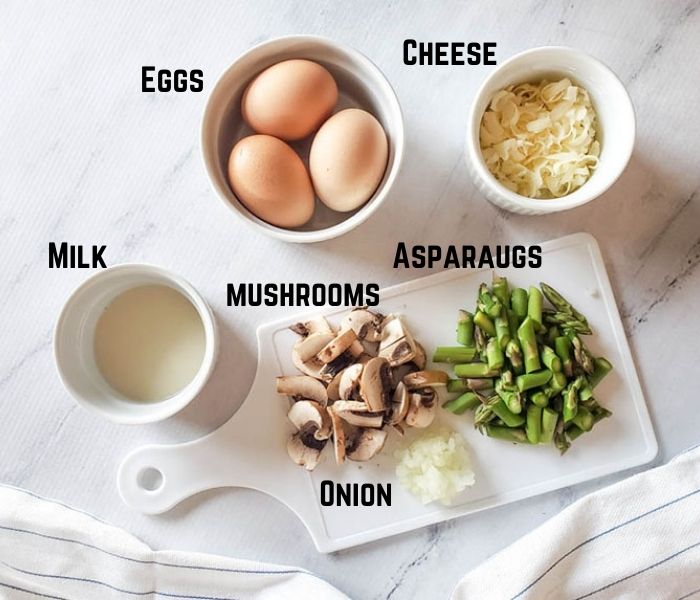 Ingredient List
eggs
olive oil
regular milk
fresh asparagus
mushrooms
onions
shredded cheese
Equipment
Here is How to Make this Air Fryer Breakfast Frittata Recipe
Prepare the ingredients: Chop the vegetables, shred the cheese and measure the milk. Heat a small ovenproof skillet over medium-high heat.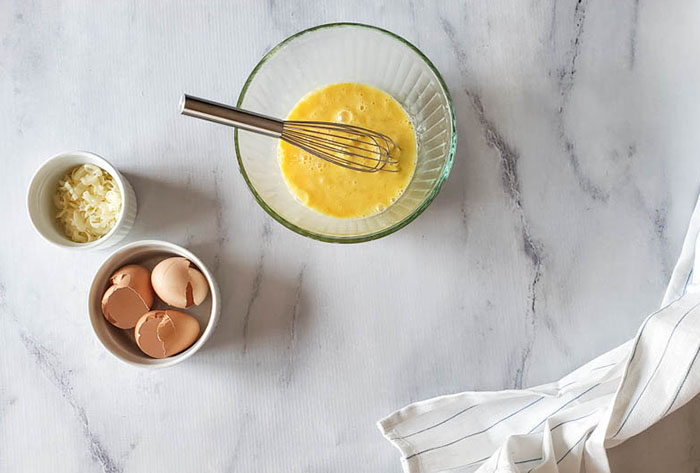 Step 1. Whisk the eggs
Whisk the eggs and milk in a medium bowl and set them aside.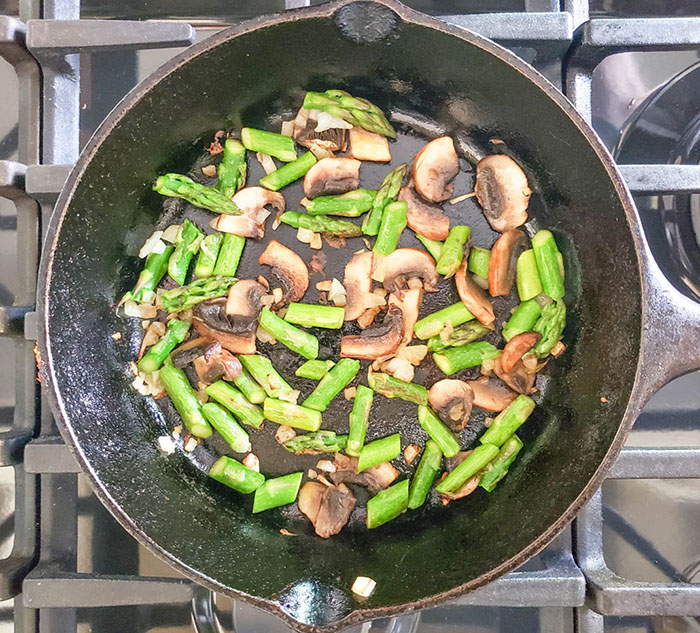 Step 2. Cook the vegetables
Once the skillet is hot add the vegetables and cook them until they begin to turn soft and turn the heat off.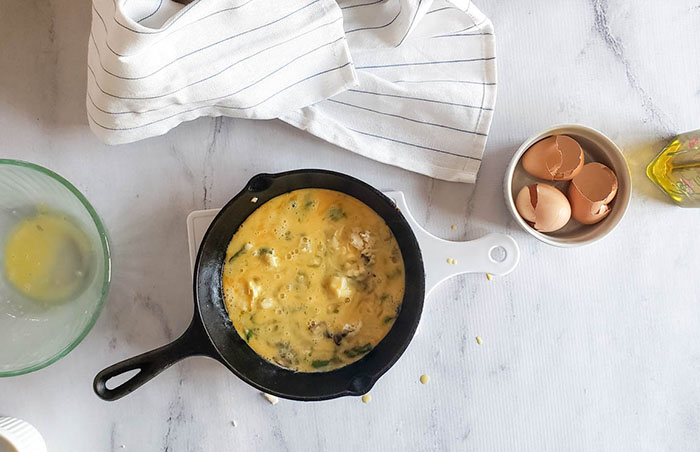 Step 3. Add the cheese and eggs
Sprinkle the shredded cheese over the cooked vegetables in the pan and pour the egg mixture over the top.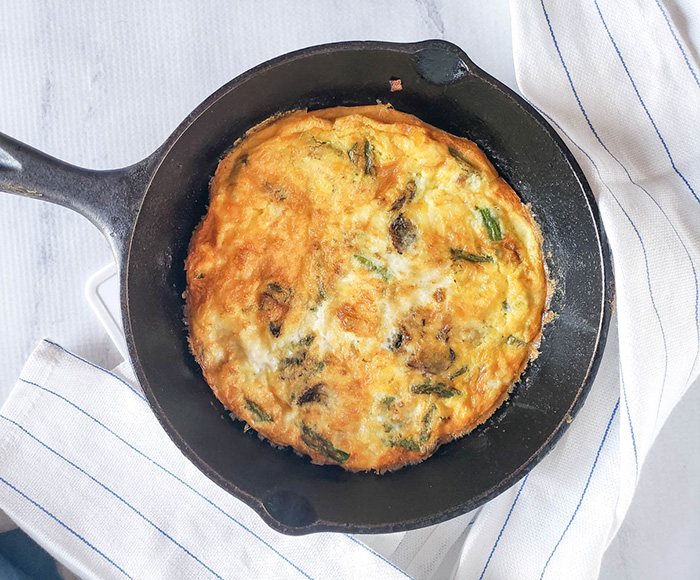 Step 4. Air fry the frittata
Place the skillet into the air fryer basket or tray and air fry until the center of the frittata is golden brown on top.
Note: If you are using a non-stick skillet, you may need to add another teaspoon of oil to the skillet before pouring the eggs in which will help to prevent the eggs from sticking to the pan.
Ingredient Notes and Substitutions
The full list of ingredients to make this air fryer frittata recipe is above, below are notes about some of the ingredients along with ideas for substitutes.
Milk. Any type of milk can be used in this frittata recipe. I like to use whole milk and sometimes I use oat milk or water and leave the cheese out for a dairy-free version.
Cheese. You can use any kind of cheese that you have on hand. We like cheddar, parmesan, gruyere or swiss.
Mushrooms. Any variety of mushrooms can be used in this recipe and they can also be left out.
Serving Suggestions
Serve your air fryer breakfast frittata with a side of bread, and a side salad such as a fruit salad, cucumber and blueberry salad, green salad, and baby potatoes or turkey sausage for a complete meal.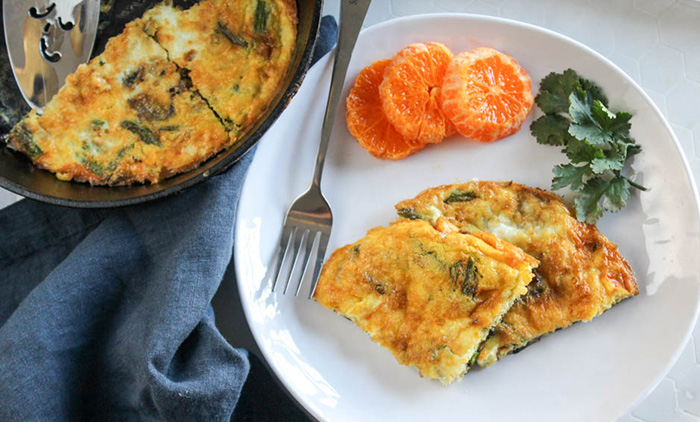 How to Store Leftover Homemade Frittata
Refrigerate leftover frittata in the refrigerator in an air-tight container or a reusable bag for up to four days.
Freeze leftover room temperature frittatas wrapped tightly for up to three months.
Reheat leftovers in the oven or microwave. They also taste great cold.
Variations
Frittatas are a blank slate when it comes to add-ins. You can use any variety of vegetables, meat or cheese. Here are some suggestions:
Cooked or raw diced vegetables: bell peppers, zucchini, asparagus, broccoli, cherry tomatoes, mushrooms, leeks, green onions, garlic.
Cooked meat: Sausage, ham, bacon, Canadian bacon, shredded chicken or pork.
Cheese: cheddar cheese, blue cheese, swiss cheese, gruyere cheese, mozzarella cheese, provolone cheese, parmesan cheese, goat cheese or feta cheese.
Fresh Herbs: Fresh basil, oregano, thyme, tarragon, parsley, dill, rosemary, chives.
Dried Spices: Oregano, garlic powder, black pepper, basil, Italian seasoning, red pepper flakes, chili powder, ground cumin
Try this easy air fryer cornbread with jalapeno peppers recipe!
Top tips
Pour the eggs, cooked veggies and cheese into two ramekins for individual portions.
Cooking times vary with air fryers, remove the frittata once it's golden brown on top and firm in the center.
Check out these tips on how to choose, clean and cook asparagus.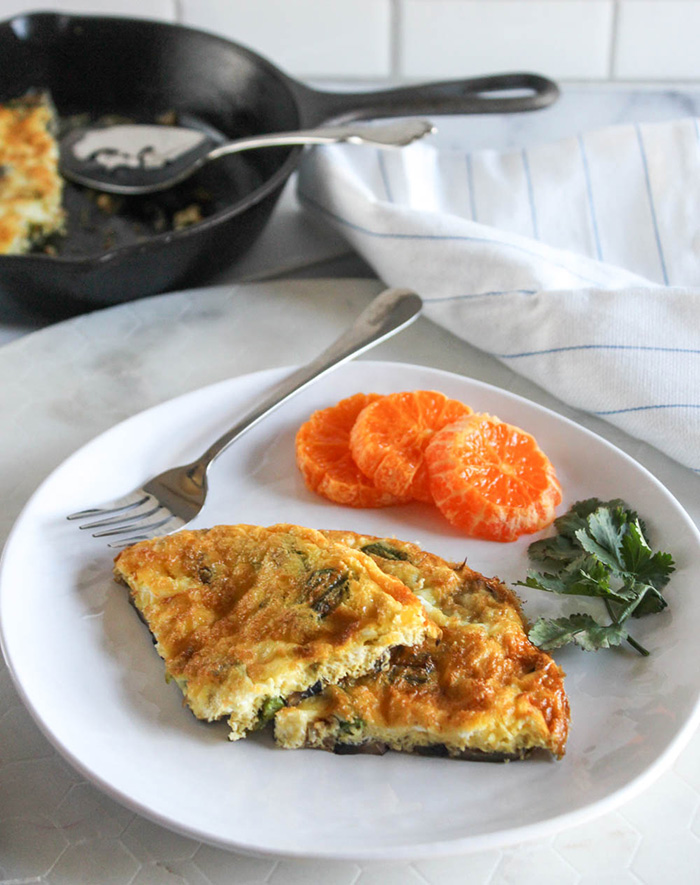 Air Fryer Frittata Recipe Questions Answered
Here are some common questions about this recipe, if you have a question that you don't see answered below, leave a comment below and I will reply as soon as possible.
What is the difference between a frittata and an omelet?
A frittata is similar to a crustless quiche. It's filled with vegetables or meat and they start cooking on top of the stove and are finished off in the oven.
An omelet is filled with vegetables or meat and cooked on top of the stove and typically served folded over.
A small skillet will not fit into the air fryer, what type of pan can I use?
You can cook the vegetables in a skillet on top of the stove, then transfer them into a small baking dish or pan that will fit into your air fryer. Pour the whisked eggs over the top of the cooked vegetables and place the dish into the air fryer basket.
Can I make an air fryer frittata in the oven?
Yes, you can! Follow the instructions above and instead of placing the frittata pan into an air fryer, place it into a preheated 400 degree F oven and bake until set - about 15 to 20 minutes.
If you like this recipe, please comment and rate it below!
You Might Like these Breakfast Recipes
For more simple and delicious recipes like this, subscribe to our newsletter and receive a free e-book and meal suggestions straight in your inbox!
Check out our other air-fryer recipes right here!