Asparagus is a popular spring vegetable that is rich in nutrients, low in calories and high in fiber. It can be eaten raw or cooked, and in the spring it's an addition to many spring dishes. Here are some tips for how to clean and cook asparagus plus a few delicious asparagus recipes.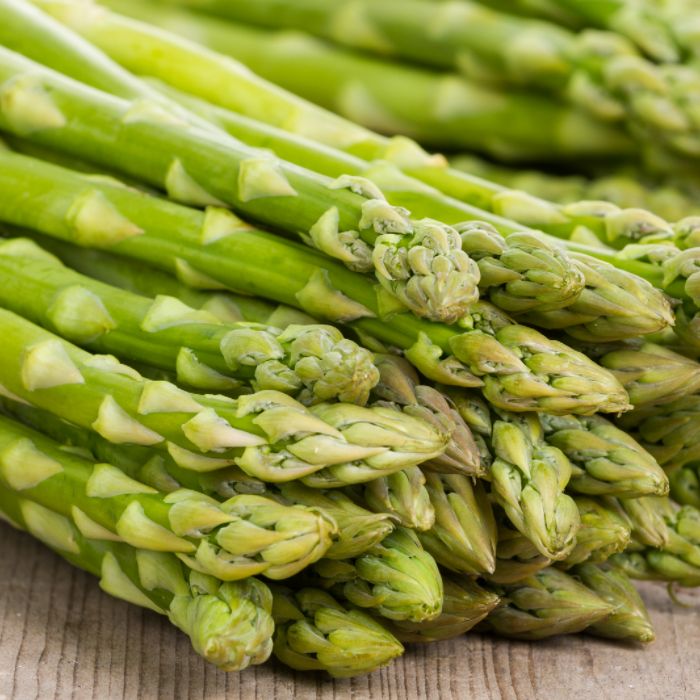 When is asparagus in season?
Even though asparagus can be found year-round in the grocery store, it does have a peak season which is the spring. Asparagus season officially begins in late February and runs until June.
How to choose the best asparagus
When choosing asparagus, make sure the asparagus stalks are bright green and free from signs of shriveling. The stalks should be firm and the asparagus tips should be tight with no sign of them being mushy or wet.
Check the bottom of the spears. They should look moist, thick, fibrous, and off-white in color. If they're brown, keep looking for another bunch.
During peak asparagus season, look for local asparagus at a farm or supermarket. It's much fresher, usually less expensive, and tastes better than any asparagus that's been picked miles away and shipped to the store.
NOTE: Green asparagus is the most common type, however, there are other varieties. You might also see purple asparagus and white asparagus when you are shopping. Each type is similar in taste and can be prepared the same way that you prepare green asparagus.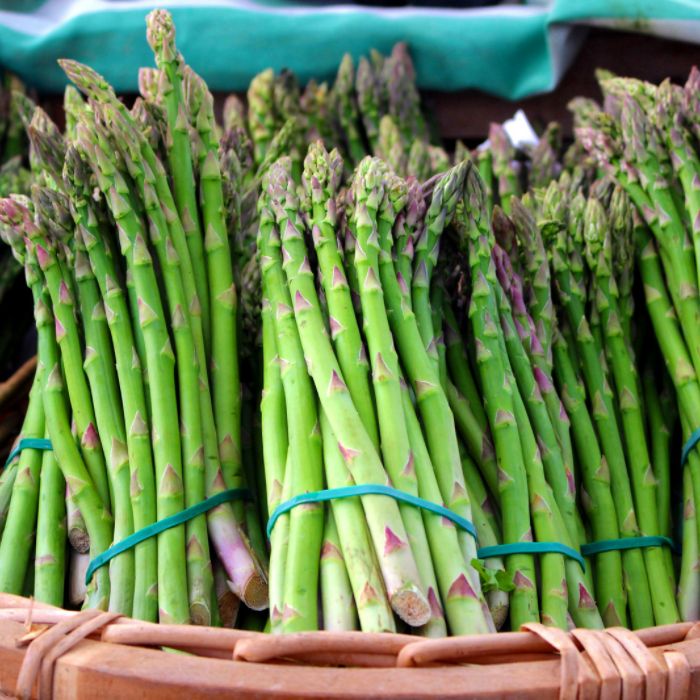 How to clean & prepare fresh asparagus for cooking
To clean asparagus, place it in a colander and run it under cold water for a minute or two to rinse off the fine grit, and then pat it dry. This should be enough to remove the grit from the asparagus. If the asparagus is dirty or has dirt stuck to it, use your fingers to gently scrub it off.
Once the asparagus is clean, one of the easiest ways to remove the tough ends of the asparagus stalks is to snap them off by bending the spear at the bottom portion. It will snap exactly where it should. The asparagus will naturally break where the stem becomes tough and woody.
You can also use a vegetable knife to cut the woody ends off of the bottom of the stalk of asparagus.
If the asparagus spears are thick, the "skin" on the bottom of the spears might seem tough even after trimming them. Use a vegetable peeler to remove the tough skin at the bottom.
How to store fresh asparagus
Store asparagus that's been trimmed in a mason jar or large glass with an inch of cold water at the bottom to cover the ends.
If you don't have room in your refrigerator for a jar or glass, you can also wrap a damp paper towel around the trimmed bottoms of the asparagus and store them in your crisper drawer.
Asparagus will last for three to five days, depending on how fresh the asparagus is when you bought it.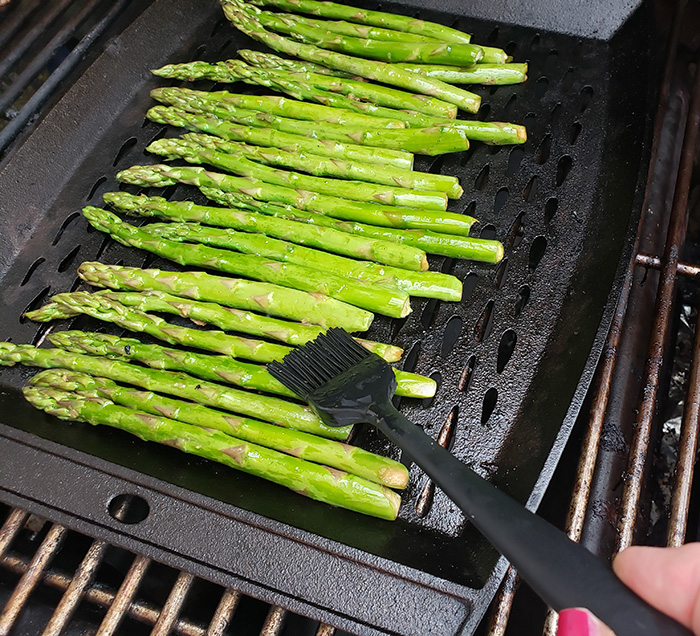 How to cook asparagus
Asparagus is so easy to cook and there are a variety of ways to prepare it.
When it is grilled or roasted, asparagus will have an earthy and slightly sweet flavor. When it is steamed or sauteed, it has a softer texture and a more mellow flavor.
Roasted asparagus
Roasting asparagus is one of our favorite ways and it's so simple. For basic roasted asparagus, you will need a little bit of olive oil, salt, and pepper.
Arrange the asparagus spears in a single layer on a baking sheet, and drizzle with a little olive oil. Roast them in a preheated oven (400 degrees f) for 10 minutes. Sprinkle the roasted spears with a pinch of salt and pepper and serve.
You can also try adding a few simple ingredients to add more flavor to roasted asparagus, here's some inspiration for you:
Grilled asparagus
Grilled asparagus is very similar in both appearance and preparation. The taste will be slightly different, you will notice a hint of smoky flavor when it's grilled.
To grill asparagus, you will only need olive oil, salt, and pepper.
Place the asparagus spears in an oblong dish and brush them with olive oil. Heat a gas grill to medium-high heat. Once the grill is hot add the asparagus and cook for 8 to 10 minutes, turning midway through the cooking cycle.
Tip! A grill topper will help to keep the asparagus spears from falling through the grill grates.
As with roasted asparagus, you can add more ingredients for more flavorful asparagus, here are a few grilled asparagus recipes to try:
Steamed asparagus
Steamed asparagus will be bright green color and slightly crispy once it's cooked, and it's probably the healthiest way to enjoy asparagus.
To steam asparagus, you will only need asparagus, water, and a steamer basket. Here's how to steam fresh asparagus; place the asparagus spears in a steamer basket in a pan with just enough water to cover the bottom of the pan.
Cover the pan and cook on high heat until steam forms and cook for three to four minutes.
When we steam asparagus, we like to add a knob of butter and a spritz of fresh lemon juice or lemon zest.
Sauteed asparagus
Sauteed asparagus is another easy way to cook asparagus. You will need a little bit of butter or olive oil, salt, and pepper.
Heat the butter or oil over medium heat in a large skillet, add the asparagus and toss it around in the pan for about 4 minutes until it starts to become tender.
Once the asparagus is cooked, you can serve it as is or add some lemon juice or soy sauce for more flavor.
Tip! Instead of using whole asparagus spears, it's easier to saute asparagus when it's cut into bite-sized pieces.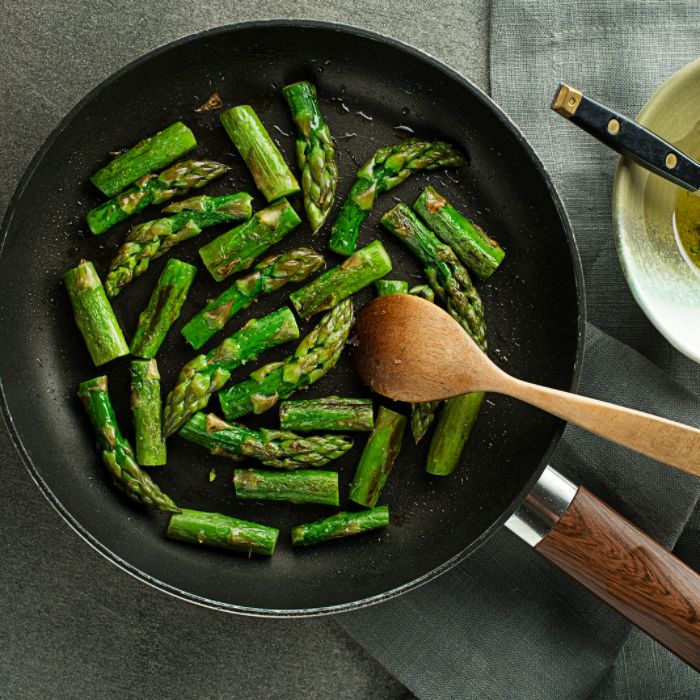 Asparagus questions and tips
Which is better, thick or thin asparagus spears?
There really is no difference between thin or thicker asparagus spears when it comes to flavor. The difference, other than the size is the texture. Thin asparagus spears tend to be tough and the thicker spears are more tender.
Is asparagus healthy?
Yes, asparagus is healthy. It is packed with fiber and nutrients and is low in calories. It's an excellent source of vitamins A, C, and K. (source)
Do you need to soak asparagus before cooking it?
You don't really need to soak asparagus before cooking it. A simple rinse under water should be enough to get the grit off of the asparagus.
How do you eat asparagus raw?
Asparagus tastes great raw when cut into thin slices or shaved and added to a salad. Raw asparagus spears are also a nice addition to a veggie platter with dip.
Are you looking for more side dish recipes, check them out here!