Tender grilled asparagus, creamy white beans, onions, and tomatoes are mixed together with a light balsamic dressing to make this grilled asparagus salad with white beans.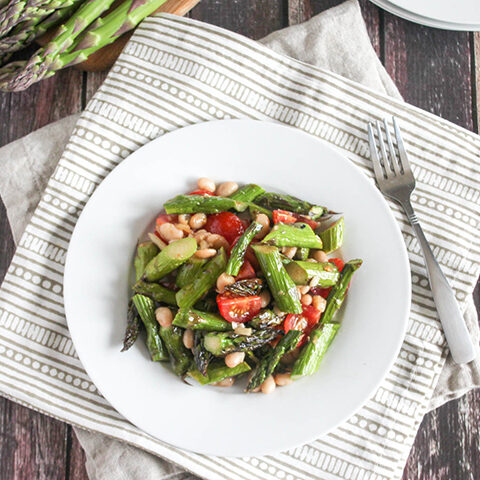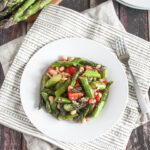 Grilled asparagus salad is made with tender fresh asparagus, creamy white beans, onions, and tomatoes tossed in a light balsamic dressing. It's a spring salad that is super easy to make.
This recipe was originally posted in 2019, it's been updated for content and photos.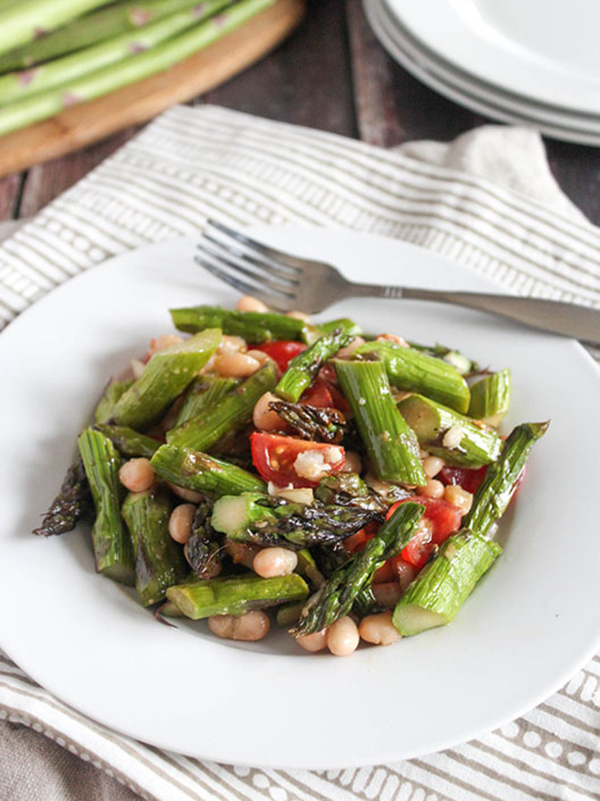 Grilling the asparagus for this delicious salad adds a slight smoky flavor and needs very little seasoning. The light dressing brings out the flavor in all of the ingredients and blends everything together perfectly.
Enjoy this fresh and vibrant salad as a side dish with grilled chicken, or a by itself as a light meal with a side of crusty bread.
Why This Recipe Works
It's quick to make with simple ingredients and can be made ahead of time.
It's made with fresh and wholesome ingredients.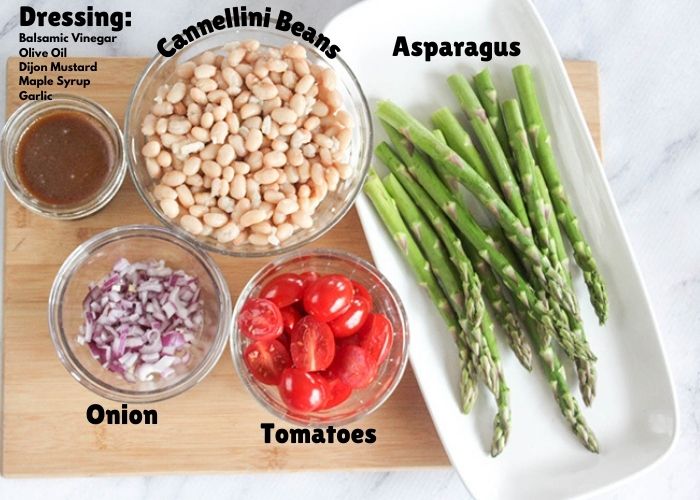 Here is what you will need
---
Ingredients
fresh asparagus
cherry or grape tomatoes
onion
balsamic vinegar
olive oil
maple syrup
crushed garlic
Equipment
---
Here is how to make this grilled asparagus salad recipe
Prepare the ingredients: preheat the grill to medium-high heat. Rinse and dry the asparagus; break off the rough ends. Rinse and cut the tomatoes into halves or quarters, chop the onions, drain and rinse the beans and mix up the dressing ingredients.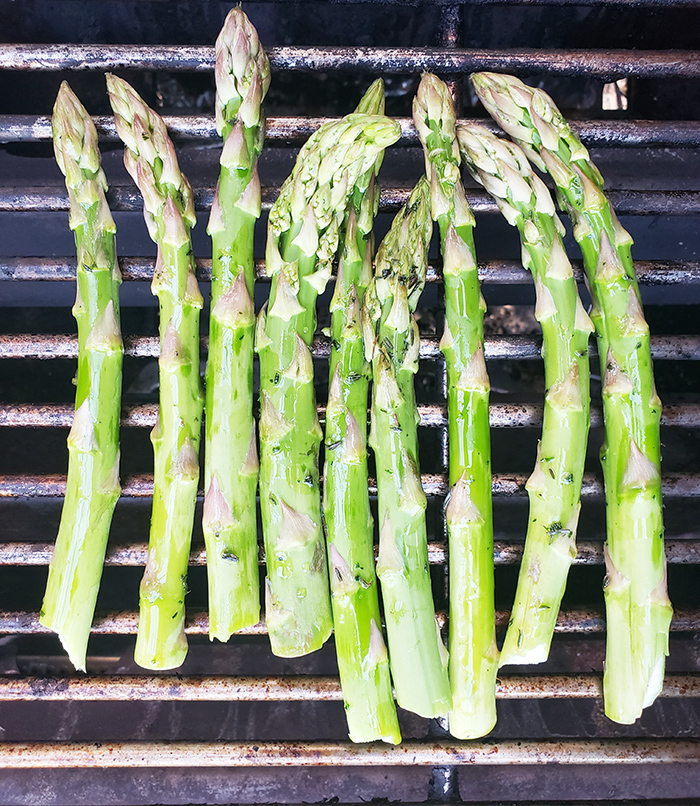 Step 1. Grill the asparagus
Once the grill is hot, brush the asparagus spears with a little bit of olive oil and place the asparagus on the grill.
Cook the asparagus for about 5 minutes and flip them over and grill for three to 5 minutes longer.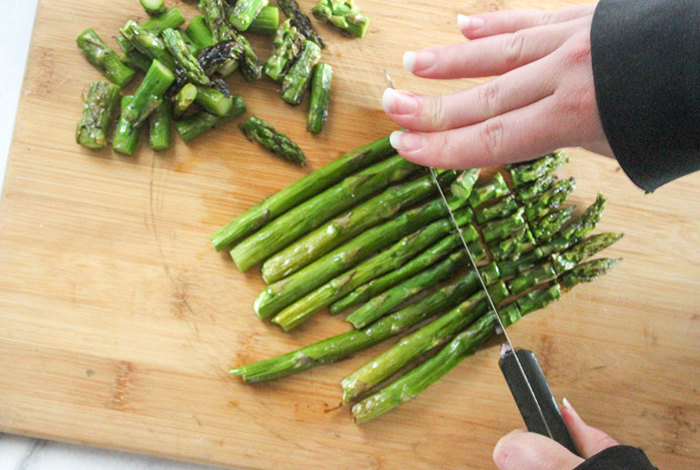 Step 2. Chop the asparagus
Once the asparagus is cooked, remove it from the grill and set it aside to cool.
When it is cool enough to handle, cut the asparagus into bite-sized pieces and set them aside.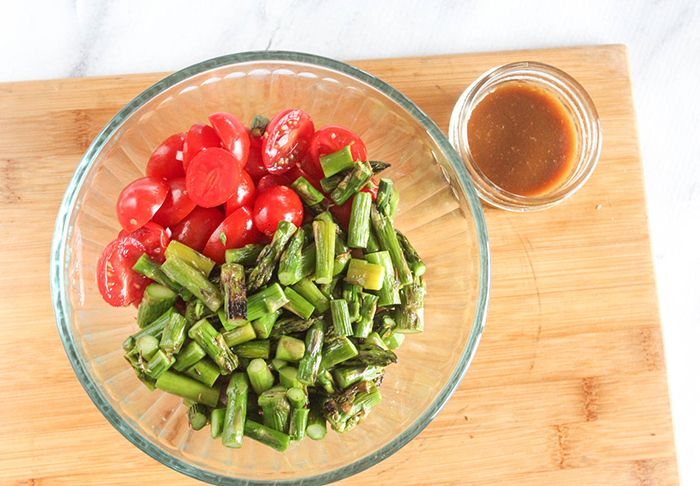 Step 3. Assemble the salad
Add the grilled, chopped asparagus to a medium bowl along with with the beans, onions, and tomatoes.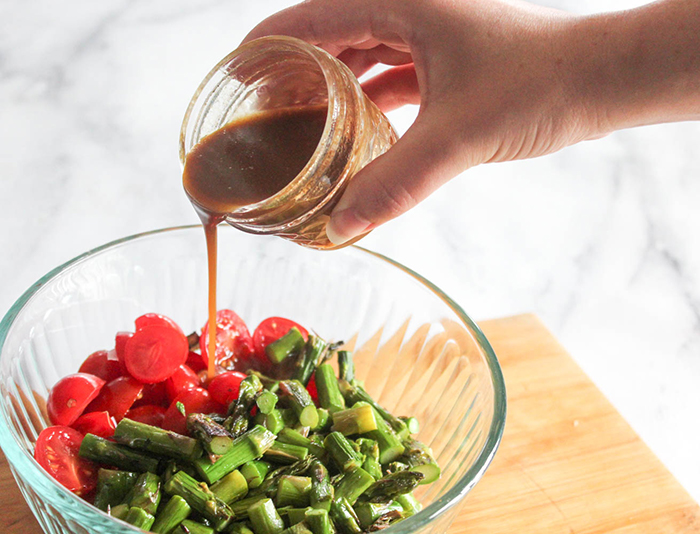 Step 4. Add the dressing
Pour the dressing over the salad.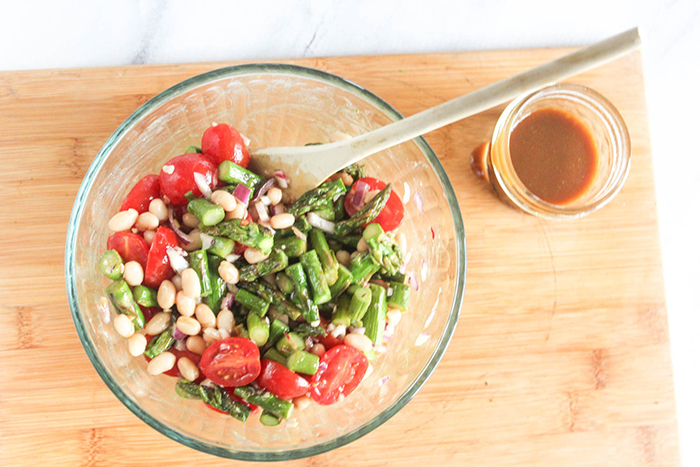 Step 5. Mix it all together
Gently mix all of the ingredients together and refrigerate or serve at room temperature.
Tip! The asparagus should have a crisp-tender texture, If you prefer your asparagus soft, cook it for a few minutes longer.
Ingredient Notes & Substitutions
The full list of ingredients to make this grilled asparagus salad recipe is above. Below are notes about some of the ingredients along with ideas for substitutes.
Cannellini Beans - Also called white kidney beans are the most common white beans and can be interchanged with navy beans or great northern beans which are also white beans.
Onions - Red onions, yellow onions, or Vidalia onions can be used in this recipe. I like to use red for a little extra color. If you prefer a sweeter flavor, try Vidalia onions.
Tomatoes - Any type of cherry tomatoes or grape tomatoes can be used. We like red, or yellow cherry tomatoes or a mixture of both to add more color to the salad.
Fresh Garlic - fresh is always best in salads. If you don't have a fresh garlic clove, it can be replaced with ⅛ teaspoon of garlic powder.
Maple Syrup can be swapped with an equal amount of honey.
Balsamic Vinegar can be substituted with red wine vinegar or apple cider vinegar for a more tangy dressing. You can also use an equal amount of lemon juice in the dressing for this salad.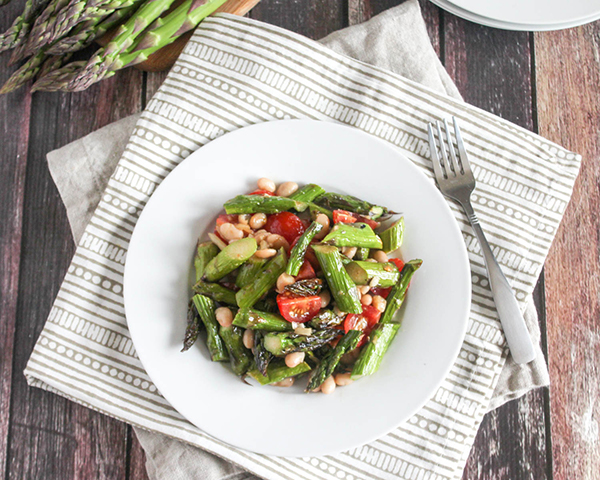 Make-Ahead Instructions
Salads are perfect make-ahead dishes, and this asparagus salad is a prime candidate. Here are a few make-ahead suggestions:
Prepare the salad without assembling it. Grill the asparagus, slice the tomatoes in half, chop the tomatoes and mix up the dressing. Store each ingredient in separate containers in the refrigerator for up to two days. Assemble the salad just before serving.

Prepare the entire salad and use ¼ to ½ of the dressing. Store the salad in the refrigerator for up to two days. Just before serving pour the remaining dressing over the salad.
Serving Suggestions
This delicious asparagus salad recipe is the perfect side dish to serve chilled or at room temperature with a burger, grilled chicken, pork or all by itself as a light healthy meal.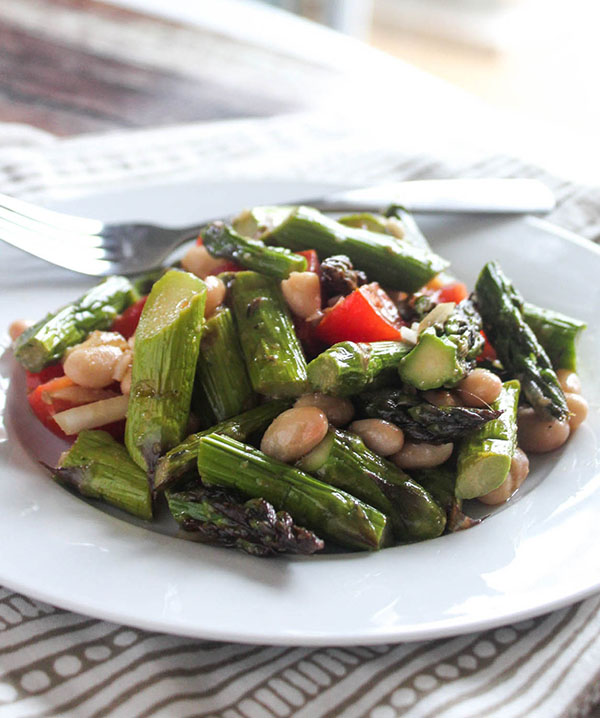 Storing Leftovers
Store leftover grilled asparagus salad in an airtight container in the refrigerator for two to three days. If the salad is dry, add a little dressing before serving.
Recipe Variations
Add cheese. use a half cup of crumbled or chunks of feta cheese, parmesan cheese, goat cheese or mozzarella cheese.
Add meat. Add up to a half pound of chopped boneless chicken breasts for a one-dish meal.
Change up the Beans. Substitute the white beans with chickpeas, fava beans or kidney beans.
Greek Asparagus Salad. Add ¼ cup sliced kalamata olives, sliced red onion and feta cheese.
Recipe Tips & Questions
Tips
Questions
Can the asparagus be roasted for this salad?
Yes, you can roast the asparagus instead of grilling it. Arrange the asparagus on a baking sheet and place it in an oven preheated at 375 for 15 to 20 minutes.
Does asparagus need to be soaked before grilling it?
No it does not need to be soaked, a rinse in cold water will remove the grit from the fresh asparagus.
You might also like these asparagus recipes
📖 Recipe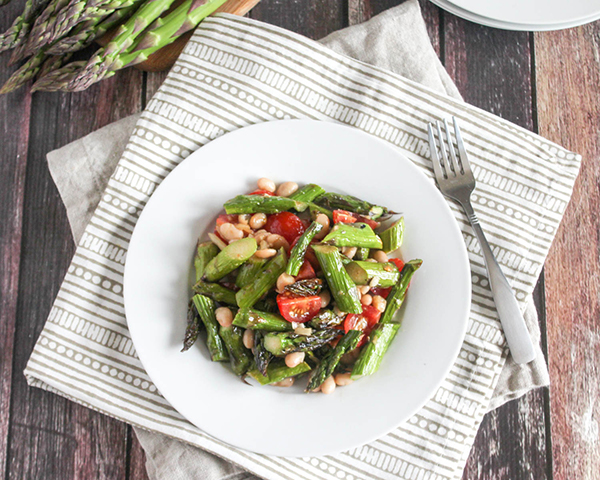 Click on serving size to scale this recipe
Instructions
Preheat the grill and prepare the ingredients: clean and trim the asparagus, rinse and slice the tomatoes, chop the onions.

Make the dressing: use a

small mason jar

to mix up 2 tablespoons balsamic vinegar, ½ tablespoon maple syrup, 2 teaspoons Dijon mustard, 4 tablespoons olive oil and one clove of garlic.

Brush the asparagus spears with olive oil and place them on a heated grill and grill over a medium flame turning frequently until they become tender - about 10 minutes (turning them after 5 minutes)

Remove the asparagus spears from the grill and allow them to cool off.

Place the tomatoes, onions, and beans into a bowl

Once asparagus is cool enough to handle slice into 1-inch slices and add it to the bowl.

Stir the dressing into the salad ingredients and serve at room temperature or cold.
Notes
Store leftover grilled asparagus in the refrigerator for two to three days. Enjoy leftovers served with a side of grilled chicken or a field green salad.

See list of substitutes and recipe variations in the blog post above.
Nutrition
Serving:
1
|
Calories:
183
kcal
|
Carbohydrates:
14
g
|
Protein:
5
g
|
Fat:
14
g
|
Saturated Fat:
2
g
|
Polyunsaturated Fat:
11
g
|
Sodium:
25
mg
|
Fiber:
4
g
|
Sugar:
7
g
Nutrition information provided is an estimate and can vary based on cooking methods and ingredients used
Check out more of our side dish recipes here!