This pesto orzo recipe is made with fresh simple ingredients and can be served at room temperature or chilled. It's an easy side dish for a simple meal on a hot summer day.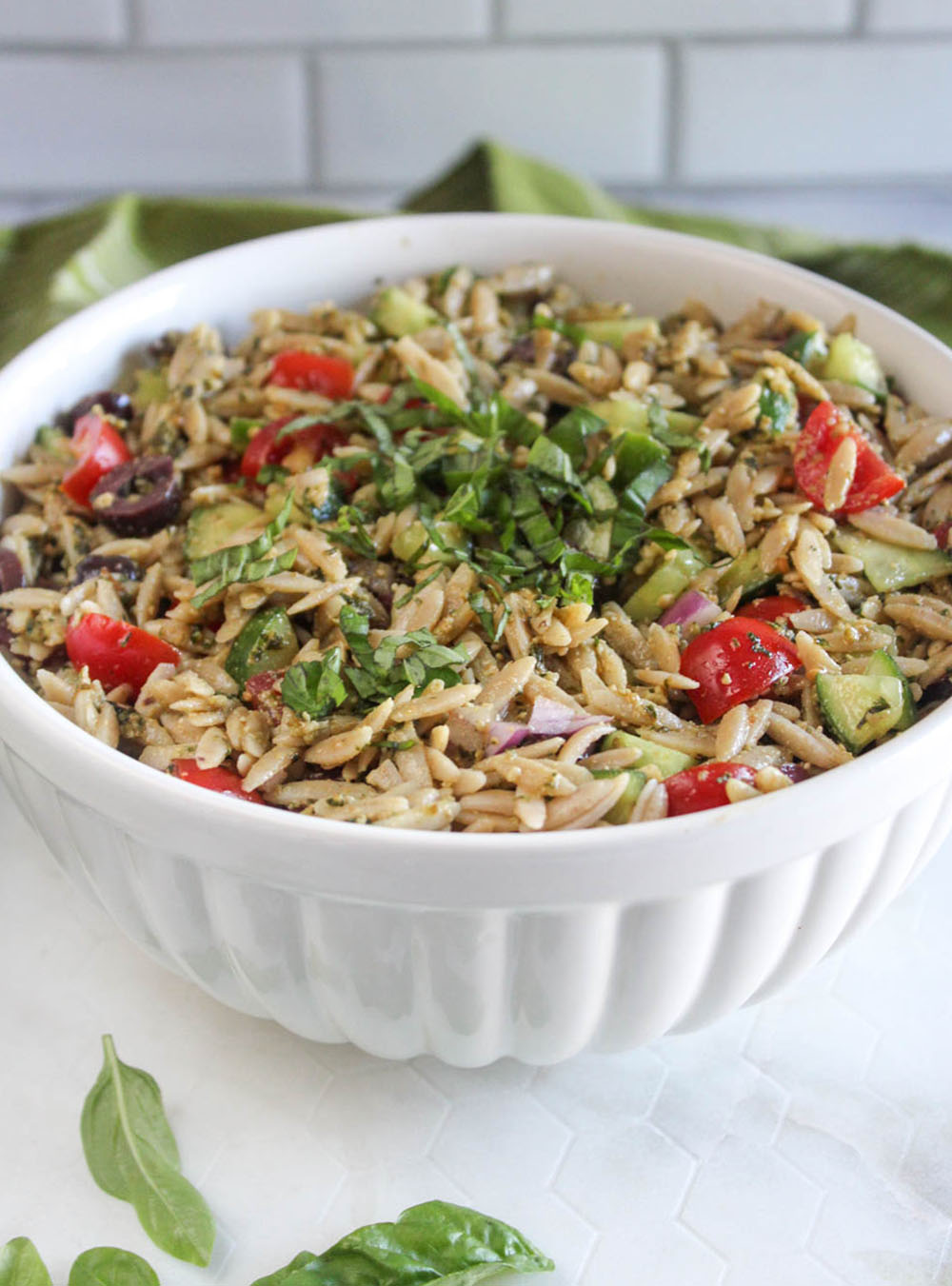 I like to make my own pesto sauce when I make pesto orzo salad. It's easy, fresh, and delicious and takes minutes to make. Here is my homemade basil pesto recipe with cashews.
Jump to:
Why you will love this recipe
It's healthy, made with fresh summer ingredients.
Pesto orzo is super easy to make and has loads of flavor!
Here is what you will need
As an Amazon Associate, I earn from qualifying purchases.
This is an overview of the ingredients and steps to make this recipe; scroll down for a printable recipe card with exact measurements and instructions.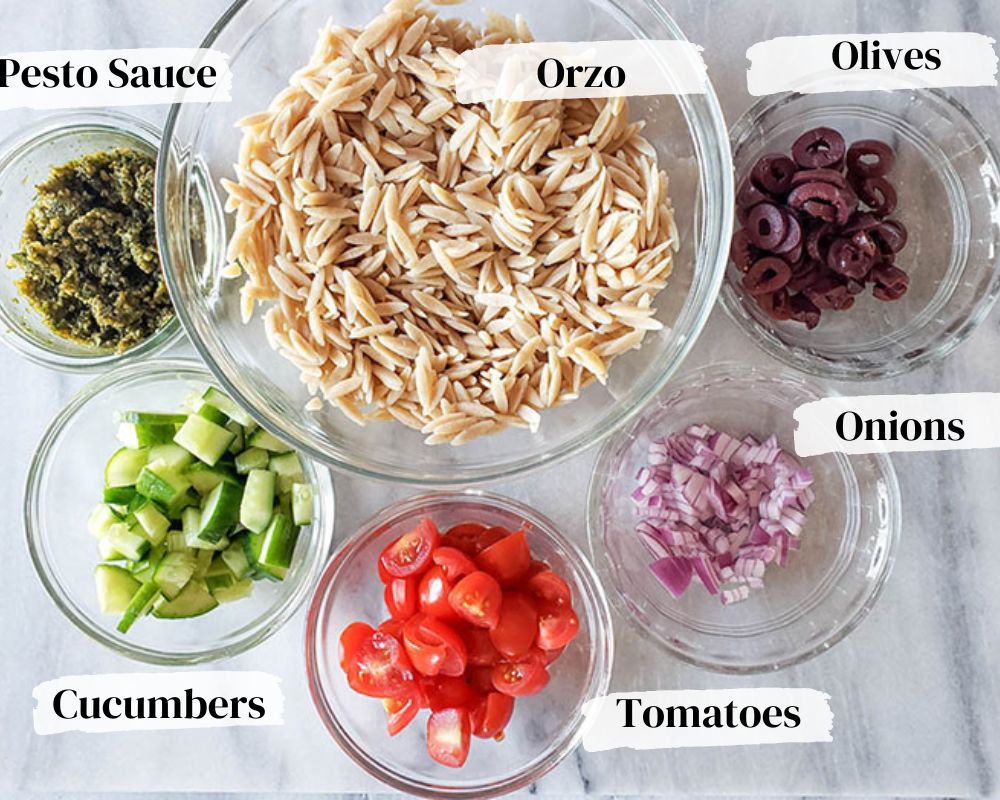 Ingredients
Red Onion
Cherry Tomatoes
Cucumbers
Kalamata Olives
Basil Pesto Sauce
Equipment
How to make pesto orzo
Prepare the ingredients: Cook the orzo according to the package directions. Dice the onions and cucumbers. Cut the whole cherry tomatoes into quarters and make the pesto sauce.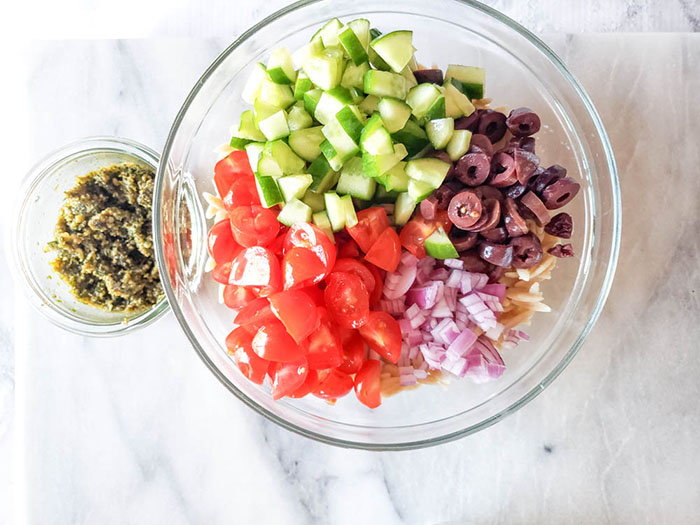 Step1. Add the ingredients
Place the orzo and veggies into a bowl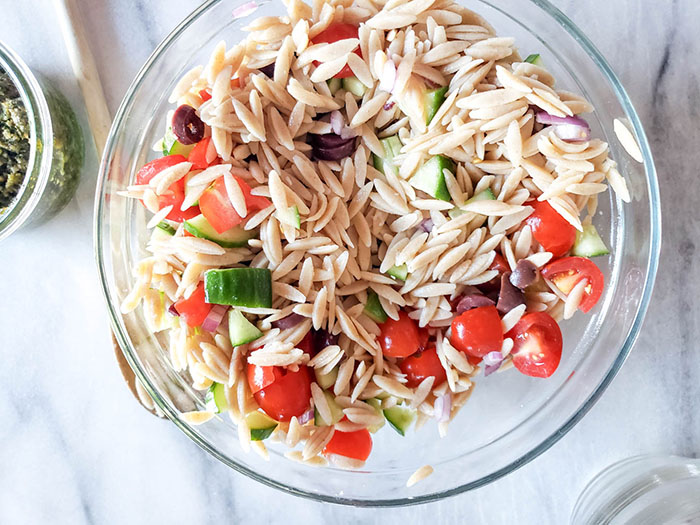 Step 2. Combine the ingredients
Use a wooden spoon and gently mix the ingredients together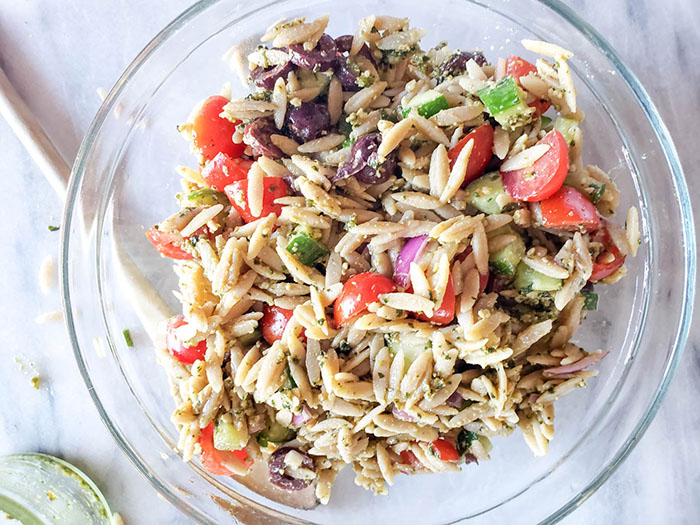 Step 3. Add the pesto sauce
Gradually add the pesto sauce to the salad ingredients until it reaches a consistency that you like.
Note: If you are not serving the salad immediately, be sure to reserve some pesto to stir into the salad just before serving.
Ingredient Notes & Substitutions
The full list of ingredients to make this pesto orzo recipe is above. Below are notes about some of the ingredients along with ideas for substitutes.
Orzo - I like to use whole wheat orzo because it's a healthier choice with more protein and fiber, but you can use white orzo too.
Pesto - Here is my recipe for homemade basil pesto which is made with cashews in place of pine nuts. If you would rather buy pesto, that will work too, but homemade pesto sauce is so easy to make!
Cherry Tomatoes - Cherry tomatoes can be substituted with grape tomatoes or chopped Roma tomatoes.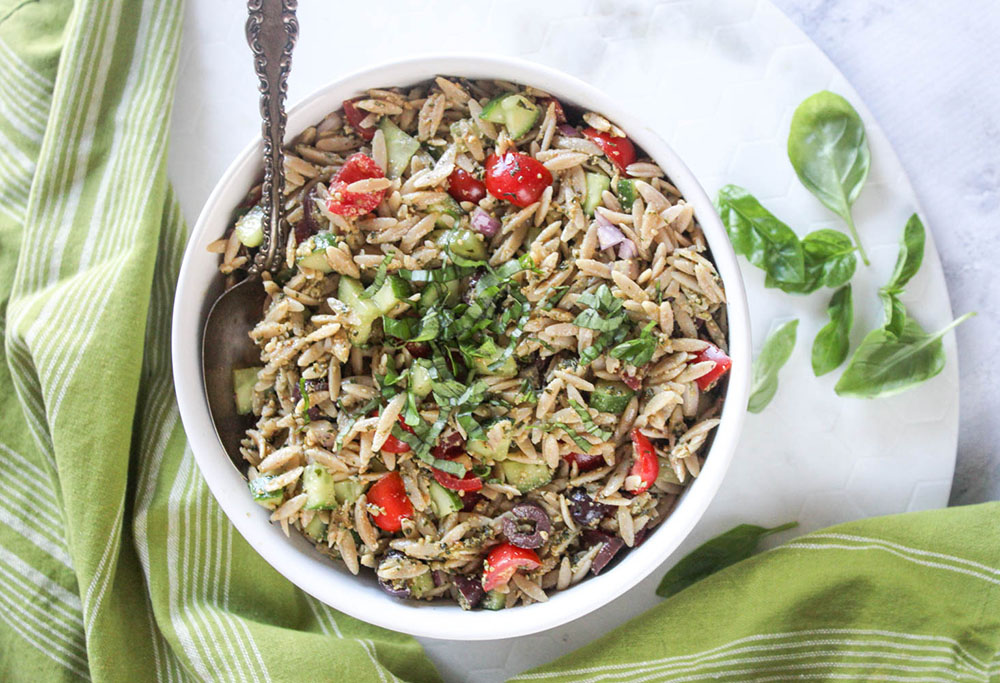 Variations
One of the many great things about pasta salads is that they are versatile! You can add any kind of vegetables, dressings, cheese, or pasta.
Add more vegetables - add cooked mushrooms, green beans, red bell pepper, zucchini, asparagus, sweet corn, broccoli, or fresh baby spinach.
Add cheese- just before serving, stir in a ¼ cup of grated parmesan cheese, feta cheese, goat cheese or fresh mozzarella pearls.
Change up the pesto - replace basil pesto with garlic scape pesto, broccoli pesto, asparagus pesto or arugula pesto.
Add-ins- Add more flavor to your pesto and add any combination of fresh lemon juice, white beans, red pepper flakes, capers, sundried tomatoes, or artichoke hearts.
Gluten-free Orzo Pesto - replace whole wheat orzo with your favorite gluten-free pasta.
Serving suggestions
Serve this pesto orzo pesto pasta salad as a simple side dish at room temperature or chilled garnished with fresh basil leaves with grilled chicken, pork chops or your favorite burger.
Pesto orzo also pairs as a side dish with an arugula salad or brussels sprout and kale salad.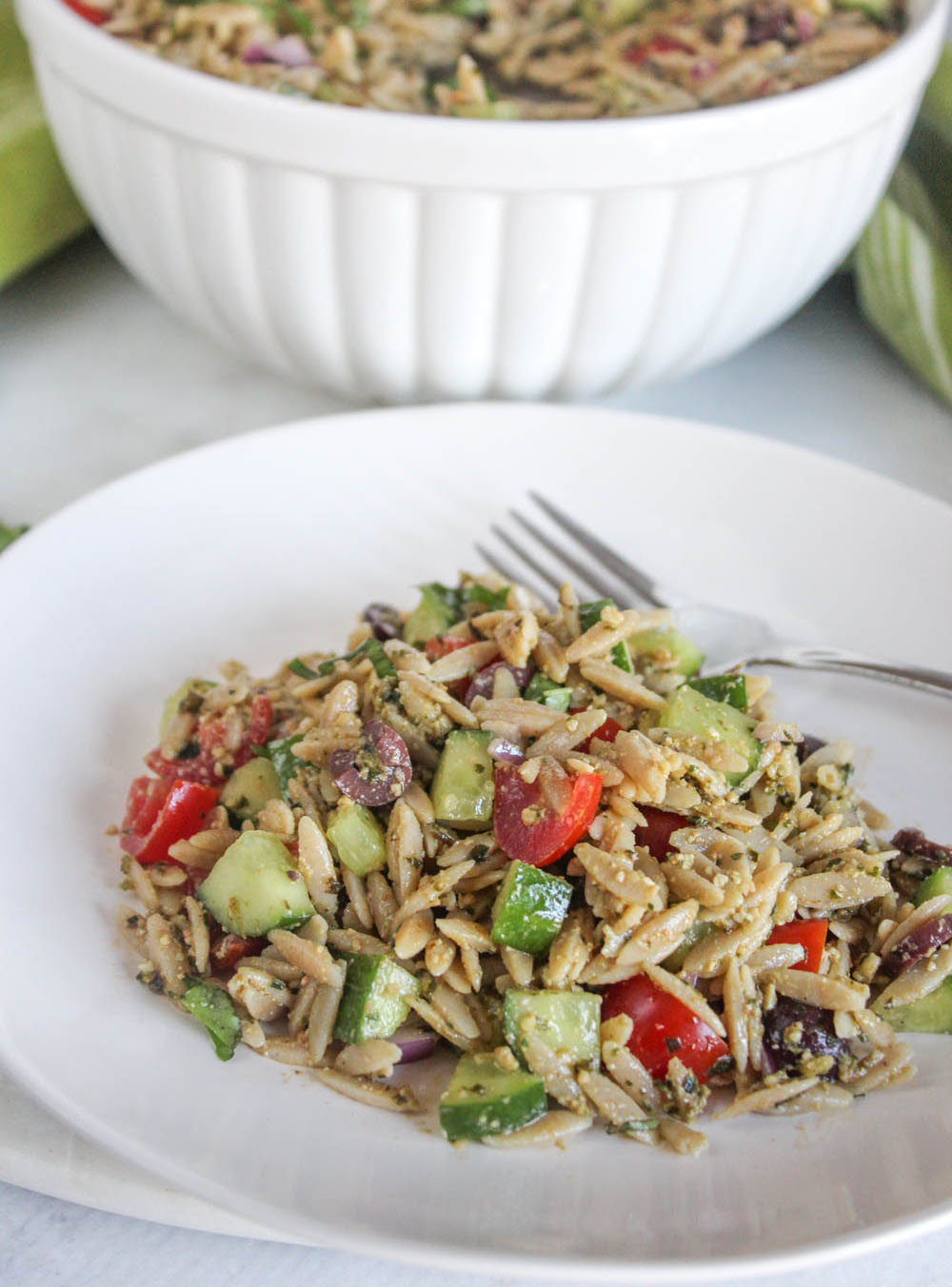 Make Ahead Instructions
This salad is perfect for making ahead of time! Chop the veggies up and store them in separate containers for up to two days. Make the pesto and store it in the refrigerator for up to five days.
When it's time to serve, bring the pesto to room temperature, cook the orzo according to the package directions, add the veggies and pesto and serve.
How to store leftovers
Store leftover orzo pesto in an airtight container in the refrigerator for up to four days.
Pesto Orzo Recipe Tips
Don't overcook the orzo, it will turn to mush. Start checking it once it's been cooking for 7 minutes and remove it from the heat. Drain and rinse when it's al dente - which means a firm, chewy texture.
If you are serving this orzo salad cold, rinse the orzo in cold water.
If the orzo sticks together after it's been refrigerated, stir in a little bit of extra-virgin olive oil or pesto.
Can you use other shapes of pasta to make orzo pesto salad?
Yes, you can. Smaller shapes such as ditalini, elbows, small shells or anellini work the best in this salad.
Is orzo pesto salad vegan?
No, it is not because there is cheese in the pesto sauce. You can replace parmesan cheese in your homemade pesto sauce with nutritional yeast for a vegan version.
For more simple and delicious recipes like this, subscribe to our newsletter and receive a free e-book and meal suggestions straight in your inbox!
Have you tried these healthy recipes?
If you like this recipe, please comment and rate it below!