This Arugula Pesto recipe with walnuts and basil combines the peppery flavor of arugula with sweet basil, garlic, walnuts and olive oil to make a twist on traditional pesto sauce.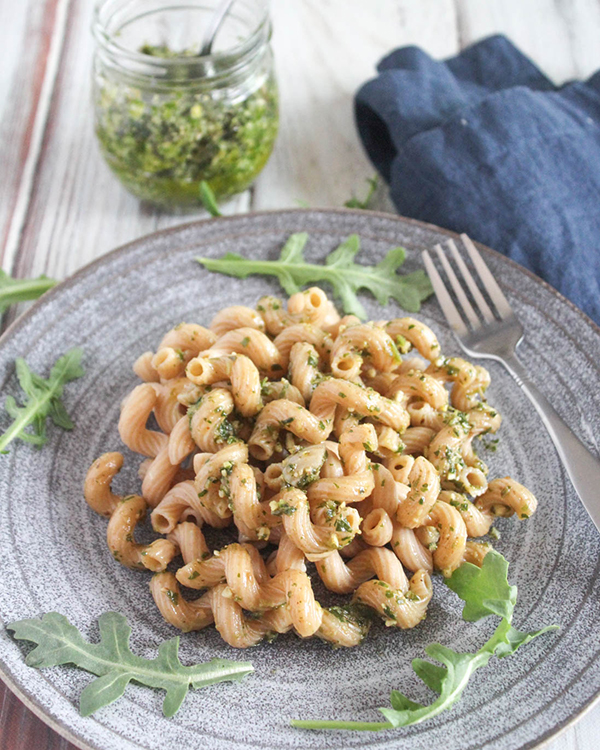 Pesto Is Not Just for Basil
Pesto! It is so fitting for summer. It's made with fresh ingredients, doesn't have to be cooked, and it only takes minutes to make. It's a great way to use up those extra herbs or produce that you can't eat fast enough, and there are so many ways to enjoy it!
Traditional Pesto is a bright green sauce that originated in Genoa, Italy many, many years ago. It is typically made from fresh basil, pine nuts, garlic, fresh Parmesan and olive oil, but today there are many variations.
You can use any green or combination of greens to make pesto. Think spinach, chard, asparagus, broccoli, a mixture of fresh herbs and you can even go beyond green if you like. I've seen recipes for beet pesto though I have not tried it yet.
Arugula pesto with walnuts and basil has become a favorite on our table, we love the zesty flavor combination of arugula, basil and garlic. It tastes great on everything.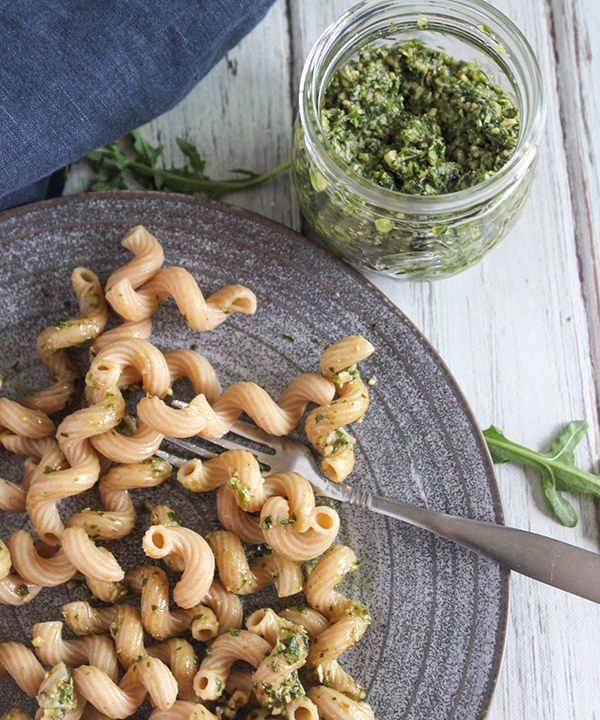 As an Amazon Associate I earn from qualifying purchases
Arugula Pesto with Walnuts and Basil Ingredients
Since pesto is not cooked, it is important to use fresh and high quality ingredients. Here is What You Will Need to Make this arugula pesto with basil: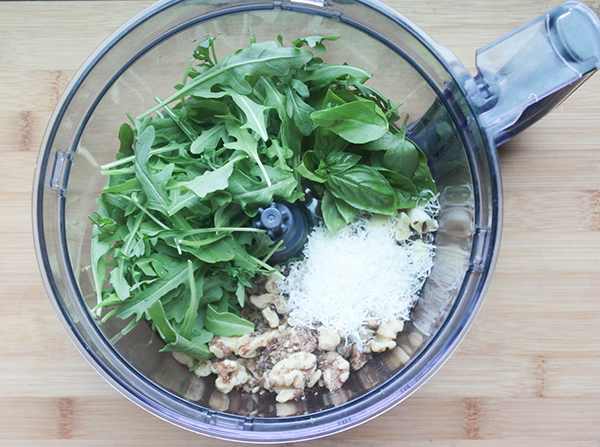 Recipe Steps To Make This Arugula Pesto Recipe
Pesto is so easy to put together, This is just a quick list of steps that are needed to make this recipe. Detailed instructions are on the recipe card below.
Prepare the Ingredients:

Rinse and dry the arugula and basil
Remove any thick stems from basil and discard them

Place the ingredients except the oil into a food processor and blend
Drizzle in the oil and process until blended - adjust the consistency of the pesto with water as needed
Make this Recipe in 15 to 20 minutes! Boil the pasta while you are making your pesto.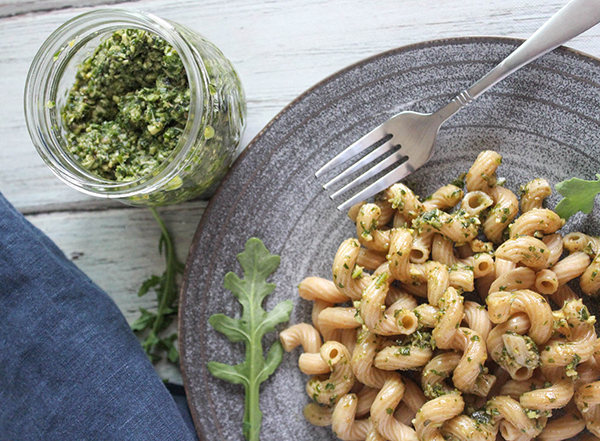 How to Serve Any Type of Pesto
There are so many ways to enjoy pesto, When I make it, I make up big batches and freeze it. Here are some serving suggestions:
Serve it on pasta
Brush onto grilled veggies, seafood or chicken
Add it to your meat marinade for extra flavor
Spread it on top of your favorite homemade pizza crust
Add it to salad dressings
Drizzle it over fresh sliced tomatoes and top with shredded mozzarella or parmesan cheese
Stir it into hummus or Greek Yogurt for a flavorful dip
Dress up a sandwich with it
Use it to flavor up red pasta sauce
If you love pesto, try this asparagus pesto!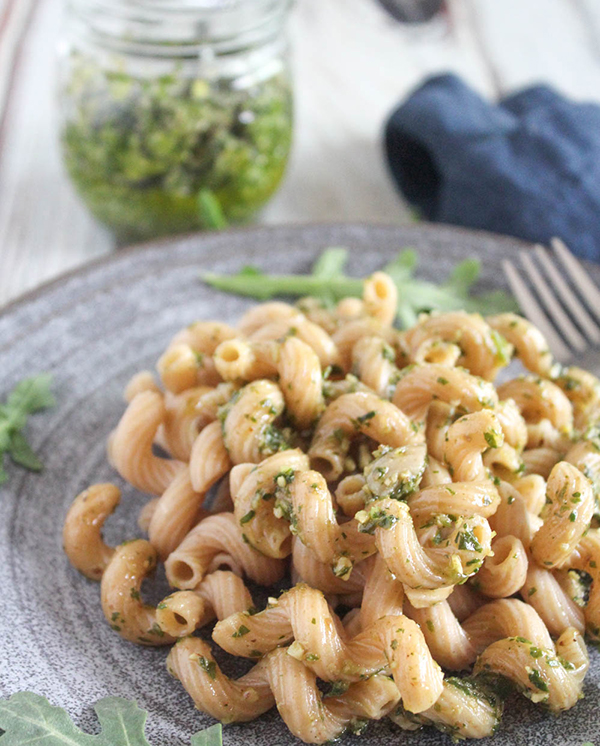 Storing Arugula Pesto (or any type of pesto)
For meal prep. Pesto is an easy make ahead idea. Blitz up a batch and store it in and air tight container in the refrigerator for up to three days.
Freeze leftover pesto in ice cube trays or small cupcake tins. Once it is frozen, remove them and store the little cubes of pesto in an a freezer container for up to 6 months. I love adding these little cubes to my homemade marinara sauce in the middle of winter.
Arugula Pesto Recipe Tips and Variations
If you are making pasta to go with your pesto, save some of the pasta water and adjust the texture of the sauce with it the pasta water.
The best type of pasta to serve with pesto sauce is linguine, angel hair or pasta that has ridges so that the sauce sticks to it. My favorite is Whole Wheat Gobetti from Bionature. Penne, rigatoni, shells and fusilli are also good choices.
Make it Vegan. Substitute the Parmesan Cheese with ⅛ cup nutritional yeast
Leave out the basil and use 4 cups of arugula.
Replace the walnuts with almonds, sunflower seeds or pine nuts or a mixture of nuts and seeds.
Roast the garlic before adding it to the pesto to mellow out the garlic flavor.
Here are Some More Arugula Recipes to Enjoy