Pesto sauce is a popular Italian sauce that has a history that dates back centuries. This delicious green sauce that is made with fresh ingredients and has a unique flavor that comes from its base ingredient basil along with other fresh ingredients.
Whether you are a fan of Italian food and pesto, or just curious to learn more about this amazing sauce and what pesto taste like, read on.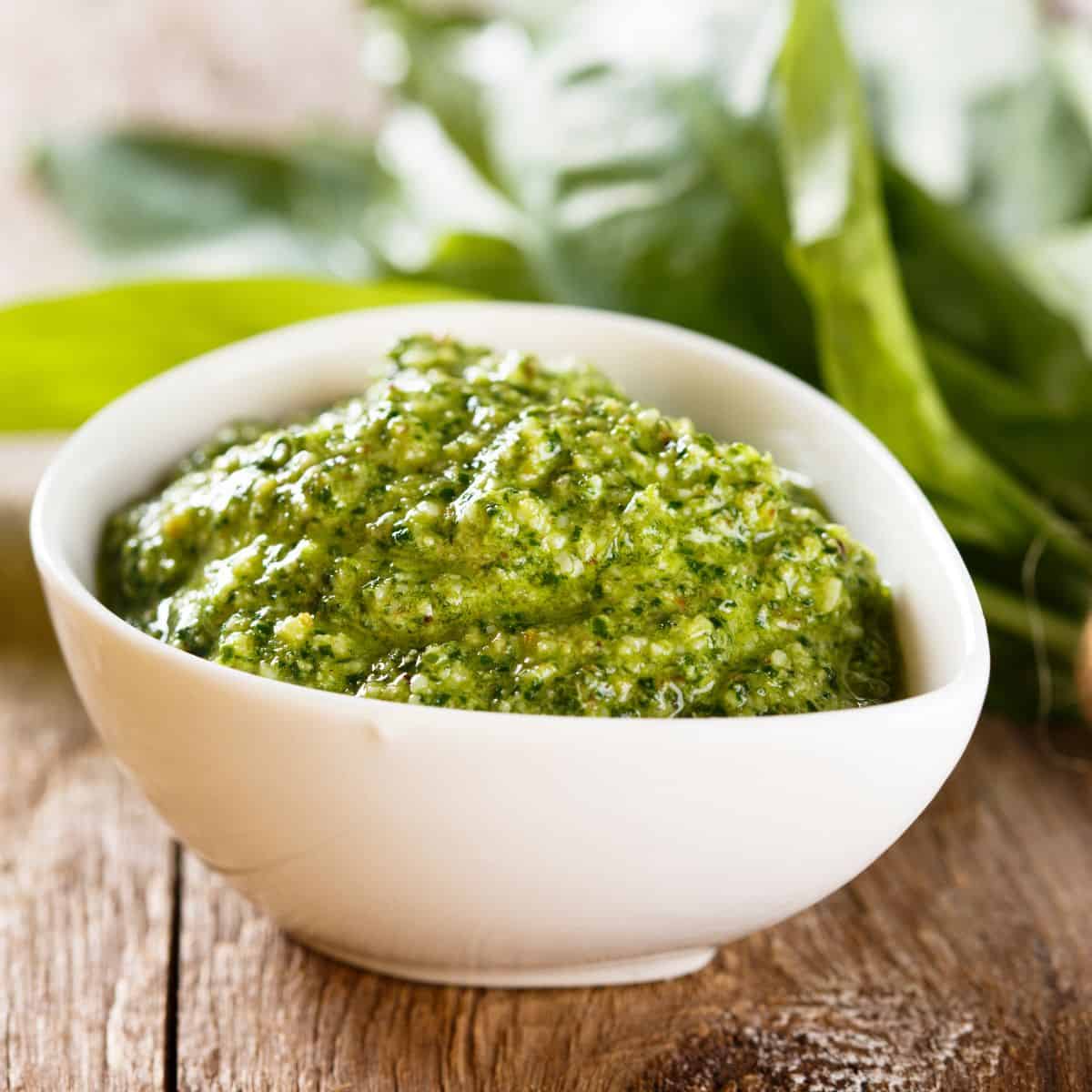 Jump to:
What is Pesto?
Pesto originated in Northwest Italy as far back as the 16th century. Even though there are many variations, this tasty sauce is traditionally made with the main ingredients of basil blended with garlic, pine nuts, extra virgin olive oil, and parmesan cheese.
It is a super versatile sauce that can be used on pasta, sandwiches, as a dip, and even a marinade. It' a delicious way to add extra flavor to your favorite dishes.
What does pesto taste like?
Pesto sauce offers a complex flavor profile that is hard to resist. At first taste, you will notice a smooth and creamy texture that is slightly gritty from the pine nuts. Pesto sauce should not be too thick, but more of a texture of a thick puree.
The pesto flavor is a beautiful balance of herbs, garlic, and slightly nutty. The parmesan cheese adds a salty and savory flavor that rounds out the overall flavor of the sauce.
Since it is an uncooked sauce, pesto has a fresh and aromatic smell that is quite distinct and appetizing and adds to the taste.
It's a versatile and delicious sauce that is full of different flavors from just a few fresh ingredients.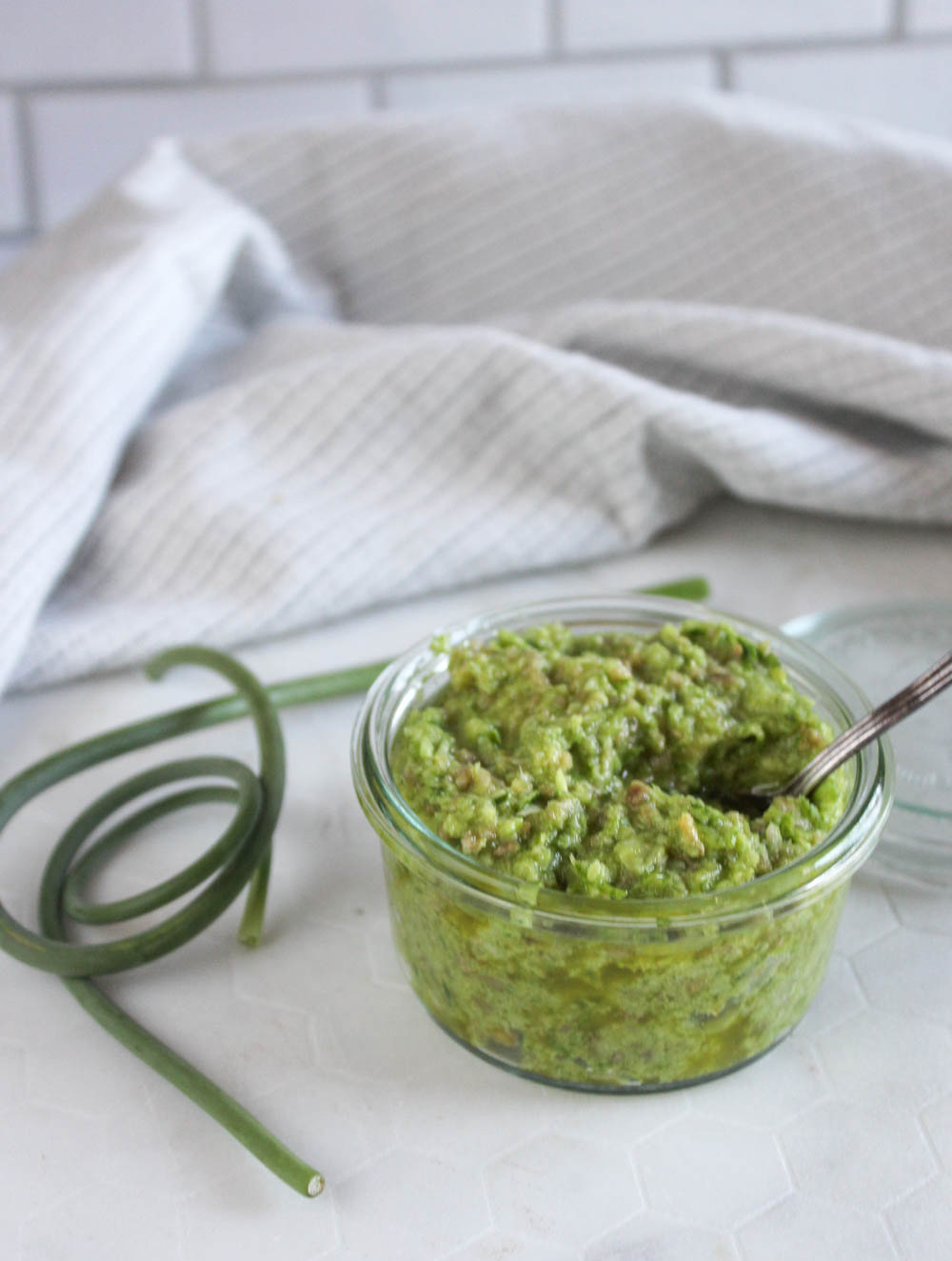 Pesto variations
While traditional pesto sauce is made with fresh basil leaves, garlic, pine nuts, Parmesan cheese and extra-virgin olive oil, there are many different types of pesto that you can make.
You can change up the pesto ingredients and switch out the basil for different herbs or greens such as parsley, mint, arugula or kale to create a different flavor profile.
If you like the basil flavor, another great way to change homemade pesto sauce is to use fresh basil and add fresh herbs or vegetables to it. The addition of arugula, kale or spinach combined with fresh basil can make a really flavorful sauce.
You can also add other ingredients to the mix such as sun-dried tomatoes, roasted red pepper, cooked broccoli, asparagus or even avocado.
If you don't have pine nuts, don't worry; you can easily substitute them with other kinds of nuts an seeds such as almonds, walnuts, cashews, sunflower seeds, or pumpkin seeds. If you don't like the nutty flavor, the nuts or seeds can be left out.
In terms of the cheese, you can use pecorino romano or for a vegan version add nutritional yeast or leave the cheese out altogether.
Is pesto sauce healthy?
Aside from being delicious, classic pesto sauce offers some health benefits too. For starters, the basil in pesto is packed with antioxidants and the garlic offers anti-inflammatory and antibacterial properties.
The pine nuts which give pesto sauce its nutty flavor are a great source of protein and the extra-virgin olive oil is rich in monounsaturated fatty acids.
You can read more about the wonderful health benefits of pesto on EatingWell.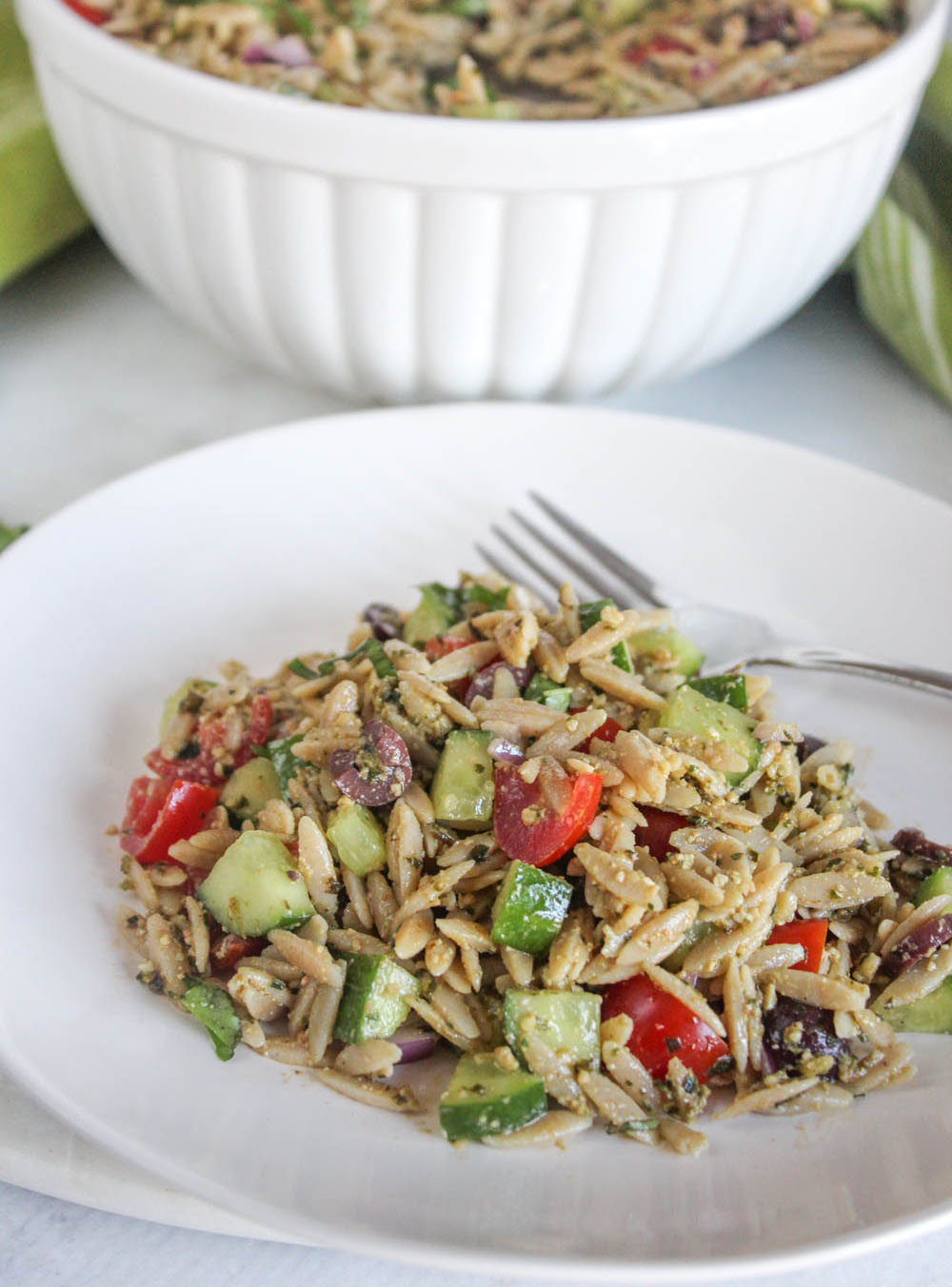 How to use pesto sauce
While pesto sauce is most commonly used as a pasta sauce, there are a ton of other ways to use fresh pesto. For starters, you can add a tablespoon or two of your favorite tomato sauce to make a quick marinara sauce.
Pesto is also a great addition to a sandwich as a spread in place of mustard or mayonnaise, you can even add it to mayonnaise.
Pesto also tastes great as a dip for vegetables, pita chips, crackers or even as a marinade for seafood or chicken or tossed into roasted vegetables.
It's also a great addition to a cheeseboard paired with crackers or bread, or tossed with small chunks of mozzarella cheese; the possibilities are really endless!
How to store pesto
If you are using homemade pesto sauce, which I highly recommend over store-bought sauce. It will last in the refrigerator for 3 days in an airtight container. Store-bought will last in the refrigerator for 7 days but check the label to be sure.
You can also freeze leftover pesto sauce for up to six months. I like to use ice cube trays for this so I can pop the individual portions into pasta sauce or use it for grilling meat and vegetables, but any freezer safe container will work for freezing pesto sauce.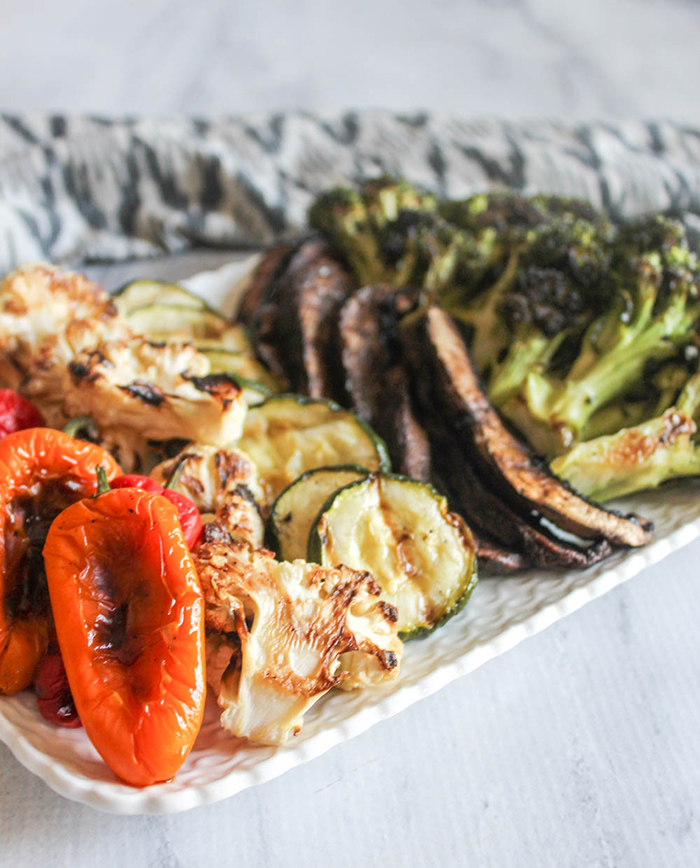 Foods that pair well with pesto sauce
Roasted or raw vegetables (eggplant, onions, zucchini, mushrooms, tomatoes, broccoli, cucumbers, bell peppers)
Meat (chicken, turkey, pork, lamb)
Fish and shellfish
Cheese (parmesan cheese, pecorino cheese, Asiago cheese, ricotta cheese, mozzarella cheese)
Pizza
Pasta
Garlic
Bread and Crackers
Citrus (lemon and lime)
Pesto flavor combinations
Try combining pesto sauce with these combinations or create your own.
Turkey Breast + Avocado + Baguette
Tomatoes + Mozzarella Cheese + Roasted Peppers
Roasted or Grilled Eggplant + Zucchini + Tomatoes + Parmesan cheese
Crostini + Ricotta Cheese
Tomatoes + Crostini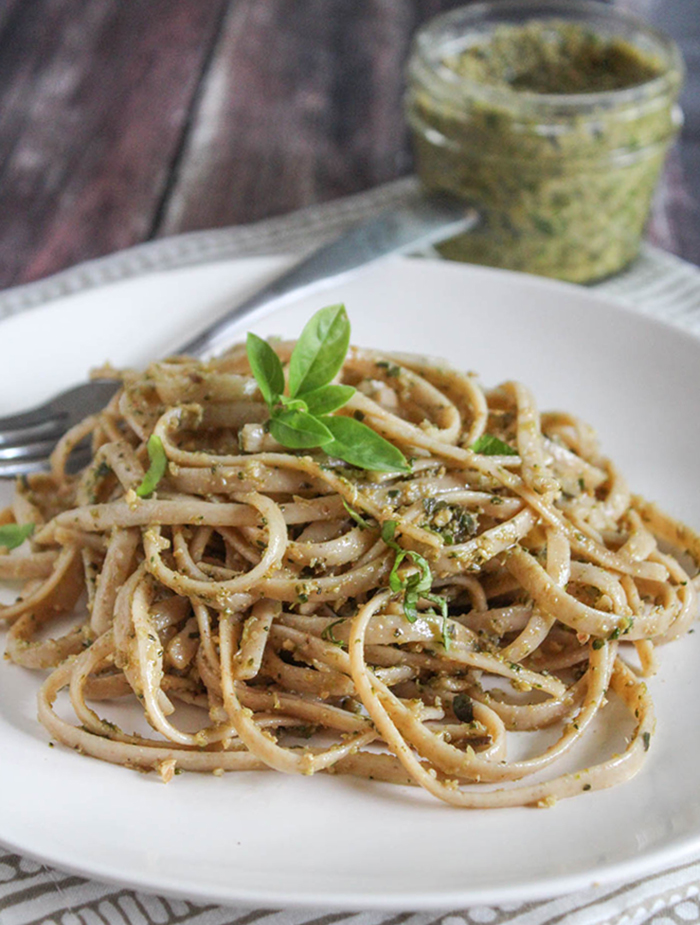 Recipes
If you're a fan of pesto sauce, here are some delicious recipes for you to explore. Give them all a try and have yourself a tasty pesto experience!
Easy Basil Cashew Pesto Sauce - Very similar to traditional pesto, this sauce uses cashews instead of pine nuts for a delicious sauce.
Asparagus Pesto Recipe - A light and fresh pesto sauce has the flavors of spring and a great way to use up leftover asparagus.
Garlic Scape Pesto - This is a twist on regular pesto. It's made with garlic scapes and is packed with delicious and fresh flavor.
Broccoli Walnut Pesto - This sauce is filled with fresh basil and cooked broccoli for an extra nutritious and delicious sauce. Another great way to use up leftover vegetables.
Arugula Pesto Sauce with Basil and Walnuts - This is the perfect blend of sweet basil, garlic and zesty arugula.
Parsley and Sage Pesto - An easy pesto sauce recipe that is perfect for pasta, dipping and more.
Celery Leaf Pesto - A bright and flavorful pesto sauce that tastes great on crackers, pizza, chicken or fish.
Pesto Orzo - A tasty pasta salad that is filled with summer vegetables tossed in pesto sauce.
Kale and Feta Pesto Stuffed Cod - A succulent seafood dinner that is easy to make.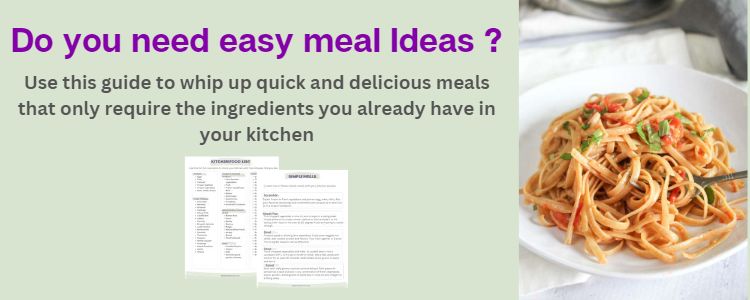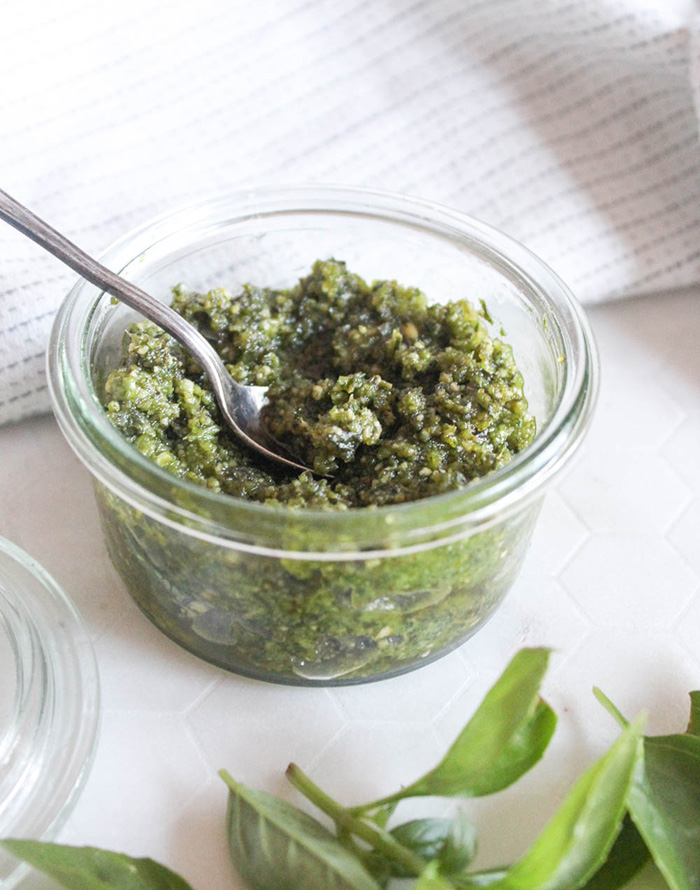 FAQ
Here are a few questions that are often asked about adjusting the flavor of pesto sauce.
Why is my pesto sauce bitter?
If you make your pesto in a food processor, the extra-virgin olive oil could be overworked from the blades in the food processor. The olive should be added at the end after all of the ingredients have been blended together to avoid a bitter taste.
How can I tone down the fresh garlic flavor in pesto?
Since this is an uncooked sauce, the garlic flavor can be strong in pesto sauce. You can add less garlic, or you can cook the garlic for a few minutes in skillet before adding it to your homemade pesto sauce.
Check out my list of products and tools that I use all of the time in the kitchen!
Sign Up for Easy Recipes Straight in Your In-Box!