Spicy mango salsa with strawberries is a delicious coloful and easy to make salsa that is the perfect combination of sweet, tangy and spicy.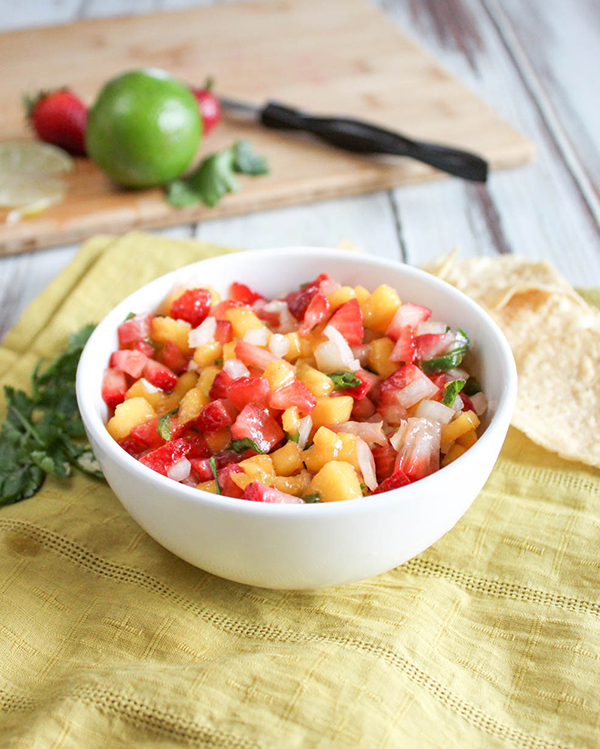 Here is what you will need to make spicy mango salsa with strawberries
As an Amazon Associate, I earn from qualifying purchases
This is an overview of the ingredients and steps to make this recipe, scroll down for a printable recipe card with exact measurements and instructions.
mango
strawberries
onion
garlic
jalapeno pepper
fresh lime juice
fresh cilantro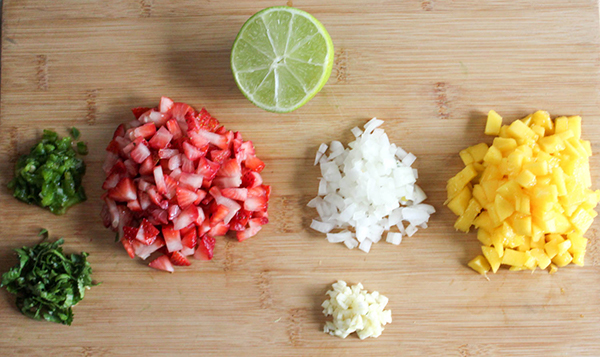 Salsa! It's so versatile and customizable; you can make it with any combination of fruits and vegetables that you like.
Mangoes and strawberries are in season in the spring and are perfect for salsa. Sweet and juicy mangoes paired with strawberries, lime juice and spicy jalapneos is the perfect balance of a touch of savory, sweet and spicy.
Aside from spicy mango salsa which I have been making a lot of lately, you can also find me making garden salsa and salsa verde in the summer.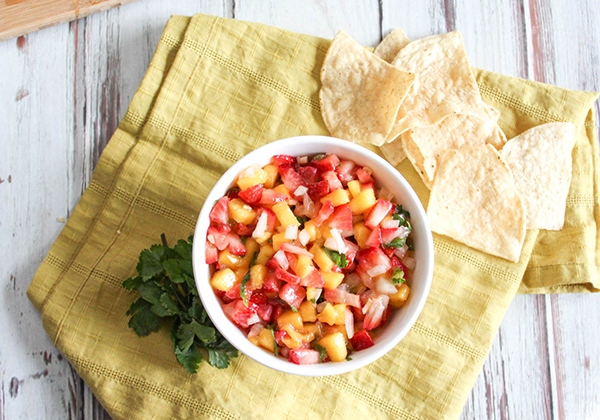 Ingredient Tips
Fresh and ripe ingredients that are cut into similar sized small pieces are essential for salsa, here are some tips on how to choose ingredients for the freshest salsa.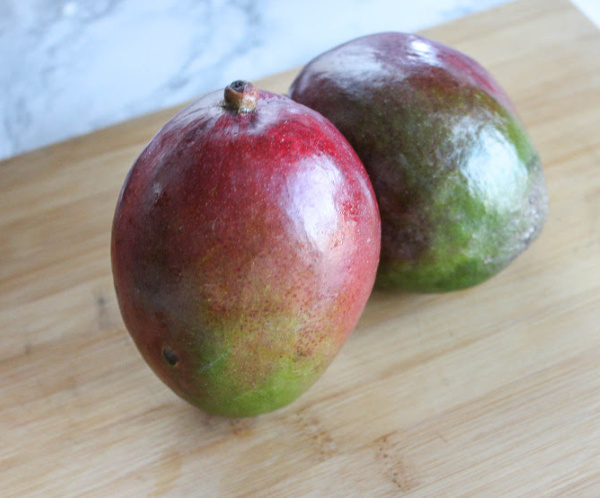 Mangoes
Even though mangoes are in season in the spring, you can find them in the supermarket year round.
To check for ripeness, squeeze the mango gently. A ripe mango will give slightly when squeezed, similar to avocados and peaches.
If your mango isn't ripe, store it at room temperature until it begins to soften and its ready to cut. An unripe (hard) or over ripe mango (extremely soft) will be difficult to cut.
You can speed up the mango ripening process by covering mangoes with a towel or placing them in a brown paper bag.
How to cut a mango
Mangoes have a large pit that is about ¼ inch thick and runs from the top to the bottom of the fruit. You are going to want to locate and cut around the pit. As you can see on the pictures below, I misjudged the pit a few times.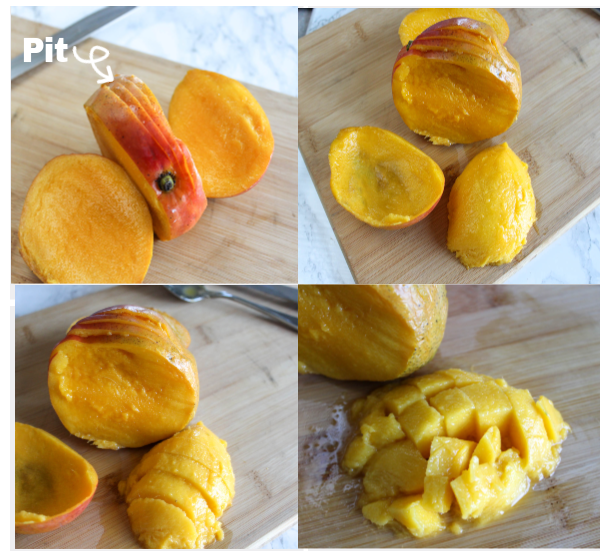 Use a sharp knife and start at the stem (top) and cut about ¼ inch away from the stem and cut the mango from top to bottom.
Repeat the step above on the other side of the mango, and discard the pit.
Use a spoon to carefully scoop the flesh of the mango from the skin.
Use a sharp knife to make horizontal slices into the mango, then vertical. The pieces should be no larger than ½ inch.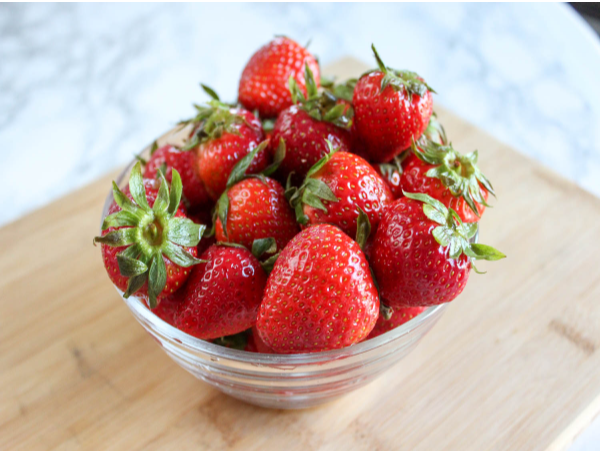 Strawberries
Here is how to choose the freshest berries for your salsa.
Unlike mangoes, strawberries don't turn ripe after they have been picked so you want to look for berries that are bright red from top to bottom with fresh green leaves.
How to Prepare and Cut Strawberries for Salsa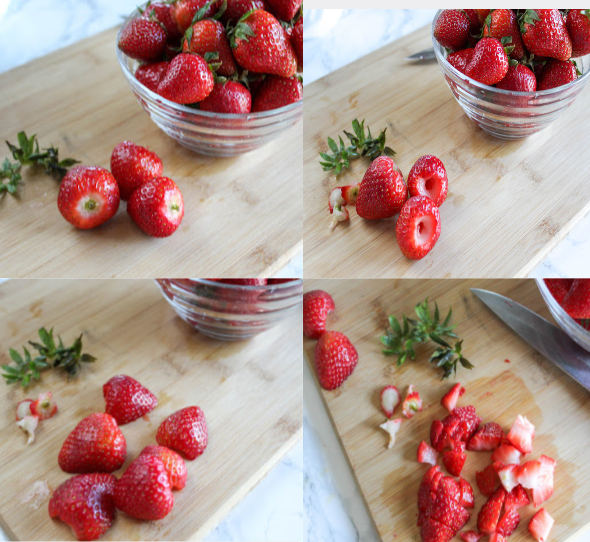 Wash and dry the strawberries just before cutting them.
Gently twist and pull the stems off of the strawberries and then poke the tip of the knife into the top of the berry and slide it around to to remove the hull.
Slice each berry in half.
Slice each half into three or four vertical slices depending on the size of the strawberry.
Cut the vertical slices in half or thirds depending on the size of the berry.
Onions
The best onions to use in this recipe are red, yellow or sweet vidalia onions.
Lime Juice
I do not recommend using bottled lime juice in homemade salsa. If fresh limes aren't available try using fresh squeezed lemon or orange juice.
The easiest way to squeeze all of the juice out of the lime is to use a citrus juicer. It's easy to use; cut the lime in half and hold half over a bowl, instert the sqeezer and twist.
Make sure to remove any seeds that may have landed with the juice before adding it to the salsa.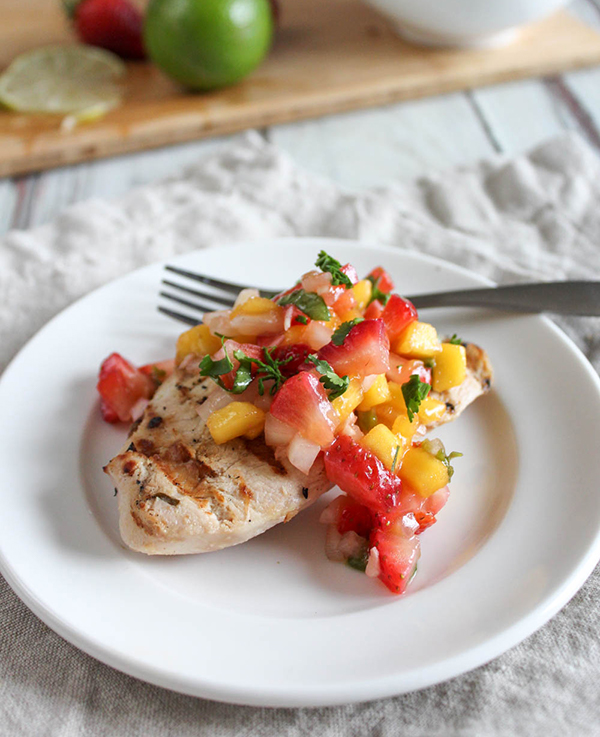 Serving Ideas
Serve mango strawberry salsa as a dip with chips, burrito bowls, quesadillas, beef tacos, fish tacos, enchaladas or topping for meats such as grilled chicken or seafood.
How to Store Leftover Salsa
Store leftover salsa in a covered glass container in the refrigarator for up to three days.
Freezing is not recommended.
Make it ahead of time
Salsa is a recipe that should most definately be made ahead of time to allow the flavors blend together. I like to make salsa several hours before serving it. It can also be made a day or two ahead of time.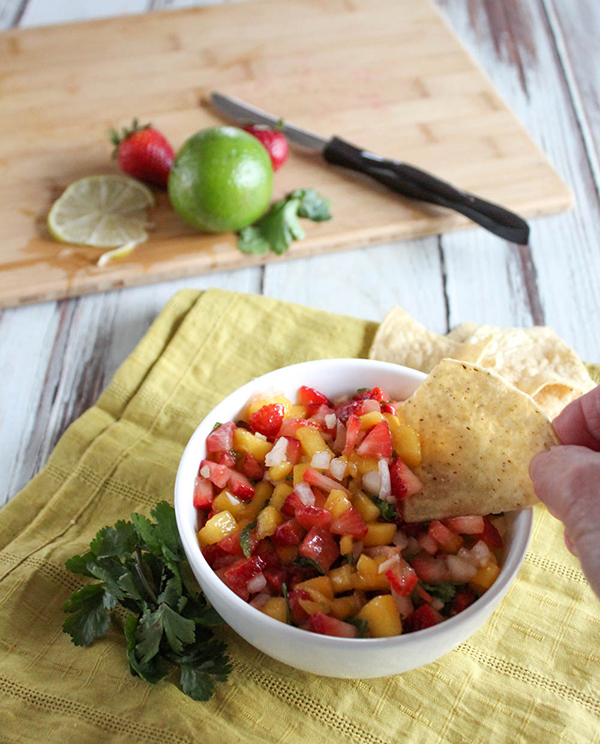 Variations
Customize your salsa and use fresh chopped, plum tomatoes, pineapple or peaches in place of either the strawberries or the mango.
Leave out the jalapeno pepper for a mild salsa or use half of a jalapeno pepper for a less spicy version.
Change up the fresh herbs: use chopped fresh oregano, parsley or basil in place of cilantro.
Substitute fresh garlic with ½ teaspoon of garlic powder
Substitute fresh onion with 1 teaspoon onion powder.
You Might Also Like These Recipes