Peach arugula salad with goat cheese is a quick and healthy salad that is the perfect blend of sweet, peppery and tangy.
Sweet ripe peaches are in contrast with peppery arugula to make a unique blend of flavors. The goat cheese melts into the salad adding a rich and creamy dimension with a hint of crunch from the pistachios.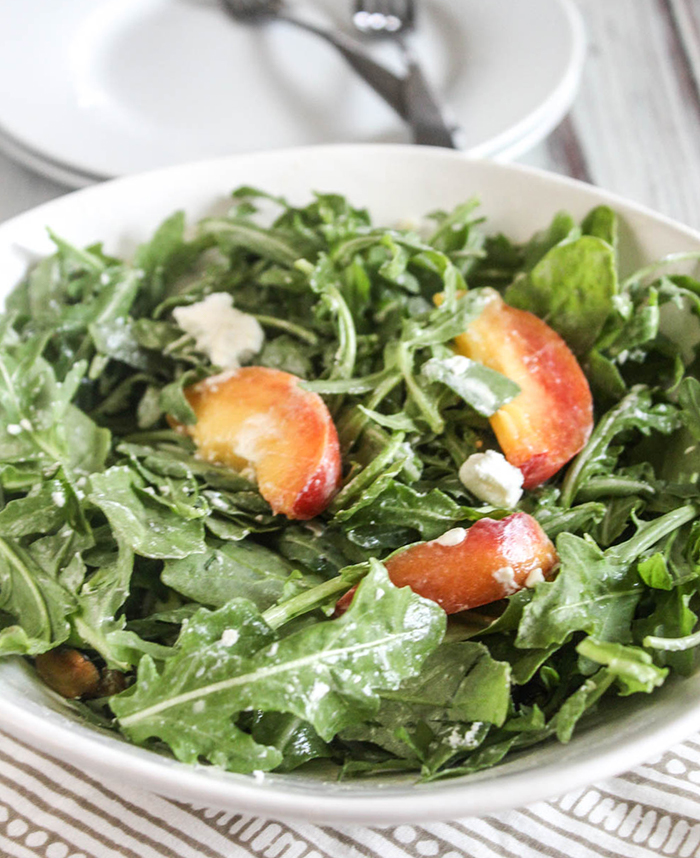 Recipe Highlights
Here is What You Will Need
As an Amazon Associate, I earn from qualifying purchases
This is an overview of the ingredients and steps to make this recipe, scroll down for a printable recipe card with exact measurements and instructions.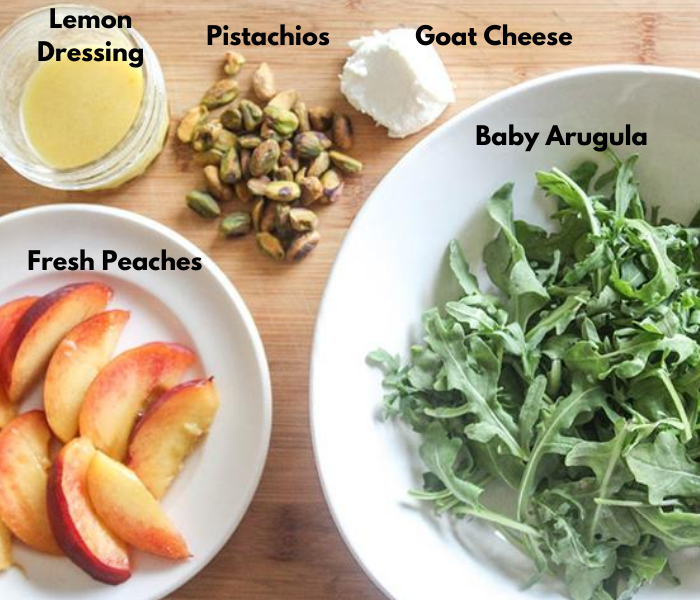 Baby arugula
Fresh peaches
Goat cheese
Fresh lemon juice
Small jar to mix up the dressing (optional)
Citrus juicer (optional and will make your life easier)
How to Make It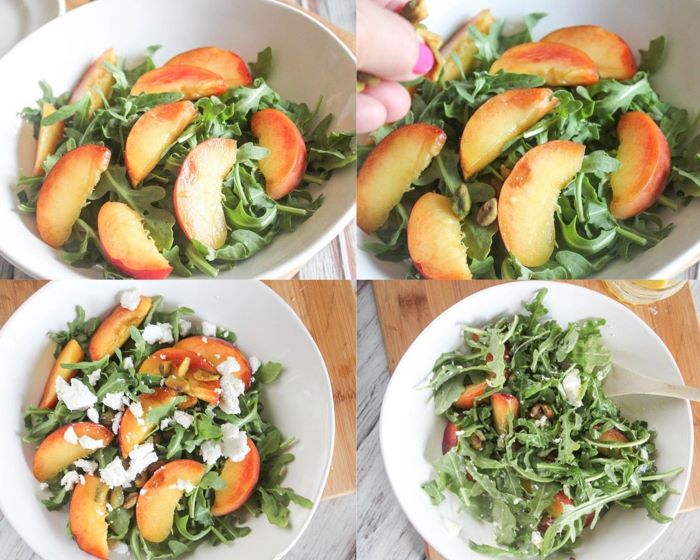 This salad comes together quickly, here is how: mix the dressing ingredients together, slice the peaches, and add the arugula to a salad bowl. Next, add the goat cheese crumbles, pistachios and pour on the dressing saving some to serve on the side. Gently combine toss the salad and enjoy!
Please note that this is a summary of steps, for detailed instructions see the recipe card below.
Estimated Time To Make This Recipe: 15 to 20 minutes
Ingredient Notes
Baby Arugula
Arugula is nutrient rich, low calorie, full of antioxidants, and pairs perfectly with the other ingredients in this salad.
Baby arugula has tender petite leaves with a peppery flavor and it is not as strong as mature arugula. Either version of arugula (baby or mature) can be used to make this salad, though baby arugula is more common in salads due to its milder flavor and tender texture.
Peaches
Fresh, in season and ripe peaches are the best type of peaches to use in this salad. They can be sliced up in larger sized pieces or you can dice them up into smaller pieces, whichever you prefer.
If you aren't sure how to tell if a peach is ripe, here are a few tips: ripe peaches will smell sweet, have a dark yellow color and will have some give to them when gently pressed.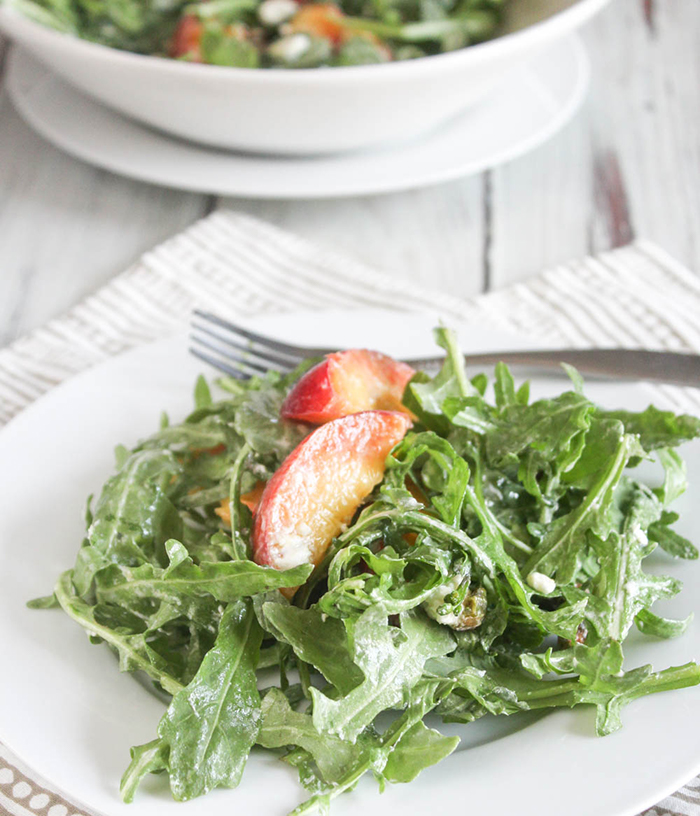 Serving Suggestions
Arugula salad with peaches is the perfect side dish to serve with cilantro lime shrimp or pasta with homemade bolognese sauce. It also tastes great as a main dish topped with grilled chicken, shrimp or salmon.
Make it ahead of time
Make dressing and store it in the refrigerator for up to four days. One day before you can slice the peaches and store them in the refigerator in an airtight container and store the arugula in a separate bowl.
10 to 20 minutes before serving remove the dressing from the refrigerator and put the salad together by combining the peaches and arugula in a bowl, add the pistachios and crumbled cheese. Toss in the dressing and serve.
TIP! If the olive oil in the dressing solidifies, place the container of dressing in warm water for a few minutes to soften it.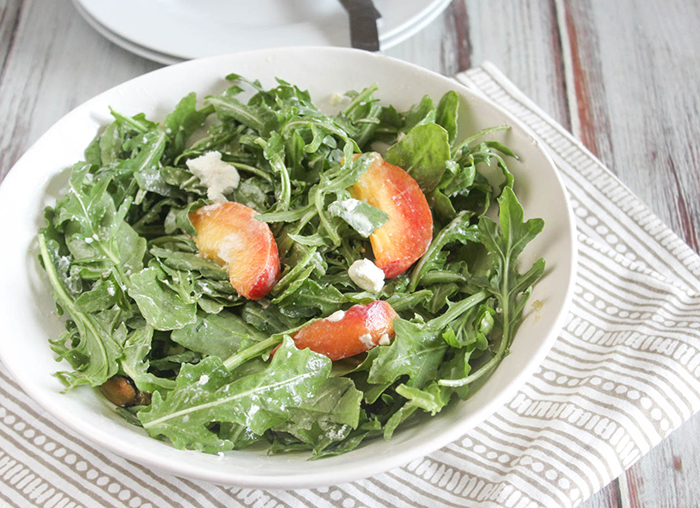 How to Store Leftovers
Store your leftover peach arugula salad in the refrigerator for up to one day. To serve it, add a little bit of dressing or plain olive oil and toss it together.
Recipe Variations
Change up the cheese and use feta, gorgonzola or thin slices of Parmesan cheese in place of the goat cheese.
For a vegan version, leave the cheese out.
Substitute the pistachios for walnuts, pecans or almonds.
You Might Like These Salad Recipes
The Recipe