Sweet and tender baby turnips are roasted in olive oil and garlic then tossed with turnip greens for a delicious spring side dish.
Unlike larger turnips that can have a strong taste, baby turnips are more delicate and sweet. When they are roasted in the oven with garlic and oil, they caramelize and transform into a delicious melt-in-your-mouth vegetable.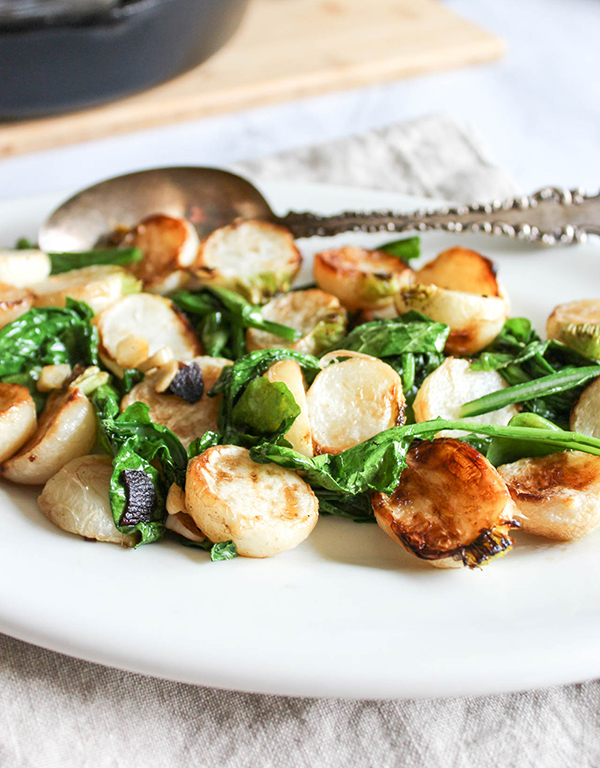 Roasting mellows out the flavor in most vegetables as it does with baby turnips and roasted Brussels sprouts.
Why this Recipe Works
Roasted baby turnips are easy to make in one pan with a few ingredients.
Baby turnips have a thin skin and don't need to be peeled.
Roasted turnips with sauteed greens is a delicious and healthy side dish!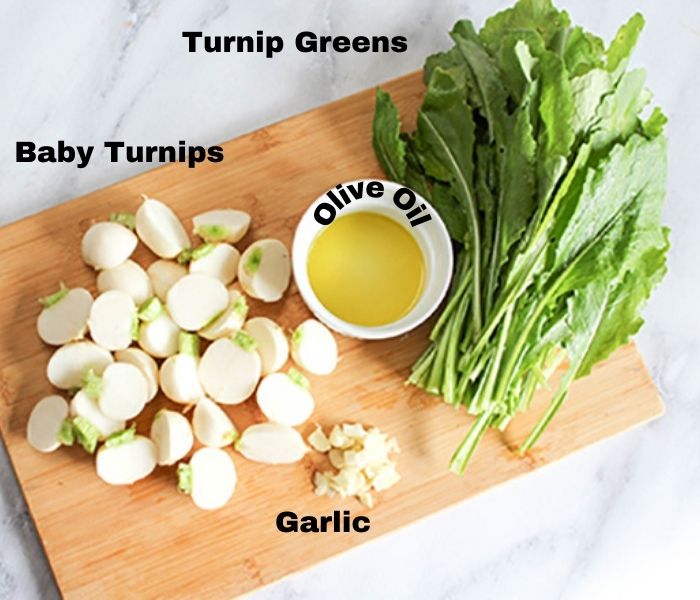 Here is What You Will Need
As an Amazon Associate, I earn from qualifying purchases
This is an overview of the ingredients and steps to make this recipe, scroll down for a printable recipe card with exact measurements and instructions.
This is an overview of the ingredients and steps to make this recipe, scroll down to see ingredient notes and substitutions as well as a printable recipe card with exact measurements and complete cooking instructions.
---
---
Total Estimated Time to Make This Recipe: 30 to 40 Minutes
Here is How To Make Roasted Baby Turnips With Sauteed Greens
Prepare the ingredients: Preheat the oven to 400. Wash the baby turnips and greens, trim the root ends off of the baby turnips and cut them in half. Chop the garlic, and roughly chop the turnip greens.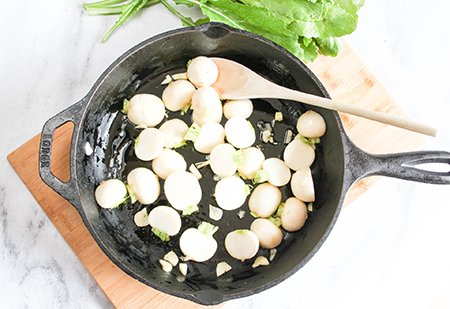 Step 1. Add 1 tablespoon of olive oil, 1 clove of chopped garlic, and baby turnips to the skillet; toss the ingredients together making sure the turnips are evenly coated in the oil.
Tip! A cast-iron skillet works best in this recipe and it can go from the oven to the stovetop with very little effort.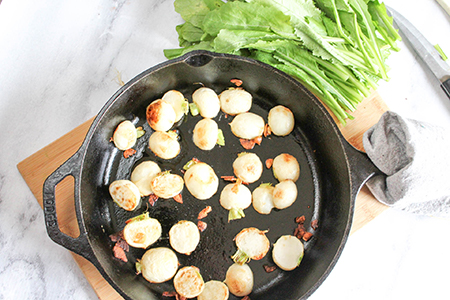 Step 2. Place the skillet with the turnips and garlic into the oven and roast the turnips for 10 minutes. Give them a quick stir and roast them for 10 minutes longer until they start to turn golden brown.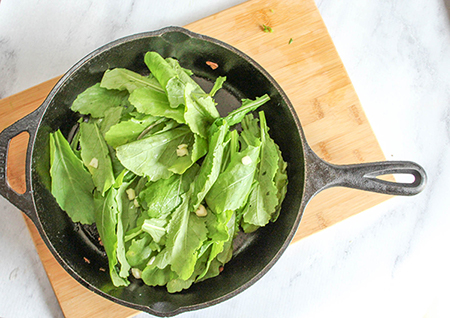 Step 3. Remove the turnips from the oven and place them in a dish. Add the turnip greens, remaining oil, and garlic to the pan on the stove over medium heat; stir the turnip greens until they begin to wilt.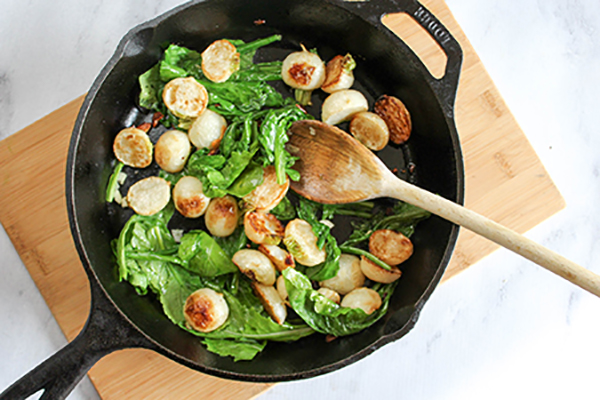 Step 4. Add the roasted turnips back to the skillet and toss them with the greens until everything is heated through.
Ingredient Notes & Substitutions
Baby Turnips are in season in the spring and early fall. They are sweet and tender with a slight peppery bite. They are similar in size to radishes and taste nothing like the bitter-tasting larger turnips that are available in the late fall.
Substitute the turnips with radishes & radish greens for a more peppery flavor.
Substitute fresh garlic for ⅛ teaspoon garlic powder for each clove.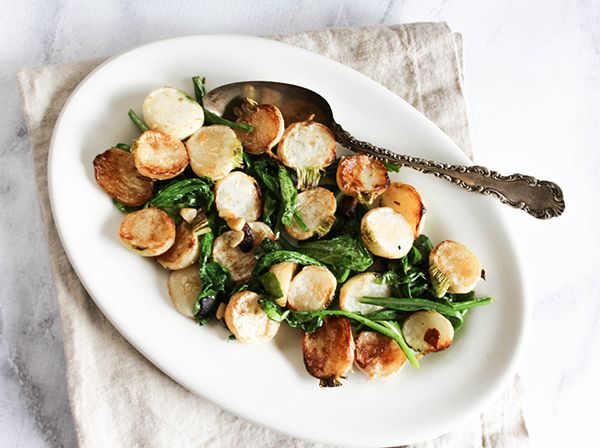 Serving Suggestions
Serve roasted baby turnips with your favorite grilled or roasted meat such as jerk chicken breasts, coffee-rubbed pork chops or hasselback pork tenderloin.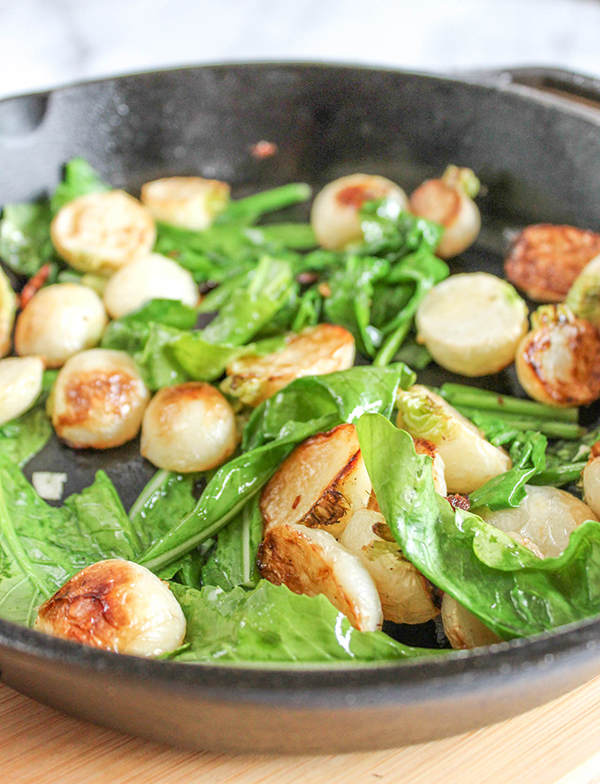 Storing and Using Leftovers
Store leftovers in an airtight container for up to three days.
Reheat the leftover turnips in a skillet with a little bit of oil and heat them through.
Recipe Variations
Add umami flavor - stir in a teaspoon of balsamic vinegar or tamari sauce to the pan with the turnip greens for an umami flavor.
Add crunch - top the baby turnips with sauteed greens with toasted sesame seeds or pumpkin seeds for a little bit of crunch.
Cheese - sprinkle the turnips with grated parmesan cheese.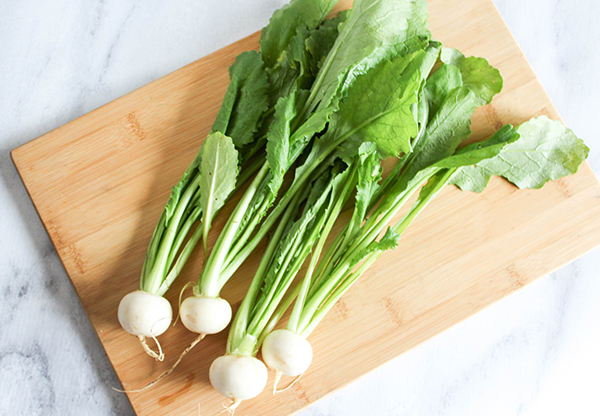 Baby Turnip Questions Anwered
Here are the most commonly asked questions about baby turnips. If your question isn't answered below, leave me a comment below and I will get back to you as soon as I can.
How do I Choose baby turnips?
Look for turnips that are smooth without any blemishes, and the greens should be bright green free of yellow spots.
Why don't I need to peel baby turnips for this recipe?
Unlike the heartier fall turnips, baby turnips don't need to be peeled. The skin is tender, simply wash them off and cut off the root and the greens when it's time to eat them.
You might also like these recipes
Join Our Mailing List to Receive Weekly Menu Ideas and More!