These are the best-baked potatoes ever! They are crispy on the outside and fluffy on the inside.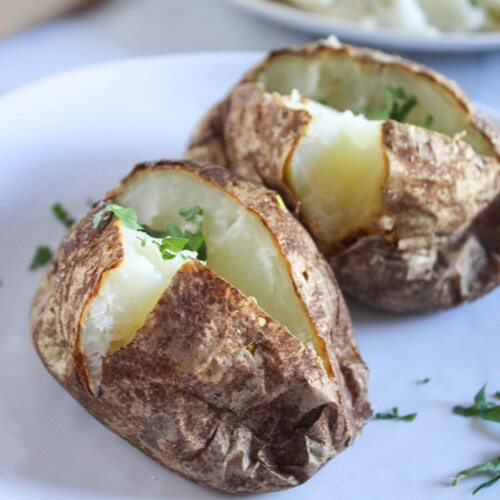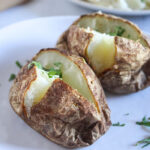 You can hardly call this air fryer baked potato recipe a recipe! These potatoes are so easy to make, and the result is the perfect baked potato every time. Air Fried baked potatoes are light and fluffy on the inside with delicious crisp skin on the outside.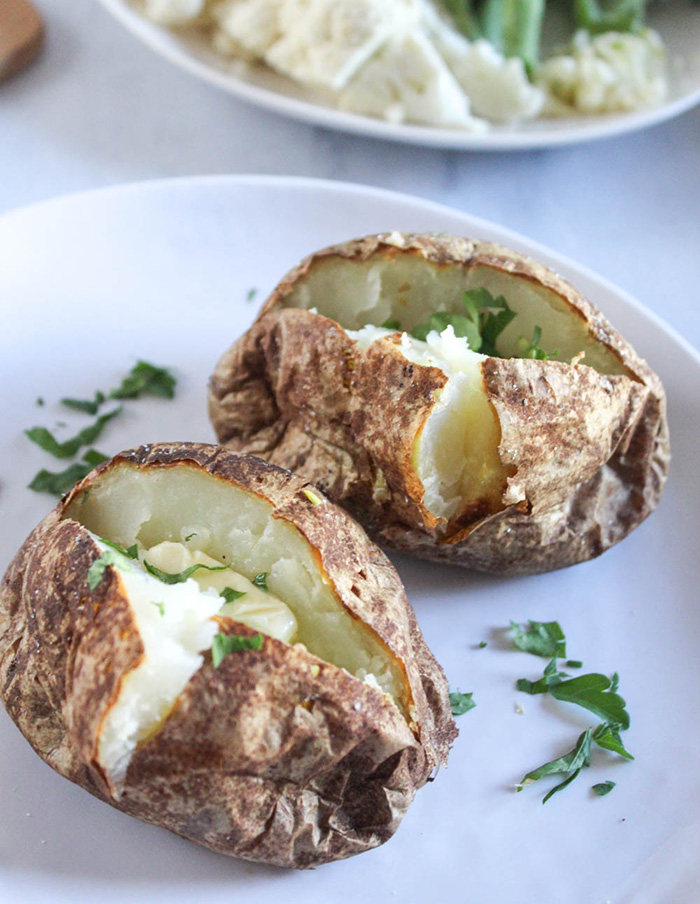 This air fryer baked potatoes recipe isn't a shortcut for traditional baked potatoes, if you are pressed for time, try my recipe for air fryer baby potatoes.
Why This Recipe Works
Baked potatoes in the air fryer are the best baked potatoes ever, crisp skins on the outside and fluffy on the inside.
The air fryer doesn't heat up your kitchen which is perfect for the warm weather.
Here Is What You Will Need to Make this Recipe
This is an overview of the ingredients and steps to make this recipe, scroll down for a printable recipe card with exact measurements and instructions.
As an Amazon Associate, I earn from qualifying purchases.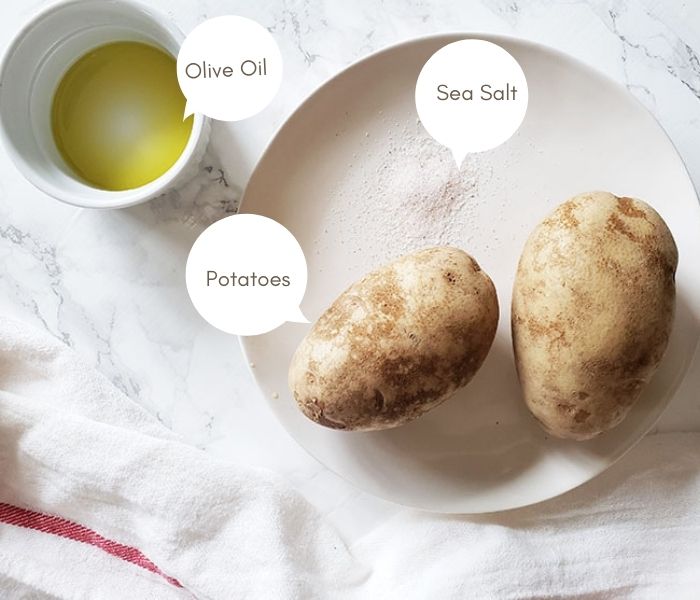 Ingredients List
Equipment
Here is How to Make Air Fryer Baked Potatoes
Scrub the potatoes and dry them. Use a fork to pierce them.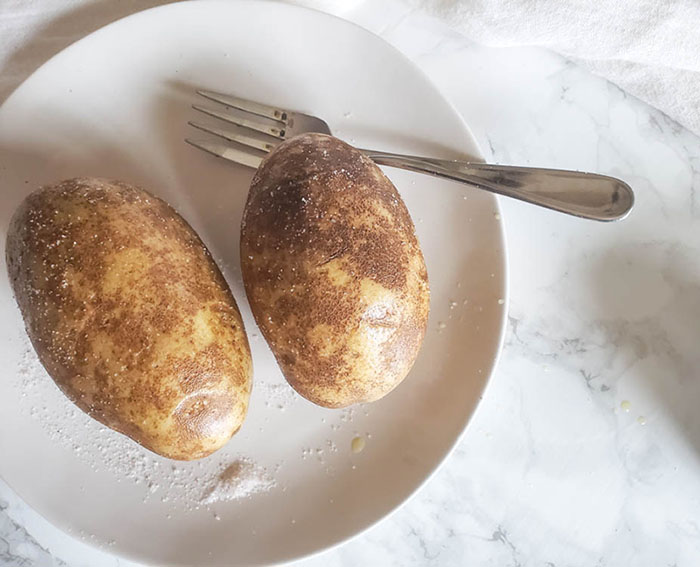 Step 1. Coat the potatoes with oil
Use a pastry brush or your hands to coat the entire potato with oil, and sprinkle the potatoes with sea salt.
Step 2. Air Fry the Potatoes
Place the potatoes on an air fryer tray or air fryer basket and air-fry the potatoes for 40 to 45 minutes, flip them over halfway through cooking time.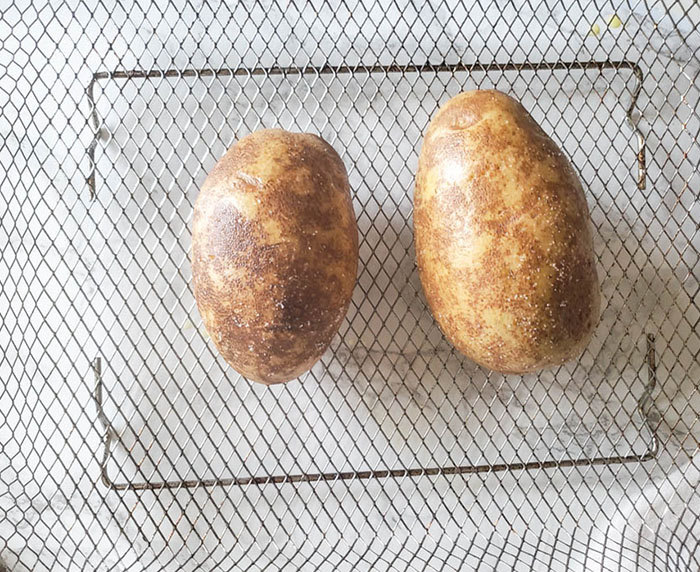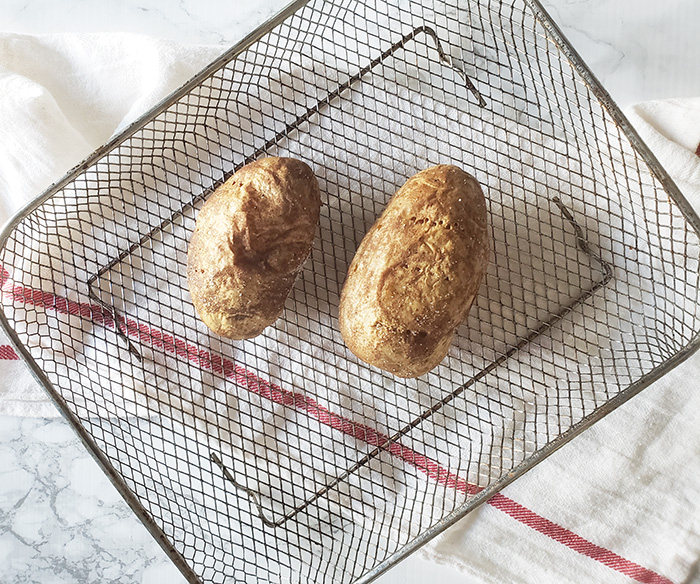 Step 3. Serve
Once the potatoes are cooked, slice them oven and serve with butter and your favorite toppings.
Note: Cook time may vary depending on the size of the potato and your air fryer. Baked potatoes are ready when a fork easily pierces easily.
Ingredient Notes and Substitutions
The best potato to use for baked potatoes
Russet potatoes are the best potatoes to use when making baked potatoes. They have thick skins, are low in moisture and high in starch which makes them the perfect candidate for baking.
Russet potatoes can be substituted with Yukon gold potatoes if russets aren't available.
Sea salt or kosher salt?
Either variety of salt will work with baked potatoes in the air fryer. Both Kosher salt and sea salt have a grainy texture which helps to draw the moisture out of the potatoes which results in a dry fluffy texture.
The best oil to use
The best oil to use when making air-fryer baked potatoes is olive oil or avocado oil.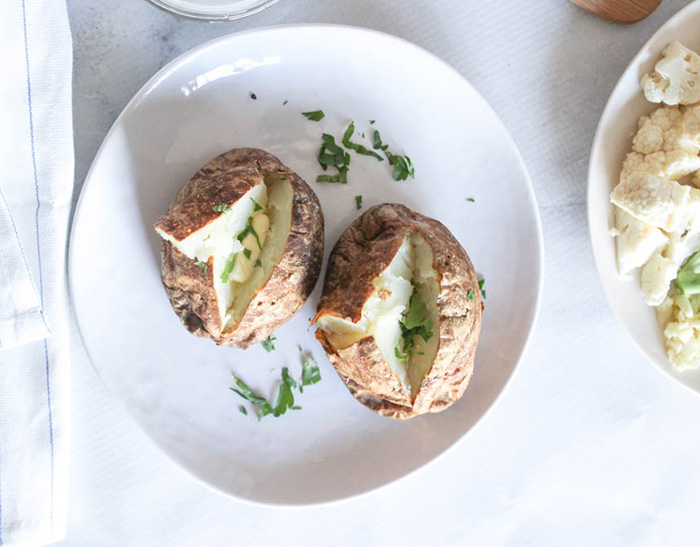 Serving Suggestions
Baked potatoes are the perfect side dish for your favorite meal such as grilled chicken , turkey meatloaf, or grilled pork or pan-seared pork chops.
Air Fried Baked potatoes also taste great as a main dish with your favorite toppings (see suggestions below) and a side salad.
How to store leftover baked potatoes
Store leftover baked potatoes in the refrigerator in an airtight container for up to 5 days.
Reheat the potatoes in the oven or microwave.
Leftover baked potato suggestion: Dice up the baked potatoes and toss them in a skillet with a little oil, onions and peppers for quick home fries which are perfect to serve with a crustless breakfast pie!
Baked Potato Topping Suggestions
Try topping your baked potatoes with any combination of these toppings.
Loaded baked potato. A dollop of sour cream or yogurt, chives or green onions, bacon, shredded cheddar cheese, steamed broccoli.
Chili baked potato. Chili, chopped onions and shredded cheddar or pepper-jack cheese.
Veggie baked potato. Sauteed vegetables such as broccoli, zucchini, shredded cheese and ranch dressing or melted butter.
Mexican baked potato. Black beans, salsa, guacamole or pico de gallo, chopped onions, cheese and jalapeno peppers.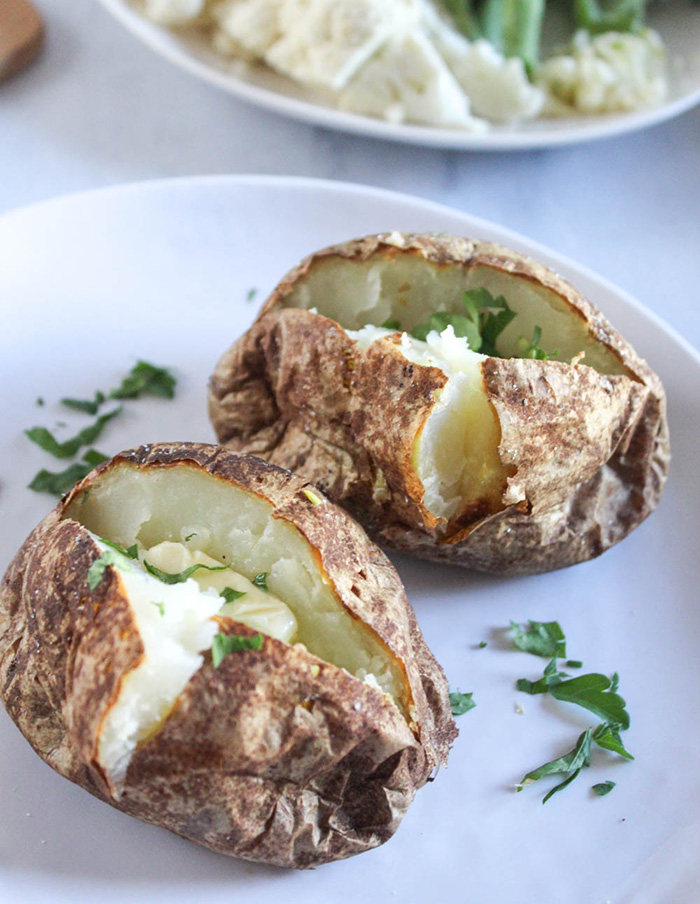 Top tips
This recipe is for two baked potatoes, you can make as many potatoes that you need as long as they fit into your air fryer. Cooking time will remain the same as long as the potatoes are medium sized. You will need to adjust the time up for larger potatoes and down for smaller potatoes.
If you are air frying several potatoes, be sure to not crowd the air-fryer for best results.
Do you need to pierce the potatoes before air-frying them?

Yes! It's important to poke holes in the potatoes. The little holes allow the steam to escape from the potatoes which will prevent them from exploding. It may not happen all of the time, but potatoes can explode and it's a mess to clean up.
Can you air-fry sweet potatoes?
Yes, you can. Follow the instructions in the recipe card, and adjust the cooking temperature to 375 degrees F and cook for 35 to 45 minutes depending on the size of the sweet potato.
For more simple and delicious recipes like this, subscribe to our newsletter and receive a free e-book and meal suggestions straight in your inbox!
You Might Also Like These Air Fryer Recipes
If you like this recipe, please comment and rate it below!
📖 Recipe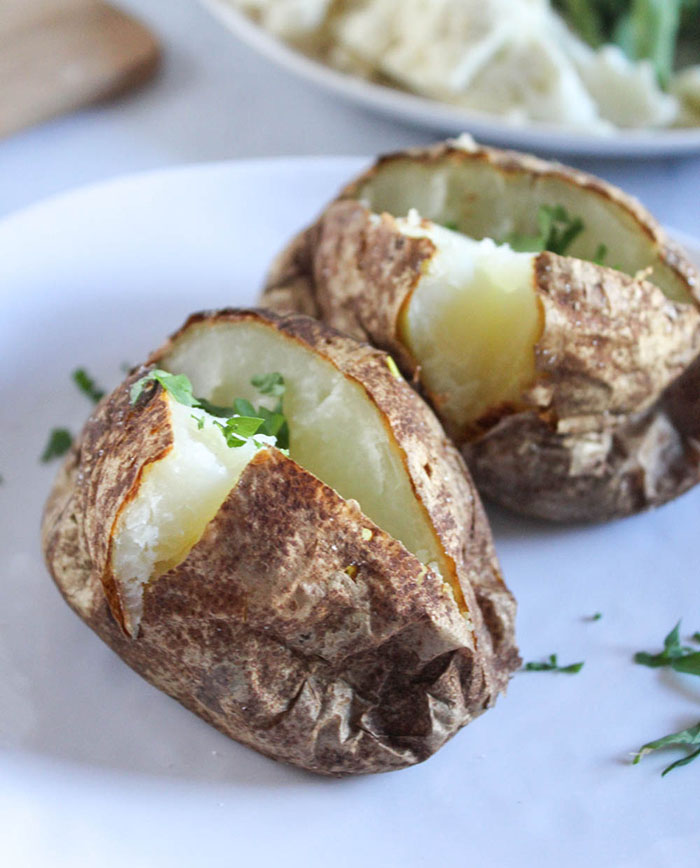 Click on serving size to scale this recipe
Ingredients
2

medium russet potatoes

1

tablespoon

olive or avocado oil

½

tablespoon

sea salt
Instructions
Scrub and dry the potatoes; pierce them with a fork.

Use your hands or a brush to coat the potatoes in oil.

Sprinkle them with salt.

Place them on the air-fryer tray or basked and air fry at 400 degrees f for 40 to 45 minutes.
Notes
Store leftover baked potatoes in the refrigerator for up to five days. Reheat leftover potatoes in a skillet, oven or microwave.
This recipe serves 2, but can easily be doubled or tripled as long as the air fryer is large enough to fit the potatoes. Cooking time does not need to be adjusted for more potatoes.
Serve baked potatoes as a side dish with grilled or roasted meat or as an entree with your favorite toppings such as sour cream, yogurt, shredded cheese bacon (see topping suggestions in the post above),
Nutrition
Serving:
1
potato
|
Calories:
230
kcal
|
Carbohydrates:
38
g
|
Protein:
5
g
|
Fat:
7
g
|
Saturated Fat:
1
g
|
Polyunsaturated Fat:
1
g
|
Monounsaturated Fat:
5
g
|
Sodium:
1755
mg
|
Potassium:
889
mg
|
Fiber:
3
g
|
Sugar:
1
g
|
Vitamin A:
2
IU
|
Vitamin C:
12
mg
|
Calcium:
29
mg
|
Iron:
2
mg
Nutrition information provided is an estimate and can vary based on cooking methods and ingredients used