A flavorful melt in your mouth pot roast recipe that everyone will love.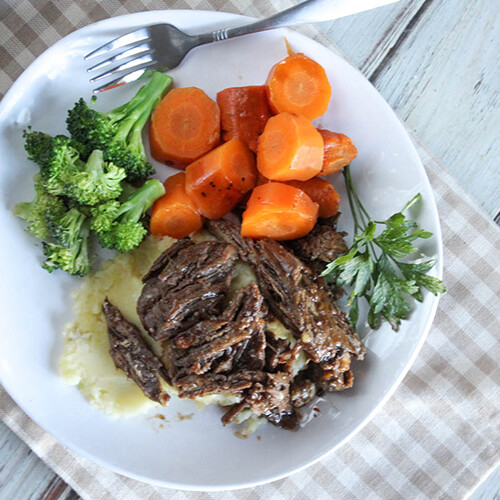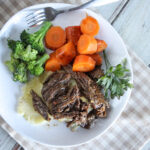 Savory braised chuck roast is a tender, melt in your mouth pot roast that is cooked with carrots low and slow for hours in a luscious sauce. It's an easy main dish recipe that everyone will just love.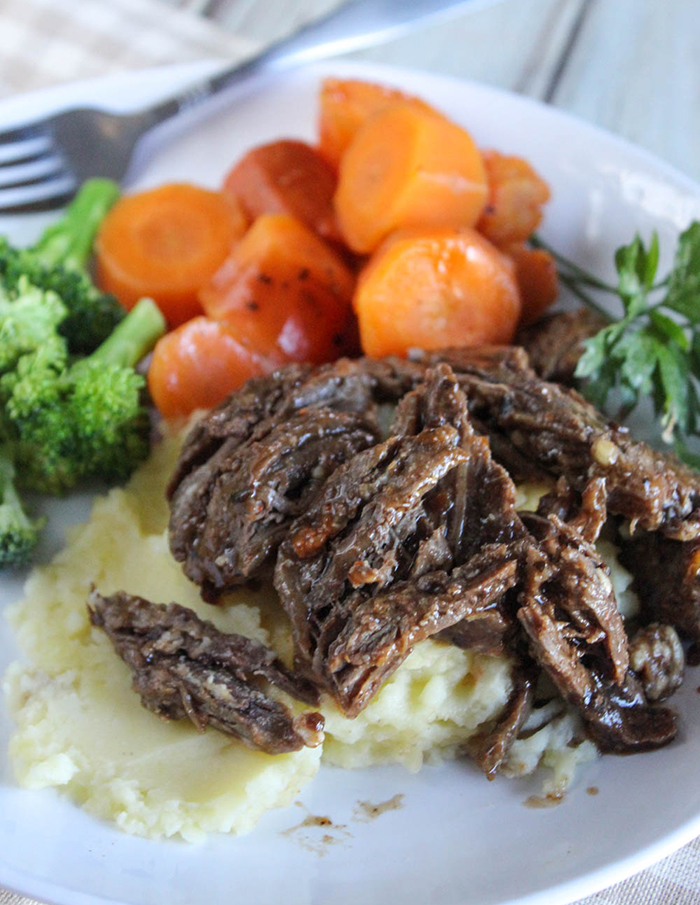 I received product samples to create this recipe, however all opinions are my own.
Teriyaki sauce is the perfect companion for a quick and easy pot roast recipe. It doesn't have a lot of funky ingredients in it, and it has a ton of flavor. After braising the beef and vegetables, it becomes rich and savory, and loses a good amount of the Teriyaki sweetness. This is the easiest way to make pot roast ever!
Why this recipe works
Even though it tastes like it took hours to make, it's an easy recipe to put together.
It's made with simple, healthy ingredients.
It's Paleo and Keto Friendly
Here is what you will need
Beef Chuck Roast
Garlic
Grated Ginger
Carrots
Kevin's Teryaki Gluten-Free Sauce or your favorite teriyaki sauce
Beef Broth or Beef Bone Broth
Dijon Mustard
Arrowroot (optional)
A heavy cast-iron braising pan, like this Lodge Combo Cooker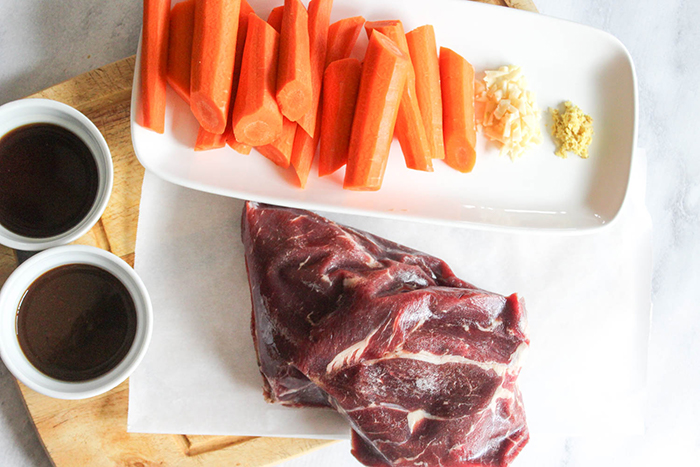 Total Estimated Time to Make This Recipe: 3 to 3 ½ hours
What Is Braising?
Braising is an easy way to cook tougher cuts of meat. It starts out with searing the meat to caramelize it on the outside without cooking it too much on the interior. Then you add enough liquid (wine, beer, broth and aromatics) to cover the meat about half way and simmer it on the stove or in the oven at low heat for several hours until it becomes tender.
The end result is a fall apart piece of meat that will melt in your mouth.
Here is how to make braised chuck roast in the oven
Add oil to the pan and heat it over high heat. Once the oil is hot, add the meat and cook for 5 to 8 minutes until it begins to turn brown. Flip it over and cook for 5 to 8 minutes longer so that both sides are brown.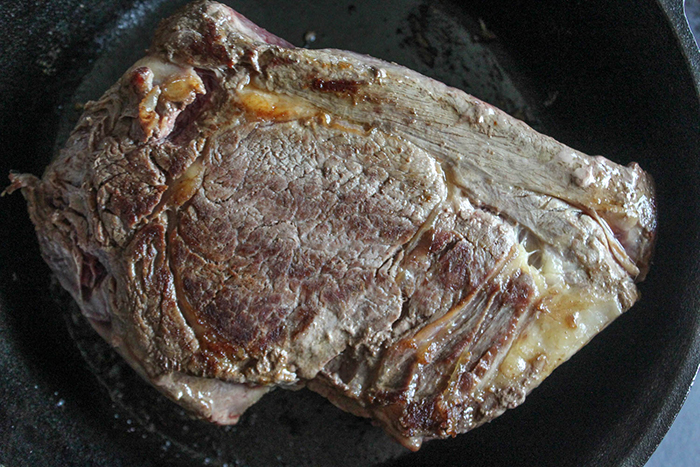 Once both sides of the meat are brown, combine the broth, garlic and ginger with the sauce, arrage the carrots in the pan around the meat. Pour the sauce mixture over the meat and carrots, cover and braise at 350.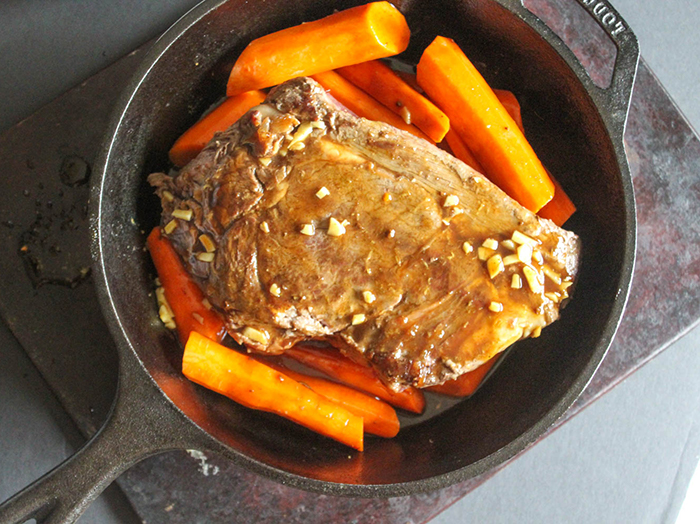 Remove the pan from the oven, thicken the sauce if necessary and enjoy!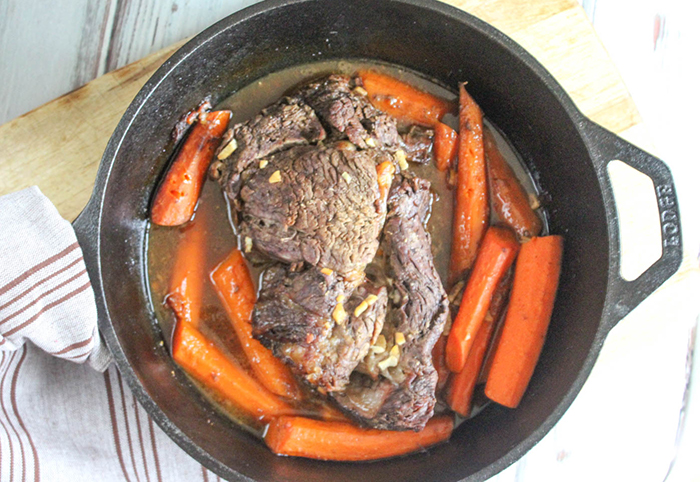 What to Serve Braised Chuck Roast with
Pot roast is the ultimate comfort food, we like to serve braised chuck roast with other comfort foods, like healthy mashed potatoes, egg noodles, cauliflower rice and a side of roasted brussels sprouts, steamed broccoli, or a simple spinach salad.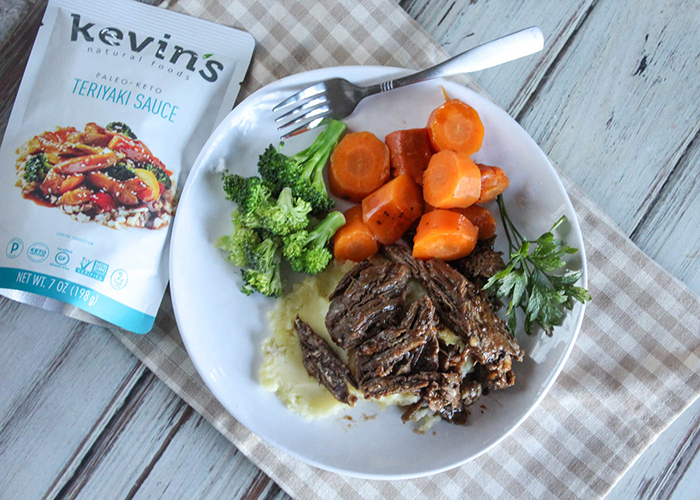 Storage and Leftover Ideas
Store leftover braised chuck roast in the refrigerator for up to 3 days in an airtight container.
Freezing is not recommended since I have not tried to freeze braised chuck roast.
Re-heat leftover chuck roast in a covered pan on top of the stove in the sauce.
Leftovers taste great heated and served over egg noodles, over toast, or chopped up in a casserole with peas and carrots and topped with mashed potatoes.
You might also like these recipes
📖 Recipe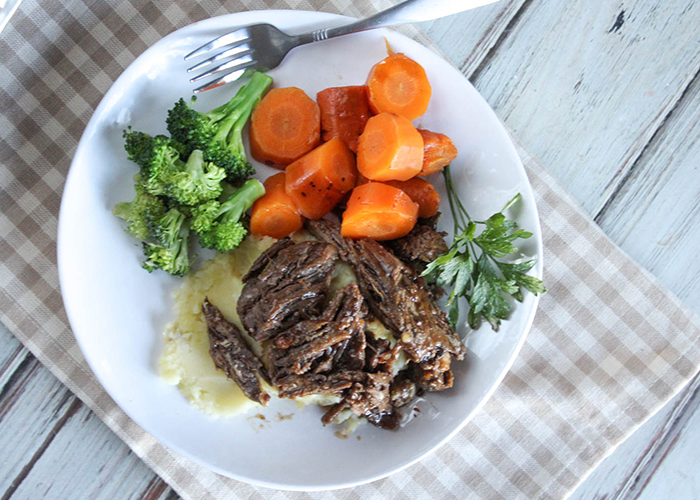 Click on serving size to scale this recipe
Ingredients
1

tablespoon

olive or avocado oil

1 2

and a half to 3-pound boneless chuck roast

cup

Kevin's Teriyaki Sauce or your favorite Teriyaki Sauce

¾

cup

of beef broth or beef bone broth

1 ½

pounds

of carrots

approximately 6 to 7, peeled and cut

1

teaspoon

ground ginger

2

cloves

of garlic chopped

½

tablespoon

dijon mustard
Instructions
Pre-heat the oven to 350

Heat the oil in a dutch oven or braising pan over medium to high heat.

Once the oil is hot, add the chuck roast and cook on one side until it starts to turn brown 5 to 7 minutes.

Turn the meat over and brown the other side for another 5 to 7 minutes.

Place the carrots around the piece of meat in the pan.

Combine the broth, garlic, ginger and Kevin's Teriyaki Sauce and pour it over the beef and carrots.

Cover it the pan and place it in the oven and bake for 2 ½ hours.

Remove it from the oven, and take the meat and carrots out of the pan, cover them to keep them warm.

Stir in the dijon mustard, and simmer on top of the stove uncovered for about 15 minutes.

If the sauce is too thin, thicken the sauce with a teaspoon of arrowroot just before serving.
Notes
Store leftover braised chuck roast in the refrigerator for up to 3 days in an airtight container.
Nutrition information provided is an estimate and can vary based on cooking methods and ingredients used