You are going to love Tex-Mex acorn squash stuffed with ground turkey! Roasted acorn squash halves are stuffed with lean ground turkey that has been flavored with Mexican seasoning and topped with cheese.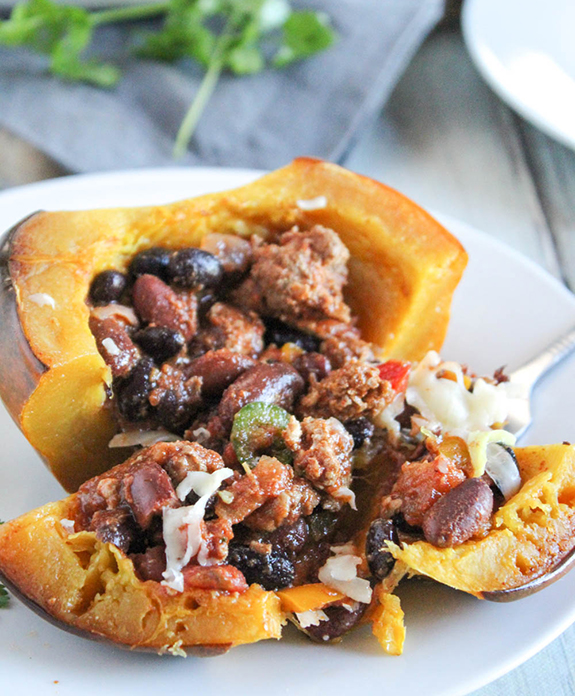 Tex Mex Acorn Squash Stuffed with Ground Turkey
The combination of the savory-spicy ground turkey and sweet squash balance each other out for a comforting meal that is served in its own edible bowl. It's perfectly portioned too, can it get any easier?
These little stuffed squash bowls taste great when you first serve them and even better the next day. They can be easily stored in the refrigerator and re-heated. Make up a double batch and use what's leftover during the week for lunch or a quick dinner.
Serve your Tex-Mex acorn squash with a side of steamed vegetables or a fresh Baby Arugula Fig Salad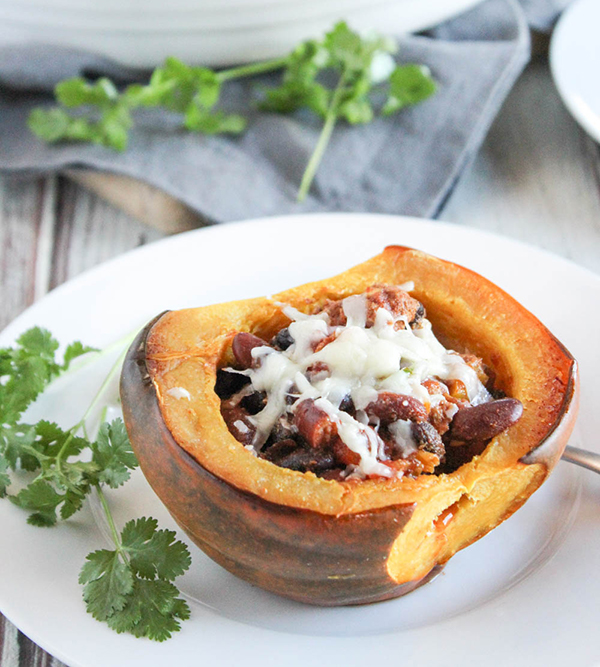 As an Amazon associate, I earn from qualifying purchases.
Here is What you will need to Tex Mex Acorn Squash with Ground Turkey
Acorn squash - When selecting acorn squash, look for squash that is blemish-free with a firm exterior. It should also feel heavy for its size.
Ground turkey breast
Canned or dried black beans that have been cooked
Onion
Garlic
Fresh or canned diced tomatoes to add flavor and moisture to the filling
Jalapeno pepper to add some heat, leave it out if you don't like hot food
Cheese - cheddar, Monterey jack, pepper jack or a combination of all three
How to Make Acorn Squash Stuffed with Ground Turkey
There are a only a few easy steps needed to make this recipe. The first thing you need to do is cut the squash. Use a sharp heavy knife and cut off the stem and slice the squash it down the middle vertically. Scoop out the seeds and set them aside. Spread a little bit of olive oil on the squash halves and place them on a pan cut side down and roast them.
While the squash is roasting, you can make the filling for the squash. Brown the meat in a skillet, add the vegetables, seasonings and beans. Once the squash halves are cooked, add the prepared filling and sprinkle the stuffed squash with cheese. Bake the squash bowls until the cheese melts.
It will take approximately 50 to 60 Minutes to make this recipe.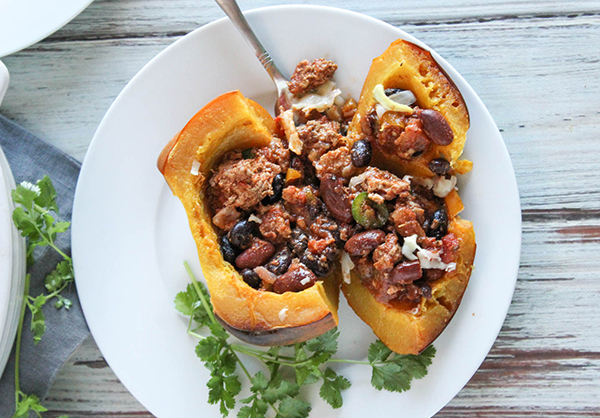 Make it Ahead of Time
This is a great recipe for meal prepping ahead of time. Here's how: prepare the squash and the filling, stuff the squash but leave the cheese off and store the squash bowls in the refrigerator. When it's time to eat, place the squash in an oven proof dish and cover it. Bake the squash bowls at 350 for 20 minutes. Remove the cover and sprinkle on the cheese and cook it for 10 minutes more.
Change it Up
Ground turkey can be replaced with ground chicken or beef
Make it Vegetarian Replace the ground turkey with 1 cup of cooked quinoa
Make it Vegan/Dairy Free - leave out the meat and cheese and sprinkle with nutritional yeast
Short Cut - Stuff the roasted squash halves with leftover chili
A few more Tex-Mex Favorites
Slow Cooked Chili Chicken