This healthy taco recipe is made with lean ground beef tossed with homemade taco seasoning and shredded fresh vegetables. They are an easy-to-make healthier version of homemade taco meat that the whole family will love
Serve these healthy tacos for taco Tuesday or any night with your favorite taco toppings; they are not only quick but also full of flavor.
This recipe was originally posted in 2019, it's been updated for content and photos.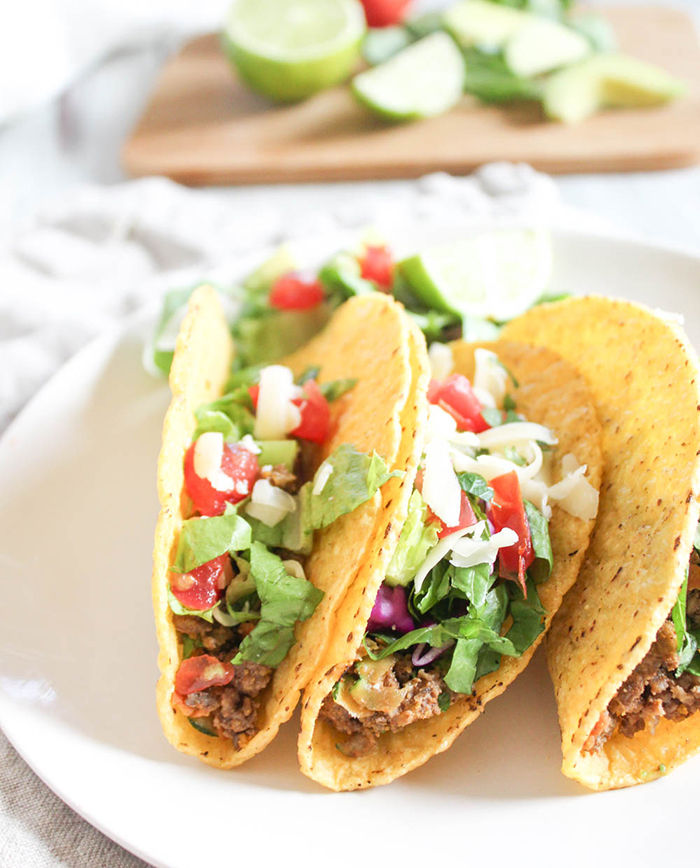 This healthy taco filling has a lot of versatility! It may be good for regular tacos, but it's also delicious in our sheet pan nacho recipe.
Recipe Highlights
This recipe is a great way to sneak extra vegetables into your day.
Tacos made with homemade seasoning blend, allow you to control the salt and heat in your tacos.
Tacos are quick and easy to make; dinner will be on the table fast!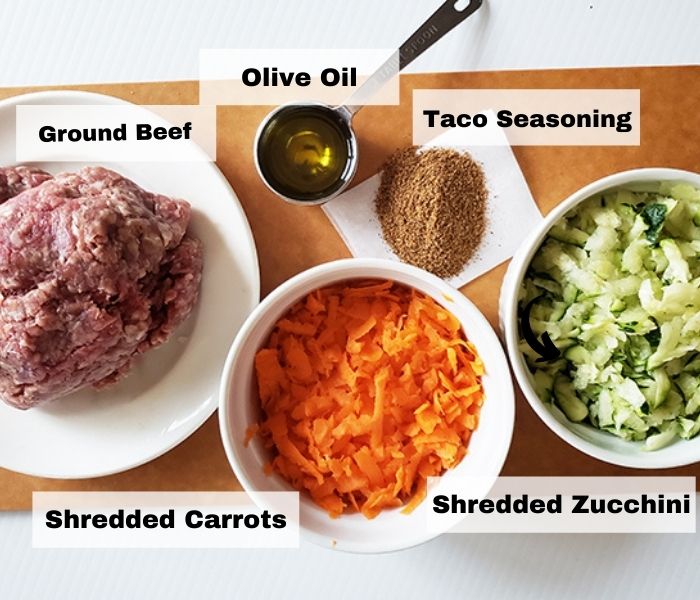 Here is What You Will Need to Make this Healthy Taco Recipe
As an Amazon Associate, I earn from qualifying purchases
This is an overview of the ingredients and steps to make this recipe, scroll down for a printable recipe card with exact measurements and instructions.
This is an overview of the ingredients and steps to make this recipe, scroll down to see ingredient notes and substitutions as well as a printable recipe card with exact measurements and complete cooking instructions.
Healthy Beef Taco Ingredients
shredded carrots
shredded zucchini
taco seasoning blend, here is my recipe for homemade taco seasoning
taco shells
your favorite taco toppings (chopped green or red onion, avocados, grated cheddar cheese, etc)
Tools Needed to Make This Tasty Taco Recipe
Skillet
Box grater to shred the vegetables
How to Make Homemade Beef Tacos
Get the ingredients ready - shred the carrots, zucchini, and cheese using a box grater or food processor; set them aside. Mix the seasoning blend together and set it aside.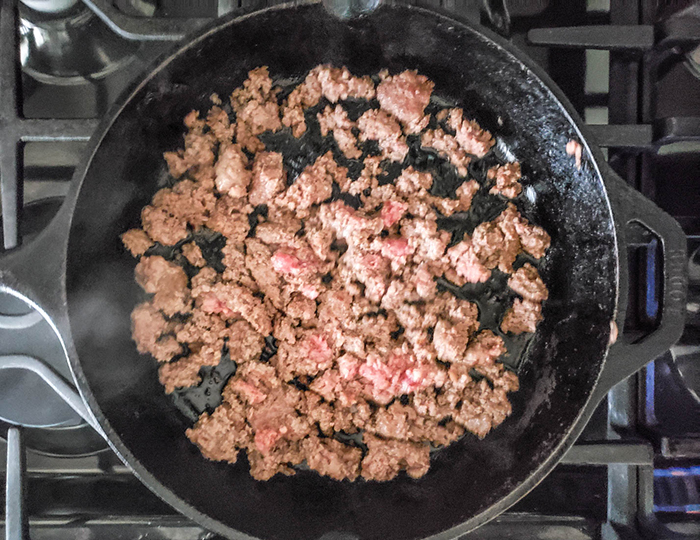 Step 1. Heat olive oil in a pan at medium-high heat. Once the pan and oil are hot hot, add the ground beef to the pan and cook it until it turns brown.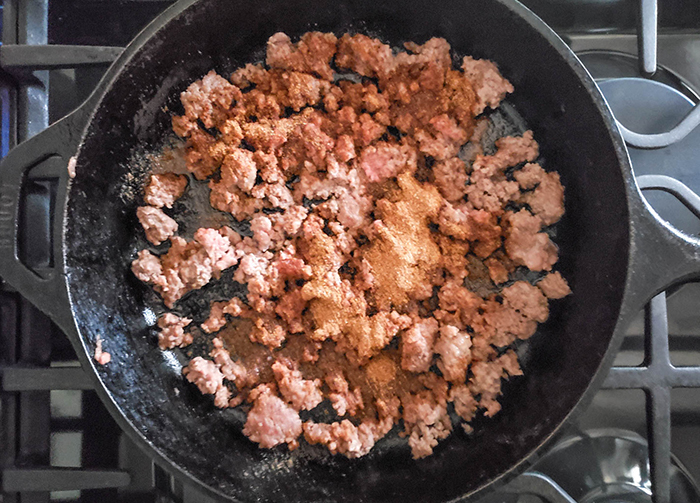 Step 2. Stir in the seasoning blend and reduce the heat to medium heat.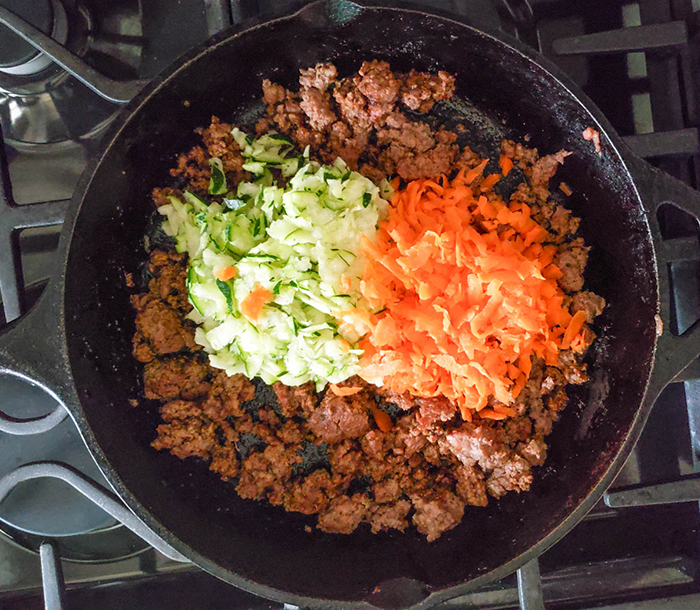 Step 3. Add the shredded carrots and zucchini.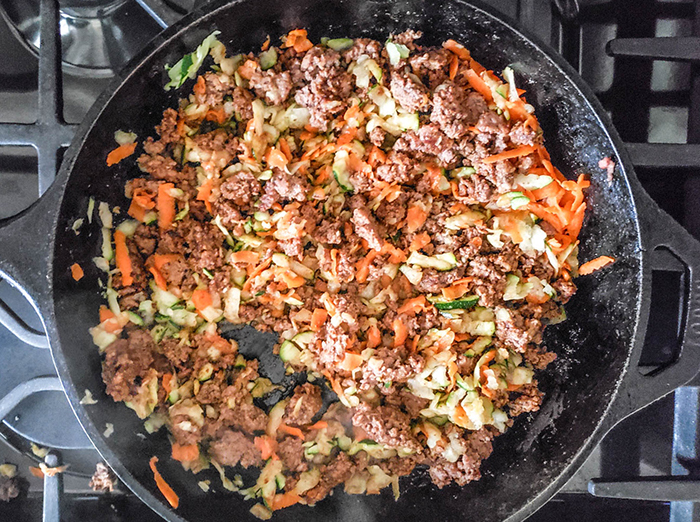 Step 4. Stir in the water, and reduce the heat to low; simmer for a few minutes.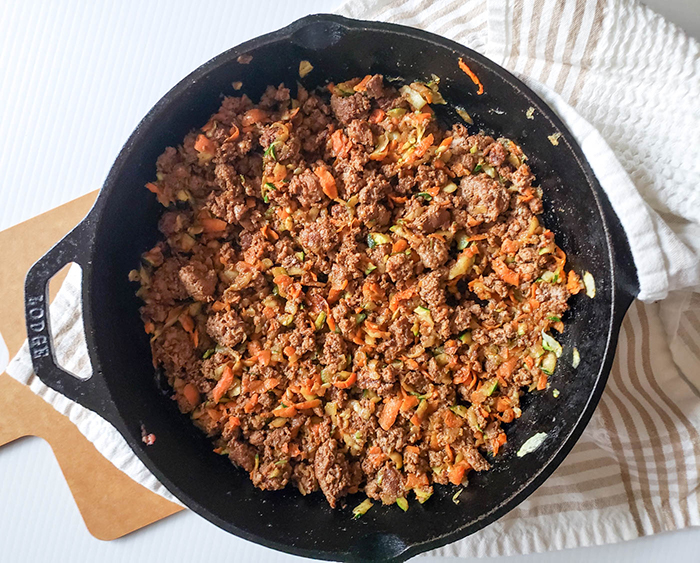 Step 5. Serve your healthy taco filling in your favorite taco shell.
Total Estimated Time to Make This Recipe: 30 to 40 Minutes
Ingredient Notes & Substitutions
Ground Beef: The best meat to use is ground round, chuck, or sirloin.
Ground beef substitutes - Any type of ground meat will work in this recipe. Try lean ground turkey, chicken, or pork.
Shredded carrots & zucchini substitutes: Most types of chopped-up vegetables are suitable to add to the taco meat filling in this recipe. Try using mushrooms, cauliflower rice, broccoli rice, bell peppers, butternut squash or beets.
Don't peel the zucchini! The zucchini skin is mild tasting and it's where most of the nutrients are. If you don't like the skin, you can remove it.
Homemade seasoning blend can be substituted with a premade blend like this taco seasoning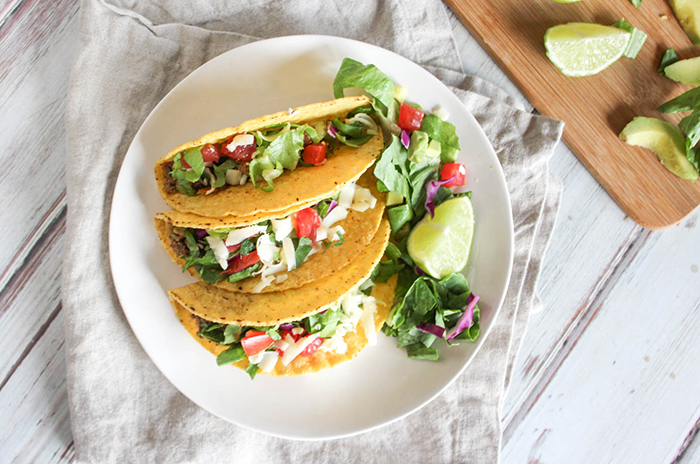 Storing and Using Leftover Taco Filling
Store leftover taco meat in the refrigerator in an airtight container for up to three days or in the freezer for up to three months.
Thaw the leftover taco meat overnight in the refrigerator.
Re-heat the taco meat on top of the stove or in the microwave.
What to do with leftover taco meat - add leftover taco meat to salads, rice and beans, wraps, tortillas, or quesadillas.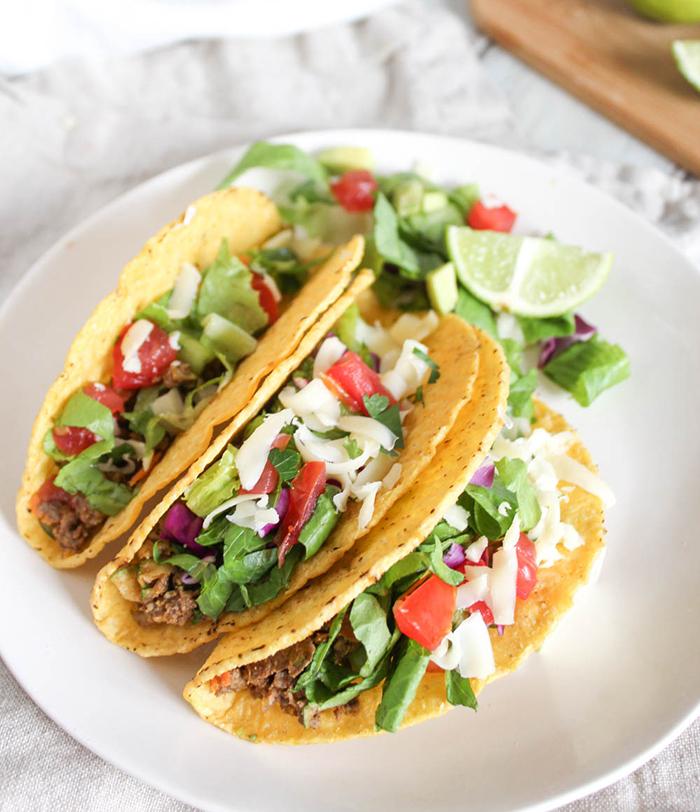 Serving Suggestions & Variations
Serve healthy tacos with any of your favorite taco toppings such as chopped fresh cilantro, olives, pickled onions, fresh garden salsa, salsa verde, homemade guacamole shredded pepper jack or cheddar cheese.
Taco salad - fill up a bowl with romaine lettuce, onions, tomatoes, shredded cheese, healthy taco meat, avocados and top it with a crumbled taco shell or tortilla chips, fresh salsa and Greek yogurt.
Nachos - add tortilla chips to a baking tray and cover them with taco meat, sprinkle on cheese and sliced jalapenos. Place the mixture into the oven at 350 until the cheese melts. Top the melted cheese with shredded lettuce, tomatoes, green onion, and salsa.
Use less meat - Reduce the meat to ½ pound and add ½ to ¾ cup of cooked black beans to the meat when the vegetables are added.
Your Healthy Taco Questions Answered
Here are the most commonly asked questions about these healthy beef tacos. If your question isn't answered below, leave me a comment and I will get back to you as soon as I can.
What type of taco shells are better to use, hard or soft?
We prefer our tacos in hard shells, but they also taste great as soft tacos in soft corn tortillas or flour tortillas.
Is there a healthier alternative for taco shells?
Try using romaine or bibb lettuce leaves to hold your taco meat.
Are Homemade Tacos Healthy?
Homemade is always healthier because you can control the ingredients. Homemade tacos contain less salt, and they have vegetables in them, so these tacos are much better for you than fast food tacos.
You Might also Like These Recipes
Sign up for our Mailing List to Receive Menu Ideas and More!
Join our mailing list to receive weekly menu ideas and more!