This Chicken Murphy recipe is a tasty dinner that blends sausage and peppers with chicken and potatoes covered in a spicy tomato sauce.
Growing up in New Jersey, I was lucky to have been exposed to a variety of regional dishes. Chicken Murphy is one of those incredible dishes. Despite it's name, Chicken Murphy is not an Irish recipe, it's an Italian-inspired stew-like dish. It's savory and spicy all in one bite.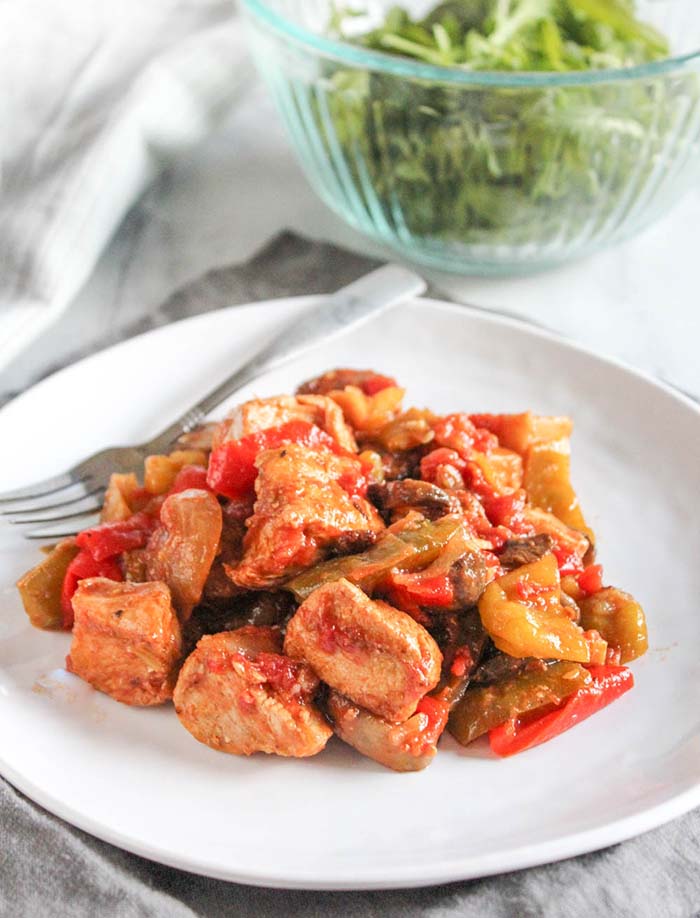 If you are looking for a less spicy version of Chicken Murphy, try Chicken Giambotta, a similar, less spicy tomato-free chicken recipe.
Why This Recipe Works
It is the perfect recipe to make ahead of time. Prepare a large batch, and pop it in the oven when it's time to eat.
It's made without flour, so it's gluten-free!
Flavor! It has the perfect balance of spicy, savory and salty.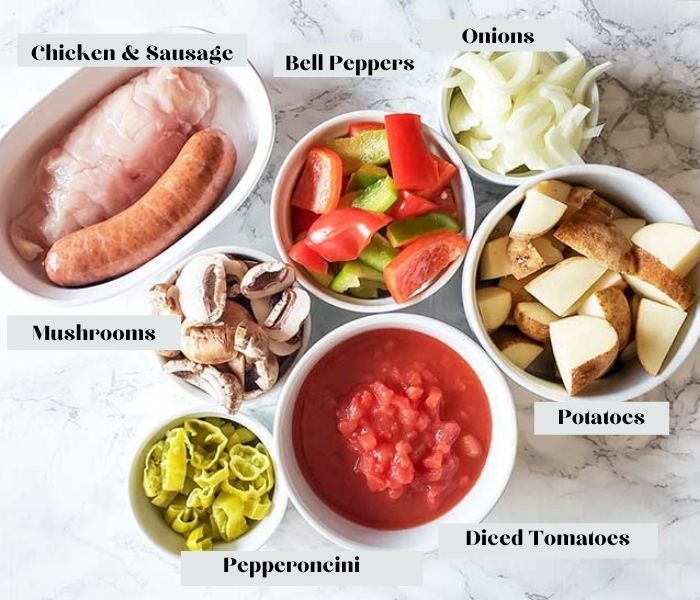 ---
Here is What You Will Need To Make This Recipe
As an Amazon Associate, I earn from qualifying purchases
This is an overview of the ingredients and steps to make this recipe, scroll down to see ingredient notes and substitutions as well as a printable recipe card with exact measurements and complete cooking instructions.
Ingredients
olive oil
boneless chicken breasts or tenders
sweet or hot Italian sausage
potatoes
cremini mushrooms
garlic
onion
bell peppers (red, green or orange)
diced tomatoes
Equipment Needed to Make This Recipe
Here Is How To Make The Best Chicken Murphy
Get all of the ingredients ready: cut the onions, garlic mushrooms, potatoes, and peppers. Measure the tomatoes, pepperoncini, and brine. Preheat the oven to 350 degrees F.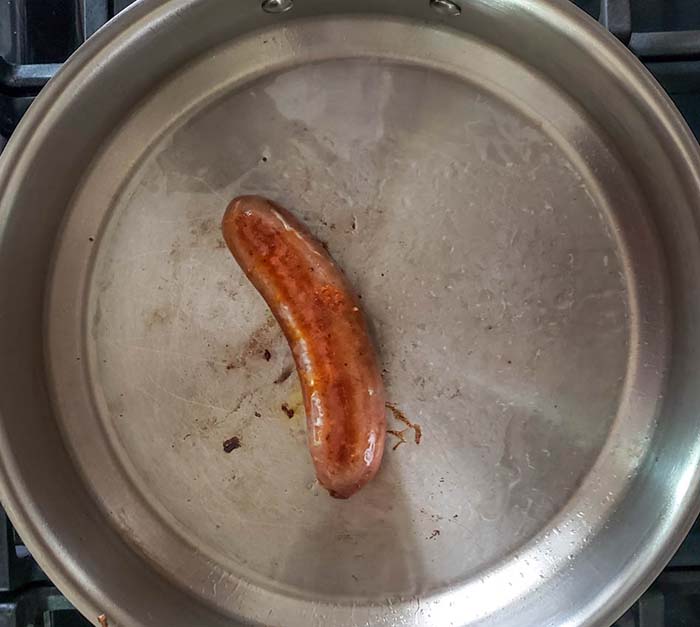 Step 1.
Brown the sausage in a skillet. Once the sausage turns brown, remove it from the skillet and set it aside to cool.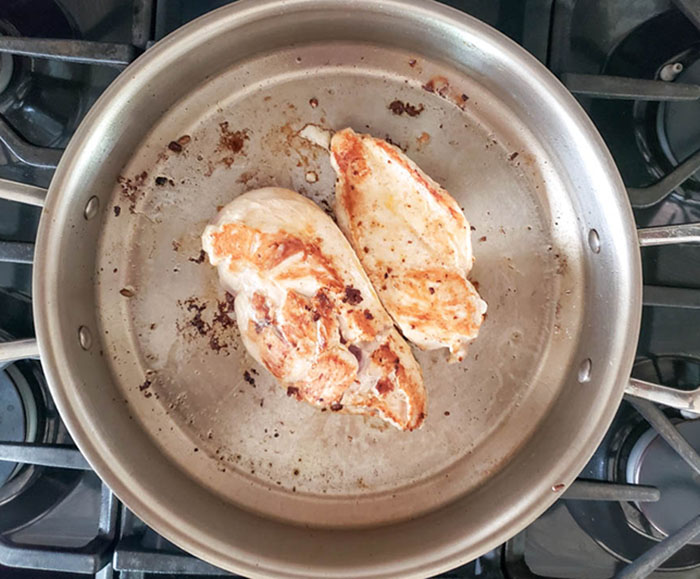 Step 2.
Next, brown the chicken breast in a skillet. Once the chicken is cooked, remove it from the skillet and set it aside with the sausage.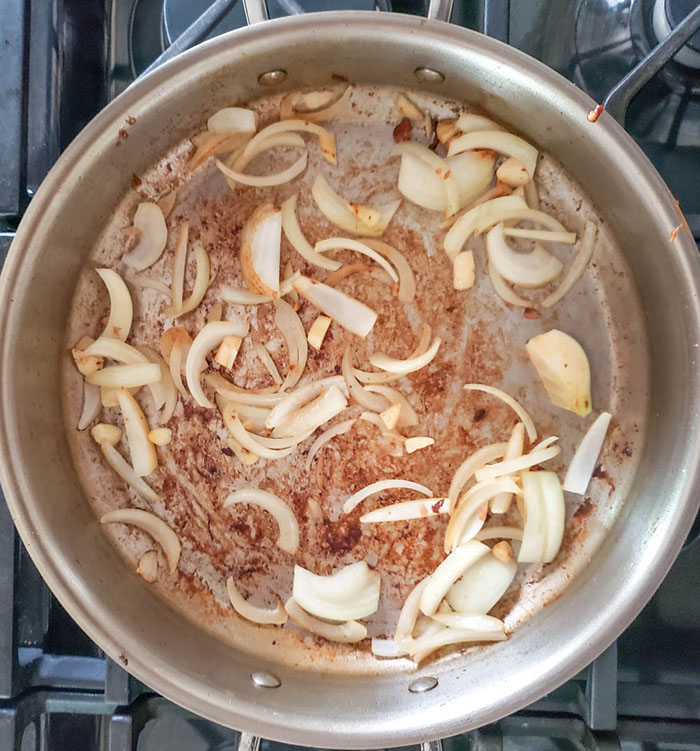 Step 3.
Brown the onions and garlic, set them aside once they begin to soften.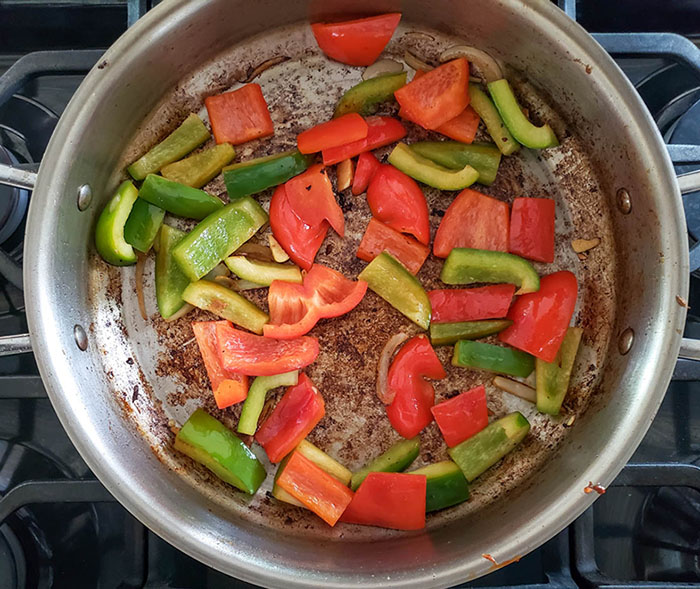 Step 4.
Sautee the peppers, until they begin to soften and remove them from the heat.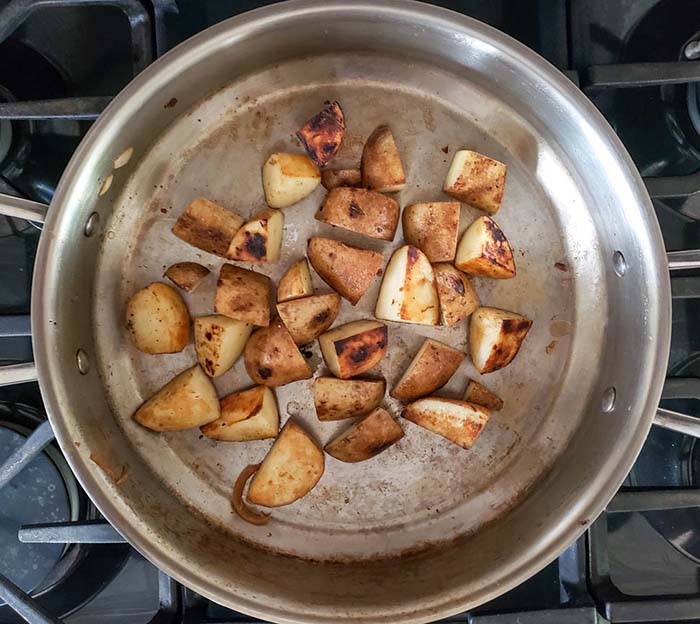 Step 5.
Cook the potatoes in the hot skillet until they begin to turn golden brown on the outside and remove them from the heat.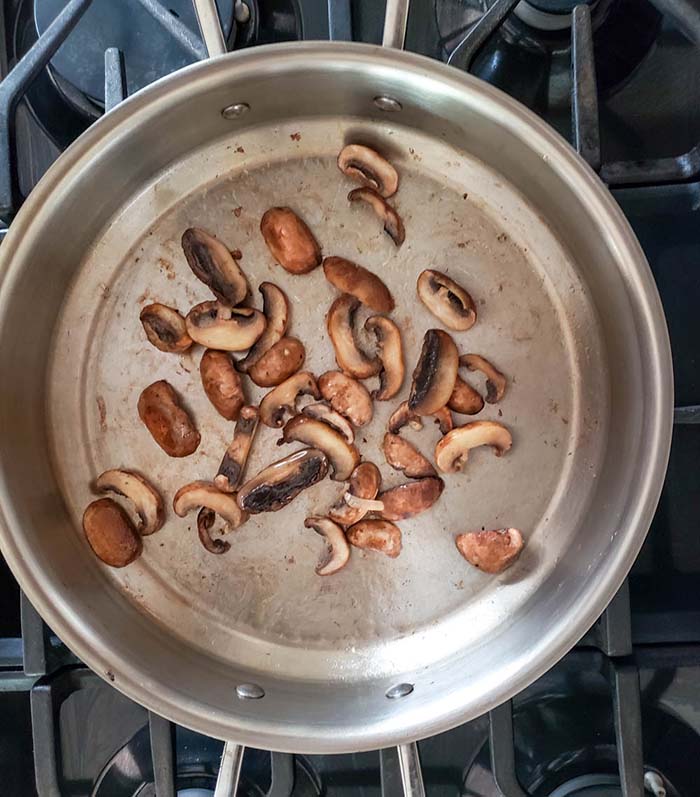 Step 6.
Last, add the mushrooms and cook them until they begin to soften and brown.
Note: if you have a large skillet you can double up on the vegetables when browning them. Make sure there is enough room in the pan so that the vegetables aren't crowded.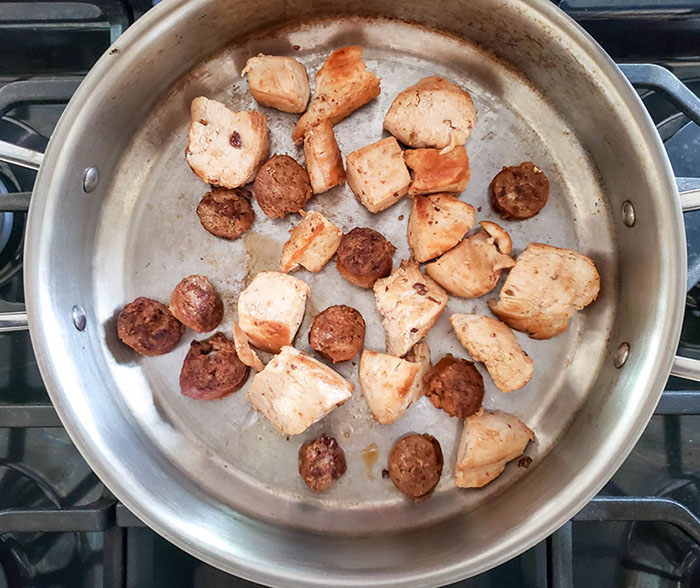 Step 7.
By this time the chicken and sausage should be cool. Cut the sausage links and chicken into bite-sized pieces and add them back to the skillet.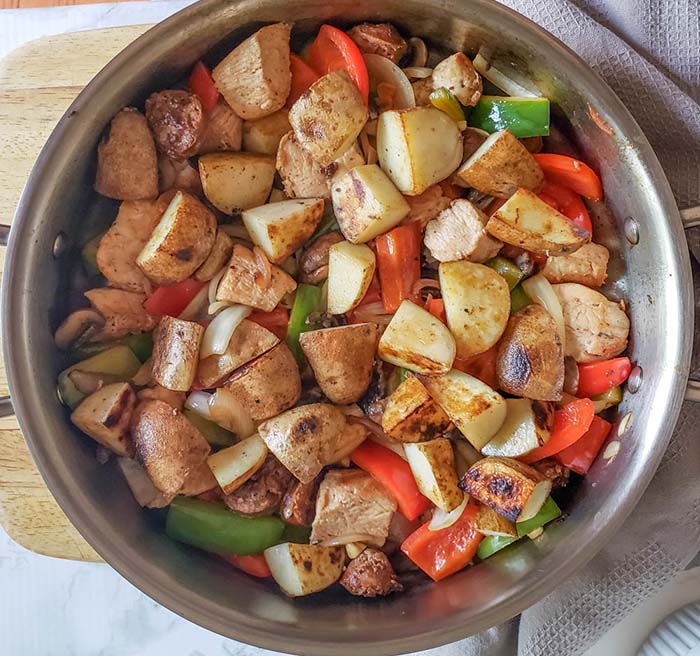 Step 8.
Top the chicken and sausage with all of the sauteed vegetables.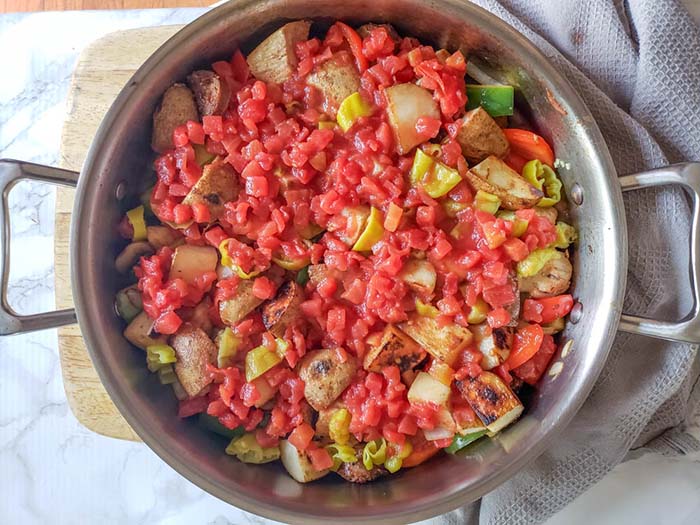 Step 9.
Add the pepperoncini slices, diced tomatoes and brine. Cover the pan and place it into a preheated oven, and bake.
Estimated Time To Make This Recipe: 1 ½ to 2 hours
Ingredient Notes & Substitutions
Chicken - This dish is typically made with boneless chicken breasts. Chicken tenders can also be used as well as boneless chicken thighs.
Potatoes - Any type of potato can be used in this recipe, we like yellow, red or baby potatoes the best.
Tomatoes - I like to use fresh diced tomatoes when they are in season, and when they are not, I use low sodium canned diced tomatoes.
Some versions of Chicken Murphy are made without tomatoes, but since this is a New Jersey recipe, it has to have tomatoes! If you would rather your chicken murphy without tomatoes, check out my chicken giambotta recipe which is very similar.
Pepperoncini - If you don't care for hot food, you can cut back on the number of pepperoncini or you can substitute pepperoncini with peppadew peppers or sweet cherry peppers.
Sausage - Hot or mild pork, turkey or chicken sausage can be used.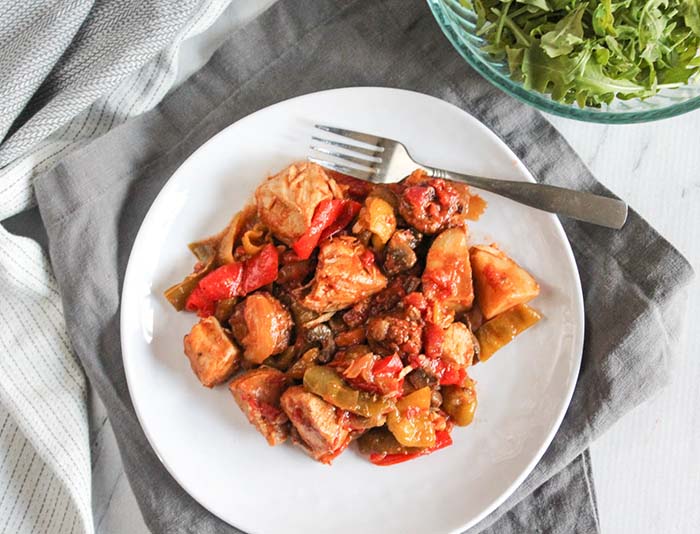 How to make Chicken Murphy in a Slow Cooker
If you are short on oven space or it's too hot to turn on the oven, you can finish chicken murphy in a slow cooker.
Here's how: Once all of the ingredients have been browned on top of the stove, add them to the slow cooker and cook at low heat for 2 hours.
Set the slow cooker to warm until it is time to serve.
Tip! To avoid potatoes that fall apart, add them to the top layer of the slow cooker and cook for 2 hours. Stir the potatoes into the murphy at the end of the cooking cycle, and set the slow cooker to low for 30 minutes before serving.
Make-Ahead Instructions
Chicken Murphy can easily be made ahead of time, here's how:
Brown all of the ingredients and place them into an airtight container. Store them in the refrigerator for up to 2 days.
To Serve, bring the browned ingredients to room temperature, and place them into an oven-proof dish or slow cooker.
Bake at 350 for 45 minutes or slow cook for 2 hours.
---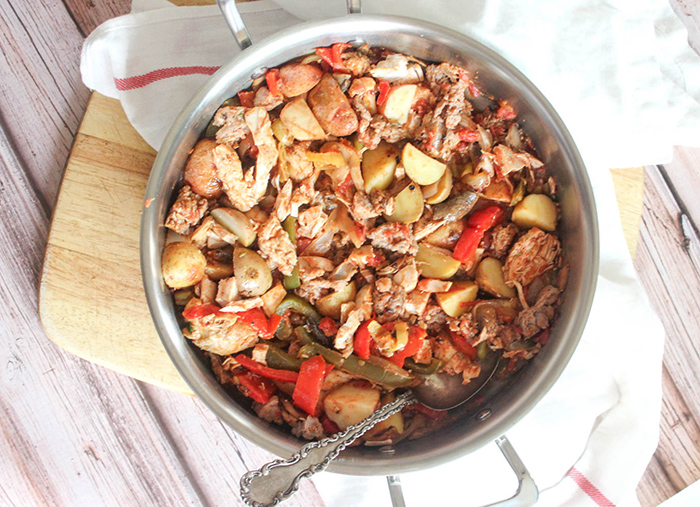 "I've eaten this dish many times in NJ. Searched for the best recipe and yours makes the most sense and tastes like the most authentic chicken murphy recipe. Thanks!" Bob
Storing and Using Leftovers
Store leftover chicken murphy in the refrigerator for 3 to 4 days.
Reheat leftovers in a covered oven-proof dish or on top of the stove over low heat.
Serve leftover chicken murphy in a sandwich in a crusty baguette or your favorite hard roll.
Recipe Variations
Low-Carb Chicken Murphy - Leave the potatoes out and ¼ pound more chicken.
Leave out the sausage - If you don't like sausage, you can leave it out and add an extra ¼ pound of chicken.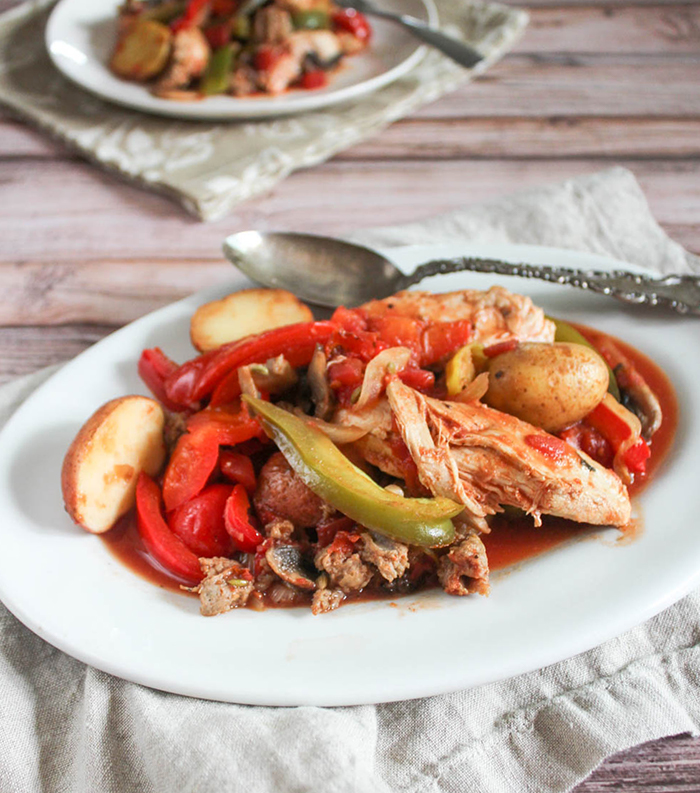 Serving Suggestions
Serve it with a big salad like this Spinach Salad with Basil, steamed green beans or Green Beans and Bacon, and a loaf of crusty bread.
Chicken Murphy also tastes great served over a bed of zucchini noodles.
Chicken Murphy with pasta - leave out the potatoes or use less of them and serve Chicken Murphy over pasta.
Your Chicken Murphy Questions Answered
These are questions that I am frequently asked about this chicken murphy recipe. If you question isn't answered, leave me a comment below and I will respond to you as soon as possible.
What is Chicken Murphy?
You might be thinking from its name, that this recipe is an Irish recipe. Actually, it's an Italian-inspired dish that is rumored to have originated at the "Jersey Shore" or New York City. It's easy to make and there are several variations. Some recipes are made with brown gravy, but we prefer the tomato version.
Why Does Each Ingredient Need to Be Browned Separately?
Each ingredient is browned separately to avoid overcrowding the skillet. If your skillet is larger than 9 inches, you can brown the vegetables together in any combination that you like.
If More Meat is Added, Should the Rest of the Ingredients be doubled?
Yes, especially the tomatoes to keep the dish from becoming dry. Depending on the amount of meat added (up to a quarter-pound), you may not need to increase the vegetables.
Can I leave out the brine in this recipe to control the sodium?
Yes! You can leave out the brine, however, you will lose some of the tart pickle flavor. We have also made it with half the amount of brine (⅛ cup) and the pickle flavor was mild but it was still there. Also, low sodium tomatoes or fresh tomatoes will cut down on sodium as well.

If I don't dredge the chicken in flour, won't the sauce be watery?
No! The sauce will thicken from the starch of the potatoes, so there is no need to dredge the chicken in flour unless you want to.

For more simple and delicious recipes like this, subscribe to our newsletter and receive a free e-book and meal suggestions straight in your inbox!
You Might Also Like These Dinner Ideas
If you like this recipe, please comment and rate it below!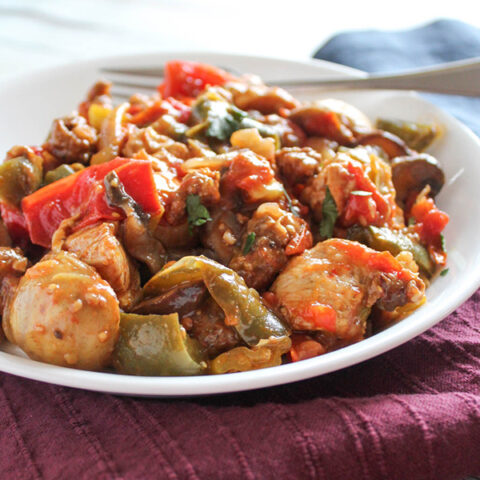 Chicken Murphy
Total Time:
1 hour
40 minutes
This Chicken Murphy recipe is made with bite-sized pieces of chicken and sausage combined with peppers and tomatoes.
Ingredients
1 to 2 tablespoons olive oil
¼ pound Sweet or Hot Italian Sausage links (about 2)
1 ½ pounds potatoes, cut into one-inch sized pieces
16 ounces of cremini mushrooms, stems removed and sliced
1 clove garlic, chopped
1 medium onion, cut into slices
1 red bell pepper
1 green pepper
½ cup chopped pepperoncini
¼ cup of brine of pepperoncini
Instructions
Prepare all of the ingredients: cut up the potatoes into bite-sized pieces. Clean and slice the mushrooms, onions, and peppers. Chop the garlic. Slice the pepperoncini and measure the brine.
Heat oil in a skillet over medium to high heat, brown the sausage links, slice them and set them aside to drain on a paper towel.
Brown the chicken and cook for 5 to 8 minutes on each side until it begins to turn golden brown.
Remove the chicken from the skillet; and set it aside with the sausage.
Next, add the onions and garlic and sautee them until they soften and start to turn golden brown, remove them from the heat and continue browning each vegetable separately. If you have a large skillet, you can double up on the veggies in the pan. Be sure to not overcrowd the skillet.
Once all of the vegetables have been sauteed, wipe out the skillet or grab a new clean skillet.
Cut the chicken and sausage into bite-sized pieces and add them back to the skillet, then add the sauteed veggies.
Top the meat and vegetables with pepperoncini rings, brine and diced tomatoes.
Cover the skillet and bake for 45 minutes.
Notes
Chicken Murphy in a Slow Cooker:
After browning the ingredients, place them into a slow cooker and cook at low heat for 2 hours.
Cooking time for this recipe is about 40 to 50 minutes browning each ingredient PLUS an additional 45 minutes in the oven.
I like to brown the ingredients separately in a skillet before layering them into a casserole dish so that the skillet is not crowded with vegetables. If you are short on time or have a large skillet, you can brown the vegetable ingredients together in any combination that you like.
Nutrition Information:
Yield:

6
Serving Size:

1
Amount Per Serving:
Calories:

367
Total Fat:

9g
Saturated Fat:

3g
Trans Fat:

0g
Unsaturated Fat:

6g
Cholesterol:

78mg
Sodium:

676mg
Carbohydrates:

37g
Fiber:

5g
Sugar:

8g
Protein:

34g
Nutrition information is provided by an online calculator and is meant to be used for informational purposes only. Even though I try to provide accurate information, these figures should still be considered as estimates.
If you make this recipe, don't forget to come back and let me know how you liked it or you can tag me on Instagram @simpleandsavory, or Facebook simplensavory