This ground beef and broccoli recipe is a healthy, delicious meal that takes just 30 minutes to make. It's an easy one-pan dish loaded with fresh, crisp broccoli and tender ground beef tossed in a savory sauce.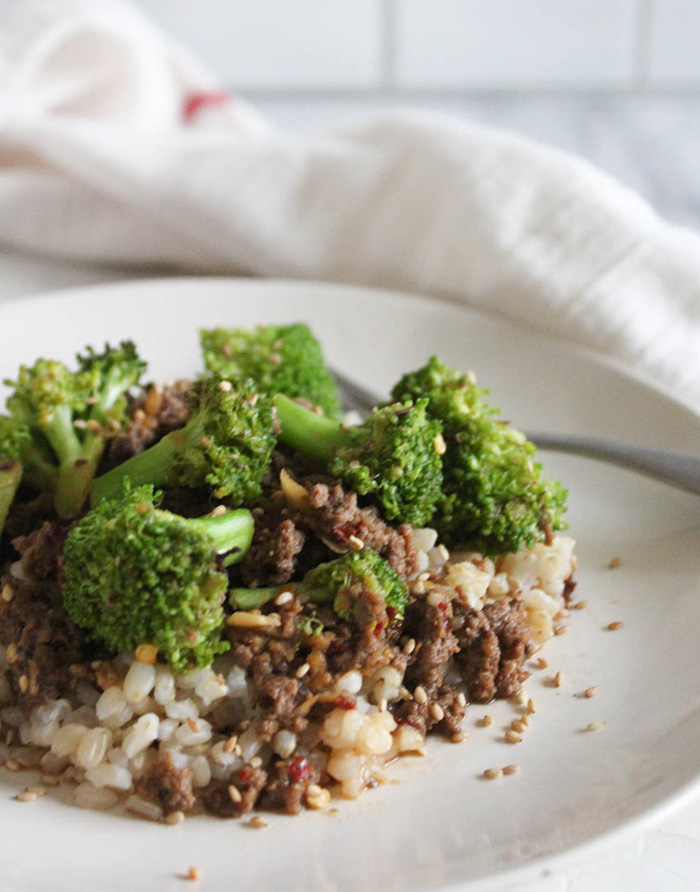 Who doesn't love a good stir fry recipe, they are easy dinners that are healthy and cook quickly, primarily when you use ground meat.
This stir fry is packed with flavor and the perfect simple weeknight dinner and so is this ground pork and green beans stir fry recipe. It's another easy stir fry dinner made with ground pork and crisp-tender green beans.
Why you will love this recipe
It's a simple recipe to make and ready in 30 minutes - perfect for busy weeknights.
It's healthy and using ground beef makes it more economical!
Here is what you will need
This post may contain affiliate links, as an Amazon Associate, I earn from qualifying purchases.
This is an overview of the ingredients and steps to make this recipe, scroll down for a printable recipe card with exact measurements and instructions.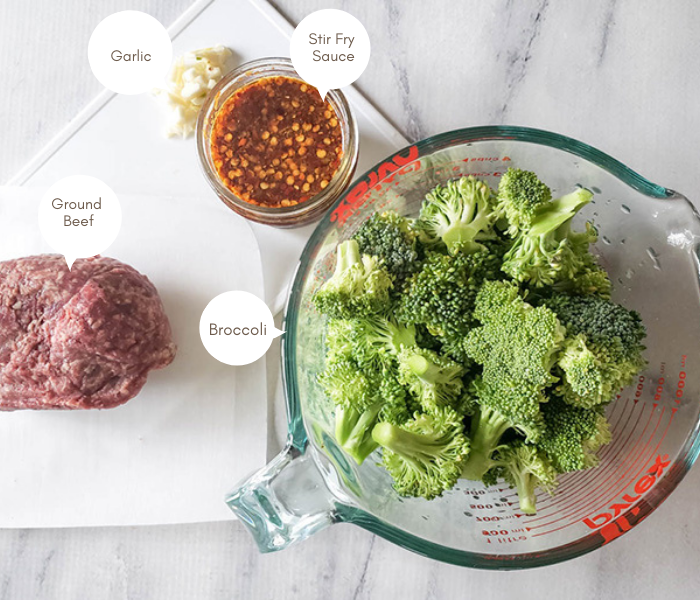 Ingredients List
Equipment
How to make this ground beef and broccoli recipe
Prepare the ingredients: Chop the broccoli and garlic, mix the stir fry sauce together in a small bowl or jar and set it aside.
Heat a heavy skillet over high heat with olive oil.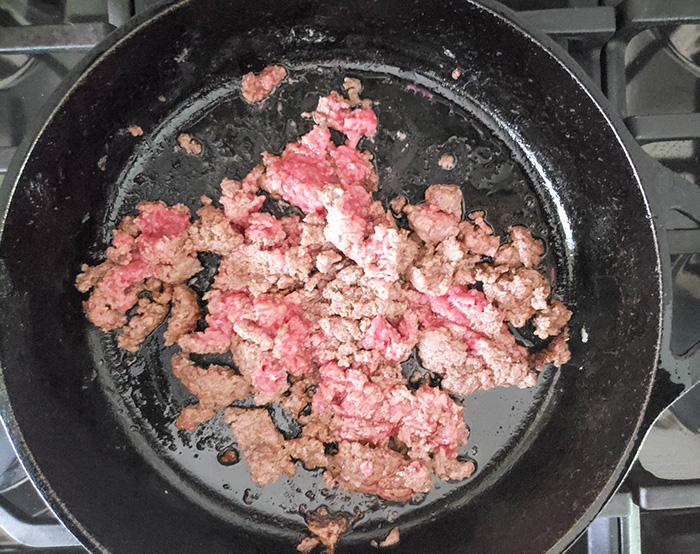 Step 1. Cook the Beef
Once the skillet is hot, reduce the heat to medium-high heat; add the ground beef and cook it, breaking it into small pieces until it is almost cooked through. Remove the meat from the pan and set it aside.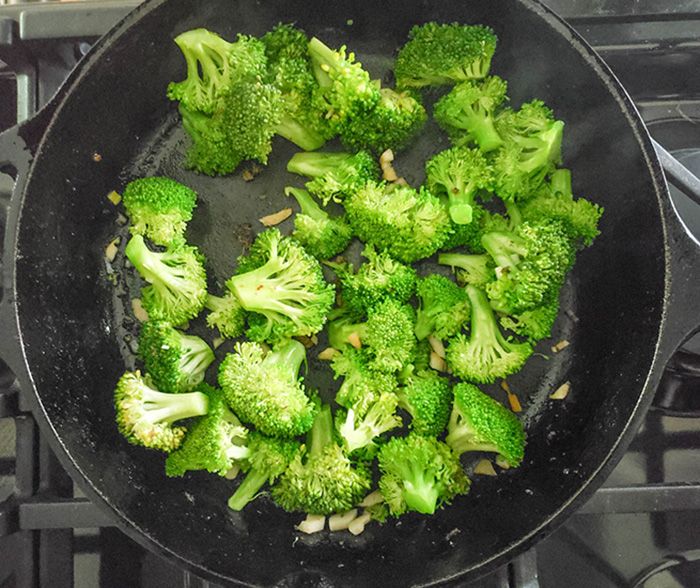 Step 2. Cook the broccoli
Reduce the heat to medium heat and add the chopped broccoli and garlic; cook while tossing it with a wooden spoon until the broccoli turns bright green and the garlic softens.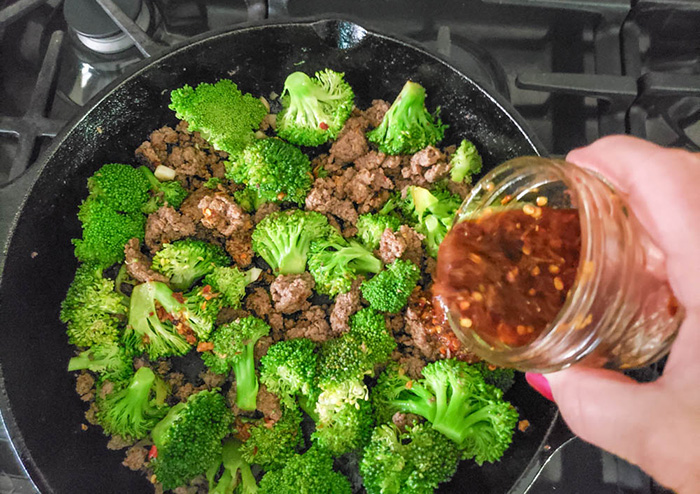 Step 3. Add the sauce
Reduce the heat to low heat and stir in the sauce. If you are using homemade sauce, don't forget to add the slurry to thicken the sauce.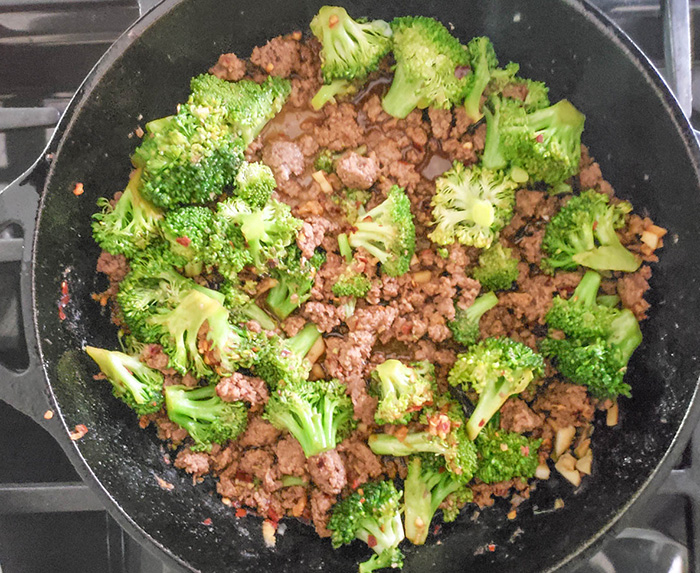 Step 4. Cook until heated through
Mix everything together and stir gently until the sauce thickens.
TIP: Rice takes longer to cook than this recipe does, if you are serving your stir fry with rice, start cooking the rice before cooking the stir fry.
Ingredient notes & substitutions
The full list of ingredients to make this stir fry recipe is above. Below are notes about some of the ingredients along with ideas for substitutes.
Lean ground beef. I like to use ground sirloin, it has less fat and more flavor. If that is not an option for you, look for 90/20 ground beef.
Ground beef can be substituted with ground turkey, ground chicken, or lean ground pork.
Stir fry sauce. Use my easy recipe for stir fry sauce, which takes minutes to make, or you can also use bottled stir fry sauce.
To keep it healthy look for stir fry sauce that is low in sugar and additives.
Garlic. Fresh garlic can be replaced with ¼ to ½ teaspoon of garlic powder.
Check out ButcherBox for high-quality lean ground humanely raised meat!
Variations
One of the many great things about sir fry recipes is that they are so versatile! You can add any kind of vegetables or protein. Here are some suggestions:
Add more vegetables - add sliced mushrooms, bell peppers, or snow peas to the stir fry.
Vegetarian stir fry - replace the ground beef with crumbled tofu or tofu slices
Change up the meat- Instead of ground beef, use ground chicken, ground turkey or pork.
Flank steak beef and broccoli - flank steak is the traditional beef and broccoli. Use thin slices of flank steak instead of ground beef in this recipe.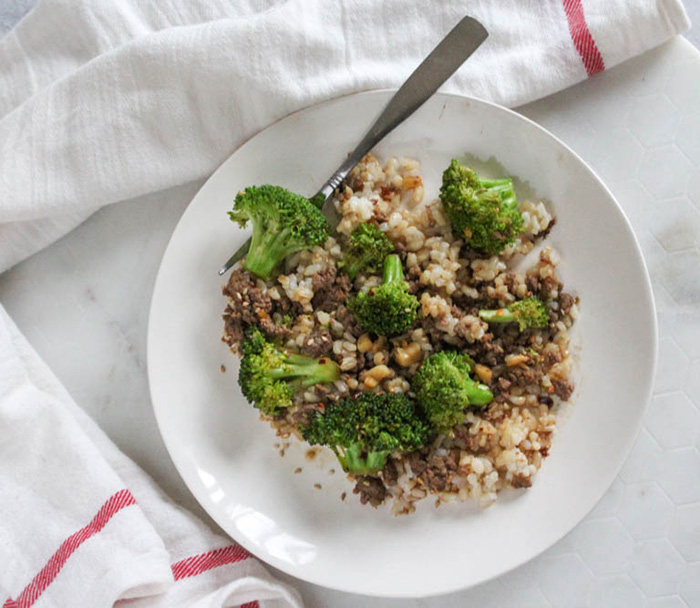 Serving suggestions
Serve ground beef and broccoli garnished with green onions and sesame seeds over brown rice, white rice or cauliflower rice for a low carb version. It also tastes great over noodles such as lo-mein noodles or soba noodles.
Don't forget to serve homemade sriracha sauce or your favorite hot sauce on the side to spice your stir fry up even more!
Meal prep tips
This is a recipe that is perfect for meal prep. You can easily prepare the ingredients ahead of time and put them together just before eating it. All that you need to do is chop the broccoli, make the sauce, and store them in separate containers in the refrigerator.
When it's time to cook, bring the sauce to room temperature, brown the ground beef, and add the broccoli and sauce.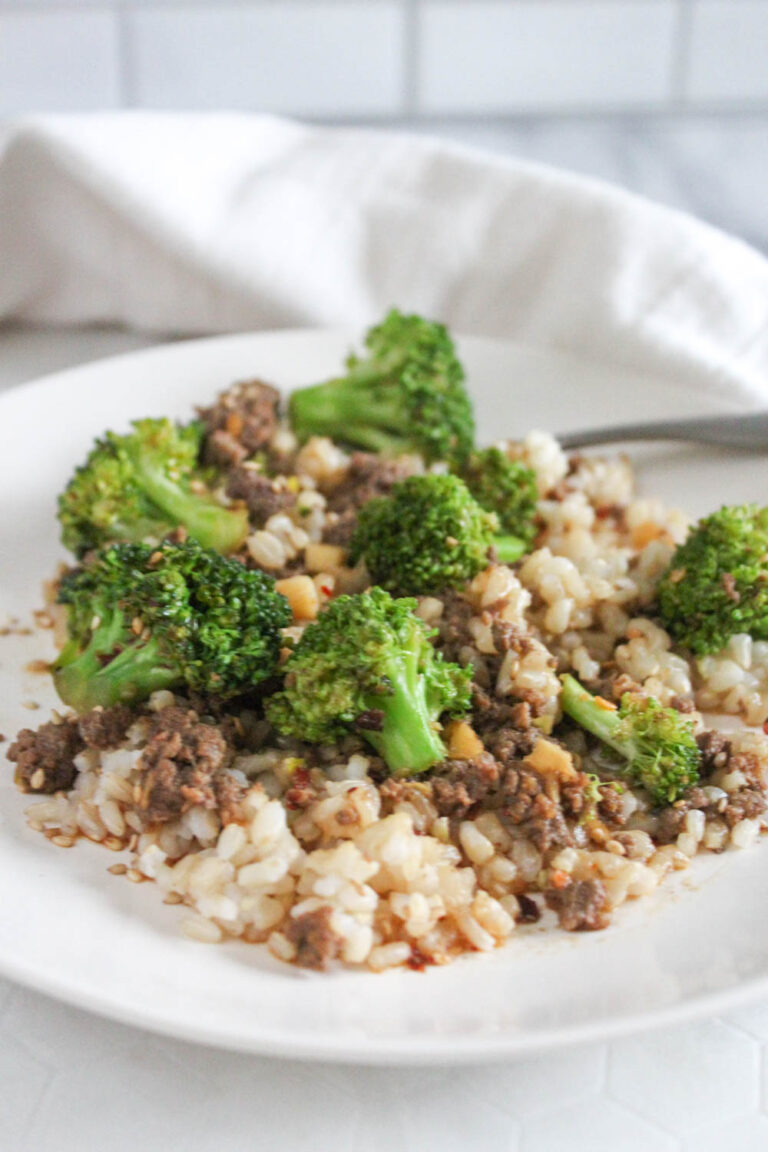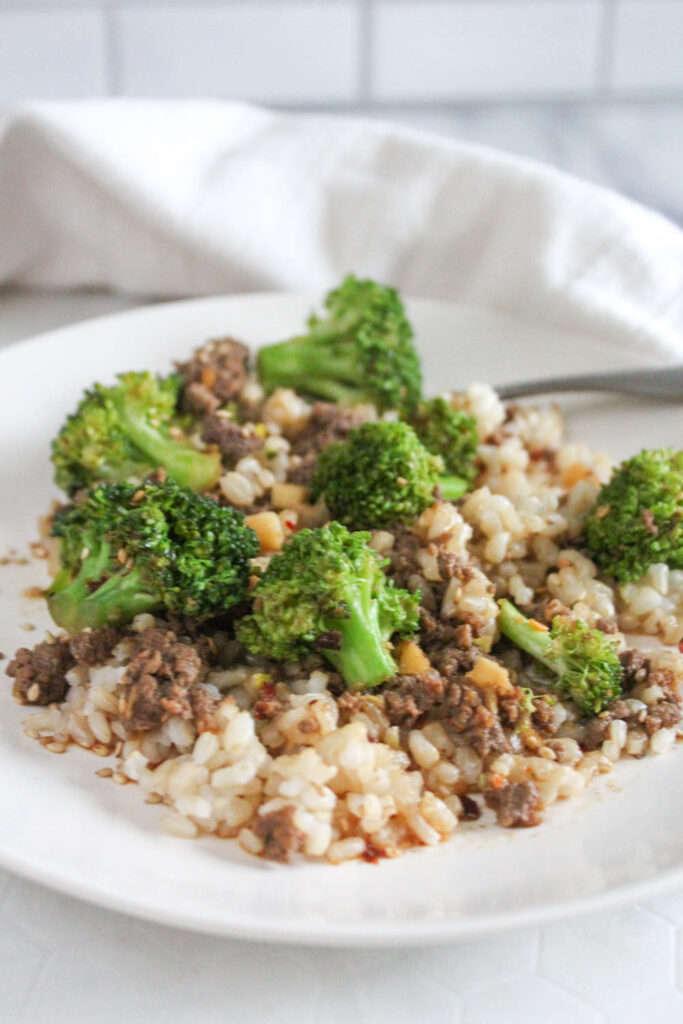 How to store leftover ground beef and broccoli
Store leftover beef and broccoli in an airtight container for up to three days. Reheat it on top of the stove or in the microwave.
To avoid soggy rice or noodles, store the leftover beef and broccoli separately from the rice or noodles.
Recipe tips and questions
Top Tips
Time Saving Tip! Save time and use pre-cut broccoli florets.
This recipe serves two, and can easily be doubled to serve four. You may need a larger skillet to cook the broccoli or you can cook it in batches.
FAQs
Can I use frozen broccoli to make ground beef and broccoli?
Yes, you can, but the broccoli will not be as fresh tasting and crisp as fresh broccoli. The broccoli should be thawed out completely before adding it to the stir fry, and you may have to use more flour to thicken the sauce since the frozen broccoli has more moisture than fresh.
Is stir fry healthy?
Yes, stir-fries are usually healthy, especially when they are made at home so that you can control the ingredients. Use a lot of vegetables, lean meat and low sodium soy sauce for a healthy stir fry.
For more simple and delicious recipes like this, subscribe to our newsletter and receive a free e-book and meal suggestions straight in your inbox!
You might also like these Asian inspired recipes
If you like this recipe, please comment and rate it below!
Check out more of our Recipes for Two Here!