This is a sponsored post written by me on behalf of BUBBA burger for IZEA Worldwide. All opinions are 100% mine.
It's grilling season, and you are going to love this ultimate BUBBA burger recipe! It's made with a juicy burger loaded with all of your fresh and favorite fixings! And the best part about BUBBA burgers is that they cook on the grill from frozen in about 10 minutes, they are the perfect burger for summer parties or family burger night!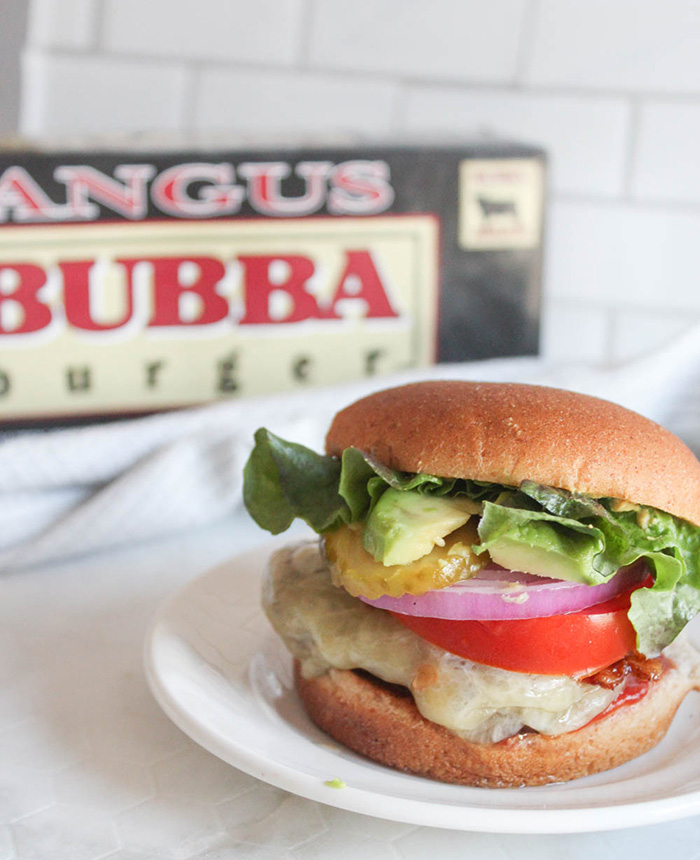 When I entertain, I like to serve food that's made ahead of time or doesn't take a lot of work to prepare so that I can enjoy spending time with my guests. BUBBA burgers check both of those boxes.
BUBBA burgers are high-quality, made with only one ingredient: beef. The burgers are already formed so you can toss them on the grill frozen; which makes these tasty burgers super convenient!
We like our BUBBA burgers with a simple chopped salad for a quick and nutritious dinner that everyone will love.
Why you will love this recipe
It's simple to make and ready within 10 minutes of cooking!
This recipe is so versatile! Set out an assortment of burger toppings so that your guests can make their own ultimate burger.
Here is what you will need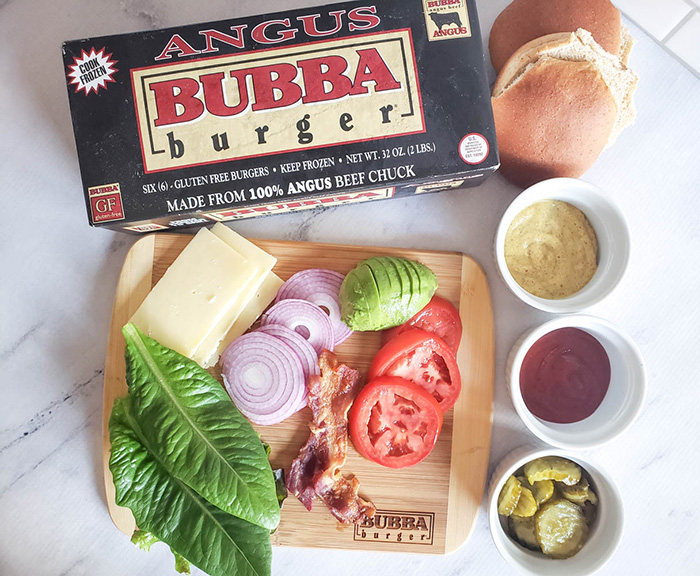 This is an overview of the ingredients and steps to make this recipe, scroll down for a printable recipe card with exact measurements and instructions.
Ingredients
BUBBA Angus beef burgers
Condiments such as ketchup, mustard, mayonnaise
Burger fixings such as bacon, tomatoes, avocados, cheese, fresh onion slices, lettuce, and pickles
Sea salt, and pepper (optional to season the burgers)
Burger Buns
Equipment
Gas grill, charcoal grill or indoor grill
Meat thermometer
How to make these flavorful burgers
Prepare the ingredients: Cook the bacon, and slice the onions, tomatoes, avocado, and cheese. Heat the grill to medium-high heat, open up a box of BUBBA burgers and get ready to grill.
STEP 1. Grill the burgers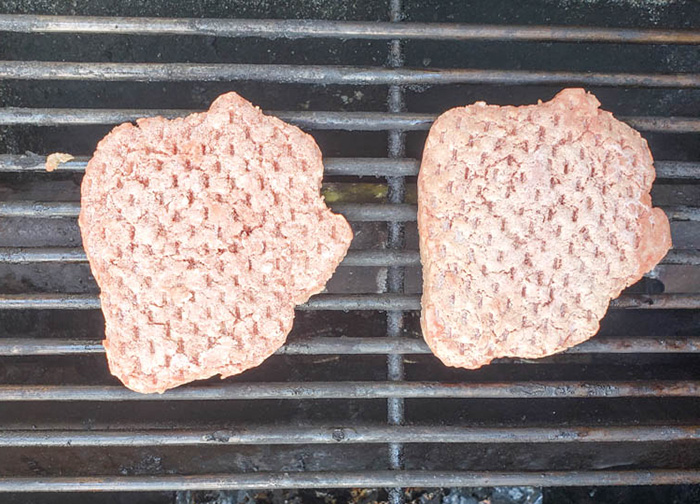 Once the grill is hot, place the frozen burgers on to the grill, and reduce the heat to medium. Cover and cook the burgers for five minutes.
STEP 2. Flip the burgers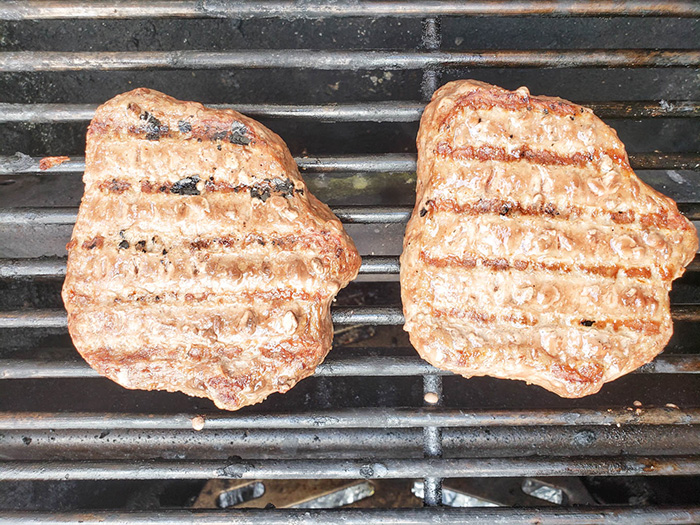 Flip the burgers over, cover the grill and cook for 5 minutes on the other side.
STEP 3. Add Cheese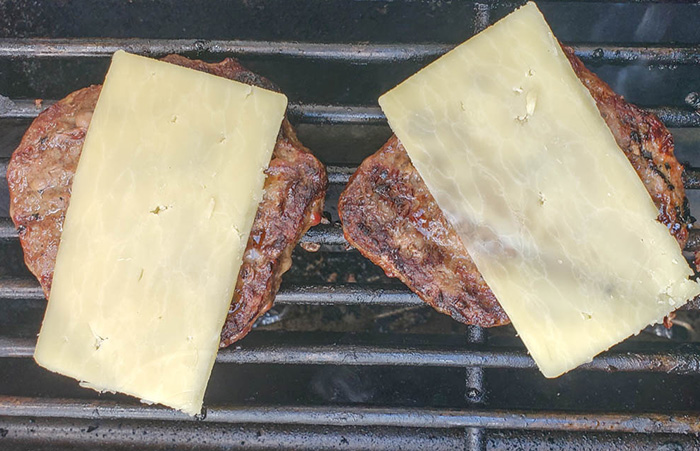 Flip the burgers over once again, and check the internal temperature of the meat. Once it reaches at least 145 degrees, add the slices of cheese to each burger. Close the grill and cook until the cheese is melted and the burgers are cooked through to 160 degrees F.
STEP 4. Assemble the burgers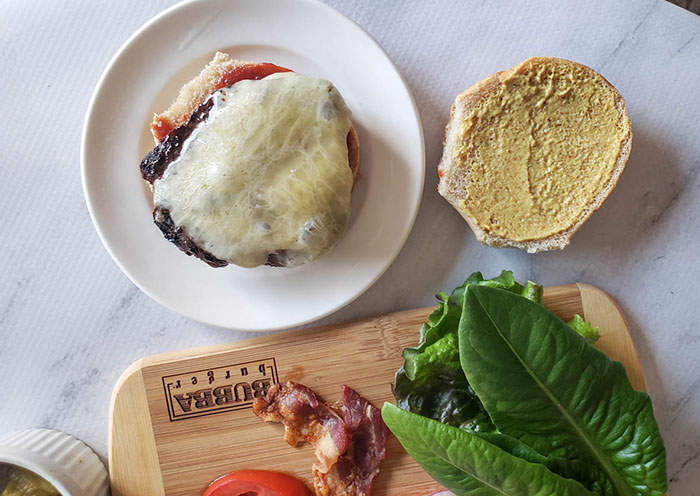 Serve these delicious burgers on a platter with a board on the side filled with your favorite toppings. For this burger, I spread mustard on the bottom of the bun and the ketchup on top of the bun and piled on the pickles, onion slices, avocados, bacon, and tomato on top of the burger.
NOTE: Cook time can vary depending on your grill. A good meat thermometer will give you an accurate reading of the internal temperature of the burgers which should be 160 degrees F.
Ingredient notes & substitutions
The full list of ingredients to make this BUBBA burger recipe is above. Below are notes about a few of the ingredients along with ideas for substitutes.
Burgers - You can use any variety of beef BUBBA burgers for this recipe. My choice is the Angus BUBBA burger or the grass-fed BUBBA burger.
Burger fixings - The fixings are endless when it comes to burgers, use any combination of your favorite burger toppings to make your own ultimate BUBBA burger.
For this recipe, I chose fresh summer ingredients, but you can use anything that you like. See variations below for inspiration.
Serving suggestions
Serve your grilled BUBBA burger with summer sides such as cucumber salad, potato salad or macaroni salad.

Variations
Burgers are a blank slate when it comes to adding flavor. Choose a theme or put a tray together of a variety of fixings.
Italian burger toppings- Pasta sauce, roasted red peppers, fresh mozzarella cheese, arugula, basil, and oregano leaves.
Tex-Mex burger toppings - Salsa or Pico de Gallo, jalapeño peppers, guacamole, cheddar cheese, pepper jack cheese, cotija cheese, onions, shredded lettuce.
More topping ideas - Fried egg, Canadian bacon, ham, olives, sauteed or grilled mushrooms, grilled onions, pickled onions, sauerkraut, sauteed peppers, and onions, grilled pineapple, mango, sprouts or micro greens, caramelized onions.
Burger sauces and condiments - Mix in before cooking or top your cooked burgers with barbecue sauce, buffalo sauce, balsamic vinegar, pesto, teriyaki sauce, Worcestershire sauce, sriracha mayonnaise, soy sauce, tamari sauce, ranch dressing, blue cheese dressing.
Burger seasonings - Sprinkle on your favorite spices/seasonings before grilling your burgers such as garlic powder, onion powder, chili powder, bbq rub, steak seasoning.
How to store leftover BUBBA burgers
The beauty of BUBBA burgers is that they go right from freezer to grill so there shouldn't be many cooked leftovers, what you don't need can go right back into the freezer.
If you do have leftover cooked burgers, store them in the refrigerator in an airtight container for up to three days.
Reheat leftovers on top of the stove or grill.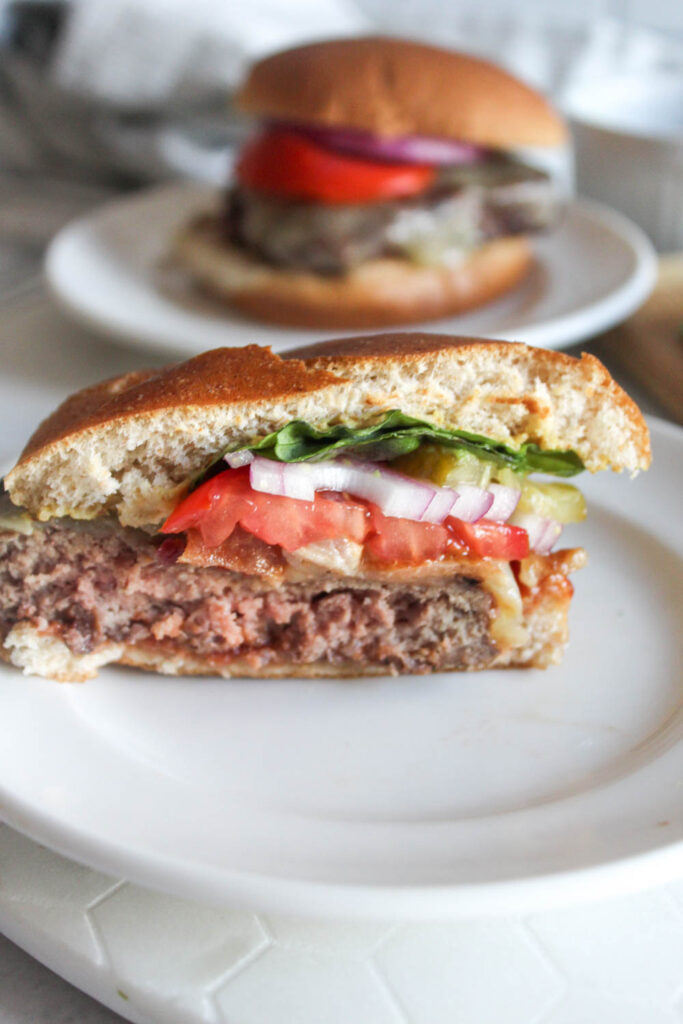 Recipe tips
If you are not using cheese, skip the adding a slice of cheese step and continue to cook the burgers until they are cooked through.
For the juiciest burgers, resist the urge to squish them while they are cooking, on the grill, which forces out the juices.
Can you make ultimate BUBBA burgers in a skillet?
Even though ultimate bubba burgers taste best when they are cooked on the grill, they can also be cooked on top of the stove. Heat a skillet (preferably cast-iron skillet) over medium-high heat. Cook the burgers for 6 to 8 minutes on each side until they are cooked through.
Can you make ultimate burgers with turkey or veggie burgers?
Yes! BUBBA burgers have a variety of choices of turkey burgers and veggie burgers. Grill a turkey BUBBA burger or veggie BUBBA burger and pile on the toppings.