Slow cooker barbecue pulled pork is drenched in a rich and flavorful homemade barbecue. It's simple to make with just a few wholesome ingredients.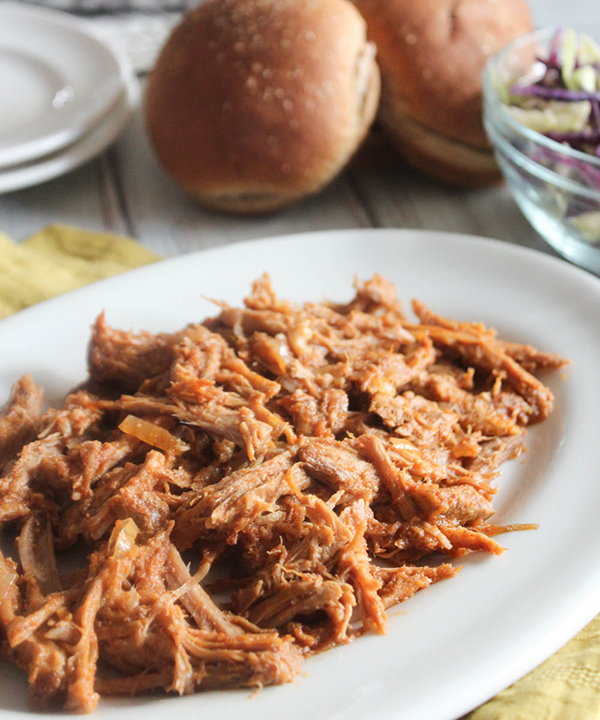 A Set it and Forget it Dinner
We love those set it and forget it meals like this pulled pork recipe. It takes very little time to prepare with a few ingredients.
In the summer I make pulled pork on the grill with a smoker box for a more authentic bbq pulled pork flavor, but when the weather gets cold barbecue pork moves inside.
A slow cooker is an easy and a much more convenient way to make pulled pork in the winter or any time of the year. I add smoked paprika to add a smoky flavor.
Homemade barbecue sauce tastes much better than store bought and it has a lot less added sugar, and more importantly no high fructose corn syrup .
Homemade sauce has just a hint of maple syrup for sweetness. It's worth the few extra minutes it takes to mix the ingredients together.
Serve slow cooked pulled pork with a side of coleslaw, potato salad or a baked potato.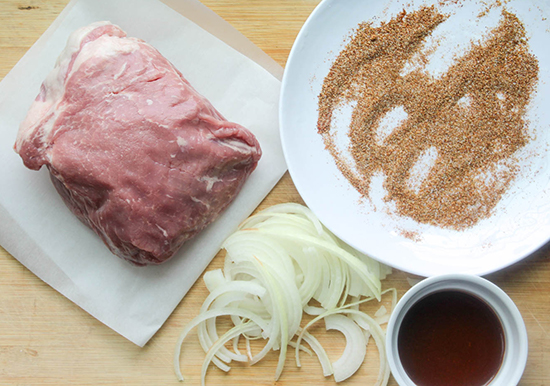 Here Is What You Will Need to Make slow cooker bbq pork
Boneless pork shoulder or pork loin. Pork shoulder is the best cut to make pulled pork; it shreds nicely and has a lot of flavor. If you prefer a leaner cut of meat, you can use a boneless pork loin. It will not shred as nicely, but the flavor is there and it has a lower fat content.
Sliced Onions - All purpose onions are added to the slow cooker with the pork to add flavor to the meat while it cooks.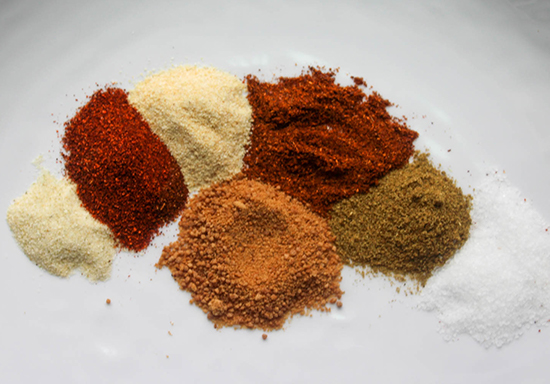 Homemade Dry rub made with:
Smoked Paprika
Garlic Powder
Onion Powder
Chili Powder
Sea Salt
Coconut Sugar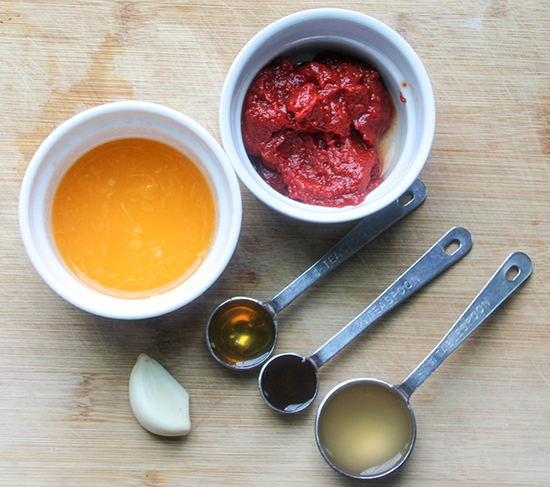 As an Amazon Associate, I earn from qualifying purchases
Homemade Barbecue Sauce made with:
White Vinegar
Fresh Garlic
Orange Juice
Maple Syrup
How to Make This Recipe
Combine the dry rub ingredients rub it onto the pork roast. Place the roast into the slow cooker on top of sliced onins oninos and cook slowly.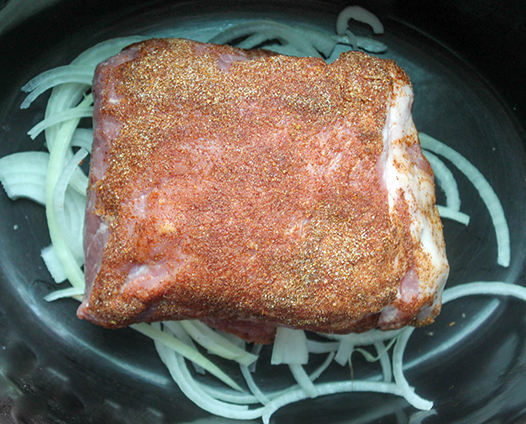 Shred the pork, add the barbedue and cook a little bit longer.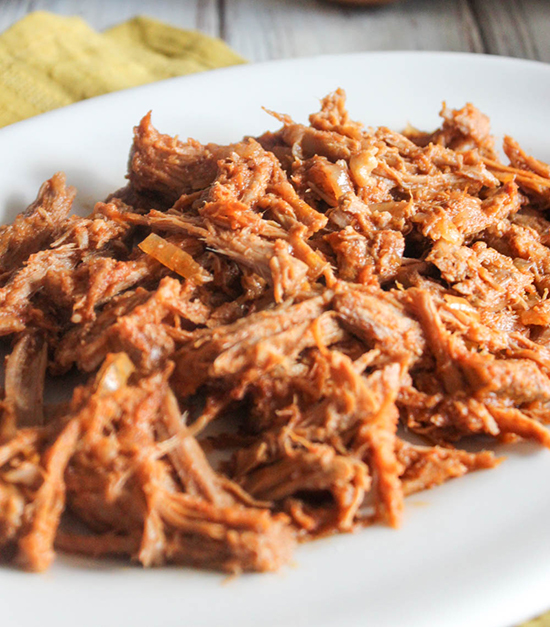 Why This Recipe Works
It's a set it and forget it dinner.
Tastes great as leftovers.
The homemade sauce and spice rub are a much healthier and tastier way to enjoy pulled pork.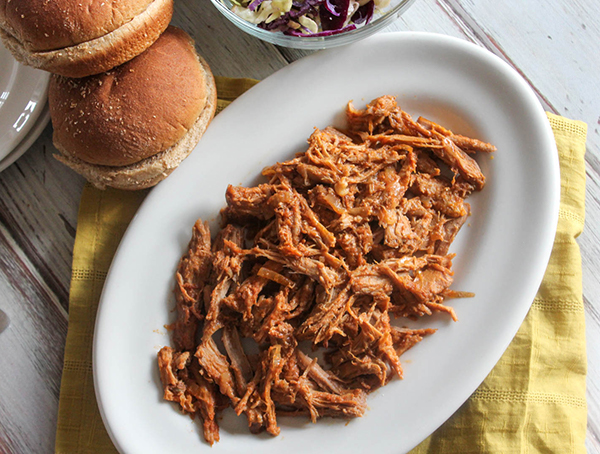 Tips
You can use packaged barbecue sauce if you prefer, look for one that does not contain high fructose corn syrup and is low in sugar. My picks are; Primal Kitchen Barbecue Sauce or Bills Best BBQ Sauce
If you are looking for a caramelized texture and flavor to the meat, sear it for about 5 minutes on each side in very hot cast iron skillet before adding it to the slow cooker.
Skim off the excess fat before adding the barbecue sauce. You can skim off excess fat by removing the pork from the slow cooker and setting it aside. Carefully pour the liquid in the slow cooker into a measuring cup or mason jar and place it in the freezer for 20 minutes. The fat will rise to the top which can be easily skimmed off. Add the meat and the remaining liquid back to the slow cooker, and continue with shredding the meat and adding the barbecue sauce.
Freeze leftovers in an air-tight freezer container for up to three months. Thaw it in the refrigerator overnight and reheat it in on top of the stove over low heat.
Serve leftover pulled pork in quesadillas, nachos, salads, or sandwiches.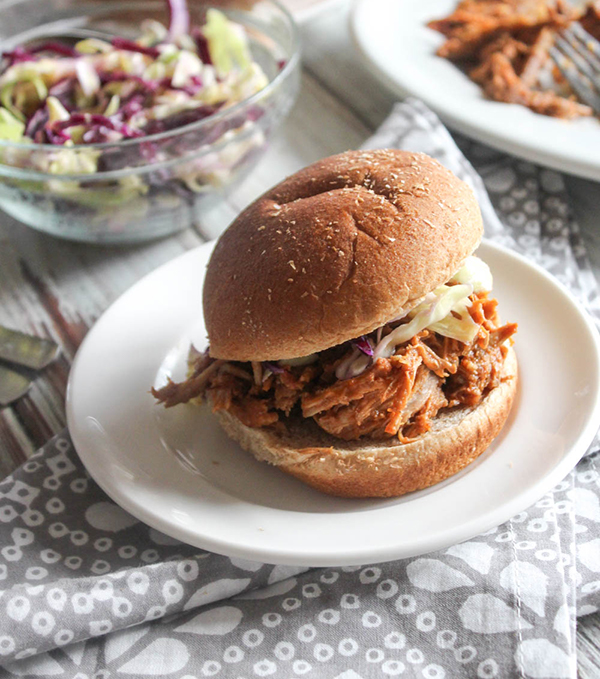 Try These Slow Cooker Dinner Ideas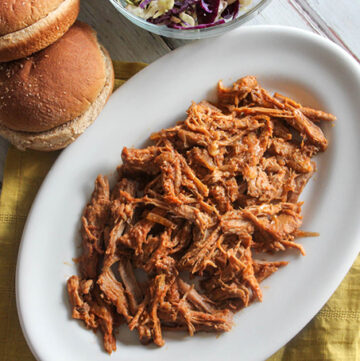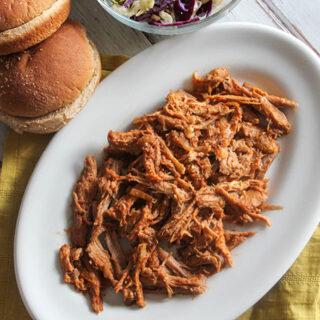 Slow Cooker Barbecue Pulled Pork With Homemade Sauce
Tender pork is drenched ina rich and flavorful homemade BBQ suace.
Ingredients
3 pound boneless lean pork shoulder
1 Medium Onion
¼ cup water
Dry Rub
2 teaspoons Smoked Paprika
1 ½ teaspoons garlic powder
1teaspoon onion powder
½ teaspoon chili powder
½ teaspoon sea salt
1 teaspoon coconut sugar
BBQ Sauce
3 tablespoons organic low sodium tomato paste
1 tablespoon white vinegar
1 clove of garlic, crushed
2 tablespoons fresh orange juice
1 ½ teaspoons worcestershire sauce
1 teaspoon honey or maple syrup
Instructions
Slice the onions and place them into the slow cooker.
Mix the spice rub ingredients together and rub them into the meat.
Place the meat on top of the onions, cover and cook for 4 ½ to 5 hours on low.
Mix up the ingredients for the bbq sauce.
Remove the pork from the slow cooker and shred it.
Add the shredded meat back into the slow cooker and pour in the sauce.
Cover and cook on low for at least 1 hour longer.
Nutrition Information:
Yield:

6
Serving Size:

¼ pound pork
Amount Per Serving:
Calories:

713
Total Fat:

49g
Saturated Fat:

18g
Trans Fat:

0g
Unsaturated Fat:

26g
Cholesterol:

204mg
Sodium:

418mg
Carbohydrates:

12g
Fiber:

1g
Sugar:

8g
Protein:

54g
Nutrition information is provided by an online calculator and is meant to be used for informational purposes only. Even though I try to provide accurate information, these figures should still be considered as estimates.