Spicy ground chicken casserole with black beans is made with ground chicken, peppers, black beans in a spicy fresh tomato sauce and topped with cheese. It's a satisfying wholesome dinner for a chilly night.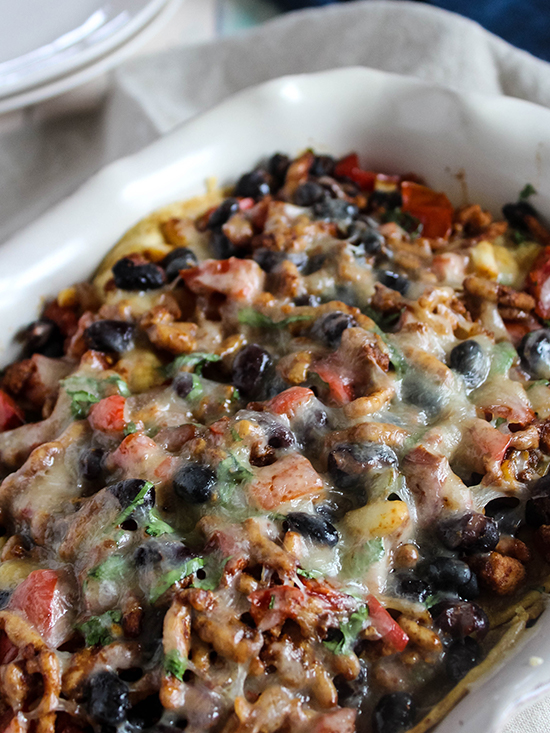 Southwest Chicken Casserole Recipe Highlights
It's a healthy and gluten-free recipe.
It's very versatile; change up the meat or make a vegetarian version.
It can easily be made ahead of time.
As an Amazon Associate, I earn from qualifying purchases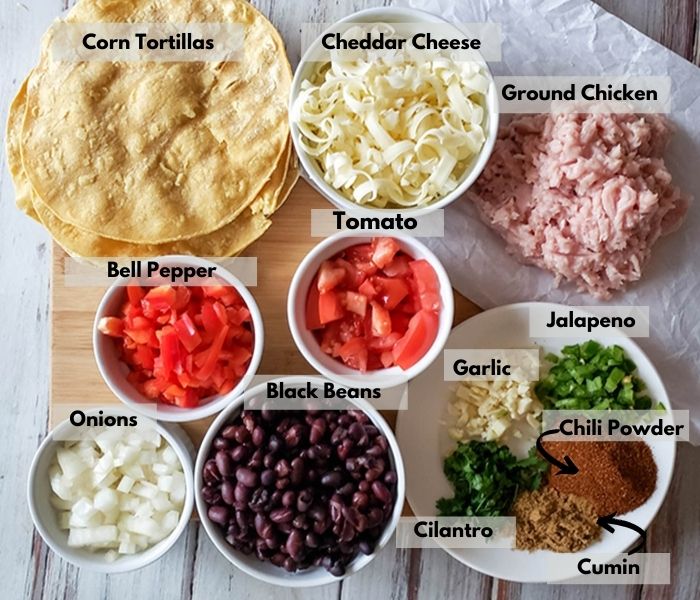 Here Is What You Will Need to Make this Recipe
Lean Ground Chicken Breast
Black Beans
Bell Peppers
Onion
Fresh Chopped Garlic
Tomatoes (fresh or canned)
Chili Powder
Ground Cumin
Fresh Cilantro
Corn Tortillas
Cheddar Cheese
Skillet
Casserole Dish
Cheese Grater

Here is how to make Southwest chicken and black bean casserole
It takes only a few simple steps to make this recipe. Below is a summary, the full recipe details are in the recipe card at the bottom of this post.
Brown the chicken and vegetables in a frying pan over medium heat.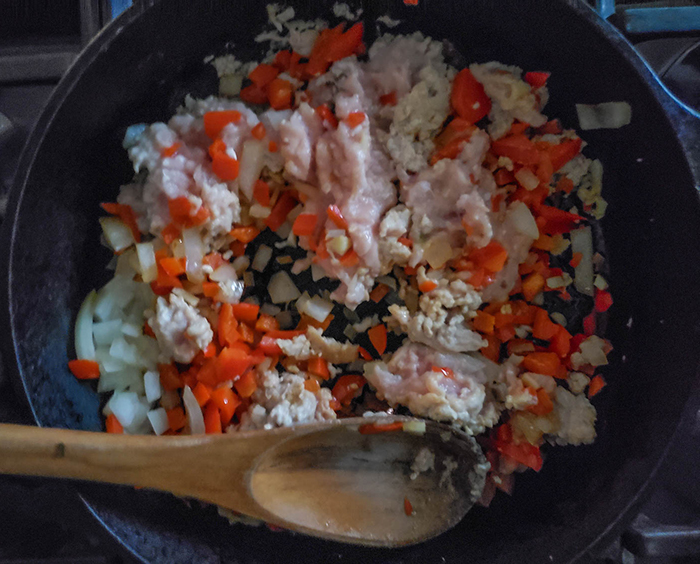 Once the chicken is almost cooked through, stir in the tomatoes, jalapenos and black beans and remove it from the heat.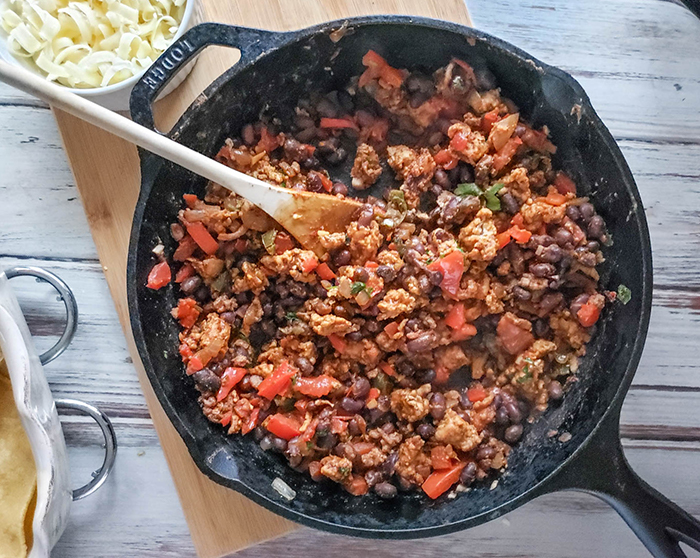 Coat the bottom of a casserole dish with oil and place two tortillas on the bottom of a it, and top it with one half of the meat mixture.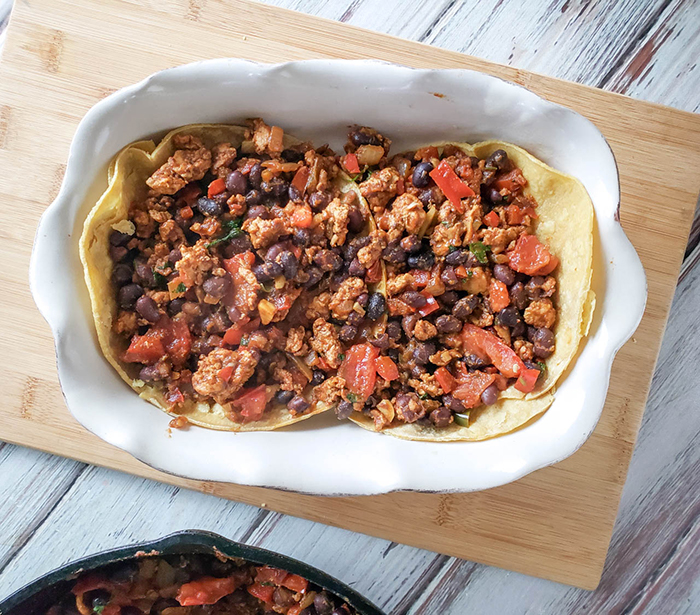 Add one half of the cheese, place the remaining two tortillas on top.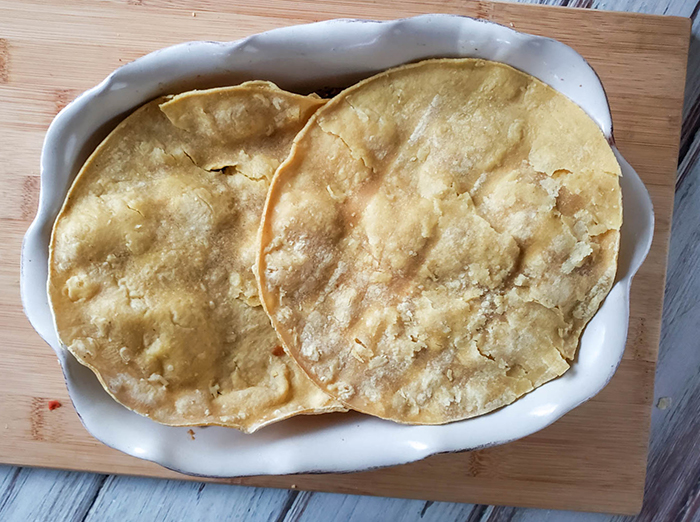 Add the remainder of the meat and top it off with the rest of the cheese. Cover it loosely and bake until everything is heated through and the cheese has melted.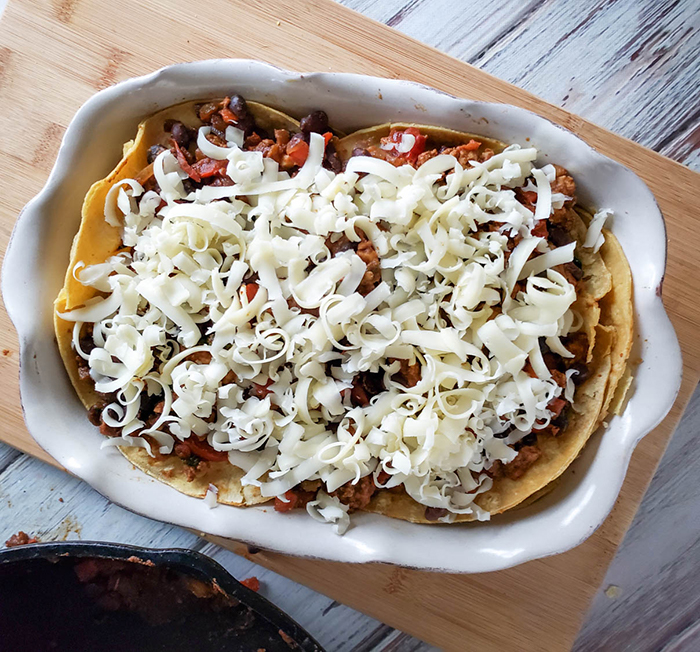 Total Estimated Time to Make This Recipe: 45 to 60 minutes.
Make-Ahead Instructions
Prepare all of the ingredients per the recipe instructions, and layer them into the casserole dish except for the top layer of cheese. Cover the casserole and store it in the refrigerator for up to two days or the freezer for up to three months.
Remove the chicken black bean casserole from the refrigerator at least half an hour before baking it. Top it with freshly grated cheddar cheese and bake it according to the recipe instructions.
TIP! Make a double batch and freeze the second one for another time.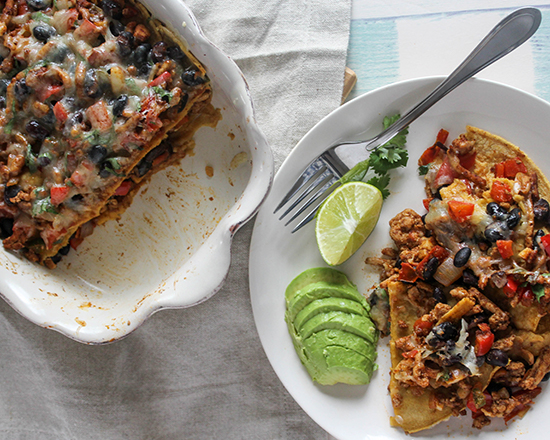 Storing Leftovers and Freezer Insturcitons
Store your leftover chicken and black bean casserole covered in the refrigerator for up to three days. Heat it up in the oven or in the microwave for a quick dinner or easy lunch.
Freeze leftover chicken and black bean casserole in a covered freezer-proof container for up to three months.
If your casserole dish is freezer to oven safe, you can place the casserole in the oven while it's still frozen and bake at 350 for 50 to 60 minutes or you can thaw it in the refrigerator overnight and bake it at 350 for about 30 minutes.
Ground Chicken and Black Bean Casserole Recipe Variations
Leftover chicken works well in this recipe in place of ground chicken. Dice up leftover chicken and add it to the cooked peppers and onions. Continue with the seasoning and tomatoes.
Change up the meat; try substituting the ground chicken with ground pork, beef or turkey.
Make a vegetarian version: Replace the meat with 1 ½ cups cooked quinoa or a block of crumbled firm tofu.
Substitute the corn tortillas with flour tortillas.
Replace the black beans with white beans or kidney beans.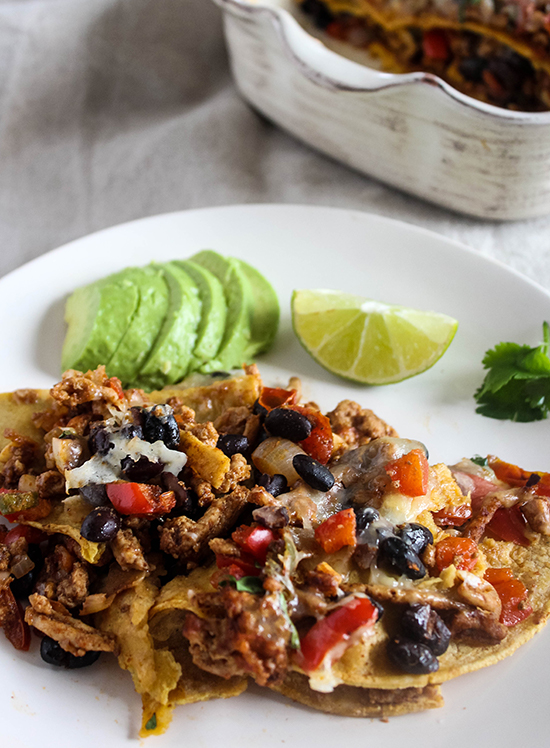 Serve it With
This recipe tastes great topped with homemade guacamole, fresh garden salsa, Greek yogurt or sour cream, and a simple side salad.
Try These Southwest Chicken and Turkey Recipes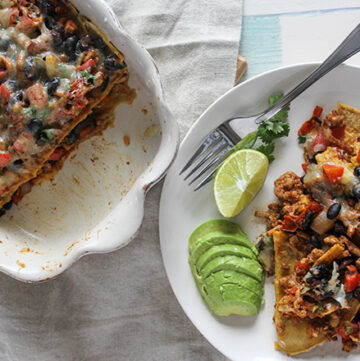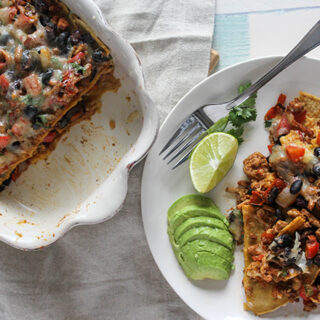 Mexican Chicken and Black Bean Casserole
Southwest chicken and black bean casserole is a spicy and delicious casserole that is a satisfying wholesome dinner for a chilly night.
Ingredients
1 tablespoon olive oil plus about a teaspoon to coat the casserole dish
1 pound ground chicken breast
2 cups chopped red bell pepper
¾ cup chopped onion
3 cloves chopped garlic
1 to 2 jalapeno peppers
4 tablespoons chili powder
2 teaspoons cumin
2 1//2 cups chopped tomatoes - about two large tomatoes
1 ½ cups canned and rinsed or cooked
black beans
1 ½ tablespoons chopped fresh cilantro
6 ounces of cheddar cheese shredded
Instructions
pre-heat the oven to 350
place the olive oil in a skillet and heat it over medium heat. Add the chicken breast and cook until it's ¾ of the way cooked through.
add the onions, garlic, and red peppers - cook for about 5 minutes until they begin to soften
stir in the chili powder, cumin, and jalapeno and mix well
add the tomatoes and beans simmer on low for 5 minutes
stir in the cilantro
coat a casserole dish with oil and place 4 tortillas in a single layer in the dish
place half of the chicken mixture on top of the tortillas and then half of the cheese
place 4 tortillas on top of chicken mixture and then the meat and the cheese
bake at 350 covered for 20 minutes
remove the cover and bake for 5 minutes more
Notes
pre-cooked chicken (leftover) can be used to make this recipe by adding cooking the vegetables first and adding the chicken with the seasonings
this recipe can be made vegetarian by omitting the chicken and adding 1 ½ cups cooked quinoa or 1 cup crumbled tofu
canned tomatoes can be used in place of fresh
Store leftovers in the refrigerator for up to three days
Make this casserole ahead of time. Store in refrigerator for up to two days before baking
Serving ideas: guacamole, sliced avocados, lime juice, Greek yogurt or sour cream
Nutrition Information:
Yield:

4
Amount Per Serving:
Calories:

0
Total Fat:

0g
Saturated Fat:

0g
Trans Fat:

0g
Unsaturated Fat:

0g
Cholesterol:

0mg
Sodium:

0mg
Carbohydrates:

0g
Fiber:

0g
Sugar:

0g
Protein:

0g