This homemade cranberry sauce recipe is so easy to make with just a few simple and fresh ingredients. It's naturally sweetened with honey and fresh oranges for a fresh and vibrant tasting cranberry sauce.
Homemade cranberry sauce tastes so much better than the canned version and can be made in less than one hour. It's naturally sweet, and a little bit tart. If you prefer your cranberry sauce sweet, you can always add a little more honey to your taste.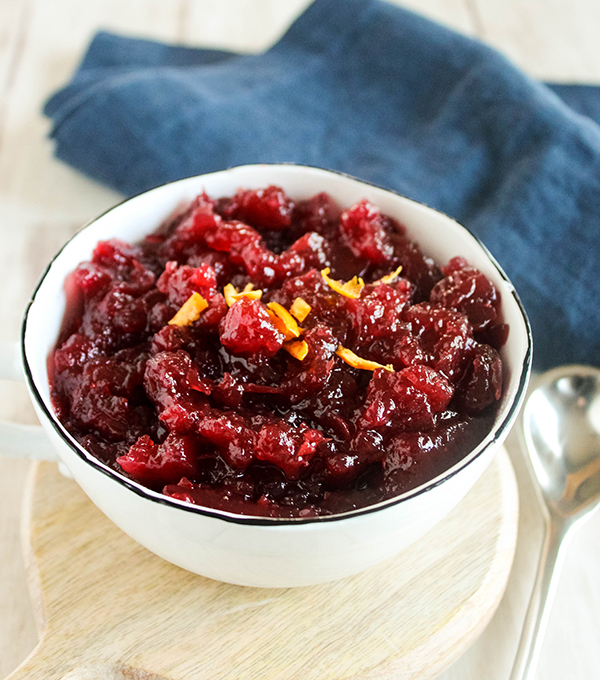 This recipe was originally posted in November 2016. Pictures and recipes have been updated.
Here is What You Will Need
As an Amazon Associate, I earn from qualifying purchases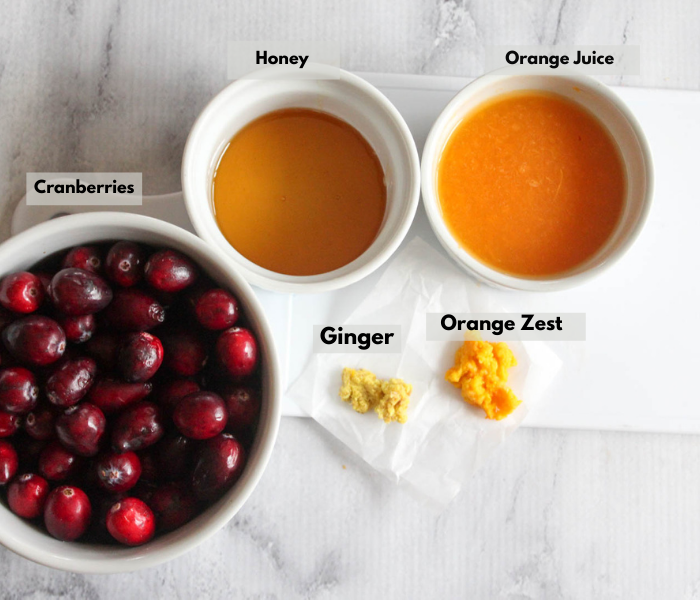 Fresh or Frozen Cranberries
Fresh Orange Juice & Orange Zest
Honey or Maple Syrup
Freshly Grated Ginger
Small Saucepan
Hand Grater for zesting the orange
Hand Juicer to extract the juice from the orange
How to Make Homemade Cranberry Sauce from Scratch
Place all of the ingredients into a small saucepan.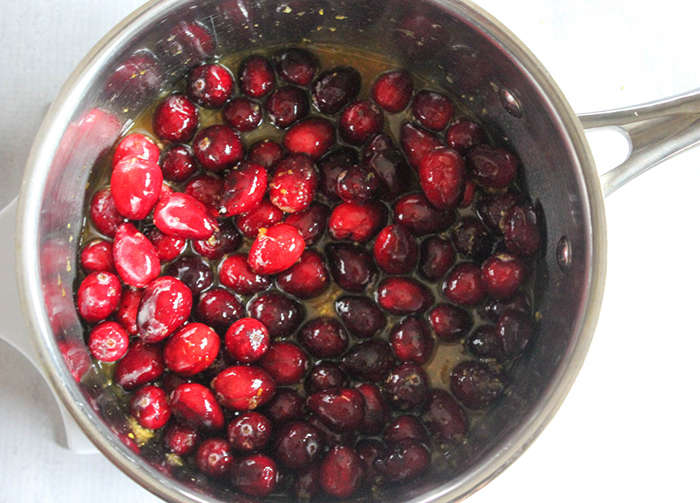 Cook the mixture over low medium heat stirring occasionally. After about 10 minutes they will start to make a popping sound, continue to stir, occasionally smashing the berries with the back of your spoon.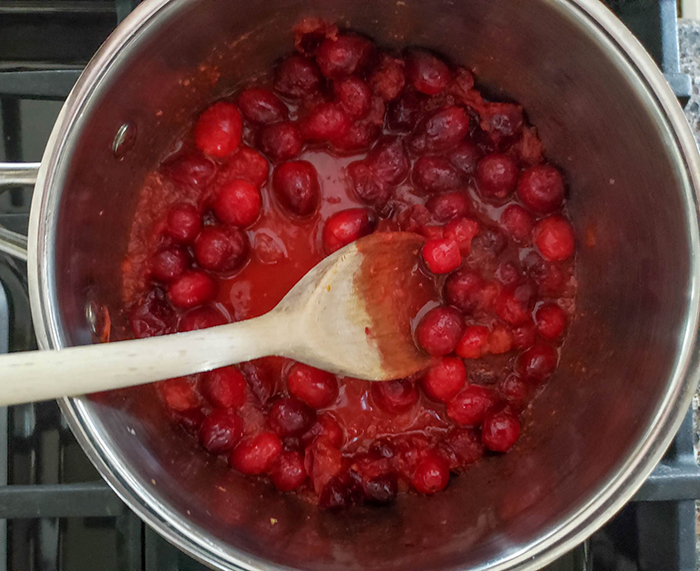 Once most of the cranberries have been smashed, the sauce will become thick and chunky. If you prefer a smooth texture, allow the cranberry sauce to cool off and blend it in a food processor or use an immersion blender.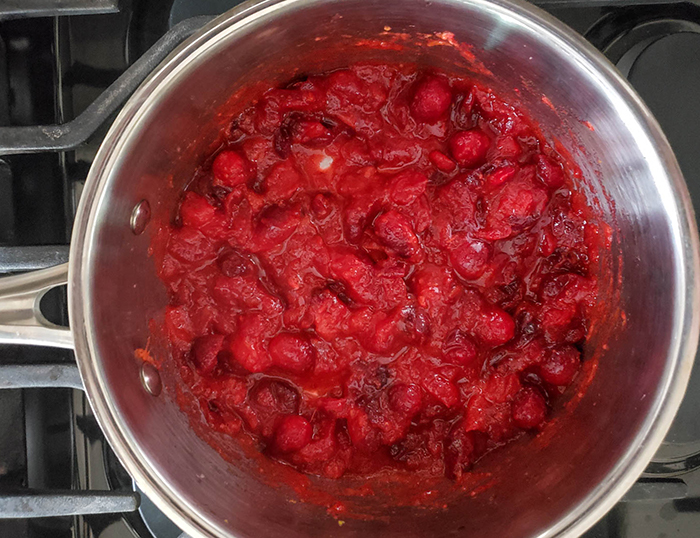 Tips for Making Homemade Cranberry Sauce
The Cranberries. Fresh is the best. If they aren't available frozen cranberries will work too. If you use fresh cranberries, look for berries that are bright red and not wrinkled. Frozen cranberries should be thawed out before making the sauce.
The Sweetener. Cranberries are very tart, the natural sweetener is a must, skip refined sugar or artificial sweeteners. A combination of honey and fresh orange juice sweeten up this sauce nicely.
The Orange. You can use any type of orange that you like. Make sure you wash the skin well before you zest it.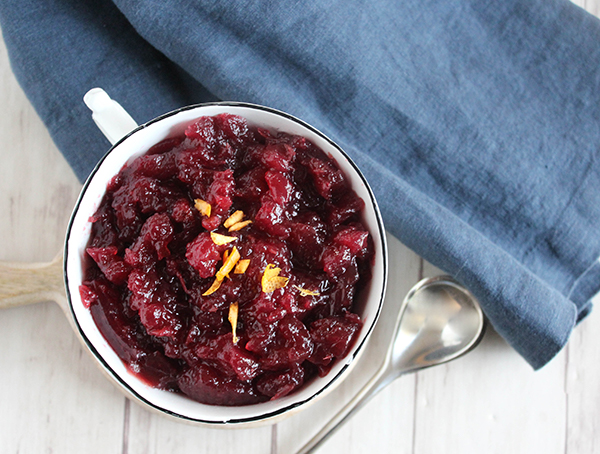 Serve it with
Aside from the traditional turkey dinner, we love homemade cranberry sauce spread on a turkey sandwich, on the side with chicken or Swedish meatballs or smeared on top of grilled chicken breasts just before taking them off of the grill.
How to Store It
Store homemade cranberry sauce in the refrigerator for up to 4 days in an airtight food storage container.
Freeze leftover cranberry sauce in an airtight container for up to 3 months.
Thaw it in the refrigerator overnight or place the container in a bowl of cold water for several hours.
Recipe Variations
Add a diced apple or pear to the pan with the cranberries, honey and water, and leave out the orange juice
Replace the orange juice with water or a light white or red wine and add some cinnamon and nutmeg.
Add a diced jalapeno pepper for a spicy sauce.
Add any combination of cinnamon, ginger, nutmeg, cloves, mint, lemon zest, orange zest.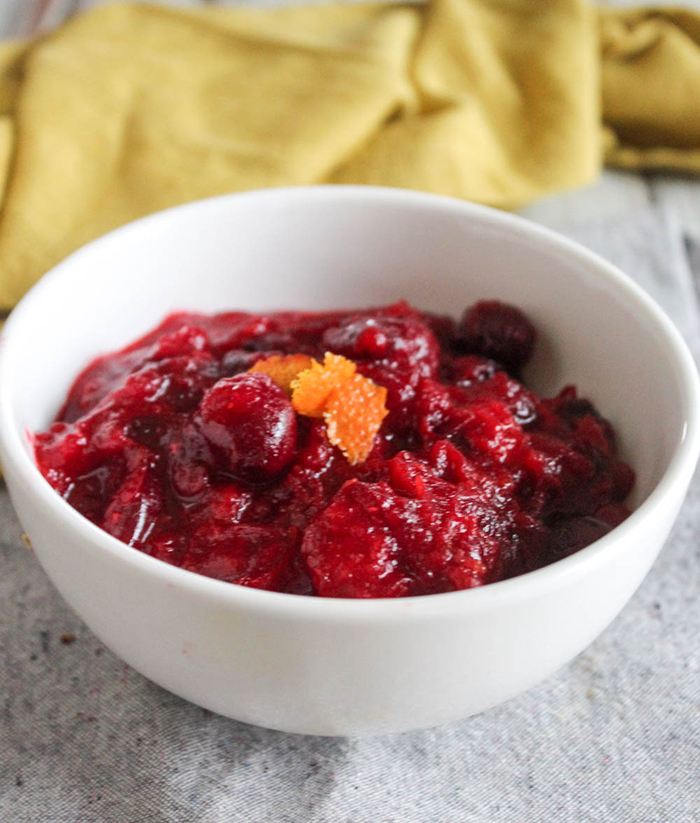 You Might Also Like these Holiday Recipes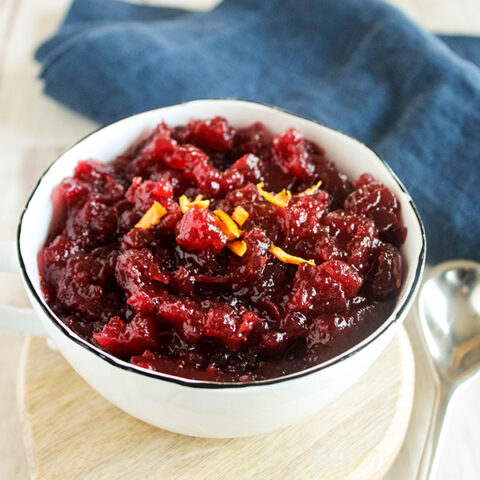 Homemade Cranberry Sauce
Homemade cranberry sauce is so easy to make with only a few simple ingredients!
Ingredients
2 cups of fresh cranberries
1 cup of fresh squeezed orange juice
1 teaspoon grated orange zest
1 teaspoon minced fresh ginger root
3 to 4 tablespoons honey
Instructions
Place all of the ingredients into a saucepan
Cook at medium heat stirring occasionally for about 20 minutes mashing the cranberries as they pop which will thicken the liquid.
If you like a smooth sauce process it in a food processor
Notes
This recipe is vegan, vegetarian, gluten-free and dairy-free
Nutrition Information:
Yield:

16
Amount Per Serving:
Calories:

0
Total Fat:

0g
Saturated Fat:

0g
Trans Fat:

0g
Unsaturated Fat:

0g
Cholesterol:

0mg
Sodium:

0mg
Carbohydrates:

0g
Fiber:

0g
Sugar:

0g
Protein:

0g
Follow Me