Turkey cranberry meatballs are filled with the all of the flavors of Thanksgiving wrapped up in one little ball. Serve them for dinner or as an appetizer at your next party.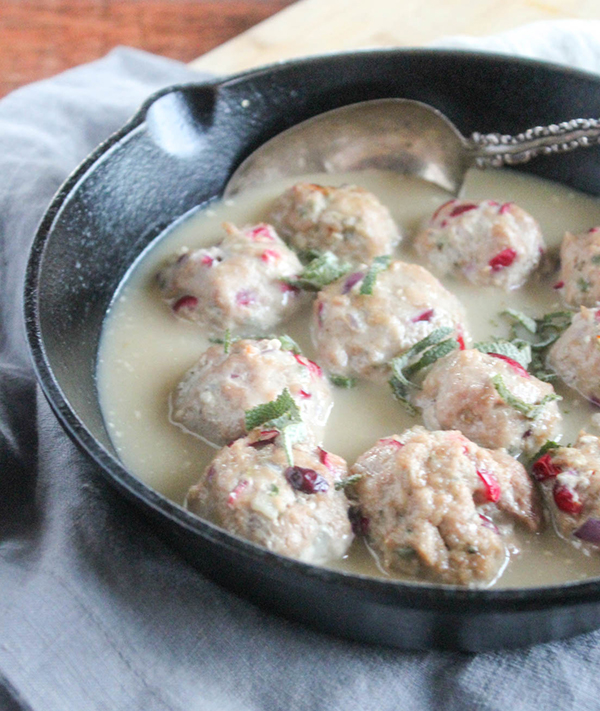 Turkey Cranberry Meatballs - A Taste of Thanksgiving
These meatballs will satisfy your craving for Thanksgiving food! They are a no fuss way to have a taste of Thanksgiving any time of the year, and they can be made in less than one hour.
Meatballs are fun aren't they? They can be made with any variety of ingredients and seasonings and are great for dinner or appetizers, and right now turkey meatballs have been on my mind.
These simple turkey meatballs are slightly sweet, tart and savory. When I serve them for dinner, I make a quick gravy and serve them over a bed of creamy mashed potatoes.
When I serve them as appetizers, I skip the gravy and serve them with a side of homemade cranberry sauce.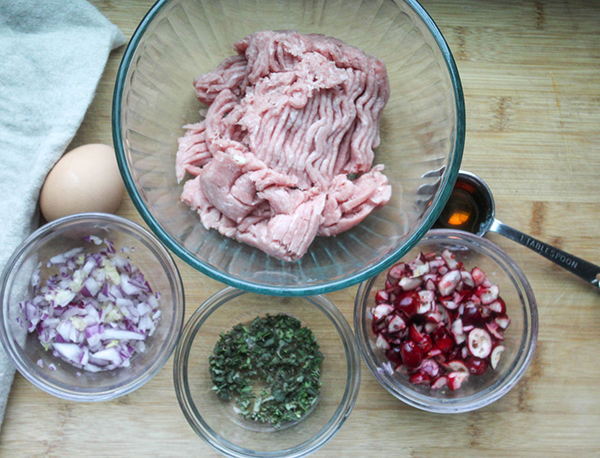 As an Amazon Associate, I earn from qualifying purchases
This is an overview of the ingredients and steps to make this recipe, scroll down for a printable recipe card with exact measurements and instructions.
Here is What You Will Need to Make this Incredibly Easy Turkey Meatball Recipe
Lean ground turkey - turkey breast is my first choice, but a blend of dark and white meat will work.
Fresh chopped garlic & onion to add flavor to the mild tasting turkey
Fresh or frozen whole cranberries - do not use dried and sweetened cranberries unless you prefer sweet meatballs.
Maple Syrup to naturally sweeten the tart cranberries
Fresh Sage & Thyme to add that classic Thanksgiving Flavor to the meatballs
How to Make Tender Turkey Meatballs
I have found that using an egg is enough to bind the meatballs together, and the meatballs turn out to be very tender. If you want to use bread crumbs, add ½ of whole wheat bread crumbs.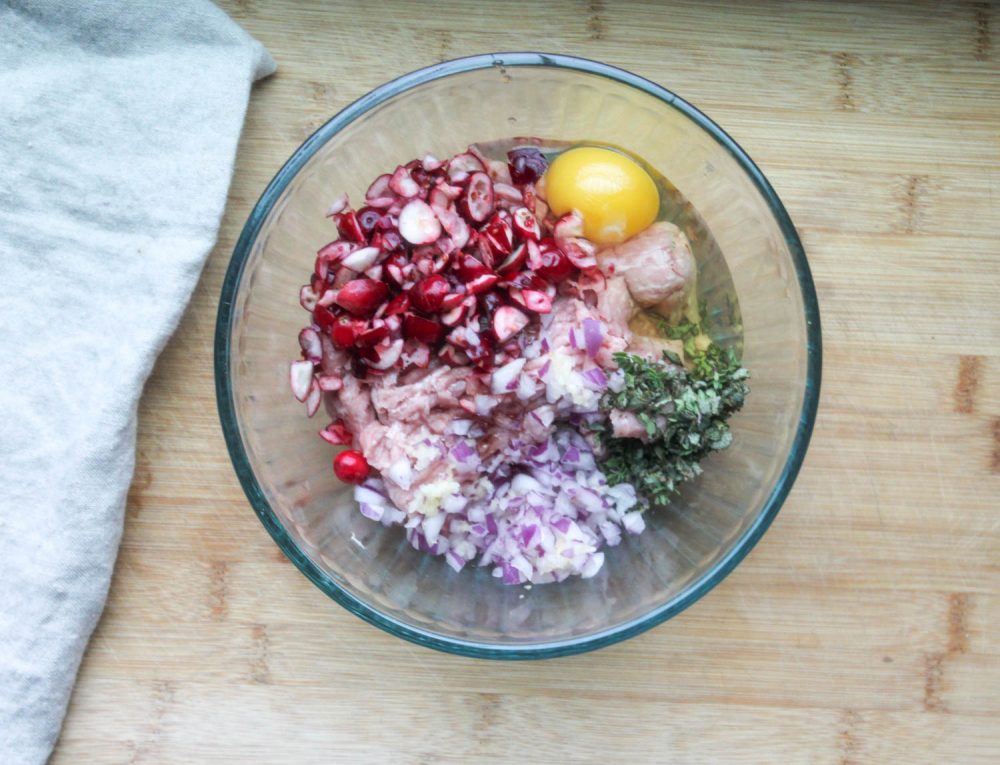 Here is How to Make this Recipe
First prepare the ingredients. Mince the garlic and onions and rough chop the cranberries.
Tip! Fresh cranberries can be difficult to chop. Use a sturdy knife to chop them or a food processor and quickly pulse them.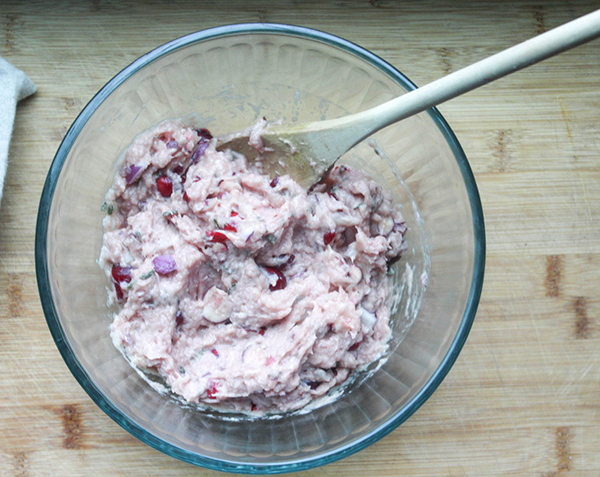 Combine all of the ingredients into a mixing bowl and gently mix using a spoon or your hands
Shape the meat mixture into meatballs and bake them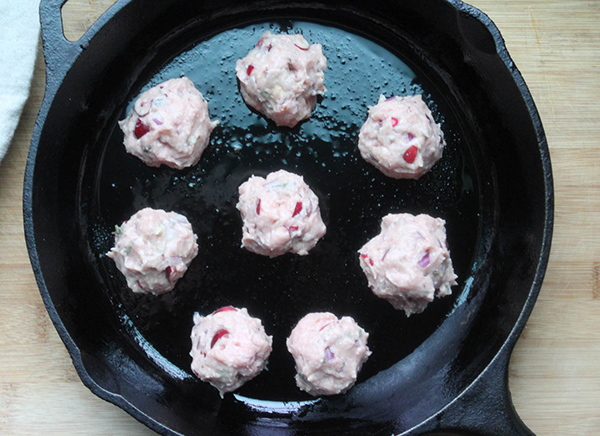 Tip! Use a cookie or ice cream scoop to shape your meatballs
Make the gravy while the meatballs are baking, and add the baked meatballs to the gravy and enjoy.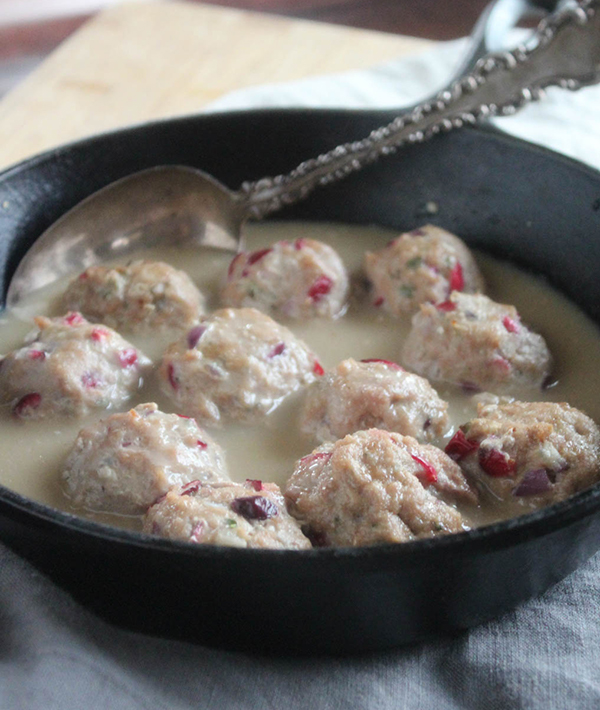 How to Store and Freeze Turkey Cranberry Meatballs
Store your leftover meatballs in the refrigerator for up to 4 days in a glass container.
Freeze the meatballs on a baking sheet after they have been cooked. Once they are completely frozen on the baking sheet, remove them and place them in a freezer safe container.
Thaw the meatballs in the refrigerator overnight and re-heat them in gravy on top of the stove or place them in the oven at 325 until they are heated through.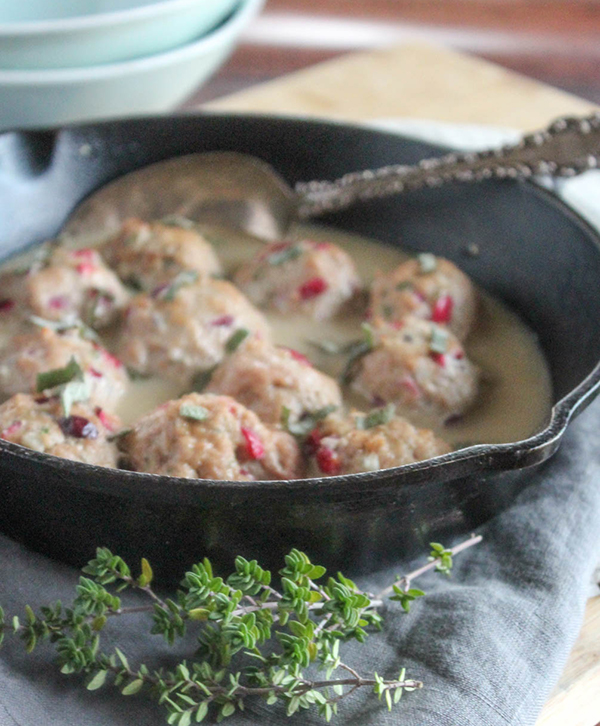 Recipe Variations
Baking is an easier, more efficient and less messy way to cook the meatballs. You can also cook them in a skillet on top of the stove if you prefer. Here is how, add a tablespoon of olive oil to the pan and cook the meatballs over medium heat until they have reached an internal temperature of 165.
Turn the meatballs into burgers and cook them in a skillet or on a grill
Replace fresh sage with 1 teaspoon dried sage and fresh thyme with ⅛ teaspoon dried
Make a turkey cranberry meatloaf and bake at 350 for 45 minutes or until internal temperature is 165
Add ¼ to ½ cup of crumbled feta or goat cheese
Add 1 shredded apple to the meat mixture before rolling it into meatballs.
Try These Meatball Recipes
Tuscan Vegetable Soup with White Bean Balls