Turkey cranberry meatballs are simple to make and taste like Thanksgiving in a meatball!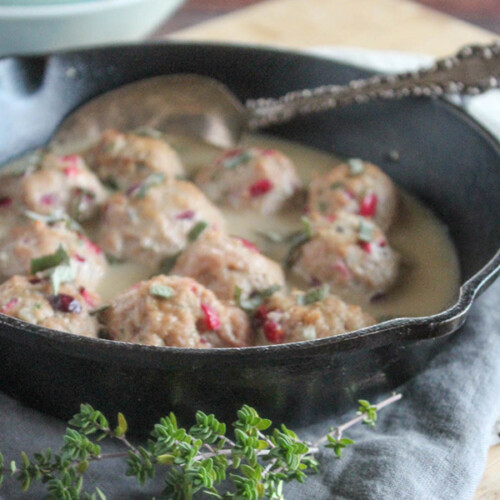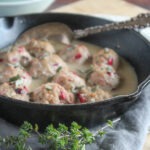 If you're craving Thanksgiving dinner, try these turkey cranberry meatballs with gravy! Unlike some turkey cranberry meatball recipes, these tender turkey meatballs are filled with fresh cranberries and cooked in a delicious gravy rather than coating them in cranberry BBQ sauce or cranberry glaze.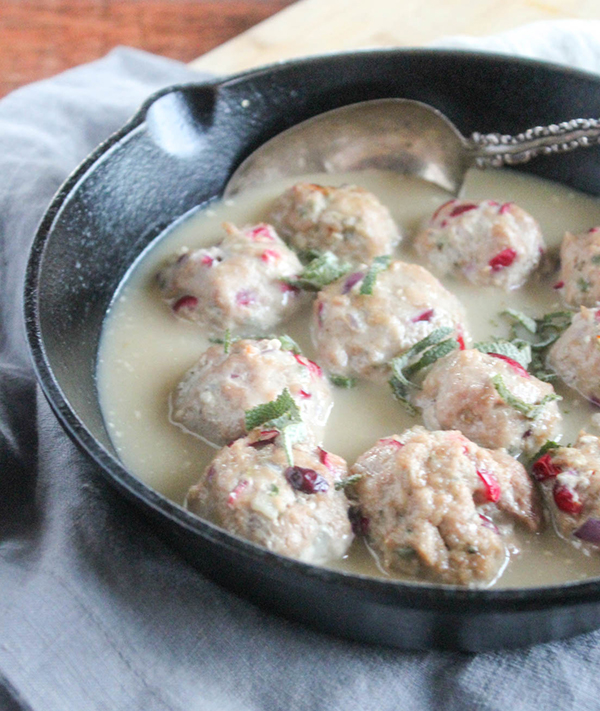 These are the best turkey meatballs! They are a flavorful alternative to beef meatballs and the creamy gravy makes this pure comfort food when served over mashed potatoes.
These flavorful meatballs have a slightly sweet, tart, and savory taste that's perfect for family gatherings or a quick dinner.
Jump to:
🤍Why you will love this recipe
It's an easy-to-make recipe and perfect for busy weeknights that the whole family will love
Versatile! These tender turkey meatballs can be served in various ways from a main course or as an appetizer.
These tender meatballs can be made ahead of time, which will allow the flavors of Thanksgiving to blend.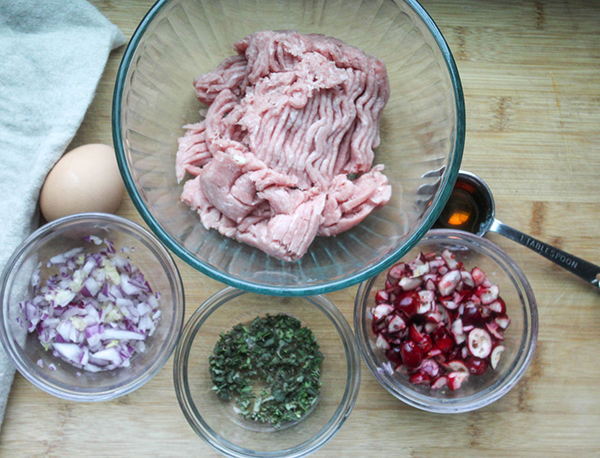 Here is what you will need
This is an overview of the ingredients and steps to make this easy turkey meatballs recipe; scroll down for a printable recipe card with exact measurements and detailed instructions.
This post may contain affiliate links. I earn a small commission if products are purchased through links at no additional charge to you.
🛒Ingredients list
Lean ground turkey
Fresh garlic
Onion
Fresh or frozen cranberries
Maple syrup
Sage
Thyme
Egg
Olive oil
Chicken broth or chicken stock
Flour
🥄Equipment
Large mixing bowl & small bowl
Cookie scoop (optional)
Sharp knife or food processor
Meat thermometer
How to make turkey cranberry turkey meatballs
Prepare: Mince the garlic, onions, and herbs. Roughly chop the cranberries.
Preheat the oven to 375 degrees f.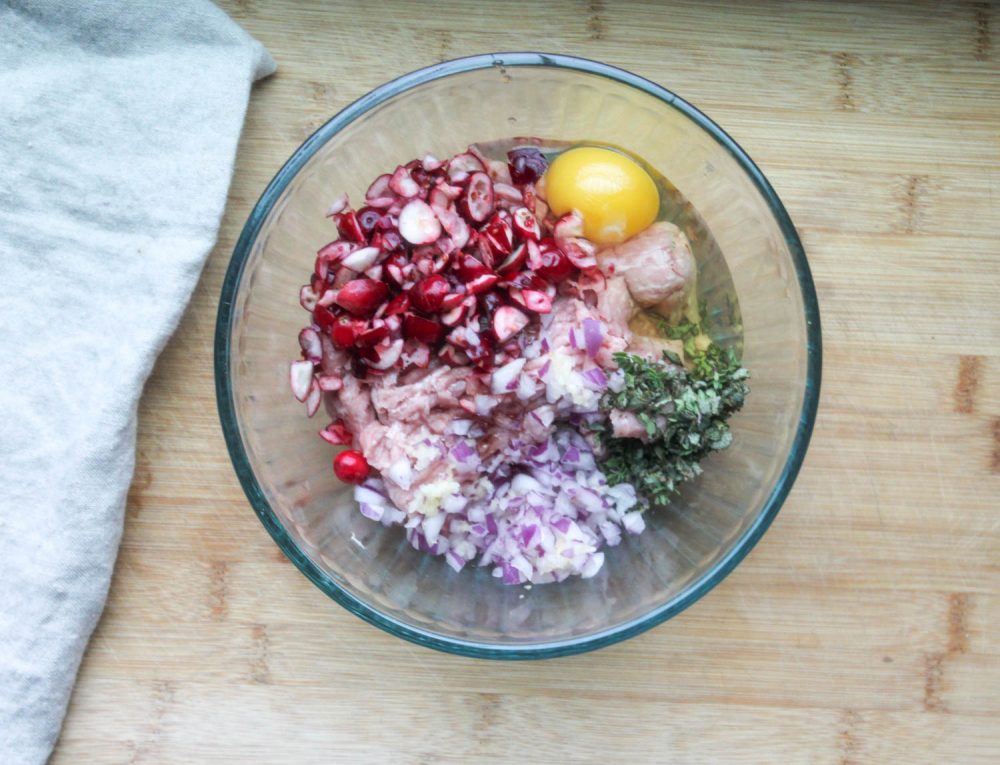 STEP 1: Place the ground turkey meat, egg, onion, garlic, and herbs into a large bowl. Mix the chopped cranberries with the syrup in a separate small bowl and add it to the turkey mixture.
STEP 2: Mix all of the ingredients together with a spoon or your hands.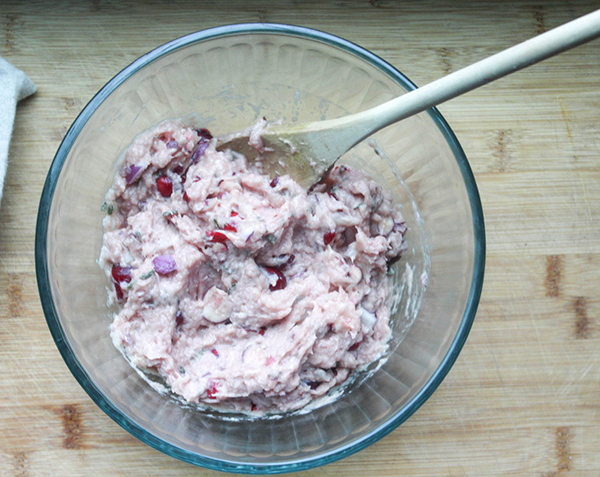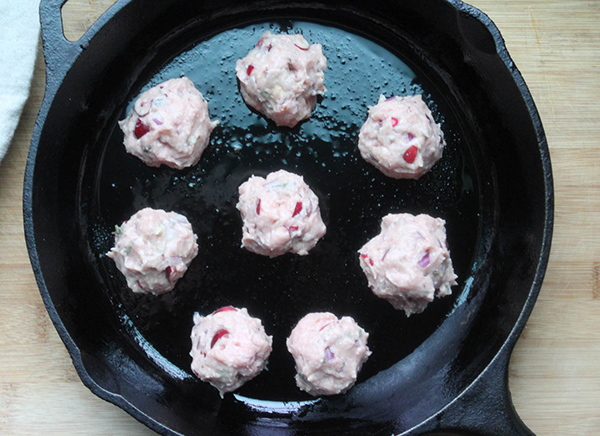 STEP 3: Shape the meat mixture into meatballs and place them in a single layer into an oven-proof skillet or rimmed baking sheet. Place the meatballs in a preheated oven and bake. Use a meat thermometer to make sure they are cooked through to 165 degrees f.
STEP 4: While the meatballs are baking, mix the flour and broth together in a saucepan over medium heat while occasionally stirring until it thickens.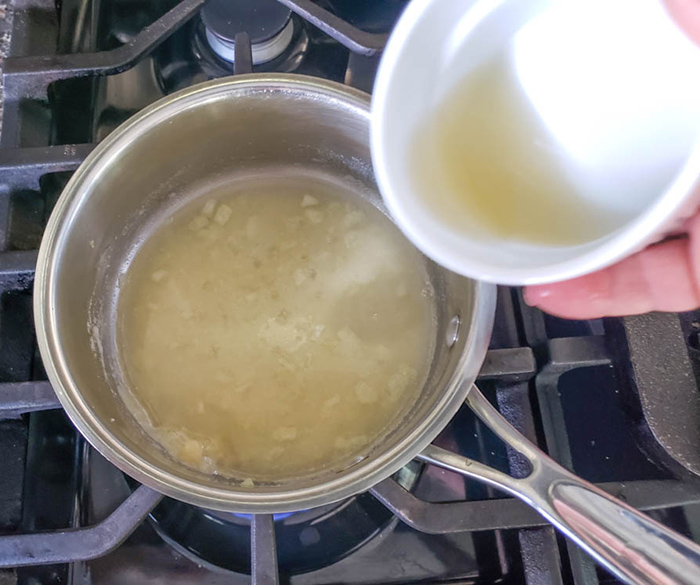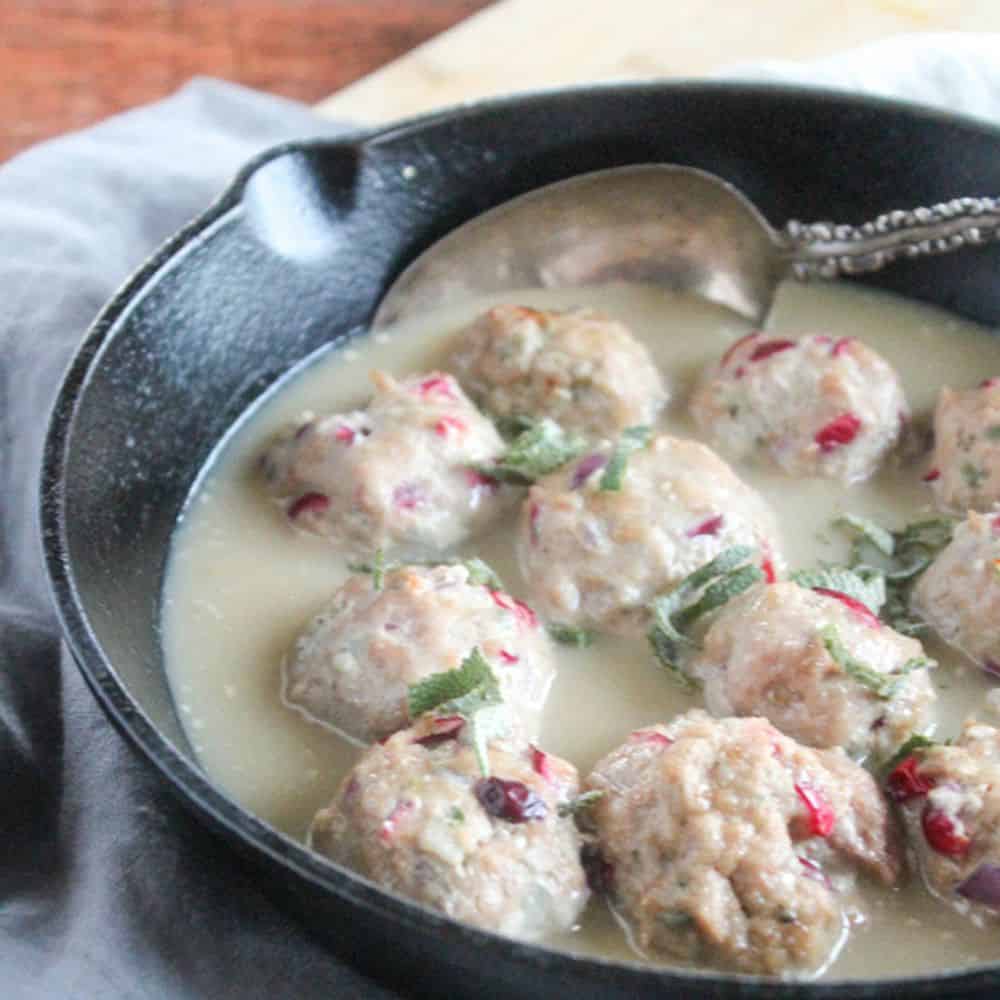 STEP 5: Once the gravy is ready and the meatballs are cooked, add the cooked meatballs to the gravy, and keep them in a warm setting until it's time to serve.
NOTE: If the turkey mixture is too soft, it may be difficult to form into meatballs. If that happens, place the turkey mixture in the refrigerator for at least 30 minutes to firm the mixture up.
Ingredient notes and substitutions
The complete list of ingredients to make this recipe is above. Below are notes about some of the ingredients and ideas for substitutes.
Ground turkey - Look for 85 to 93% lean ground turkey to make these meatballs. Ground turkey can be substituted with lean ground chicken breast or beef.
Maple syrup - Use real maple syrup and not pancake syrup. You can also use an equal amount of honey instead of syrup.
Chicken broth - Any broth or stock can be used to make gravy for these meatballs. Good substitutes are vegetable broth or turkey broth.
Flour - This thickens the gravy and can be replaced with gluten-free flour, corn starch, or arrowroot for a gluten-free gravy.
Fresh herbs - If you don't have fresh herbs, replace fresh sage with 1 teaspoon dried sage and fresh thyme with ⅛ teaspoon dried thyme.
Check out ButcherBox for humanely raised high-quality ground turkey and other meats!
How to store leftovers
Store leftovers in an airtight container in the refrigerator for up to 4 days. Reheat leftovers on top of the stove over low heat or in the microwave.
Freeze leftover meatballs before adding them to the gravy. Place them on a rimmed baking sheet and pop it into the freezer. Once the meatballs are frozen, place them in a freezer bag. They will last in the freezer for three months.
Thaw frozen meatballs in the refrigerator overnight or cook them from frozen.
What to serve with cranberry turkey meatballs
Serve these meatballs as an appetizer or for dinner garnished with black pepper and herbs such as chopped sage or fresh parsley or with roasted Brussels sprouts, green beans, roasted butternut squash, and egg noodles, baked sweet potatoes or mashed potatoes.
Recipe variations
Turkey cranberry burgers - Turn the meatballs into burgers and grill or skillet cook them. Serve on toasted sourdough bread.
Turkey cranberry meatloaf - Shape the turkey mixture into meatloaf and bake in a 375-degree f oven for 45 minutes or until the internal temperature reaches 165 degrees f. Serve turkey gravy on the side.
Apple turkey cranberry meatballs - Add a small shredded apple, and a dash of garlic powder or onion powder to the meat mixture for a sweeter flavor.
Skip the gravy - Serve the meatballs separately from the gravy and encourage dipping them into a homemade cranberry sauce. Serve the meatballs separately from the gravy and encourage dipping them into a homemade cranberry sauce.
Mushroom gravy - Enhance the flavor of your turkey meatballs by adding 6 ounces of sliced sauteed mushrooms and a drop or two of Worcestershire sauce.
Change up the meat - Replace ground turkey with ground chicken or ground pork.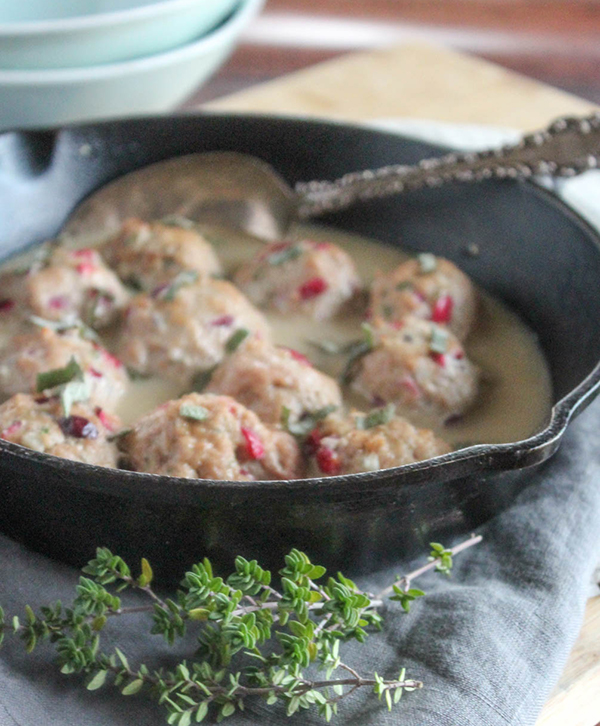 💡Tips
Use a small cookie scoop or ice cream scoop to shape your meatballs.
Fresh cranberries can be challenging to chop; use a sturdy knife or place them in a food processor and pulse them.
Chill the formed meatballs for 30 minutes before baking them so they hold their shape.
For an extra creamy sauce, stir in a few tablespoons of heavy cream or sour cream to the gravy just before serving.
How can you make turkey meatballs so they don't fall apart?
The egg is what holds the meatballs together. If the mixture seems extremely wet after adding an egg, try adding up to ½ cup of breadcrumbs to the meat mixture which will help to soak up the excess moisture.
How do you prevent meatballs from becoming tough?
For tender texture meatballs, combine the meatball ingredients together with a wooden spoon or your hands. Once everything is mixed together, stop and don't overmix.
Are you too tired to cook dinner?
If you're feeling uninspired when it's time to cook dinner, this free guide will help you make a quick and healthy dinner with ingredients you have in your kitchen.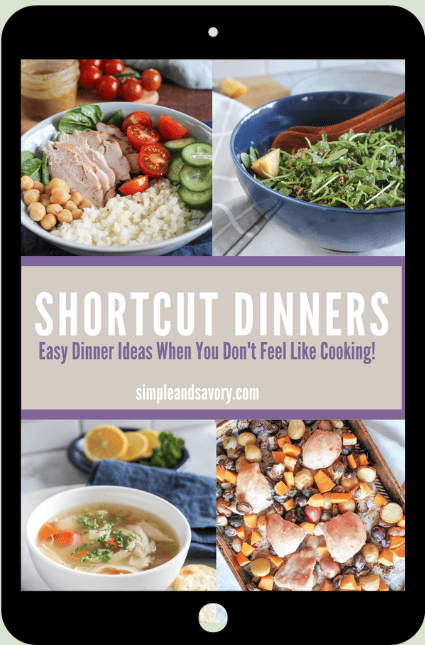 Have you tried these meatball recipes?
Do you like this recipe?
Please comment and give it a ⭐⭐⭐⭐⭐ rating below!
📖 Recipe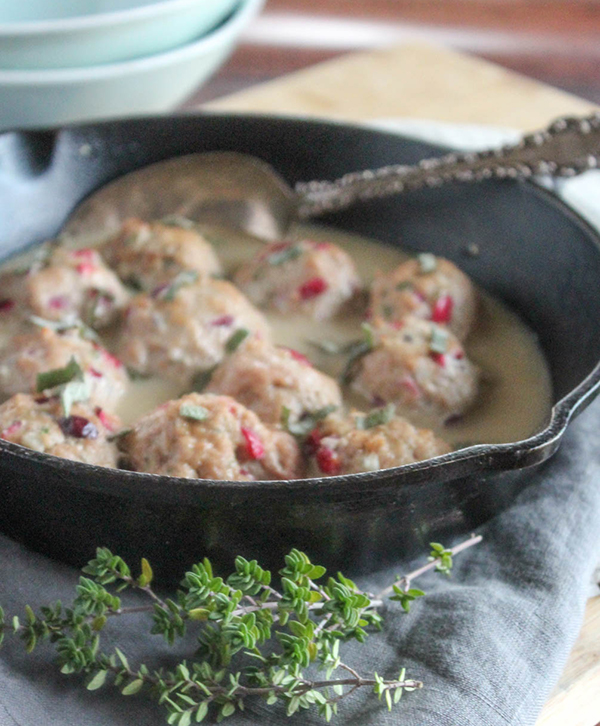 Click on serving size to scale this recipe
Ingredients
½

cup

Onion

Diced

1

clove

Garlic

Minced

1

tablespoon

Sage

Fresh, chopped

1 ½

teaspoons

Thyme

Fresh

1

pound

Ground turkey

¾

cup

Cranberries

Fresh

1

tablespoon

Maple syrup

1

Egg

1

tablespoon

Flour

1

cup

Chicken Broth
Instructions
Pre-heat the oven to 375 degrees f

Prepare the ingredients: mince the onions, chop the garlic cranberries and sage

Place the chopped onion, garlic, sage, thyme and turkey breast into a mixing bowl.

Mix the chopped cranberries with 1 tablespoon syrup and add it to the meat mixture.

Use a spoon or your hands to gently mix all of the ingredients together

Form the meat mixture into balls and place them on a parchment lined baking sheet or a cast iron skillet

Bake the meatballs for 15 to 20 minutes - until the internal temperature reaches 165
Gravy Instructions
Add 1 tablespoon of flour into a small saucepan and gradually whisk in the broth.

Place the pan over medium low heat and continue to whisk until the gravy thickens. You may have to adjust thickness with more or less flour. Pour it over the meatballs before serving.
Notes
Store leftover meatballs in the refrigerator in an airtight container for up to 4 days. Reheat leftovers on top of the stove over low heat or in the microwave.
See article above for serving suggestions, tips, variations and more!
Nutrition
Nutrition information provided is an estimate and can vary based on cooking methods and ingredients used