A delicious chicken recipe that is filled with flavor and easy to make in a slow cooker.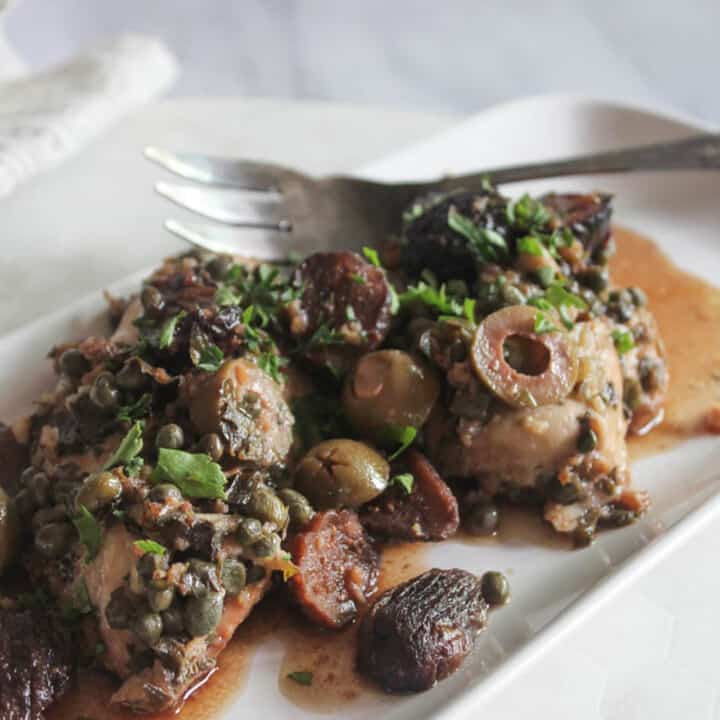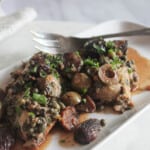 Crockpot Chicken Marbella is a remake of a classic recipe from the Silver Palate Cookbook that's typically cooked in the oven and made with prunes. Unlike the original recipe this version is cooked with figs and in a crockpot. It juicy, tender and flavorful chicken that is effortless to make.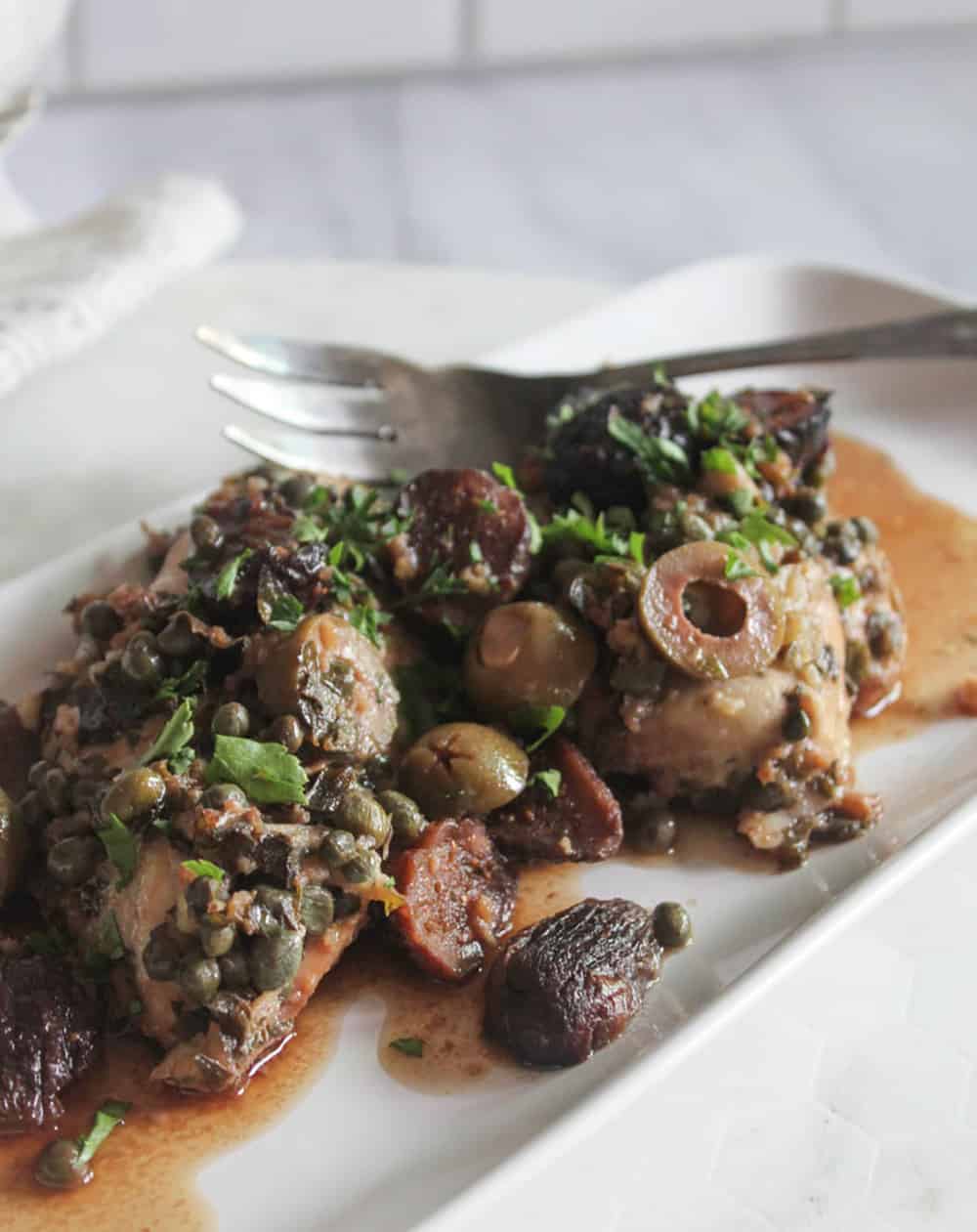 There is nothing quite like a home-cooked meal, especially when it's made in a crockpot. Not only is a crockpot dinner easy to prepare, it's also a great way to enjoy a delicious meal without having to spend hours in the kitchen.
🤍Why you will love this recipe
It's easy to prepare and requires minimal preparation, making it perfect for busy weeknights or lazy weekends.
It's a delicious combination of flavors: tangy, sweet and savory in one bite.
Juicy and tender chicken: the slow cooker keeps the chicken moist and tender.
Jump to:
Here is what you will need
This is an overview of the ingredients and steps to make this easy chicken marbella recipe; scroll down for a printable recipe card with exact measurements and detailed instructions.
As an Amazon Associate, I earn from qualifying purchases.
🛒Ingredients
Boneless, skinless chicken breasts
Garlic
Fresh Oregano
Red Wine Vinegar
Olive Oil
Dried Figs or Prunes
Green Olives
Capers
Bay Leaves
White Wine
Flat Leaf Parsley
🥄Equipment
How to make slow cooker chicken marbella
Prepare the ingredients: Slice the olives, roughly chop the parsley and oregano and crush or chop the cloves of garlic.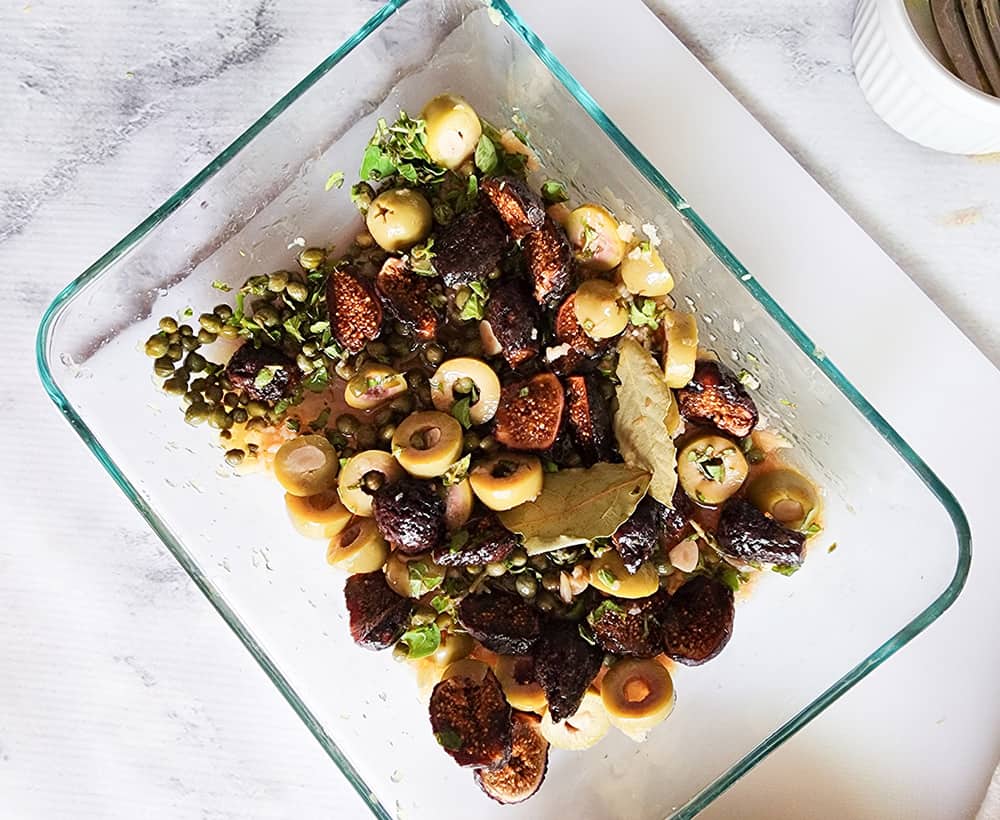 STEP 1: Combine the olive oil, garlic, vinegar, olives, capers, parsley and oregano in a shallow glass dish. Place chicken on top and turn it to coat in the marinade. Marinate for at least 3 hours and overnight is best.
STEP 2: Add the chicken, marinade mixture, and wine to the slow cooker and cook on low heat until the internal temperature of the chicken reaches 165 degrees f - about 4 to 5 hours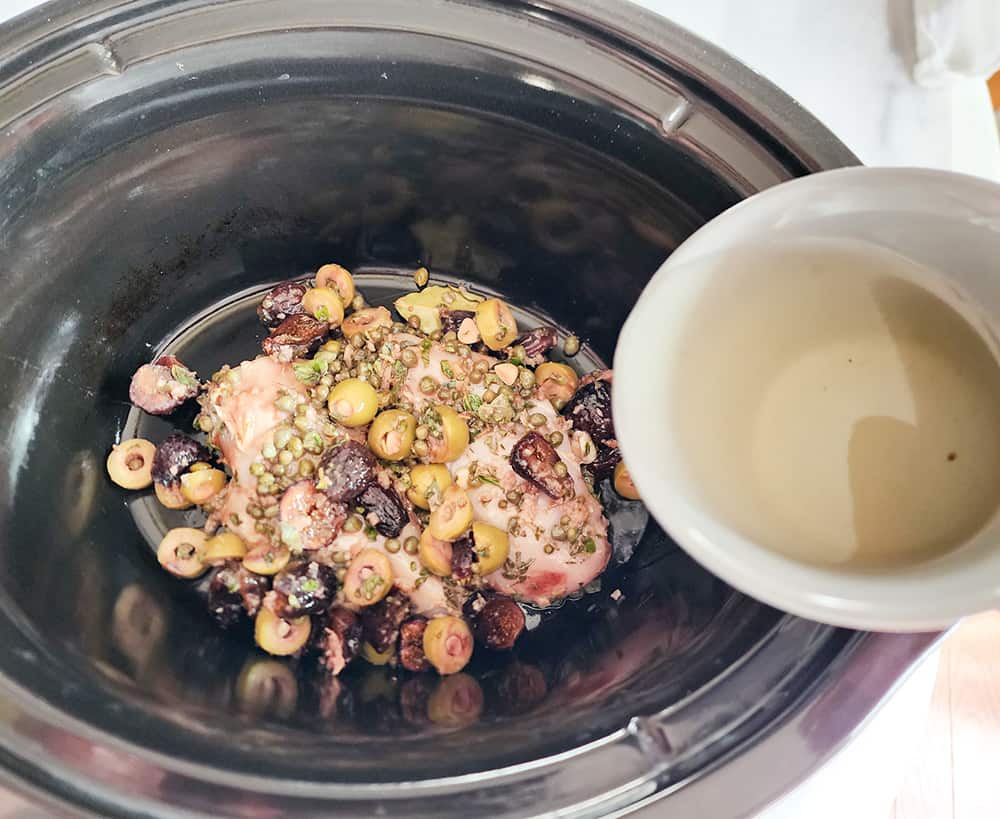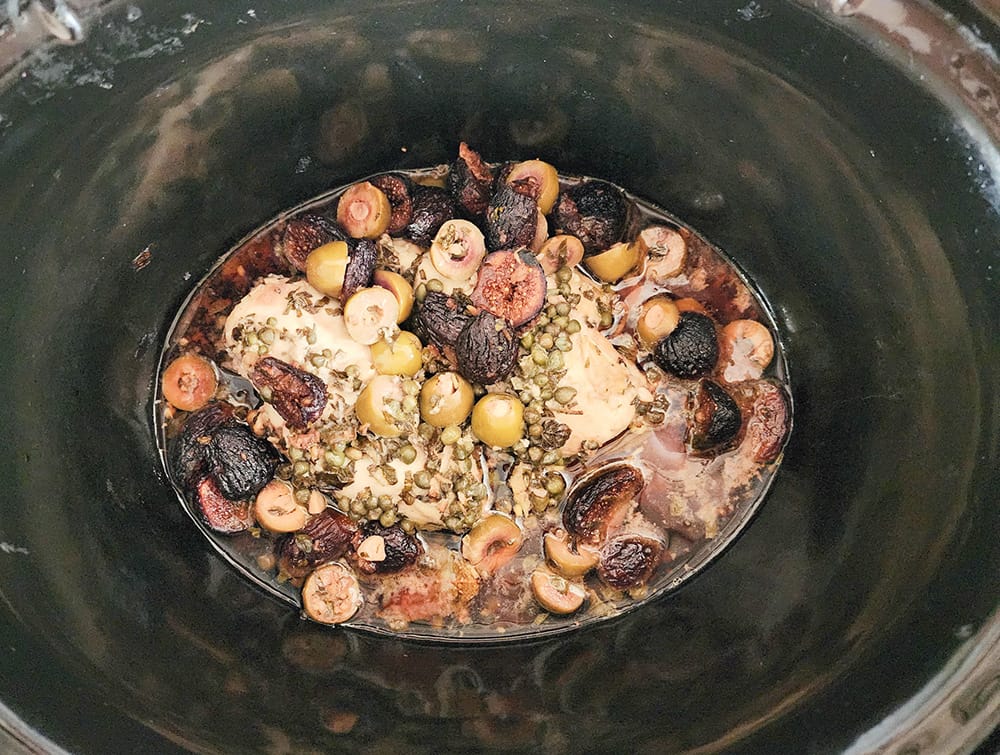 STEP 3: Keep the chicken warm in the slow cooker on warm setting until it's time to serve. Then, with a slotted spoon transfer chicken from the slow cooker to a serving platter and pour the sauce over the top. and serve.
Note: If you prefer a thicker sauce, once the chicken is removed from the slow cooker, turn the heat to high and gradually whisk in up to two teaspoons of flour until it reaches the texture that you like. Pour the thickened sauce over the chicken.
Ingredient Notes and Substitutions
The complete list of ingredients to make this great recipe is above. Below are notes about some of the ingredients and ideas for substitutes.
Chicken - The Silver Palate recipe uses whole chickens that have been quartered. I like to use boneless, skinless chicken breasts to make this recipe or a combination of boneless chicken thighs and chicken breasts. You can also use all boneless skinless chicken thighs.
You can use whole, quartered chicken or bone-in chicken pieces to make this recipe, too. If you choose to use bone-in chicken pieces, you will need to adjust the cooking time to 6 to 7 hours.
Figs - The original recipe calls for prunes. I prefer the taste of figs in this recipe and they can easily be replaced with prunes or dried apricots.
White wine - The best white wine to use is a dry white wine such as a Sauvignon Blanc, Chardonnay or Pinot Grigio.
You can use chicken or vegetable broth instead of wine for an alcohol-free version.
Fresh oregano and parsley - If you don't have fresh herbs, you can use dried oregano and parsley, but you will need to adjust the amount to two teaspoons of dried herbs.
Red wine vinegar - Balsamic or sherry vinegar can be used as a substitute for red wine vinegar.
Capers - You can substitute capers with diced dill pickles for a similar tangy flavor.
Olives - If you don't like the taste of olives, they can easily be substituted with artichokes for a briny element.
How to store leftovers
Store leftover chicken marbella in an airtight container in the refrigerator for 3 to 4 days. Reheat it on top of the stove, in the oven or microwave.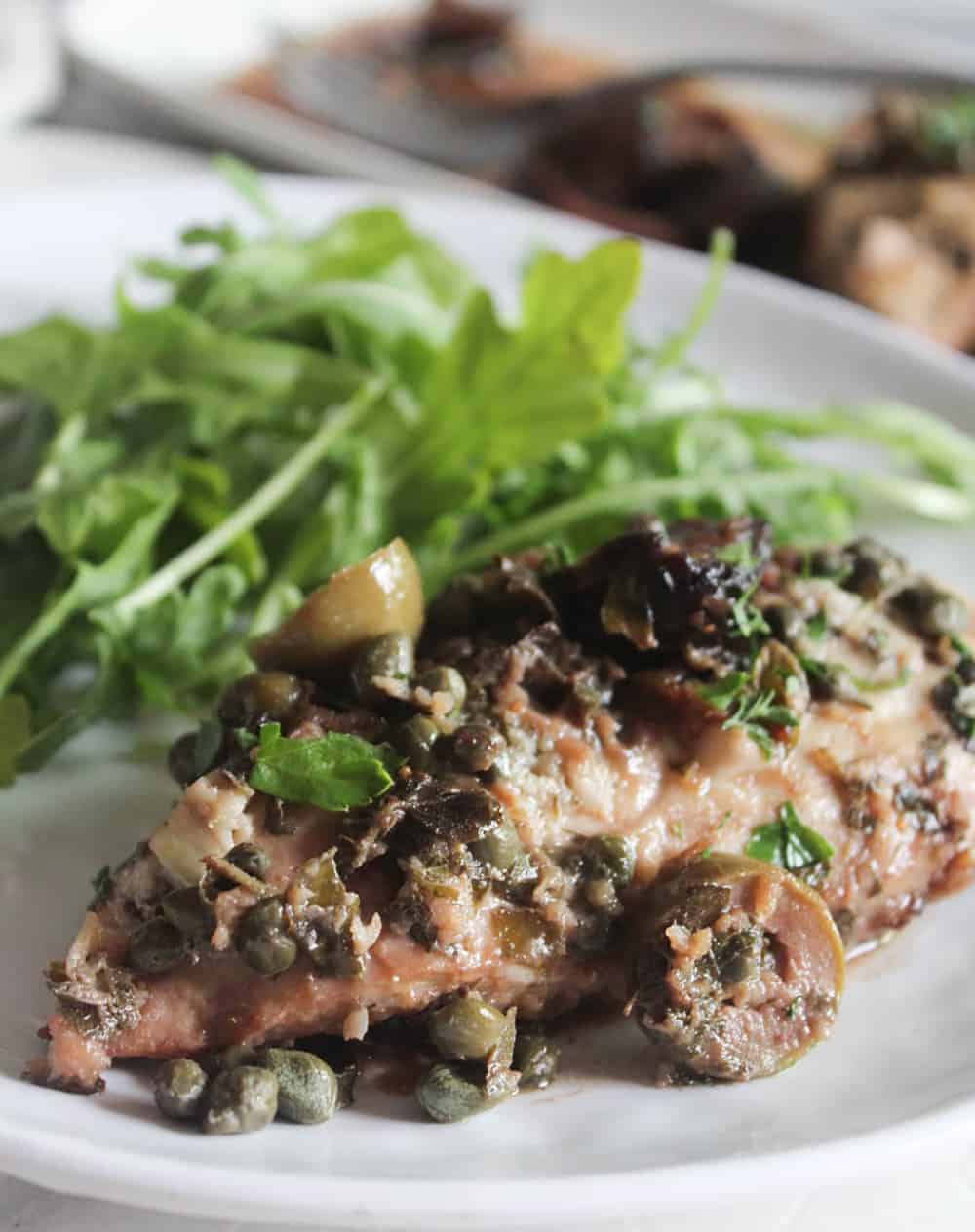 Recipe variations
While this slow cooker version of chicken marbella is delicious as is, here are a few suggestions to change up the flavor.
Mushroom and Chicken Marbella - Add sauteed sliced mushrooms to the slow cooker with the chicken.
Maple-Balsamic Marbella - Substitute red wine vinegar with balsamic vinegar for a sweeter, caramelized flavor.
Mediterranean Lemon Chicken Marbella - Instead of red wine vinegar, use freshly squeezed lemon juice, lemon zest and garnish with lemon slices.
Vegetarian Marbella - Make a tasty vegetarian version with tofu or tempeh. Marinate as you would with the chicken and cook on low heat for 2 hours.
Pork Marbella - Replace the chicken with a pork tenderloin.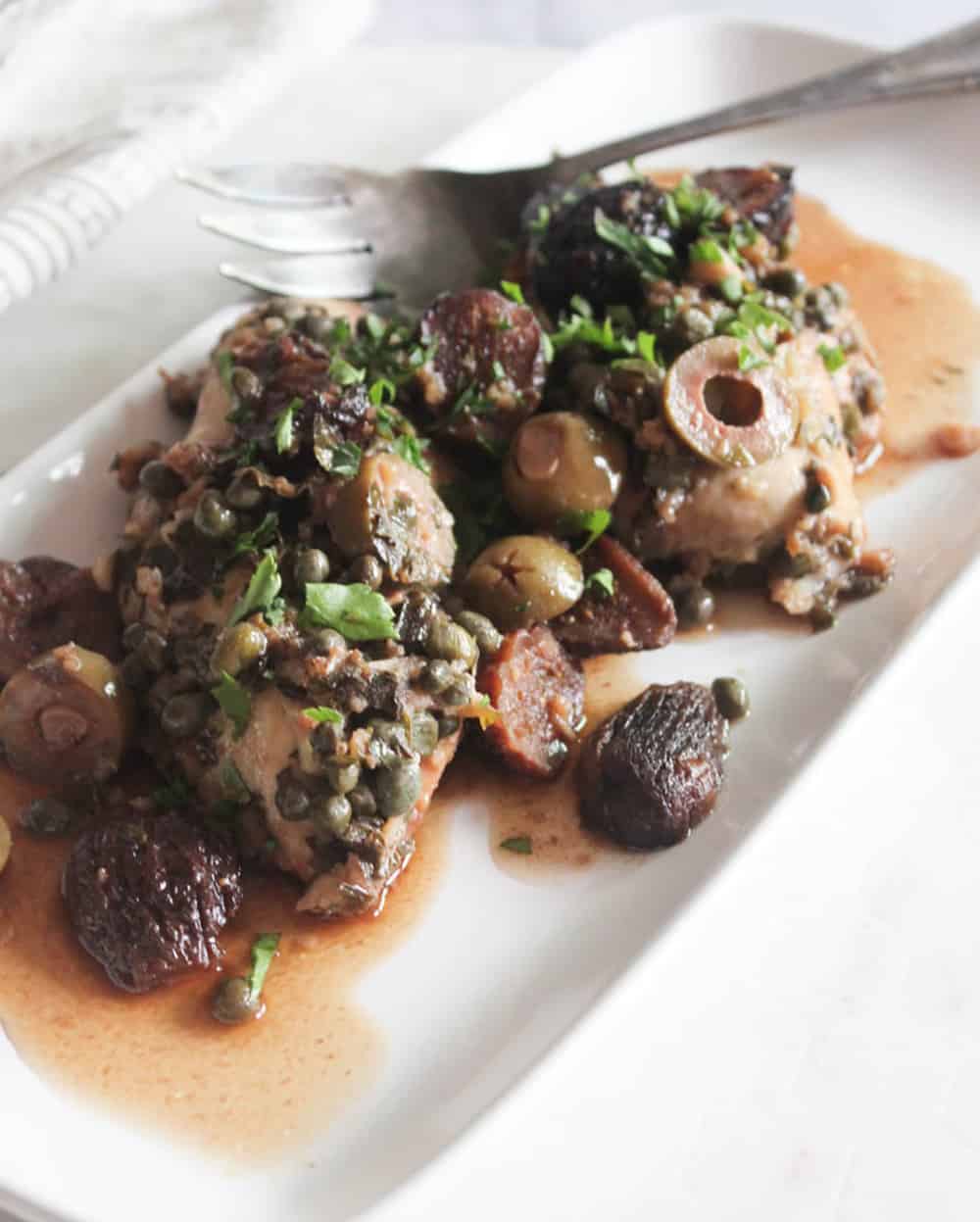 Serving suggestions
Serve this delicious chicken dish in a large serving bowl or platter garnished with fresh herbs and a dash of cracked black pepper with brown rice, roasted potatoes, roasted vegetables or a green salad.
💡Top Tips
If you have the time, allow for the chicken to marinate overnight. The longer it marinates, the more flavors will penetrate the meat thoroughly.
Fresh ingredients work best in this recipe. Try to use fresh garlic and herbs.
Can I make chicken marbella ahead of time?
Yes, this recipe can be made ahead of time, and it often tastes better the next day. Once the chicken is fully cooked and cooled to room temperature, store it in the refrigerator. Reheat it the next day in the oven or on the warm setting on your slow cooker.
What wines pair well with chicken marbella?
White wines such as sauvignon blanc, chardonnay or a crisp pinot grigio work well with chicken marbella. The wine you use in teh recipe can also be a good choice.
Can I make slow cooker chicken Marbella recipe in the oven?
Yes, you can easily make this recipe in the oven. After marinating the meat, add the meat and marinade ingredients into a baking dish. Cover and bake it in a preheated oven until the chicken is cooked through (165 degrees) - about 30 to 40 minutes.
If you have a question that is not answered above, ask in the comment section below, and I will answer you as soon as I can.
Are you too tired to cook dinner?
If you're feeling uninspired when it's time to cook dinner, this free guide will help you make a quick and healthy dinner with ingredients you have in your kitchen.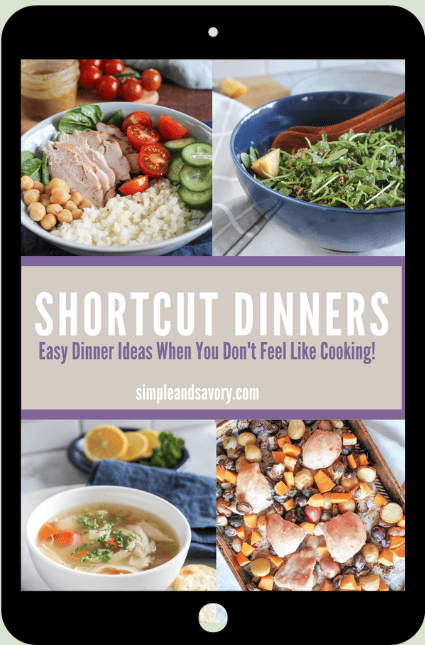 You might like these slow cooker recipes
Do you like this recipe?
Please comment and give it a ⭐⭐⭐⭐⭐ rating below!
📖 Recipe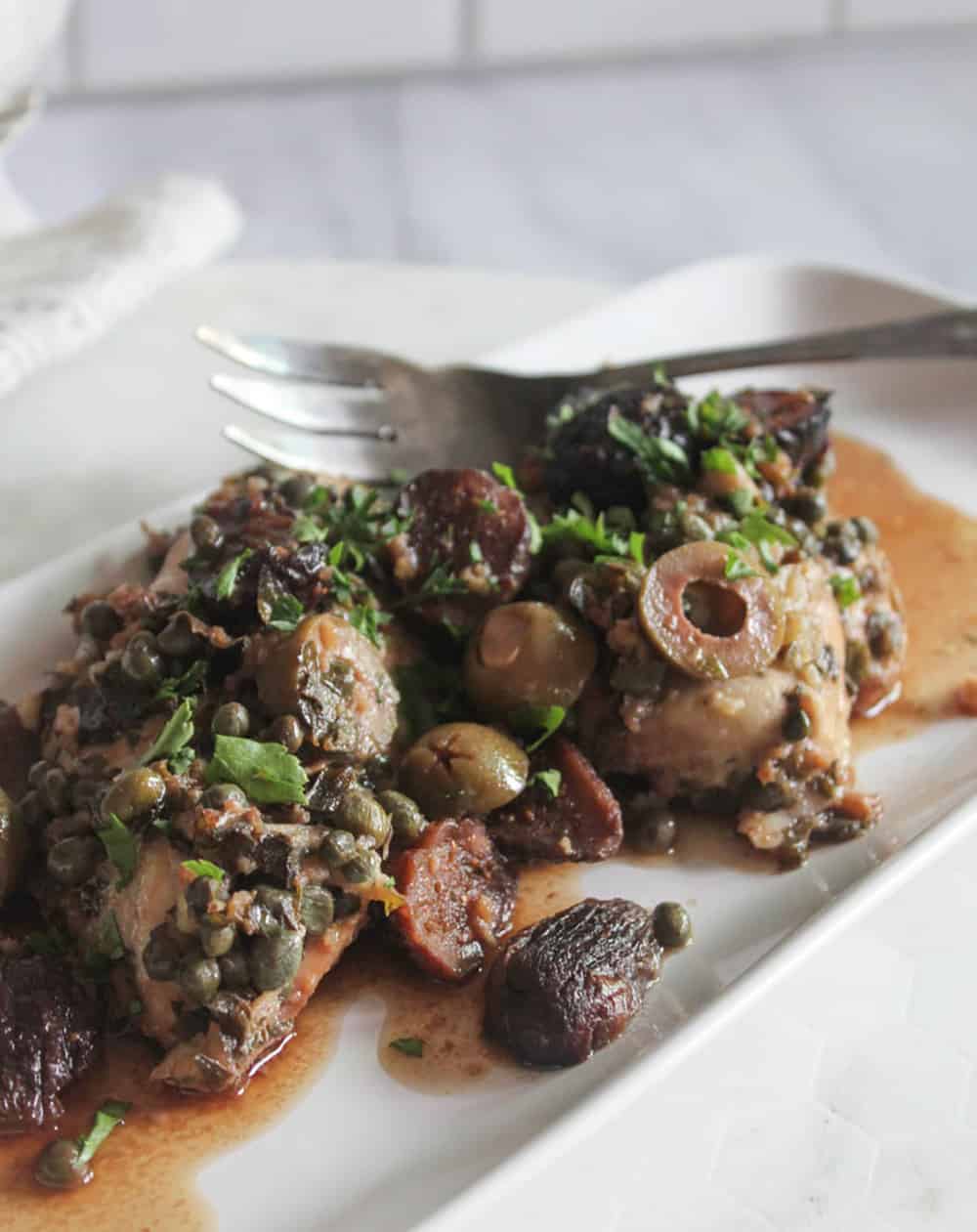 Click on serving size to scale this recipe
Ingredients
1

Pound

Chicken breasts

boneless, skinless

1

Head

Garlic

2

Tablespoons

Oregano

Fresh, rough chopped

¼

Cup

Red wine vinegar

¼

Cup

Olive Oil

10

Figs

Dried or prunes

10

Green olives

¼

Cup

Capers

2

Bayleaves

2

Tablespoons

Parsley

Fresh, rough choped

½

Cup

White wine
Instructions
Prepare, chop or crush the garlic, chop the herbs and slice the olives and figs

In a shallow dish combine the prepared

1 Head Garlic

,

2 Tablespoons Oregano

,

¼ Cup Red wine vinegar

,

¼ Cup Olive Oil

,

10 Figs

,

10 Green olives

,

¼ Cup Capers

,

2 Bayleaves

,

2 Tablespoons Parsley

Add

1 Pound Chicken breasts

to the bowl and toss to coat. Cover and marinate for at least 3 hours or overnight.

Add the chicken, marinade mixture and

½ Cup White wine

to the slow cooker. Cook on low heat until the internal temperature of the chicken reaches 165 degrees f - about 4 to 5 hours.

Remove the bay leaves and discard them. If you prefer a thicker sauce, transfer the chicken to a platter with a slotted spoon. Gradually stir in up to a teaspoon of flour to thicken it. Add the chciken back to the slow cooker and heat it through and serve.
Notes
Serve with rice, roasted vegetables and a salad.
Store leftovers in the refrigerator for 3 to 4 days. Reheat it in the oven, microwave or on top of the stove.
Nutrition
Serving:
0.25
pound
|
Calories:
384
kcal
|
Carbohydrates:
29
g
|
Protein:
26
g
|
Fat:
19
g
|
Saturated Fat:
3
g
|
Polyunsaturated Fat:
2
g
|
Monounsaturated Fat:
12
g
|
Trans Fat:
0.01
g
|
Cholesterol:
73
mg
|
Sodium:
598
mg
|
Potassium:
806
mg
|
Fiber:
6
g
|
Sugar:
21
g
|
Vitamin A:
478
IU
|
Vitamin C:
9
mg
|
Calcium:
117
mg
|
Iron:
3
mg
Nutrition information provided is an estimate and can vary based on cooking methods and ingredients used
Check out my list of products and tools that I use all of the time in the kitchen!
Sign Up for Easy Recipes Straight in Your In-Box!